Unfortunately, nowadays there is a phenomenon that is of frequent occurrence. It is called plagiarism. It seems that in the age of technology you can hardly protect all data that you share: your own utterances, photos, videos, and even songs can't be absolutely protected. Nevertheless, we have a solution to this problem.
It all happened several years ago. An Irish photojournalist and filmmaker John D McHugh faced with plagiarism of his photos. This situation made him create an app that is able to put special signs on your photos or videos in order to protect them. These signs are called watermarks.
At the moment there are dozens of apps with this function. Moreover, they all have some peculiarities that make these apps unique.
We have reviewed all best apps for watermarking photos that are easily available in Google Play or App Store. Enjoy your reading!
Check this: Best photo zoom apps
EasyMark
Let's start with this nice app. Here you are able to watermark all your photos and videos without deterioration of quality. Choose any ready watermark or create your own!
You can use various fonts, stickers, clip arts, QR, and icons when making your unique sign. It is also possible to create any signature you wish and use it as a watermark.
One more very convenient option is that here you can save your own watermarks as templates and later apply them to other media directly. As you can see, EasyMark is very simple in use, but quite functional as well.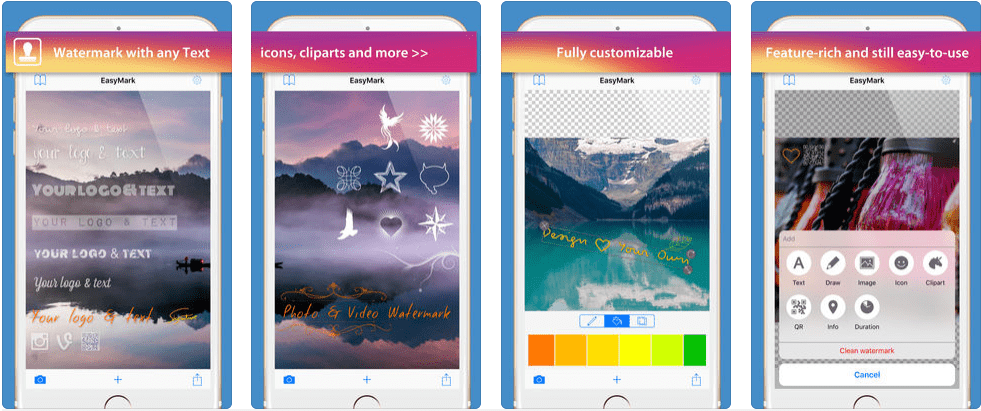 You may also like: Free photo sharing apps
Watermark Pro
One more good app for iOS users is called Watermark Pro. The consecution of action is quite easy: download the app, then create your own watermark logo with the app's rich gallery of fonts, clip arts, and various colors.
After all, share directly in your favorite social media – Instagram, Pinterest, Facebook, etc. You can also save your watermarks created and re-apply them by one tap.
The main distinguishing feature of this app is that here you are able to take a picture of your signature and apply it on photo or video.  So, download the app to make sure of these all functions available.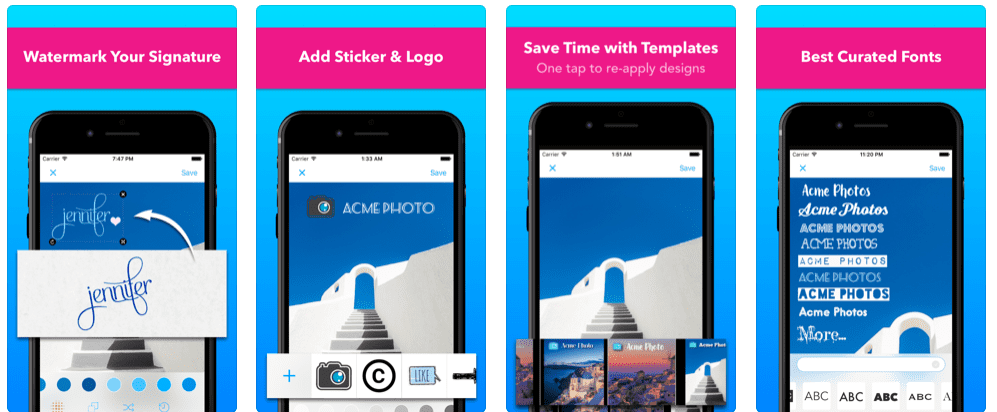 Photo Watermark
One of the best apps for watermarking photos is this one. In Photo Watermark app you have fonts, color, stickers, and other effects at your fingertips.
You can do with watermarks whatever you want: for example, clone, edit, move, rotate, reverse, and change the transparency of it. Additionally, you can easily reuse your watermarks created earlier.
It remains just to share photos or videos directly to Instagram, Facebook, email, and many other social networks. More than 1 million people have already chosen this app as their favorite. These figures are the main argument for using this app.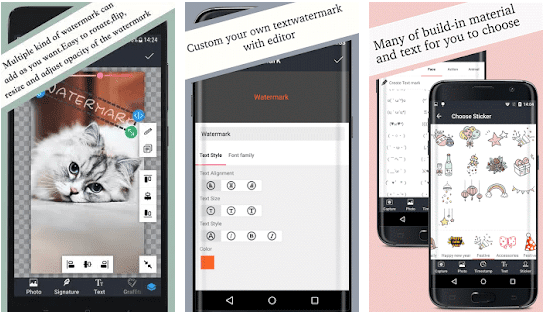 eZy Watermark Photo
There are endless opportunities when using this multifunctional app. In eZy Watermark Photo – Lite you can create your watermarks with the help of text, signature, QR code, logo, copyright, trademark, etc.
Import photos quickly from Camera, Library, Instagram, and Facebook. After that more than 150 fonts and colors, regulate opacity, and even drop shadows will make your sign 100% unique.
Here you can add an autograph as well. When you finish creating, share photos to Instagram, Facebook, Twitter, email, WhatsApp, etc.; or just save them to your Phone Gallery. Let's make sure that your photos are protected.
Watermark Photo: Add Copyright
Are you still worried about getting your photographs stolen on social media? Then you can download Watermark Photo and protect them without any difficulty.
Choose ready watermarks suggested by developers or become a designer of your own! With the app's gallery of fonts, clip arts, colors, and text tools you have an opportunity to create the most suitable watermark ever!
Such a feature as adding a signature will make your photos much more personalized. Moreover, there won't be a deterioration of quality, which is important. So you will definitely like this app, be sure.
iWatermark
We can't help adding this very app in the list of best apps for watermarking photos. The capabilities of iWatermark are quite extensive. Here you are available to change colors, rotation, fonts, opacity, and position of watermarks. Of course, if you don't like watermarks suggested, you can easily create your own.
Use various text or graphics options to do it.  Here you can even add QR code containing a link to website or email. So it will be a great solution for your business development. After creating a watermark you can share it with Facebook, Twitter, or Instagram and be sure in photos' protection.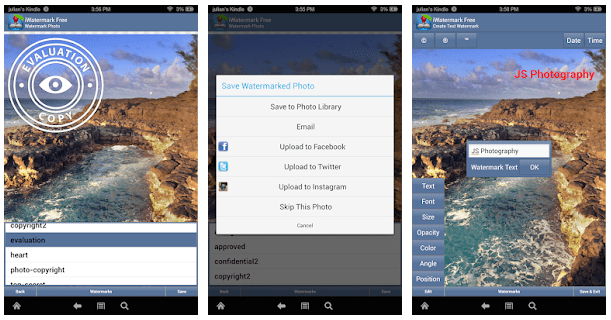 You may also like: 11 Best Apps To Sell Photos Online For The Money
SALT
Now you are given an opportunity to download this app and make your photos protected. Add any suggested logo, font,  watermark, or text to your photos and share them directly from the app.
The main distinguishing feature is that here you can also resize and crop photos in a wide verity of sizes: 1:1, 3:4, 4:3, 9:16, 16:9, Facebook Ads, Facebook Cover, Facebook Page Post, Pinterest Ads & Youtube Art. So you'll have various options if you choose Salt app – to watermark your photos and edit them both.
There is no doubt, this app is quite useful if you run a blog and want your content to be only yours.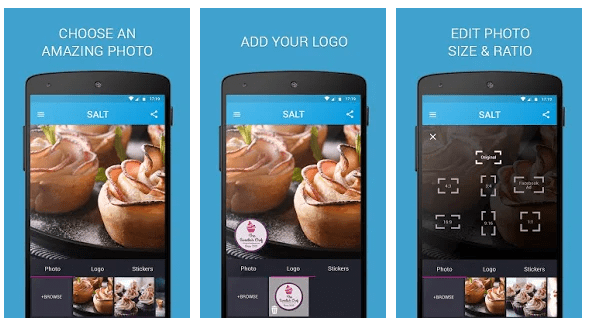 Add Watermark and Photo Editor
This app is for those who want to be sure that his or her photos won't be stolen by anyone. Moreover, this app has both watermark and photo editor features.
That is why by using this app you can do whatever you want: create your own watermarks with dozens of tools like icons, logos, text or stickers; additionally, you have an ability to edit your photos while making such operations as "Zoom", "Rotate", "Crop" and many others. Various filters will make your photo much more colorful.
By the way, you can share all created watermarks with your friends. So you don't need to download 2 or even 3 apps. Use Add Watermark and Photo Editor instead!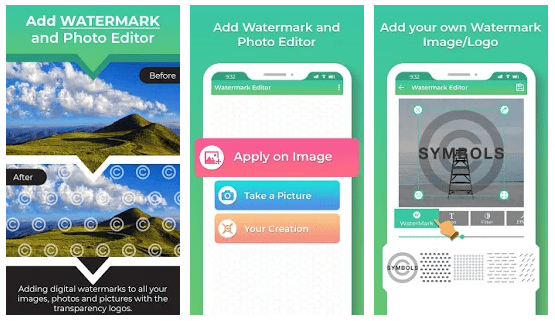 Add Watermark
This app is not completely free, however, it comes at a small price, less than $1. Plus, this is probably the most functional app for adding watermarks on Google Play. The first function that distinguishes it from the majority apps for adding watermarks on our list is that here you can edit several pictures at once.
Moreover, all the apps which are sent to Add Watermark will be edited automatically. You are still able to create your own watermark here from the ground here, there is a decent choice of fonts and effects for that.
Besides, there is a built-in set of stickers. Another curious feature of this app is that here you can use the date of footage, GPS location, and other data for the watermark.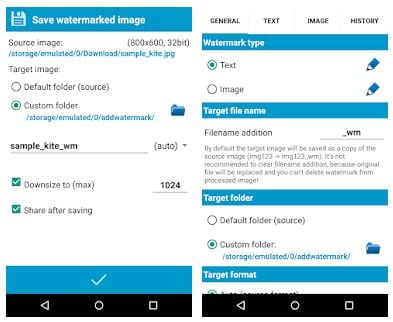 iWatermark+ Lite Add Watermark
Have you ever wanted to patent your photo in such a way that a third party cannot pass it off as his work? Watermark + Lite will be able to help you solve this problem in such a way that you can fix the uniqueness of your file forever.
This app has 7 types of watermarks (5 visible, 2 invisible), namely:
Visible watermarks:
Arc text
Half-tone image (as known as bitmap graphics) – the ability to insert your logo or symbol from the app library
The ability to sign images using a custom user signature
QR-code – creating a watermark similar to the mark read from the camera of any device with a volume of up to 4000 characters of information of various types
A text stamp that allows you to change properties such as transparency, font, color tricolor and tilt angle
Invisible watermarks:
Steganography – the easiest and fastest way to hide a watermark in a photo or color data
Metadata – it is used for watermarks tagged with EXIF or ITPC
iWatermark+ Lite is free and has numerous watermarks and tools for protecting your Instagram and Facebook photos, so if you download this app, you will gain some useful advantages, which can be very helpful to you.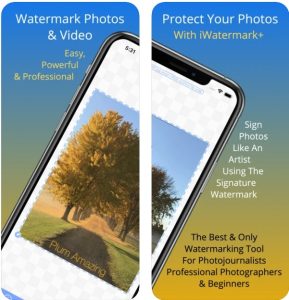 Check also: 13 Best Instagram repost apps for Android & iOS
PhotoMarks
For those who are looking for more simple options, you should take a closer look at this watermarking app. What you need to do here is to create your logo or upload it to the app and layer it on the photo that you want to share. You can also share your logo via the app.
Choose the color, opacity, and placement of the logo. The possibilities for the design are not so wide here as in the previous app, but if you aren't looking for anything complicated, PhotoMarks is more than suitable for you.
However, PhotoMarks is more convenient form the point of view of the functionality – there are quick undo/redo functions, color palettes, merging of pictures, and so on.