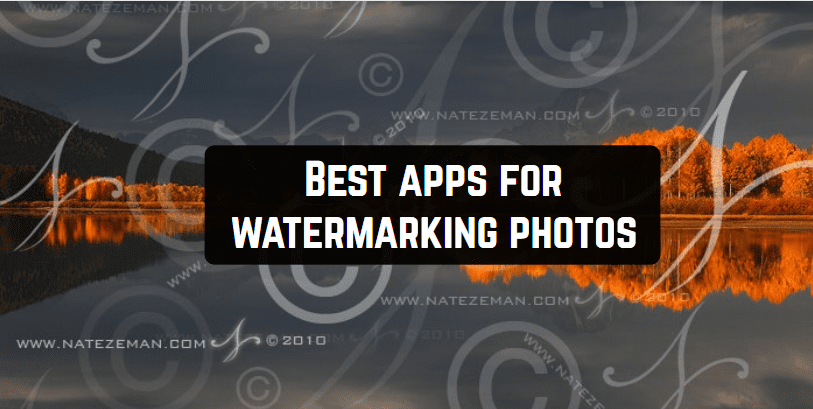 Unfortunately, nowadays there is a phenomenon that is of frequent occurrence. It is called plagiarism. It seems that in the age of technology you can hardly protect all data that you share: your own utterances, photos, videos, and even songs can't be absolutely protected. Nevertheless, we have a solution to this problem.
It all happened several years ago. An Irish photojournalist and filmmaker John D McHugh faced with plagiarism of his photos. This situation made him create an app that is able to put special signs on your photos or videos in order to protect them. These signs are called watermarks.
At the moment there are dozens of apps with this function. Moreover, they all have some peculiarities that make these apps unique.
We have reviewed all best apps for watermarking photos that are easily available in Google Play or App Store. Enjoy your reading!
Check this: Best photo zoom apps
EasyMark
Let's start with this nice app. Here you are able to watermark all your photos and videos without deterioration of quality. Choose any ready watermark or create your own!
You can use various fonts, stickers, clip arts, QR, and icons when making your unique sign. It is also possible to create any signature you wish and use it as a watermark.
One more very convenient option is that here you can save your own watermarks as templates and later apply them to other media directly.
As you can see, EasyMark is very simple in use, but quite functional as well.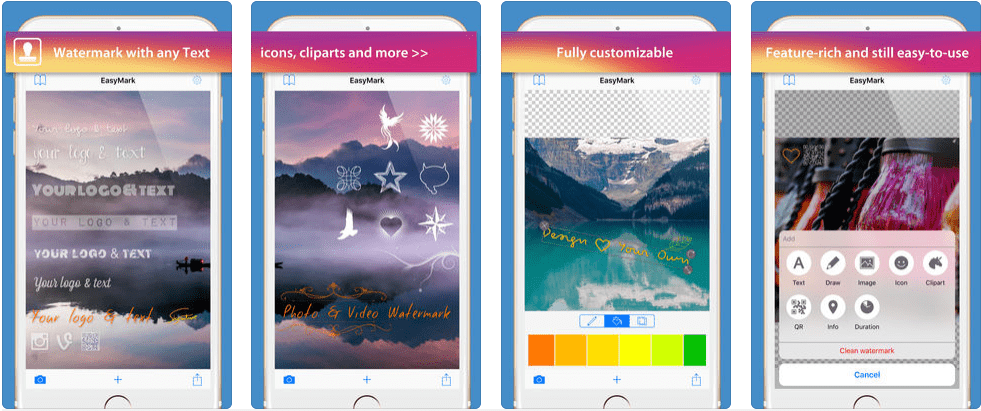 back to menu ↑
Watermark Pro
One more good app for iOS users is called Watermark Pro. The consecution of action is quite easy: download the app, then create your own watermark logo with app's rich gallery of fonts, clip arts, and various colors. After all, share directly in your favorite social media – Instagram, Pinterest, Facebook, etc. You can also save your watermarks created and re-apply them by one tap.
The main distinguishing feature of this app is that here you are able to take a picture of your signature and apply it on photo or video.  So, download the app to make sure of these all functions available.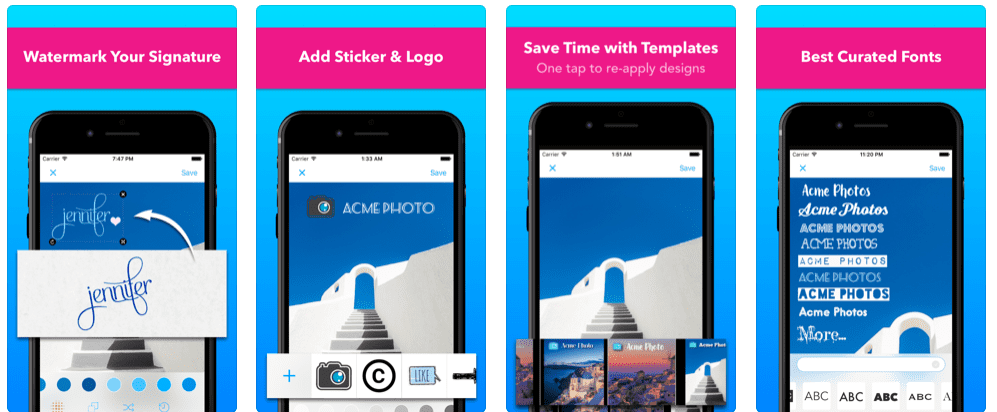 back to menu ↑
Photo Watermark
One of the best apps for watermarking photos is this one. In Photo Watermark app you have fonts, color, stickers and other effects at your fingertips.
You can do with watermarks whatever you want: for example, clone, edit, move, rotate, reverse, and change the transparency of it. Additionally, you can easily reuse your watermarks created earlier. It remains just to share photos or videos directly to Instagram, Facebook, email and many other social networks.
More than 1 million people have already chosen this app as their favorite. These figures are the main argument for using this app.
back to menu ↑
eZy Watermark Photo – Lite
There are endless opportunities when using this multifunctional app. In eZy Watermark Photo – Lite you can create your watermarks with the help of text, signature, QR code, logo, copyright, trademark, etc.
Import photos quickly from Camera, Library, Instagram and Facebook. After that more than 150 fonts and colors, regulate opacity and even drop shadows will make your sign 100% unique. Here you can add an autograph as well. When you finish creating, share photos to Instagram, Facebook, Twitter, email, WhatsApp, etc.; or just save them to your Phone Gallery.
Let's make sure that your photos are protected.
back to menu ↑
Watermark Photo: Add Copyright
Are you still worried about getting your photographs stolen on social media? Then you can download Watermark Photo and protect them without any difficulty.
Choose ready watermarks suggested by developers or become a designer of your own! With the app's gallery of fonts, clip arts, colors, and text tools you have an opportunity to create the most suitable watermark ever! Such a feature as adding a signature will make your photos much more personalized. Moreover, there won't be a deterioration of quality, which is important. So you will definitely like this app, be sure.
back to menu ↑
iWatermark
We can't help adding this very app in the list of best apps for watermarking photos.
The capabilities of iWatermark are quite extensive. Here you are available to change colors, rotation, fonts, opacity, and position of watermarks. Of course, if you don't like watermarks suggested, you can easily create your own. Use various text or graphics options to do it.  Here you can even add QR code containing a link to website or email. So it will be a great solution for your business developing.
After creating a watermark you can share it to Facebook, Twitter or Instagram and be sure in photos' protection.
back to menu ↑
SALT – Watermark, resize & add text to photos
Now you are given an opportunity to download this app and make your photos protected. Add any suggested logo, font,  watermark or text to your photos and share them directly from the app.
The main distinguishing feature is that here you can also resize and crop photos in a wide verity of sizes: 1:1, 3:4, 4:3, 9:16, 16:9, Facebook Ads, Facebook Cover, Facebook Page Post, Pinterest Ads & Youtube Art. So you'll have various options if you choose Salt app – to watermark your photos and edit them both.
There is no doubt, this app is quite useful if you run a blog and want your content to be only yours.
back to menu ↑
Add Watermark and Photo Editor
This app is for those who want to be sure that his or her photos won't be stolen by anyone. Moreover, this app has both watermark and photo editor features.
That is why by using this app you can do whatever you want: create your own watermarks with dozens of tools like icons, logos, text or stickers; additionally, you have an ability to edit your photos while making such operations as "Zoom", "Rotate", "Crop" and many others. Various filters will make your photo much more colorful. By the way, you can share all created watermarks with your friends.
So you don't need to download 2 or even 3 apps. Use Add Watermark and Photo Editor instead!
back to menu ↑
Add Watermark on Photos
This perfect app must be mentioned in the list of best apps for watermarking photos as well. It will become an ideal solution for protecting all your photos Online.
Here you can choose the app's ready-to-use watermarks or create your own unique watermarks. The app's capabilities are endless: use various colors, fonts, stickers, and clip arts in order to create the most appropriate sign. You can use it even to design your company's logo.
In addition to all these features, you will see multiple styles to apply watermarks on a photo.
One more advantage of WaterMark is that there are suggested registered symbols such as copyright and trademark. Download the app and make yourself sure in it.
back to menu ↑
Video Watermark 2017
If you are focused on watermarks for videos, this app is the most suitable for you. You can take photos and videos with the app's camera, then crop, rotate or zoom your media or upload it from your device. It supports even GIFs!
After choosing the media, choose any watermark suggested or start creating your own. Add the text you want, choose fonts and change the transparency.
In Video Watermark 2017 you have an opportunity to upload your own logos if you have already had it. Share the photo created to Instagram, What's App, Facebook, and other social networks. Download the app and enjoy its capabilities.
back to menu ↑
Add your own logo, watermark, and text to photos
This free but at the same time, multifunctional app is available for everyone. You can easily add a watermark or text to your images. Then you can do with these elements whatever you want: change colors, fonts, size, location, etc. You may crop photos and share them to social networks as well.
The main advantage of this app is an opportunity to add your own ready-to-use logos (png/gif/jpg), hashtag or handle to your images in a matter of seconds.
Also, it is possible to create templates: all you need is to save your previous setup (logo + text) for future images.
Now it's high time to download this brilliant app and use it!
Check also: 13 Best Instagram repost apps for Android & iOS