Those having diabetes should always keep track of their readings, medications, and exercises. It could be done on paper as we always did before. Or it can be automatic, gathered in one app, with reminders and charts showing wether we improving or more effort has to be done in order to beat diabetes.
Keep an eye on your heart condition using these best heart rate monitor apps.
Different apps have different functions. Some of them will play the role of a logbook, while others will track on all activities and meals. There is a list of the best diabetes managing apps that were carefully selected among numerous apps for diabetics.
forDiabetes
This app basically includes everything you need in order to keep the blood sugar under control. It allows you to measure such metrics as blood glucose level, activity, carbs, blood pressure, HbA1c, weight, track your medication, and many more.
Don't forget to put the data about your health state daily to the app and then it will start compiling the statistics for you. You know how important it is to watch your health, right?
But simple tracking is not the only feature that this app is remarkable for. In addition, you can always share your data with your doctor – this way it is more convenient. You can always proceed in the guest mode, but in order to receive more detailed information about your health, it is better to create a personal account.
In the center of the main screen, there is your glucose measurement scale. You can see a Meal icon underneath, where you fill in the number of carbs eaten after each meal. There is the icon of your daily activity in minutes next to the Meal. In addition, there are fields for the medication you are taking and your blood pressure.
All in all, forDiabetes is a highly recommended and extremely useful app for those who faced diabetes in their life. ForDiabetes helps you live in peace with and control your diabetes.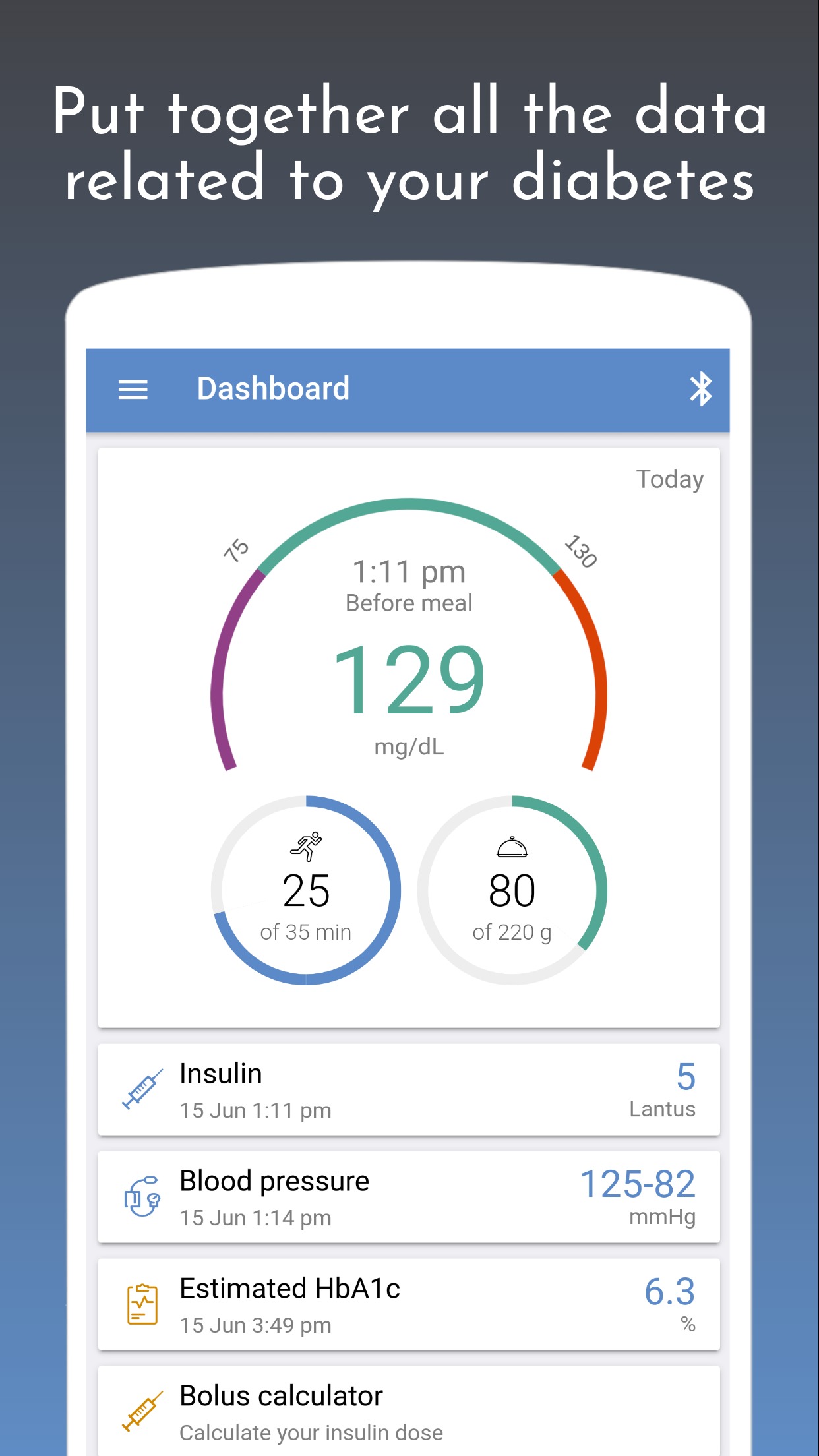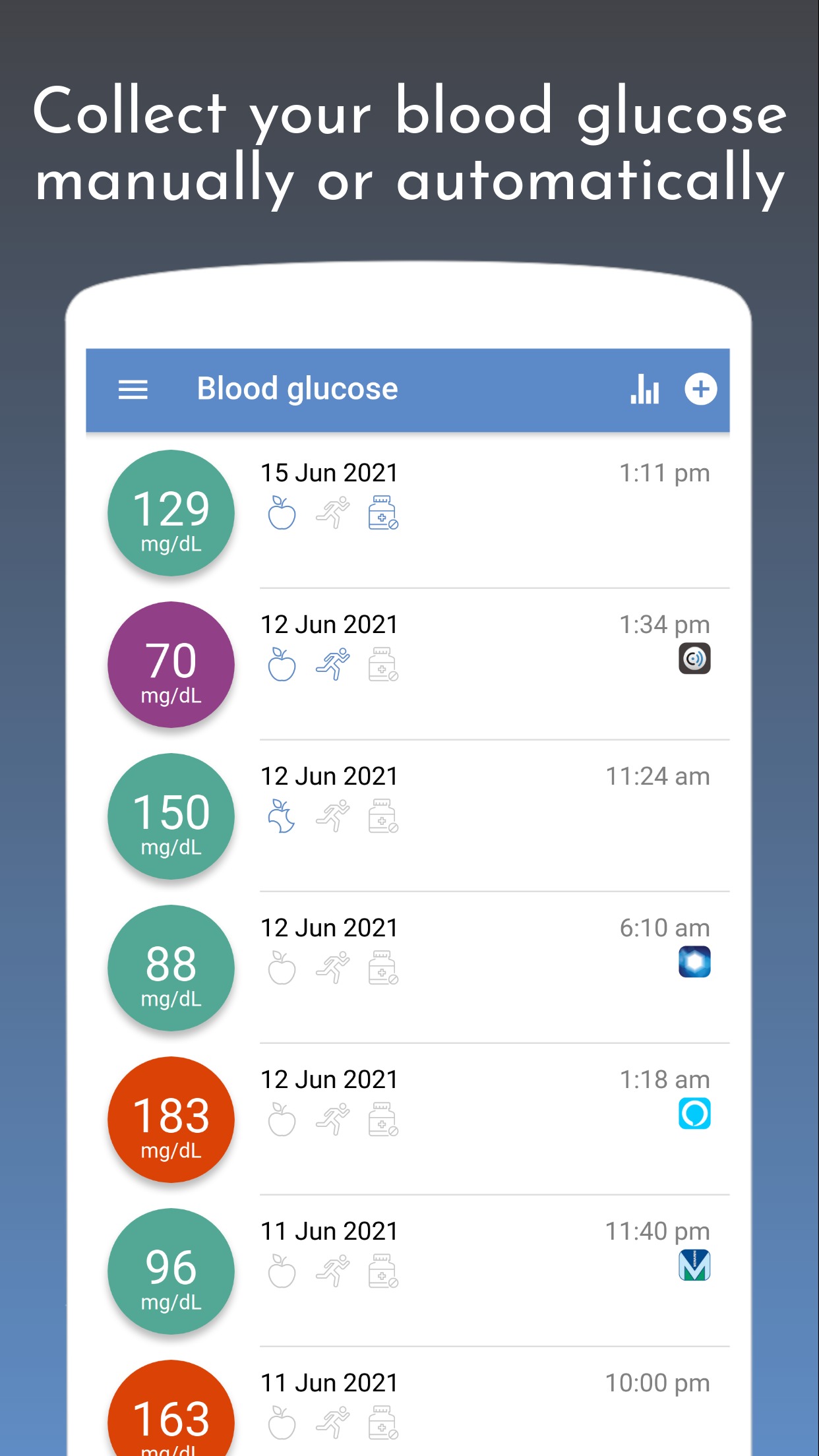 You may also like: 11 Best medication tracker apps for Android & iOS
MySugr
My Sugr is the most popular app for diabetes ranked as top mobile software by Healthline. It plays the role of diabetes data logbook for Type 1, Type 2, and gestational diabetes.
Users can add blood glucose and insulin level, carb intake, meals, diet, and meds for better health observation that implies a normal routine diabetes therapy. Some users even mentioned that their blood glucose level has declined within 3 months.
The app includes:
Dashboard containing all data required( diet, medications, carbs, insulin, etc.)
Blood sugar level graphs with a statistic that clearly displays health condition.
Medical analysis can be sent to your doctor.
Back up function included. Hence to a chance to loose the most important stats of your health.
Moreover, the app estimates HbA1c which is also one of the most important indicators for diabetes. In turn, the level of glycated hemoglobin shows the excessive sugar that appeared in the blood. Needless to say about the importance of this app in the life of each patient trying to cure diabetes. Though the app is free it suggests extra purchases.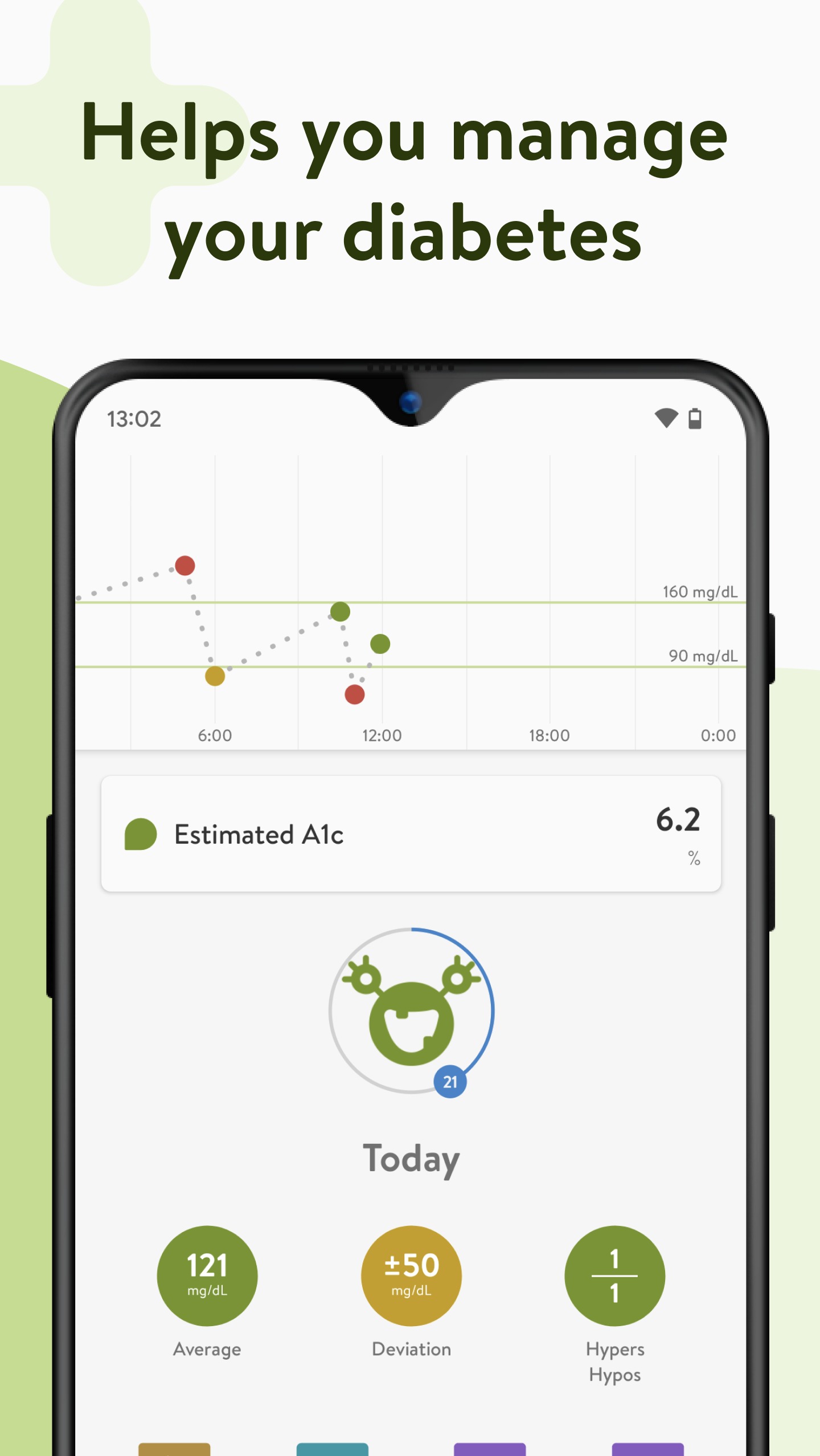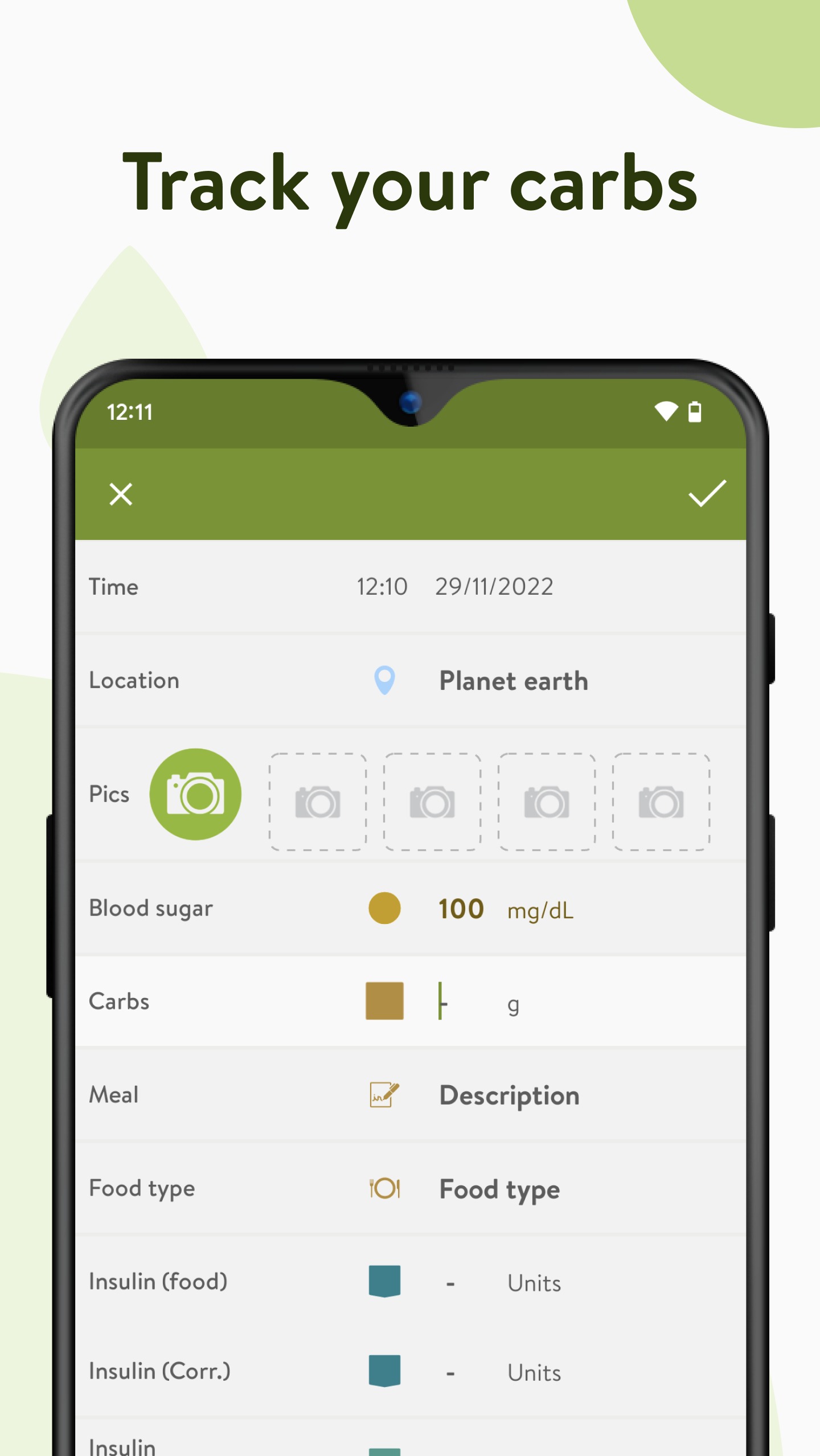 Blood Sugar Diary for Diabetes
Blood Sugar Diary for Diabetes is a useful tool for monitoring blood sugar levels. With its help, users can keep a detailed diary of their glucose readings, allowing them to check their condition and take appropriate action in critical situations.
The app supports multiple languages, making it versatile to use. After downloading the app, you need to create an account or log in with an existing online account. This allows you to save or back up your data in the vault and access it from any device.
The main screen of the app has a number of sections where users can enter and track their glucose readings. There's also a feature here that allows you to set a unique color code for each glucose level, which helps you quickly identify which readings need special attention.
The app has a section where you can enter information about the insulin doses you have administered, as well as the times you have taken them. It has a function for creating daily glucose reports.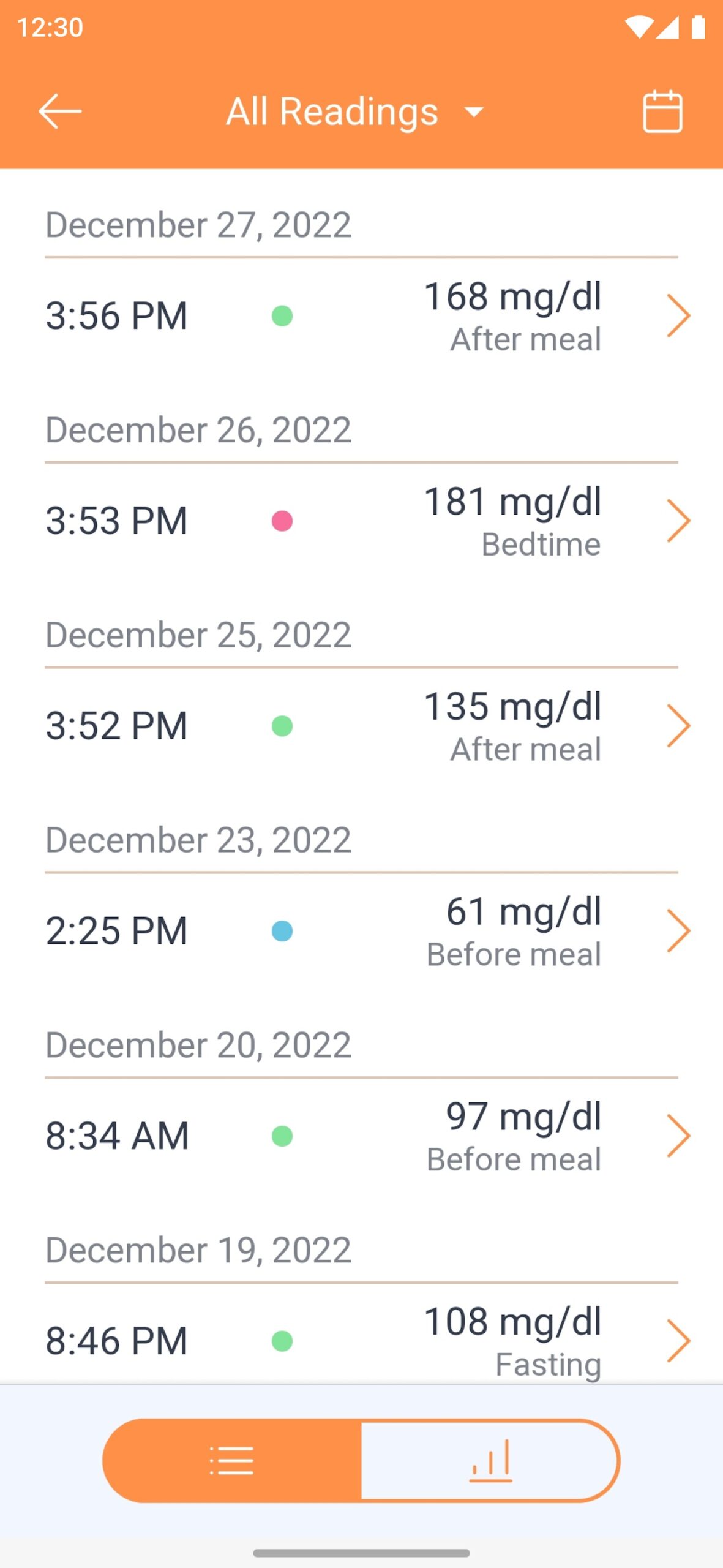 Klinio: Diabetic meal plan
Klinio is a mobile app for those who have diabetes and want to manage their health. It offers customized meal plans for diabetics and those at risk. The app contains many healthy recipes for balanced meals that will help lower blood glucose levels and improve overall health.
It offers a wide range of recipes for healthy breakfasts, lunches, dinners, and snacks. All the recipes are designed by experienced nutritionists keeping in mind the requirements and restrictions of the disease.
The user can choose the most suitable option from the many suggestions and create a personalized meal plan, according to their preferences and tastes. Choose meal plans for different periods, such as one week or one month.
The recipes include information on the amounts of all nutrients and energy value, which helps the user to check their nutrition. The app also has an activity tracker that allows you to track your sports activities, the number of calories burned, and physical fitness.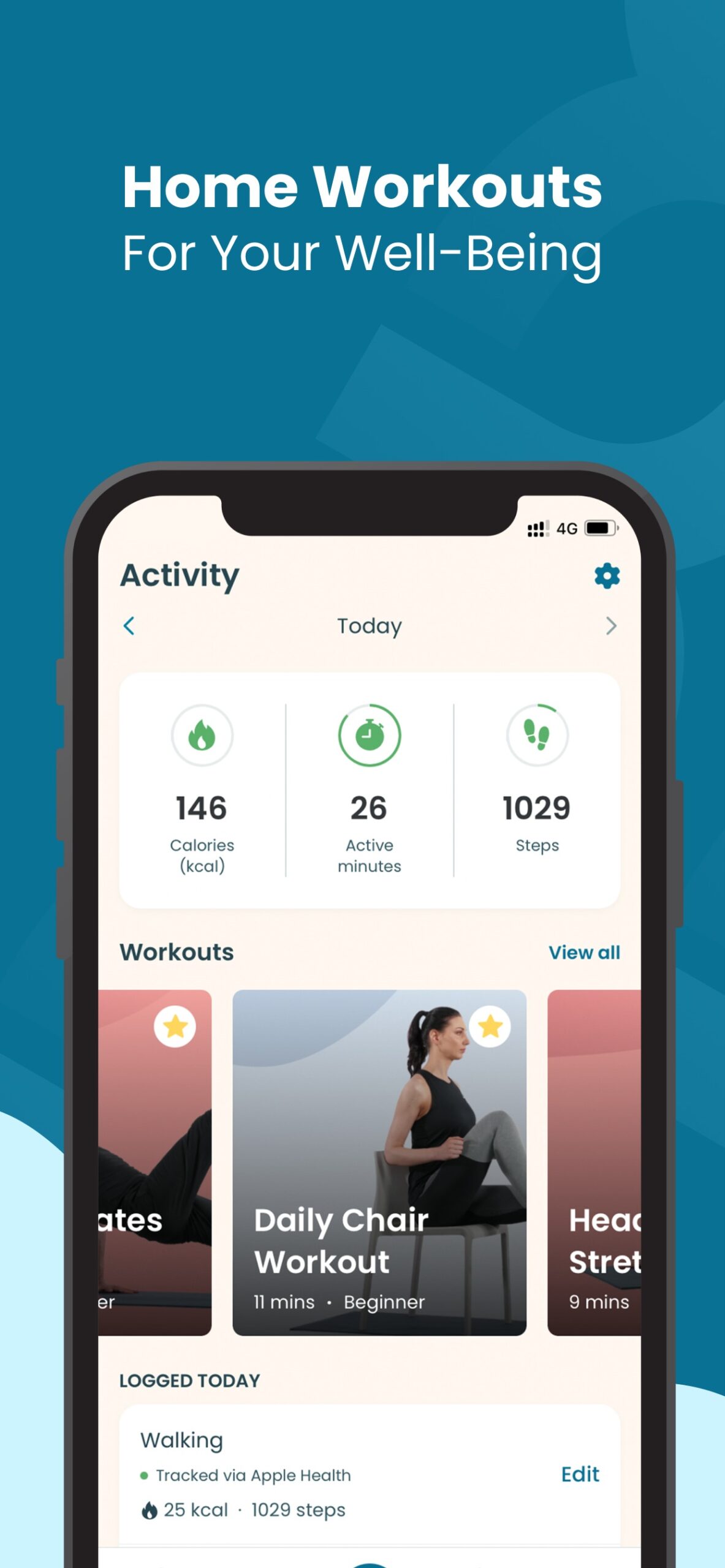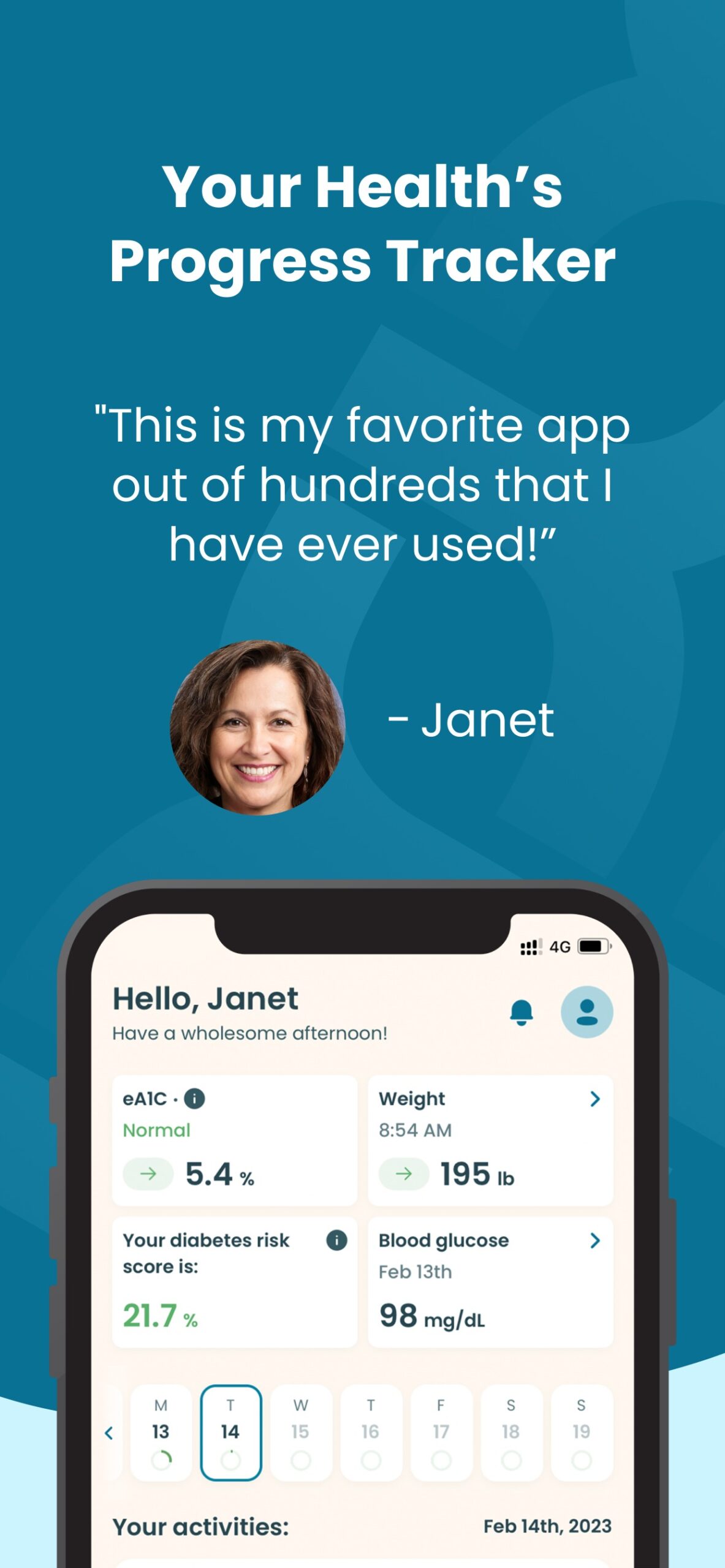 BG Monitor Diabetes
BG Monitor Diabetes is a less popular but not less functional application for diabetes control. It also intends to be a logger of main indicators in order to enhance the treatment in general.
There is a great chance for everyone to forget to write down important data. The app can very beneficial in that respect. Firstly, the user can set reminders to notify himself to measure and enter the blood glucose level or insulin. Secondly, the app has a backup function that is also an essential tool.
On the ground of logged data, the app creates statistics and graphs providing great analysis with trends and progress. Furthermore, it easily sends reports through the app. This way whole data and stats can be sent to a doctor directly on his devices helping to avoid paper works.
The most interesting fact that this app was also ranked by Healthline once in 2018 as the best diabetes apps. The app is relatively new and thus probably no iOS version has been created yet. As well as the previous app BG Monitor is free with in-app purchases that starts from around 2$.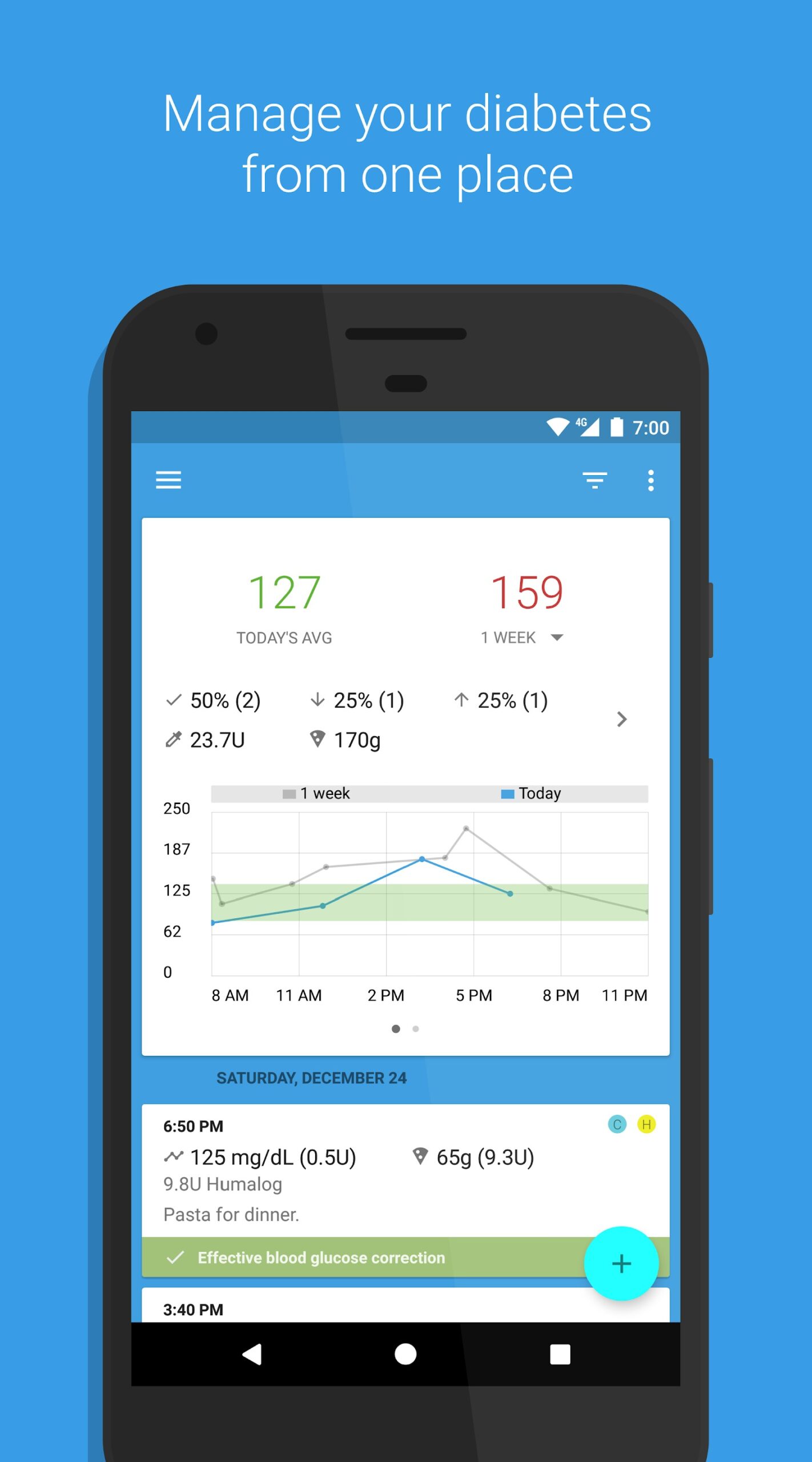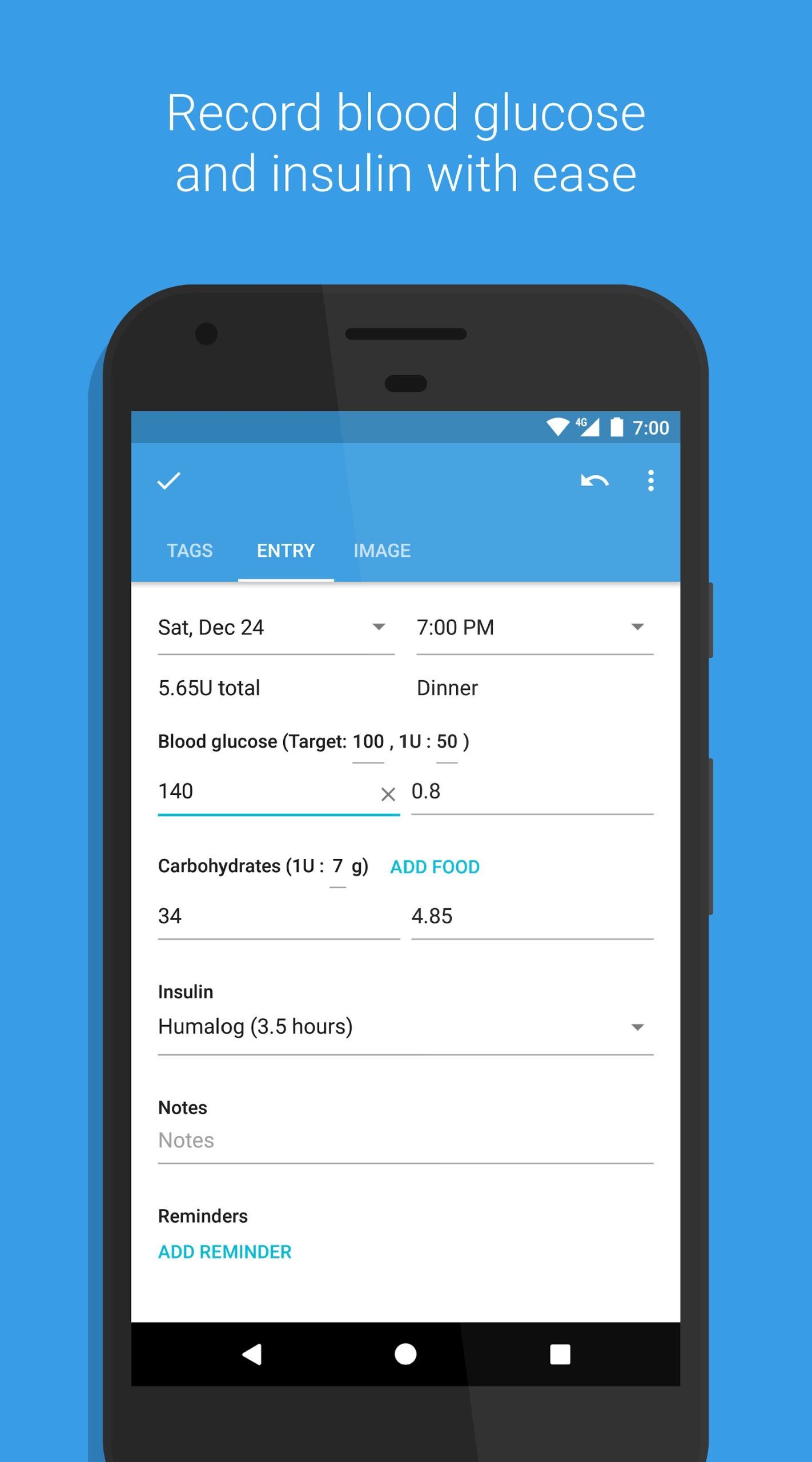 Glucose Buddy
Bright and appealing app Glucose Buddy worth to be download by those who haven't tried it yet. It has been download thousands of times and rated with almost 5 stars.
Main features:
Logbook for blood glucose, medications, insulin, meals, etc.;
Meal planner and barcode scanner to choose a healthy meal for diabetes. A wide food database is included;
Steps and walks counter with other sports activities tracking;
Supports both glucose units ( mg/dL and mmol/L);
Statistics are formed on a logged data basis and display trends of the most important indicators. It's only required to full the data constantly. The app then generates graphs with before meals and after-meal blood sugar levels showing the average of each week as a result.
The app supports Type 1 and 2 diabetes. Many users have claimed that this app was life-changing for them as they managed to control their readings and improve their condition in general. The app is free for iPhone devices but adds- free full version will require a premium subscription that is not cheap.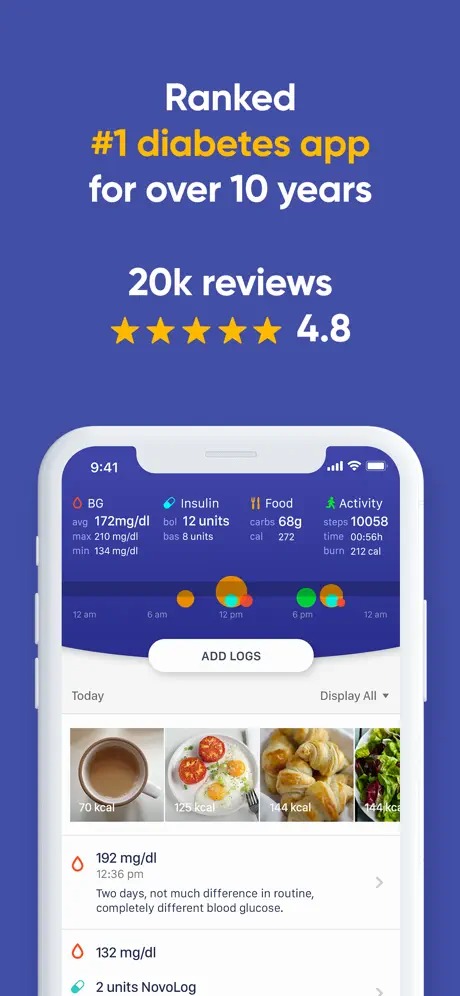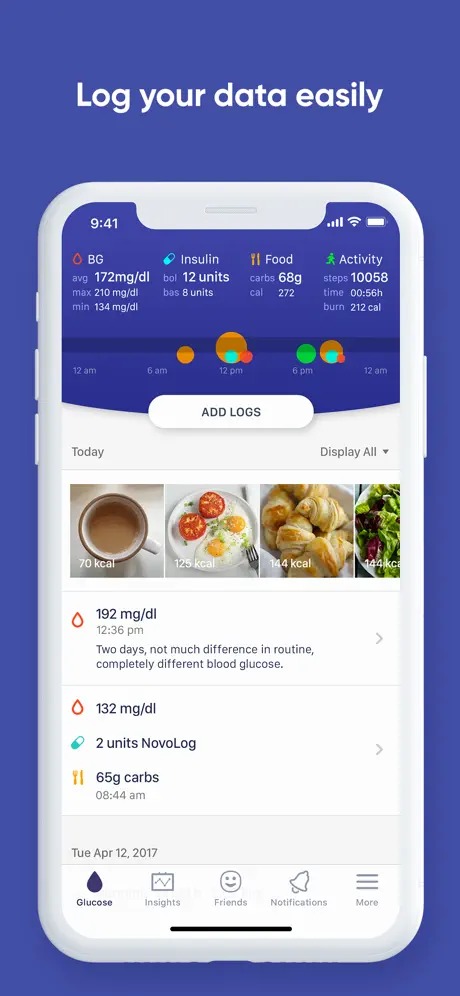 Diabetes Connect
Diabetes Connect is created to help people to have control over diabetes that includes different actions like writing down main indicators. Thus all the control processes can be done through the app. Diabetes Connect will open a dashboard for you that can be opened via an app or browser.
Main features:
Log in all the important data related to diabetes treatment: weight, sugar level, insulin, medications, sports activities, etc.
Increased above the normal level major indicators will be highlighted in yellow and red colors to grab users attention. While green color gives advice not to worry.
Graphics and charts will show how any data fluctuated throughout a particular period of time.
Logging in main data is a key step tp generate full statistics that in turn can be sent to a doctor before any appointment. This app can help a great deal to those who are not giving up in the face of diabetes.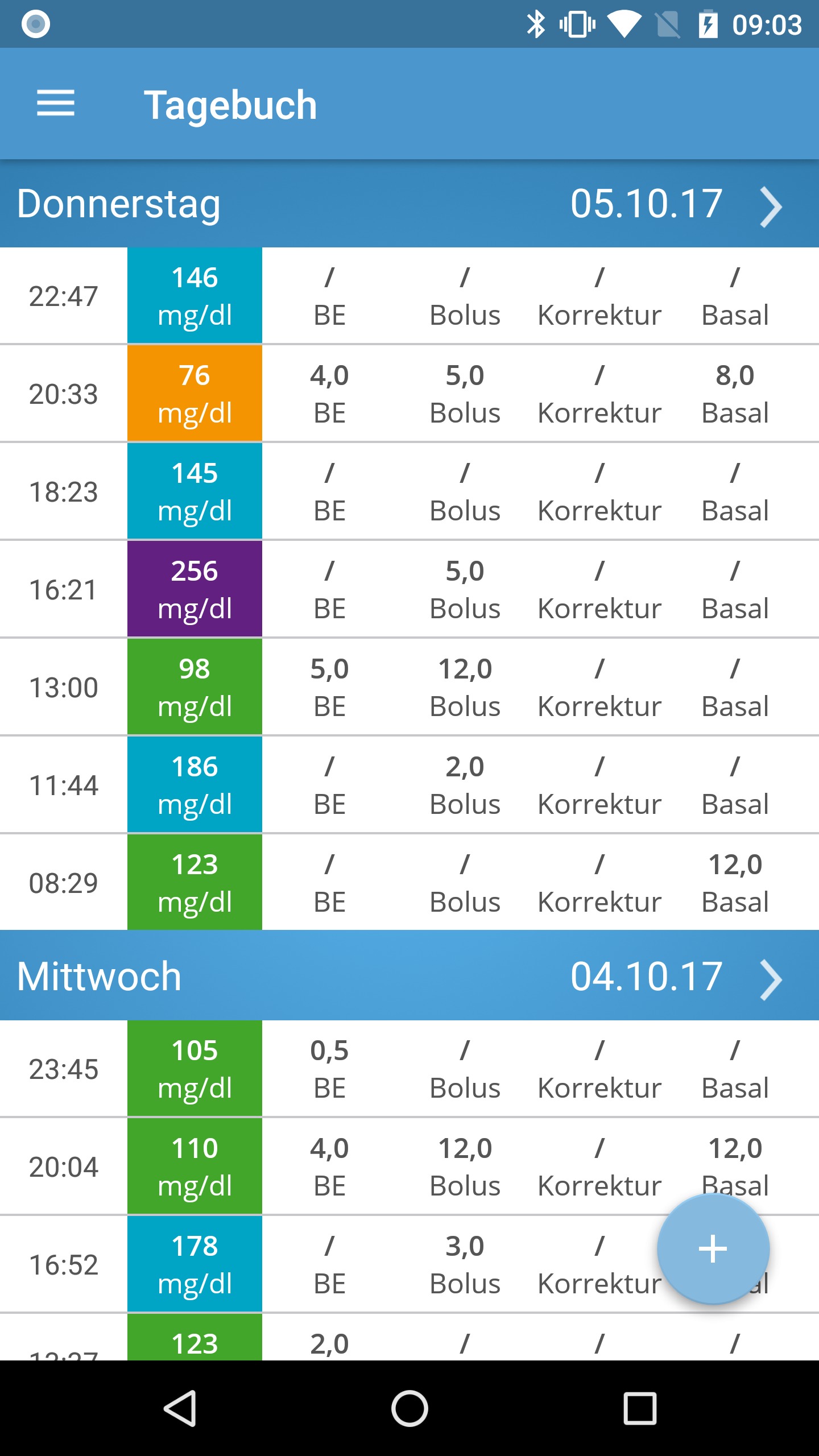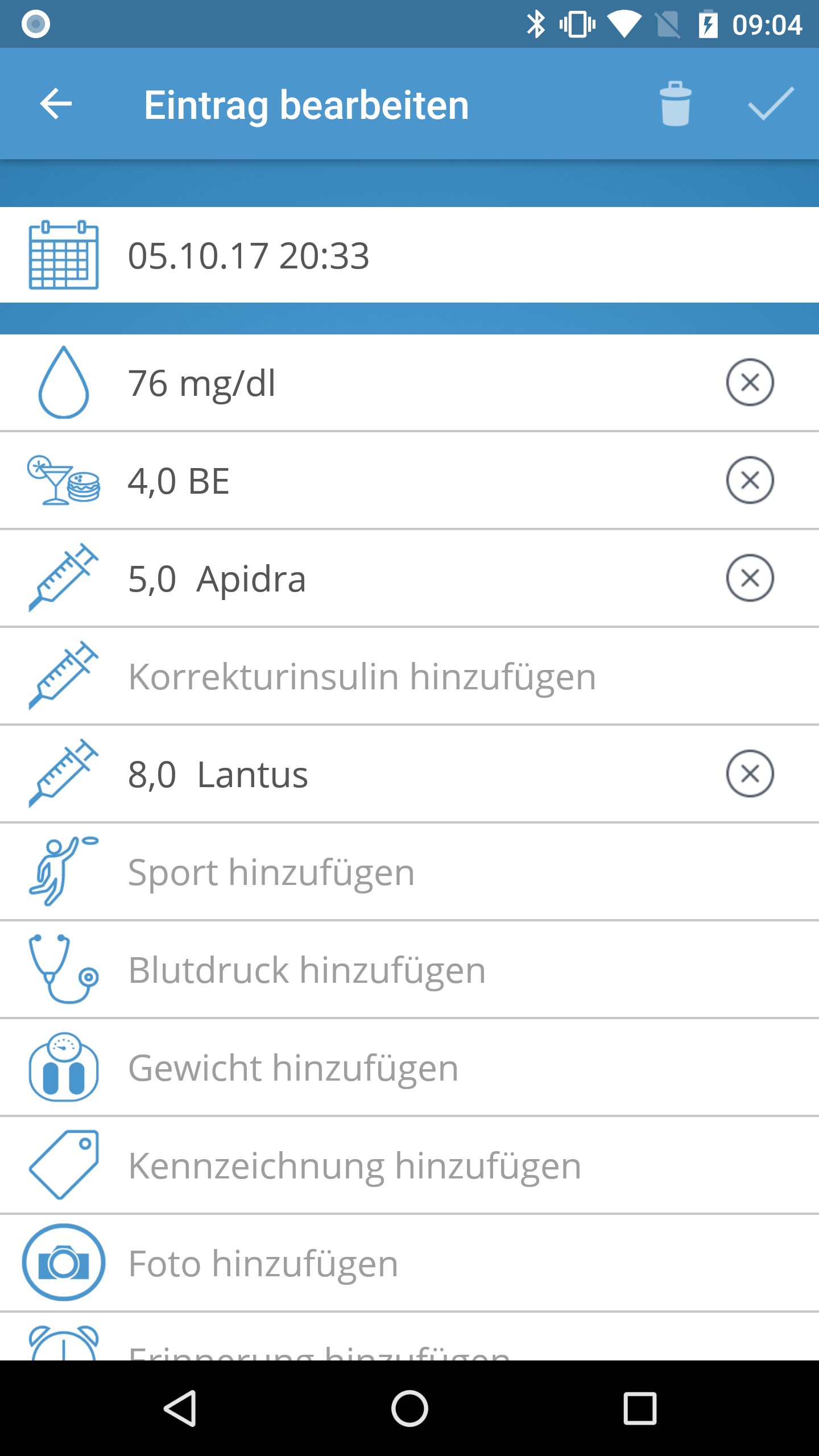 Diabetes:M
Diabetes:M is a free app with multifunctional service. It also collects data related to diabetes such as glucose, carbs, medications. There is a built-in calculator that estimates insulin according to your logged data.
The app has a great database with food and its nutrients that simplify the process of calculation. Each meal will go with the number of carbs, calories, fats, and proteins. Hence it's easier to manage your diet. You won't forget to track your intake with the help of the app`s reminders.
One of the app`s benefits that it supports integration with other tracking apps ( glucometers, fitness trackers). It also syncs well with smartwatches. You can also purchase the premium version that gives a lot of perks like no ads, second profile for your family member, different app synchronization, etc.)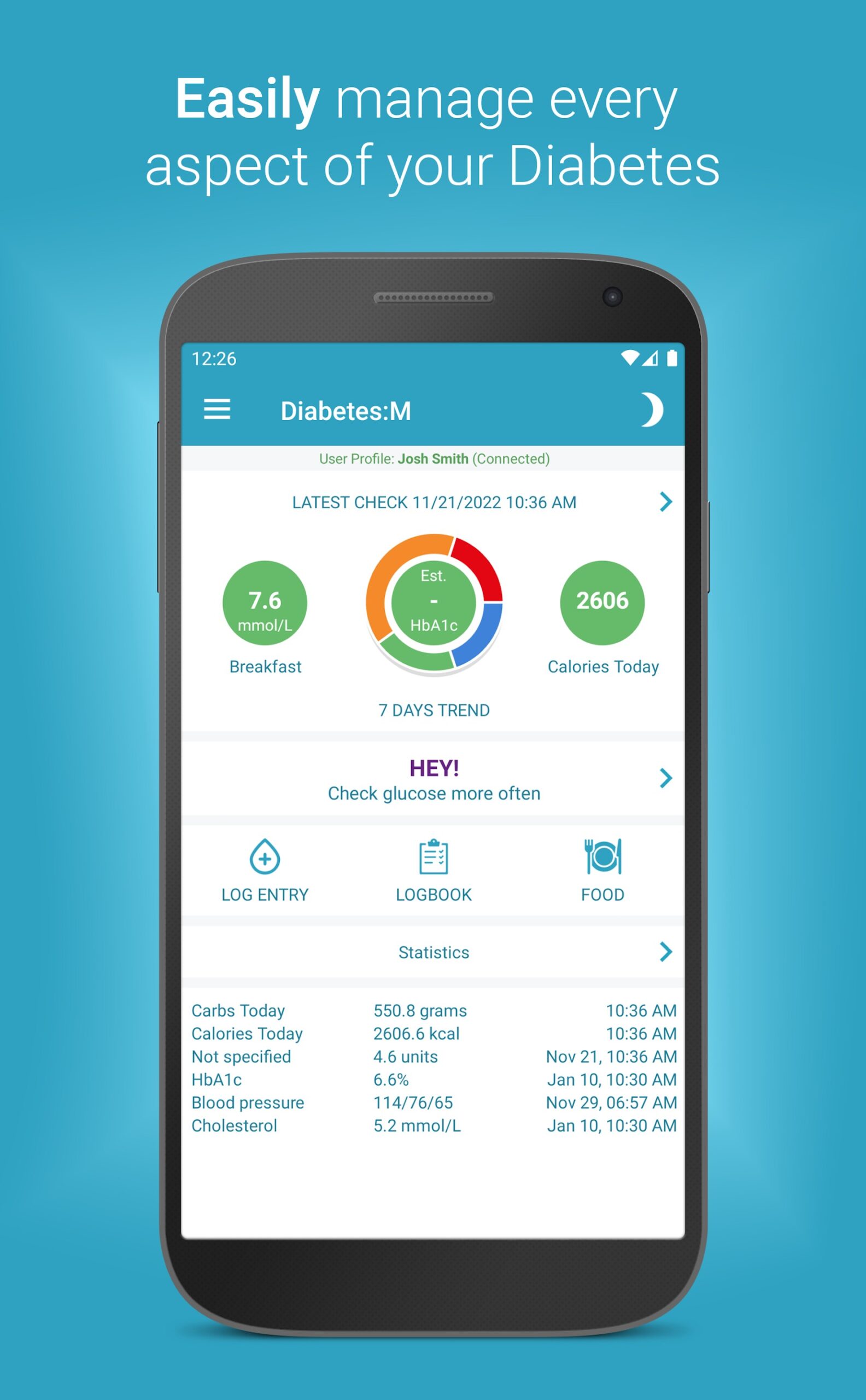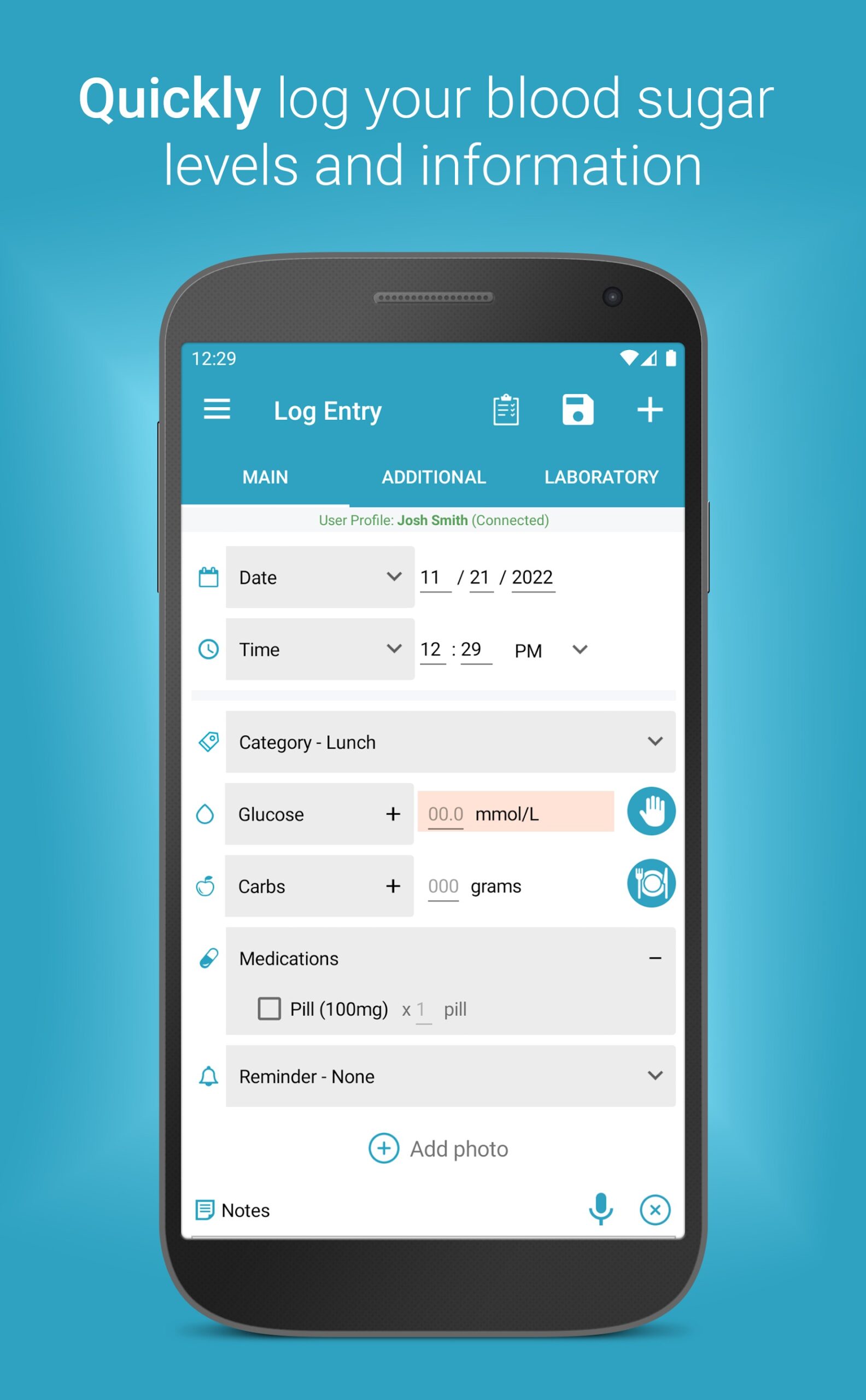 You may also like: 11 Best medical ID apps for Android & iOS
Diabetic Diet
Diabetics more than anyone else must be aware of food their eat and what impact it has on health condition in general. Diabetic Diet app is a handy guide for people with diabetes and prediabetes that gives all the information related to food, healthy eating or weight control. It also suggests a diet plan and weight loss programs as it is one of the important aspects of diabetes treatment. Type of diabetes doesn't matter.
Losing weight will decrease the level of blood glucose significantly. Everyone with diabetes has to be aware of it and the importance of a healthy diet. This app can play a good role and be somewhat an auxiliary help to treat diabetes.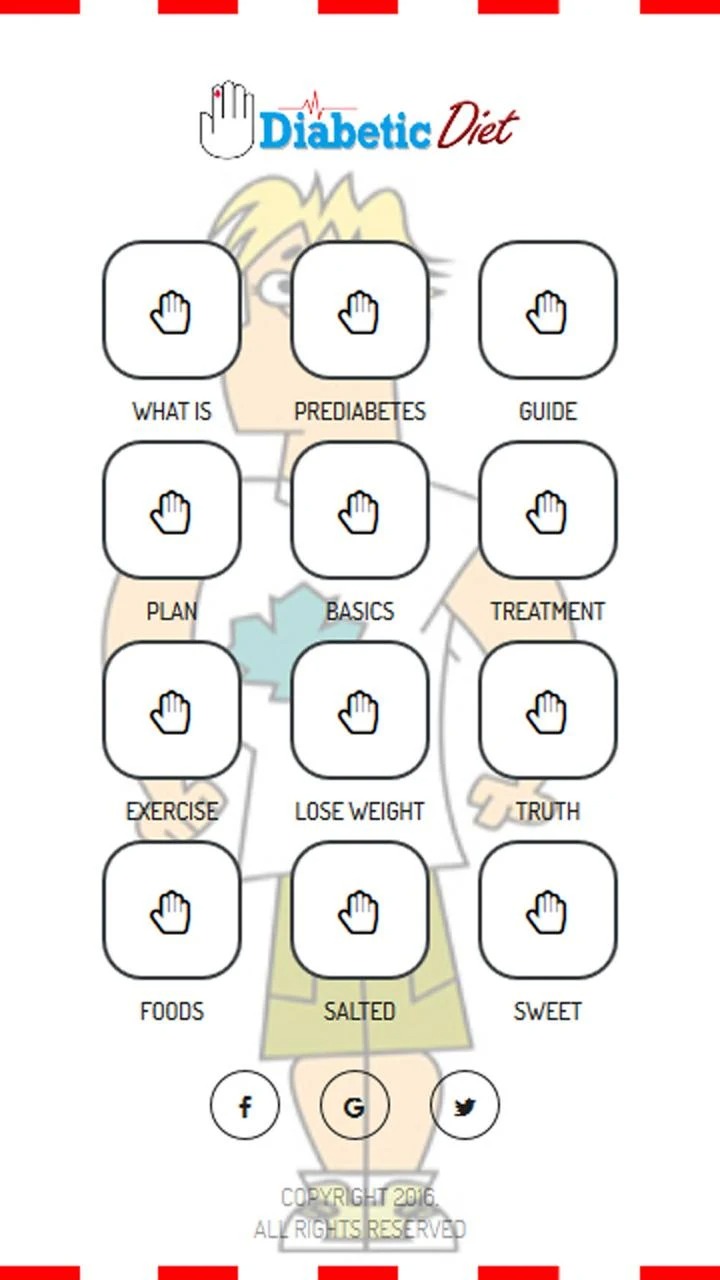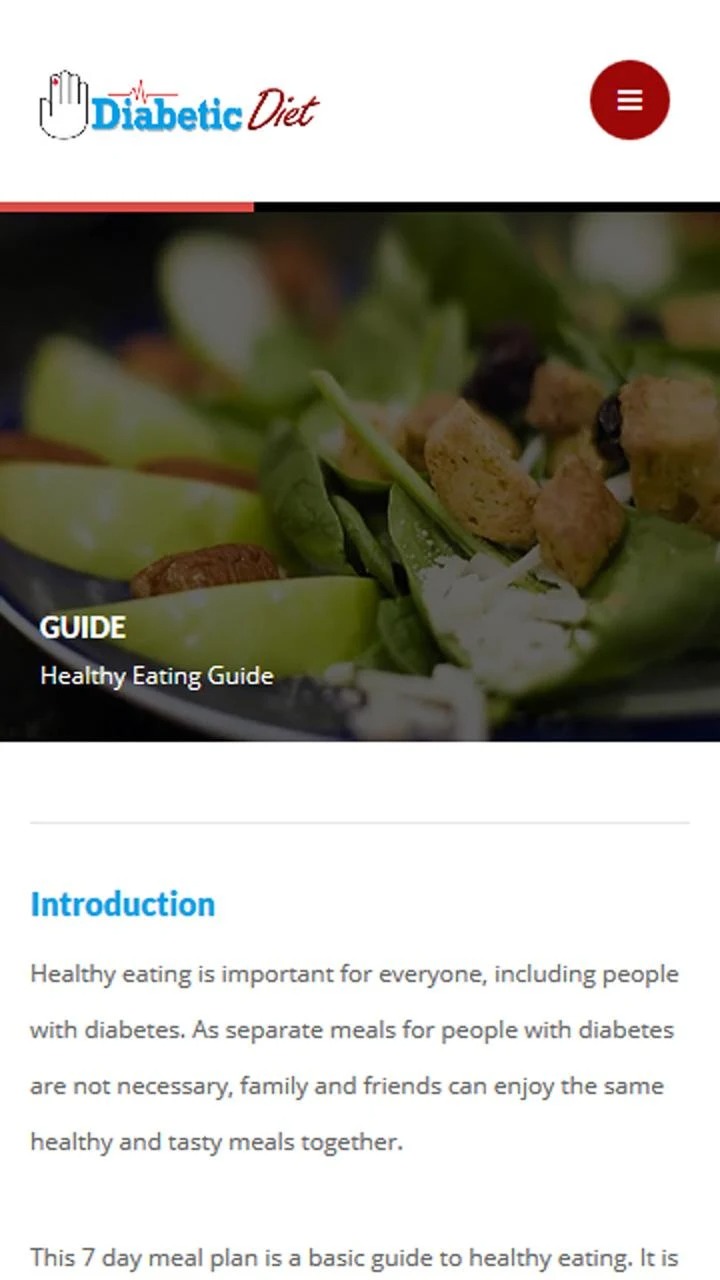 Beat Diabetes
Beat Diabetes has an outstanding catalog of tips, ways to improve life, and other articles related to diabetes. The app will be helpful for newly diagnosed patients or those who still have gaps in knowledge about what to eat to improve readings. Diet plays a significant role in diabetes treatment especially for those who have excessive weight.
Here are a few articles as an example:
Top food that should be avoided for diabetes.
Ayurvedic Remedies to control diabetes.
How to increase your physical activity
Tests, exercises, recipes.
This app doesn't offer logbook functions or charts with different diabetes readings. Though it gives lots of other information that will definitely help to beat diabetes.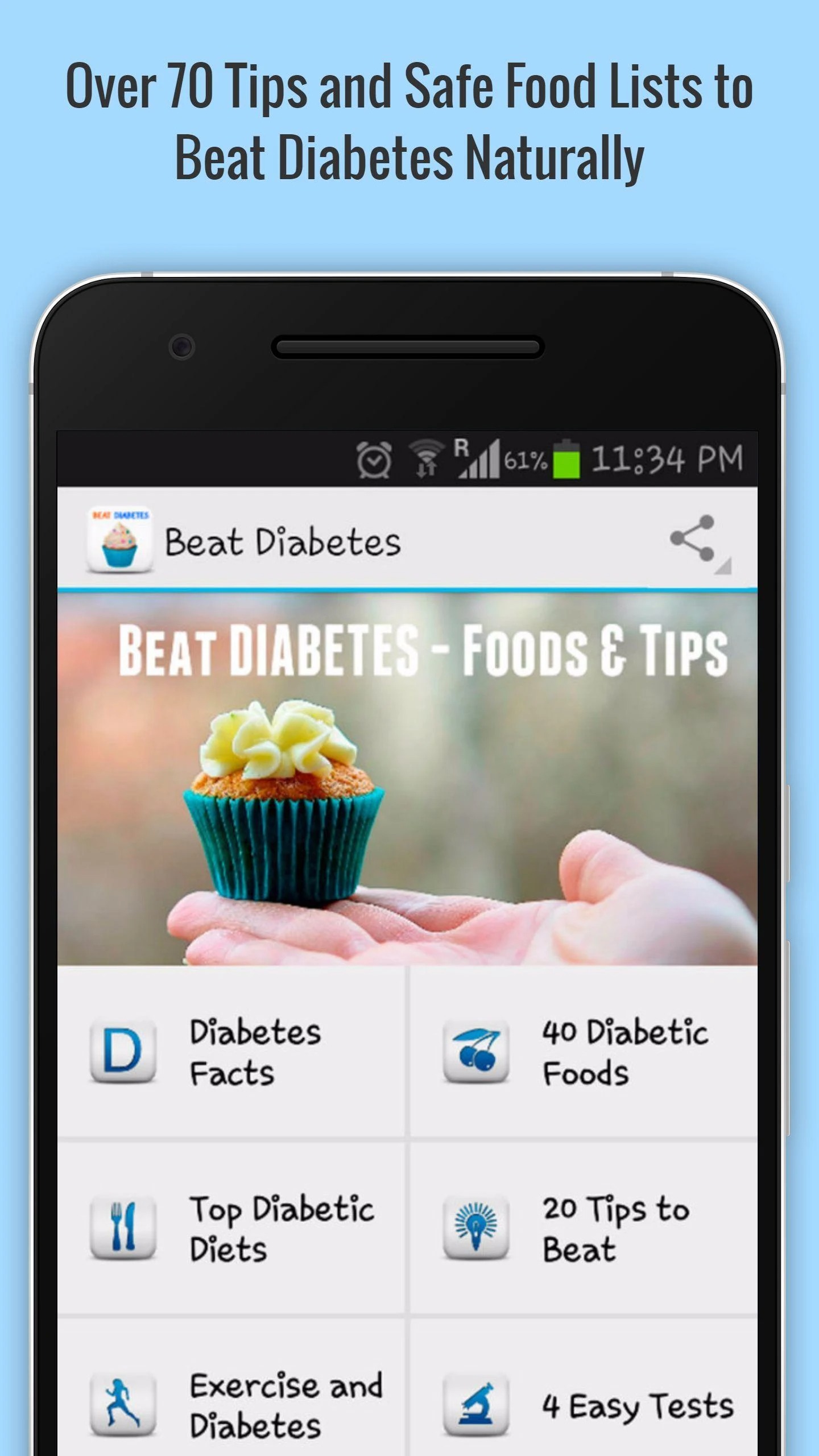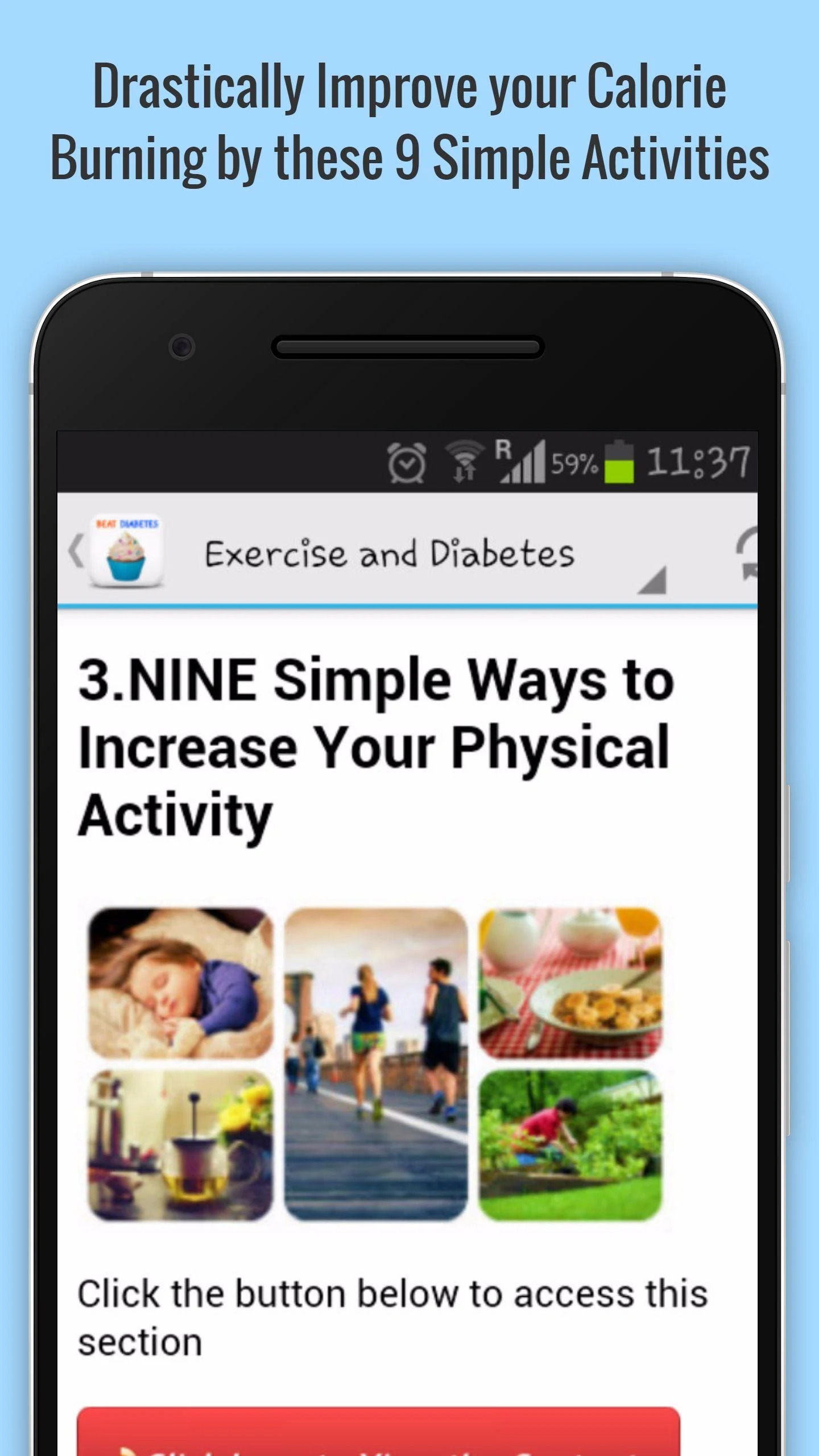 Health2Sync – Diabetes Care
Health2Sync is the app that combines the tracking of all main indicators related to diabetes. Its never been easier to monitor your main reading in time and keep them all in one app.
The app includes:
Blood sugar level logging with the ability to add notes, medications, and even to attach photos.
The blood pressure log includes systolic and diastolic blood pressure.
Weight and food tracking
Dashboard with statistics showing the main trends and dynamics of glucose levels.
All results can be exported as PDF or Excel files and send via email to a doctor. The app was announced as the best diabetes app of 2019 by Healthline. It's free with in-app purchases. Also available for both iOS and Android platforms.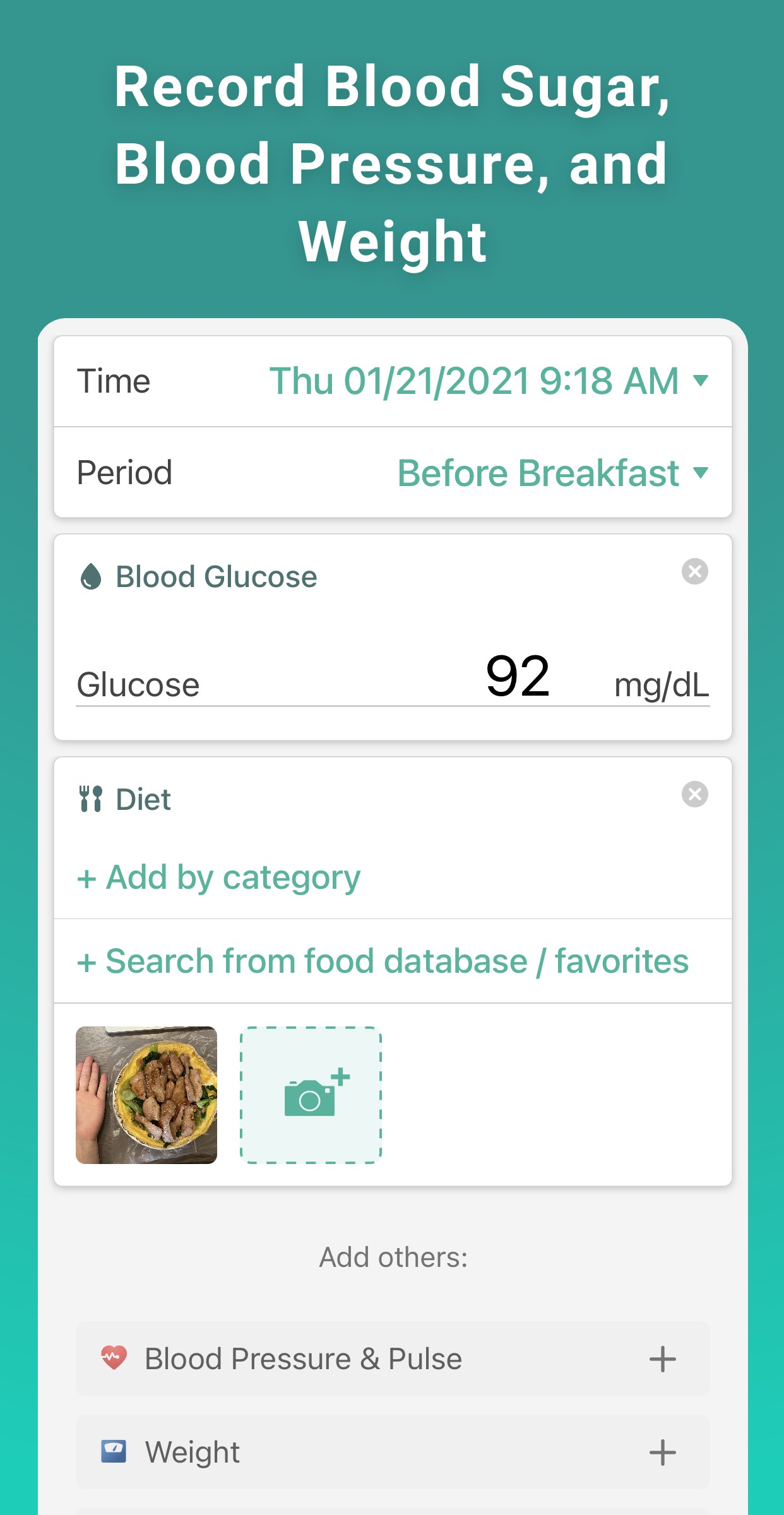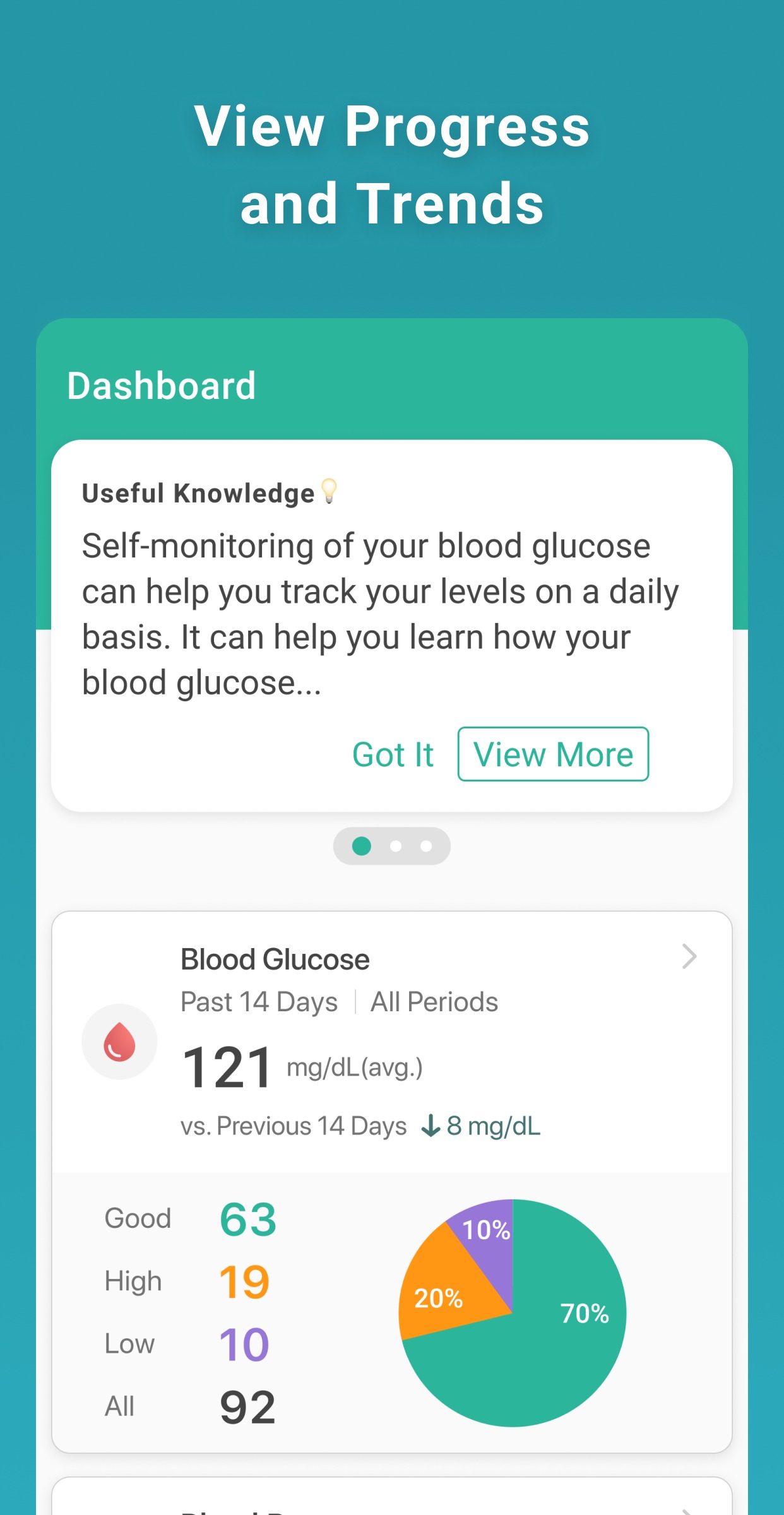 Medical ID: In Case of Emergency
If you have diabetes, this is no joke. You should always be prepared for an emergency case. Luckily, modern apps allow you to be fully prepared and carry all the necessary medical information about you in your device.
This app will store all the most important notes about the aspects of your health and it will be easily accessible by pressing the icon on the screen. The icon will be displayed in any mode – no matter if your screen is locked or not.
Any other person can simply tap on that icon and see which type of blood you have, which type of disease you have, and so on.
The whole information is displayed in a convenient to read way, and you can even add your picture to that. Who knows when that vital information is going to save your life? What is more, the app will include contacts of your family and closes people in case of an emergency.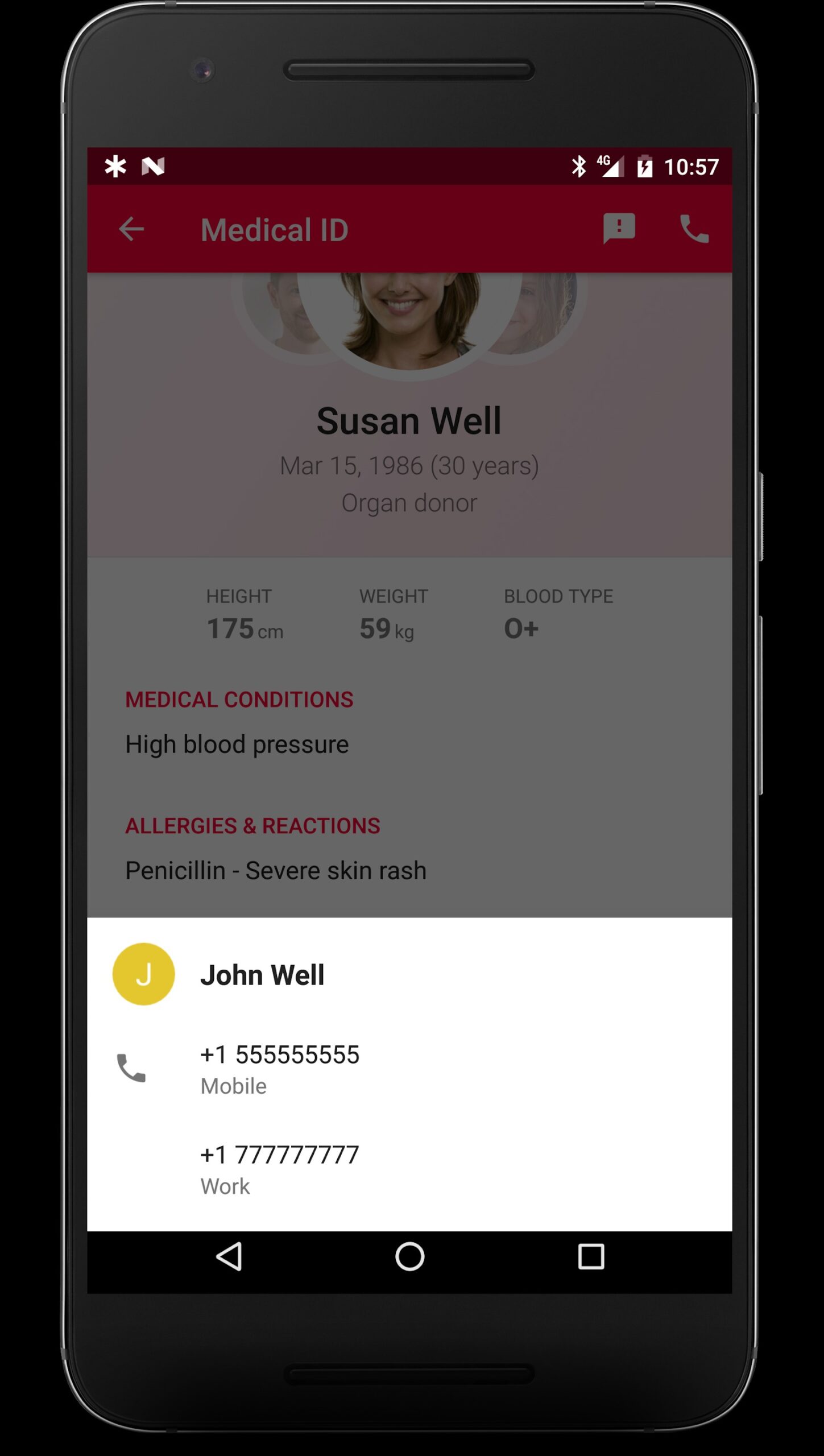 Diabetes & Diet Tracker
Diabetes & Diet Tracker was created by MyNet Diary and includes all kinds of trackers you may need to have control over diabetes. Here is blood glucose level, insulin, medications, sports activities, water intake, etc.
Blood glucose level will be shown in charts displaying the statistics, progress, or regress. Moreover, you can set plans and move toward your goals. For example in weight loss personal program.
The app has a huge database with a barcode scanner to log nutrients after each meal. This way you will know the number of carbs, fats, calories you have had today, and how much you need to burn.
The results show that the majority of people that used this app have decreased their weight and HbA1c level as well. The app requires a monthly subscription that costs approximately $10 at that moment.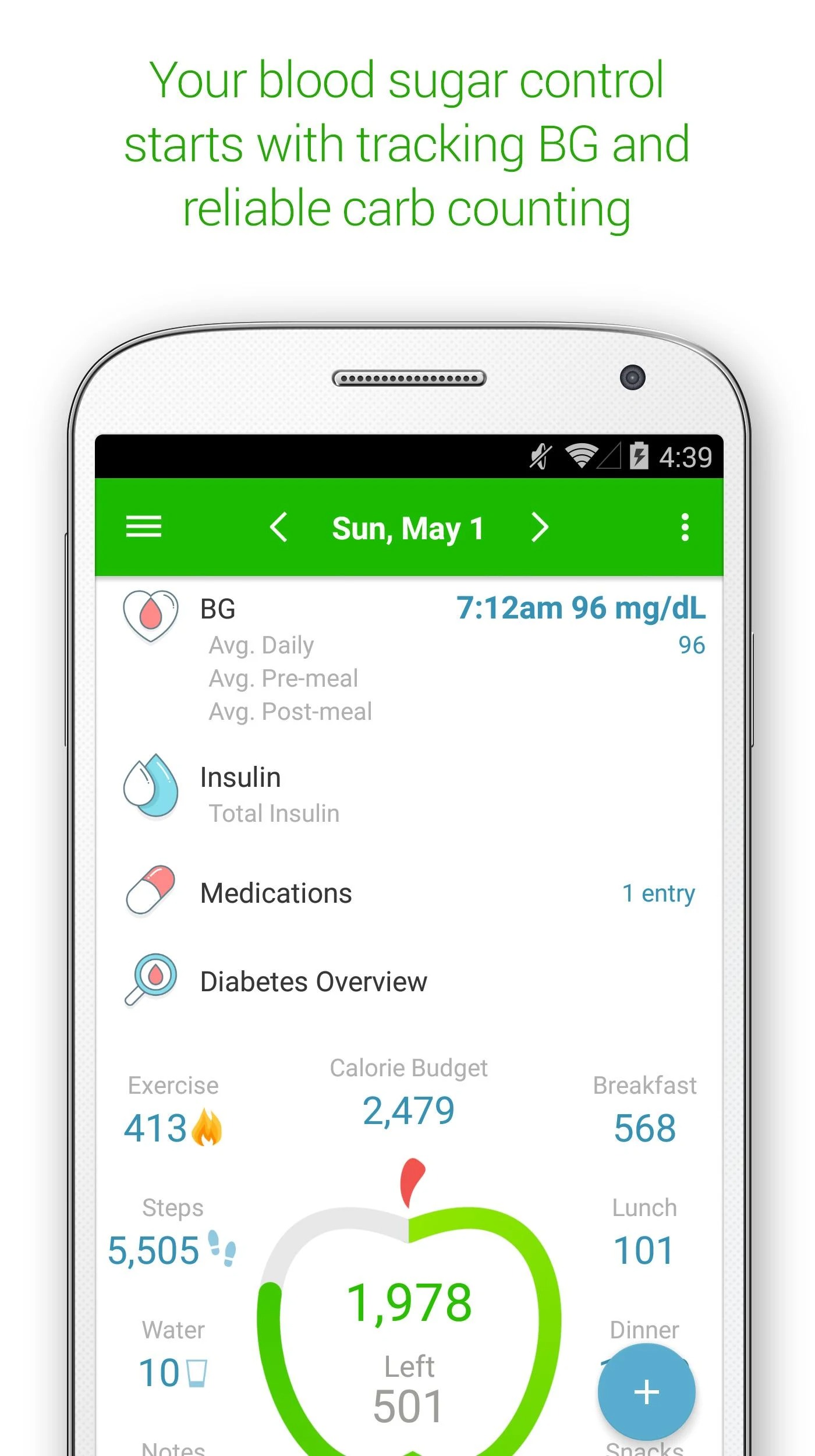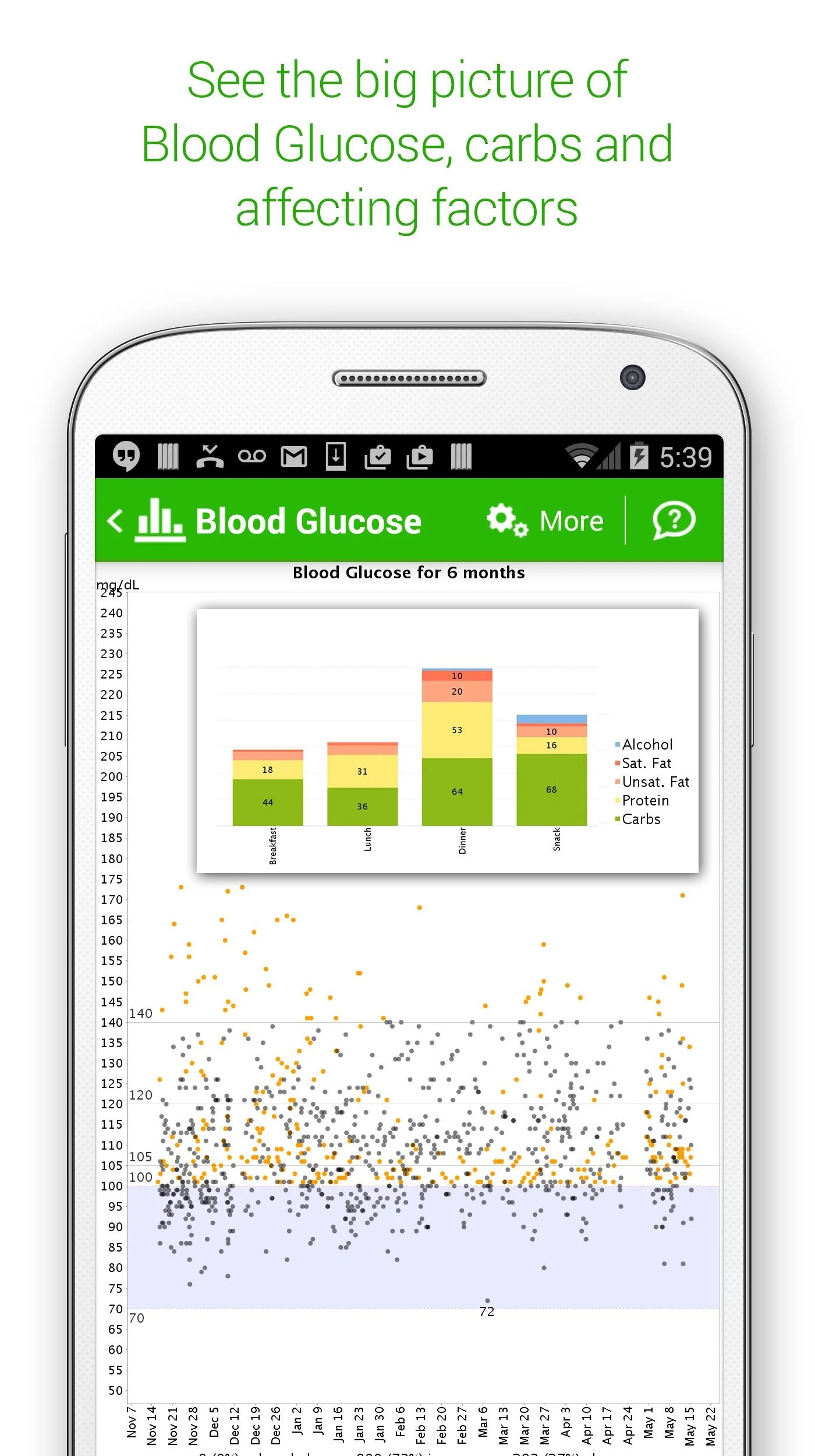 Center Health
Center Health Is yet another app with a logbook ad dashboard feature. Collect all your data in one app that easily syncs with other health and sports-related popular mobile software like Google fit or Dexcom ( meals, sleeping time, exercises will be transferred). According to logged readings, the app will estimate Hbc1a as well.
Fill all the information every day after or before each meal. You will need to add a blood glucose level, a meal itself, insulin. Then check out statistics and main average numbers. All these data will be important in diabetes treatment. The app is free and available for Android and iOS.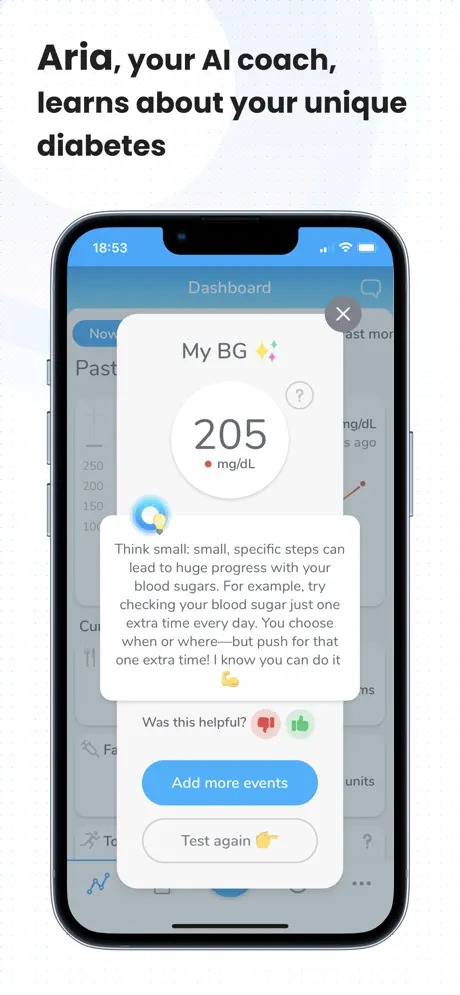 MyFitnessPal
Another crucial element when you're a diabetic is the regular workout and the meticulous control of the diet. Probably, there is no better helper in this than a fitness tracking app. MyFitnessPal is one of the most popular diets and fitness apps on the market, and it will make your daily routine of workouts much easier.
The app will compile a special program and diet for you, you just need to mark that you have diabetes when you first open it and put in the information about yourself.
MyFitnessPal will schedule all the meals and will provide all the recipes. It will also schedule your workout plan. Apart from that, the app helps to achieve such goals as losing weight, gaining muscle weight, and so on.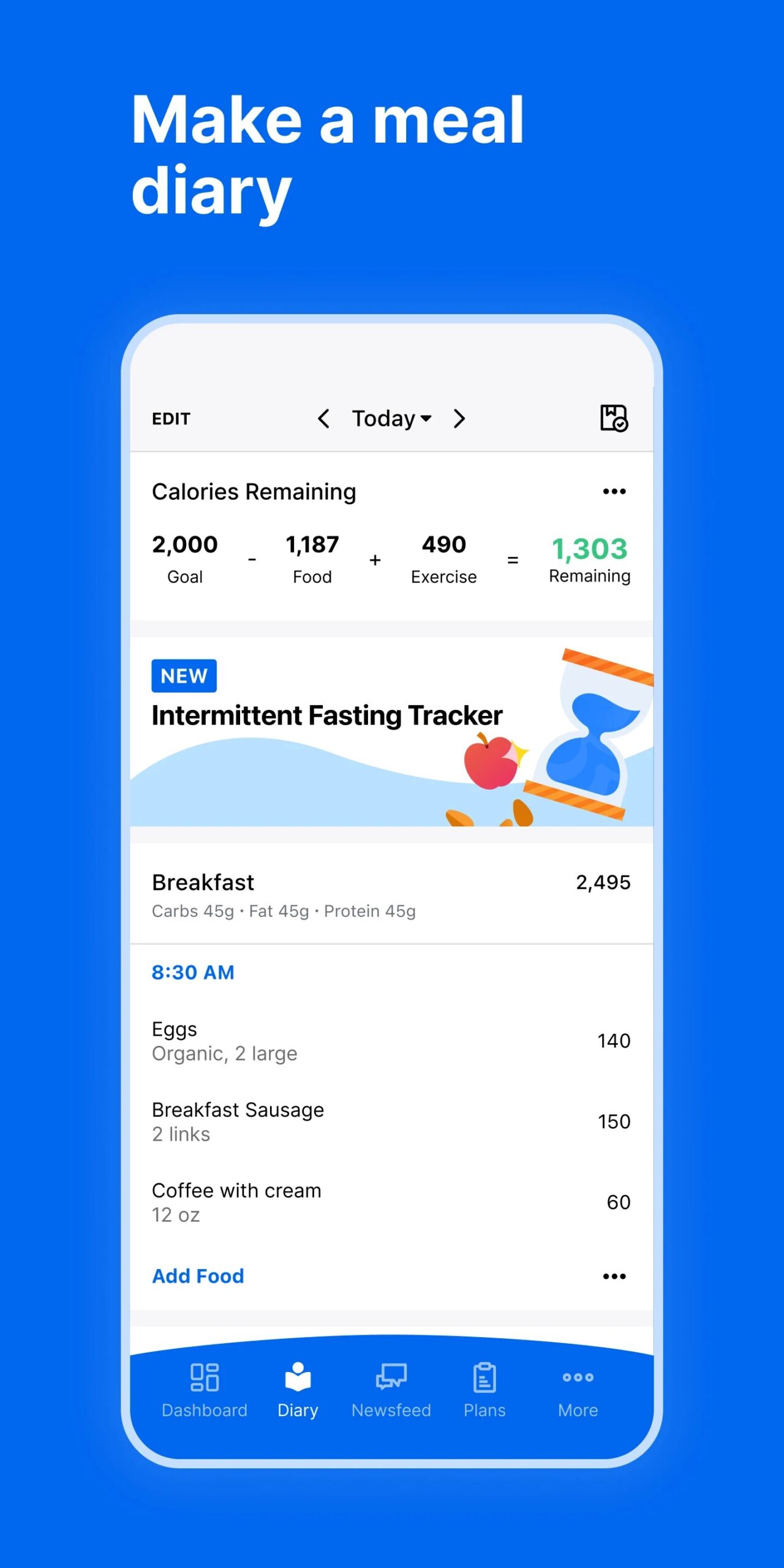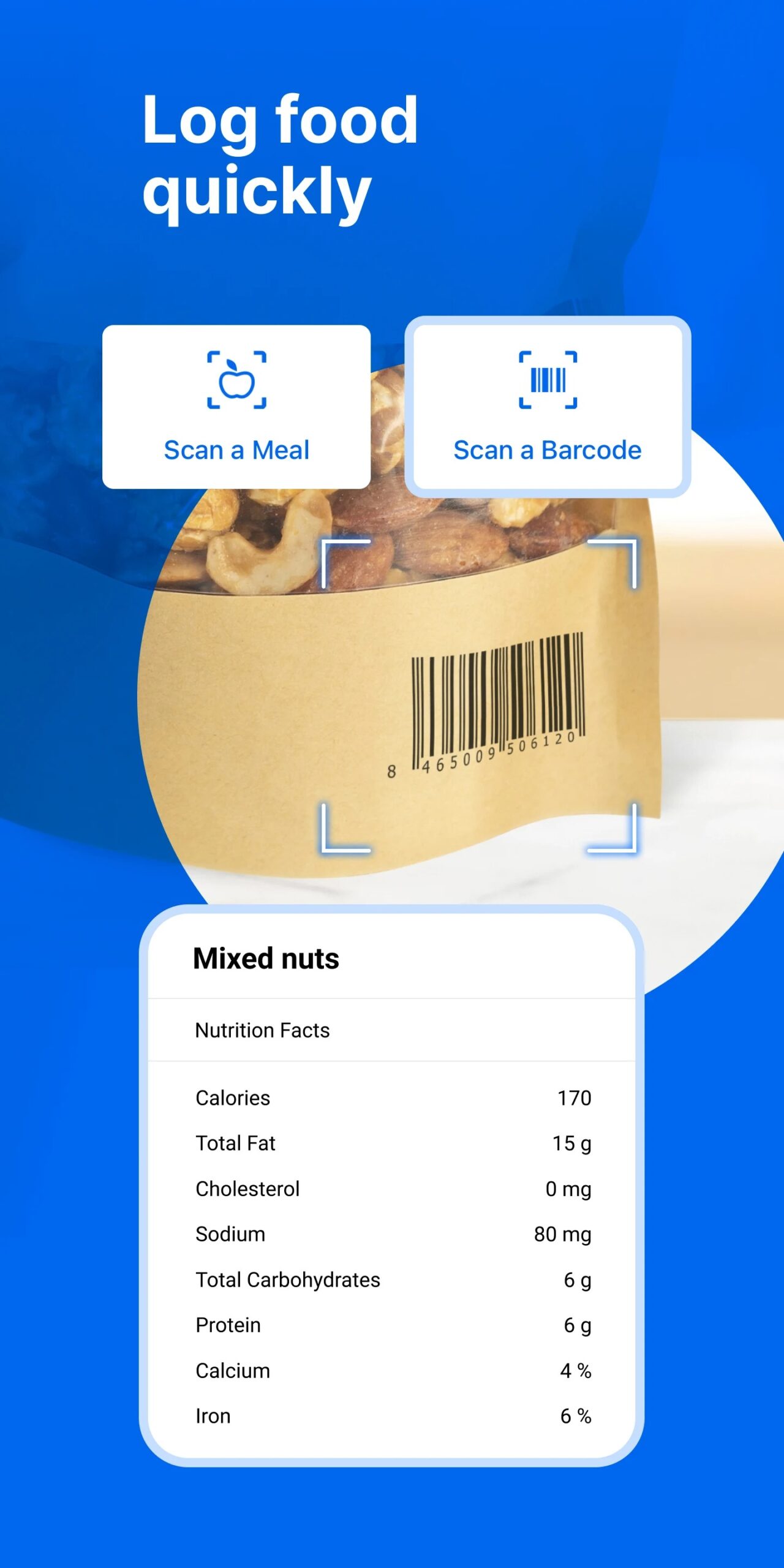 You may also like: 17 Best nutrition and diet apps for Android & iOS
Noom
Another app to keep control of your diet, because this is the crucial part when you are a diabetic. However, the hallmark of Noom is that it doesn't just provide the diet plan to you, but actually helps you to form healthy eating habits.
In the app, you will find the whole team of doctors, psychologists, nutritionists, and personal trainers that will give you useful advice about the further planning of the diet.
What is more, the app provides psychological tips on how to change your eating habits and combat stress. The app was recommended by many influential media sources, such as Forbes or Women's Health.