Dog scanning apps were invented to simplify the process of identification. Some can even give you advice on how to take care of your pet or give you more information about different breeds and how to take care of them.

Now we want to show you the dog scanner apps that, to our mind, are the best. Pet lovers can find more apps on their favorite topic in this article.
Dog Scanner
The first thing we want to introduce is a simple dog scanner that will ask you to upload several pictures of your dog and then identify its breed. A good point of this app is that it can recognize a mixed breed.
What is interesting about that app is that, besides its main purpose, it works as a social platform where you can share pictures, videos, and posts about your dog.
It's not only a fun time posting your favorite dog, but here you can also exchange your experience and help people with pieces of advice by posting on this blog.
Later we'll introduce several more apps with blogging options that appear to be very useful. And besides, you can even scan humans! This app has a lot of positive feedback, premium, and free versions.
Unlike some other apps from below, this one has a huge difference between free and premium subscriptions, one of them is that, with premium, you can upload pictures offline, but for free, you need a stable internet connection.
To our mind, that's the best app of this kind, so we put it at the top of the list.
There are some disadvantages: it may mistake the breed of a puppy and mark him as mixed, but that happens rarely. Also, it works only with the internet if you have a free version, but premium users have an offline service.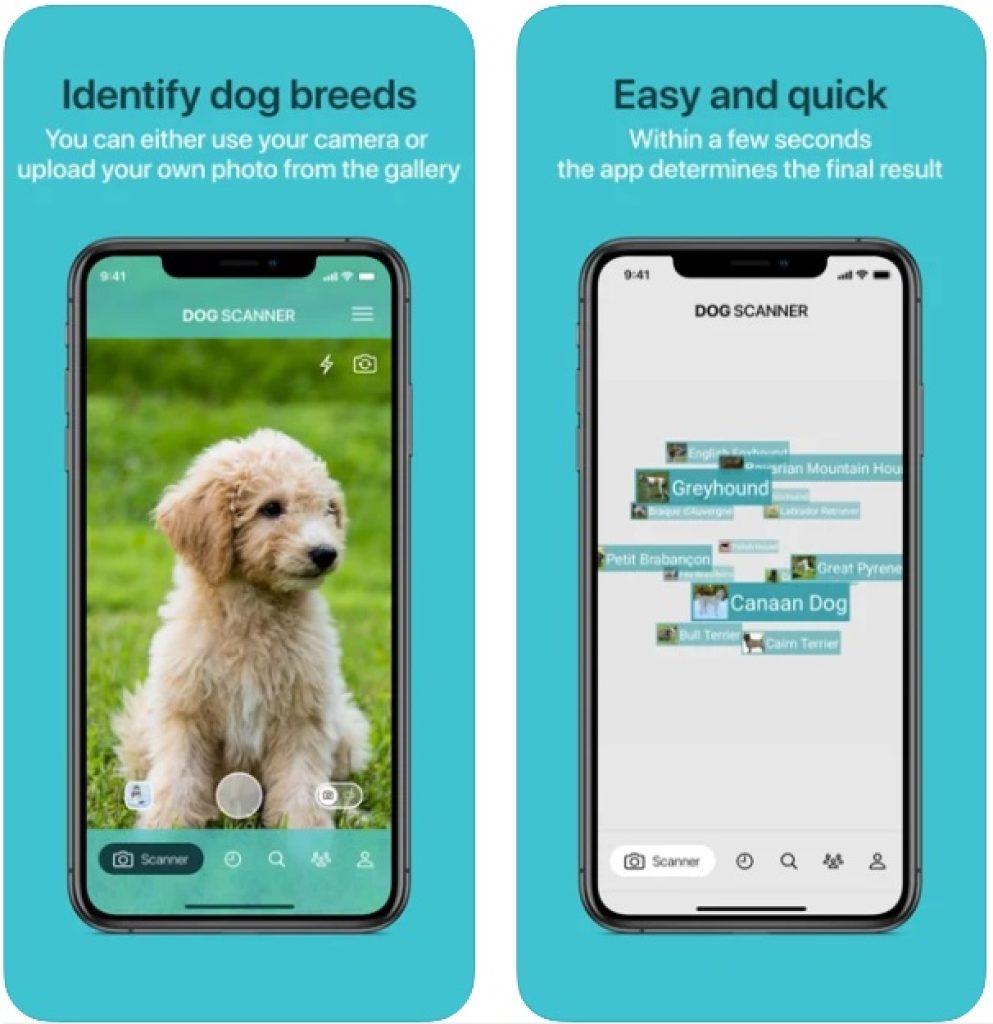 You may also like: 11 Best Virtual Pet Apps & Games
DoggyApp
This app is simple to use and has a great database with a lot of useful information about the dog. If your dog is mixed, this app will help you find its purebred ancestors.

You can download it for free, and it has good rates. It has some other interesting features, like the first app: you can share your dogs' photos with other owners and see other people's dogs like on a social network.
Among other useful pros of this app is that DoggyApp gives you information about mixed breeds in percentage and their UI has a high accuracy level, so the possibility of failing is really low.
The minor disadvantage it has: you have to take a clear picture of your pet or highlight it as a bad one, so the scan will identify the breed correctly.
Sometimes it can identify the breed incorrectly, but that's a rare occasion thanks to being one of the best UI among such apps. As the app itself is free, it has a lot of ads and some of them can be pretty annoying as they can pop up at random moments.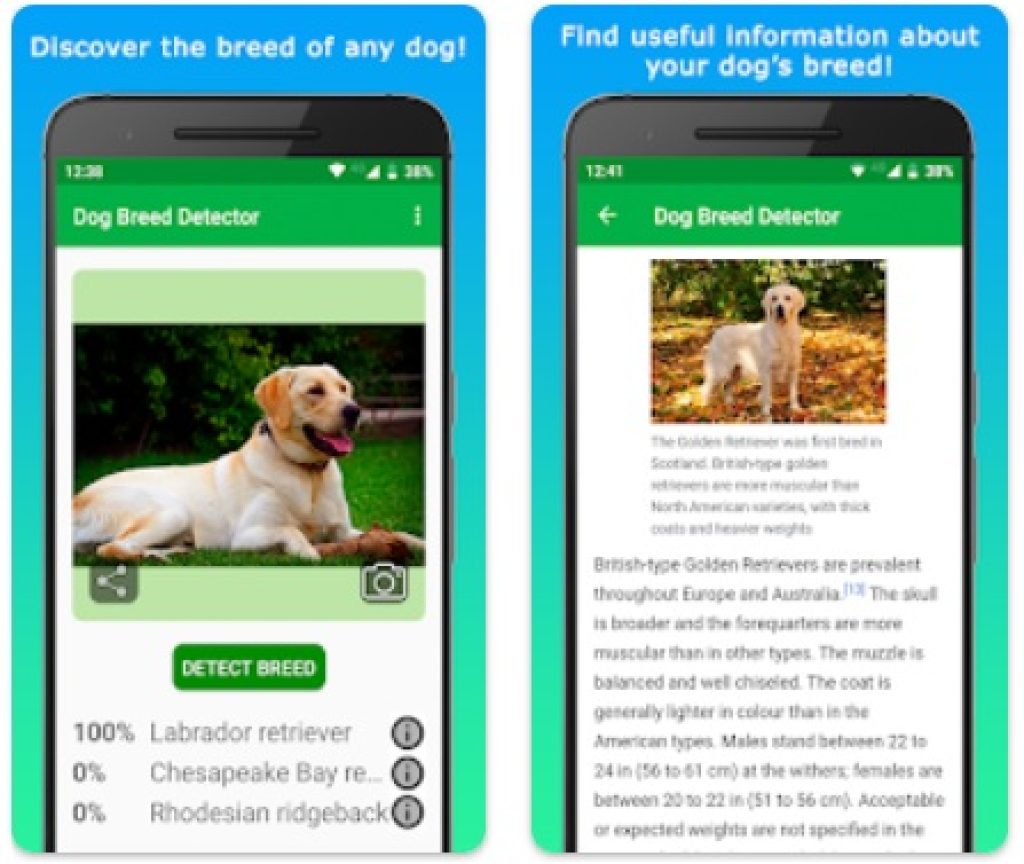 Dog scanner – dog breed id
This is another scan we want to introduce to you that has a vast database of breeds. It can also show you needed information about your dog like history, behavior pattern, how to take care of your little friend, and a lot of interesting facts.
Not only that, but it works on neural networks, so its accuracy of it is about 99%. That's one of the best results among such kinds of apps. Basically, it's a book about dogs.
This dog scan is easy to use and has two subscription options: premium and free. Easy in use, you can upload a picture of your dog onto the app and a huge database will let you know everything, even some small and not well-known facts about the breed.
But you can have some problems with the app after downloading, so we can't guarantee that it'll work. Sometimes it opens but won't even work because it crashes down.
There are no great differences between the two subscriptions, but the creators say that with further development of the app they'll make more interesting options. Those are major disadvantages that we want to warn you about.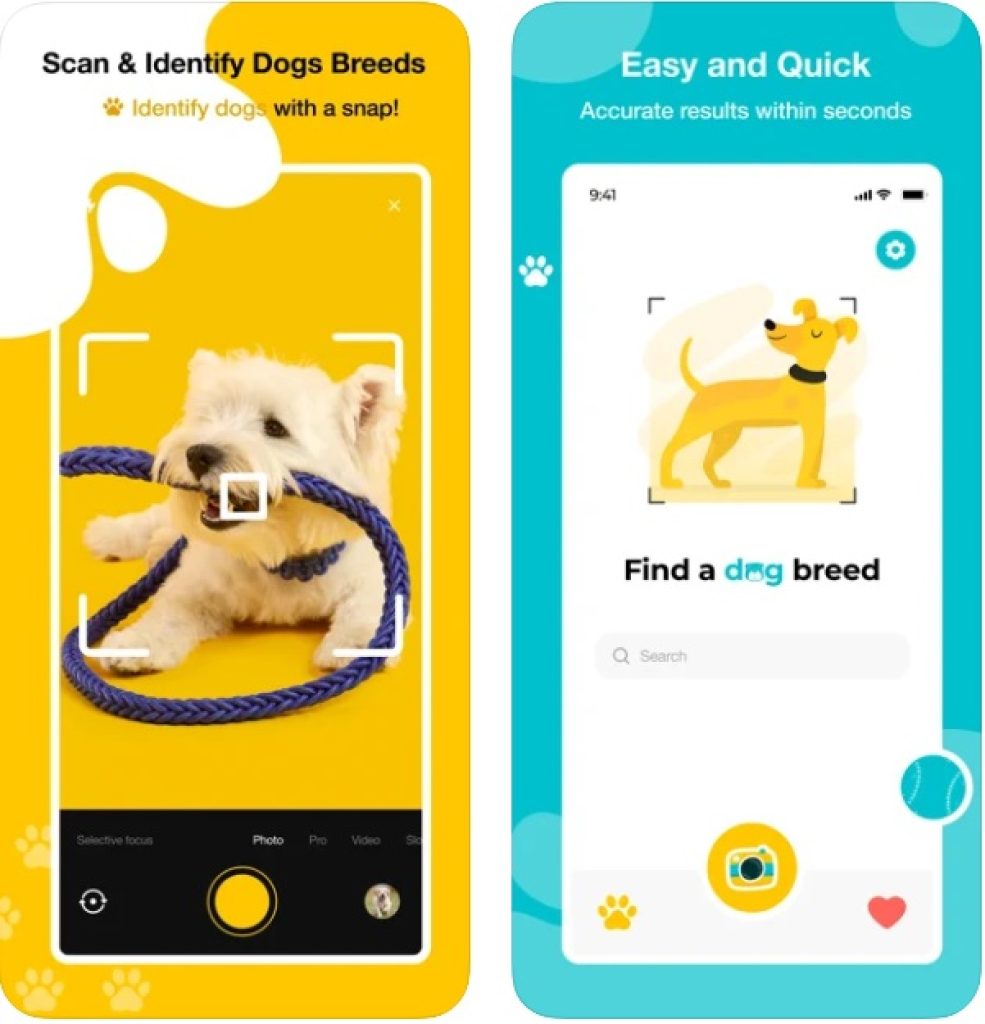 Dog Breed Identifier: Dog Scan
You want to know all possible about your pet but don't have a photo of it? This app is all you require: it has full information on more than a hundred different dog breeds, including all that is recognized by the FCI and AKC.
If you have a picture, then it's even better, just load it and the app will show you what breed your dog is. The bonus thing is that it can also identify mixed. Here you can create a profile page for your dog and share its pictures and videos with other dog lovers.
If you decide to get a premium edition, you will get access to more breeds and faster results.
The irritating things about it could be ads that pop up at random times and prevent you from using it, premium edition, and limited free use, where premium and free subscriptions have a lot of similarities but there's little to no benefit for premium users.
But if you don't mind them that much, this app will be a good use for you.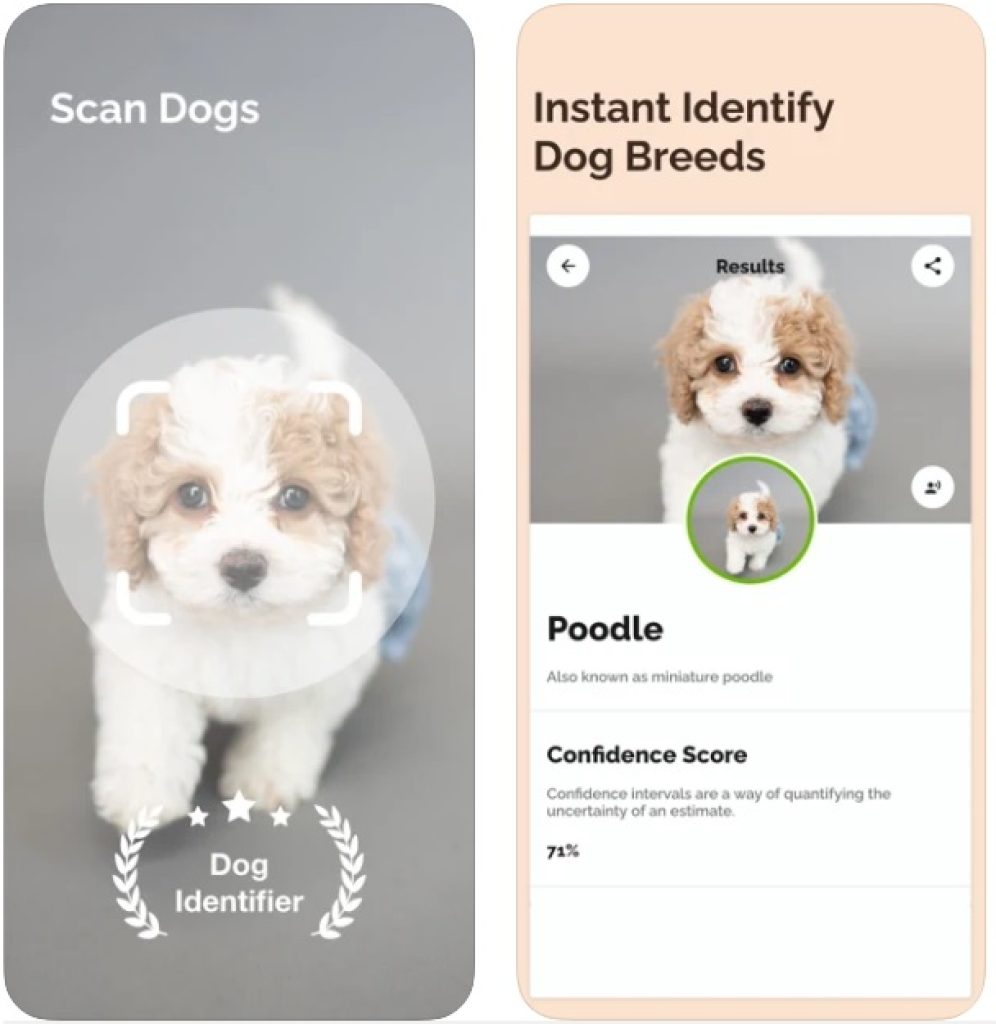 You may also like: 11 Best pet adoption apps in USA for Android & iOS
Dog Scanner – Puppy
Now tell us who doesn't like puppies?!
A smart app that will easily identify your dog thanks to a database that includes very rare breeds. It'll provide you with the newest information as it's constantly updated.
Thanks to new technologies, it can recognize the breed within seconds. You don't need to take a picture of the pet at the moment, you can load it from your gallery.
The app isn't that popular on Google Play yet, but we would recommend it for exploration for app puppy lovers out there.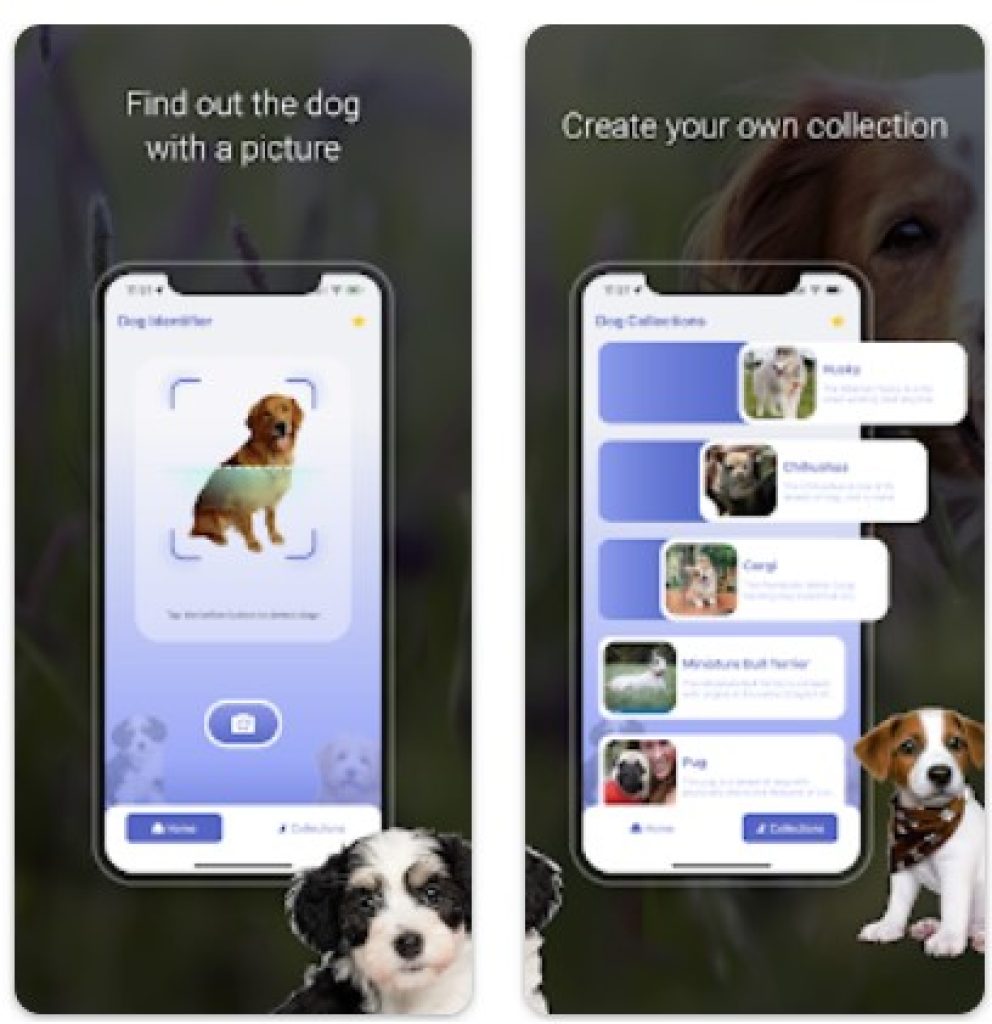 Dog Breed Scanner
Point the camera at your dog, wait ten seconds, and you can learn everything and even more about your pet. It can identify over 167 breeds with just your smartphone camera, pretty easy to use if you ask me.
In this app you can learn all about breeds you're interested in and maybe even find some that you've never heard about before.
On the one hand, waiting ten seconds might be difficult, especially if you have a very energetic friend, but on the other, it won't make your head hurt when you try to find the best picture of the dog.
Even if it's not that fast, it can definitely identify your pet. It has some other cons, such as multifunction in recognition because of a high amount of breed information, too many ads, and minor cases of malfunction.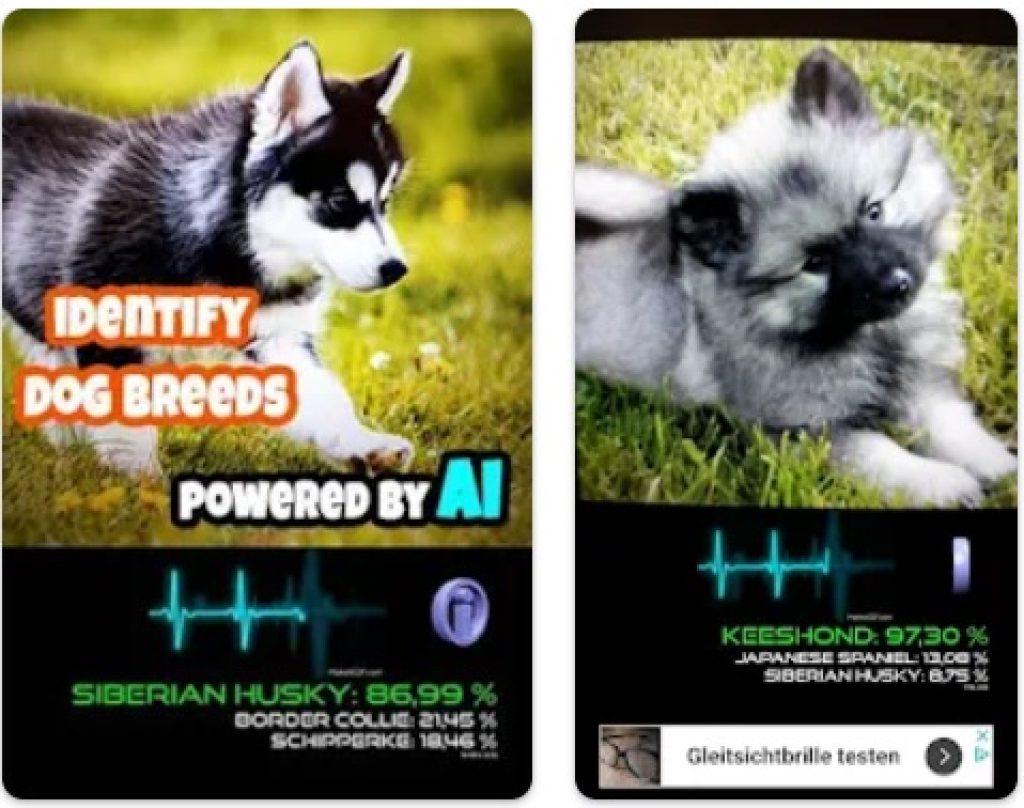 Dog Breed Identifier
If you want to be one hundred percent sure who your dog is, then this app is just for you. It can identify even rare breeds within three seconds. It will provide you with information not only from their own database but from other sites like Wikipedia too.
Recently, on some websites, it has gained less positive feedback. It happens due to some app crashes or failed identification.
Sometimes it can mark a pure breed dog as a mixed or mistake one breed for another, but developers are fast in ensuring that soon all will be back to normal and the app will work correctly.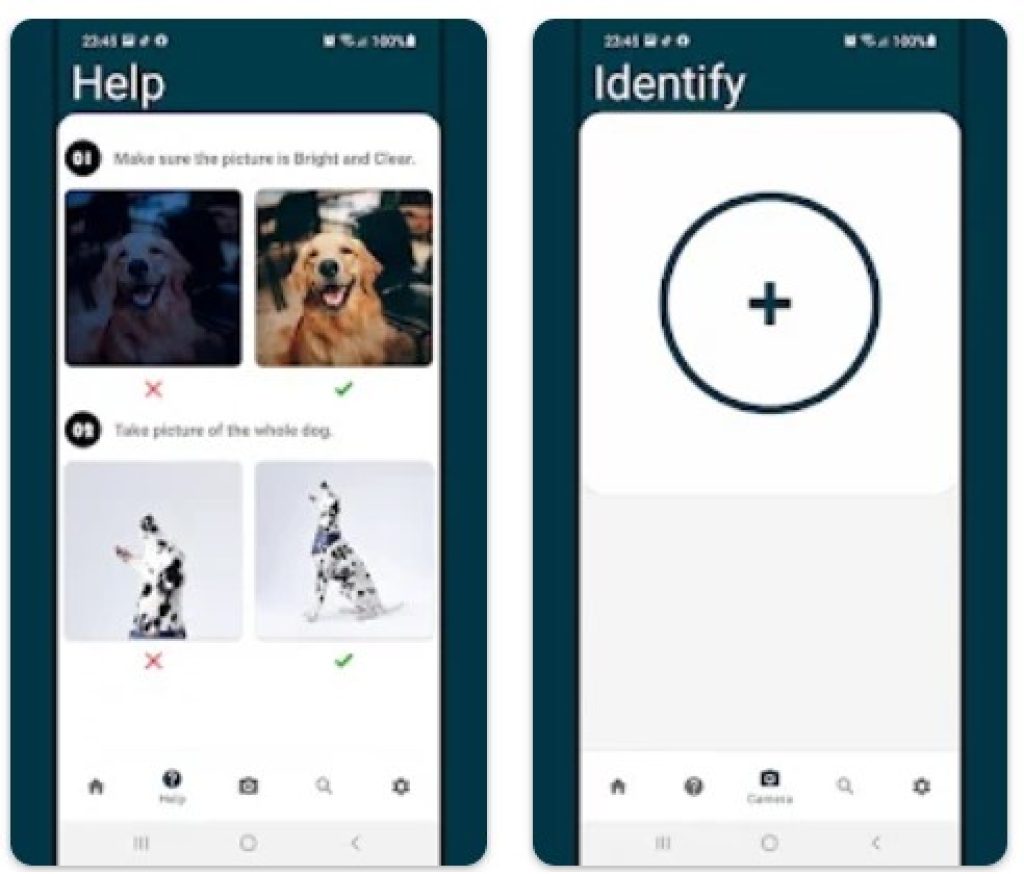 Dog breeds – Quiz about all dogs
It's more than a breed scan, it's a unique educational platform with more than 300 breeds in the database. The way information is given here is clear and easy to understand. It also has a lot of interesting quizzes – a perfect app if you have kids who are interested in dogs.
Considering that this app is more of an educational platform than a dog scan, it can be a huge disadvantage, but we still put it on this list because of a pretty large database, full information on breeds, and pictures of them.
It's easy to look up all of them to find your pet's breed. This app won't ask you to just load a picture, it's going to show you that learning something new about all kinds of dogs is fun.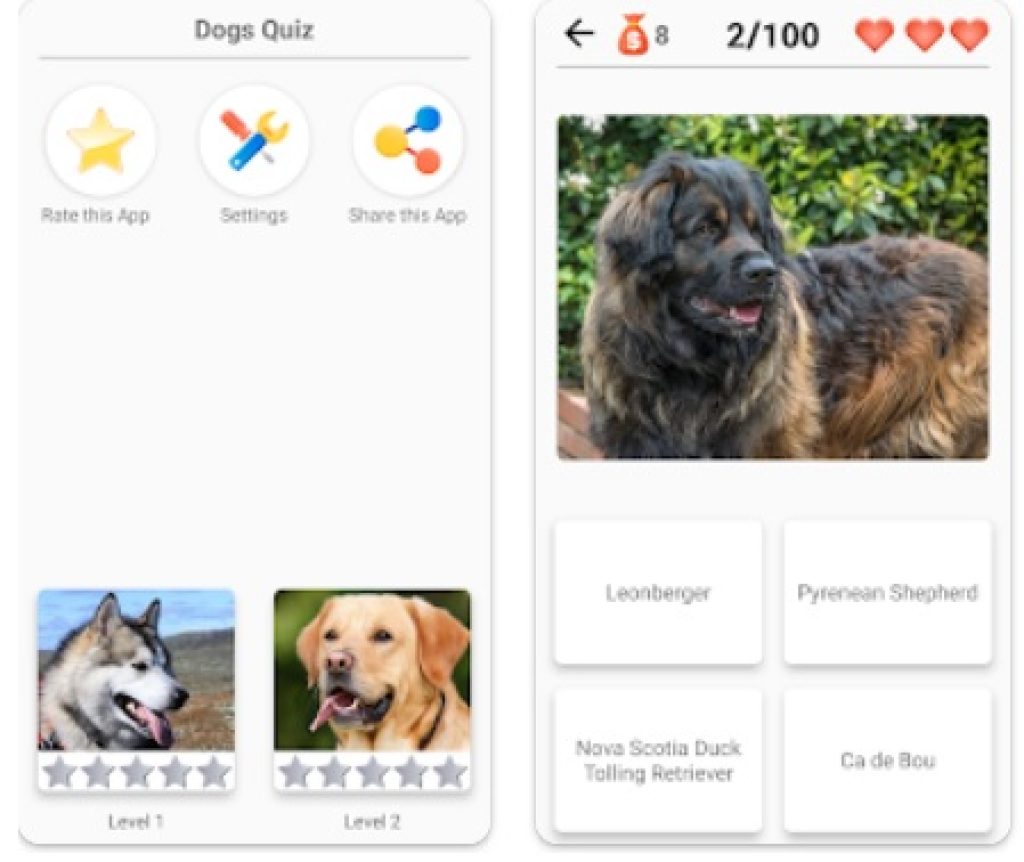 You may also like: 7 Best pet camera apps for Android & iOS
Dog Identifier – Puppy Scanner
Last but not the least, this dog scanner was developed to identify puppies of all kinds. Upload a picture of your adorable pet, and it'll show photos, information, and the history of the breed it belongs to.
You can learn about breeds even without adding a picture of your own just like in a simple book. It has some more tricks on its sleeve: if you don't have a dog nearby or have a bad day, this app has funny dog videos to entertain you.
Besides funny videos, it'll provide you with useful blogs on all breeds in their database. Also, it's fast and easy to use.
We decided to add it to the list of best dog scanners even if it looks similar to another app that has somehow similar design and UI and, besides, it can be a social platform.
Also, like all apps, it has its own cons: sometimes it can crash and the main focus of it is to recognize puppies, or it can identify a pure breed as a mixed, but that doesn't happen often.