Nowadays, there are a lot of offline and online games for smartphones. People massively install games on their devices, sometimes even specifically buying tablets – because of gaming on the screen, bigger than the phone screen, much more interesting and colorful.
You may want to check our latest list: Best Farm Game Apps 2023
For example, the world of modern technology is fascinating to some people. They go into the virtual world, absolutely detaching from reality.
Unlike computer games, applications on iOS and Android are convenient because they are always at your service. Smartphones are always with us, respectively, and the virtual world, too.
But sometimes you want to distract yourself from the world of technology, even in the world of technology. There are whole categories of genre games. You can not even imagine how many people are interested in developing a small world on your smartphone.
You may also like: 9 Best Restaurant Management Games for Android & iOS
One of the genres of these games is the farm games. Thousands of people around the world every morning go into applications, harvest, feed animals, and develop their orchards and gardens.
Small villages and farms are developed by people who work as programmers, office workers, or workers in factories. The calm and measured world of nature attracts, especially if you can develop and progress in it.
It is because of the popularity of this genre of farm games we have selected for you the best farm apps for 2022, so you can enjoy the game right on your smartphone.
FarmVille 2: Country Escape
FarmVille is a series of games focusing on farms, each with its own storyline, concept, and features. For example, one of the representatives is FarmVille 2: Country Escape.
The game initially looks like a large field where you can place objects, beds, and plants. Over time and with each new harvest, you get experience points that take you to a new level. With each new level, more and more opportunities open up. Let's look at them, even partially.
Fruit and plant yields – you can grow very different types of crops. For example, soybean, wheat, indigo, or even plant apple trees and harvest first-class fruits. It all depends on your level – some open up new plant species and the number of free beds.
In-game trading – you can improve your trading skills and sell everything you have grown or created on your farm to other players. Or you can buy the items you need from them.
Create a new one. Your farm can have ovens for baking delicious apple pies, as well as other devices to help you do something about the harvest. Everything is like in real life!
The game connects to your Facebook account. So if you want to or do not have access to the phone, you can, for example, water the plants on your farm, just by logging into the social network. Importantly, the application is available offline and online. So your little world is always with you, even without access to the network!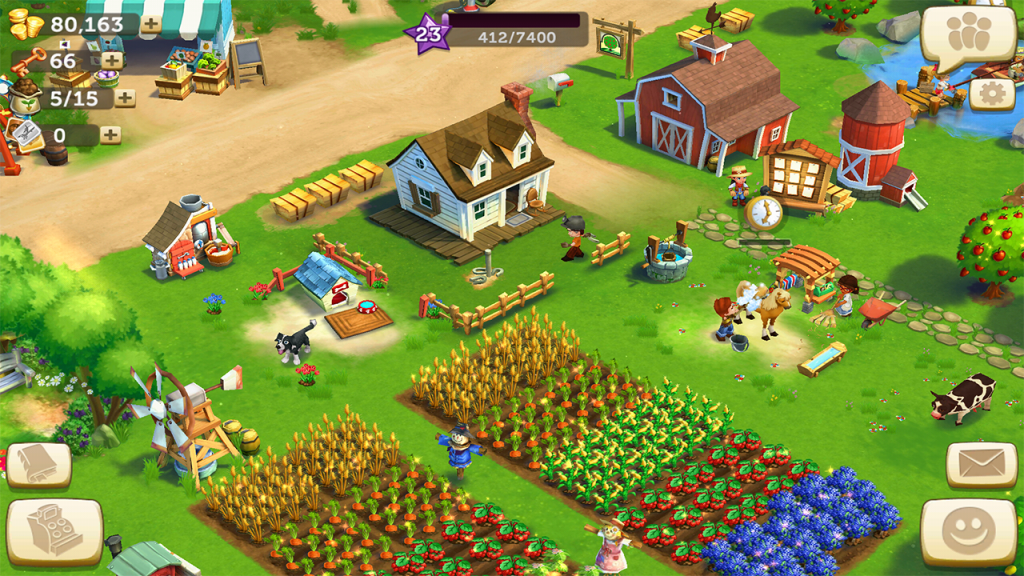 You can also check: 25 Free offline Android games 
Farm Story
The app you could see at the top of the App Store because it was ranked 1st in the ranking of games. Impressive, right?
You can play Farm Story with your friends. The game asks you to connect to your Facebook account, so if you want to play with the whole group, you should give the application that permission. You can watch the development of their farms, as well as the farms of other players, and be inspired by new ideas.
You can grow more than 150 plant species in the game. Of course, not all of them will be available to you right away, but as soon as you reach new heights, you will discover more and more crops and trees.
Farm Story releases updates every week, so you will not get bored developing your farm. Each update is not just about fixing bugs, but also adding new items and equipment.
Besides your friends, you can also visit other players. See what other people can do! Get inspired by the design of their farms and design your yard, placing beds and animal pens on it. You can take your farm to the next level by constantly going to the app, harvesting, and selling your crops.
The Farm Story app itself is free and available on iOS and Android platforms, but with in-game shopping available. If Farm Story is played not only by you but also by your child, you can disable this feature in the settings. So you can develop your farm without investing real money.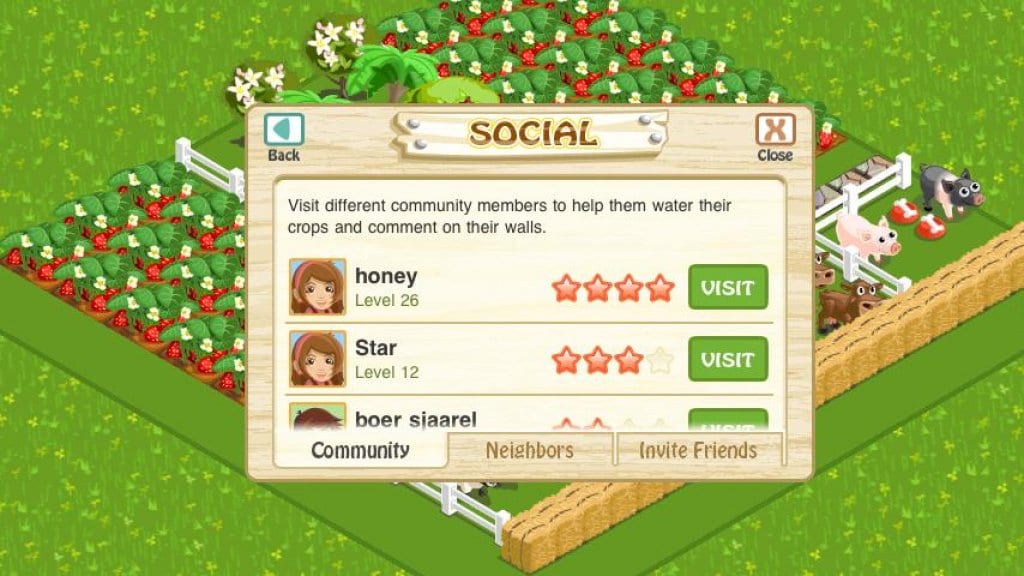 Harvest Land
Harvest Land is a casual-based game in which you must build a small farm and develop it into a large one. You will play as settlers who arrive on a previously uninhabited island in hopes of building a new world.
From the very beginning, you are introduced to the main mechanisms and gameplay features during a small tutorial stage. All economic and developmental activities are done by workers who live in designated houses. The available number of workers grows with increasing levels.
In addition to workers, warriors are also needed on the island, as the fauna of the uncharted lands is aggressive. Development is based on the production and processing of resources with their further use or sale. Gold is used to make new buildings and hire new workers.
The aim of the game is constant development, as in all games of this genre. From the monsters attacking the settlement are knocked out artifacts. They are also used to create and recycle items.
As you reach certain levels will open up extra features and locations. Exploring dangerous territories, equipping sea voyages, searching for the treasures of ancient civilizations. All of this and much more awaits you during the passage.
There is interaction with other players. You can join clans, trade, share resources, and so on. Accordingly, the game requires a constant connection to the Internet.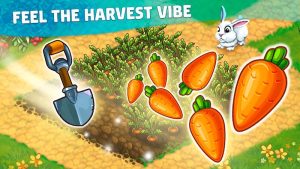 Farmville: Tropic Escape
When you thought that farms could only be developed in villages, suburbs, and close to fields, you were very wrong. Farmville: Tropic Escape invites you to plunge into a world of exoticism and build your home on the island.
Each farm is a separate island that you manage entirely. Because of the climate, you can grow exotic plants that are never found in the middle zone. You can create new drinks and produce them out of the unusual fruits – treat other players with fresh juices and cocktails!
There is also an opportunity to open your own hotel, then your guests can enjoy exotic drinks and fruits. A hotel is a whole business, which will bring you additional profit to the farm! Also Farmville: Tropic Escape contains minigames. Play while playing – twice as much fun.
Given that you will now have a hotel, you can hire guides and tour guides who interact with tourists. Some levels even have special tasks and missions related to them. You will discover all their riddles and explore your island even more.
Trade is no longer just between farms, but between whole islands. Your neighbors are owners of the same separate islands. Build your own hotel business, trade, and gain gaming experience – all this is what Farmville: Tropic Escape gives you right in your smartphone.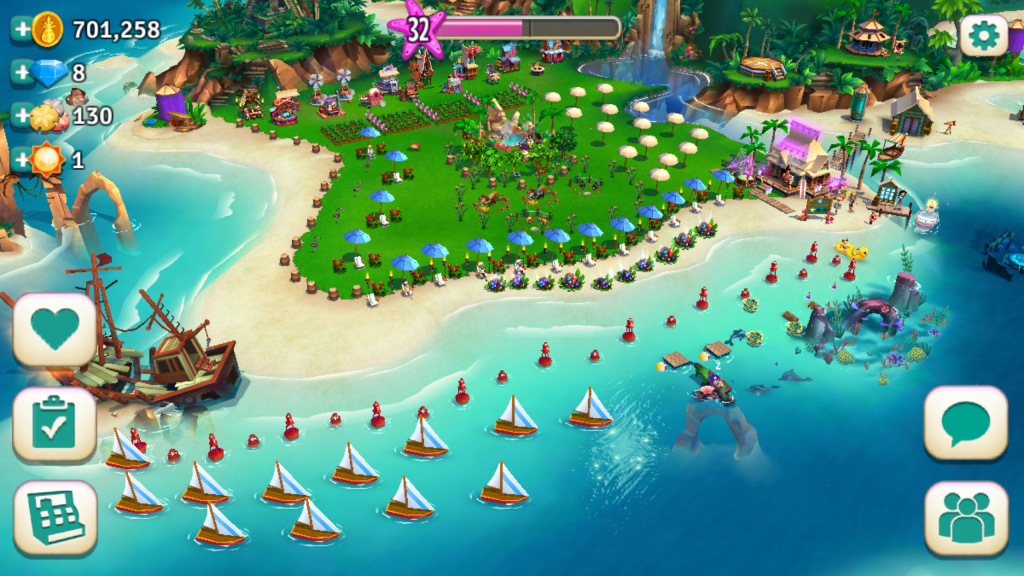 Farmland Farming Simulator
In case you are confused by the fact that all farm games are more like cartoons or even pictures, there are special applications for you. 3D graphics, realistic modeling, real equipment – all this is presented in Farmland Farming Simulator. Here you will become a real American farmer, with your fields, animals, and farm.
Operate the tractor and other large farm machinery. In the Farmland Farming Simulator, you really do collect your own crops and drive around the fields. Smooth handling will only help you do this.
Your farming career starts with modern tractor models, which are now used by real farmers. In the story, you have been running the farm since the early hours of the morning.
Animals are also represented. As a real farmer, you breed cows and sheep, collect their milk and wool and then sell them. You can create a whole sheep farm and the meat business in the nearest market. As soon as your equipment becomes obsolete or you just have money for a new model, you can also sell old equipment and tractors. Indeed, everything is as if it were real!
Over time, the game becomes more complicated, the levels are getting more and more complicated. For example, there comes the rainy season, for which you must prepare in advance. Or the winter season, which also requires preparation and harvesting livestock feed.
Feel like a village resident and a real American farmer with a Farmland Farming Simulator. No game has ever been so close to reality.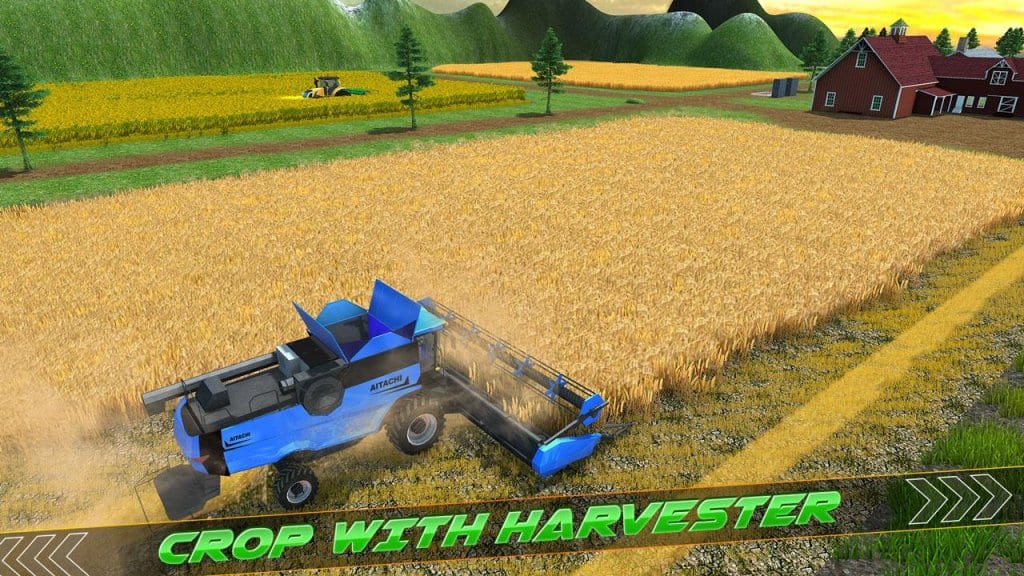 Hay Day
One of the best games, which is always at the top of the Casual genre. Constant updates keep users in a state of constant interest. Events related to reality – for example, the New Year's Eve update or summer holidays are liked by players.
In Hay Day you get a farm with a plot and several abandoned areas. As soon as you develop it, they will open up to you. Over time, you will be able to restore the dock, go fishing, and build a railway station. From the quay, you can carry out orders and send packages by ship. For each order, you receive a cash reward and experience points.
A fishing boat allows you to set up nets and catch fish and crayfish. You can use what you get in the trade or production in the future. The train brings visitors who want to buy something from you. Fulfill their requests and get an award!
Interaction with other players is a key feature of Hay Day. You can join the neighborhood and participate in festivals with the team and help them (for extra experience points, of course). Help your neighbors – and you will be able to develop your farm faster!
Grow different crops – wheat, carrots, potatoes, and others; take care of your livestock – you have chicken coops, pens for sheep and cows, and other animals at your disposal. You can even buy your own stables or dogs later on!
Your harvest will never disappear, your animal products will not be sour and your products will be produced even without your participation! A magic farm is something that will help you relax after a hard day or cheer you up early in the morning. Become a farmer, promote your farm – and all this for free on iOS and Android.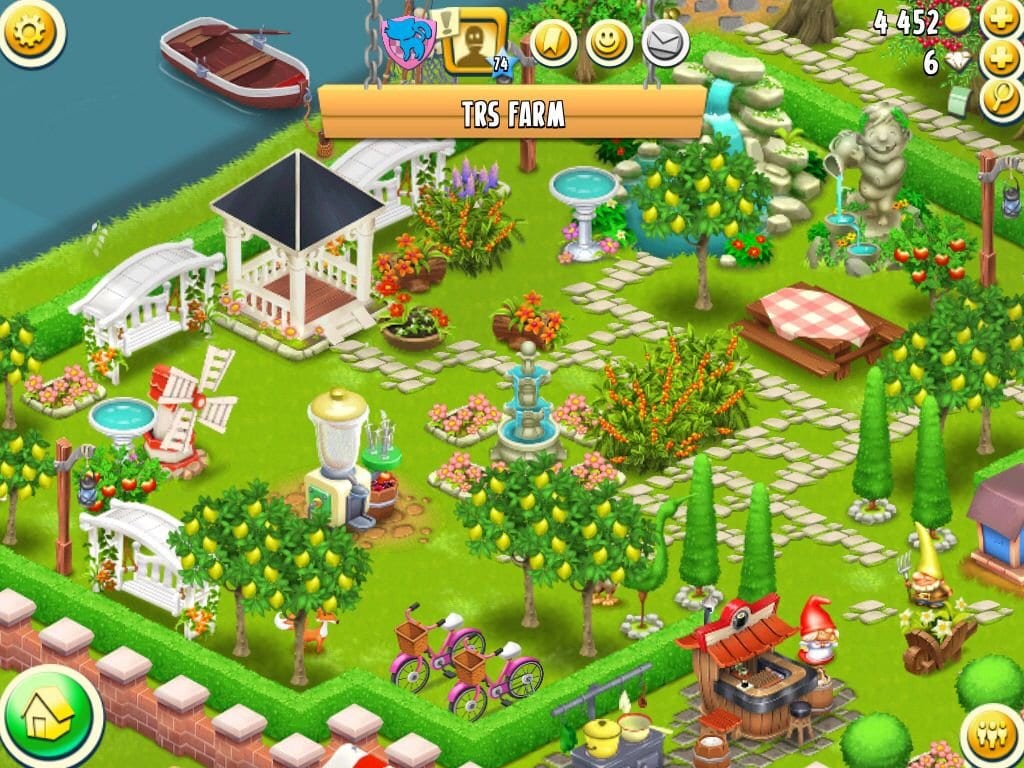 Speed Builder: Endless Running Town Building
Now this is not exactly a farm game, but it definitely brings the similar vibe. If you are tired of the classic games in this genre you can try out this one where you need to rebuild a small town as quick as possible.
In the Speed Builder game, users can build and maintain a good standard of living in their own village. In this game, the village faces various natural disasters from which the player must save the inhabitants.
Here, the user can collect resources as he or she runs away from natural disasters.  Throughout the game, the user will face various problems, such as
Fire
Meteorites
Tornadoes
earthquakes and other
In addition, as users progress in the game, they can upgrade the houses they build. In order to save their inhabitants, the user will need to build bridges to overcome the pits.
In addition to houses and bridges, users will be able to build
factories
chemical laboratories, and more.
In addition to natural disasters, there are bandits in the game, from which the player will need to get rid of in order to ensure the safety of the inhabitants.
If you do not get rid of the enemies, then they can steal the resources that you have collected.
Users can also collect achievements and get on the leaderboard. Thus, users will be able to compete with other players.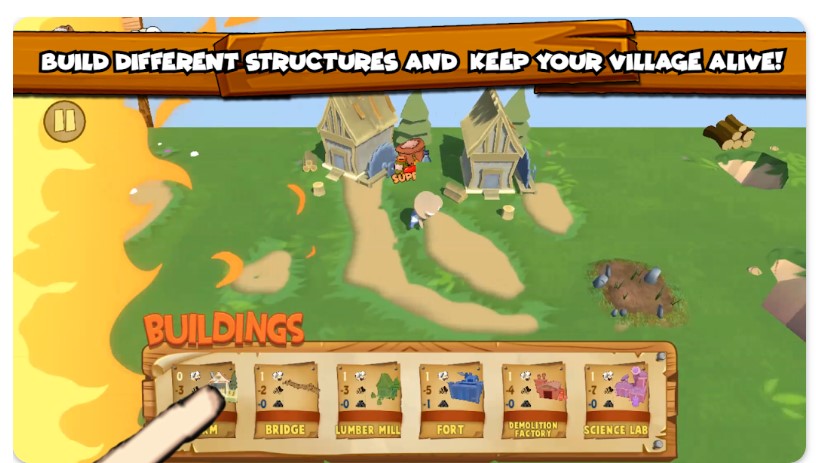 Township
Casual games are not just about farms. Another popular type of application is the construction of cities and megacities. Township organically combines both types.
Create your own farm and build a small town with your infrastructure and supplies. Township connects everything together: you grow resources on your farm, take care of animals. The resources can be sold and rewarded with an award that you can then spend on improving your farm and city, or you can supply all of these resources to your town.
You can grow anything you want, from cultivated plants to fruit trees. Some of it will be for sale, while others will need to be spent on feeding the animals. Speaking of animals: Your farm can house a lot of pens with different animals.
You also have access to a mine where you can mine and study fossils. You will also find unexpected artifacts in it. Place cinemas, houses, factories, and more in the city. That is, you are completely from scratch developing the infrastructure of the city, providing it with products from the farm.
You can fulfill the orders of urban residents and establish trade with other countries. So, with the help of international cooperation, you will have access to exotic products and items.
Township also has jewelry, so you can decorate your city with world-class statues such as the Statue of Liberty or Big Ben. Bring some sights to your creation!
The game requires an Internet connection and you can also connect to your Google and Facebook accounts. This way, you can automatically save your gameplay and play with your friends!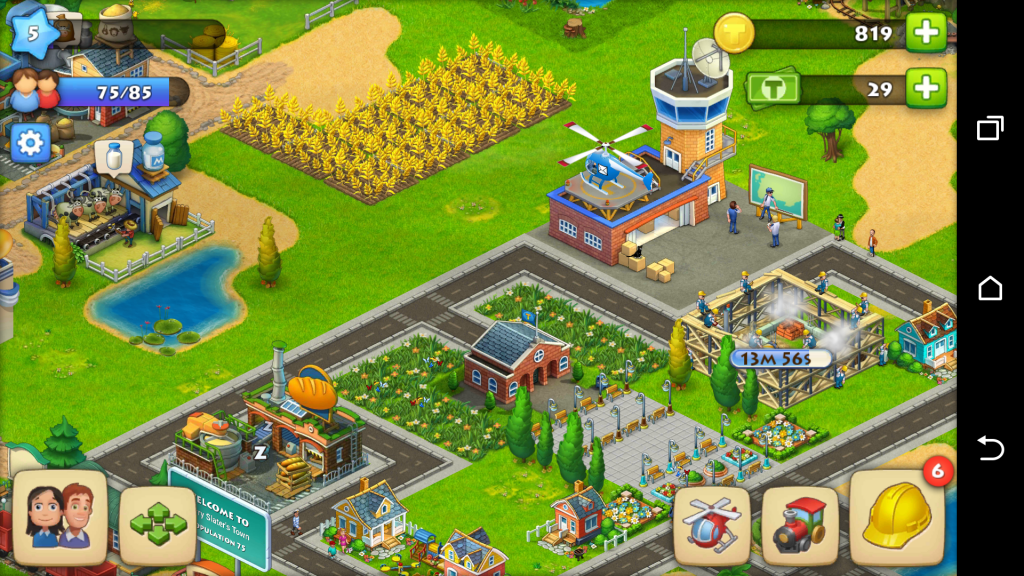 Green Farm 3
Green Farm 3 is a really widespread old farm, which will appear before you in a new form, in the third part. The interface and menus are straightforward, so it will be easy for you to join the farming team. Then you'll need your strength and diligence to restore the old estate and become the most famous farmer.
The casual game starts with the fact that you inherit an old estate from your uncle. To restore it will take a lot of effort and time, but now you will not be alone. Enlist the support of your neighbors as well as your friends to start your journey as a farmer.
Once you've cleaned up the old house and grounds, you can start gardening and growing orchards. Once the ripe fruits are harvested, you can sell them or exchange them for necessary items from other farmers. Set yourself the task of creating an incredibly large and profitable farm.
Become a successful businessman. Save up funds to buy new trees, new seeds, and fertilizer for your vegetable garden. Expand your farm and raise a cattle yard. An unconventional, action-packed farm attracts players of all ages and becomes a favorite game.
Idle Farming Empire
It is a real farmland empire. Idle Farming Empire is a basic game related to agriculture. There are no complicated missions, complicated tasks, and troubles in it. All you have to do is love farming.
Over time, new and more interesting crops will become available to you – plant, harvest, and sell your crops! The more interesting the crop is, the more you can get for it when you sell it.
You can also raise chickens, goats, cows, and other animals on the farm. You have to take care of them, feed them, and collect their resources – wool, milk, and eggs. You can also sell and raise money.
As you can see, Idle Farming Empire makes you a little bit of a businessman. You are given the opportunity to become almost a millionaire by simply growing plants and animals! You can earn constantly, almost 25/8! Automate your farm and it will constantly bring you income. The longer your farm exists and grows, the more money it will bring you.
The convenience of the Idle Farming Empire is also that the game is offline. At home, on the road, on the plane, on a lunch break at work, or on the beach – play anywhere! No time or Internet restrictions – keep your farm running smoothly.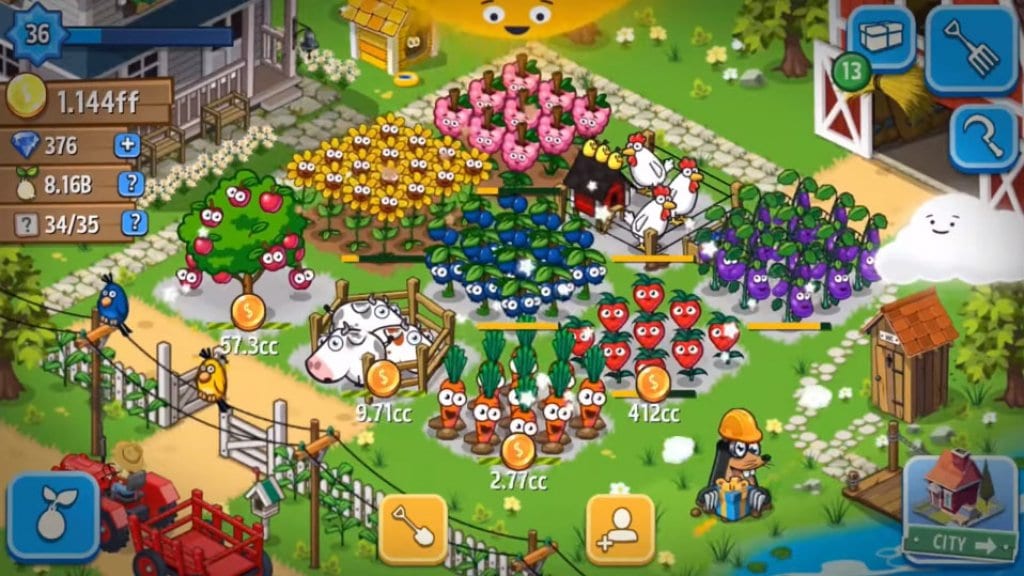 You may also like: 15 Free No WiFi Games for Toddlers (Android & iOS)
Smurfs' Village
Who does not know smurfs, funny blue creatures who sneak around and have a good time? Everyone likes them – both adults and children. Are you a fan or did you like cartoons with them as a child? Continue your exploration of smurfs in Smurfs' Village!
Smurfs' Village is a story game. In the story, the evil wizard Gargamal completely destroyed the village and now the villagers cannot live there – there is simply nothing in the village! Restore the Smurfs' homes, help them start living again after the tragedy.
Initially, you are given a small plot and a house, which you can expand and improve. On the site, you need to grow a Smurfberry – so that the smurfs can eat. Then you can build mushroom houses, huts, and modify them – be the best builder.
Smurfs grow smurf berries on beds, build bridges to move around, and brightly decorate their farm. The more jewelry and decoration you have, the more beautiful your farm looks, and the brighter your imagination work.
In addition to the basic gameplay, Smurfs' Village features a range of minigames. You can play them right in the app and earn money!
Meet your favorite characters – Smurfette, Pope Smurf, Gluttony, and other famous cartoon characters! Show all your achievements to your friends on Facebook – so you can even compete with them in the game progress.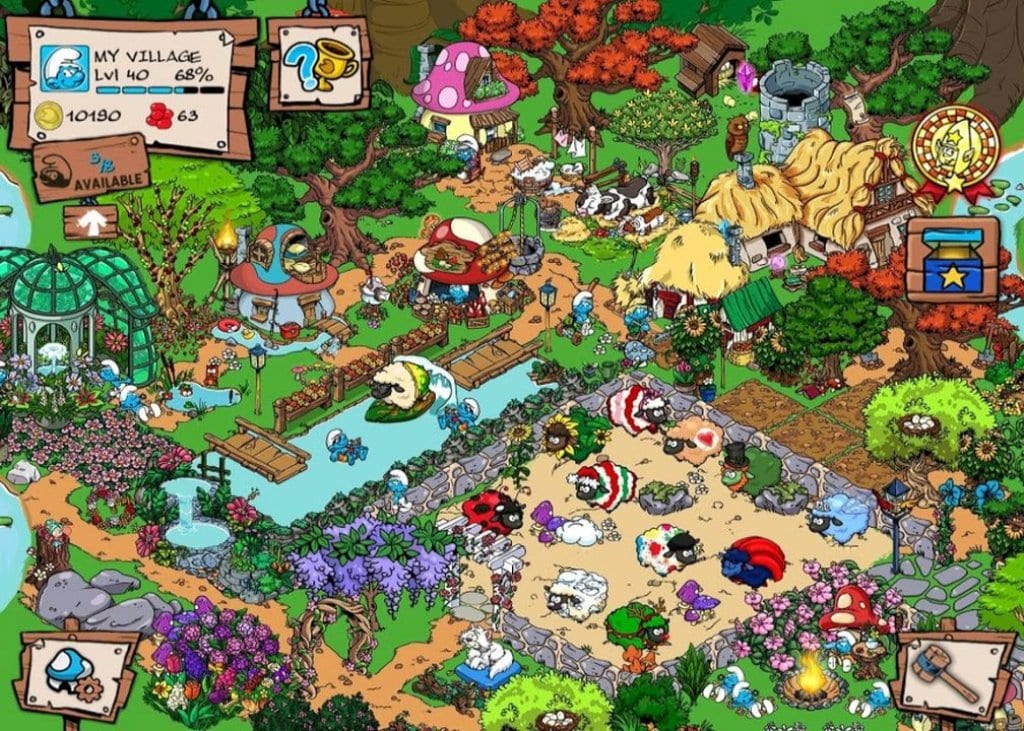 Let's Farm
One of the most popular farm games available on iOS and Android platforms. If you are a lover of missions and special tasks, Let's Farm is a great option for your leisure time.
Let's Farm is considered a family game, so you can spend long family evenings together, by playing and evolving your farms. You can even have mini-competitions – who are better able to develop their property and reach the highest level.
On the farm, you can grow different plants, as well as to get nice animals. Animals live in special enclosures, so before you get a cattle, you need to get a home for him. Let's Farm has a huge gaming community.
The application is actively used by more than 10 million people around the world! Farmers are free to go in and look at other people's farms, help their neighbors, or just take ideas for design and inspiration.
In addition to regular visits, you can also trade with farmers from all over the world. So you can promote your farm, make money, and make new friends.
Complex tasks are also part of the game. Without them, you will not be able to move to a new level in Let's Farm – you will simply have very slow gaming experience. Go through them and strengthen your farm. Try yourself as a landscaper and design your farm so that everything looks organic and beautiful. The game should please you!
Family Farm Seaside
A game that has already been enjoyed by more than 80 million users around the world! Nothing surprising that the game has gained such popularity – a nice and user-friendly interface, beautifully traced objects, and ease of operation – all this attracts new users and makes the old continue to play.
In Family Farm Seaside you get not only a farm, where you can plant and collect various crops, but also places for animals and pens for livestock, as well as your cozy garden and barn.
What sets Family Farm Seaside apart from other casual games of this genre is the unlimited space in the barn and you can easily save goods or collect resources. In other applications, you will have to either expand the barn for a fee or sell already existing items.
You can build 2 farms – one on the original plot, and the second already on the coast. This way, you can expand your capabilities and the types of plants you can grow.
In your garden, you can plant exotic flowers and pick up a whole greenhouse. In addition to farming, you can prepare delicious dishes and sell the resulting products. It can also be found in your orders, which you have to fulfill.
In general, in addition to plants, flowers, and animals, Family Farm Seaside also has missions you can perform to keep you entertained. Once one of them has been completed, the other one opens right away, so you will always have a goal to achieve which you will manage your farm.
Family Farm Seaside is free, but it requires a permanent Internet connection. So before you start playing, check your Internet connection to make sure you don't suddenly fly out and miss out on all your gaming progress. Build your farm on the beautiful seashore and become a farmer with the most beautiful farm!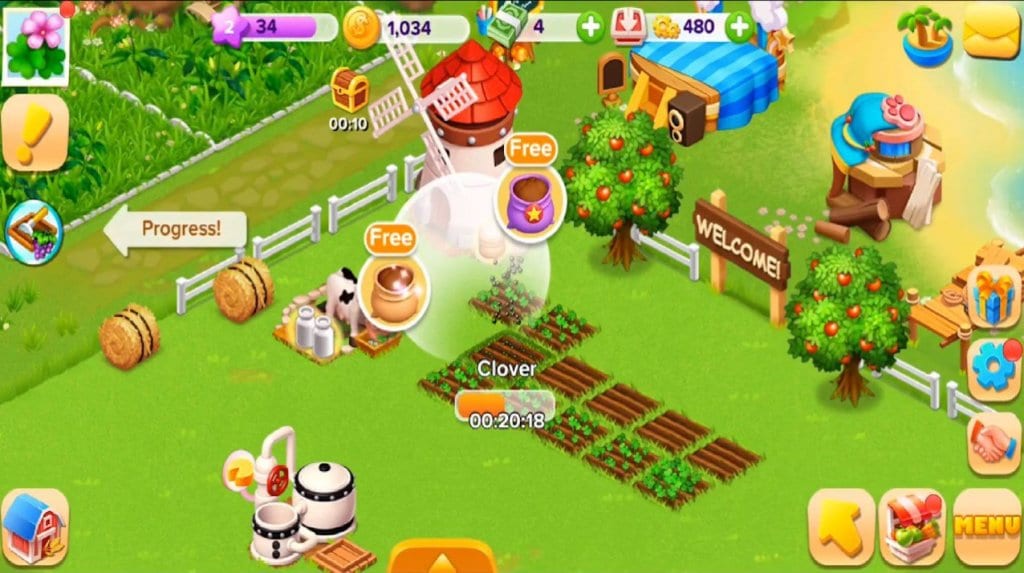 Zombie Castaways
In the game Zombie Castaways, you will plunge into a colorful world with cute and funny characters. It's a classic farm with a unique story, where one walking dead man falls in love with a beautiful girl who captivated him at first sight. Only in this form, in which your hero is, he can't show his beauty.
There is an ancient legend that says there is a magic potion on earth, "Zombium", whose power is to turn a terrible zombie into a human. In the simulator, there is no rest for the zombie's heart in love. Thus, he commits the most desperate deeds, he is not afraid of difficulties, monsters, and various traps.
Start your journey through unbelievable places, explore the island, find the clues that will help you to get the artifacts. A huge fairy tale world, funny characters, and dangerous missions await you. Discover and grow flowers, plants, and fruits to make a potion recipe from the book.
Do you have enough patience and courage to find the right elixir recipe? The main task in the game is to find a potion that is able to return the human form to a dead person.
The search can take many years, and so you need to complete tasks, develop the island and travel, fill beds with vegetables and fruits. Command zombie workers to make new buildings and grow fruit, give tasks to fishermen, cooks, treasure hunters. Clear the island and build your unique city.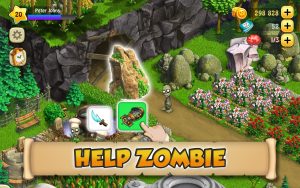 You can also check: 15 Best resource management games for Android & iOS
Big Little Farmer
Big Little Farmer is a cool farm game that you can play without any Internet connection. You don't want to come back to your grey everyday routine in the city after you escape to the green fairy-tale farm reality. Polish your skills of growing your farm in this cute and exciting game.
Your task is to grow and rip the harvest, such as corn, oats, and many other kinds of grain. And don't forget about your animals on the farm! Your other task is to feed and take care of your cows, sheep, dogs, cats, chicken, and all other animals that live on your farm. Later you can sell harvest and animals.
Enjoy your moderate lifestyle, enjoy your farm. However, in this chilled lifestyle rhythm don't forget to develop your farm business – as your harvest grows, the orders grow so you will have to order the bigger amount of trucks to transport it and so on.
You can become the leader in the world of the bakery, milk industry, clothes industry, and so on. In order to achieve all our farmer dreams, you need to work day and night. You will be receiving the new tasks constantly a din order to progress in the game and grow the farm business you need to perform them excellently.
By the way, you can not only sell the food you grow but also use it for your personal cooking. Use your harvest to cook the best dish and share it with your whole family!
In all the aspects, this is the classic example of a good old farm game – if you are looking for one you won't regret getting this one.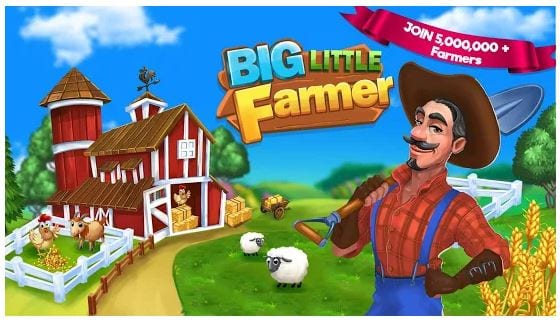 Nowadays, most people live in noisy and dusty cities. They do not just live there – they were born in metropolitan areas and have no idea what rural life and the countryside are. Of course, we would not have lived without a farm, but usually, it is a family business and newcomers rarely appear there.
With casual farm applications, you can feel what it is like to be a farmer. Growing plants, feeding animals, depending on weather conditions and seasons, as well as a trade-in, produced goods. Feel all the charm of such a quiet and measured life, become a farmer – at least on the screen of your smartphone.