Does it take your phone too long to get fully charged? You can easily change that!
There are lots of fast charging apps for Android that can boost the charging of your devices. These apps will work regardless of what type of charger you have because they only optimize the processes within your mobile. Besides, these apps clean the RAM of your mobile and give you the info about the condition of your battery.
In case you want to lock folders on your Android make sure go through these free folder lock apps.
Here's the list of the best apps that category that worth your time. Have a look!
Fast charging – Charge Battery Fast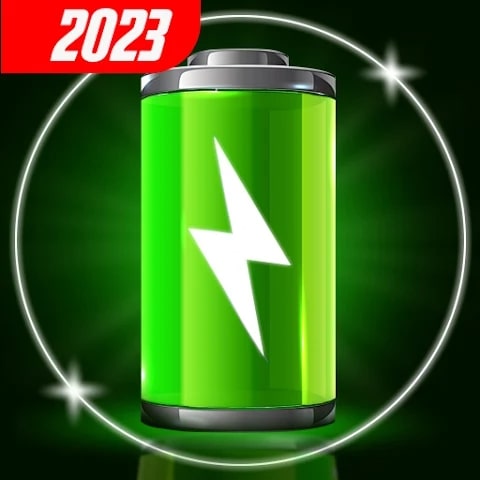 The second app is called Fast charging and it is an app that will reduce the regular charging time of your mobile.
This app fastens app the time it takes your mobile to charge regardless of what charger you have. This is how the app works — it closes all the apps that run in the background of your mobile and slows it down. The app also disconnects your mobile from any source of the Internet including Wi-Fi and turns off your Bluetooth.
Wherein, all the apps are getting closed properly and you won't lose any data. The app is not overloaded with functions so you'll quickly figure out how to work with it. There are various optimization techniques that only take one tap to use. Hereby you can clear your RAM or low down the brightness of your screen.
There are also individual buttons that turn off the Wi-Fi or Bluetooth. Therewith, you can also view the status of your battery and its temperature. It's even possible to get notifications to all attached devices when your battery is fully charged.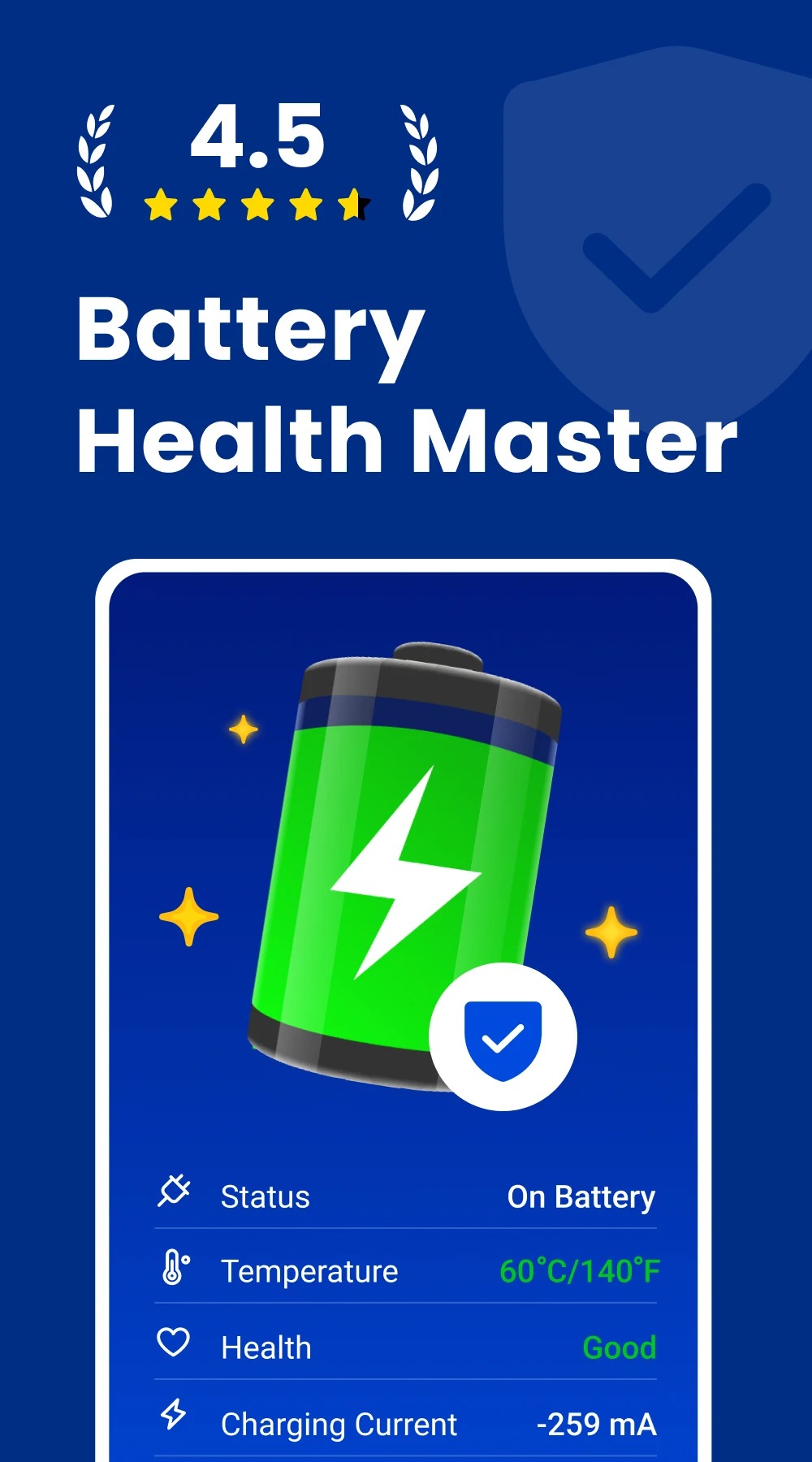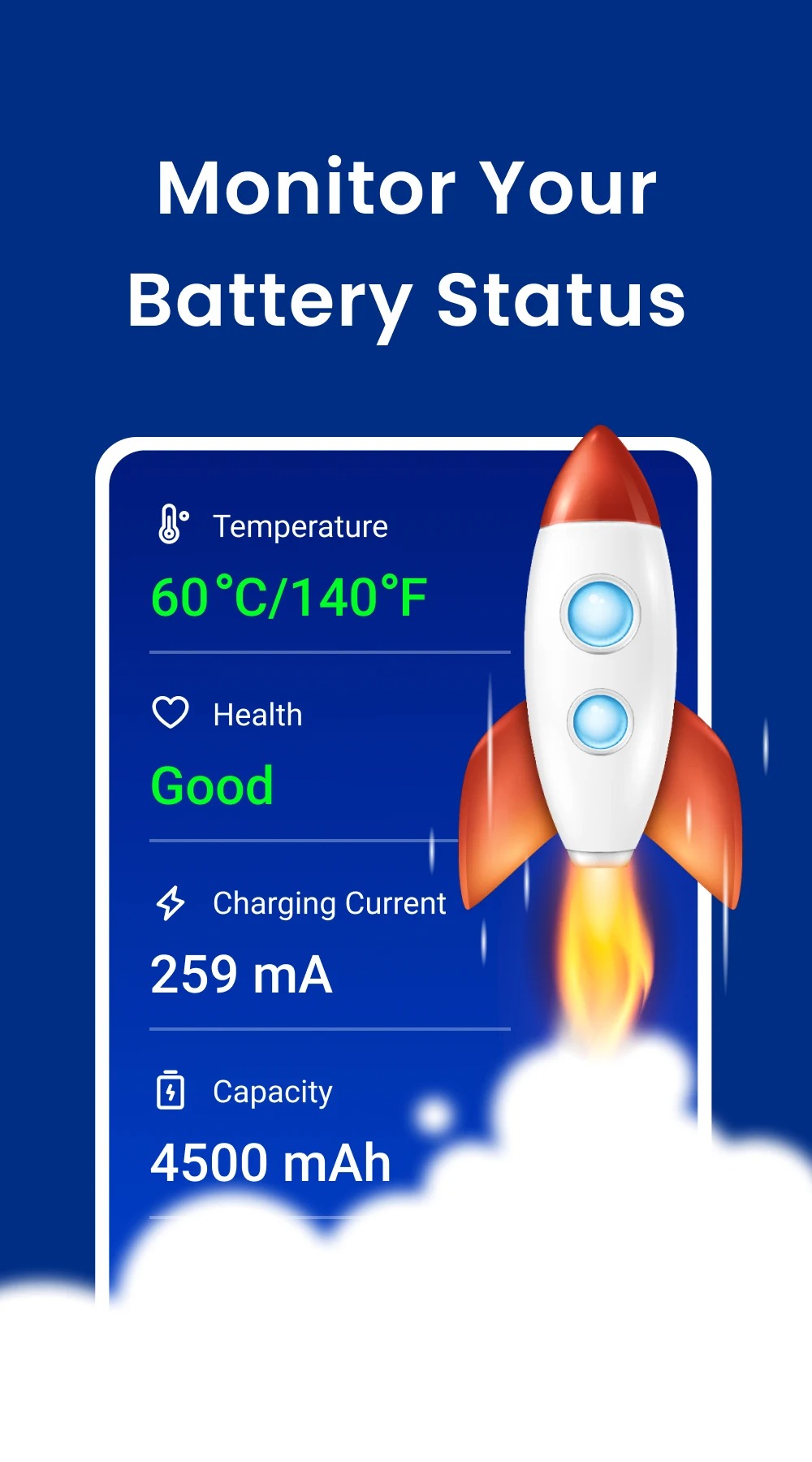 You may also like: 15 Best Battery Saver Apps for Android & iOS
SuperBattery & Charge Monitor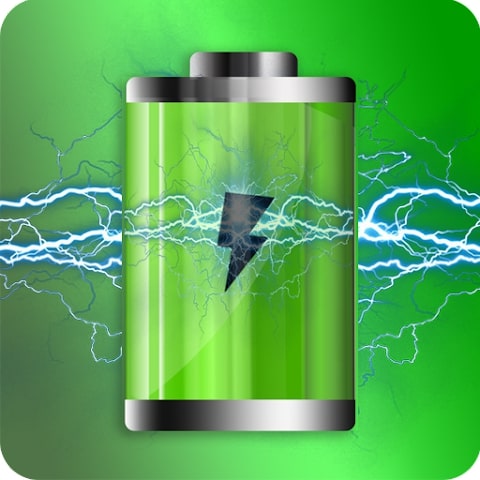 SuperBattery & Charge Monitor is an innovative app for Android devices designed to maintain battery efficiency and improve battery utilization. With this app, you can maximize the runtime of your device and avoid problems with its charging.
The program provides detailed information about the current state of your battery charge and alerts you about its level.
The app also has a RAM cleaning function, which allows you to increase the speed of your device and reduce power consumption. It automatically optimizes apps running in the background to reduce resource consumption and extend battery life.
The app offers a task management feature that helps you close unused apps and free up your device's RAM. The program can automatically turn off Wi-Fi and data network if they haven't been used for a long time to save your device's charge.
It also displays graphs and statistics, allowing you to keep an eye on the battery usage and power consumption of each app. The program also offers a power-saving mode, which reduces resource consumption and extends the device's runtime.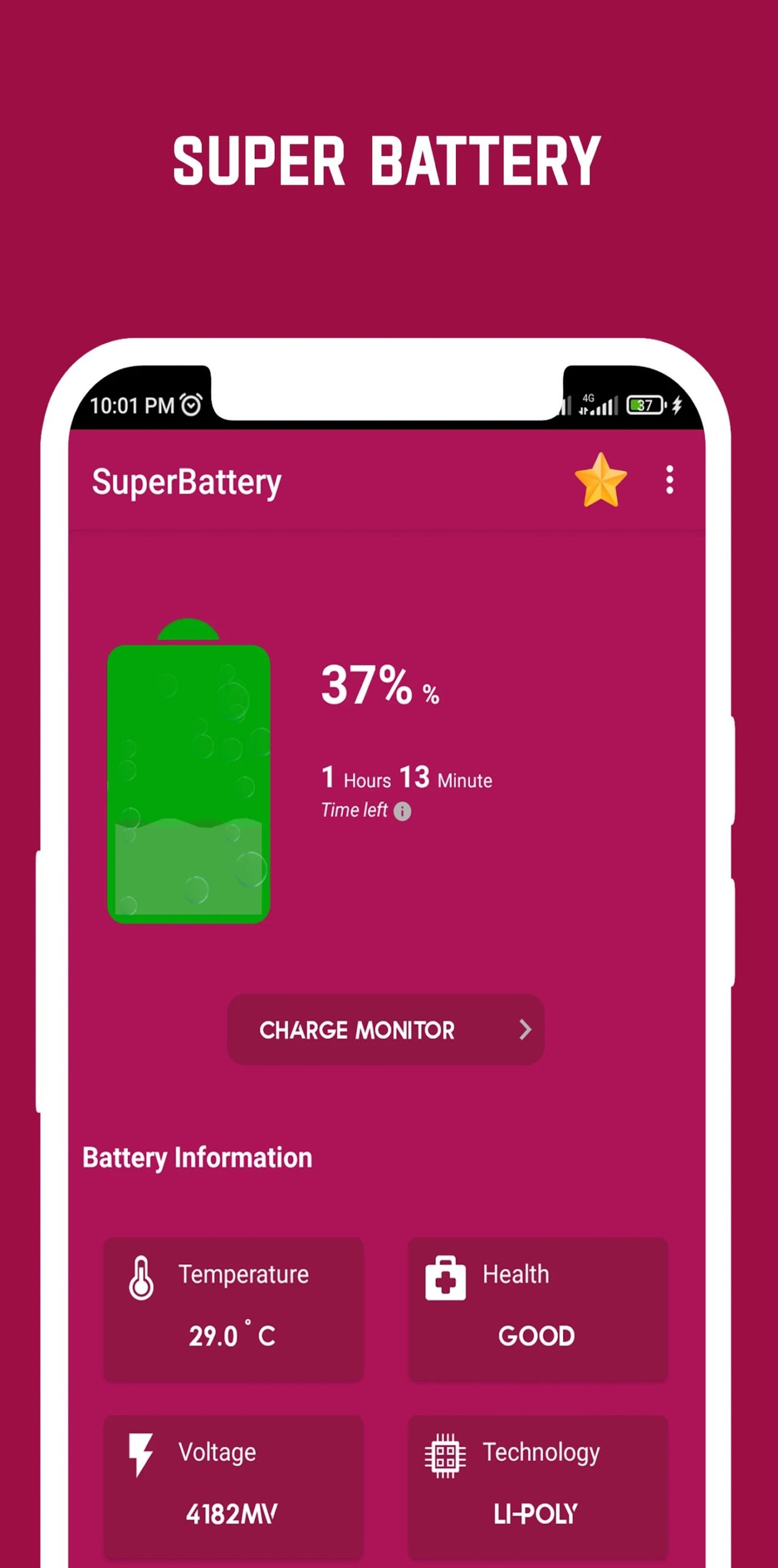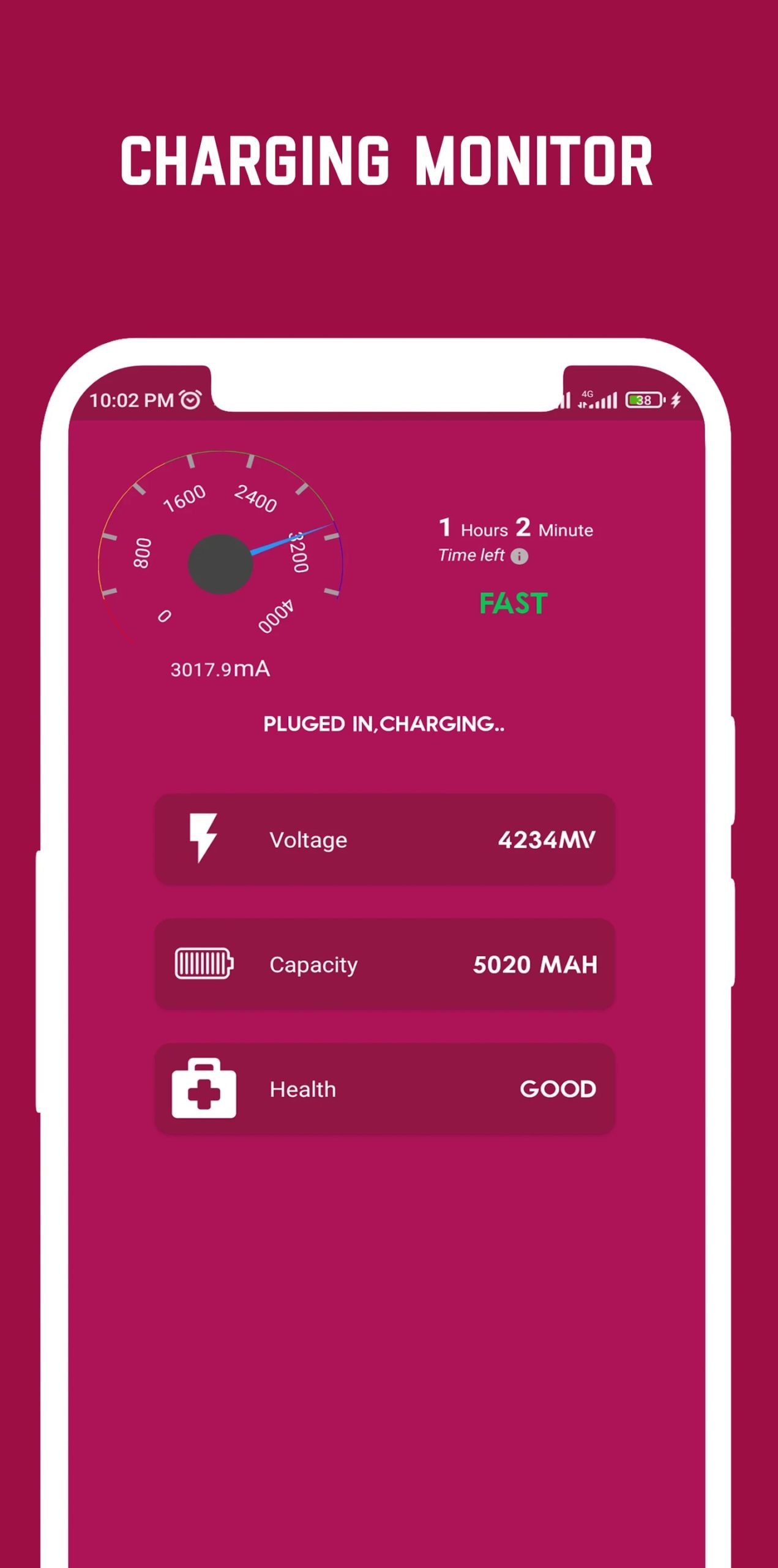 Battery 100% Alarm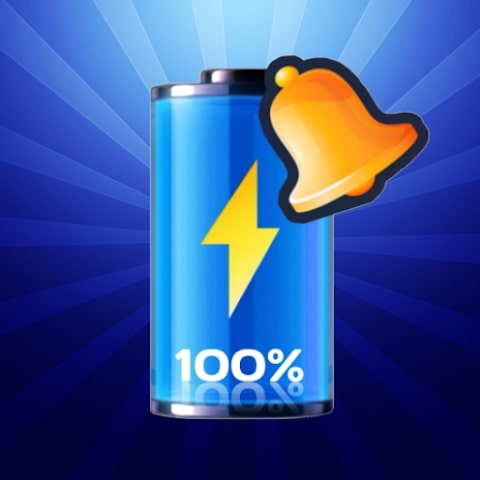 Battery 100% Alarm is a handy and useful app that helps you manage the charge of your device and alerts you how much power your device is consuming and how long it will be fully discharged.
This app allows you to track your battery charge in real-time. You can easily find out how much charge is left to calculate the approximate time for its active use.
The app sets special alerts for the low battery to notify you when there is not much charge left. To do this, you can customize the app so that it alerts you when the battery is low with beeps or vibrations.
This gives you the opportunity to charge your device in a timely manner or take the necessary measures to prolong its operation.
The program offers many settings that allow you to customize the app to suit your individual needs. You can choose the desired charge level, customize the time and frequency of notifications, select the desired alert sound, and much more.
The app has a simple and clear interface, which makes it easy to operate all its functions.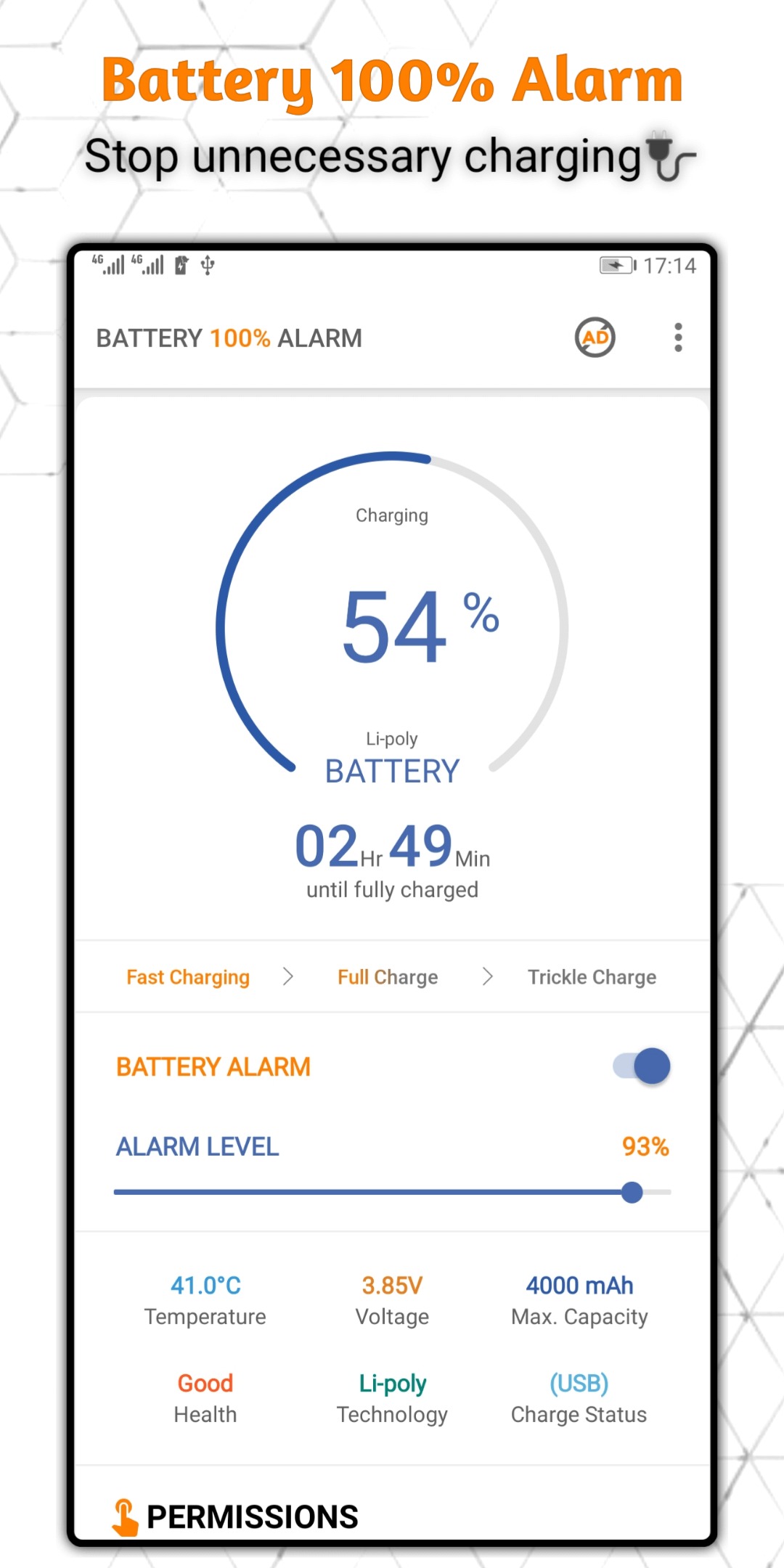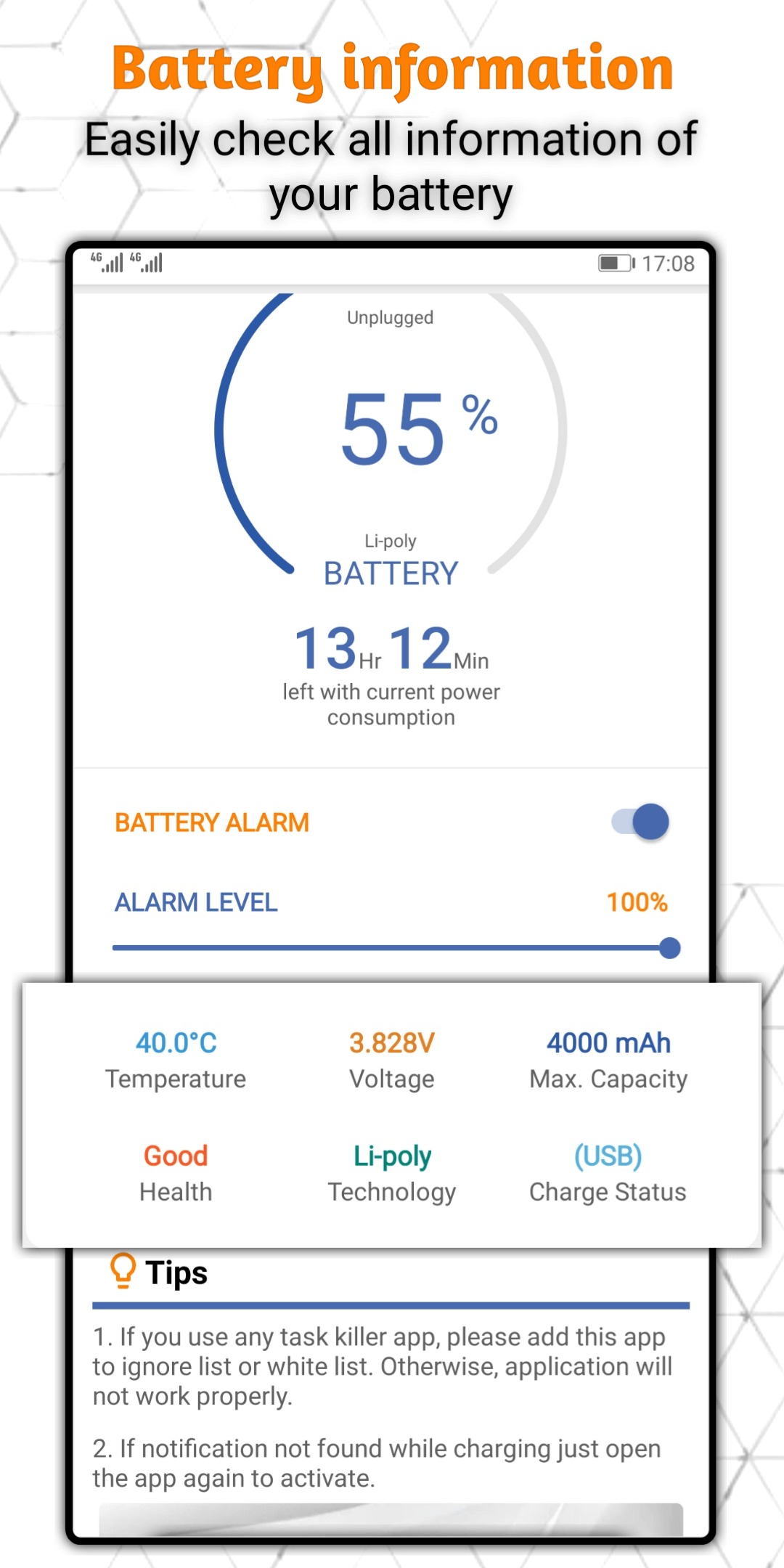 Charger Alert (Battery Health)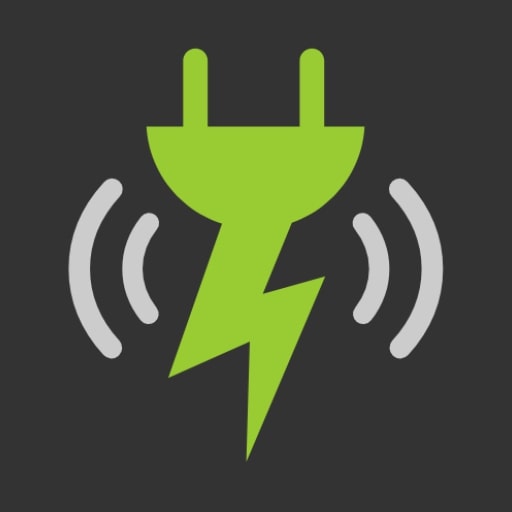 Charger Alert is an innovative Android app that will help you track your device's charging and will alert you when its battery is low. With its help, you can keep your device charged and avoid an unexpected shutdown.
The app offers the user clear instructions for setting up and using its features. The program gives you the option to set an alert when your device reaches a certain level of charge. You can set this level at your discretion.
The program also has a feature that allows you to track the charging speed. You will be able to see how fast your device is charging or discharging, which will help you optimize its performance.
The app also allows you to track the temperature of your battery in a convenient format. It will also give you data on battery voltage, type, and so on. Set any notifications here to keep you up to date on all the statuses of your battery. In the paid version, you will be able to customize the app to your preferences.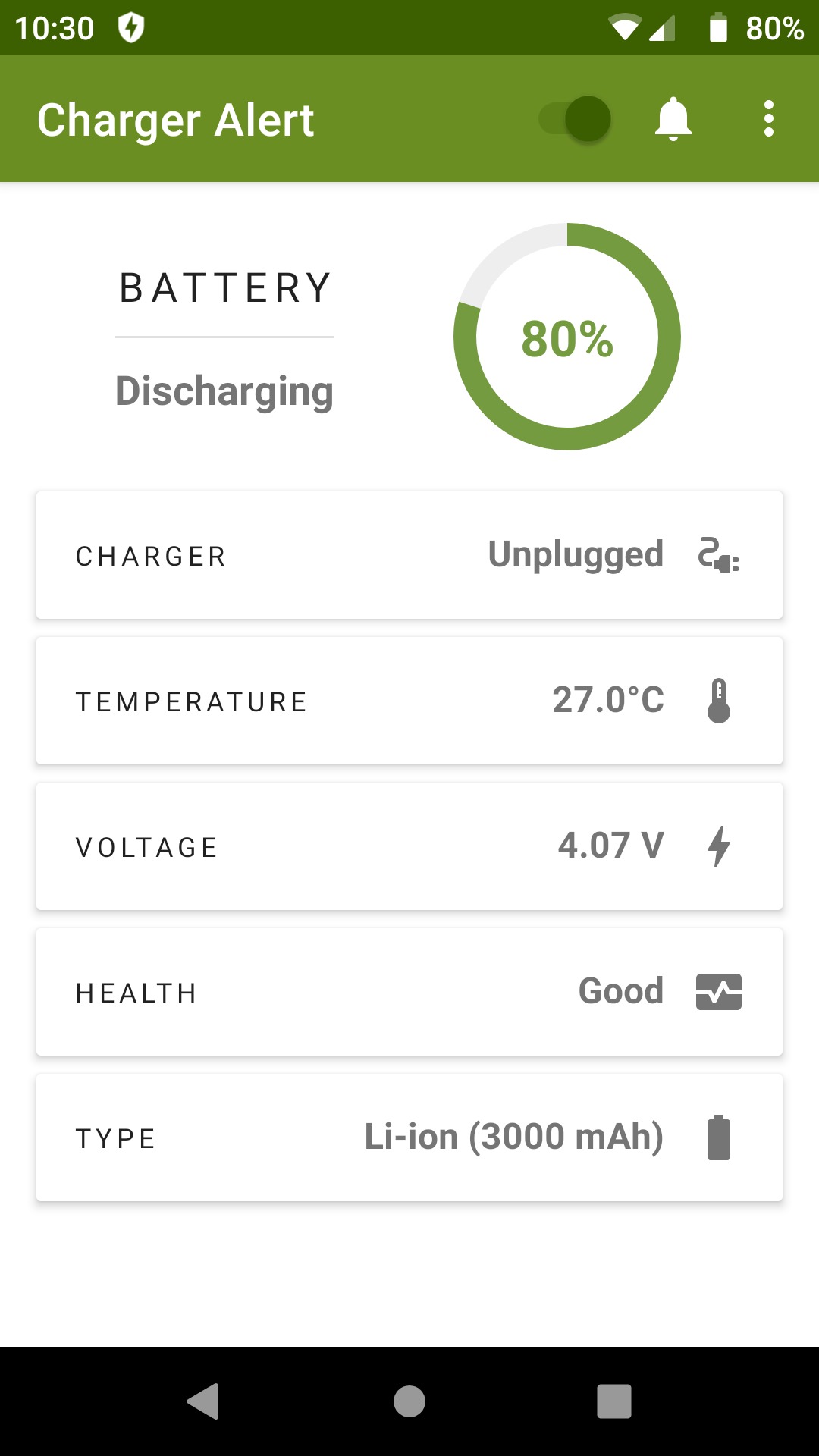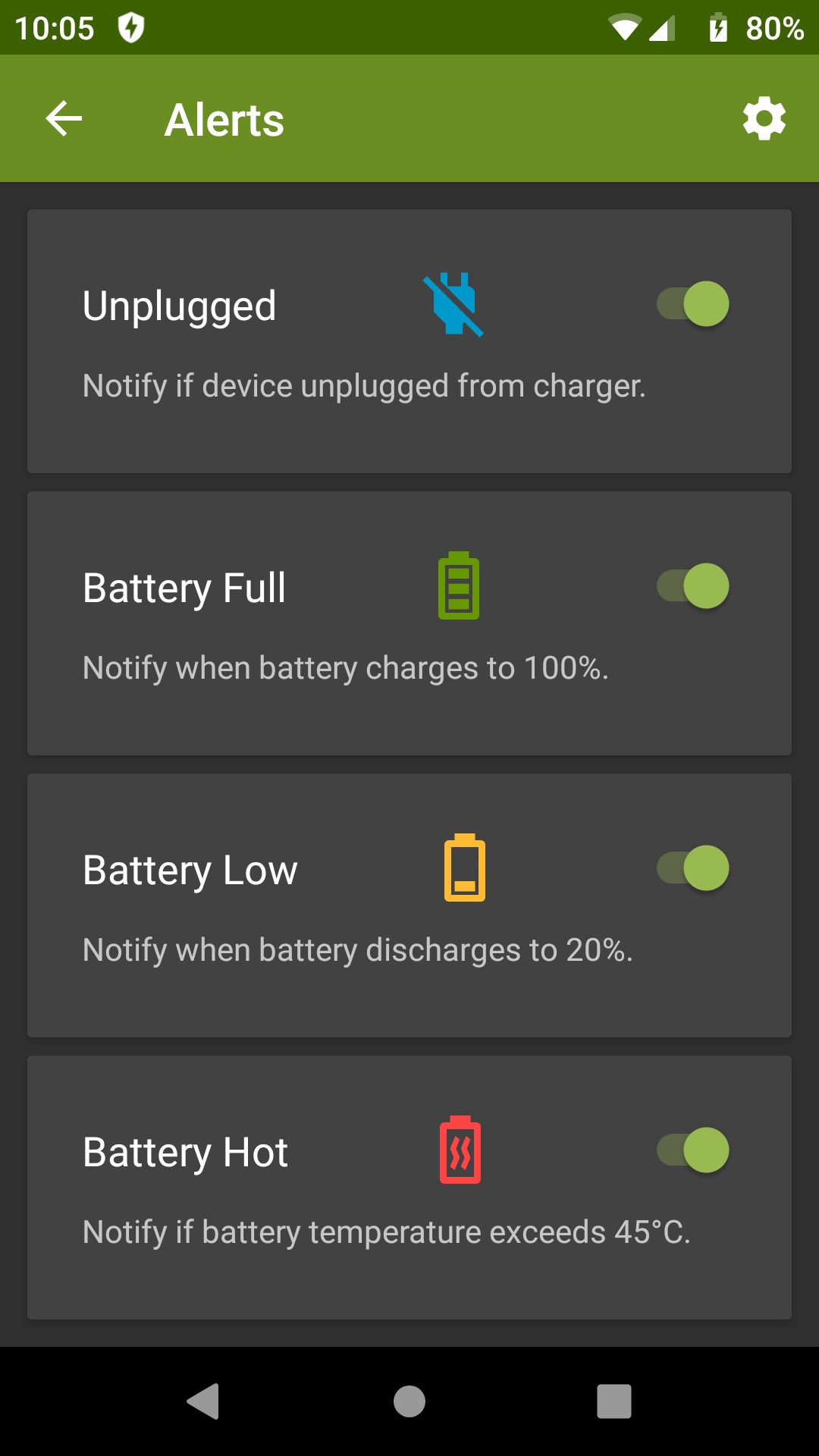 Accu​Battery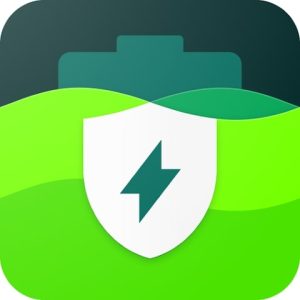 You can use the AccuBattery app to measure battery capacity and determine how worn out your battery is. Notifications are available when you need to plug in a charger.
To get the data, you must unplug your smartphone or tablet from the charger and perform a calibration. The process may take several minutes, depending on the capacity and model of the battery.
The app's developers say that to extend battery life, the battery should be charged to no more than 80 percent of its largest level. Users can enable notifications when this value is reached. This allows them to disconnect the charger in time.
The app constructs clear graphs showing how much the battery is wearing out over time. By comparing the data with the information declared by the manufacturer, it is possible to find out how much capacity is lost during the use of the mobile device.

Smart Battery Alerts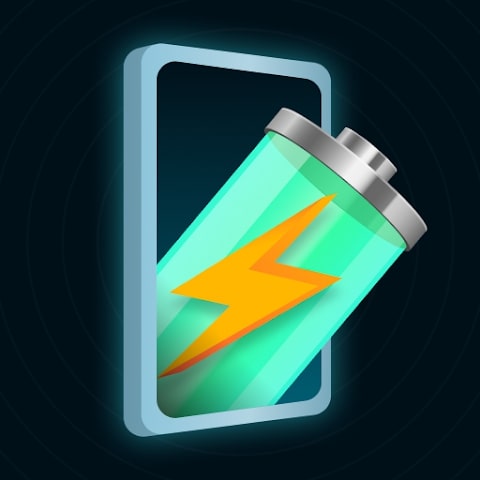 Smart Battery Alert is a useful and easy-to-use app that helps you monitor the battery status of your device. It provides you with information about the remaining battery charge, runtime, and other details, allowing you to effectively manage your device's power consumption.
The app monitors the current charge level of your battery and displays it on an easy-to-understand graph. You can easily determine how much charge is left and when you should plug your device into the charging unit.
It also offers customizable notifications to help you keep up to date with changes in your battery level. Set alerts for different charge levels to monitor your battery consumption throughout the day.
The app also provides you with reports on the power consumption of different apps and functions of your device. This way, you can optimize your device to make it more productive and efficient.
The program offers some power-saving recommendations and tips to help you increase the device's uptime.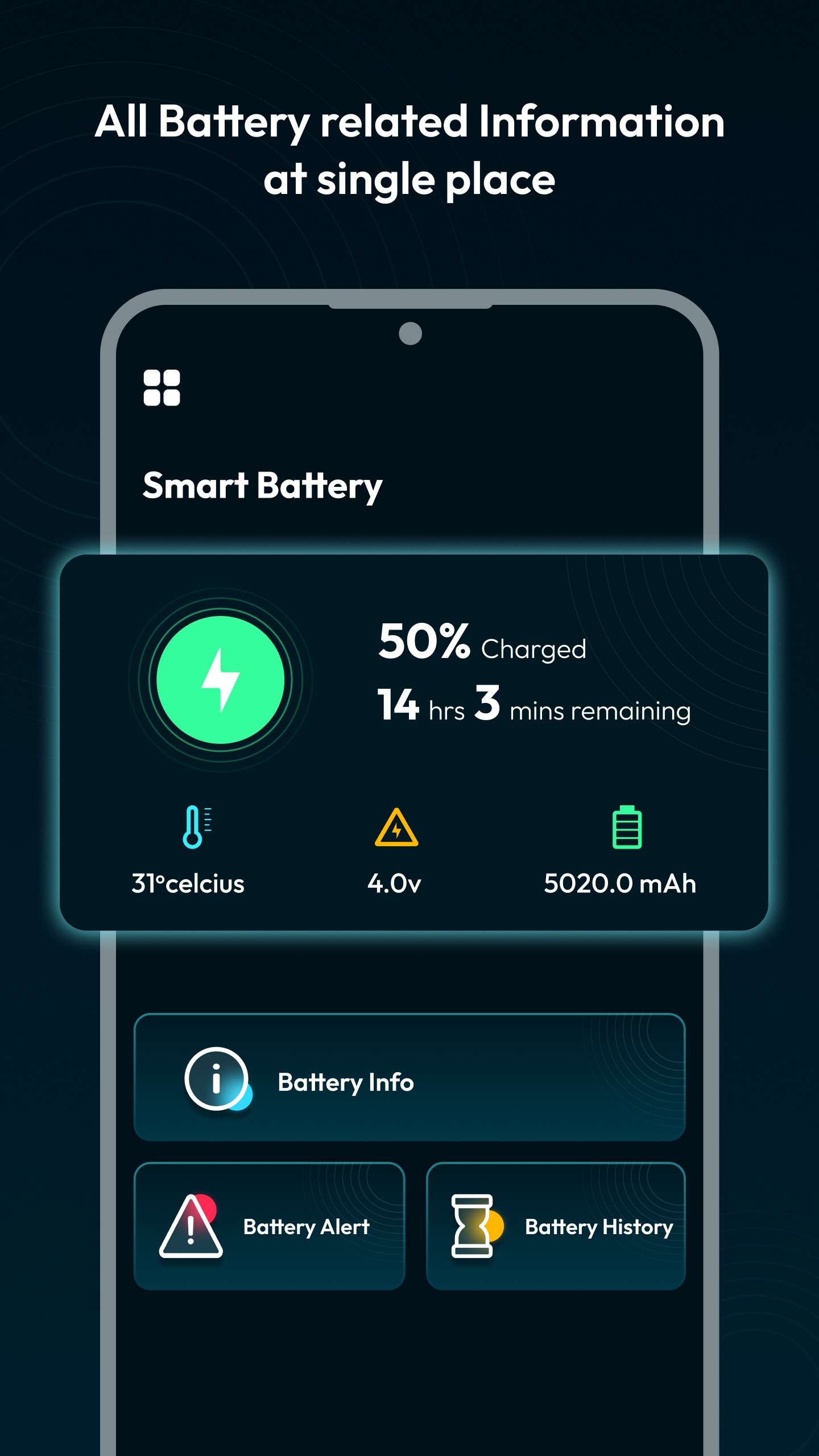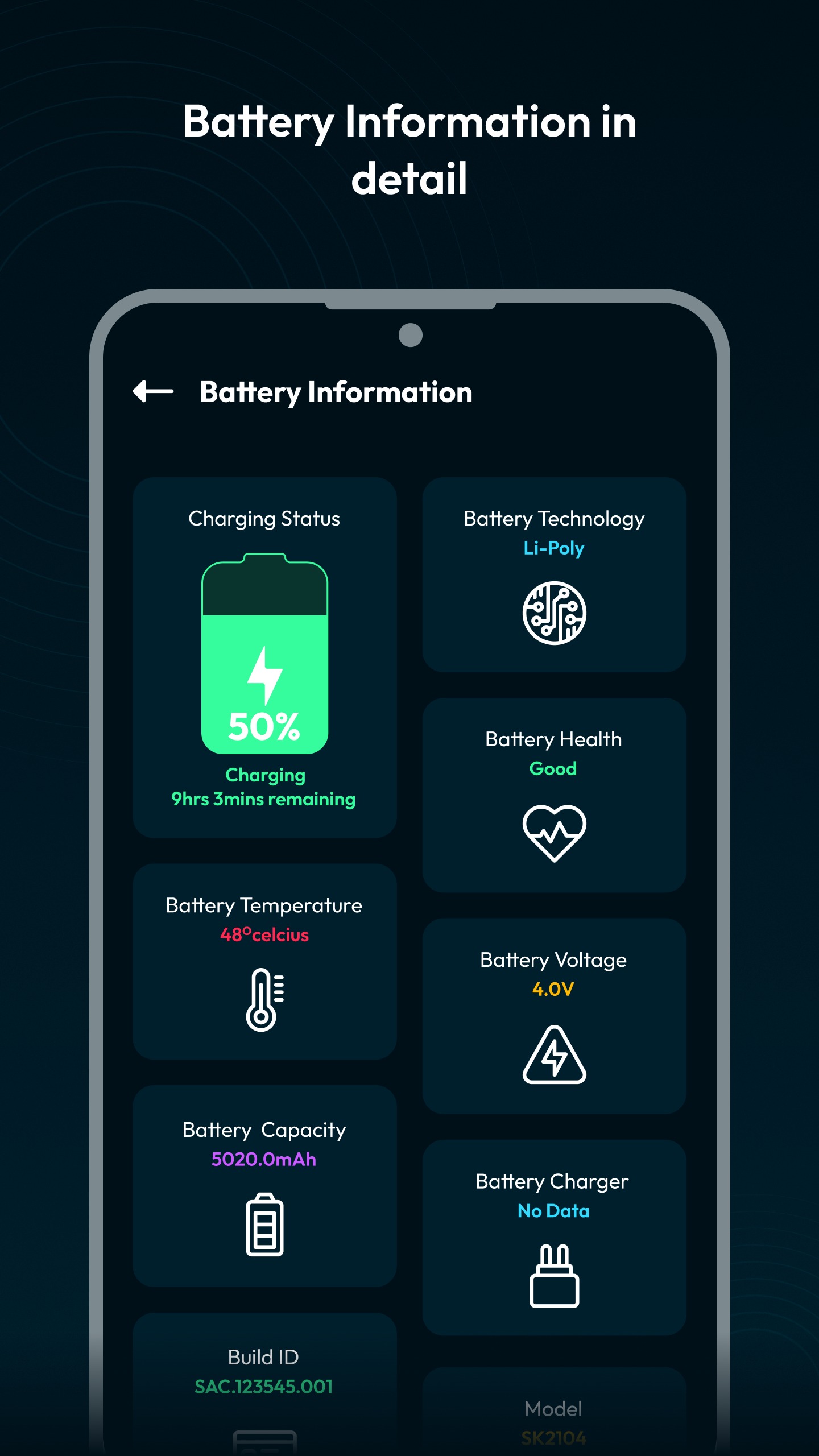 You may also like: 5 Best Battery Charger Alarm Apps for Android & iOS
Battery HD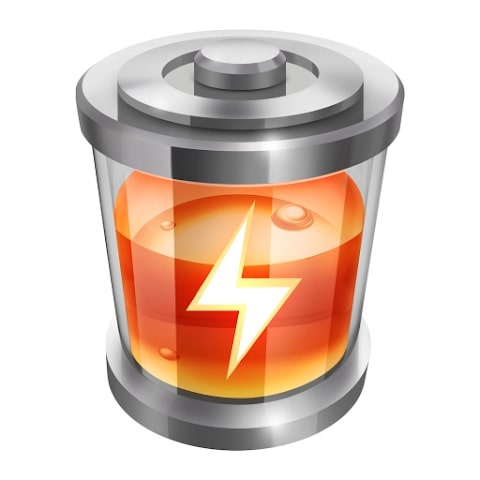 Battery HD is an app for optimizing the performance of your smartphone. With its help, you will be able to maximize battery life, speed up device performance, and easily manage apps and tasks running in the background.
With the app's features, you'll be able to monitor the charge consumption of your downloads and automatically stop running tasks and processes that are consuming too much power in the background. This will allow you to maximize the time your device will run without charging.
Apart from saving charge, the app offers an optimization feature that automatically analyzes your device and improves its performance. This feature helps you free up RAM and close unused apps. You can analyze the performance and power consumption with easy-to-understand graphs.
The app also allows you to easily and safely clear the cache of various apps and operating systems, which helps to free up extra space on your device and speed up its performance. Here you can view a list of all installed apps, manage starting and stopping them, and uninstall unnecessary apps.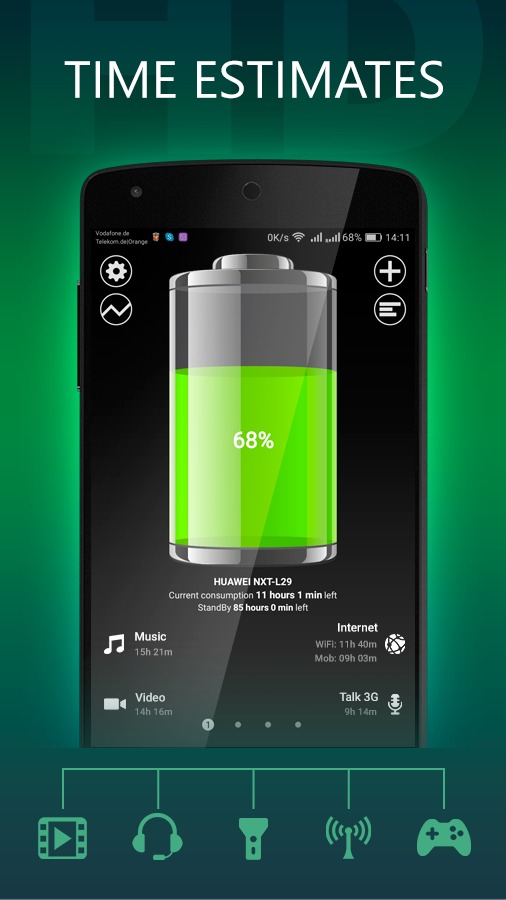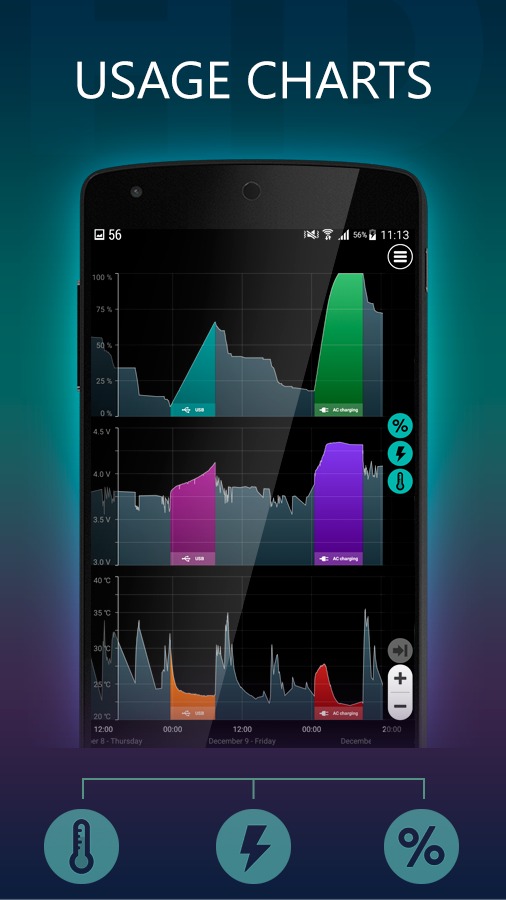 Battery by MacroPinch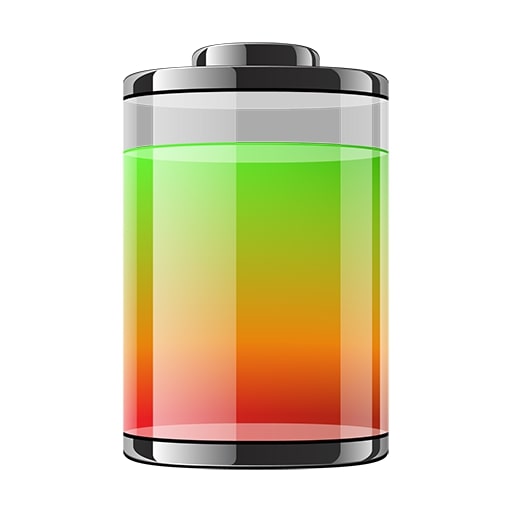 Battery by MacroPinch is an app that offers various tools to improve the performance of your Android device. It offers handy features and options to help you customize your device and improve its productivity. For example, you will be able to monitor the level and state of charge of your battery.
You will always be able to monitor how much charge is left before the app completely shuts down. The entire charge is displayed as a percentage. Also, for convenience, you can customize the widgets on the screen to make it faster and easier to access the app.
To track the battery level, a convenient and clear indicator is presented. With any changes in charge, it will change its color and signal the need to connect or disconnect the device from the power supply. Also in the app, you will be able to see detailed information about your battery. For example, the temperature or voltage.
The app is free, so you can use all of its features without restrictions. To stay informed about the status of your battery, you can set up alerts. These will notify you when you need to connect to a power supply.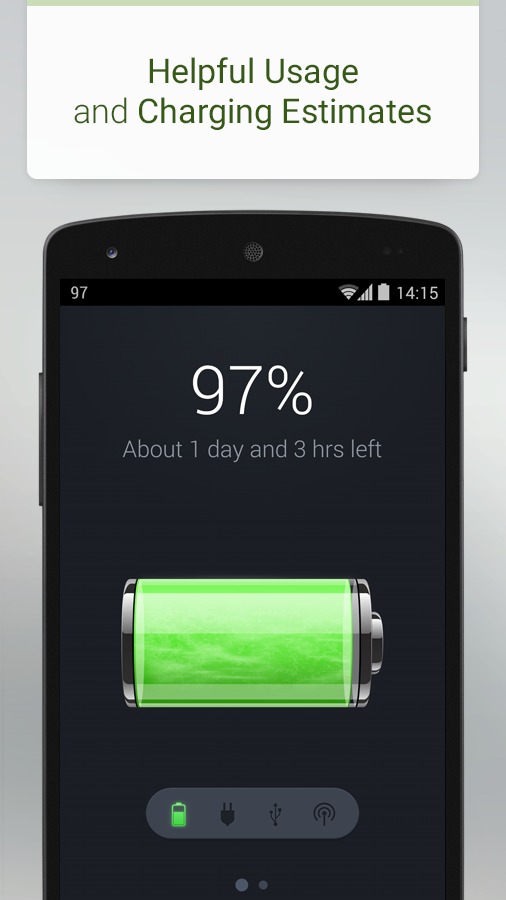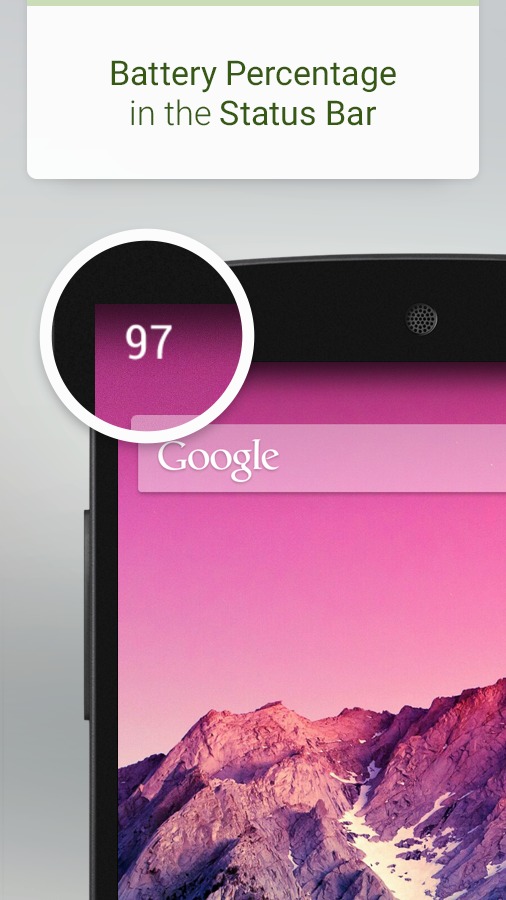 Fast Charging Pro (Speed up)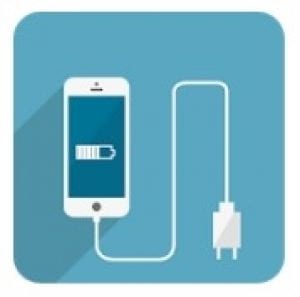 Fast Charging Pro is an app that turns your mobile into a fast-charging one. This app doesn't affect your physical charger in any way. It works with the processes withing your mobile that affect the time it needs to be charged. Thus, the app identifies the apps that word in the background of your device and closes them.
Wherein, all the apps are getting shut properly so don't worry about losing any data. On top of that, the app lowers down the brightness of your screen to save your battery's powers. There's even the mode that sets the brightness according to the lighting situation around you. The app can also disconnect you from your Wi-Fi while charging and turn off your Internet.
In addition, you can view the detailed info about the condition of your device's energy. The app calculates the exact time you have left until your power will run out completely. You can also see the heat of your battery, its developer's data, and its "health" level. Once your mobile is loaded and ready to work, the app will send you a notification.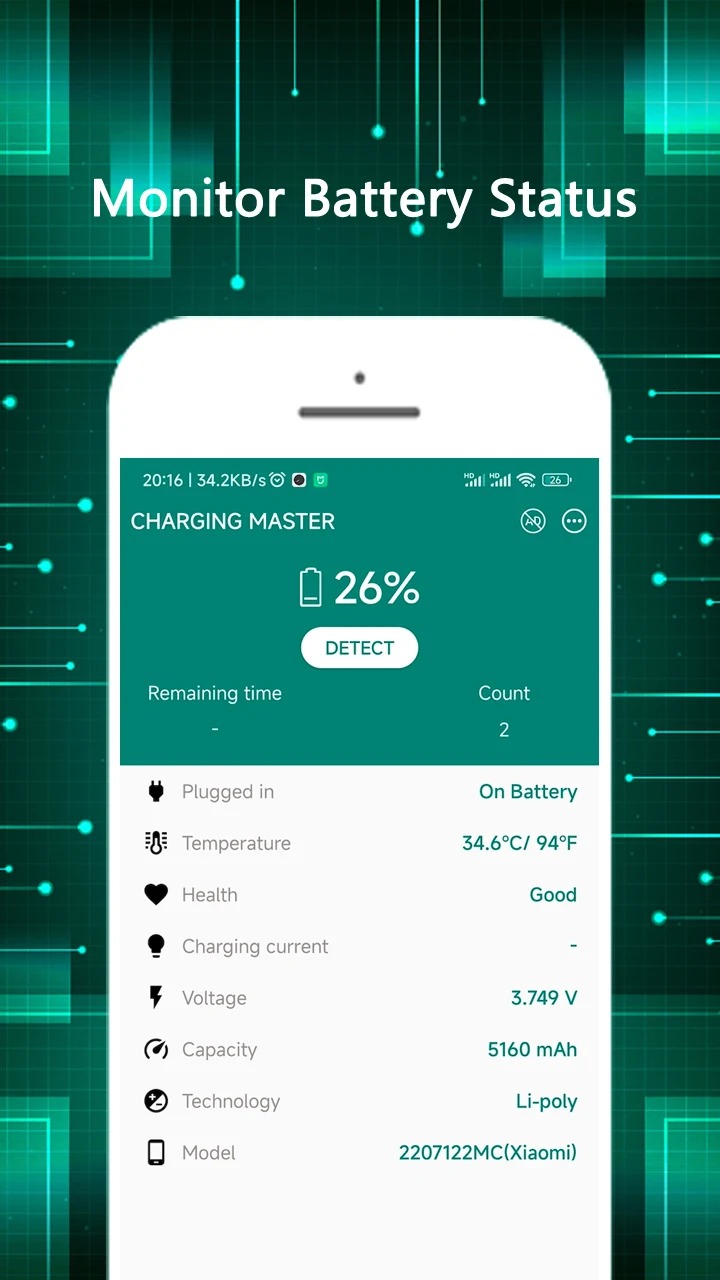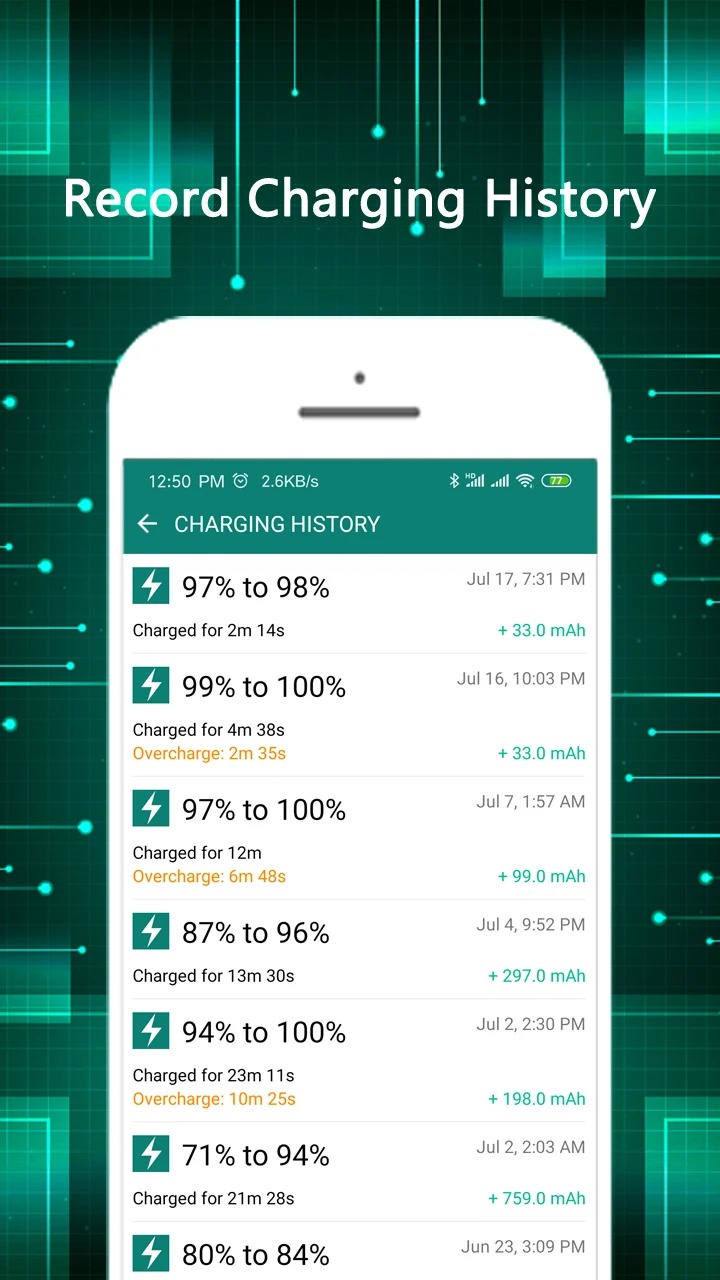 Battery Charging Animation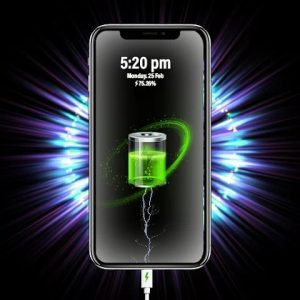 A bright, colorful mobile app from Firehawk will not leave indifferent even the most fastidious users.
The program allows you to create an unusual animation that reflects the battery charge of your electronic device. It gives a visual representation of the percentage of battery charge. The result is a whole animated show.
A large selection of HD themes will captivate users of all age groups for a long time. Plug in the charger and watch the battery level increase. Choose the animation that's right for you. Receive a notification when the battery is fully charged so you can remove the charger and extend battery life.
You also have all the information about the battery type, status to date, capacity, and temperature available to you. You will also learn about the type and function of the charger you are using. Correcting any problems found in time will significantly increase battery life.
Install the app on your cell phone and choose one of the suggested themes. The program is suitable for all devices with Android 6.0 and newer. Its creative design and a simple menu will make the app most convenient to use.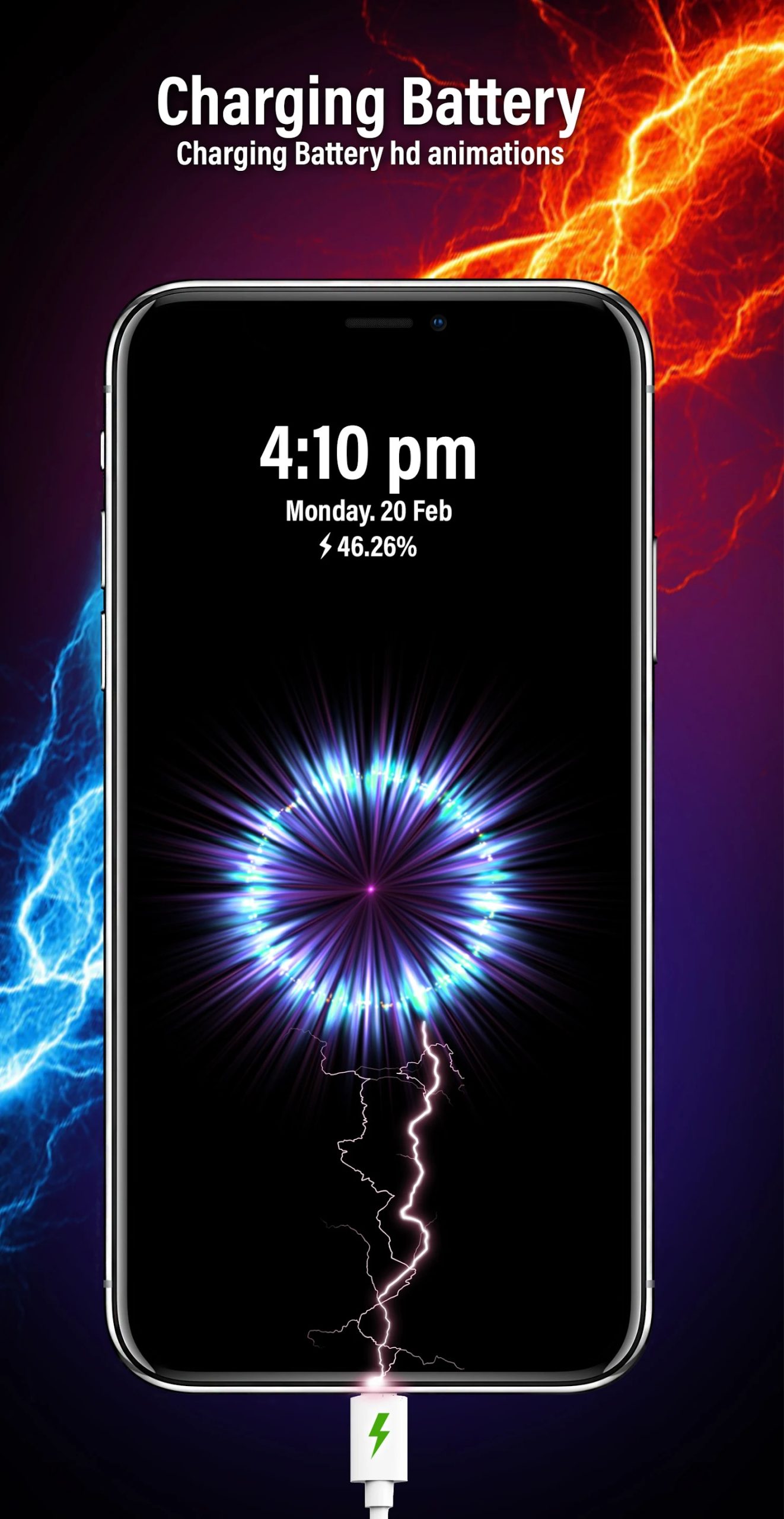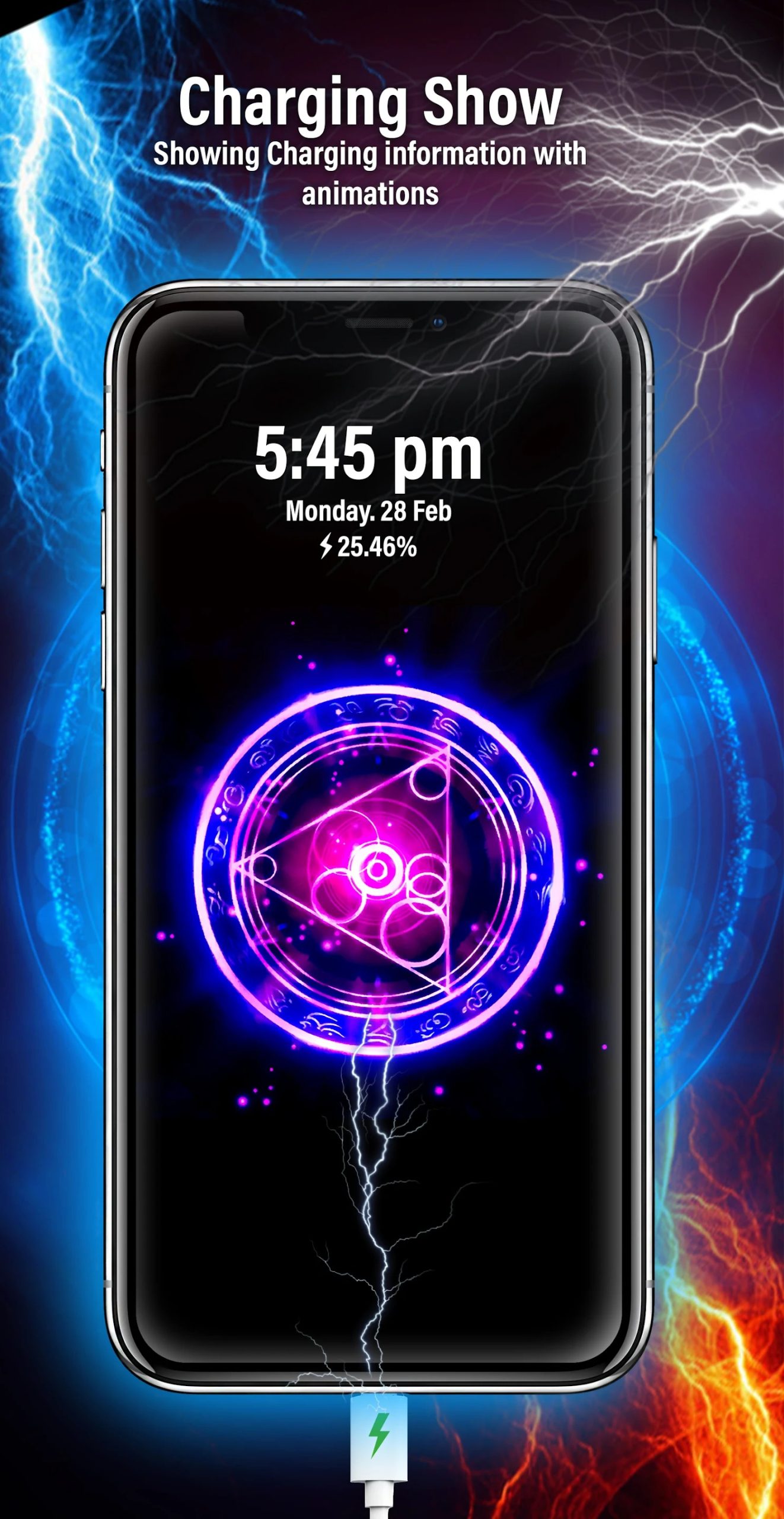 Fancy Battery: Cleaner, Secure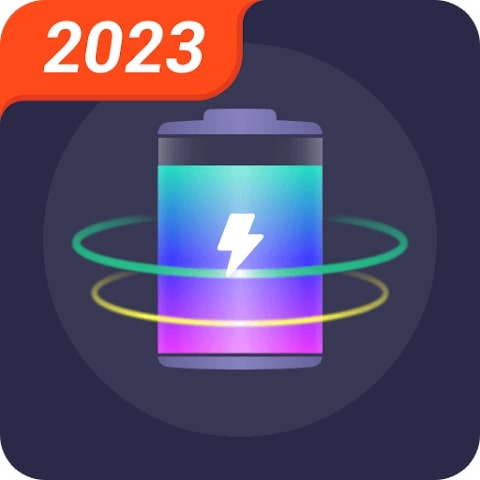 Fancy Battery is a multifunctional tool designed to protect and improve the performance of your device. It provides reliable protection against malware, improves your device's performance, and ensures the privacy of your data.
The app is regularly updated with new antiviruses to detect and prevent new threats to your device. It also scans installed apps and detects potential system problems.
With the app, you can optimize your device by deleting junk files, cache, and unnecessary data. This helps to clear memory on your device and improve its performance. It also analyzes the running processes and closes the ones that slow down your device.
The app offers an easy-to-use interface to check the battery level and status of your device. You can easily delete unnecessary apps, backup them on your memory card or move them to other devices. This helps to optimize the resource usage of your gadget and provides more free storage space for your data.
As extra features, the app provides cleanup of similar photos, notifications, and other files.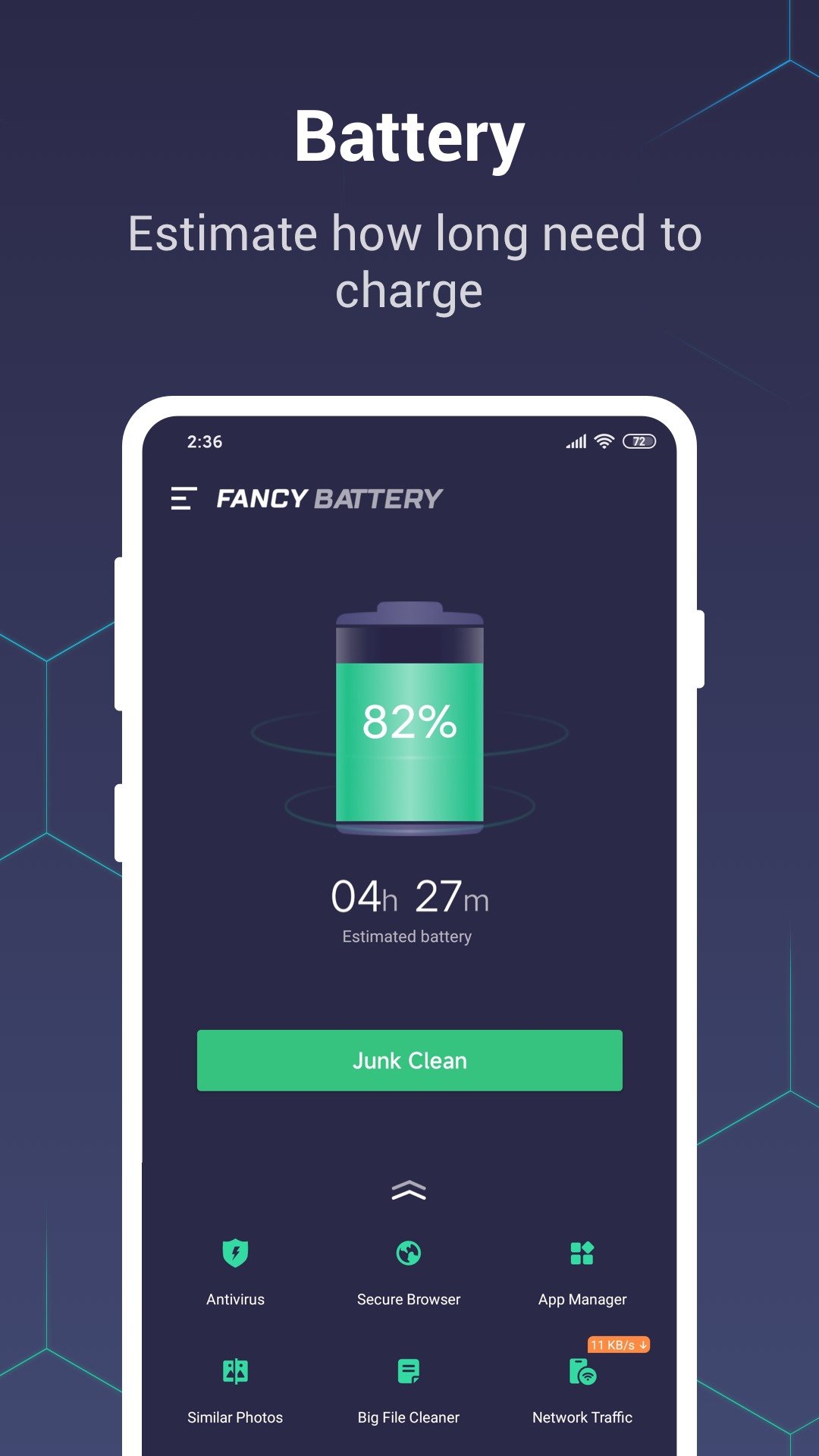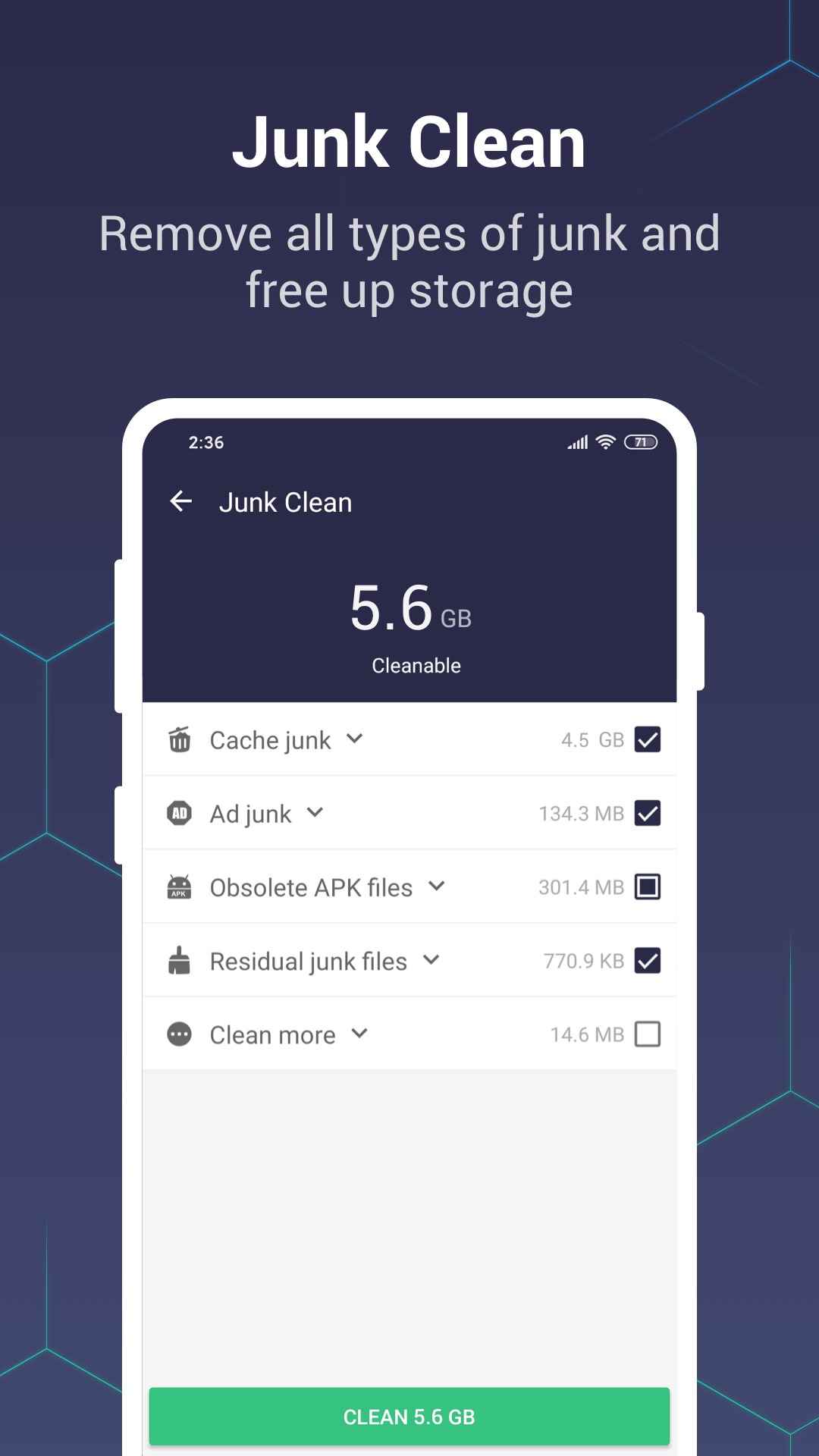 You may also like: 11 Best apps to recover deleted files on Android
Battery Charger Animation
Battery Charger Animation is an app to manage charging and check the battery of your device. It is a reliable tool that will help you track your battery level and ensure the long battery life of your device. With the app, you will be able to see the current charge level, voltage, and battery status of your phone.
The app will also show you the remaining battery life. It gives you full control over the charging of your device. You will be able to select and customize even the wallpaper for your device's charging mode. For easy access to the app, you can take advantage of installing a widget on your home screen.
The program offers a lot of useful tips and settings that will help you reduce your phone's power consumption.
You'll be able to disable background apps, control screen brightness, manage Wi-Fi and Bluetooth connections, and more. This will help you extend your battery life and ensure your battery lasts longer.
The app will remind you regularly about the status of your battery. You can also choose your own design and animation for the charging process.