Firework Arcade is a casual app which is very easy to use but really amazing at the same time. It is suitable for both adults and children because it is funny.
If you're reading this review you probably like games with bright characters? Then check out 11 Best Superhero Apps & Games for Android & iOS.
When we open the app, we immediately see what the game looks like. The design is very interesting, it looks like the night sky of a megalopolis. There are air balloons in the sky and stars falling from the sky. The goal of the game is to tap on the stars in order to make fireworks appear.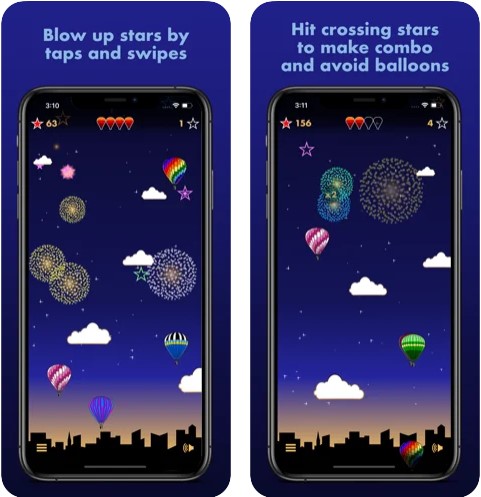 More fireworks means more points. You can't click on balloons because they break. There are also for greater amount of points. You just need to hit crossing stars together. The interface of the game is very pleasant, relaxed and romantic. The colors are well matched, the animation quality is high.
This game is similar to tetris games in some sense. If you want to discover more similar games, explore this page.
The main interesting feature of this game is that it allows you to listen to the real sounds of fireworks. It is better to hear it using headphones. During the game you can feel like you're in a movie because she takes your breath away with her beauty and simplicity. It is a great way to spend spare time getting pleasure and aesthetic satisfaction.