If you are an Android user, you must have used AirDroid, and if you haven't, you have at least heard about it. The app is popular and well deserved.
Many users find some shortcomings with the Airdroid app. But, there are a large number of alternatives that even provide more features. So we decided to collect for you the best free apps like Airdroid that you can use in 2023.
You may also like: 8 Best File Transfer Apps for Android
TeamViewer
This is the mobile version of the famous remote PC control utility. In this case, the emphasis is on controlling the computer via an Android device.
Thus, the user can be at a considerable distance from the desktop computer.
For example, you, being at home, with the help of your smartphone can manage the files, located on the desktop of your computer in the office, which is located at the other end of the city.
Of course, as long as the office computer is turned on and has an Internet connection.
You can also remotely configure the system settings of your computer or its individual software, especially in case of emergency, but when you can't operate your PC in person.
Besides, a convenient advantage of the application is the ability to show the screen to other users.
It is also worth noting the fairly high speed of file transfer (in both directions). This is rarely possible from other mobile adaptations of similar applications.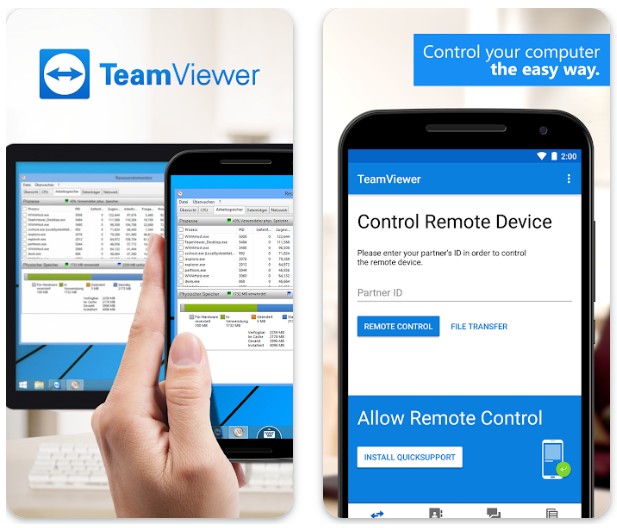 You may also like: 9 Best apps to share files & games with friends (Android & iOS)
Splashtop Personal
A distinctive feature of this utility is its speed and ease of use compared to other analogs.
But, there is also a significant limitation – the ability to access a desktop computer only through the local network.
Thus, the most optimal application will be in home conditions.
For example, if you are cooking in the kitchen and want to finish watching the started movie without going to your computer.
The program performs high-quality streaming of your PC screen with video streaming speeds of up to 30 fps. This allows you to freely view video files on your tablet or smartphone screen.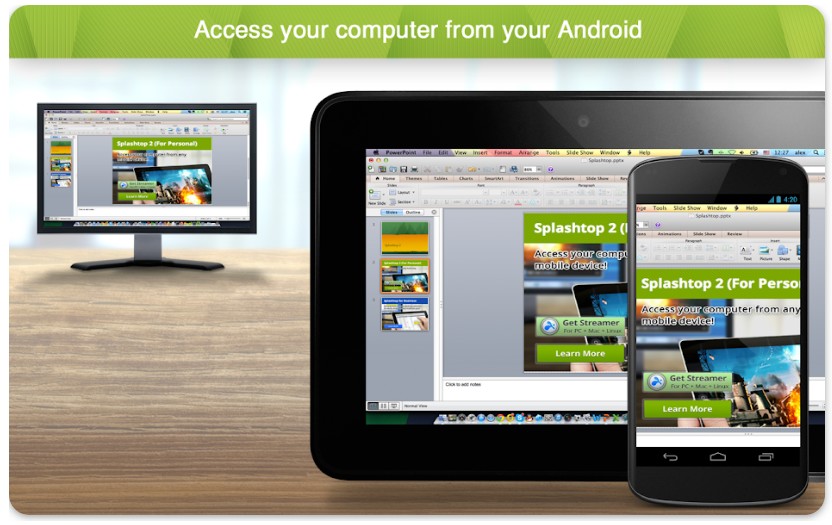 MightyText
This application is considered a classic among the applications for sending SMS messages via computer.
The technique of using this utility is completely the same as AirDroid. But, in this case, the program is fully confined to work with text and media messages.
Managing the application through a computer browser, you can appreciate its user-friendly interface.
When working with messages in the main window several different SMS-dialogs from your smartphone can be displayed simultaneously. Thus, you can correspond with several people at once.
In addition to accessing SMS messages and contacts, you can also configure the application to send notifications about incoming calls, enable the display of the battery charge status, and so on.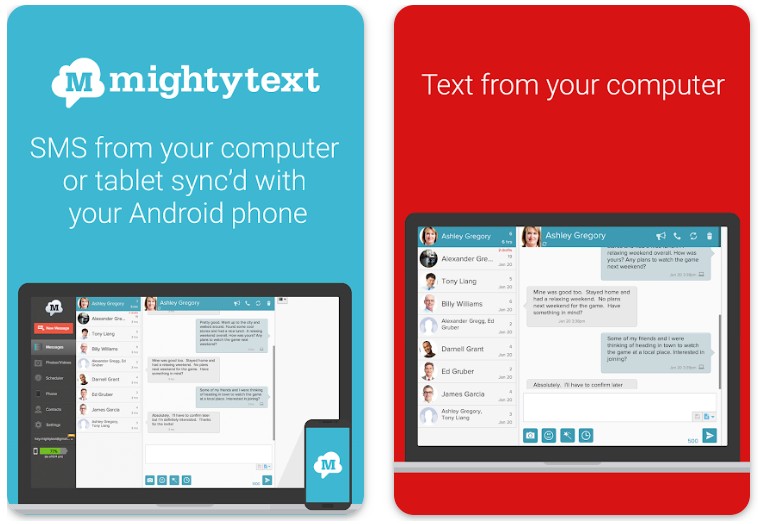 PocketCloud
This is another remote access assistant for Android. It is notable primarily because it has several remote connection modes.
RDP (Remote Desktop Protocol), VNC (screen relaying over the network), and Auto-Discovery (with a link to your Google account).
The user can have easy and quick access to any program installed on the desktop computer and work in it using a smartphone or tablet.
At the same time, you will have no problems with streaming to the mobile device screen.
For a stable operation of the application, the developers recommend using the application with a connection via a Google account and configuring the PC to provide the device with a static IP address.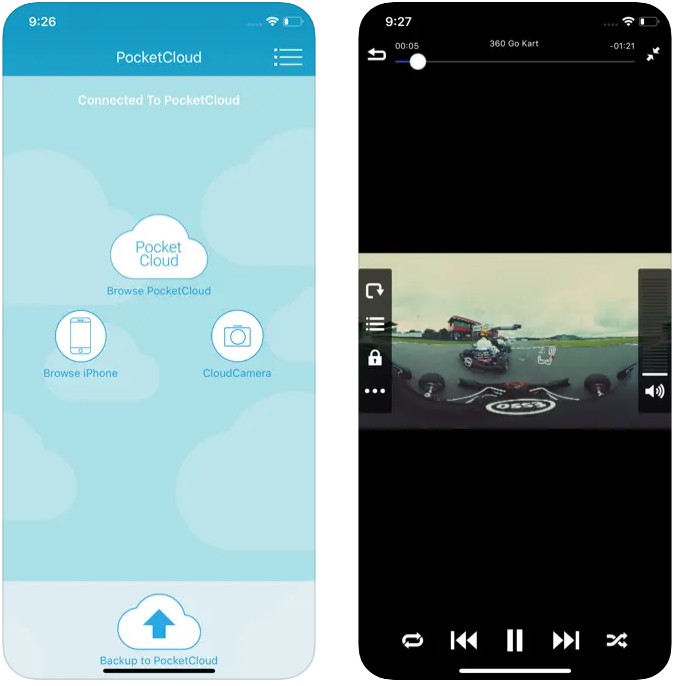 You may also like: 11 Free Notifications Control Apps for Android & iOS
AirMore
As the name suggests, AirMore is very similar to AirDroid. While it doesn't offer all the features of AirDroid, it does include almost all the important features.
Like AirDroid, you can use AirMore to transfer files from your Android smartphone to your PC and vice versa.
The app allows you to play media and sync your apps, contacts, and messages.
It also includes a reflector that allows you to mirror the interface of your Android device on your PC, where AirMirror is also available.
Besides, the app reflects notifications and also allows you to send messages from your computer. Also, if you are an iOS user and have always wanted to use AirDroid for iOS, AirMore is available for iOS devices.
Unlike AirDroid, AirMore is free and although it lacks some features, it is still the best alternative to AirDroid you can use.


Pushbullet
If you've been using AirDroid to send messages or check your Android smartphone notifications on your computer, then Pushbullet is a decent alternative app you can use.
Along with the ability to mirror notifications and perform actions on them, Pushbullet allows you to transfer files between multiple devices like AirDroid.
There are other similar features, such as a universal clipboard.
The app also offers end-to-end encryption, so if security is your concern, you'll definitely like Pushbullet.
The app is also available on more platforms.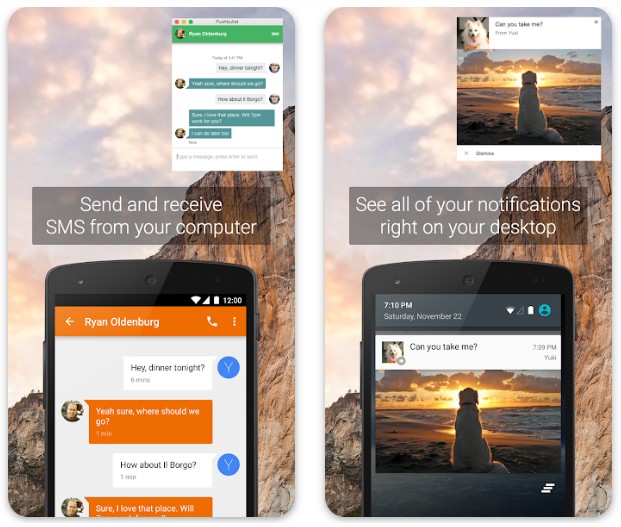 You may also like: 11 Free Bluetooth App Senders for Android & iOS
Xender
If you've been using AirDroid primarily to transfer files from your computer to your smartphone, you might want to try Xender.
This is a popular file-sharing app available on several platforms, but a great alternative to AirDroid is its web app.
The web app allows users to drag and drop files from their Windows PC or Mac to their Android smartphone or iPhone / iPad.
Although the app is available for Windows, the web app allows users to use it on almost any platform.
The app is free (with unobtrusive ads), and you can transfer any number of files of any size. The good news is that it works quite well and transfers files very quickly without using bandwidth.