Video editing possibilities are really impressive today. It is literally possible to organize a whole studio right inside your own smartphone.
Creative and beautiful videos are extremely popular on social media now as well. Many people have gained popularity because they are really good at filming and editing videos. And of course, many people from the young generation are dreaming of becoming influencers so video editing is an essential skill for them.
However, there are some qualitative options that will help you to maintain the resignation of your video and get an amazing film at the end of the editorial process. With these apps, you will get the possibility to get your videos to look like really professional Hollywood films (well, maybe not exactly, but the impression will be transferred anyway).
You may also like: 7 Best Quick Video Recorder Apps for Android & iPhone
Adobe Premiere Rush for Video
And this list is getting opened by one of the classic photo and editing programs – Adobe. Almost all the creative people in the world who more or less have ever dealt with it are aware of its capabilities and high-quality staff that you can produce with this software.
This app is more oriented to edit videos for your social media. For those who are afraid it would take them forever to learn how to use it and then forever to actually create a film, you're wrong – it can works easy and fast.
It is a common story when you would like to create a video that would look and sound professional, but when you start doing, in reality, it turns out in a completely different way than you expected. Here the developers have foreseen this path and tried to make all the tools as much convenient for you as possible.
Also, if you would like to film a video and edit it immediately, just like for a social network, you can do that since there is a camera option right in the app. Film your story and then layer the text on the top and get a funny meme, for example.
Adobe Premiere Rush for Video is definitely more than just an app for layering the text on the video, however, it is a very powerful tool for that as well.
After adding the text to the clips you can also make a color-correction, make brightness adjusting, add graphics, add smooth transitions, maybe even add the voice-overs – in other words, you got a full set of editing tools here.
A multitrack timeline gives you an opportunity to layer several tracks and voiceovers to the background so you can stay as creative as you want. And of course, all the titles are fully customizable. v
Here you will find a set of templates that you can alter in the way you need: choose the color, size, and font. Then put them on the video. It won't damage the quality and give your clip a touch of personality.
However, this also could be a possible disadvantage. Since the app provides only templates for texts it means there is no real way to create something unique from scratch.
On the other hand, the software that would allow you the creating on that high level would definitely cost you way more and wouldn't run on your smartphone.
But here, if you feel like the templates that are already inserted in the app are not enough for you, you can always browse the web and download more of them to diverse your videos. This is definitely a huge advantage since not all the apps provide such a fast upgrade.
Now let's mention quickly other possibilities of this app. The sound adjusting system works quite efficiently – it allows you to reduce the background noise, to balance the sound and make auto-ducking.
It is important nowadays that software allows you to cut the video in many ways so you can adjust it to various social media without the loss of the whole picture. Add a thumbnail, schedule your post, and publish to multiple places like Instagram, Facebook, and YouTube right from the app.
In order to get access to the cloud storage and ability to use this app on all the devices, you will need to upgrade to the premium account – and this is probably the only possible negative aspect of this app if you call it so.
And, of course, if you're still looking for something easier and don't like having that many options you should probably go for another app.


You may also like: 11 Best Apps to Add Music to Video (Android & iOS)
iMovie
High probability that this app is known to most of the iOS users. It is a classical iPhone app that has always been there and that is extremely versatile and convenient to use.
Though judging it by the level of creativity which all the Apple tech devices can bring, it is considered to be quite basic, but still, for a regular user, it is a very helpful app.
The possibilities of video editing here are extremely diverse and will impress beginners for sure. For layering the text on the video, iMovie has the option of adding subtitles to the video.
When you are editing a video, you can choose among 14 templates that will determine your theme and the look of the text that you are going to write.
The graphics level is also decent for a built-in app like this so you don't have to worry that the video will decrease in quality after you put the text on it.
Here you can create trailers in Hollywood style. Then you can choose the visual style, choosing among the 10 filters provided by Apple. For the faster editing use the combination of buttons.
In the audio section, everything is even easier. All the tracks will be adjusted to the length of your video. You can also add comments on the background or reading the text which is happening on the screen for creative purposes.
The ultimate video is always saved in the HD quality. Here you can even use the green screen like in the real movie making a studio.
The disadvantage here is that you can't really make the text move here during the video. Also, some of the fonts can seem trivial to Apple users. But everything depends on how much are you expecting from this app. The app is available only for iOS users.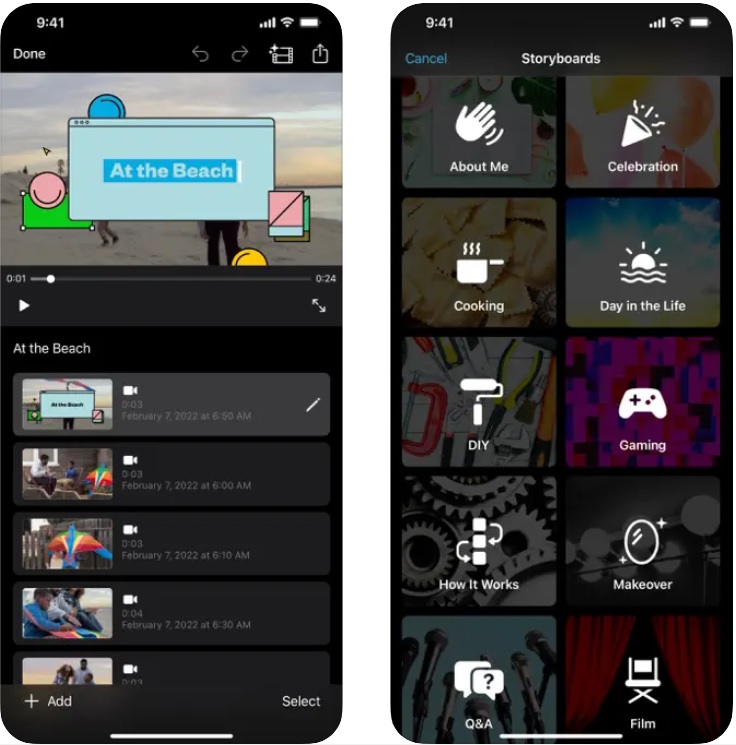 VivaVideo
VivaVideo is one of the most popular apps on the market of video editors. It stays pretty much at the level of iMovie with an addition that this app is available to the users of all the devices.
The interface of the app looks stylish and bright however in terms of convenience it can be questionable. Just like photo editing apps, VivaVideo has its own kind of internal network where you can share your videos and watch the published videos made by others.
There is also a thematical section where you can choose what kind of video you want to create. But if you want to create a unique video (that's why actually most of the people get apps like this, you need to go to a separate section.
Not that it is difficult but it can be confusing from time to time. Those extra sections that anyone barely ever uses, make no sense both in photo editing and video editing apps.
When you start editing a video you first need to choose one from your library or shoot a new one right away. You can choose one or several clips and thus combine them together.
After you have selected all the videos, the app will suggest you cut them. You can skip this step if you want. Then you will be redirected to the main editing page where you can choose all the effects you want to have on your film, including the texts.
The choice of fonts is quite diverse so you will definitely find something that specifically matches the mood of your video. You can also adjust the transparency of the text and its color.
After you're done with the text itself, you will need to place it somewhere in your picture. You can choose both to place it only on one clip or on the whole video's timeline.
Your video will not lose on quality when you have layered a text on it and that is a huge plus.
The disadvantage is that you can't really set the animation on the text, that means if you once put a text somewhere it is going to stay there for the rest of the timeline. Also, the set of text animations of quite limited.
There are some effects that would work cool on certain types of videos, but still, even with a premium account, the choice is quite limited.
And it is not really clear what is the difference between sections "text" and "animated text" since it seems like all the claimed animations of the latter simply don't function. Probably, the developers will fix it in the future.
The app is really outstanding considering the cutting of the video. Here the function is really convenient – you just choose a clip that you want to edit, choose the option "cut" then just highlight the borders for new videos.
After you cut the clip, the app will divide it into two pieces. You can choose to delete the second piece immediately.
The set of effects is cool too. Especially the light effect looks realistic and high-quality. Also, there is a set of various filters that will really add a mood to your clips and they all look great.
Considering the audio part, no problems occur – you can choose the background music from your phone's library. library of the app or form the internet. Then you can choose, whether you want to mix the music with the original sound of the video or mute it.
Some animated 3D graphics are available as well, but they are not really worth to be included on the video since their quality is not the best one. Another really disappointing aspect of VivaVideo is that with a regular account you can only save and import your videos in 480p quality.
To be able to save the videos of the higher quality you need to get a premium account. It's not very expensive though – just a couple dollars per month but still, it is an unpleasant surprise. Only if you are using the app on a regular basis, this option is profitable.
Another cool function here is that you can always add a slow-motion effect in the video. And if you are looking forward to making creative stories for your Instagram this app is an option, since it works really cool with collages.
There is a lot of other curious option and in general, VivaVideo is an extremely multi-functional video editing app, so it will probably take few pages to describe all its features – and this is an advantage of it.
But since here we are paying attention to the possibilities to layer the texts on the video, it is pretty much it of all this software is capable of in this sphere.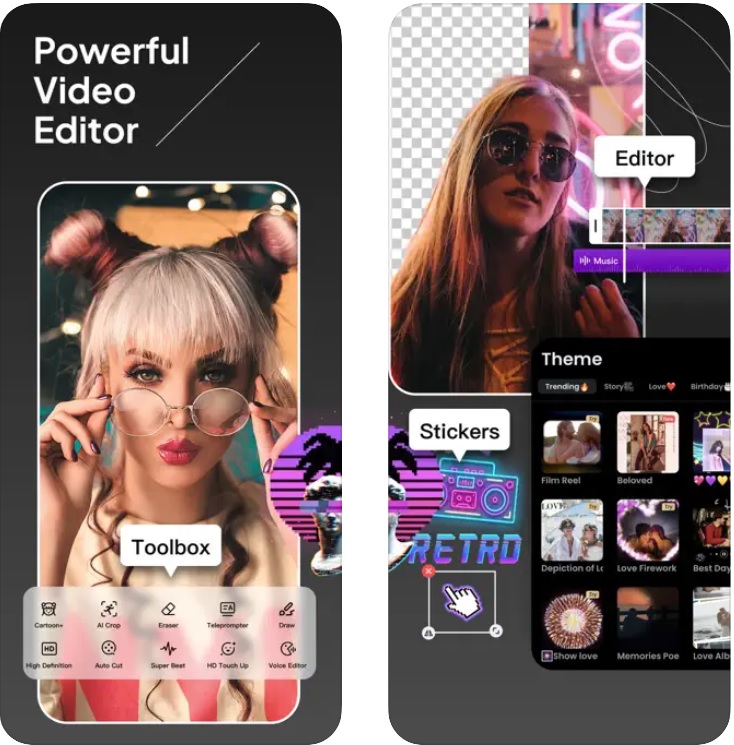 Final Cut Pro
This is definitely an option for those who are doing serious business. And not just because it is not a free app (by far not even a budget app), but because it is a truly multi-functional app considering the right application of the skills and full-set functionality.
It is a serious investment for those who are looking forward to creating professional vids on a regular basis.
And of course, there your possibilities for adding the text are much wider than in previous cases. Here you can customize the font of the text in the way you like, regulate its size, layer it on the video in the way you want. Here you can in detail customize the timeline of texts that you are putting on the videos.
Then you can add an animation of any kind to them. You can choose the transparency, the animation of fading in and fading out, the transitions and evolution of the text during the video, you can put it in a specific way and shape and man more. With an advanced color-correction that looks really impressive.
And even though it can be tricky to handle all those professional editing software, this app has advanced metadata for faster, easier editing.
Manipulations of the clips during the editing is also not difficult – you just need to drag and drop them in the order you want. Use Clip Connections to attach B-roll, sound effects, and music to the timeline.
What is remarkable here, the app is capable of editing 360° equirectangular videos almost in the same way that you are usually customizing the regular videos.
Final Cut Pro also includes a lot of intuitive automatic analytical functions, for example, it automatically scans the background of the video and makes necessary slight improvements and adjusts its working process to the specific features of the video.
64-bit architecture takes advantage of the RAM in your system for larger projects and richer effects. The list of formats that this app allows you to work with is huge what is logical for a professional software – those can be ProRes, RED, XAVC, AVCHD, H.264, HEVC from DSLRs, and more.
Considering adding the titles to the videos – you can add both 2D and 3D animated titles. Choose from an extensive ecosystem of third-party FxPlug plug-ins with custom interfaces. Once again, the number of effects for the texts as described above and it allows you to do practically anything to the added sentences.
Assign roles — including dialogue, music, effects, and custom choices — during import to easily track and organize your project.
The audio customization here allows you to work with several tracks in the same video and mix the sound in diverse ways. The Final Cut Pro can also suppress background noises, make the speech more defined and reduce the hum if needed.
You can import, edit, grade, and deliver video in standard color spaces and standard dynamic range (SDR), or in wide color HDR with support for Rec. 2020 HLG and PQ. The color board that this app provides allows you to play and experiment with color layering to achieve a unique effect.
The export of videos is rather quick for an app like these though they can occupy a lot of your memory space (what is logical when you are working with professional vids).
Summarizing all the points, this software is a great choice in terms not only to layer the text on the video but for video editing in general. It is really interesting to work with and it allows you to release your creative potential.
The only dubious aspect that it might be too professional for most of the users – the chance that you would be willing to pay that much for a productive app which though you barely ever use and just to put the text on the video is rather low.
But In terms of functionality, this is probably one of the best apps on the market which deserves to be represented in this list.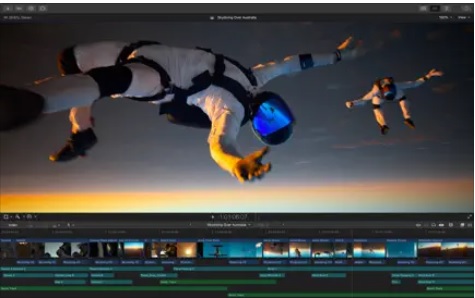 You may also like: 11 Best Apps To Add Background Music To Video (Android & iOS)
Vont
By the way, have you noticed that in last, maybe 7 years it has been so popular for pop stars to publish lyrics video on YouTube? Just in case you need some ideas when putting a text on the video you can always overlook it from those.
People are truly creative to mix the song and the lyrics on the video – and the audience loves it. Well, the contrary argument here could be that all the videos of famous popstars are monetized on YouTube – and it is fair. But still, every single artist releases a lyrics video for a new single.
The most popular lyrics video on YouTube is by Chainsmokers "Closer". It is curious that they have two lyrics videos in the top 5.
Besides, the songs that eventually didn't get a full action video but only the lyrics one are often more popular for an obvious reason – people need to occupy their eyes while they are listening to a song.
Who knows, maybe you will get so good of layering the text on the video that you are going to make a clip for a star one day? With this Vont app, you can get a lot of practice.
Unlike the previous apps, this one was developed to specifically add text to the videos and only for that purpose. So you can get pretty crazy with your writing creativity here.
And the variety of choices is not just a word here. You will get more than 400 different fonts to work with (so you don't have any more excuses that you just didn't find the right one). And even if that is not enough for you for some reason – you can download and install your own fonts in the app.
Place texts in the way you want, in the size you want, in the shape you want. The size of the text is adjustable – and you can choose both separate pieces of it and the whole text at a time.
Experiment with color and create gradient-looking sentences. Mix fonts together to get a unique design for your video production.
Text's stroke color is changeable. Besides, you can always add 3D effects for your writings on the vid – one of the most popular effects is probably a shadow.
Well, here you can not only add shadows to letters but also change the color of them. Among pretty standard function there is also a possibility to change the background of the text and adding the framing to the text.
You can reshape the text in the form you would like to. If you want, for example, to get a rounded text you just need to choose it in the options for the text positioning.
Then you choose the timing when it is going to be demonstrated on the screen. An interesting feature is that you can adjust a text not just manually, but also in pixels, typing in the necessary size you need.
It is really an advantage here that despite all the great variety of possibilities of manipulations with the texts it is still very easy to use.
The interface of the app is quite similar to the interface of a photo editor (it really reminds of Pics Art). But not to make this app look artificially perfect, we should pay attention to its discouraging sides as well. First, you can add only up to 4 pieces of the texts to the video.
If you want to add more, you will have to upgrade your profile. Moreover, sometimes it happens that app crashes even on the latest iPhones without saving the initial state. Some users explain it by a discrete urge of the developers to go to the upgraded version of the app if you still use a regular one.
Apart from that, the app doesn't seem to have any severe disadvantages. It is really useful also to put your watermark on your videos which is important nowadays to protect your intellectual property.
The quality of a video may decrease a little bit – but not significantly. In addition, the app has a really high rating on the App Store, which proves ones again its great functionality.


Text Animation Maker
Now let's pay attention to what Android apps have to offer us in this category. Being completely honest, the Google Play market has always been weaker when the business comes down to video editing.
It doesn't mean it doesn't have decent video editors though. Just here you will have to spend a little bit more time until you find something that is really worth your attention.
This Text Animation Maker is a quite decent app. It has 25 kinds of font which are still enough to add more authenticity to your videos. The fonts are set according to their style and displayed as examples of texts so you could see immediately how your text is going to look like and if it fits your video.
Full Unicode fonts are supported as well. You can also adjust the size and color of the text. Different colors for background and framing are available. However, here you can't make the text look gradient. Probably, it somehow deals with the extended animation possibilities of layering the text on the video.
The app is really advantageous in the sense that it functions well with social networks' styles.
It includes lots of possibilities to carve the style of your text in a way that it, for example, would fit perfectly for an Instagram story. It is also beneficial for creating videos for Facebook. You can always export the completed vids right to one of the social networks as well.
The number of characters that you can include to the text is unlimited and this is another bonus for a free app. The app has a pretty decent ranking on Google Play.
The possible flaws that users have noticed are that it works not with all types of screens. And, as always, in order to get extended access to all the fonts provided by the app, you will have to pay. But if you need a one-time app to quickly layer the text on the video – this is a good choice.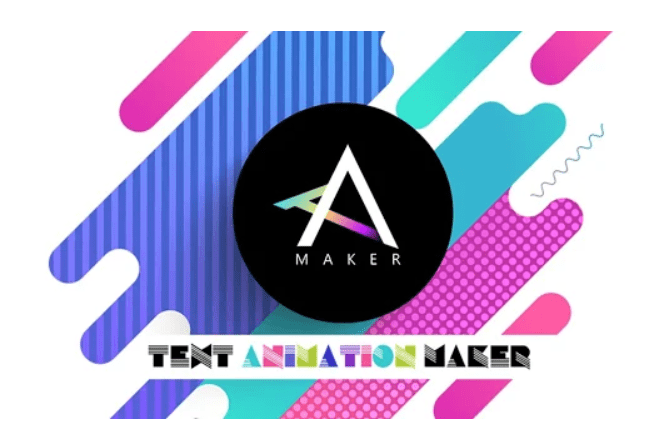 Add Text on Photo & Video
Another cool app for iOS for adding text on the video. If you take a closer look, you will understand that it looks really similar to an app for iOS we observed right before this one. They even have a similar interface. However, this time the app allows us to add text both on photos and videos.
Here you definitely will find some diversity in fonts but don't expect them to be that many as in the Vont app. In "Add Text on Photo and Video" all the fonts are displayed by examples on pictures, so you can get a quick view of each of them and make your choice.
What is good here, you can not just choose a particular font but a ready design set on an inscription knowing in advance how it is going to look and if it fits the style of your picture.
As a standard option, you can choose the color and size of the font. Unfortunately, gradient colors are not available. When you are adding the text for the video, you can see the timeline below and highlight the borders for the text.
You can also rotate the text in the way you want and place it at any spot of the video. And another significant thing – the app supports all the languages.
It is really essential because sometimes you would like to add an original inscription on your video or subtitles in the rare language but the software simply doesn't recognize it. Here you can be free of this misfortune.
This app may have initially one purpose – adding text on the video, but it actually has some function of any decent video editor – so you can adjust the color of the background as well. 3 types of background color settings are available: Solid Colors, Gradient Colors, and Patterns.
Add Text on Photos and Videos is friendly to social networks. There is even a separate option in it which allows you specifically crop the video in the way it fits and Instagram or Facebook story and then you have a possibility to share it right from the app.
Photo editing opportunities are also worth to be mentioned. Speaking shortly, they quite much the same as video editing ones, with a difference that they have no timeline. By the way, there are also some filters available to layer both on photos and on the videos.
It is really convenient if you are making a video, but you also need a photo cover. For example, you are creating a text video for your IGTV so then you can create a video first and then a picture in the same style and make it look good with a picture on your Instagram.
Among other functions for video editing, you have an option to cut the video, make the preview before publishing.
The option of photo editing was added recently so sometimes it can work in a not a very sufficient way. Lots of quotes and stylish fonts are added with customization features. And if you want, you can place stickers on photos and videos.
And you can notice that the app has lower ratings on the App Store than those previous apps for iOS (though still a high enough, but just in case you are a total perfectionist). As it was mentioned before, sometimes the app doesn't work efficiently, crashes and works rather slow.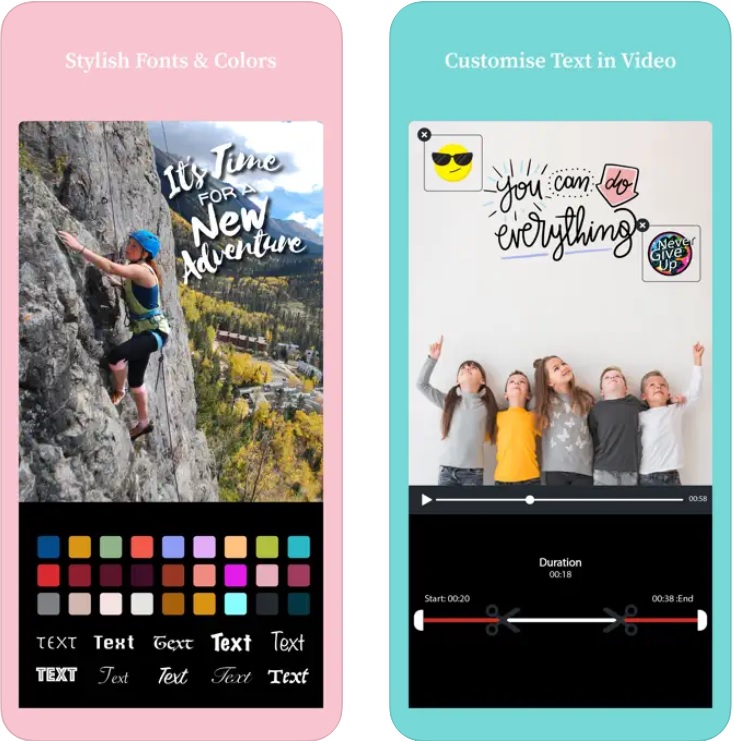 Add Text to Video, Write on Videos
here is one of the most popular apps on Google Play for adding the text on the video. When you take the first look the image of the interface seems like it doesn't provide anything serious, but in fact, you can make decent videos with texts in this app. It includes enough possibilities for interesting video editing.
The text can be added as 3d animation. The set of the fonts in the app is diverse enough to express your creativity and add some personalized touch to it.
Choose the video or shoot a new one right away, choose the size of your text and then choose the color for it. It is quite simple. You can also dig into the animated effects that this app has to provide for inscriptions and rotate the lines in the way you want.
However, the color pattern is quite limited. Developers could surely add more variety to the colors they put into this app. You can also add funny stickers to your clip if you want, here is where you will discover a real diversity. In general, these are all the significant features of this app.
Among the main disadvantages here we can definitely highlight that the video, unfortunately, loses on quality after adding the text on it and there is no actual timeline for it – it means if you add the text on your clip it is going ot be stuck there for the whole vid.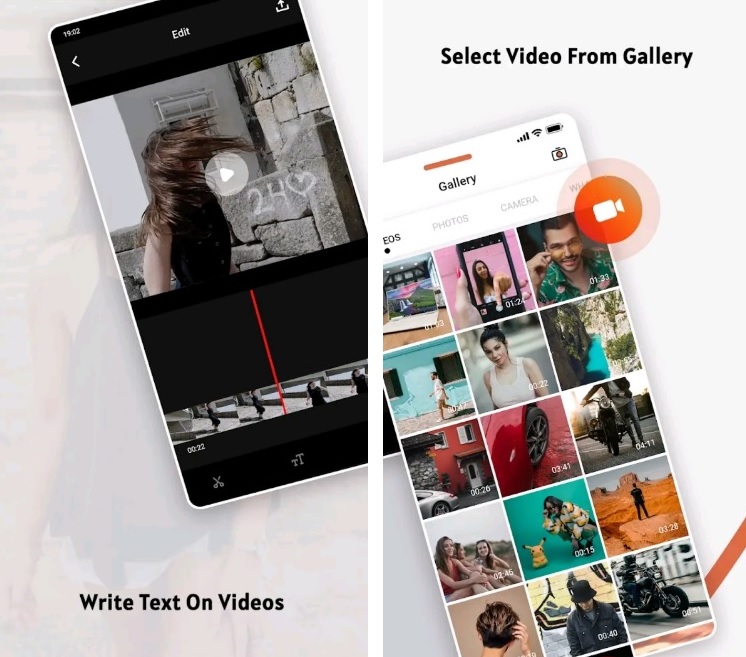 Video Maker
The Video Maker app is designed to process a variety of video clips. Here you can apply sound and graphic effects to your videos, as well as import files.
The presented editor allows you to cut certain fragments of the video, and the fragments can be selected up to milliseconds. It is possible to superimpose any music on the video by selecting it from the internal memory of the phone.
The app contains a lot of filters and effects that can be applied to the whole video or on separate segments. Moreover, you can add text to your videos by choosing a font and color, as well as different stickers.
Cut and change the background, adjust the playback speed of individual segments of the video, as well as rotate and crop.
You can also record audio for a certain part of the video, and then insert it in place of the original. Do this while playing back the video to get a better idea of where to pause, emphasize the intonation in your voice, or stop.
When editing is complete, you can choose the size and quality of the video and then save it in your phone's gallery. Then the video will be converted, publish it on YouTube or on various social networks and messengers.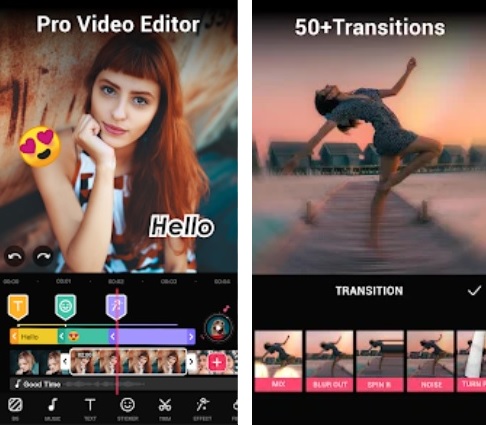 Title Master
In order not to fill our list with too many light-weight apps for adding text on the video, let's take a look at a more or less professional software. Yes, it is not exactly free, but it is more than affordable and the qualitative materials that it provides are worth to be paid that sum of money.
The app was created by the same developers that made the iMovie app. This time the app is fully dedicated to adding the titles and text on the video so you can not hold yourself back and experiment as much as you like.
Create any kinds of animated titles and texts discovering all the opportunities that this app has to offer in this field.
Here you got a multi-level timeline to layer the text and stickers to the video. Each text has its own timeline so it is very convenient to manipulate them all at the same time and play with timing.
In the case with this app, the sets of stickers, fonts, and other designed elements do not come together as a set so you can create your unique designs with different stickers and fonts combinations.
As always, you can choose any color of letters, frames, and background of your text. When you are choosing the color of the background for the text you can always control the transparency of it depending on how it fits the picture best. The diversity of fonts is large enough to find something special for you.
The choice of stickers is also impressive and their design is a separate feature that is needed to be highlighted. They look really cool on any video.
For the editing, you can choose the video from your phone's library or make a new one right from the app. Title Master also has an incredible additional 'blur' animation for titles and 'stroke' animation for graphics. Scale, move and rotate your item using common gestures, directly on the video screen.
Another function that definitely deserves our attention here is animate-in and animate-out function. Here you can choose how the animation will appear and disappear depending on its timing.
You say, there is nothing special about that, but the way how you can play with animation in this section in this app is really cool. You can choose the transparency of fading in, you can choose the direction of shadows, blurring, and many more eye-catching effects.
Besides, the function if individual character animation allows you to add effect to separate letters in the words even in a not standard way – for example, you can blur or fade one letter in the middle of the word.
If it happens, that after a preview of an edited video you decide that you need to insert some changes into the text's design you can do it on the go, it is really easy to correct something you don't like immediately.
Among additional functions, that this app includes, you will also find a standard possibility to add and change background music for a video, mix it with the original sound of the video and regulate the volume.
The app barely has any disadvantages. The only aspect here when you can hesitate is that it is not a free app. But, it is not that expensive, as, for example, Final Cut Pro app and here you definitely can afford it without any regret even if you're not going to use it daily.
Maybe, the set of fonts could be more diverse – but it is only in case if we would be really picky considering this app. Apart from that, it has a very high ranking on the App Store which proves ones more that it is a really decent software.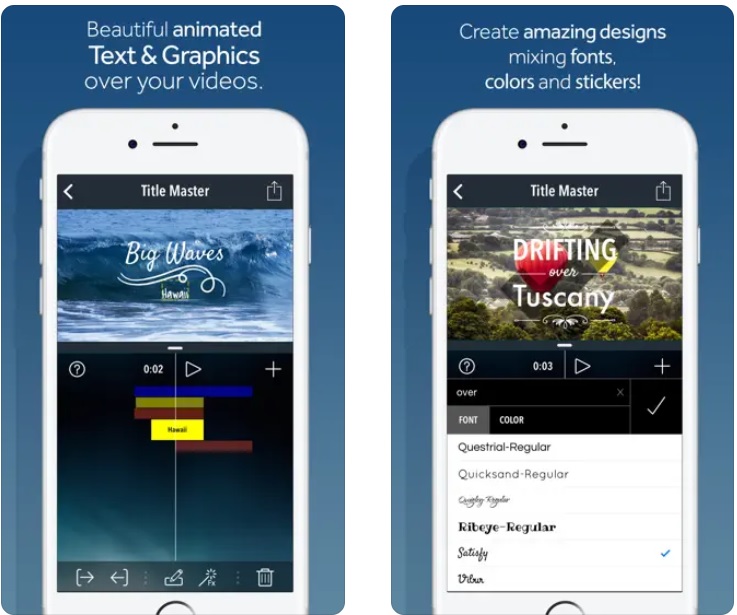 You may also like: 11 Best slow-motion video apps for Android & iOS
MoArt
The MoArt app is designed to create and process video stories on Instagram. The utility helps you diversify the content of your personal page thanks to the layout and media editor. It includes templates and layouts for fast processing.
The app contains templates for video stories and image processing, divided into categories. In the utility, layouts contain forms for images or video files.
You can add them from the phone memory. The app will show the animation of the selected template. If necessary, the picture can be replaced or the draft can be deleted completely.
The program allows you to change the manually created story on the template. You can select the format and set a timer for the animation. All new changes can be viewed by clicking on the eye button at the top of the screen.
Furthermore, this utility gives you the opportunity to add music. The track can be selected from the gallery of your device or from the audio library of the program. The catalog is divided into categories.
In the app, you can insert an animated caption into the stories: circular, flashing, pop-up, printing, fading, and others. In some layouts of the app, it is possible to change the color of the background. You can use a shade from the suggested ruler or choose your own on the virtual palette.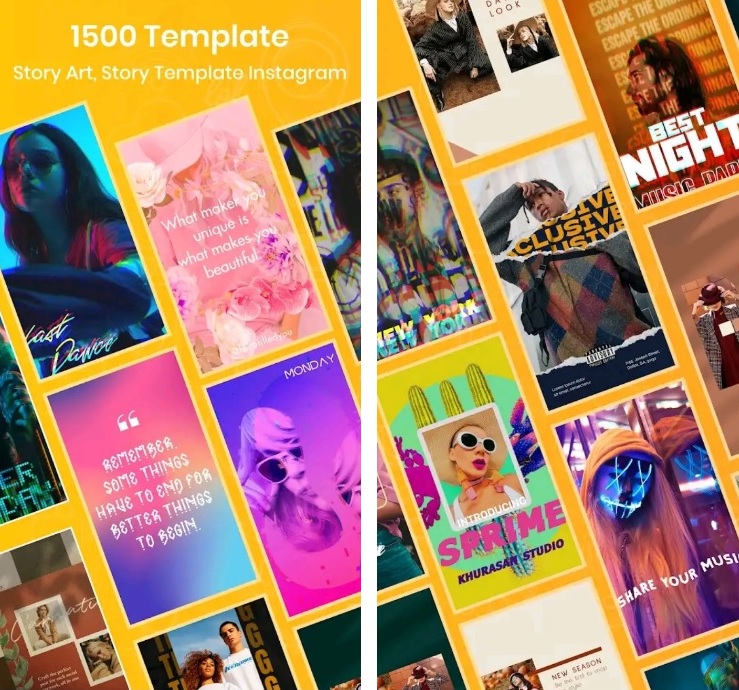 In the conclusion of this whole article, you have maybe noticed that the video editing software is definitely more powerful on iOS devices. It is not really clear why – maybe because the black market of apps in the
Android industry still exists and developers don't feel motivated to make high-quality software which is going to be unprofitable at the end. Sometimes the problem feels quite sharp – you really need to dig into Google Play to discover something worth your attention and not just relentless garbage.
On the opposite, App Store provides many fine apps in this sphere and some of those have been on the market for years carrying a great reputation. Not to say that Google Play has nothing at all, but it would be nice to see more of the choice for its users in the future.