For some people (basically elders) the Birthday day is a day full of busy working and organization issues. Some people like their day and try to throw the craziest and memorable parties each time.
But no doubts that we all want that our guests would remember this day as the good one, filled with light emotions and funny activities. Invitation cards will help to achieve that effect.
This is a great way to inform all your potential guests in just one picture – with a date, time, reflecting the theme of the party, and the possible dress-code. That way your friends and family will definitely not forget this special date and feel they're cared about.
Seriously, who doesn't like receiving the invitations? Especially if those are so good looking. To help you with the latter we have picked up the best apps to create Birthday invitation cards.
Invitation Maker
This app can help you to create any type of invitations, not only just for your Birthday.
But since here we are talking specifically about Birthdays, you have the full range of tools to create a memorable and colorful invitation letter for everyone who you want to see at your party. You can add various design elements to your cards in order to make them stand out.
The app has more than 30 filters to make your images more beautiful. That will add enhancement to your cards. Tons of graphic design elements will give a feeling of the personal approach upon your invitation cards.
And, of course, there are no Birthday Invitation Cards without the message on it. In this app, more than 40 types of fonts will give you a chance to make your text even more authentic and strike the people with unique typography artwork.
As the finishing touches, you can add glitter, bokeh overlays, and many other details easily with a single click. Regulate the temperature and shades of colors that you are putting in the picture. After everything is done, you can share your invitations via social networks.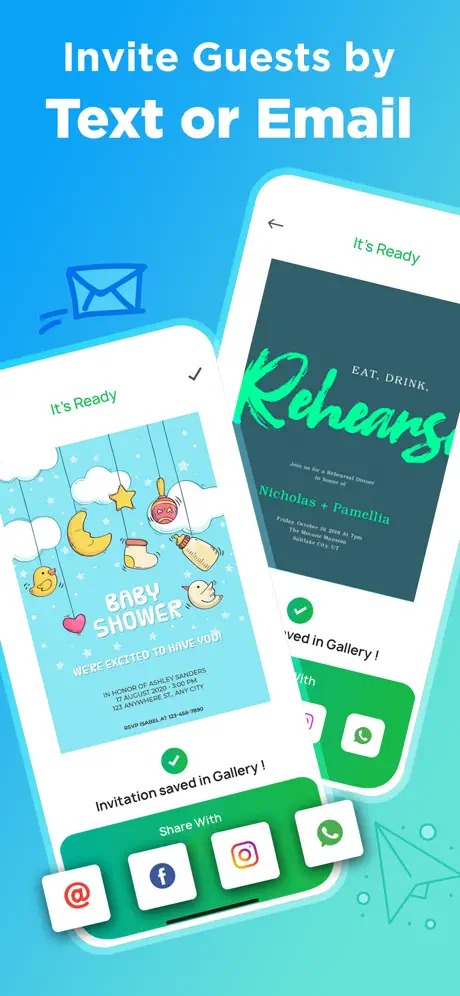 You may also like: Best wishlist apps for Android & iOS
Kids Birthday Invitation Maker
As you already guessed this app will allow you to create and decorate your own specific invitation to a Birthday party. Kids Birthday Party Invitation Cards Maker and Designer Card generator to Invite Guests to all types of Birthday functions party in just 3 easy steps from our Free Card Templates collection.
You don't have to be a super good painter to make these invitations. All you have to do, in fact, is to use special options of this app which will give you a chance to design an invitation using already existing patterns and professional-looking templates.
Then you can type the text and style it in the way you want. By the way, here you can text your own message or use those examples in the app. After that, you can enter Name Date Time Venue details and share send emails or download them to your mobile phone.
In the end, all you really have to do is to print these invitations that you created. You can be sure that all the people receiving them will be impressed even though you're not a professional designer. You can choose different layouts from the library packed with awesome images, making an authentic invitation. So make this day even more special with this app.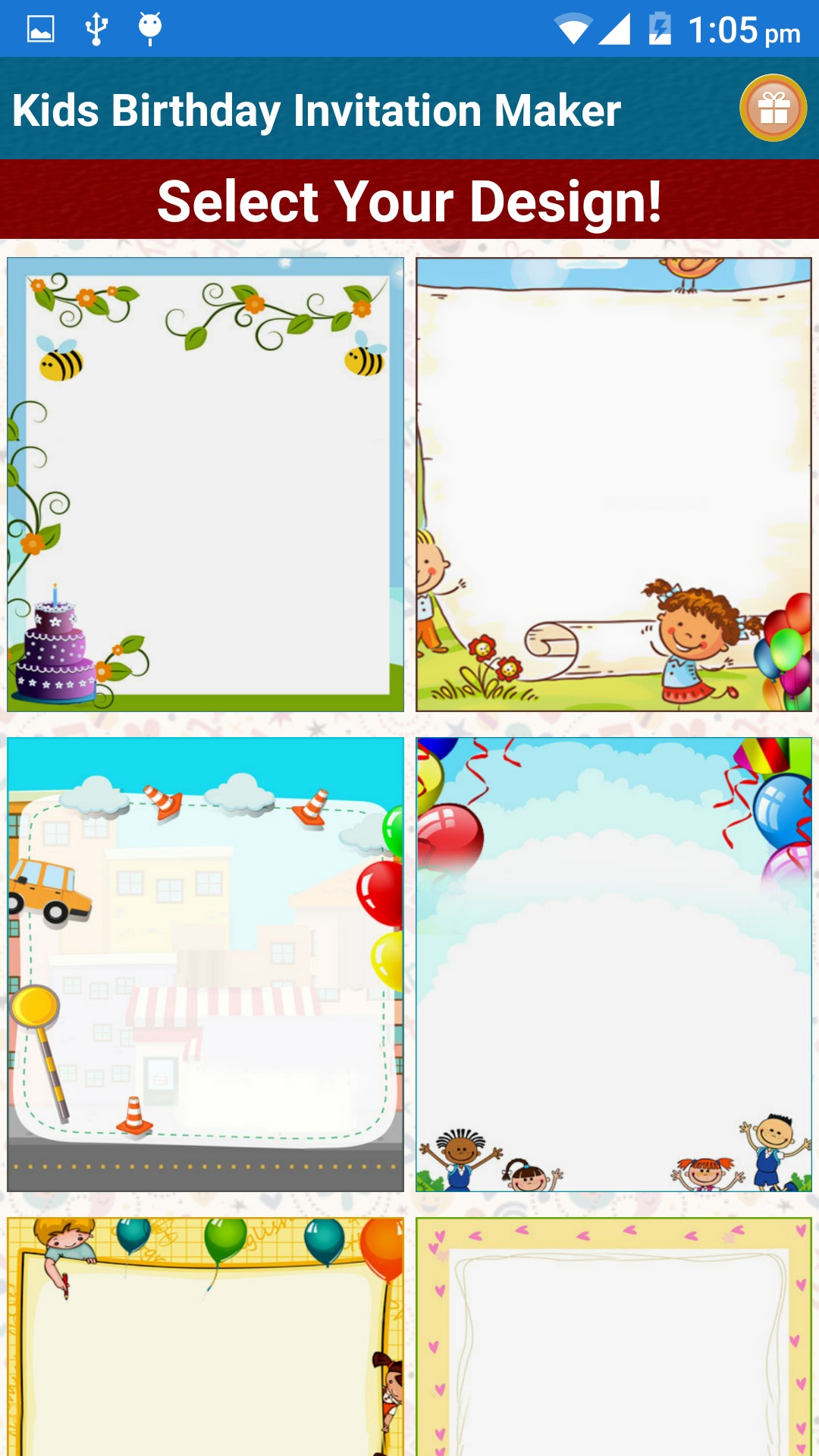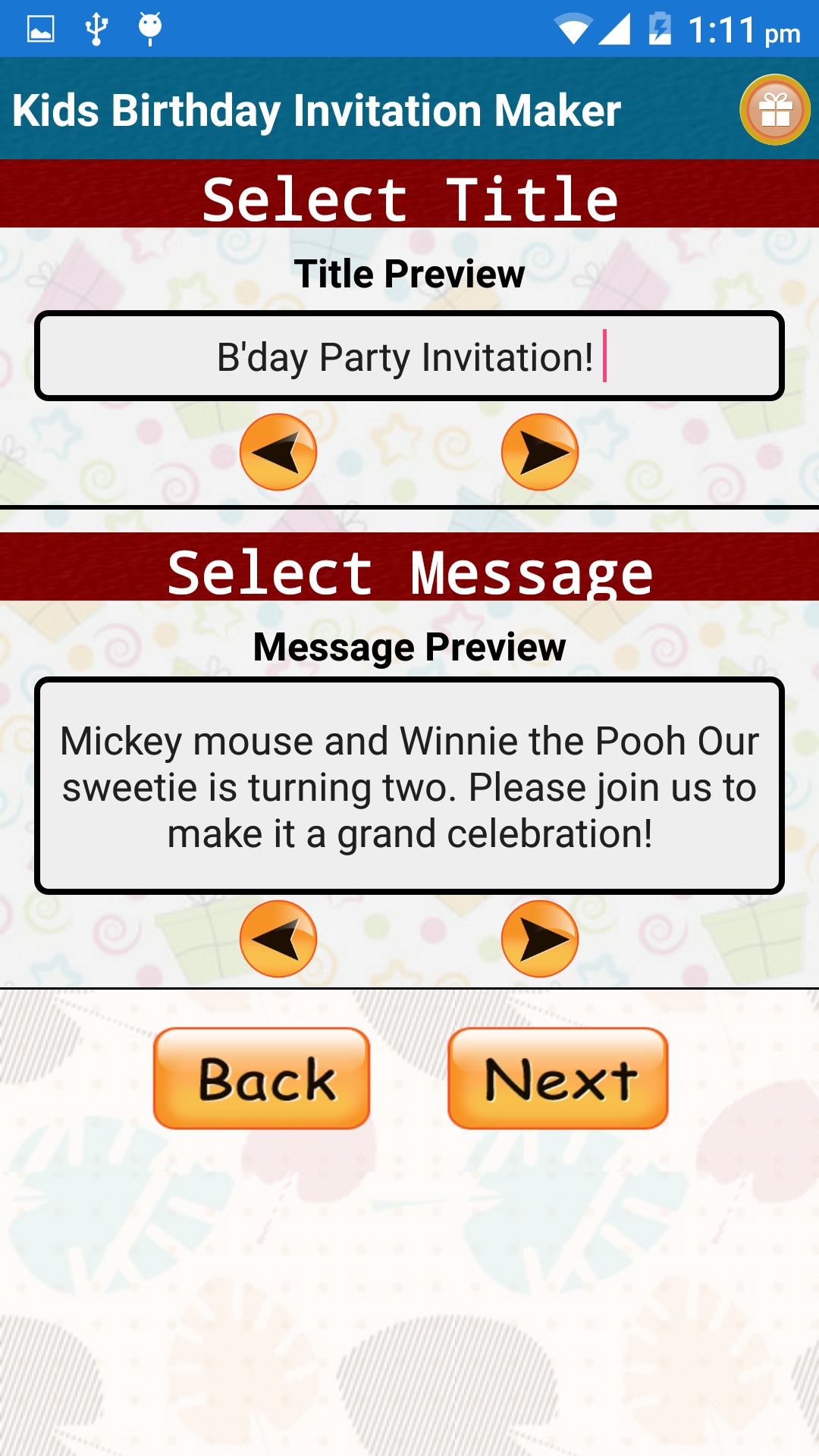 Happy Birthday Invitations For Kids Party
Personalize your birthday invitations for yourself or for kids. You can always send them via email, social networks, or just print them. Enhance the feeling of anticipation both for guests and for your child by creating cute and interesting images.
In this app, you will find the patterns for boys and girls, younger and older, and so on. Invite as many guests as you want by sending to all of the invitations in just one tap. Kids will feel excited about an upcoming event and their parents will appreciate the effort and creativity you put into an invitation letter for them.
You can try various layouts in order to create the desired atmosphere, then choose the style of letters and, as always, use funny stickers to add more personality to your work.
You will find any kind of characters that you can put on a picture in this app – from princesses to pirates. Everything depends on the type of party that you are planning to throw on. After you are done with all the details you can send your invitations to the people you want, using Facebook, for example.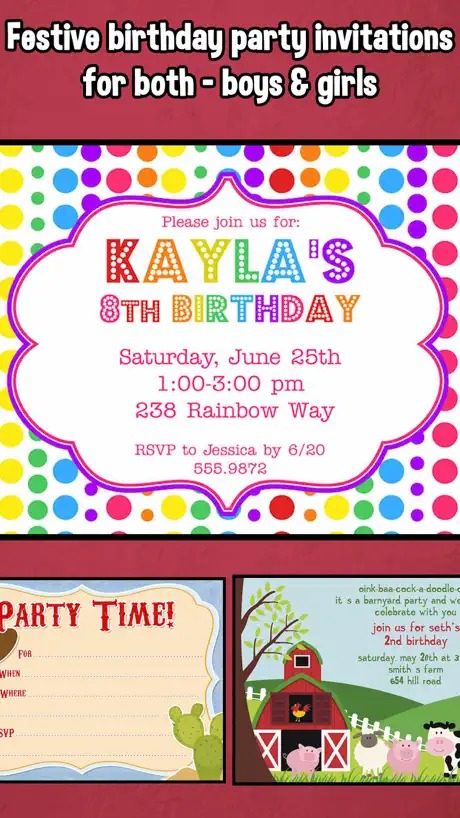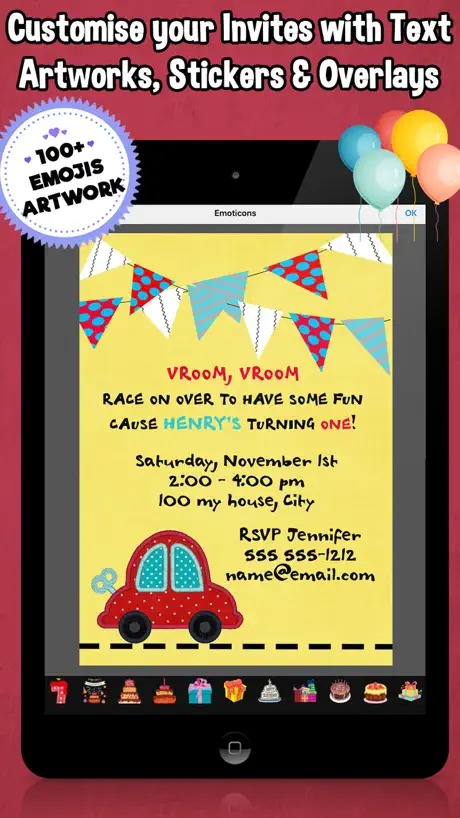 Canva
Today Canva has almost become the synonym of the word "design". It provides thousands of templates for any occasion – templates, lookbooks, CVs, brochures, so, logically, it is a perfect tool to decorate the most beautiful and authentic birthday invitation and send it to all your friends.
When you open the Canva app, you can see dozens of sections – each of them contains templates for different purposes. There is no specific section for Birthday invitations, but there is for sure one where you can make cards and invitations – just choose this one and see which templates it has to offer.
All the templates are fully customizable. You can choose the initial shape but you are totally free to change colors, change the position of object, add objects, add and erase some decorative elements.
This way, you get a nice invitation card that looks as if it would be made by a professional designer, when in fact it's Canva that made the process of making it so effortless and fast.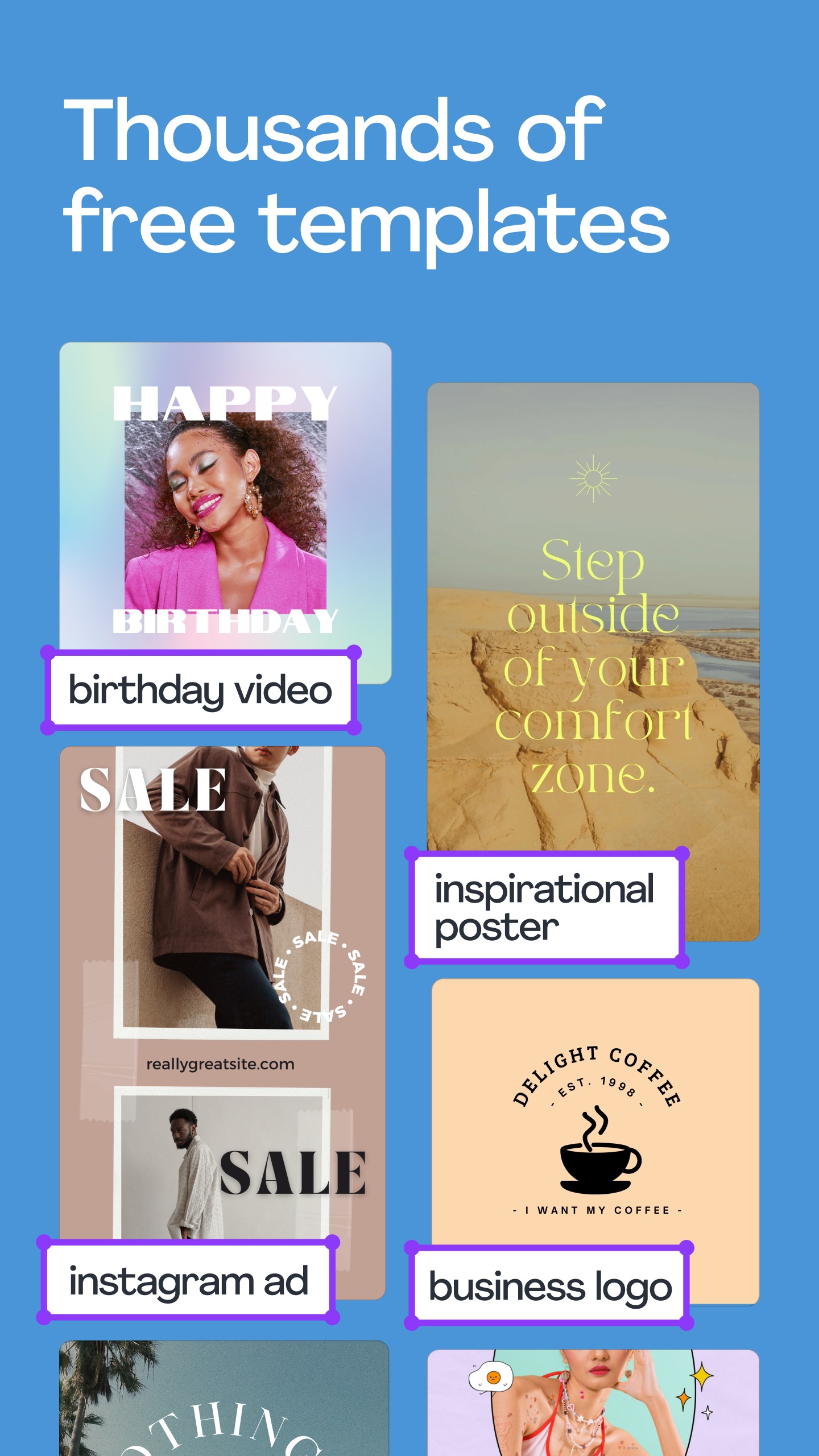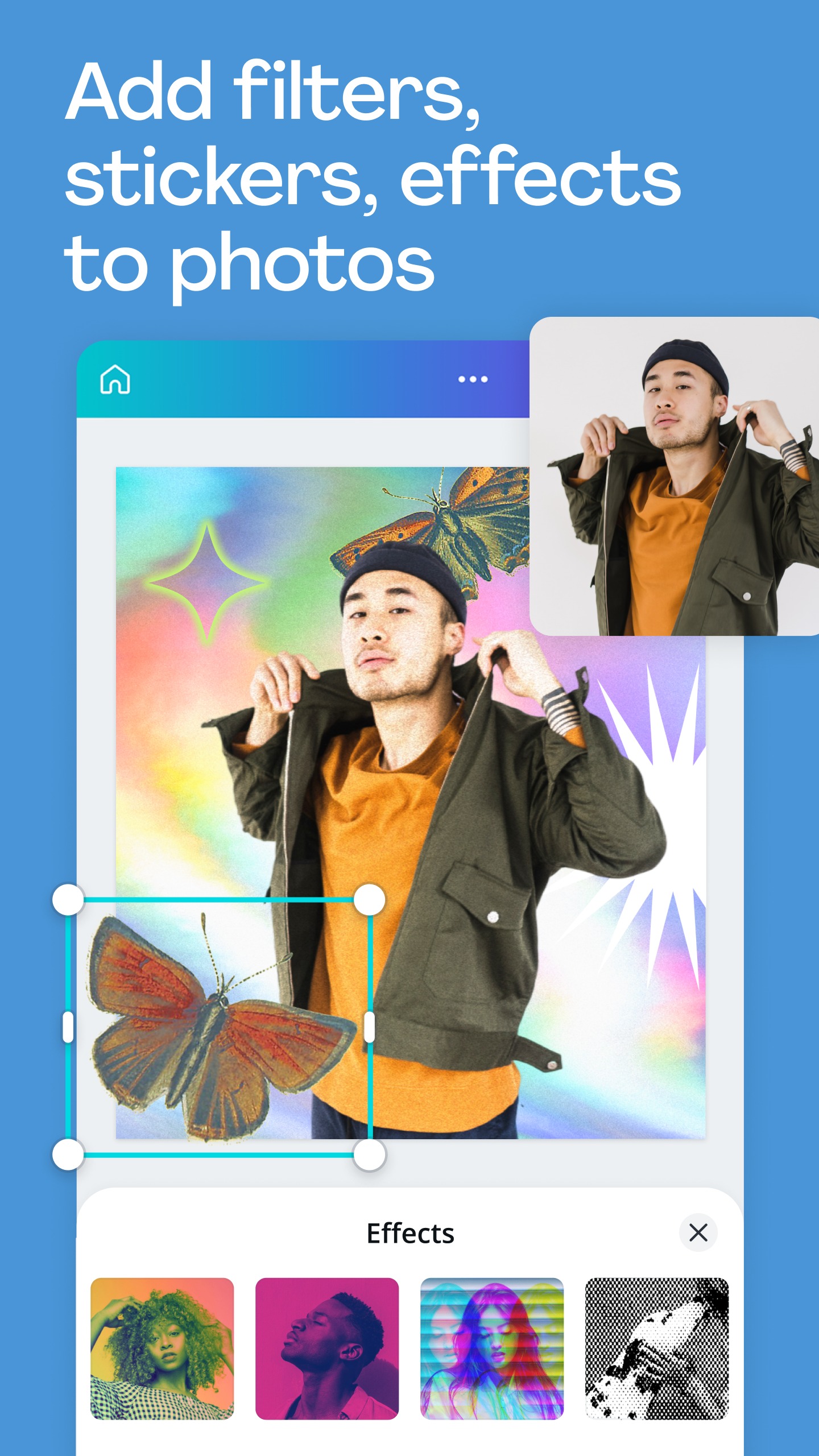 Birthday Invitation Card Maker
With this app, you can make Birthday invitations to anyone. Birthday party invitation template to create invitation cards. It is extremely convenient in usage since you have to do all the art in just one screen. You will get the full view of your canvas so you're also in control of the whole process with the possibility to monitor it.
What is more, it includes pretty birthday stickers which you can share with friends via social media and the same way you can share birthday quotes. And you can not only make an invitation, you are also able to send a greeting as a wallpaper. It is possible to edit your works anytime you want. All you have to do is to click on "Apply Changes" button. personalize your messages using an option doodle text.
A message can be undone too. As always you can layer on different effects on your image: sketch, touch on the star icon. Stickers can be applied to an image, touch on the rose icon. So surprise your friends with personalized invitations using unique photo filters and editing methods – all in high quality!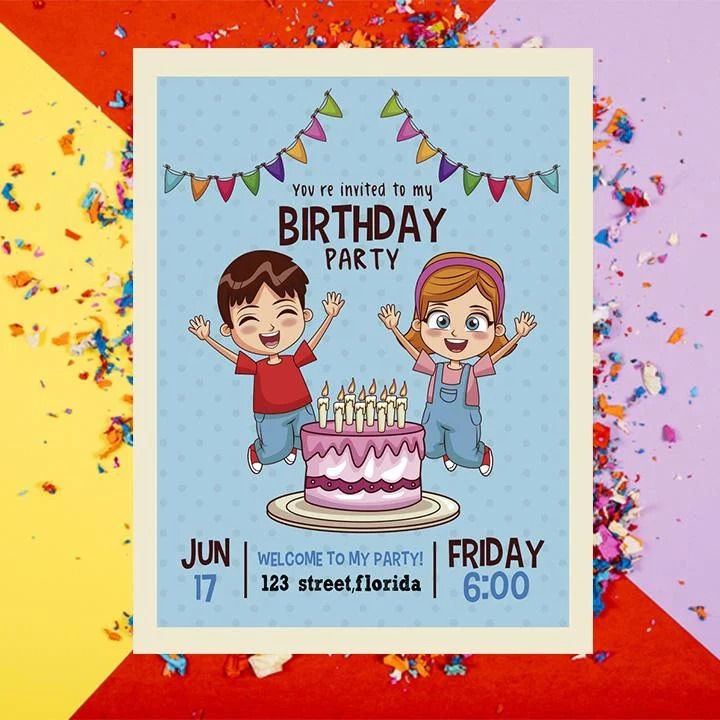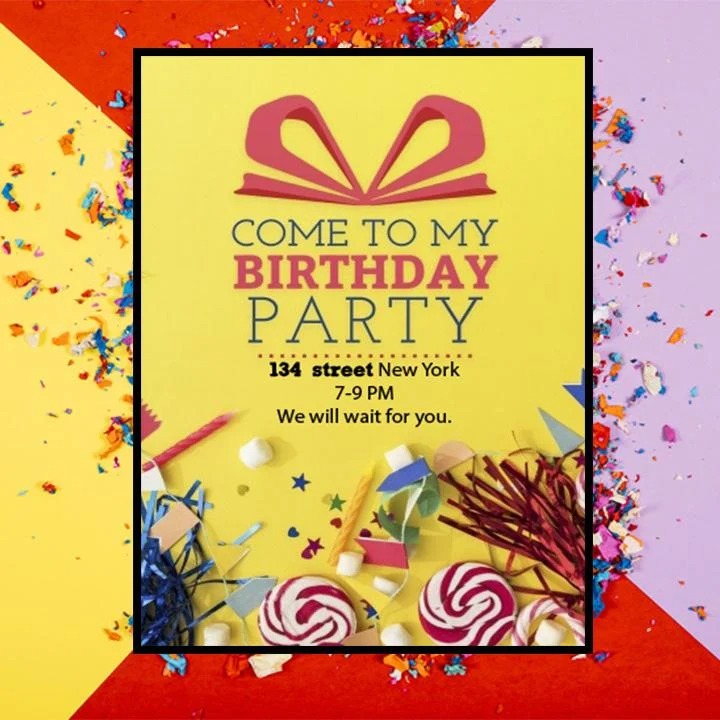 Birthday Invitation Card Maker HD
Another great app for making birthday invitations. Basically, all you do is adding date, time, text, decoration, and photo background, then you can share it via social networks. You can also set a custom photo as a background. There is also a possibility to decorate your image with Text quotes, stickers, themes, and so on.
In case if you don't wanna spend too much time on your invitations' design, but still wanna make it personalized then you can custom wishes. In other words, you got everything to make this special day incredible.
As you launch the app, you can choose a background from the collection in the app. Then set up an invitation card. You can always add a photo card with your selected image as the background.
Then write your message using creative fonts or take a remarkable quote. Don't forget to place funny stickers on the card. You can draw as you like with a multi-colored pen and brush tool. Another useful option here is that you can preview your work and then if you like it, share it with your friends and family. All in one app for creating superb invites.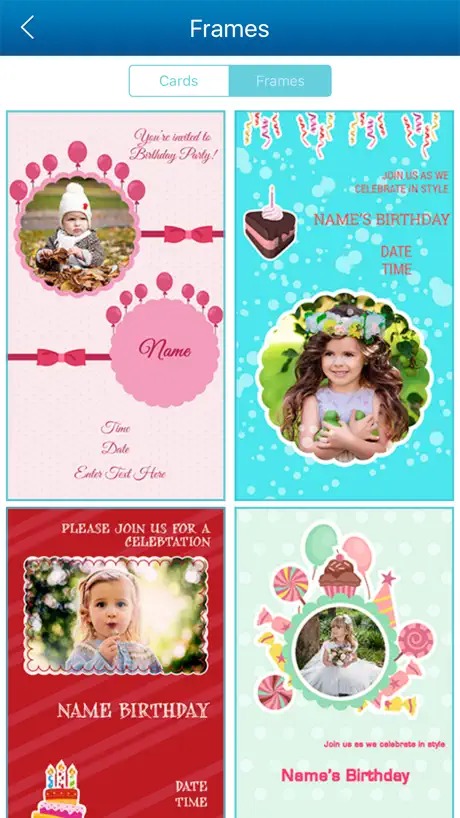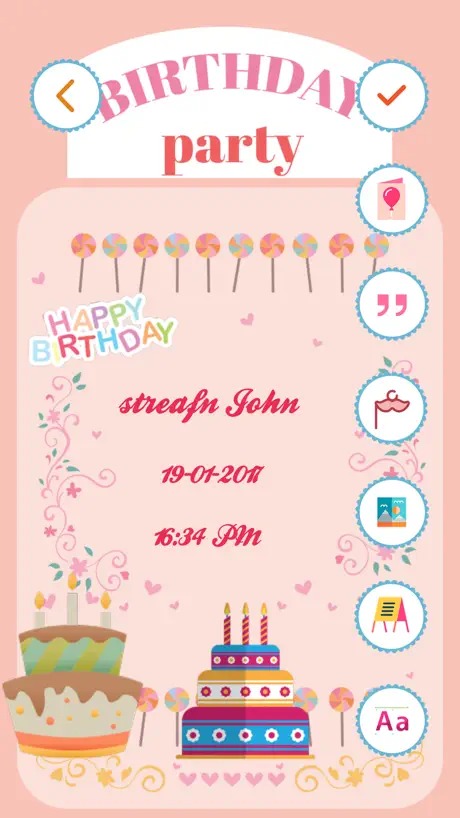 You may also like: Best birthday tracking apps
Adobe Spark
Adobe Spark is another app that allows to create various intricate designs, not only for birthday invitations, but for each type of media – for presentations, announcements, banners, brochures, posters, and so on. It is not as convenient as Canva, for example, but it is still a good app.
The templates layout of Adobe Spark is a little bit disorganized compared to Canva, or, being more precise, it is not divided into any categories. Here everything is simple – you just scroll through them and choose the one you like more. Honestly, why are all those stereotypes when you just want to make a birthday invitation?
Obviously, each template, that you choose, you can customize up to your needs. Change the text and change the font and the color of it.
Select the different colors of the background – you can make it gradient or plain – up to you. You can add elements to make your birthday invitation brighter or you can remove any extra elements from the picture for a more defined and elegant style.
If you plan to make your birthday invitation digital, then you can also add cool animations to it or even design your invitation as a video. The editing possibilities are wide – everything is limited only by your imagination.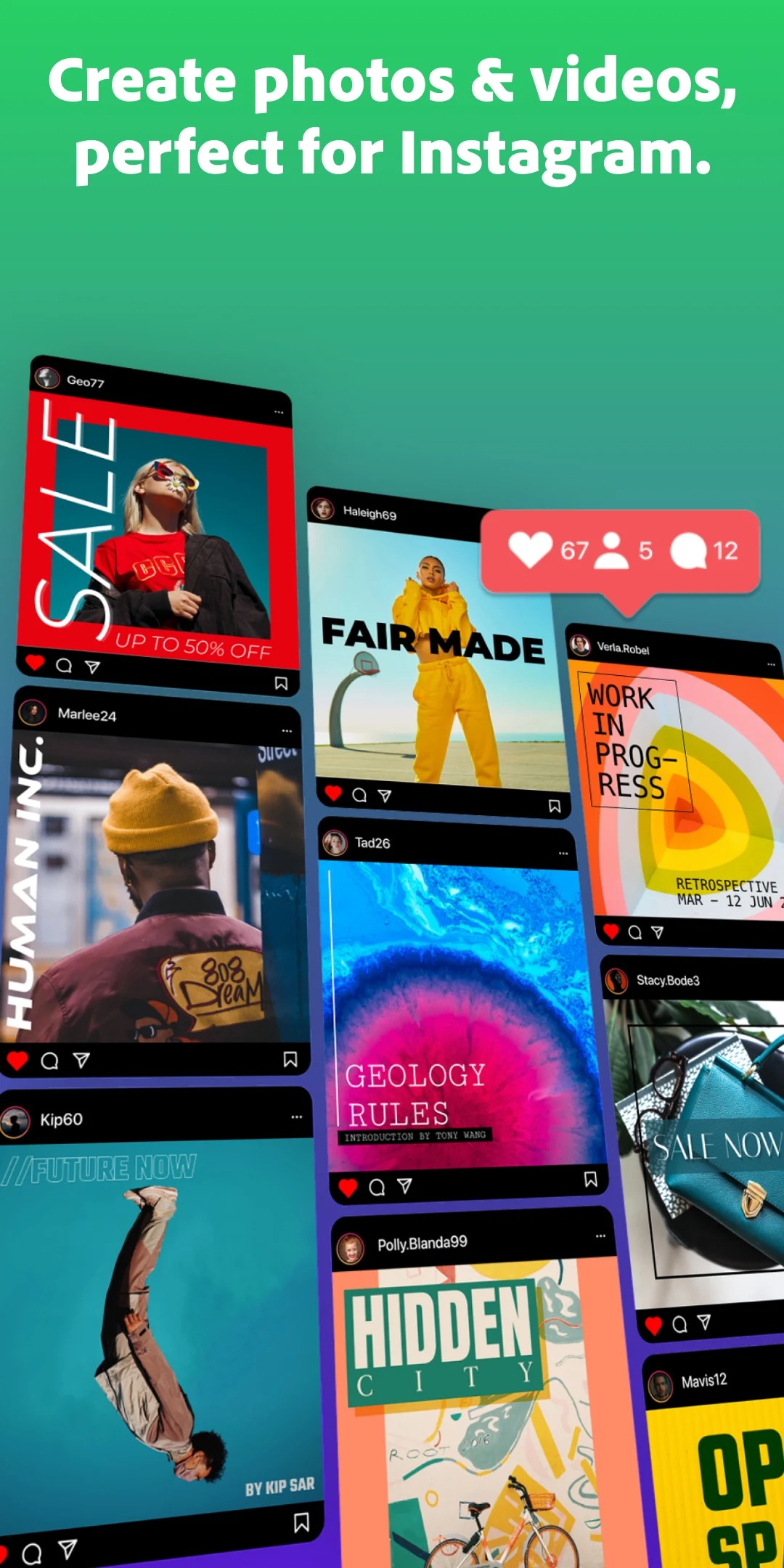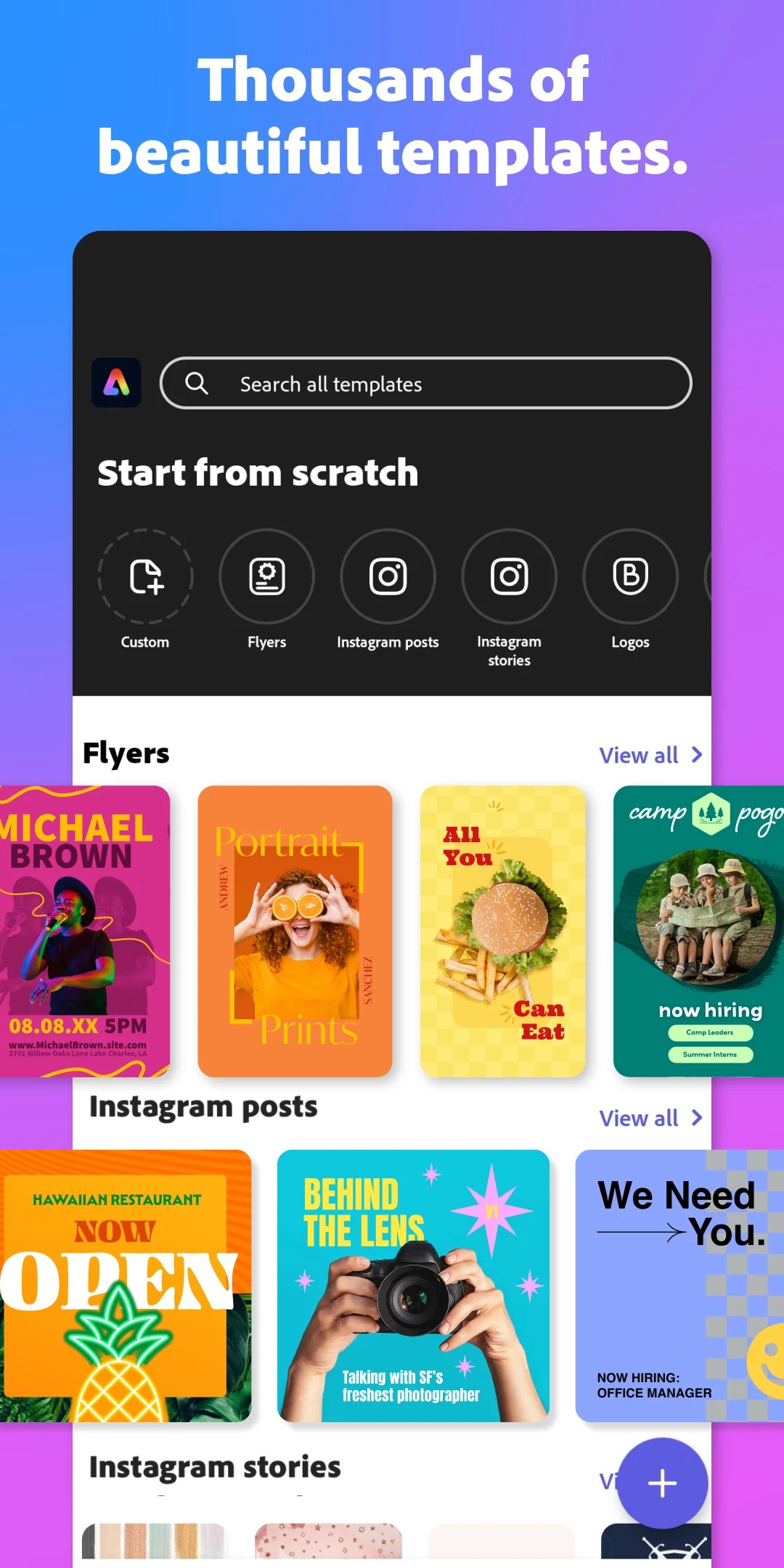 Invitation Card Maker
Invite all your friends using this app which will help you to make original invitation cards. You can create your personalized invitation on a single screen which is very convenient. The app also has full-screen support. It also provides various stickers that you can use to create your unique design and impress the people you are going to invite.
Moreover, here you will find different backgrounds not only for making Birthday invitations. You can also make an invitation for a Wedding, Birthday, Anniversary, Dinner party, Lunch party, Festivals, etc. If you need to take a pause and distract from the creative process you can save your image and continue later.
You have a chance to send created invitation cards to loved ones via various apps like WhatsApp, Gmail, Skype, and other social media. The interface is nicely decorated and simple in the same way.
However, it is important to mention that even though making cards here actually takes less time and it is really more simple than in other apps, the cards will turn out to be not that intricate looking. It is rather for those who prefer not to invest much time in such things, still, wants to pay attention to people they are going to invite.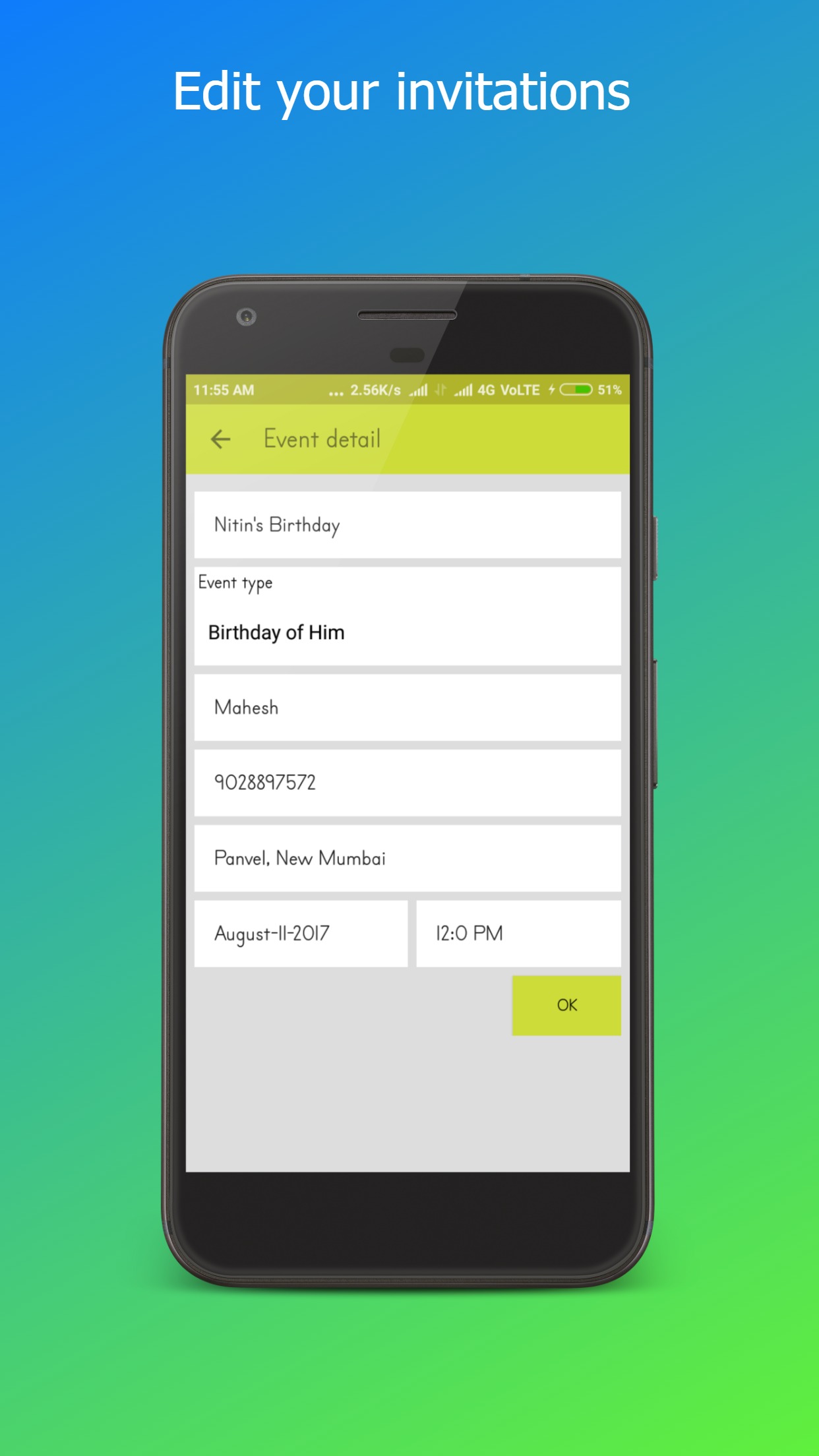 Invitation Card Maker by Greetings Island
Paying attention to your holiday is incredibly difficult today. Of course, because people around do something incredible – fireworks, unimaginable parties, invite musicians or celebrate in posh restaurants. But if you are an ordinary person who wants to have a good time with friends on your own birthday – you should think about the design of the invitation to the party.
Even if you have a punch at home, a beautiful letter of invitation by mail or tied with a ribbon will keep your guests excited about the party. Your birthday can be remembered before it starts!
If you used to have to hire an illustrator, now with Invitation Card Maker you can create a unique postcard in minutes. The design of the application is simple and the functionality is extensive.
Choose your birthday party and you'll see hundreds of great templates right away! Choose your favorite, write all the information you want to give your friends – time, place, and theme of the party. Setting up fonts and colors is just as easy. And all – your invitation letter is ready! You can send it by e-mail or even print it out – your friends will be impressed with the design.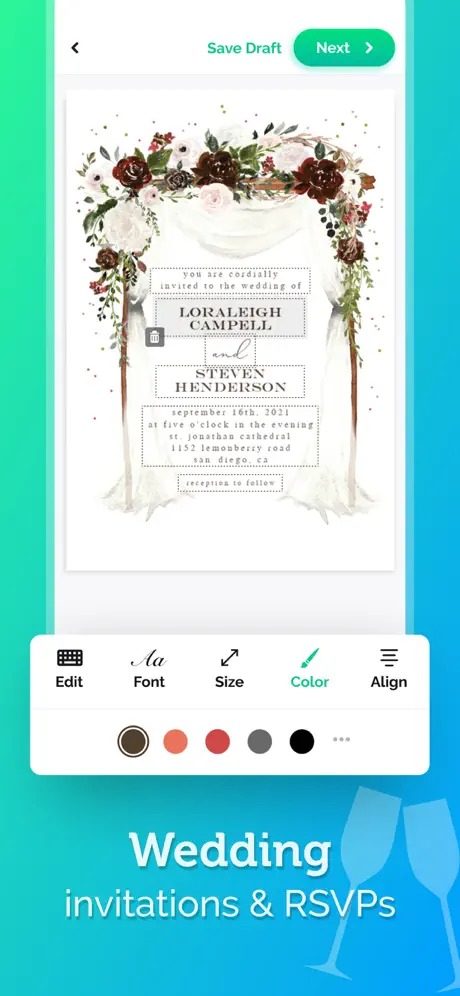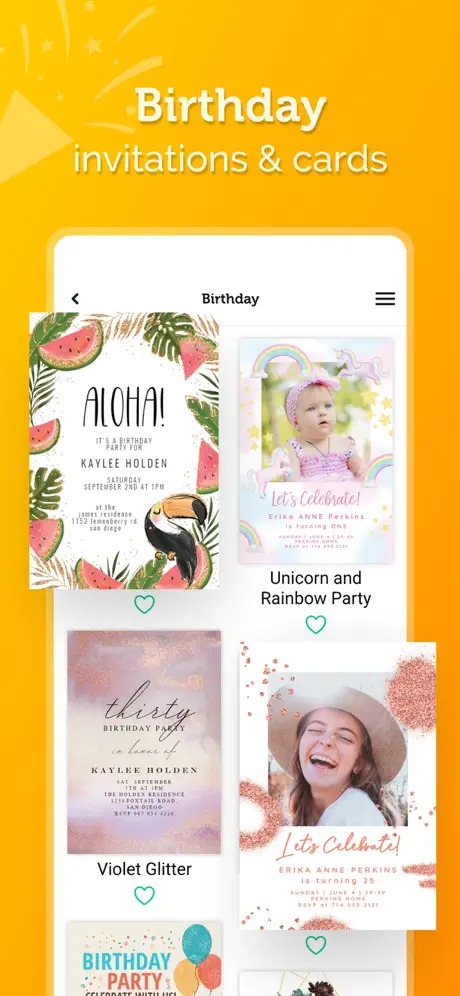 Invitation Maker 2.0
You can use Invitation Maker 2.0 if you want to create your invitation card from scratch. This is the latest version of the design application. You can create a unique card with your own design, images, and more.
Invitation Maker 2.0 has a huge collection of background images in HD quality. Choose what you like and start the creative process. If you want to make an invitation against the background of a photo or other picture you have, just upload it to the application gallery. In addition to the background, there are textures and color patterns.
You add thematic stickers and labels from the library to the background image. You can sort them in any order, even there is a function of a random sticker. Fonts and inscriptions are also customizable to your preferences – color, style, brightness, and size are entirely up to you.
When you've finished your work, you can save the invitation letter in the gallery or send it directly to the recipient. Share the results on Facebook or other social networks – this way more people will know about your holiday!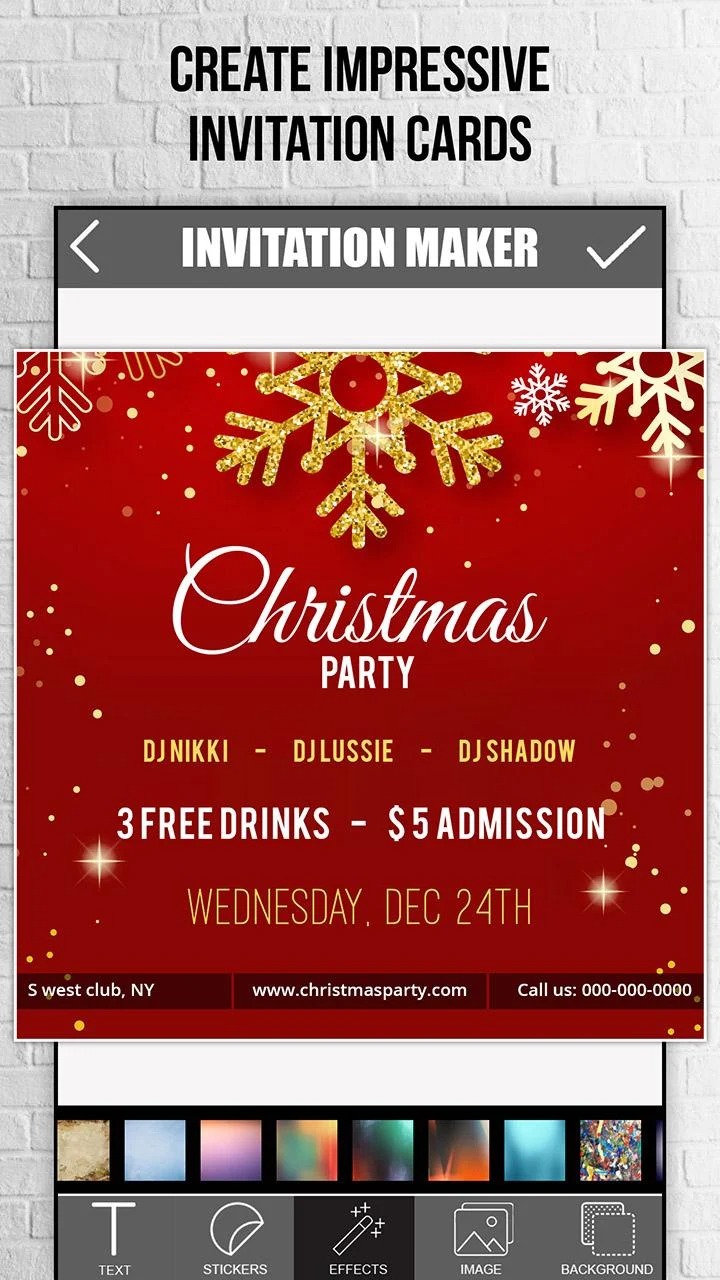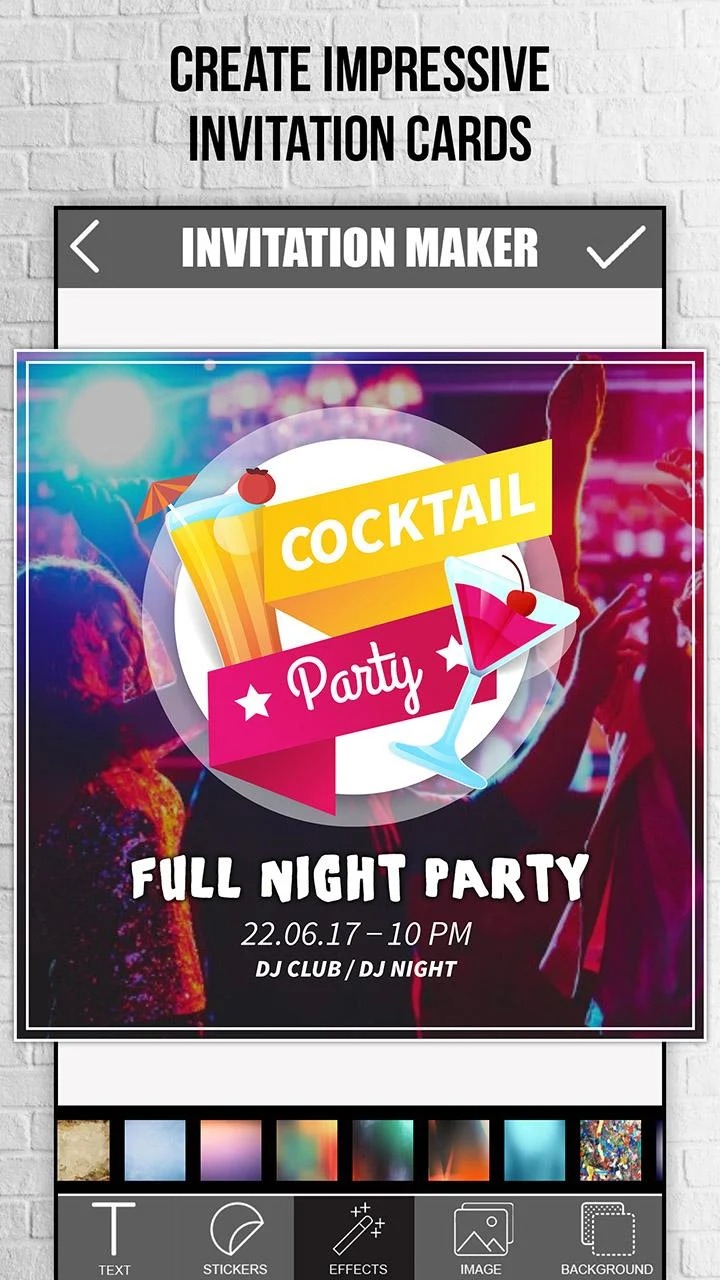 Invitation Card Maker & Design
If you have planned a celebration, you will definitely need the Invitation Card Maker & Design app. Here you will find ready-made templates for any celebration. Make original invitations for a wedding, anniversary, gender party, or a modest pajama party.
Huge selection of sizes and shapes, layouts in any design and color scheme. Add stickers, and make any inscriptions. This free app will help you save time and money. Using it, you will get high-quality postcards in digital format quickly and without problems.
You can create a postcard and send it via email to cheer up a friend or declare your love to your partner. Print the finished postcard and make as many copies as you need.
In addition to invitation cards, you can easily find templates for flyers, banners, and posters. If you don't like the final result, you can always use the built-in photo editor. High-quality and original greeting cards for all occasions at Invitation Card Maker & Design.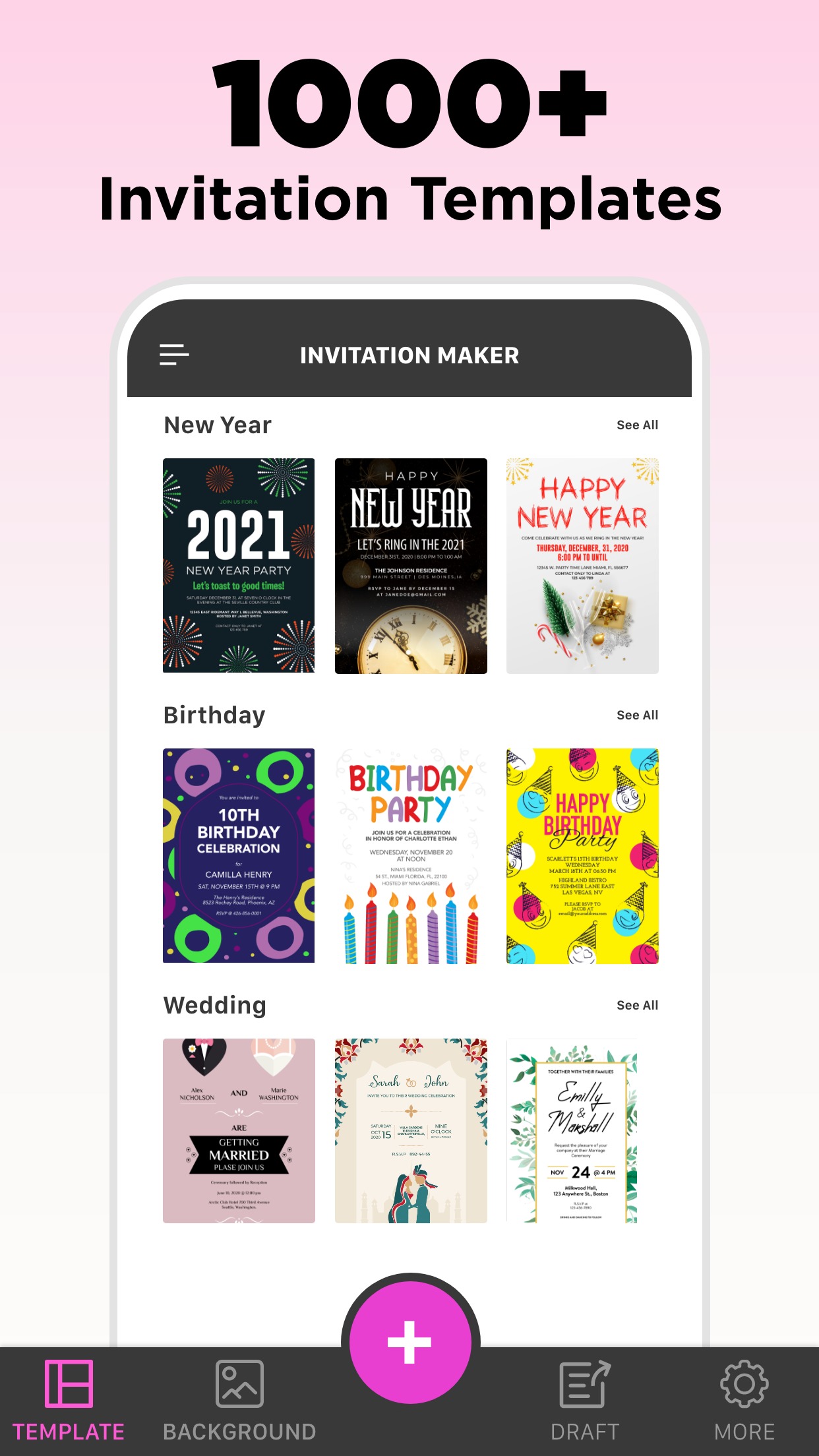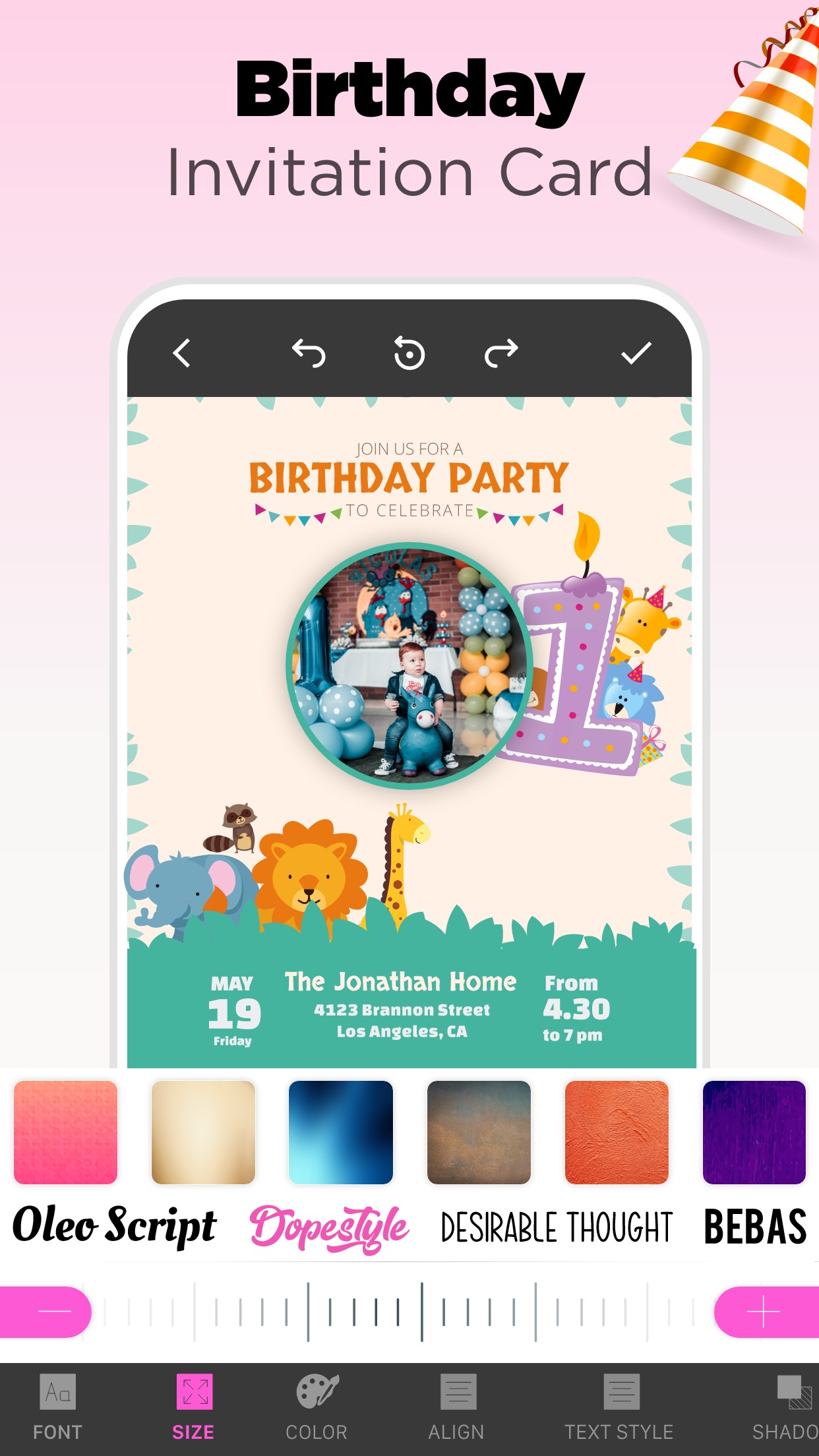 You may also like: 11 Best Party Planner Apps for Android & iOS
Invitation Maker & Card Design by Paperless Post
Invitation Maker & Card Design is a popular app for creating and processing postcards. Here you will find variants for any occasion. This online card designer will help you to invite your friends and family to a wedding, to make a real holiday out of a child's birthday party.
Invite a beautiful girl on a date in a very unusual way. Or design invitations for the annual reunion in a modern format. You can make a postcard in just a few minutes. Just open the app and choose the layout that best reflects the idea of the holiday.
You will be pleasantly surprised by unusual templates from famous companies Monique Lhuillier, and Oscar De La Renta. The finished template can be decorated with any elements. Here you can leave space for an insert, write the names of the invitees, add a stamp, or change the background.
Decorate your invitation with your own photo or make it in animation format. All tools are available for free and the app has an intuitive interface. Send flyers, postcards, and invitations via email or messengers. Share the link with your friends by setting up a newsletter in advance.