We are sure that the community of wild nature lovers is huge and it keeps growing day by day. The forests have always been a special kind of romance – beautiful, mysterious, and extremely exhilarating. For those who share this point of view, we found the best national forest explorer apps in the USA.
And during your forest exploration, you should also check the best hiking apps – they would be extremely useful as well.
National Forest Explorer
Before you go exploring wild nature, you need an app like this one. It contains the full information about almost all national USA forests and you can easily find one in the app's library.
Or, you can affect the search by the name – just type it in the search bar. All the information is presented as the whole text – so take that into consideration in case you don't like reading a lot. Along with the text, you will find the photos taken in the forest you are reading about.
And you can not only read but also explore the map of those places in a separate section of the app. The maps are updated by the explorers therefore it provides the most precise information about forest paths.
By the way, it will be useful to download the map of a forest before going exploring there, so you can have offline access to it.
Overview of features:
The broad informational base of forests in the US
Ability to search for a forest
Pictures of all forests
Offline maps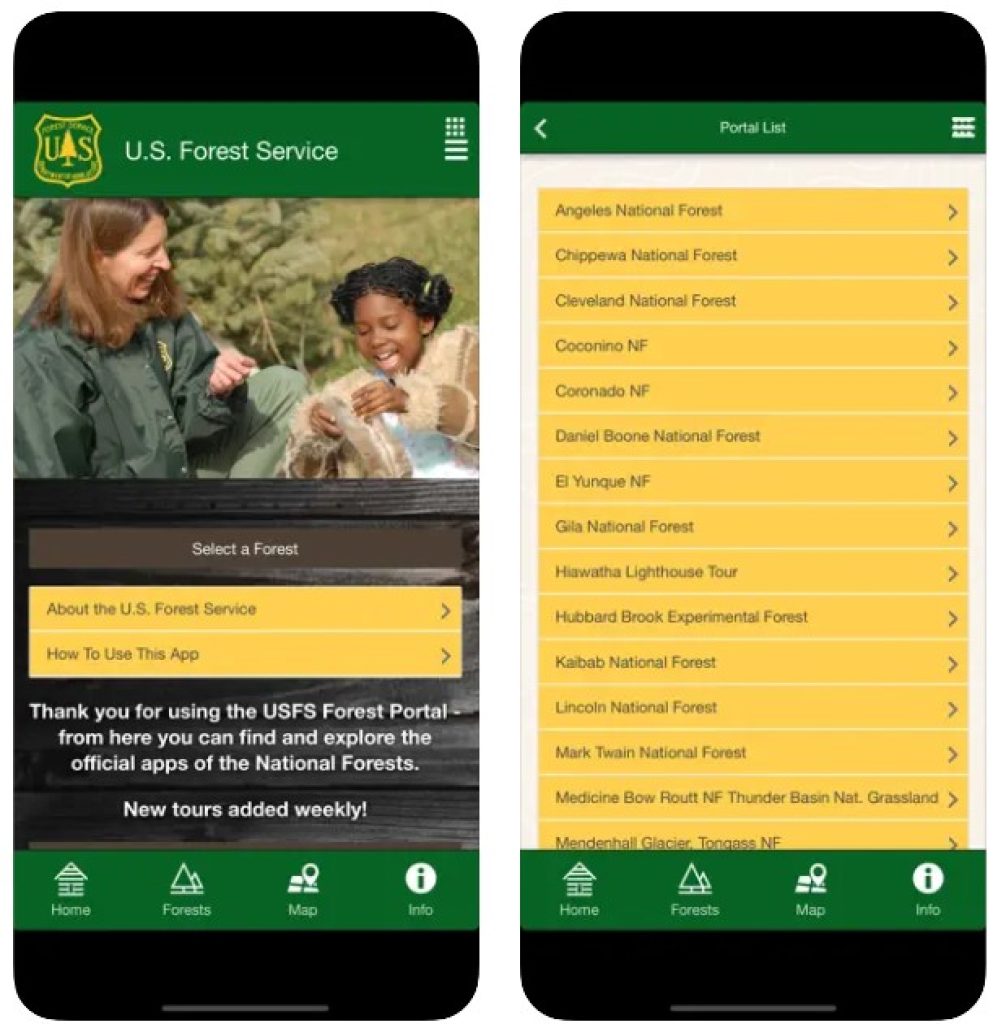 You may also like: 11 Best Fishing Map Apps for Android & iOS
Visitor Map – Map of Forest Service lands
Eventually, it doesn't matter if you're a professional scientist going on an expedition to the wild forest or a regular tourist curious about the sightseeing, you need to know where the services are located anyway. Who knows what may happen. Therefore, we also recommend you install this app.
This app is basically the map that contains all the services and stations in the wild forests. It contains touristic paths as well.
Just one the map and zoom in the needed area. All services will be highlighted with a sign. You can also search for a particular area using the search bar.
In addition, Visitor Map includes useful information about the flora and fauna of each forest area with pictures of it. Thus, you can briefly find out about the plants that are growing there or the animal species. The app also shows all available paths for people with physical disabilities.
Before you go on your journey, don't forget to download a map, so you have an access to it even without an Internet signal.
Overview of features:
Maps of forest with points of services
Offline access
Brief information about the local flora and fauna of each forest
Ability to affect the search for a forest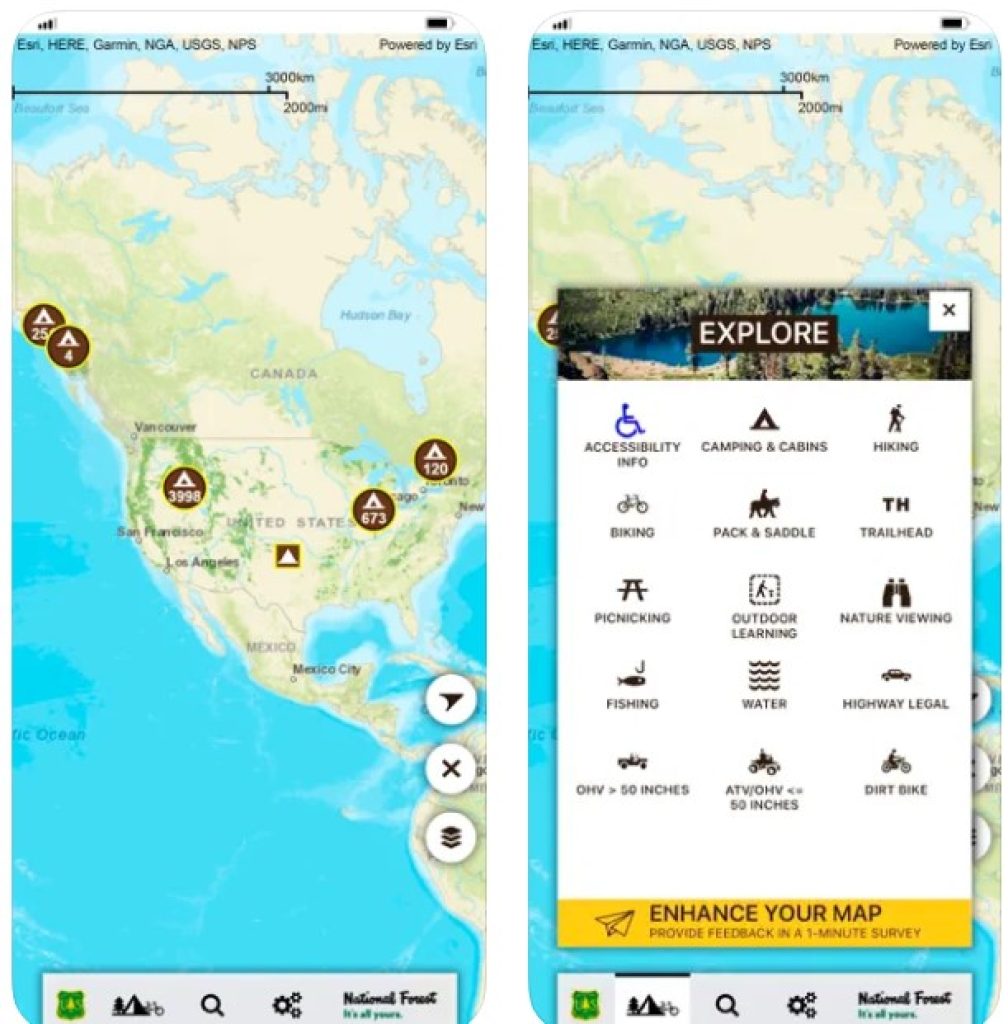 National Forests Map US Forest Service Wilderness
A more boring app than the previous ones, however, it contains useful and helpful information, therefore you might want to install it as well.
As usual, here you can search for a forest using the search bar, or by a name of a state where the first is located. When you find the map of a forest, the app will show you all the dots with the services available there.
And as usual, you can download the map so it would be available in offline mode.
You can zoom in and zoom out the map – to the scales of the planet. In case you are looking at the map and can't understand what all those signs mean, just open the icon legend section where you will find a detailed explanation for each sign.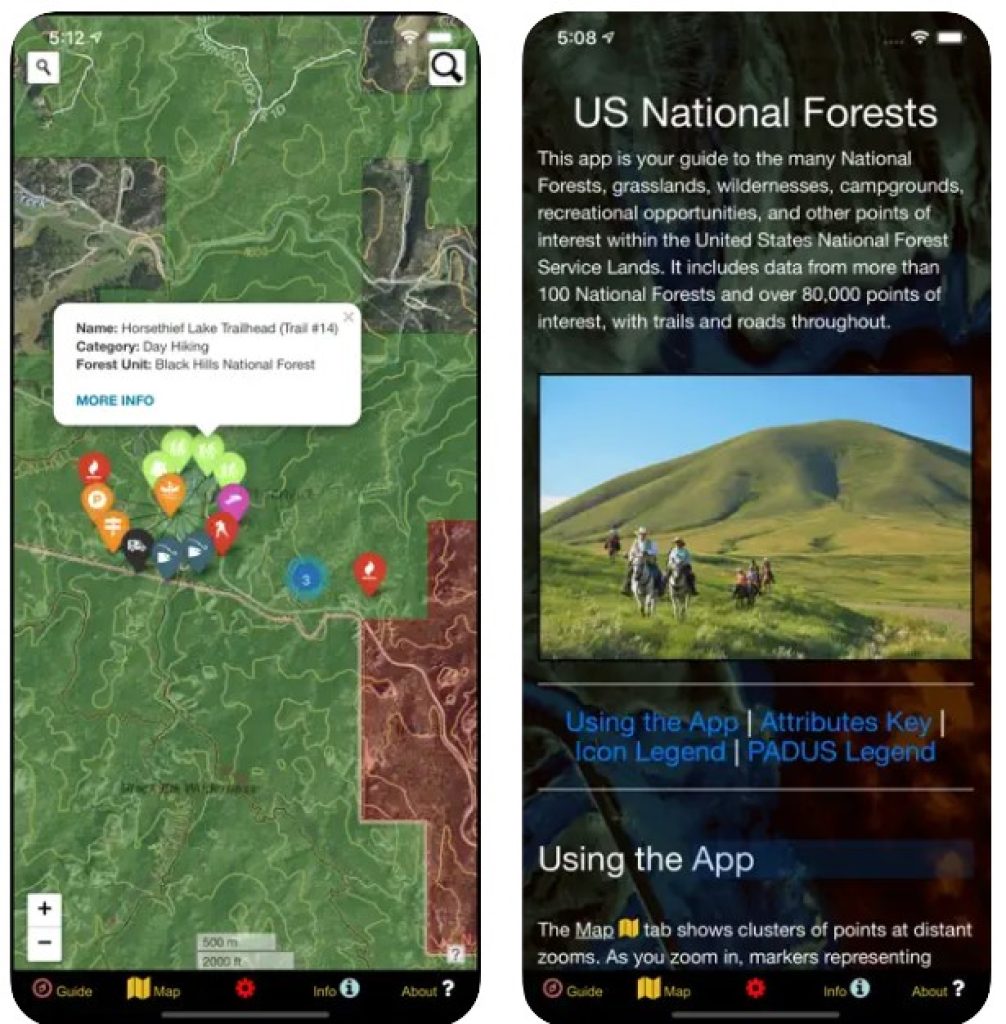 You may also like: 5 Best Trapping Apps for Hunting (Android & iOS)
US Topo Maps
Is it even worth making an accent on how important the topographic maps are for any expeditions? Even if you are going to a wild forest, you should have one. In this case, you can download US Topo Maps.
Overall, the maps here contain about 20 layers. They can be downloaded for offline usage with all the paths and peculiarities of the land. Moreover, it's possible to track your path and therefore, create a new route on the map.
During the trackage of your route, US Topo Maps can also record your progress of speed, accuracy, and elevation.
And, another interesting feature of US Topo Maps that no other app on this list has – is the built-in compass that turns out to be quite precise.
Zooming in and out on the maps is possible and moreover, the maps can be zoomed in the 3D quality. Overall, US Topo Maps get perfect feedback from its users and from us as well.
Overview of features:
Offline maps
Tracking your progress during the expedition
Built-in compass
3D models of maps
Detailed maps of all US forests

You may also like: 11 Free Phone GPS Tracker Apps by Number
Topo Maps+
If the previous app was developed for the Android platform only, then the Topo Maps Plus app is meant for iOS devices. In general, the interface and functionality are extremely similar to the previous app, however, this one includes fewer features.
You are still enabled to download maps for offline usage, the app can track your progress on paths and you can zoom in and zoom out the maps, though they aren't available in 3D modes.
On the other hand, Topo Maps+ has its unique features: for instance, it can build smart routes adjusting to each user's needs. Moreover, each map has several layers and you can combine them and therefore, create the specific map that you need for your expedition.
Overview of features:
Offline maps
Tracking progress on paths
Smart route building
Overlay the layers to create a unique map