27 Free apps without ads 2018 (Android & iOS)
Advertising annoys everyone, especially aggressive in the form of a pop-up window with a banner. It interferes the normal work with the application. Almost all apps which are on the Google Play Store contain ads, the exception is paid programs. However, we have found the best FREE apps without ads for you!
You can also check: 25 Best Free Offline Android Games 2018
LEGO® Juniors Create & Cruise
According to the idea of developers from the company LEGO, this application should bring not only an entertaining function but also to develop kids imagination. Plus, LEGO Juniors Create & Cruise is a completely free game without ads and other annoying things, distracting users from the gameplay. In general, the application is designed for children aged 4-7 years, but even older family members will play with no less pleasure.
The gameplay includes two main stages. First, the player constructs the car with the pilot from the LEGO details, who will take part in the race. The next stage is the race itself, in the process of which the rider needs to collect elements scattered along the track. Their collection will bring the player a bonus in the form of additional details for the car or racing suit. In addition, the young player must build some kind of roadside object from the elements of LEGO such as a shop, cafe, gas station, etc. Agree, without a rich childhood imagination it is impossible.
NASA
The official application of the NASA space agency is available for mobile devices running iOS and Android for several years already. It features a huge database of constantly updated images and videos from space, various news, reports on the launch of missiles, as well as the broadcast of high-resolution images in real time from the International Space Station.
The NASA application has online radio and the ability to track the location of the International Space Station above the Earth's surface. There is also information about all the current missions of the agency and much more. It is ads free.
Vertigo Racing
Vertigo Racing is a crazy racing game, created for devices on the Android and iOS platforms. This game was created by Deep Byte Studios SRL. The developers have prepared a lot of unusually complex tracks for the user. In addition, you can choose cool vehicles.
Users will not see banal boring locations. The developers have prepared for you high-mountainous serpentines. It is necessary to be very attentive because one wrong move can lead to irreparable consequences. The car just falls off the cliff. Also get ready for the fact that the gasoline spends too quickly. There are special check-points to get more fuel.
In total, the game offers you ten amazingly beautiful trails. As for the number of cars, there are about ten of them, and all of them are the coolest. You need to pass all the trails on each car, but the distance for different vehicles will be different.
It is necessary not only to overcome certain obstacles but also to get points for jumping or drifting. Trails can have very unusual shapes. For example, many of them have incredibly sharp turns or are located high in the mountains. When you cross the finish line, you get a decent cash reward for your efforts. Get gold coins, use them to open new locations, vehicles. In addition, coins can be spent on increasing the characteristics of existing vehicles. You can download Vertigo Racing for Android or iPhone gadgets for free.
Ancient Planet Tower Defense
Ancient Planet Tower Defense is an excellent strategy game. Users will enjoy a collection of very complex, but very interesting levels. There is also an extensive upgrade system and high-quality graphic design. This app is completely free of charge, but there is also paid content. Ignore it if you do not want to invest real money.
Pay attention to the presence of world rankings and try to fight for leadership positions with other players. In total, there are thirty-five levels in the game. So, users should help the ancient civilization. It is massively attacked by alien invaders, and you must repel these attacks. Use special towers for this.
Management is convenient. This is not surprising because it was adapted for touch displays. As for the menu, it is comfortable. To buy a variety of towers, as well as constantly improve them, you need gold. Thanks to a special mine, you can get the necessary gold. Try to think through your actions, correctly arrange the towers to overcome opponents. Download Ancient Planet TD for your phone right now!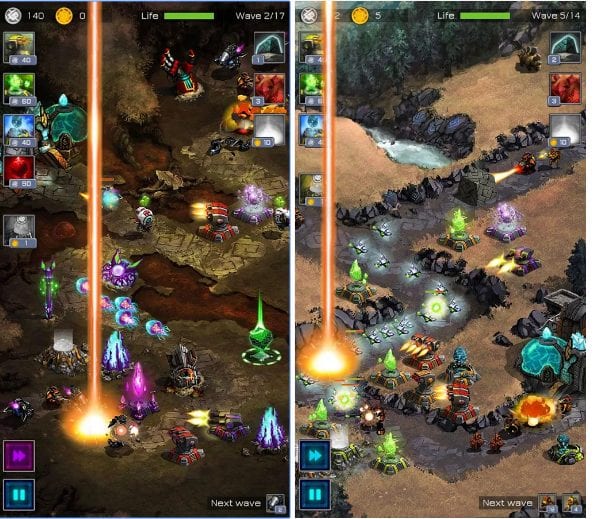 Build A Truck
Which car will cope with bad weather conditions, overcome any obstacles and jump over the chasm separating from the other side of the road? Constructed by own hands! Create your own car in the Build A Truck – Duck Duck Moose and embark on a journey!
The Build A Truck – Duck Duck Moose application will offer its players three different levels of passing any route. First, factory production – the choice of body, labels, and colors, the selection of wheels of different sizes, the choice of engine and exhaust pipes, allowing you to gain a certain speed. To top it off, create your own name and add a few accessories. Secondly, this is a garage – a place where it is allowed to inspect the already created cars, choose the one necessary to the upcoming race. Third, participation in the competitions – jump over the ravines, abysses and try to reach the finish line. The received gold coins will be useful in creating a unique car! Hurry up to download Build A Truck – Duck Duck Moose on your phone and create your own collection!
Griblers
Griblers is a classic military tactical strategy with a large-scale map. In the center of attention – a tiny army of Griblers, led by users. The heroes of an unknown race dream to organize their own nook in a huge and completely unfriendly universe.
The subject entry into the Griblers is designed in the form of several dialogues – the characters will talk about the current plans, and at the same time will conduct multi-stage training, where they will talk about military actions, construction, gathering, and exploration of lands.
In this addictive game, you will help heroes rebuild the city and protect it from monsters. Move the hero through the hexagonal cells of the playing field. Find treasures and valuable resources. Attack multiple enemies. Create armor, weapons, shields and other items of equipment. Develop your hero, increasing his characteristics and learning skills. Perform more and more complex tasks.
Features:
Original characters
Exciting tasks
Creating items
Step-by-step gameplay
Kids Learning Games 4 Toddlers
In fact, this application is a collection of small educational games. There are both the simplest games and more complex ones. The added progress from simple to complex does not let your kid get bored, so it's not accidental and certainly not to complicate the game.
There are several categories of games with their own gameplay. For example, in puzzles you can collect puzzles, that is, cut picture. It can be fruits, vegetables and so on. As soon as the picture is made, there will be a celebratory salute and the balloons will fly.
In another game, your kid can cook a delicious pizza. You can add a whole bunch of delicious ingredients to it. In the next game, attention will be needed. You need to look for vegetables, fruits, and then put them in your bag. By the way, this game develops small motor skills.
In this application, there are about 18 games for your child to play. All games perfectly develop memory, intelligence, reaction, and intuition. The game is decorated in bright, cheerful and pleasant colors. It is suitable for all age categories. The game also has about 10 cartoon characters who will train your child. The game is very simple to control so you do not have to learn and get used to something new.
lichess
Lichess: Free Online Chess is a great way for all chess fans to try their hand at a game against a real person. Daily tournaments and offline training are waiting for you here. This game is absolutely free, does not contain any advertising and, moreover, has the open source code.
You will have a possibility to play with one of 150,000 users of this game. Communicate with your opponent in the chat. Use the computer analysis function of the played game.
You can play not only online but also in offline mode. Compete either with artificial intelligence or with one of your friends. This application can offer you a break from classical chess and play a familiar game by other rules. Do you know what Crazyhouse, Chess960, Threecheck or Antichess are? Learn along with Lichess: Free Online Chess.
The game supports more than 80 languages and has a built-in editor of boards.
sand: box
Did you have a hard day? Do you want to have a relaxing time? Then you urgently need to immerse yourself in the soothing world of the exciting game sand: box.
In this game, you will find more than 35 different materials and with their help, you can create unimaginable constructions and try what will be in their interaction. Create and contemplate them according to your own design. Do not limit your imagination. Feel yourself a creator. And if something goes wrong and you do not like the result of your own efforts, then destroy it with one explosion and start all over again. You are waiting for a simple control mechanism and bright graphics.
No one application offers such a rich choice of materials to realize your creative potential. Install sand: box on your mobile device and get a lot of positive emotions from the gameplay.
Six Wheels and a Gun
A unique application system allows players to immerse themselves in crazy battles in the multiplayer mode without any sign-ups and log-in! Your six-wheeled hybrid tank-buggy is able to ride on any surface and drive into the slopes. You will enjoy the management! The developers have worked hard, the high accuracy of physical modeling in the game is practically unmatched! Win and earn titles and achievements.
Features of the game Six Wheels and a Gun:
Exciting tank battles directly on your tablet or smartphone!
Multiplayer mode for playing with other players online!
To enter the game you do not need to register and constantly log in! Free access to the game!
Convenient control with the help of special joysticks on the touchscreen!
Excellent physics of the game!
QuickPic
QuickPic app for Android is an alternative gallery! Now you can quickly save your photos, edit and share them with your friends!
The program is designed in a modern design. Its transparent multi-layered interface capture attention from the first sight. So, start using the application without delay and edit the photo in a few gestures. There are no ads in the gallery, no additional permissions are required to work.
The utility provides complete confidentiality. You can easily hide personal images and videos and put a password on these files. The application has powerful tools for managing images, including sorting, renaming, creating folders, copying and much more.
Here you are offered backup and restore. All photos can be viewed as HD, they can be rotated, cropped and set as wallpaper. All formats are supported.
Simple Alarm Clock
Simple Alarm Clock is a smart alarm clock for phones and tablets that does exactly what you expect from an alarm clock, combining a simple interface and additional functions.
The interface is designed simple, intuitive and efficient. Due to the fact that all unnecessary things are removed, the interface is not overloaded.
Capabilities:
A quiet pre-alarm clock that rings before the main one. This is one of the main functions that make the alarm "smart."
A smooth increase in volume.
Convenient time setting.
Several alarm clocks.
Recurring alarms (working days, weekends, etc.).
Signals from the standard collection or third-party applications.
Adjustable volume and duration.
The function "delay": allows you to postpone the alarm for a while or until a certain time.
"Hold to disable" function: prevents accidental turnings on.
"Hold to postpone" function: if you press the "Delay" button for a long time, a dialog for setting the time for which you need to postpone the alarm will be displayed.
WhatsApp Messenger
WhatsApp has become the most popular messenger for smartphones. It instantly gained popularity all over the world immediately after the project's launch into the network.
The main reason for using WhatsApp Messenger is clear – to save money on SMS and to get the opportunity to communicate for free. And later, application functions have expanded significantly. Special features became available for users and developers created a new design and a comfortable interface.
To connect to the WhatsApp network and send messages, users are required to connect to the Internet, other operations will be done automatically by the program. For example, add all users of the address book to the contact lists.
In addition to text communication, users can access a group chat and have the ability to exchange media files – funny videos, photos and even voice notes can be sent to friends at any time. Other functions of the application will be familiar to users – a system of push-notifications, exchange of contacts, personal wallpapers and photos, a choice of a melody. Download WhatsApp on your phone right now – rebuild communication with your friends in a new way!
WeChat
The Chinese company Tencent created a mobile communication service for text and voice calls at the end of 2011 – users instantly joined the universal platform for communication, and then, the novelty was called WeChat and became popular far beyond the Asian public. At the moment the program supports the ability to send text and voice messages, send photos and videos, and also exchange contacts. The service is also integrated with many well-known social networks and helps to find friends.
The WeChat app is quite popular all over the world thanks to its user-friendly management, bright design and built-in social features – high-quality calls, a set of multifunction emoticons and stickers, group chat rooms of up to one hundred users, personal photo streams and search functions for casual acquaintances. There is also a set of the simplest games – you can compete with friends in the intervals between communication and share high scores.
Also, you can use the "Radar" function and find new friends nearby. Do not forget about the function of exchanging data about your current location. Thanks to precise geolocation settings, a friend can easily find out where you are waiting for him. The application works in two dozen languages, automatically translating text from an unknown language. You are waiting for fantastic wallpapers, beautiful notifications, and many other possibilities. Downloading WeChat is a great way to organize conversations on the net and make new friends!
Messenger
Facebook Messenger is a multifunctional service for sending messages, photos and videos, an ideal source of savings and easy communication with friends and family for free. The service connects not only users of a Facebook social network. You can send messages to friends from the phone book or just enter a phone number! The purpose of the application is to expand social opportunities for people from all over the world, save traffic and start a unique communication service!
The Facebook Messenger application is not for boring chat.Here, you will send stickers and emoticons, photos and recorded videos, put pictures on contacts and sort the gallery right during communication! Do you dream of sharing your impressions, but also saving Internet traffic? Then this is a perfect choice!
Simplify communication with the ability to forward messages, search by users and groups, geolocation, home screen widget for quick chats, notification system and the ability to find out when the user read the message.
Downloading Facebook Messenger is recommended to all fans of instant communication via the Internet – communicate, exchange news, pictures, videos, create group chats, and send messages to the entire group with a single click!
Alchemy Classic
The puzzle Alchemy is a multi-platform hit. The game exists in various forms, but the rules of the game remain unchanged. In the Alchemy Classic application, we are invited to discover new elements and create different things from them.
The gameplay. You should find the necessary elements for the discovery and creation of new things. Initially, you are given cards with elements, objects, etc. Mixing them, and merging together, you will open new, perhaps unknown things. So, for example, connecting a squirrel with a wheel, you get a squirrel running inside the wheel. By connecting the compass to the sheets of paper, you get a geographical map, joining the tree, fire, brushwood, and sulfur you will open matches.
The game has a lot of source materials to work with. Try! Make the most daring experiments! Create new species of mammals, and explore the previously known. Remember that it is always better to be a creator than a destroyer!
The game has a good graphics with a well-designed interface. We can recommend the game to fans of puzzles and slow passing. Downloading the exciting Alchemy Classic puzzle game on your mobile phone or tablet, you immerse yourself in an unusual world of cognition the true nature of all things and objects.
Toca Kitchen 2
Toca Kitchen 2 – open the fridge and get everything that is there. Learn to create masterpieces from the available products and watch the reaction of the guests to your food.
The application is created for those who are profane in the cooking business and wants to change the situation. Your refrigerator is full of simple and exotic products. The goal of the game is to feed the chosen hero with products or dishes of your own preparation. Opening the game, you are invited to choose the hero you want to feed – it's the father, daughter or alien guest.
From the offered list of products, you can send a piece straight to the mouth of the consumer, and he can refuse to eat some products – it's raw fish, meat. And then you have to show your culinary abilities and cook something edible from these products. At your disposal, there is a kitchen with all sorts of tools. You can make juice in a blender, fry in a frying pan, cook potatoes in a pan, etc. You will feel like it is a real process of cooking, what makes this game special. If you want to learn how to cook, then the application will certainly help you, mix different foods and observe the reaction of your hero – he will tell you whether your dish is tasty or not.
Arcade Toca Kitchen 2 is a unique room for cooking creativity – the growing players will enjoy the game as it offers a whole series of incredible experiments! In the future, developers will present even more opportunities. So, go in the kitchen, create and fantasize!
Audials Radio
Do you like listening to music? What about radio? Perhaps you prefer to listen to podcasts on the way to work/study? We have found an excellent application for you that will allow you to easily listen to any radio or podcasts. It is Audials Radio. The app is available for free and doesn't contain ads.
Main advantages of this radio:
More than 90,000 various radio stations
Tons of podcasts from around the Internet
Record songs of your favorite artists directly from the air
Listen to the local audio collection
Connecting to a home computer and listening to the tracks stored on it
Connecting to cloud storage
The interface is intuitive and user-friendly. Developers have added quite a convenient search to the application, which will simply swipe through the radio stations for you, and you can choose one that you will like. How to find something good among such a wide variety of radio stations? It is easy enough. For searching, there are several "filters" that will help you find a suitable station based on your taste, the genre of music and the country in which the radio plays. Also, for a comfortable search, you can search for stations that are located near you, and you can find the station by hits that are playing right now.
You can record the tracks that are playing on the radio station page, and at the end of the recording you can save the tracks in MP3 format, it is very convenient.
BeFunky
BeFunky is an excellent graphics editor for the Android and iOS devices. The application allows you to turn the most ordinary pic into a work of art in just a few clicks. With it, you can apply a variety of filters, change the brightness, contrast and other image parameters, crop, turn it, and so on. In addition, you can add all kinds of frames to the picture. Interestingly, some of them are created by ordinary users, since the application has an active community, which constantly helps developers. To interesting feature of BeFunky Photo Editor is the possibility of adding descriptions made with funny fonts and all sorts of stickers.
The program supports the instant publication of ready images in social networks Twitter, Facebook, Tumblr, and Flickr. To do this, you will need to pre-link your profiles of the above-mentioned social groups to the program. This procedure will take no more than a couple of minutes. From the received pictures, you can also create BeFunky galleries. The application interface is made in a minimalistic style. The program is completely free of charge and at the same time, the advertising modules are not included.
KidloLand: Kids Nursery Rhymes
Please your child with an exciting game of KidloLand. The application is one of the best in its category. It is already used by over one million happy families all over the world. Hundreds of funny poems, funny songs, funny videos, and stories will allow children to interact with the characters on the screen as if they are playing together.
Learning the alphabet has never been such a simple activity, sing together and remember. Listening to the original children's songs, kids have the opportunity to learn a lot of new things: words, numbers, fruits, cars. Children meet unusual animals and birds, get acquainted with the shapes of objects and their various colors, study the months of the year, the days of the week and much more.
The application does not require a connection to Wi-Fi, so the game is an ideal pastime, not only for a home lesson but for road trips, long flights. The application was successfully created for both Android, iPhone, and iPad. A wonderful musical accompaniment, colorful and bright design will certainly be to the taste of children!
DU Recorder
DU Recorder is a free application for recording video from the screen of mobile devices, as well as its editing. It is an easy-to-use yet powerful program with which you can record everything that happens on the screen of your smartphone or tablet in high-quality.
Using the app, you can shoot a parallel video on the front camera, in order to add your reaction to the main video. You can put the record on pause at any time. And by selecting the "Brush" function, you can draw on the screen directly on top of the video. To quickly stop recording, just shake the device. You can choose where the files will be saved: to the internal memory of your device or to an external storage device.
When the video is ready, you can edit it directly in DU Recorder. You can also take screenshots both during recording and during video editing. The resulting image can also be edited directly in the application.
The result of your work can be viewed, saved to the device or immediately published to social networks. And the program DU Recorder allows you to conduct live broadcasts on Facebook.
Piktures
Tired of the default gallery on your favorite smartphone or tablet? It does not matter, Google Play offers a lot of alternative solutions, one of which is Piktures. The application not only supports convenient navigation using gestures but also has a special viewing mode, which is based on the calendar. You can download Piktures on Android for free.
Features:
You can share photos via Gmail, Facebook, WhatsApp
Change the size photos before sending (VGA, HD, Full-size)
Ability to set an image as wallpaper
Pleasant interface
High quality of full-screen viewing
Playing Videos
Calendar Mode
Filtration
No ads
Hiding albums
2048
2048 (Ads Free) – a ported version of the game 2048 of Gabriel Cirulis for Android.
It is an addictive puzzle game that can hold you in the game for a long time. This is not only a way to pass a free minute, but also an activity that can stir up the brains. The application has a simple and intuitive interface. Managing cells is very simple – just swipe to move the tiles in the desired direction. Keep in mind that all cells will move from this, and therefore the best tactic is to think about the moves in advance. And remember that there are no tips!
Games on this basis have long become a special section of the genre. In this version, unlike almost all the other supposedly free analogs, there is no advertising at all.
All the buttons in the game are covered with a nice looking silk graphic layer, all the movements are animated very smoothly. The last move can be undone. You can continue playing the game after reaching the number 2048. The application is well optimized for mobile devices.
The game does not have special functions, but it has everything you need. 2048 (Ads Free) is ideal for beginners, as it has a set of classic features and does not annoy with advertising. If you were looking for one game of this genre to always have on the device just in case, this is exactly the version that suits you.
Mines (Minesweeper)
Minesweeper – uncover the squares and think over further moves, depending on the numbers that have fallen out. Be careful, there are mines everywhere!
A famous application that represents standard Windows games is now available for Android smartphones. This is an interesting leisure app, based on the logical passage of moves, at the level – from beginner to professional. The goal of the game is to open all the squares of the existing field and do not get into the mines.
The game has many levels, differing in complexity. The level for a beginner consists of a small field. All squares are closed and to start the game, you need to click on any place of the field. By opening any square, numbers from 1 to 4 appear around it. These numbers notify you of how many mines are within a radius of opened squares. By opening new squares, you have additional numbers that can give more information about where exactly the mines are hiding. If the puzzle is solved, the squares with mines need to be marked with a flag. So you need to open the whole field of the game. The new level of the game will be more difficult than the previous one and will require more brain activity from you. In addition to playing with the system, the application has an online mode where you can compete with the network players.
Mobi Calculator
Mobi Calculator – use the free calculator every day for simple and complex calculations, including building and mathematical ones!
The application allows you to calculate interest, discounts, taxes, tips, etc. It works in the calculation mode (HEX / BIN / OCT), shows the calculation of time in two modes, allows you to work with trigonometric functions, calculate radians and degrees, as well as logarithms, etc.
Use the calculation of history and memory, group numbers, set up cool themes and make calculations using a large and convenient button. The program has a modern, intuitive interface, works without ads and takes up minimal disk space.
Flashlight by Rik
Flashlight by Rik is an unusually useful application for iPhone devices, which allows you to use the built-in backlight as a flashlight. Now in the absence of lighting, you can just click on the application icon, then illuminate any place. This can be used both at home and on the street (for example, if you can not read the house number and street name in the dark).
The main advantages:
Brightness. This flashlight is powerful, so you will see every little thing even in total darkness. It completely replaces the special lighting equipment: now there is no need to carry anything with you, in addition to the smartphone itself.
User-friendly interface. Managing the application is not difficult: its interface is understandable even for the child. Creators have taken into account all the nuances, so you can turn on the flashlight as needed, instantly.
An absence of a fee. The application is completely free. You do not have to pay a penny for all the above-listed facilities.
Flashlight+
If your Android device has a flash, you can use it as a flashlight. A free program Flashlight+ will help you in this case. With this program, you can activate the flash, and use it for lighting. Very often we can not find the keys in the bag, or the light turns off at the entrance, and we need to open the keyhole. Using the program, you can immediately find these keys, and immediately find the keyhole in a dark room.
The Flashlight + app is a wonderful tool for Android devices that will turn your mobile phone into a simple and very useful flashlight.
Eventually. some of the apps may add ads since we publish this article, we'll try to update it if possible!