Chess is one of the most popular games in the world. Originated in India about a one and a half thousand years ago, it still remains one of the most beautiful and sophisticated games ever invented. No wonder it has gone digital!
You may also like: 8 Best Multiplayer Chess Apps for Android & iOS
Now there are lots of different apps for playing chess both with a real opponent and with AL (Artificial Intelligence) opponent. It doesn't matter whether you're a beginner, an amateur player or a professional one. These apps will help you to hone your playing skills and have a good time with your favorite game.
Chess – Play & Learn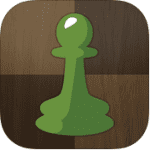 Chess Play & Learn is designed by Chess.com, which is the most popular site for chess players. It is used by over 5 million people around the world and there are lots of reasons why.
Chess.com has everything one could think of for improving game skills and putting them into practice. There are over 50 thousand puzzles, hundreds of interactive tutorials and videos to learn from.
What is more, you can actually play chess with a real opponent or Al. It's possible to choose from a number of different modes, such as quick games or long ones, meaning you may think of your next move all day or limit this time to just a few minutes.
The app has a beautiful design and different themes to choose from. Also, there are interesting sound effects which make games even more fascinating. A user-friendly interface allows finding all those numerous functions fast and easy.
Chess Play & Learn is definitely one of the best apps for playing chess. Not only does it provide users with an opportunity to play chess, but also helps to learn how to play it with lots of additional useful features. The app is free, but there are some in-app purchases, although they don't concern all the important stuff. Get it now and begin your way to becoming a grandmaster!
You may also like: 11 Best space strategy games for Android & iOS
Chess with Friends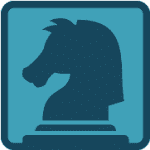 Chess with friends is for playing classical chess with friends or just random people. It also has a training mode, in which it is possible to choose your level and compete with the robot. Nevertheless, the main function of this app is playing chess in a real-time, so there are different additional features that contribute to better battles experiences.
First and foremost, there is in-app chat that helps to encourage an opponent, give a couple of hints or, on the opposite, boast about your successful moves. Then there is a rating system, which gives the motivation to play chess more often and become the best among your friends! It is also possible to add friends connecting to a Facebook account.
All in all, the app provides all the necessary features for playing chess with friends in a fun and entertaining way. One more remarkable detail is the opportunity to play several games at the same time. Download the app and start playing your first chess game right now!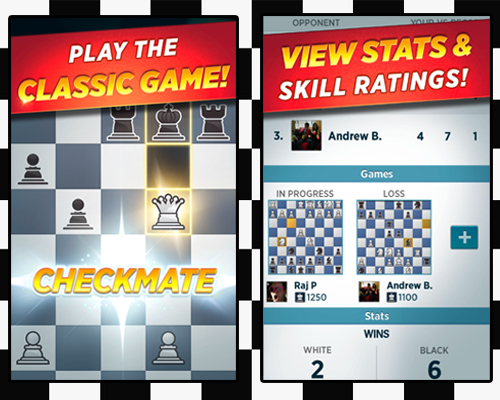 Chess Free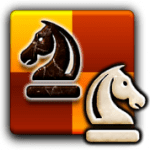 This one is considered to be the best chess app for Android. Chess Free is most suitable for local usage – you cannot play online with this app, but it is possible to play with your friend giving a smartphone to one another.
If you prefer to stay unplugged once in a while, this app is your best choice. It has a powerful game engine that is able to bit even the strongest players. You can choose from 12 levels and different modes, such as a number of available hints. Another interesting feature is a special hint, which shows what figure is better to choose for your next move, but not how to move it.
Chess Free provides a great experience of playing chess with AL. Although it is free, there are almost no irritating ads. The design is quite simple. There are 8 chess boards and several chess pieces sets to choose from. If you feel that it is better to practice with a computer before getting into a real battle, then download this app and start gaining some experience right now!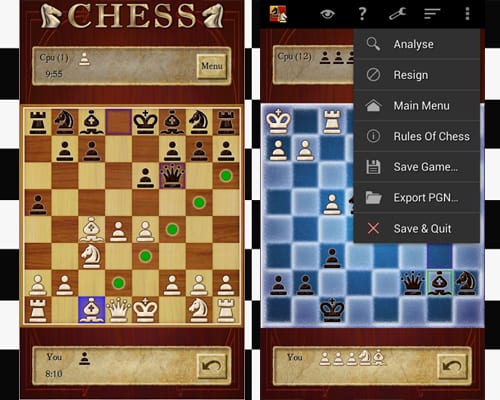 SparkChess Free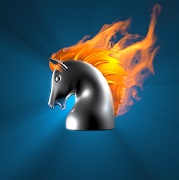 If you are a true chess buff, you should definitely try SparkChess developed by Media Division SRL.
So, once you have launched the app, it demonstrates to you the following options:
Learn – allows users to study chess with integrated lessons
Practice – enhance your chess skills and play against AI
Challenge – play and compete with your friends in online mode
The application comes with over 30 lessons and you can also practice on the provided chess puzzles. The embedded chess coach provides users with detailed descriptions of how to play.
As you play, you can always save a game batch, replay or undo the actions. If you want, you can also change a preferred chessboard style.
SparkChess adapts to your skills level, so you can choose to play regular, fast, or expert games.
Moving on, the application contains integrated statistics that allow users to keep track of their performance all the time. Plus, the app supports the import and export of batches in PGN format.
All in all, SparkChess will suit all kinds of users ranging from beginners up to seasoned ones.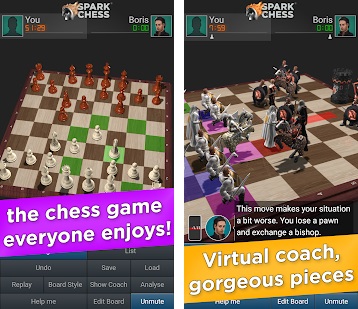 Тoon Clash Chess
Toon Clash Chess allows users to plunge into the marvelous Playville world where they can boost their chess skills.
The application combines impressive 3D graphics, unique characters, and colorful animations that will not leave anyone indifferent.
When you have launched the game, you will gain access to multiple locations (playing boards) – e.g. Forest, Playville, and Magic Tree. After that, you should select the team you would like to play for – black or white.
Toon Clash Chess comes with 2 playing modes. In the first one, you can pick a preferred team and play against AI. The next two-player mode allows users to play with their friends or relatives.
Moving on, you can also choose an opportune difficulty level – Easy, Normal, and Master. While playing, users can always use the integrated hints or undo actions anytime they want.
Deep Chess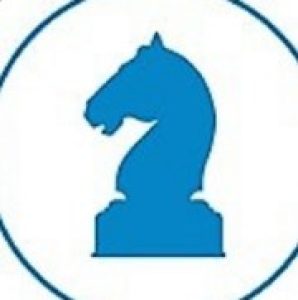 Have you ever wanted to have a good level of chess, but not spend a lot of time boringly learning different tactics and combinations? If so, this app is your solution.
Thanks to the painstaking work of the developers, this program supports the international rules of the game of chess. The utility has options such as:
a productive system of twenty levels, ranging from beginner to grand master
the ability to view all options for the movement of a separate taken figure when pressing and holding a finger on it
playing with a computer and choosing the level of artificial intelligence at the request of the user
solution of more than four hundred different game situations and development of the player's thinking abilities
Thanks to the ability to analyze their games, as well as the competent maintenance of app statistics, Deep Chess – Training Partner will be useful for both a rookie and an experienced player.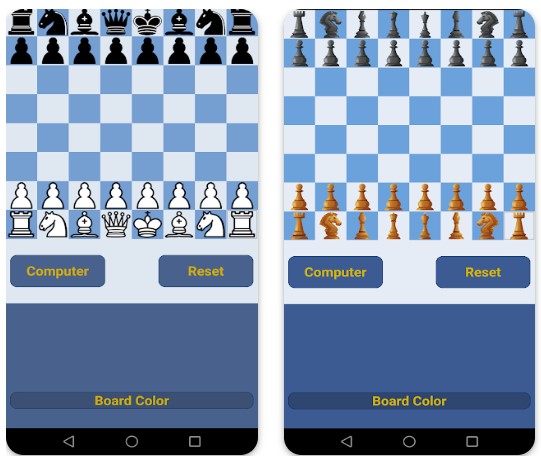 You may also like: 7 Best 2 Player Board Games for Android & iOS
Real Chess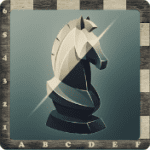 Real Chess is one more app for Android. It has gorgeous 3D graphics, which is the main reason why it is on our list. Real Chess is an online game. It is used by over a million people, so there are quite a lot of potential opponents.
While playing you are able to chat, so games become more interactive and fun. No registration is required, so it is enough to download the app and begin to play! Besides online play, there is also a training mode with astonishing 2400 levels. When you play with Al, you can use hints to help you out in difficult situations.
As we have already mentioned, the design of the app is one of the greatest. You can change the theme if you like and enjoy playing chess with nice graphics! If you prefer 2D boards, you can easily turn off the 3D mode. Get this pretty app now and have a good time playing chess!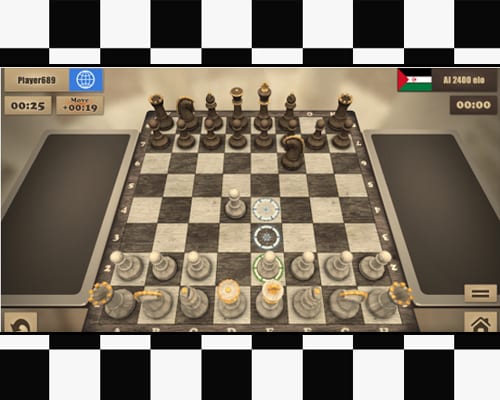 Play Magnus Chess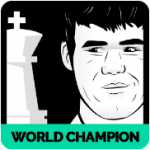 Magnus Carlsen is the current World Chess Champion. He has won all the three kinds of chess championships and is renowned for his idiosyncratic game style. Try beating Magnus in Play Magnus Chess – the app with a special chess engine.
Besides playing chess, the app includes a training mode, which can challenge you with Magnus approved problems. You can also learn some interesting facts about the World Chess Champion and be aware of all the recent chess news.
The app's design is very atmospheric – it creates an impression of real interaction with Magnus Carlsen. Play Magnus is absolutely free. You can get it now and start your practice with the greatest grandmaster in the world!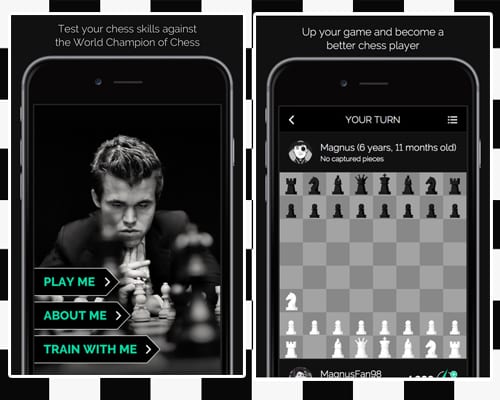 iChess – Chess puzzles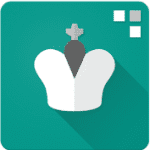 iChess is an app that doesn't comprise an actual game mode, so you cannot play neither with a real opponent nor with AL. iChess is something different – it is for solving chess puzzles. It is quite convenient if you don't want to waste your time on a whole game – you can just crack a couple of chess problems, which, by the way, are taken from real competitions.
The app provides users with 3 levels – normal, advanced and master. No internet connection is required, so you can enjoy solving puzzles even outside WiFi zone. The app also represents a tool for analyzing games – you can upload PGN files and solve your own puzzles. Hints are provided as well.
iChess is a free app, but you need to pay in order to get access to the latest puzzles from recent chess championships. This is, of course, a complimentary feature, so download the app now and start using your free time smart!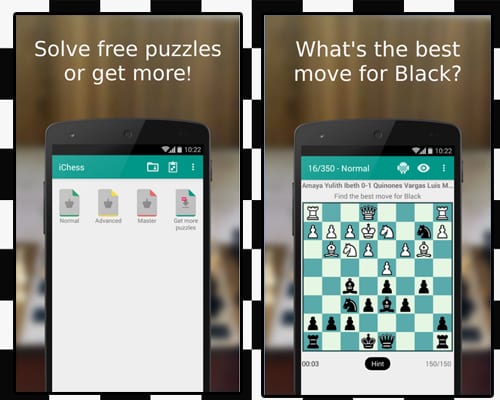 lichess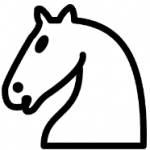 lichess has the whole package! You can play online or with AL, analyze games and solve puzzles, choose different kinds of games that are chess-alike and many more. The wonderful thing is that the app is absolutely free and with no ads. Now it has more than 150 thousand users, but there are new ones every day (who knows, maybe you are the next!).
lichess is mostly focused on online mode and introduces many cool features connected with it. It has got a rating system, statistics, tournaments. Furthermore, you can play not only classic chess with their standard variations, but also antiques, crazy house, racing kings and so on. Download lichess and find out more about different games with chess!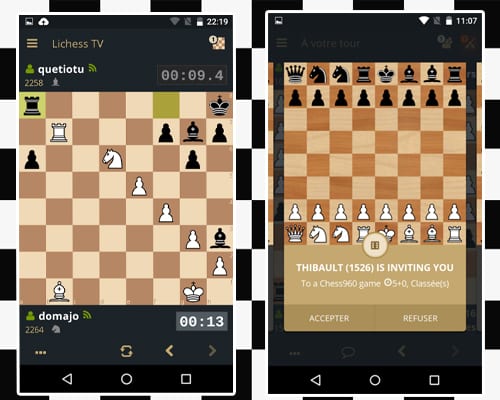 Chess Tactics Pro (Puzzles)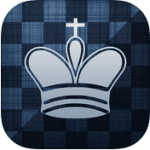 Chess Tactics Pro is another app for solving puzzles. It is an excellent time-waster. Make sure you have one of such apps and you'll never be bored. The app has several difficulty levels – from beginner to advanced. It also has an installed ELO system, according to which puzzles are chosen for you individually. Your progress is taken into consideration as well.
There's no way you'll run out of puzzles, because new ones appear on a daily basis. There is a stable offline package though. The design is handy, without any confusing buttons. You can download this app free and enjoy solving chess problems right now!
Pocket Chess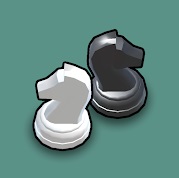 In Pocket Chess, users can hone their chess skills.
When you have launched the app, you can start playing it straight away. The application comes with a great number of levels ranging from the easiest up to the complex ones.
Click on the button located on the top left of the screen to check all the completed and remaining levels.
In case you can't pass a level, you can replay it or use the integrated hints. But you should spend coins to use these hints. You will gain coins after completing each level.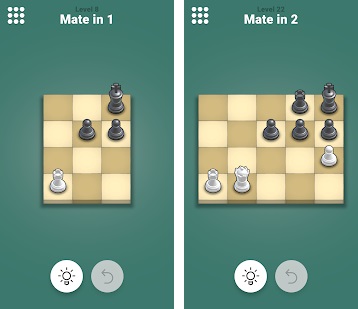 CheSScan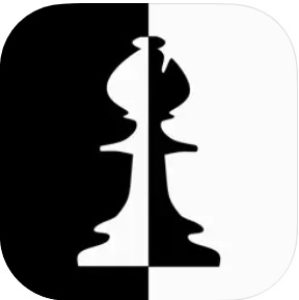 In the modern world, preferences in sports among people can vary significantly, because someone prefers physical activity, and someone prefers mental one.
The second for the most part includes chess. If you want to improve your gaming abilities, then CheSScan is the best thing for you.
The app is the real find both for fans, and for professional athletes. The utility has such potential as:
scanning the positions of all pieces on the chessboard with the calculation of the probability of a particular move
rational selection of all positions in tournaments
possibility of a replay practically each course for the purpose of elimination of a mistake in strategy and increase in chances of a victory
availability of a full analysis of all games conducted by users
the ability to share the most successful games with friends
To sum up, it must be said that this program can significantly increase both your chess skills and logical abilities.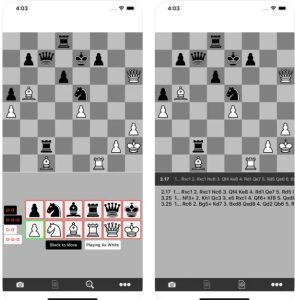 Chess Light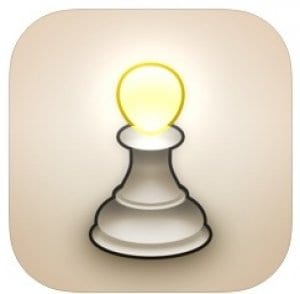 Something fresh and unusual to look at the game of chess under the new angle. This game will be cool as for pros as well as for beginners. When you first play the game you can choose the level of difficulty and learn how to master this game.
Chess Light is a unique puzzle-solving game using chess moves as the answers. It has a cool and minimalistic user interface that doesn't distract from the main activity – playing the chess. Before starting the game you will also get instructions on how the app works.
There are not so many other functions but it is a nice chess app. It's useful to have on your phone for cases, when, for example, you need to make the time pass faster and just being back to it at those times. Besides, it's a lightweight app, so it won't cause any inconveniences.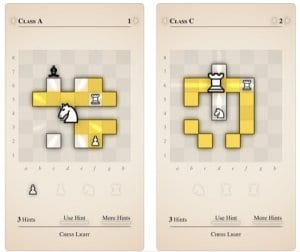 Learn Chess with Dr. Wolf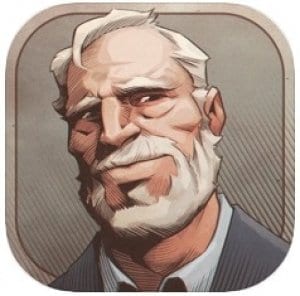 And lastly we have a very curious app with unusual name. Well, you can guess by it, that here you have a mentor who is going to teach you how to play chess and be your partner at the same time.
To create a chess app like this is actually a very interesting decision and, moreover, it really gives a feeling like you're playing with someone.
Considering the user interface, the app is pretty standard. Don't expect any extraordinary features, even then the whole idea is not common.
All you can do here is to play chess and learn how to play. That's actually might be a great help for those who only learn how to play chess and who learn better if someone is explaining to them the rules.
When you start learning, you will see all the right tactics and beneficial moves on the board. Then, you will start practicing. The first 3 rounds Dr. Wolf will play with you are going to be free. Unfortunately, in order to fully unlock the game, you will have to pay a monthly subscription.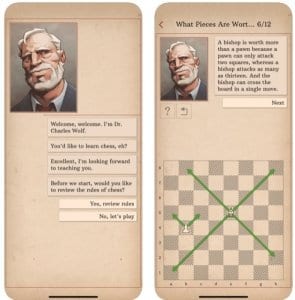 You may also like: 7 Best strip poker apps for Android & iOS 2022
Chess Conquest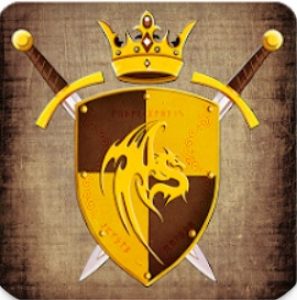 Chess Conquest is a chess game that combines an intriguing storyline with challenging quests, that will keep the user busy for a long time.
At the start of each game round, users get completely unique chess positions on the board. Thus, users will have the opportunity to come up with new game strategies every time and make each game interesting and unique.
In many other chess games, users are encouraged to simply play chess without any other details or backstory. However, in this game, there is a real story and a role-playing format.
Also, in order to increase the excitement, the developers of the game added a leaderboard. This way, users can easily compete with each other.
The graphics in the game are very high quality. There is also an interesting soundtrack during the game. In addition, users can view and select different characters during the game.
Another important aspect is that the levels in this game vary in difficulty. During the chess game itself, users can easily start over or change something in the notes.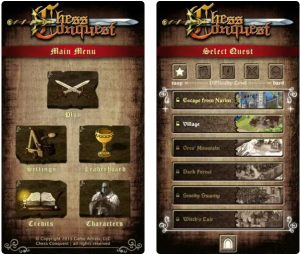 So these were some of the best chess games apps. With their help, you are able to improve your playing skills no matter where you are.
What a time we live in! If there is a chess app that deserves attention and is not on the list, please share it with us. We wish you more interesting and challenging games. Checkmate your opponents more often and be smart in choosing apps!