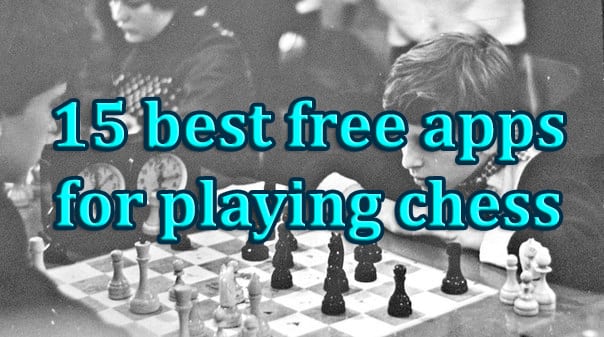 Chess is one of the most popular games in the world. Originated in India about a one and a half thousand years ago, it still remains one of the most beautiful and sophisticated games ever invented. No wonder it has gone digital!
Now there are lots of different apps for playing chess both with a real opponent and with AL (Artificial Intelligence) opponent. It doesn't matter whether you're a beginner, an amateur player or a professional one. These apps will help you to hone your playing skills and have a good time with your favorite game.
15 best free chess game apps for iOS & Android
Chess – Play & Learn
Chess Play & Learn is designed by Chess.com, which is the most popular site for chess players. It is used by over 5 million people around the world and there are lots of reasons why. Chess.com has everything a one could think of for improving game skills and putting them into practice. There are over 50 thousand puzzles, hundreds of interactive tutorials and videos to learn from.
What is more, you can actually play chess with a real opponent or Al. It's possible to choose from a number of different modes, such as quick games or long ones, meaning you may think of your next move all day or limit this time to just a few minutes.
The app has a beautiful design and different themes to choose from. Also, there are interesting sound effects which make games even more fascinating. A user-friendly interface allows finding all those numerous functions fast and easy.
Chess Play & Learn is definitely one of the best apps for playing chess. Not only does it provide users with an opportunity to play chess, but also helps to learn how to play it with lots of additional useful features. The app is free, but there are some in-app purchases, although they don't concern all the important stuff. Get it now and begin your way to becoming a grand master!
Chess with Friends
Chess with friends is for playing classical chess with friends or just random people. It also has a training mode, in which it is possible to choose your level and compete with the robot. Nevertheless, the main function of this app is playing chess in a real time, so there are different additional features that contribute to a better battles experiences.
First and foremost, there is in-app chat that helps to encourage an opponent, give a couple of hints or, on the opposite, boast about your successful moves. Then there is a rating system, which gives the motivation to play chess more often and become the best among your friends! It is also possible to add friends connecting to a Facebook account.
All in all, the app provides all the necessary features for playing chess with friends in a fun and entertaining way. One more remarkable detail is the opportunity to play several games at the same time. Download the app and start playing your first chess game right now!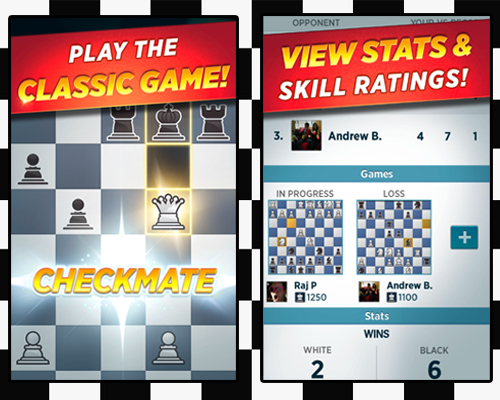 Chess Free
This one is considered to be the best chess app for Android. Chess Free is most suitable for local usage – you cannot play online with this app, but it is possible to play with your friend giving a smartphone to one another.
If you prefer to stay unplugged once in a while, this app is your best choice. It has a powerful game engine that is able to bit even the strongest players. You can choose from 12 levels and different modes, such as a number of available hints. Another interesting feature is a special hint, which shows what figure is better to choose for your next move, but not how to move it.
Chess Free provides a great experience of playing chess with AL. Although it is free, there are almost no irritating ads. The design is quite simple. There are 8 chess boards and several chess piece sets to choose from. If you feel that it is better to practice with a computer before getting into a real battle, then download this app and start gaining some experience right now!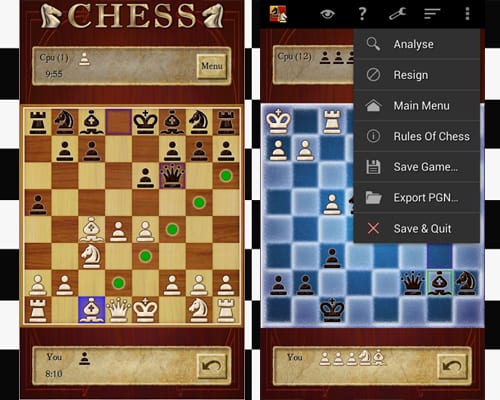 Analyze This Chess
Analyze This Chess is not for playing chess – it is for analyzing chess games. You can do it through downloading a PGN file of a game into the app. Most other chess apps allow to save games in the PGN format, so there won't be a problem with getting such files. Analyze This is able to show all the best moves on every step of a game.
It has at least two chess engines that can generate the best strategies. Files created in the app can be sent by e-mail or to different kinds of social networks.  The interface is simple in use. A user may choose the color of the chess board and figures.
The app is a great tool that helps to increase your playing skills by looking closely at the past games. It will be especially useful for those who play chess professionally, but anyone curious may use it as well to become better at playing chess.
The app is free, but there are some ads that can be removed by purchasing paid version. Get it now and start analyzing your mistakes! It is important because mistakes are something that we learn from the most!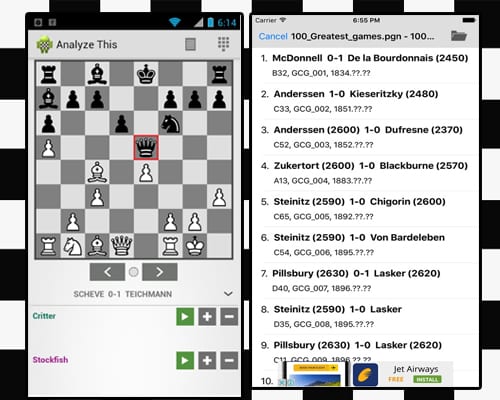 Online chess free Chess Heroz
Enough with the helping apps. Let's get back to the most interesting part again – playing against real opponents! Online chess free Chess Heroz is designed exactly for that. However, it does have an offline mode if you need some practice. Hints are also there for you to use if you need them.
Heroz Chess allows to play chess with friends or random people from all over the world. In order to log in and play all you need to do is to choose a nickname or enter your Facebook or Twitter name.
The most remarkable feature of this app, the one that makes it special is the opportunity to watch how play others. It is extremely useful, especially when the battle is between grandmasters! Online experience is one of the fastest, so there won't be any bugs. Download this app now and enjoy playing chess online!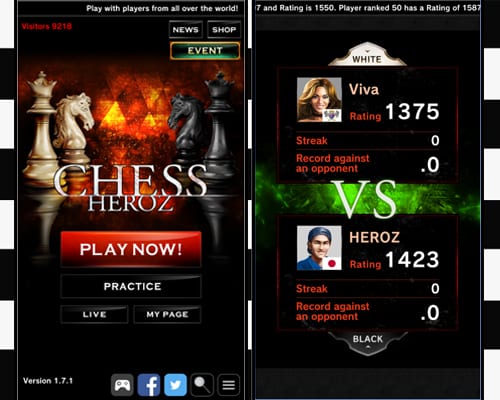 Chess Live
Chess Live is another chess app for Android devices. It's quite simple in comparison with the apps above, however simplicity can also be an advantage.
The app has all the possible modes for playing – you can compete with a friend, Al or a random user of the app. The chess engine is one of the most sophisticated ones, so playing experience promises to be quite riveting.
There are 5 difficulty levels, so you can choose the most suitable one. The app has a beautiful design and impressive sound effects. There is nothing additional except for playing, so if you are interested in a simple app with no confusing details, get this one! It is one hundred percent free.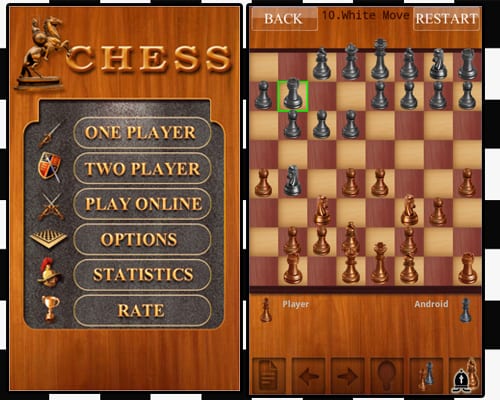 Real Chess
Real Chess is one more app for Android. It has gorgeous 3D graphics, which is the main reason why it is on our list. Real Chess is an online game. It is used by over a million people, so there are quite a lot of potential opponents.
While playing you are able to chat, so games become more interactive and fun. No registration is required, so it is enough to download the app and begin to play! Besides online play, there is also a training mode with astonishing 2400 levels. When you play with Al, you can use hints to help you out in difficult situations.
As we have already mentioned, the design of the app is one of the greatest. You can change the theme if you like and enjoy playing chess with nice graphics! If you prefer 2D boards, you can easily turn off the 3D mode. Get this pretty app now and have a good time playing chess!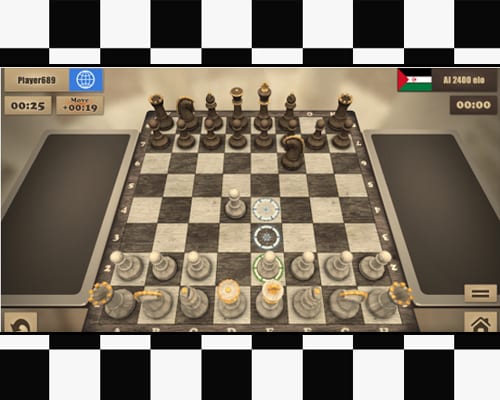 Play Magnus Chess
Magnus Carlsen is the current World Chess Champion. He has won all the three kinds of chess championships and is renowned for his idiosyncratic game style. Try beating Magnus in Play Magnus Chess – the app with a special chess engine.
Besides playing chess, the app includes a training mode, which can challenge you with Magnus approved problems. You can also learn some interesting facts about the World Chess Champion and be aware of all the recent chess news.
The app's design is very atmospheric – it creates an impression of a real interaction with Magnus Carlsen. Play Magnus is absolutely free. You can get it now and start your practice with the greatest grandmaster in the world!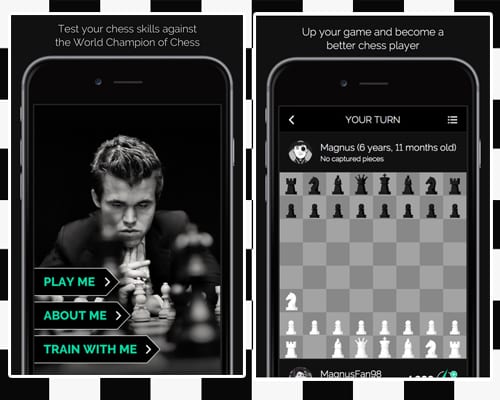 iChess – Chess puzzles
iChess is an app that doesn't comprise an actual game mode, so you cannot play neither with a real opponent nor with AL. iChess is something different – it is for solving chess puzzles. It is quite convenient if you don't want to waste your time on a whole game – you can just crack a couple of chess problems, which, by the way, are taken from real competitions.
The app provides users with 3 levels – normal, advanced and master. No internet connection is required, so you can enjoy solving puzzles even outside WiFi zone. The app also represents a tool for analyzing games – you can upload PGN files and solve your own puzzles. Hints are provided as well.
iChess is a free app, but you need to pay in order to get access to the latest puzzles from recent chess championships. This is, of course, a complimentary feature, so download the app now and start using your free time smart!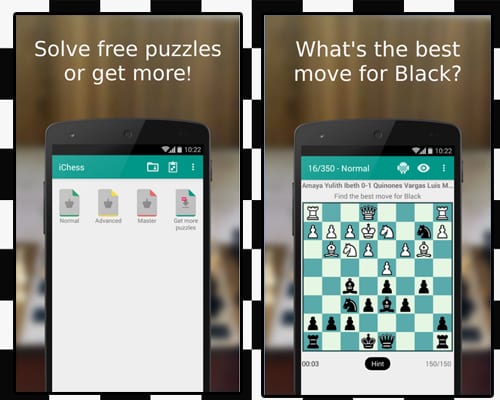 lichess
lichess has the whole package! You can play online or with AL, analyze games and solve puzzles, choose different kinds of games that are chess-alike and many more. The wonderful thing is that the app is absolutely free and with no ads. Now it has more than 150 thousand users, but there are new ones every day (who knows, maybe you are the next!).
lichess is mostly focused on online mode and introduces many cool features connected with it. It has got a rating system, statistics, tournaments. Furthermore, you can play not only classic chess with their standard variations, but also antichess, crazyhouse, racing kings and so on. Download lichess and find out more about different games with chess!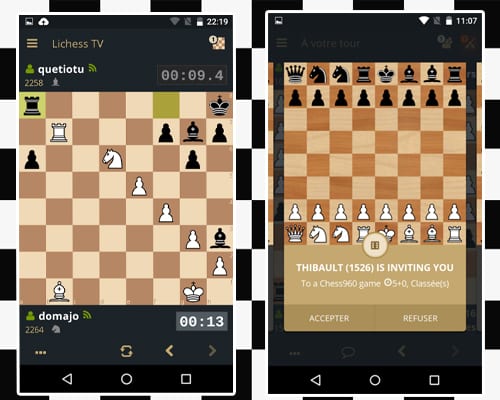 Chess Tactics Pro (Puzzles)
Chess Tactics Pro is another app for solving puzzles. It is an excellent time-waster. Make sure you have one of such apps and you'll never be bored. The app has several difficulty levels – from beginner to advanced. It also has an installed ELO system, according to which puzzles are chosen for you individually. Your progress is taken into consideration as well.
There's no way you'll run out of puzzles, because new ones appear on a daily basis. There is a stable offline package though. The design is handy, without any confusing buttons. You can download this app free and enjoy solving chess problems right now!

Esfera Chess
While War of Chess is only for Android devices, this fancy app is just for iOS. Esfera is not really a chess app, but it is inspired by chess. In order to win a one has to trap the opposite's king or take his castle.
There are two modes – you can play with AL or with a friend on one device. The design is fascinating. There are different modern moves you can use during the game. Chess fans love this new strategy! If you want something more futuristic, this one is for you!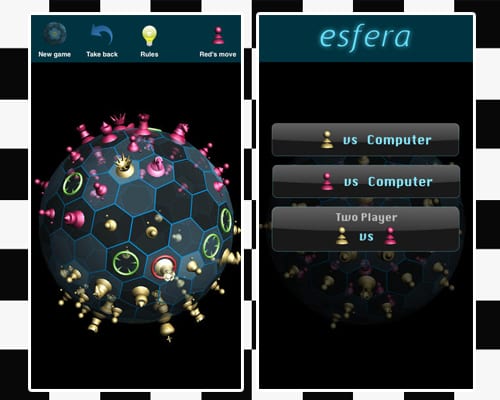 Chess for Kids – ChessKid Play & Learn
This app is specially designed for kids. It's totally safe and doesn't contain any ads, so parents or coaches don't need to worry about children's security. It is, just like the first app on our list, designed by chess.com, which is the sign of quality.
Chess for Kids includes all the necessary features for playing and learning chess. Kids can play with Al or challenge each other online. There are slow and fast games. In slow ones, it is possible to think about the next move all day! Over 1000 puzzles are available for a warm-up. And, of course, tutorials and videos to learn from can also be used in order to improve a kid's understanding of the game.
The design is oriented for younger players. It is simple and fun – kids are gonna love it! If you are a responsible parent who wants to teach a child playing chess, then this is your best option! The app is also used by chess clubs for kids. And even if you are an adult and love the way Chess for Kids looks, why not to give it a try?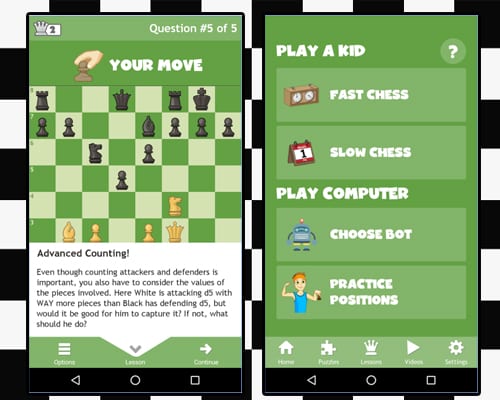 Mastersoft Chess

Mastersoft Chess is another great app for playing chess. It claims to have an exclusive chess engine which is not available on any other chess app. This powerful engine is renowned for being one of the best in the world.
The app has a lot of difficulty levels and a training mode. Just like Chess Free it doesn't have an online regime, but it is possible to play with friends that are near you. The design is probably the best one among such apps, so playing chess will be even more pleasant.
Mastersoft Chess has recently been improved and, as a consequence, the free version has been removed from App Store. But it is still available on Android, so get it now or buy it now in order to have a good time with one of the most intelligent chess apps in the world!
War of Chess
If you want to spice it up a little bit, there is a great chess app with fantasy characters and 3D graphics (or 2D, which is also available). Got bored with black and white boards and simple figures? War of Chess is going to astonish you with epic chess battles on fire and terrific sound effects!
The app is both for online and offline games. You can challenge your Facebook friends or just get some practice playing against Al. There are 6 difficulty levels and statistics to track your progress. If you want to use the app on different devices, there is an opportunity to sign up.
With War of Chess the game becomes even more engaging. Special graphic effects and music provide a thrilling experience, so if you want to play in a fantasy world, download the app and begin your chess journey with black or white forces!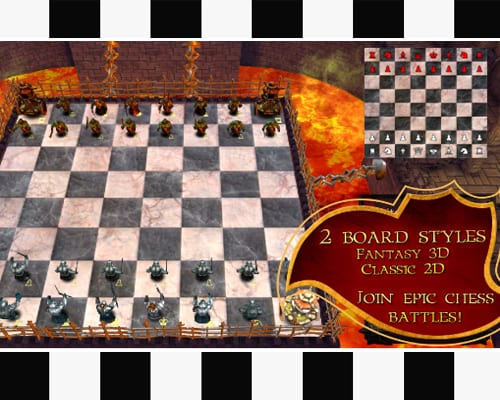 So these were some of the best chess games apps. With their help, you are able to improve your playing skills no matter where you are. What a time we live in! If there is a chess app that deserves attention and is not on the list, please share it with us. We wish you more interesting and challenging games. Checkmate your opponents more often and be smart in choosing apps!