Right here and right now you will find an interesting selection of apps with gun sounds that you can download for free.
You may also like: 11 Best Police scanner apps for Android & iOS
Weaphones™ Gun Sim Free Vol
Weaphones ™ Gun Sim Free Vol is a weapon simulator, or rather a weapon sound simulator.
Good fun with a fun company. Or a realistic sound for children's games. Interest the boys by downloading this application to their phones and teach them to use, and for the next couple of days, they will be able to shoot at the street instead of sitting at the computer.
In the application, there are more than ten different types of weapons, different countries, different models and different calibers, which makes this application not only amusing but also quite informative. Each model is worked out in detail, and created with 100% similarity with the original.
In addition to the fact that the application can imitate the sounds of shots, it also shows the device structure of the weapon, both external and internal, as well. You can disassemble or assemble your machine gun, or a pistol.
In addition, there is a weapon modification function – you can select the "gun" you are interested in and proceed to add or replace certain parts. Suppose you can change or add a sight, change or remove the butt, add or remove an under-barrel grenade launcher, add or remove an under-barrel flashlight, and much more in the game Weaphones ™ Gun Sim Free Vol 1.
You can also check: 15 Best Sound machine apps for Android & iOS
Ultimate Weapon Simulator
Ultimate Weapon Simulator is a unique weapon simulator for mobile devices. This application will be especially relevant for lovers of various firearms. Special effects are incredibly realistic in it.
The application interface is simple and even a child can understand it. Do you want to hold a weapon in your hands and try in practice its firepower? Then Ultimate Weapon Simulator is what you need. Install the game on your gadget and run exciting gameplay.
At your disposal, there will be a huge arsenal of weapons. They are various models of pistols, machine guns, rifles, shotguns, and their most up-to-date modifications. Try in action any weapon you like. The stock of ammunition is limitless, which allows you to train in shooting for as long as you want.
Turn on the sound on your mobile device at full volume and enjoy the realistic sounds of shots. Visual special effects are also amazing – the fire and smoke from the shots look quite real. Enjoy the realistic physics of owning a real firearm.
Guns Sound
Guns Sound – scare your friends or classmates with the sound of shots. A large variety of weapons is available in this application.
Choose from almost a hundred different samples of pistols, grenades, and even machine guns. All those who are interested in weapons will be interested in this application: a brief description and endless ammunition are attached to each sample.
This is just a godsend for lovers of jokes. Press and hold your finger on the gun to make a shot. Now you can terrify the people and animals around you with your smartphone or tablet. Become a thunderstorm area with Guns Sound.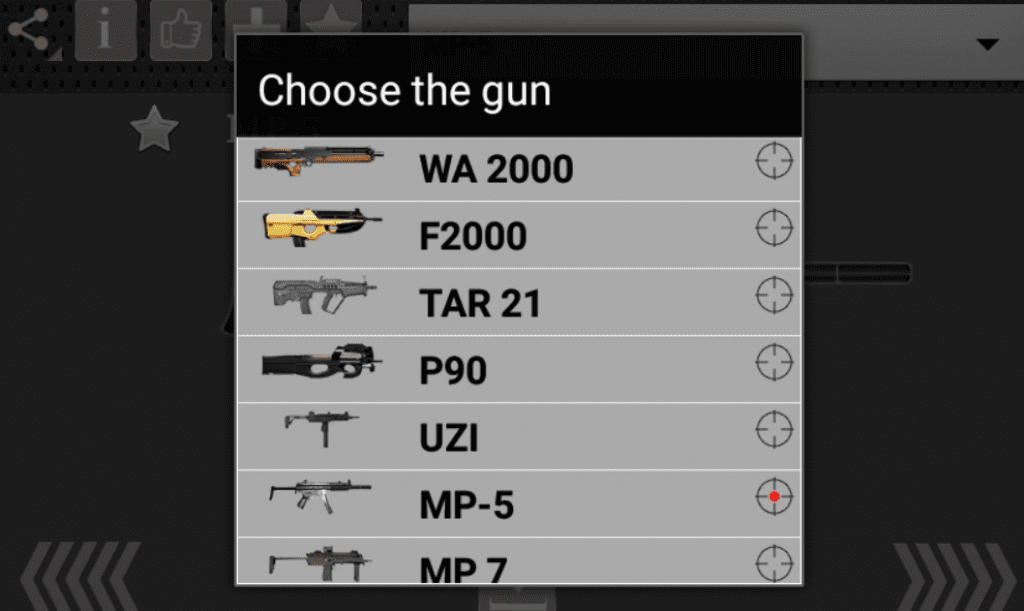 You may also like: 11 Best War Defense Games for Android & iOS
100+ Weapon Sounds & Buttons
100+ Weapon Sounds & Buttons – an application with a huge collection of sounds of various guns.
Here, the user has the opportunity to listen to the sounds of shots of a huge arsenal of weapons, including hundreds of them. There are various pistols, machine guns, rifles, grenades, and even a bazooka.
The collection includes Medieval and futuristic, military and improvised weapons. There is something from every era. By selecting one of the many copies available, you can listen to the realistic sound when you shot.
You may also like: 11 Best radar gun apps for Android & iOS
Real Gun Sound
Real Gun Sound is a weapon sound simulator. Here, you can try a new set of various "guns", listen and find out which ones sound like. Each weapon has mentioned the name, description, and ammo detail.
This is a very good imitator of gunshots and sounds, so be careful with them in the presence of nervous armed people, because you can get into big trouble. But for children, it will be a great toy.
If you download such an application for them, you can either forget about the children for a couple of days or, again, make problems for yourself, because the gunfights will not stop until the guns are in their hands.
An interesting and functional application, beautifully designed, and most importantly – qualitatively voiced. It can be both an entertainment for children or a company or just a killer of time.