Christmas is just around the corner and the spirit of joy feels incredible! How about getting up and dancing? And if you want to do an outstanding Christmas dance or just make a fun video of you doing that check out the article down below! Hereby we present free Christmas dance apps.
And don't forget to choose a cool song to dance to! In our article about the best Christmas song apps you will find something that you need!
[wpsm_topllist]
Christmas Dance – Happy Moves
This is one of the most classic and popular apps for editing a Christmas dance video with faces. It is extremely easy and used and even a 6-year-old will be able to handle it. The only negative aspect is the long video ads that you will have to watch before you will actually be able to use this app.
When you are finally able to open the editor, you will first need to cut out the faces from the photos that you have in your gallery. You can add up to eight different faces to a picture. This kind of process is extremely easy.
After you have added faces to the peak you can choose the background where the characters are going to dance. There are Sarah locations available, including the winter forest and Christmas house, but there are also additional locations, which are available only in the premium subscription.
When you are determined with the location, you just save the video and you can watch it on the full screen. The one dubious aspect here that we didn't really understand is that when you are watching the video you have no chances to exit it except by closing the app.
And weirdly, the app doesn't include any background music, so you will probably have to lead over in other editors.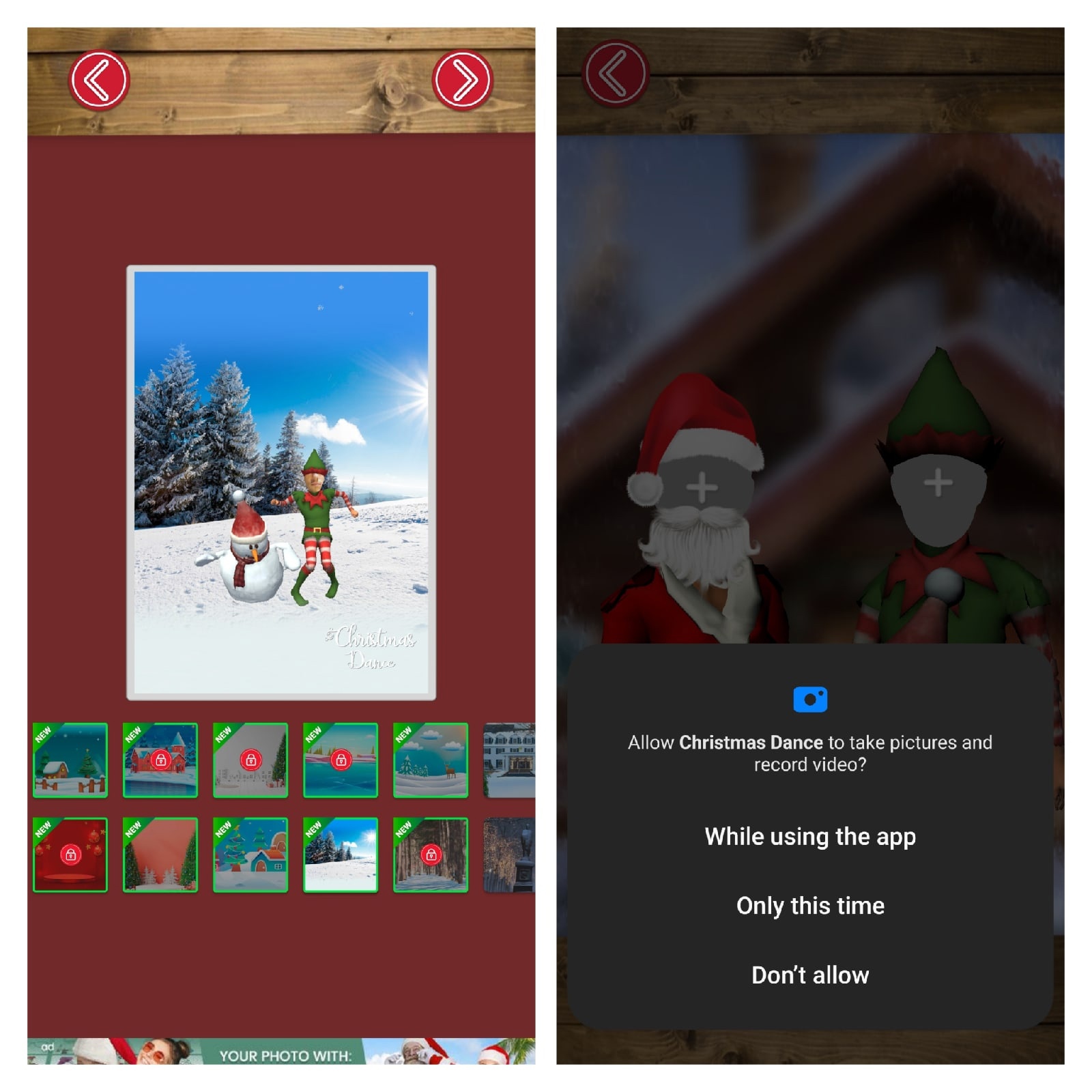 You may also like: 11 Free Christmas Wallpaper Apps for Android & iOS
ElfYourself®
This is a simple but extremely cute app with elf dancing. The elf dancing is related to the Christmas theme. All you have to do is just to cut out the faces. You can cut up to five faces and insert them into the picture.
The more faces you will add to the dance, the more characters will be dancing in the ending video. After you have added the necessary number of faces that you need, you can select a template that you want to use and just press play.
The app will open a new editor where the video will be played and you will be able to preview it before you actually save it.
You can experiment with different backgrounds and templates and dances or you can just choose each of those and create lots of Christmas dance videos. One of the best advantages of the ElfYourself app is it doesn't have annoying ads.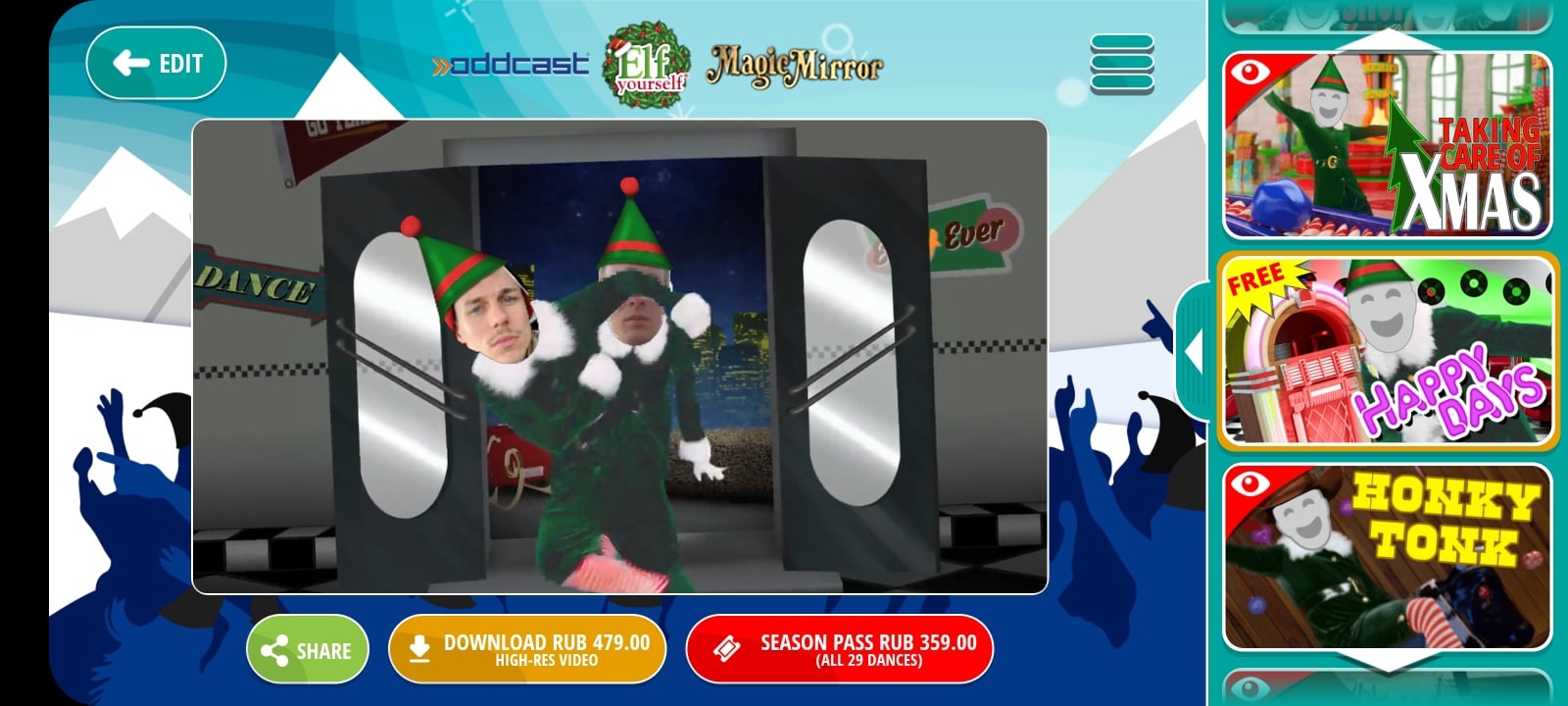 Dance Yourself 3D Face Videos
This is a more general dancing videos app, but it has the Christmas templates too. What is more, it is one of the most popular dance-yourself apps on the market. Just like the previous ones, it is not complicated to use, the main difference is that here the number of participants is limited to two.
You can first choose the number of participants in the dance and then choose the gender of those participants. After that, you will need to cut out faces by choosing the pictures from your phone's gallery. And then choose the templates for where the characters are going to dance.
One of the templates is related to the Christmas theme and the characters are dancing to the last Christmas song. You can also save the video and share it with your friends and family. The app has a little number of ads, but it's not annoying.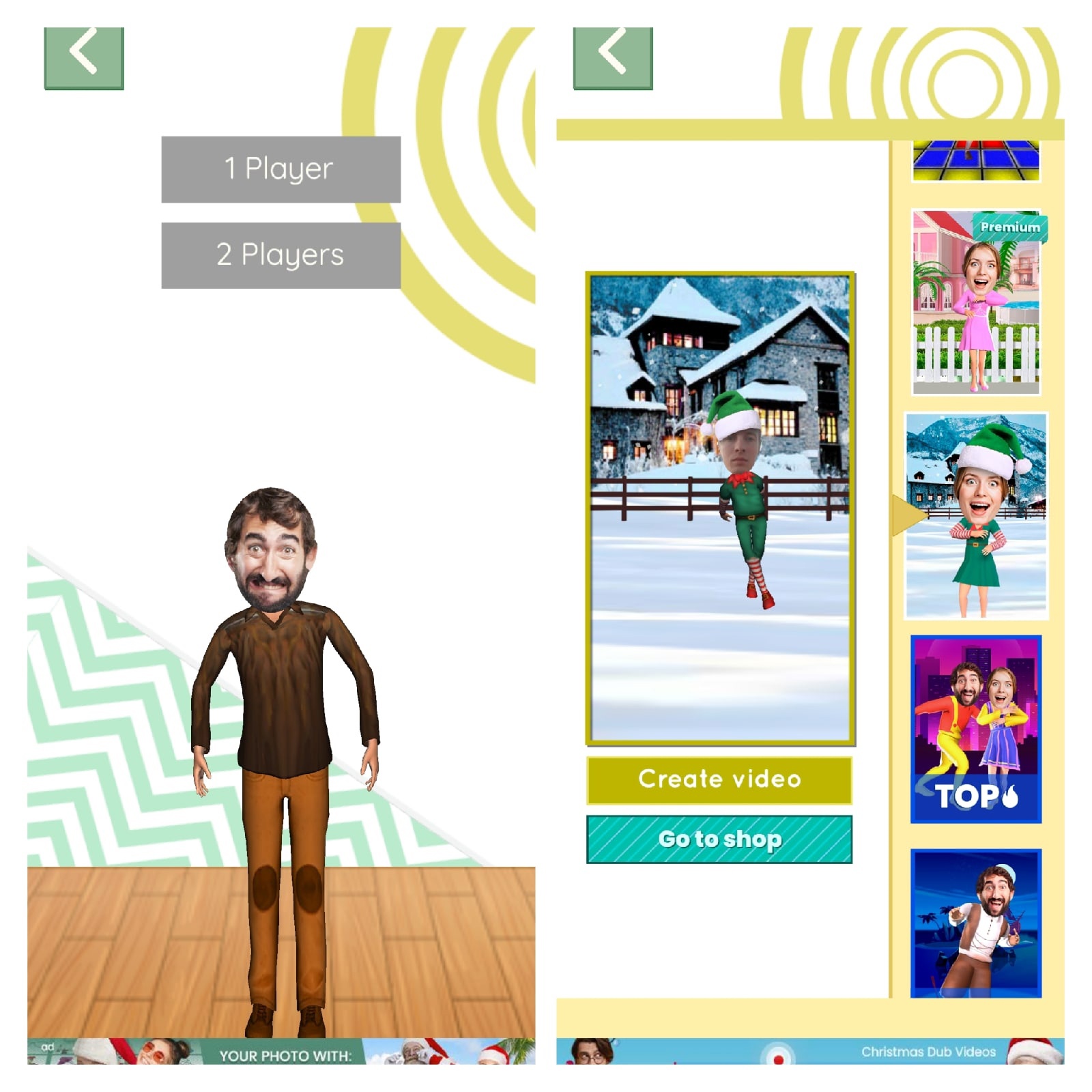 Sing Yourself – 3D Xmas Carols
This is another Christmas app by Pablix Apps, and it's also a fun way to create a dancing Christmas video with your picture. The main feature here is that you can only choose one person for dancing in the picture. So all you have to do is just to cut out the face and paste it into a template.
Here you can choose different Clovis and hair for your character, which is not available in other apps. On the other hand, you cannot choose the location in the free version, because this option is only available in the premium subscription. Another weird thing is that there is no music. The character is just dancing in silence.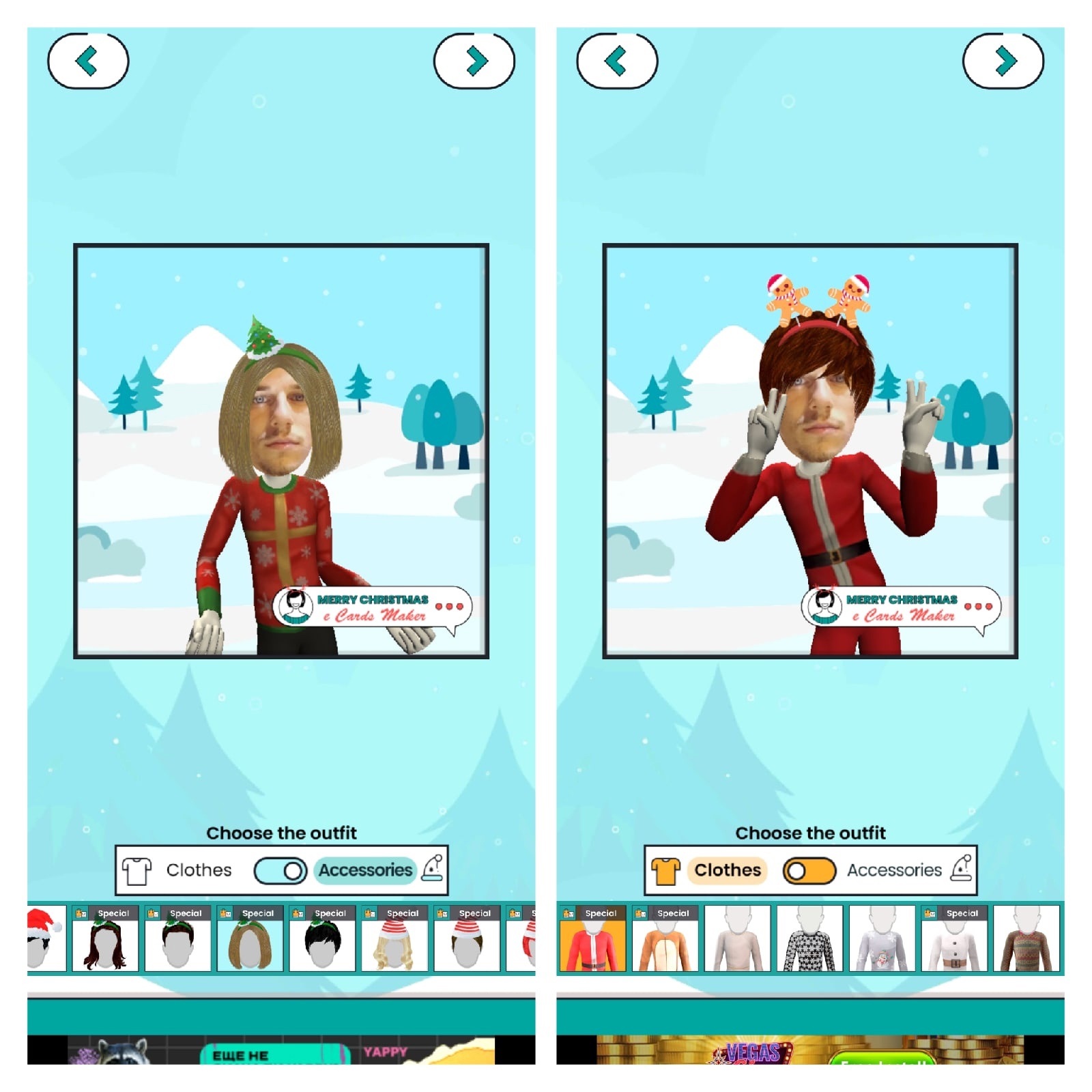 Pinkfong Christmas Fun
This is one of the cutest Christmas apps. It is made for children. The idea is super simple and the whole app just consists of short cartoons the concepts of which are based on a certain Christmas song, for example, we wish you a Merry Christmas or Santa is Coming to Town.
You just open the main menu, click on an available cartoon and just start watching. All the animations and characters are so cute, they dance, play, say, and just introduce children to the world of Christmas.
The only possible drawback is that in order to be able to watch the full collection of cartoons you will need to go for the premium subscription. In the free version, only three cartoons are available.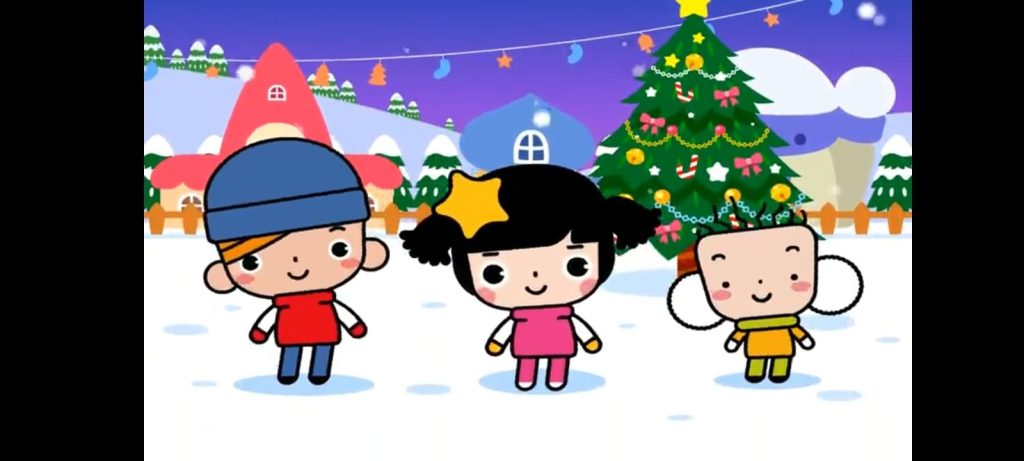 You may also like: 6 Merry Christmas Apps for Android & iPhone
Santa's Christmas Dance
This is a game where you have to make Santa and his deers dance. The game is extremely simple and even little kids will be able to play it. All you need to do is to type on the Christmas cookies while they reach their destination. The destination is colored circles with various letters.
However, because the game doesn't give you any introduction or guide it can be quite difficult to understand what you need to do.
There is an additional feature of speeding up the process or restarting the game. Overall, the game is endless. This is a nice option if you want to play a Christmas dance-related game.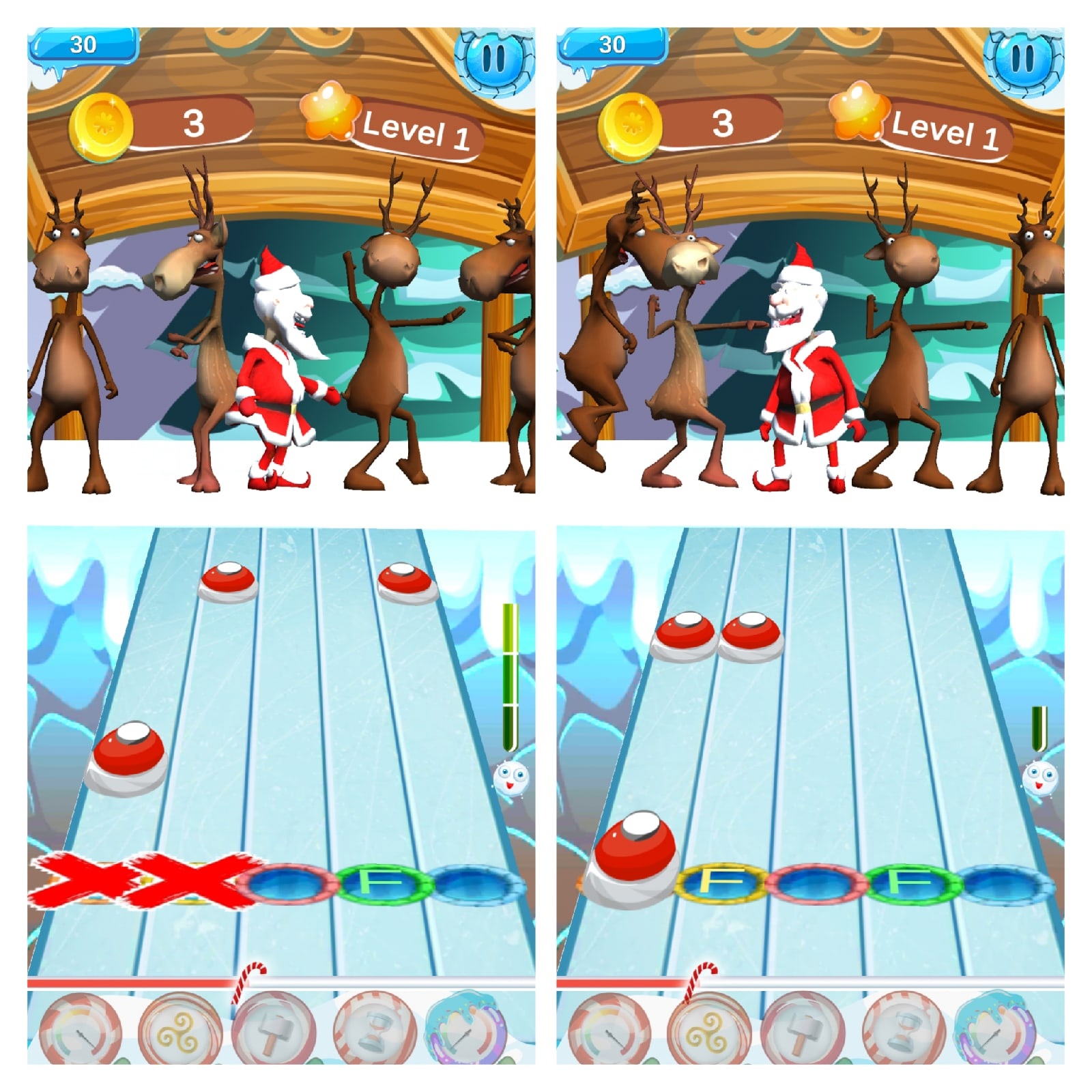 Elf Dance
Another extremely simple game. But here you just need to choose the face for the dancing elves, and just watch them dancing in various locations. Unlike the previous apps, you cannot choose the location here, however, you can choose the number of participants, faces, and the melody.
First, you choose the face by selecting a photo from your gallery and cutting it out, then you choose one of the five melodies, and then you edit a video and just enjoy watching. That's pretty much it about this app. One aspect that we didn't like is that it's popping up on banners is messing up with the process.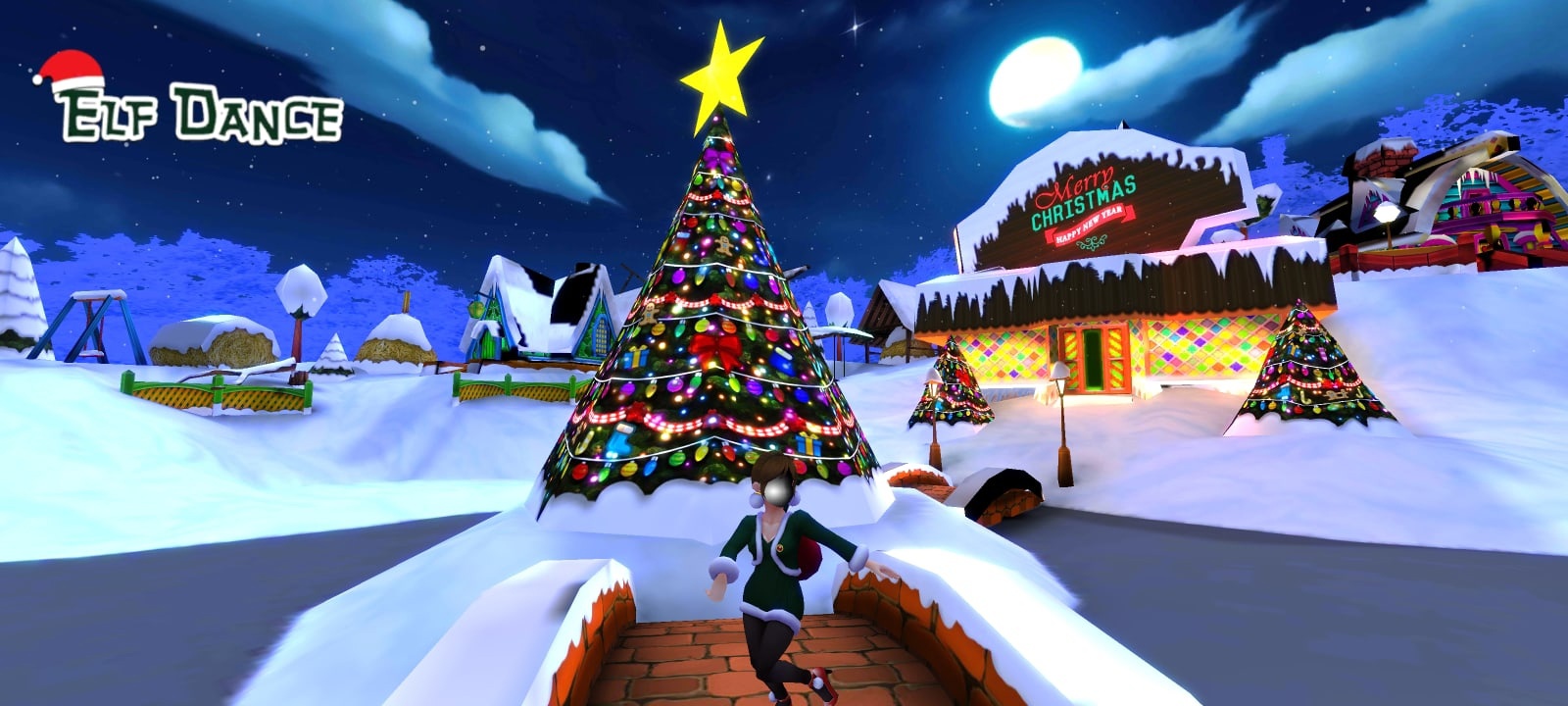 Christmas Face Swap
You probably wouldn't believe it but this app is even more simple than the others, and it's based on a platform of another video. It works quite in the classic way when you need to cut out the faces and just insert them into the picture.
In this version of the app, you have just one template that you can use, and if you want to use more templates you need to go to another app that you have already been automatically redirected to. Overall, this is quite a weak app and it's not as funny as the previous ones.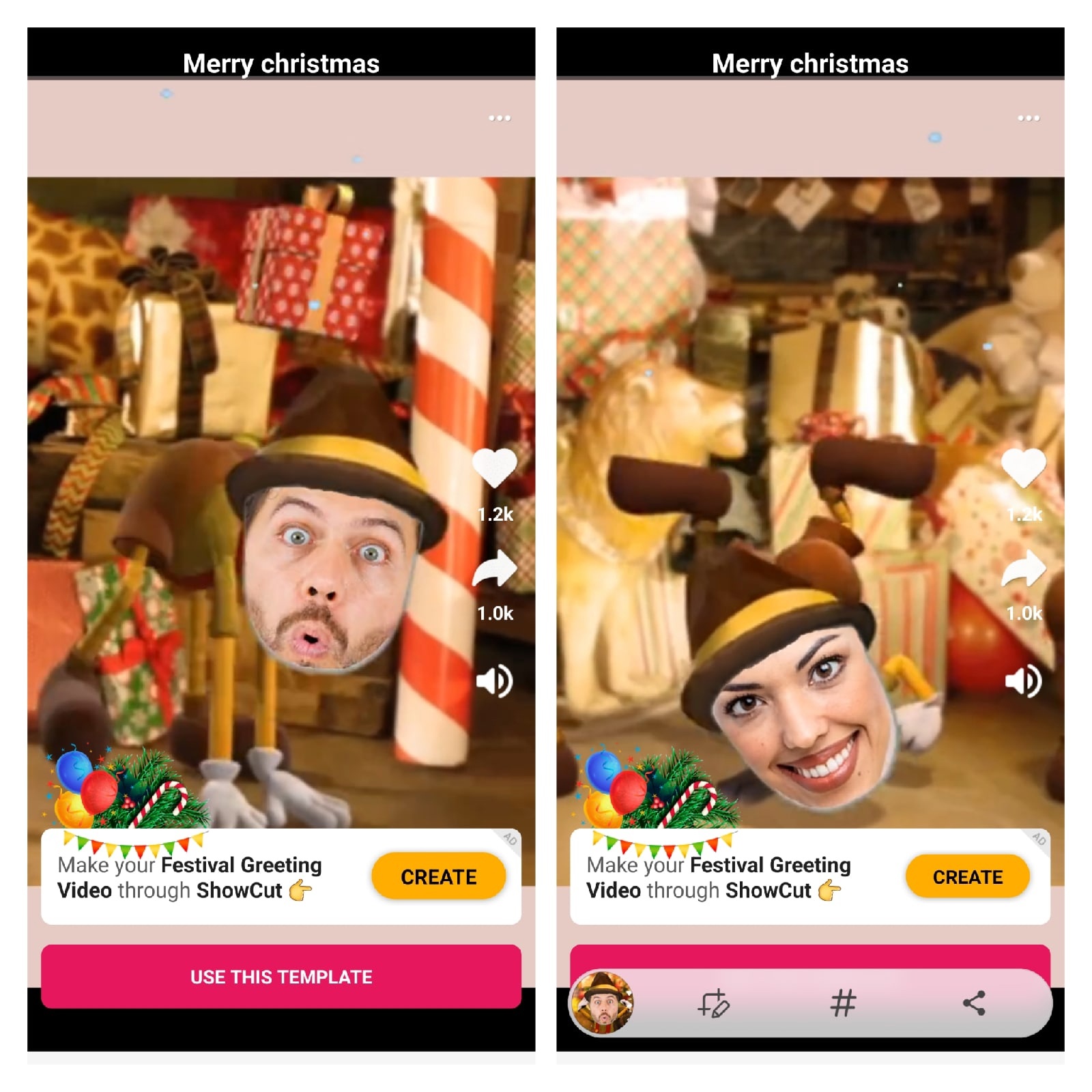 You may also like: 11 Best Christmas Countdown Apps for Android & iOS
Christmas Radio
Basically, this app is what it says it is. This is a Christmas radio app where you can explore all the possible online radios dedicated to the Christmas topic and dance to this music. There are radio stations that play pop Christmas pop music that is perfect for dancing.
All the radio stations are divided into categories, for example newly added or favorites so you have a general idea of what to select. So in case you are not sure about the Christmas song that you are going to dance to, you can just install this little app and dance to its music.