Shopping can often be quite a time-consuming process because customers can't find the item that perfectly fits their criteria. A lot of people have had such situations when they saw gorgeous clothes on someone, but then they could not find a similar piece in the store.
That is why apps to find clothes from pictures will easily solve this problem. Along with that, you can use some tools from our collection of the best vintage clothing apps & websites.
TruePicShop
Thanks to this app, many people are finally able to find all those things that they have seen on other people or in fashion stores. There are several useful features in this app that greatly facilitate shopping.
To find the things that users need, they need to just upload a photo to the app or take a picture of the needed thing on the spot. Then the user will receive an infinite number of the same or similar things found all over the Internet.
In addition, to make shopping more efficient and choose the best thing, users will be able to compare the clothes that the app found. Another feature that is not typical for apps of this type is the ability to make friends around the world and join a network of shopping lovers to share outstanding finds with them.
As for the app interface, it is intuitive and easy to navigate. Users immediately see the search bar for items or pictures. Moreover, they can also create groups to discuss various topics.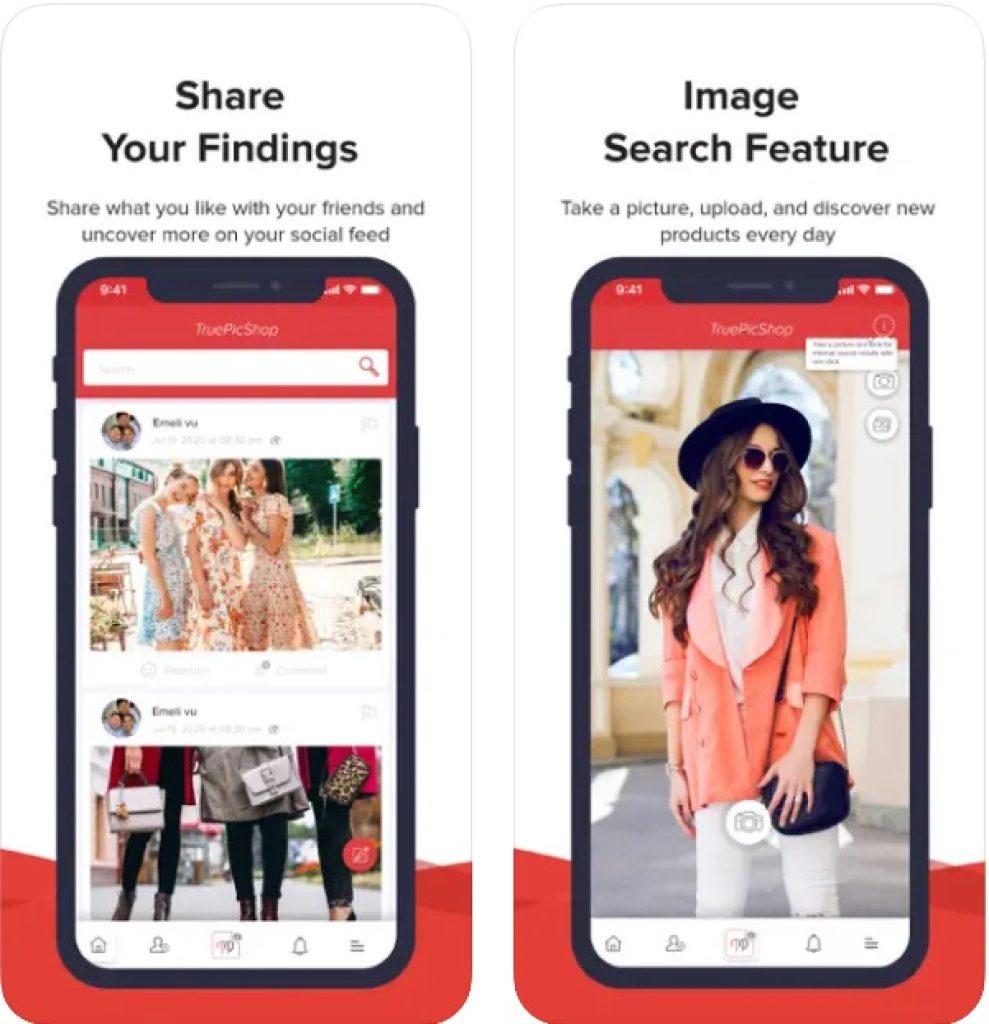 You may also like: 15 best apps to buy clothes on iOS & Android
Amazon Shopping
The purpose of the Amazon Shopping app is to facilitate the process of buying things and help users find specific things they want to purchase at the best price. This app allows its users to:
Browse
View product details
Read reviews
Buy millions of products.
If during shopping the user is not sure which brand the item belongs to, this app can be really helpful too. All users need to do is take a picture of the thing or its barcode so that the app can find the same item for the user.
In order to use this function, there is a StyleSnap icon in the app. The developers decided not to separate the photo search engine by creating a separate app, but simply included it in Amazon Shopping.
Users can not only take a picture of a clothing item on the spot but also upload a photo from their device. According to the reviews, the developers were able to create an app that includes all the necessary functions that are in the original version of Amazon.
However, in the app, it is all presented in a user-friendly form, which greatly simplifies the search for goods and shopping.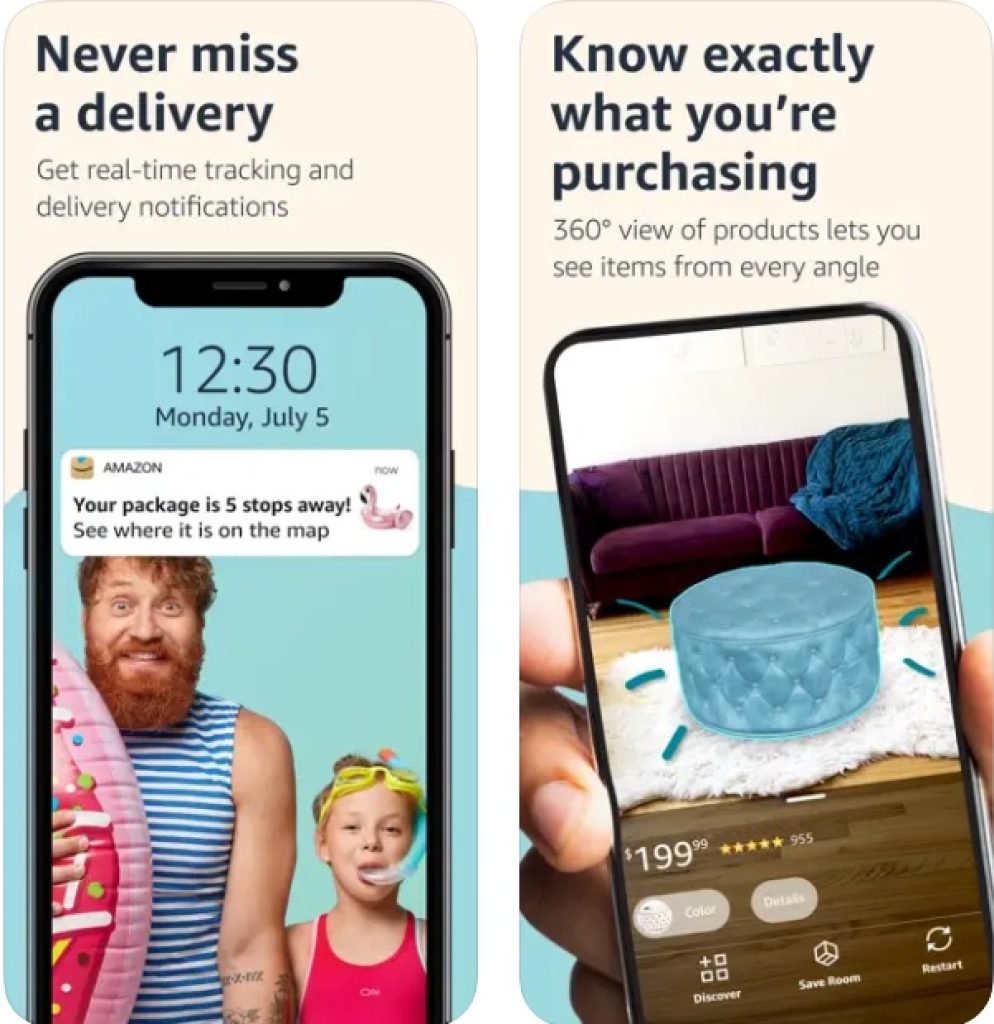 Google Lens
Google Lens is an app that specializes not only in finding items of clothing or accessories but in defining various objects only by a photo. As with other apps of this type, users can easily find clothes similar to what they liked. You can also scan QR codes and barcodes here.
The app interface is really simple and straightforward, which helps users to immediately start searching for things without having to understand the functionality of the app. Also, users can not only take photos of the items on the spot but also upload photos from their devices.
In order for the subject in the photo to be seen as best as possible, users can turn on the flash. As soon as the app finds a suitable product, it immediately gives out available price ranges within which this product can be purchased.
Google Lens works really fast and gives users almost endless search results within a few seconds. One of the features of this app is that it can detect other objects in the photo.
This means that if a piece of clothing is hanging on a chair in the photo, then the app can also recognize the chair. Therefore, in order to find exactly what is needed, users need to crop the photo so that only the right item remains there.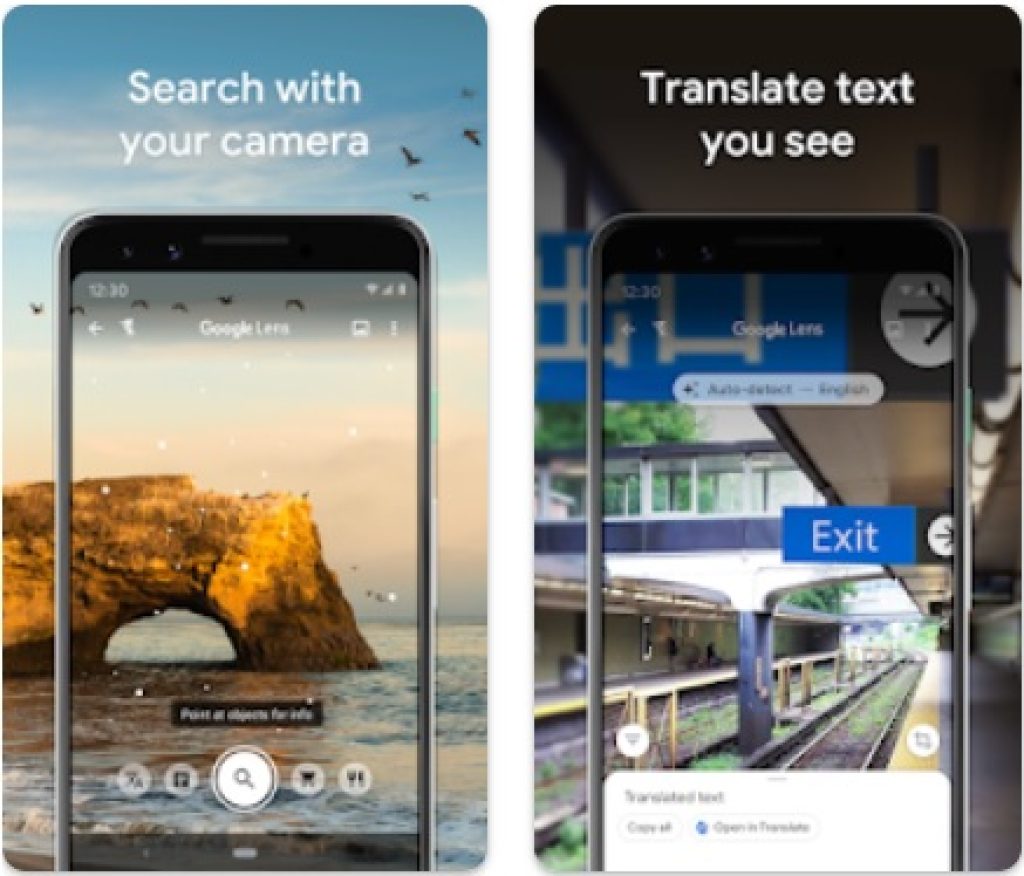 Pinterest
Pinterest is a platform through which millions of people are looking for inspiring photos, photos of creative works, and even items of clothing or outfits. While using this app, people can:
Discover new ideas
Save what inspires them
Shop based on their taste
Find new creators
Share what they love.
One of the functions of Pinterest is the ability to search for anything only by uploading a photo of it. This includes clothing items. After the search result for the photo is received, the user will be presented with two options to choose from.
These options are:
With the help of the explorer function, users can continue to view information about the item they found. And in order to buy a product, users will need to click on the shop function.
Pinterest has a huge variety of photos, so within seconds the app will help you find the right thing. Since most Pinterest photos have links attached to them, users will be able to click on them and choose the appropriate size of the item to order.
In Pinterest, users can easily find clothes and accessories for every taste.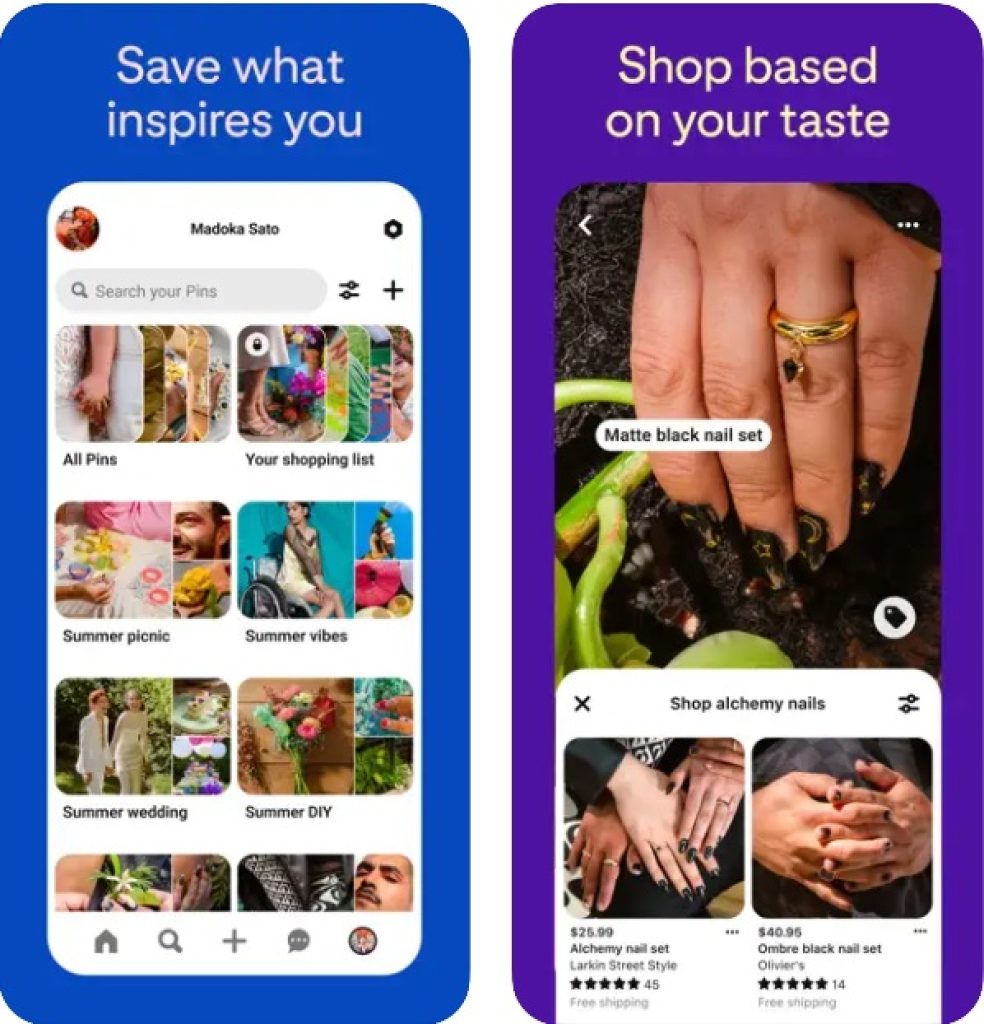 Fashn.me
With this app, users will be able to join a whole community that connects users and helps them search for and share with each other new things and trends in fashion. Fashn.me shows products from more than 35 online stores at once, so users do not need to search for things in each store separately.
According to developers' comments, a new store is added every week. The visual search function in this app will help users find things most similar to the ones they were originally looking for. With this feature, users will be able to find clothes that are available at an affordable price in online stores.
This app offers you to choose from products from more than 1500 brands. Unlike other apps designed for searching for things by photo, Fashn.me shows only clothes and accessories.
The interface of this app is quite clear and straightforward. Users can search for clothes using both text and photos. Also, in the app, you can immediately see what sizes are available and not search for the product in other stores.
According to user reviews, visual search has really facilitated and significantly accelerated the shopping process. In addition, users really liked the «celebrity looks» feature, which inspires them with combinations of famous people's clothes and gives new ideas for outfits.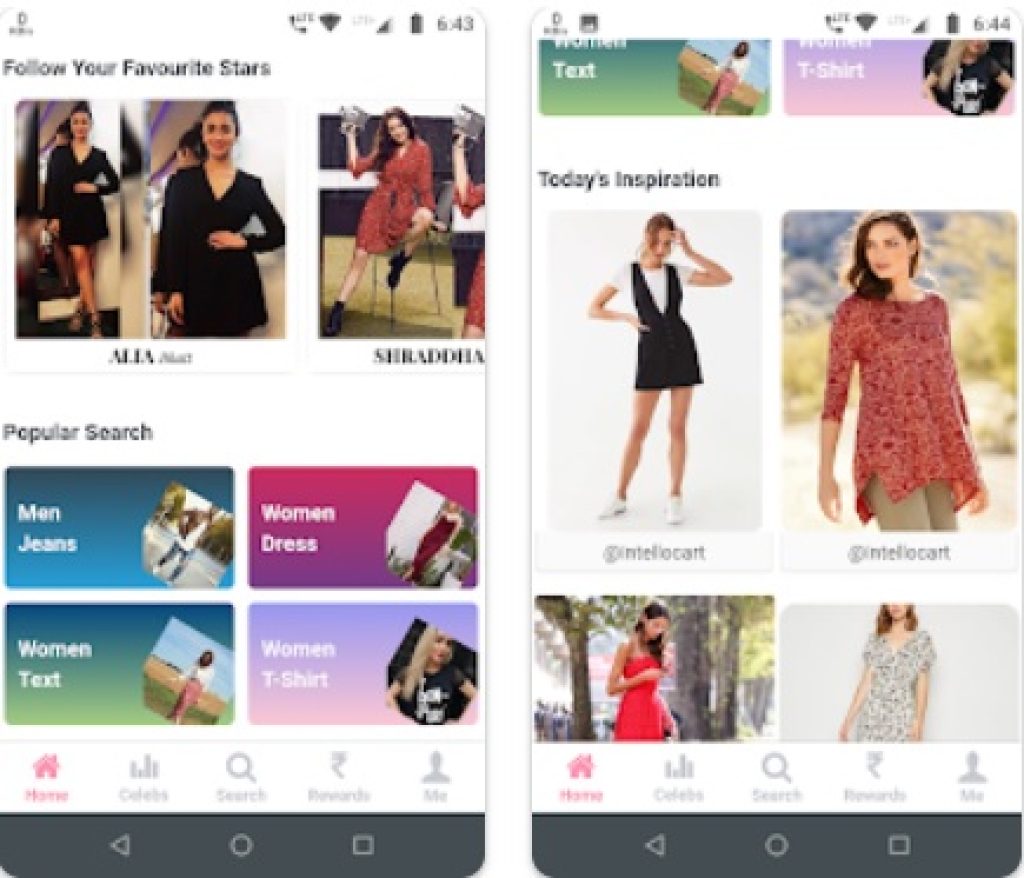 Image Search
This is incredibly easy to use yet really an effective app that will help its user to find a similar photo or thing in a photo. There is nothing superfluous in the interface of this app.
As soon as the user accesses the app, they immediately see a search bar via which you can enter keywords that can be used to find a photo or an item.
In addition to the basic search bar, this app provides an opportunity to search using a photo. In order to do this, the user just needs to click on the three bars in the upper left corner and the search function by photo will appear there.
As for the «search by photo» function, this app does not have the function of taking a photo right on the spot. Here, it is possible to only upload a photo from the storage of the user's device.
Moreover, as soon as users click on the three bars in the upper left corner, they will see the option to view their search history. In the settings of this app, the user can easily delete the search history if it is necessary.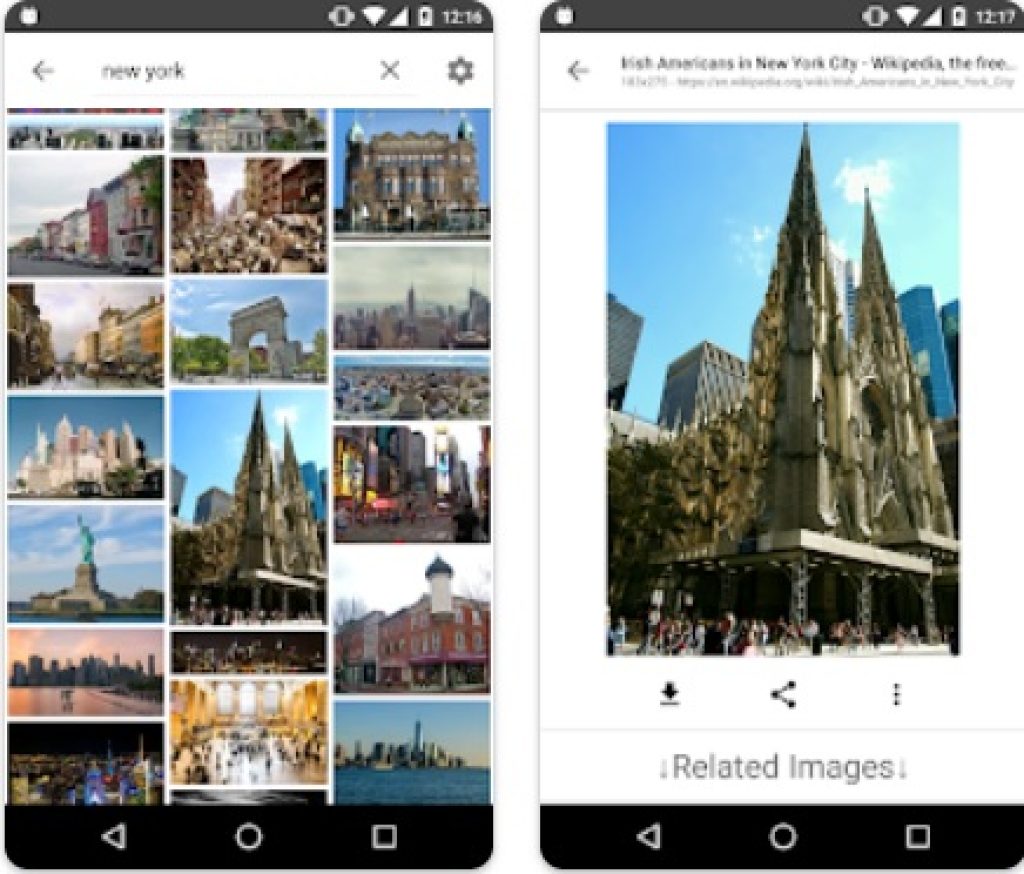 You may also like: 7 Best clothes swap apps for Android & iOS
Search by image
With this app, users will be able to quickly and easily search for similar photos all over the Internet. Users will be able to do this using common reverse image search engines. This app supports both uploading photos from the user's device and the option of taking a photo immediately on the spot.
Also, before starting to search for the right product, users can edit the photo to make the search results more accurate. In order to find the maximum number of products similar to the user's needs, the app supports the most popular search engines and shows results from multiple search engines at the same time.
In addition, in order to get rid of advertising, users can purchase a pro version. As for photo processing, users can:
Rotate image
Flip image horizontally/vertically
Crop part of the image.
Also, in Search by Image, users can find out if the photo is real, and also find a photo only by its separate parts.
According to user reviews, this is a great tool for photo search. The app gives users a huge selection of high-quality photos and products on the photos, from which they can choose the most suitable option.
As for advertising, it is not annoying at all, because it appears only when the user returns to the home screen after searching for a photo. However, this app also has negative reviews. For example, the app often crashes and during an attempt to find an item, it gives a completely different result.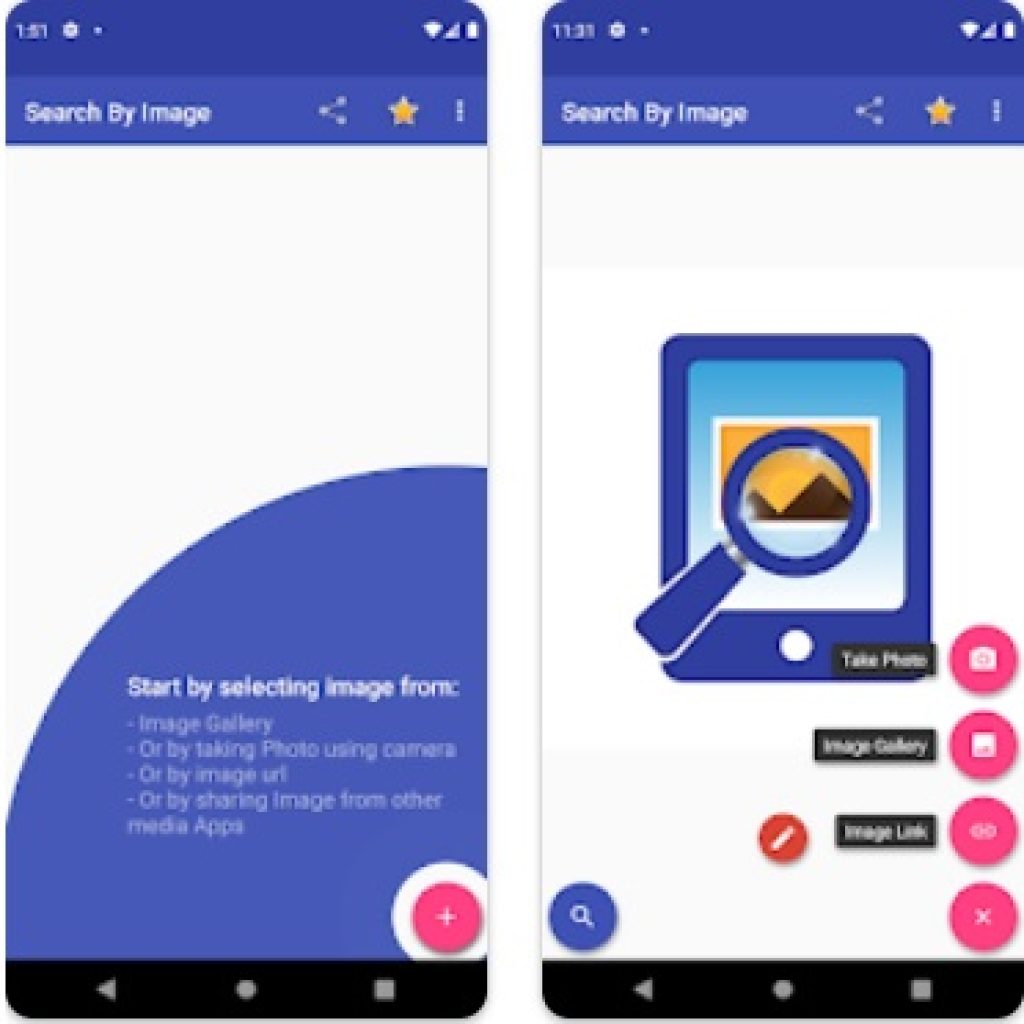 PhotoSherlock
With this app, users will be able to easily find anything by a photo taken on the spot or by a picture uploaded from the phone's storage. In general, this app is used to find information about photos on the Internet and to search for photo authors on social networks.
However, this app can also be used for the purpose of searching for clothing items. One of the functions of this app is reverse image search, which will help you find the original version of any photo.
In addition, in this app, users can search for things in the photo with different search engines, which significantly increases the choice. Also, in PhotoSherlock it is possible to crop the photo before searching, so that in the end only the desired object is visible.
Moreover, users can flip the photo in the editor of this app. Also, the app itself will automatically reduce the size of the photo in order to search faster. If users want to remove ads from this app, they can purchase the pro version.
According to user reviews, PhotoSherlock is well suited for searching for various things, because the interface of the app is clear and straightforward. However, many users had problems with search results.
According to their comments, the app often displays items that are completely different from those that the user was originally looking for.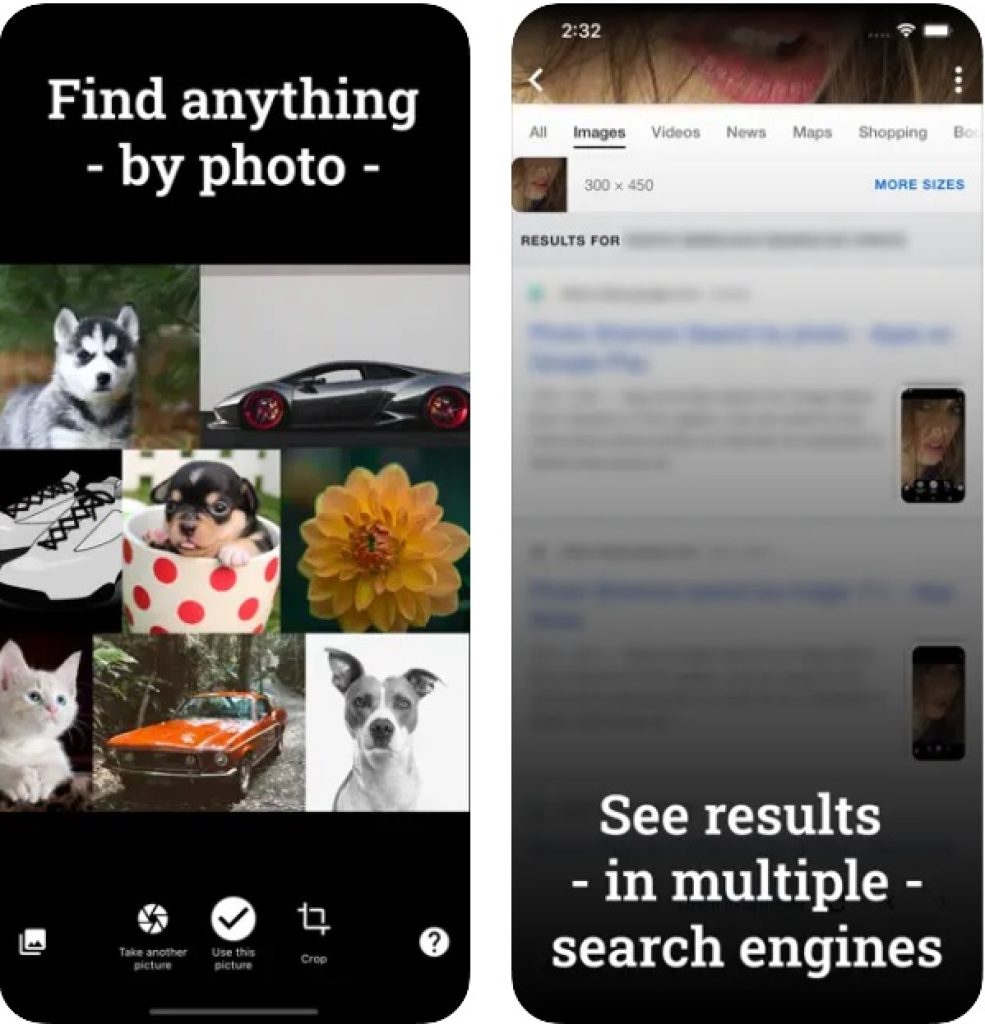 Reverse Image Search
In this app, users can easily find similar photos or things with Reverse Search. This app displays much more accurate results because it uses a photo search instead of a keyboard.
Reverse Image Search allows users to have two choices when searching for a photo. Users can take a photo on the spot, or they can upload the desired image from their phone's storage. Also, after users find similar photos, they can find out more information about the photo or the object in the photo.
In addition, users can share the photo through various social networks, as well as:
Email
Messages
Bluetooth, and others.
Moreover, before searching for similar photos, users can edit the image. According to user feedback, the app greatly helps them in finding the right images or things. However, users would like to see additional features in the app.
For example, users would like to be able to sort images by low and high quality. Some users are faced with the problem that over time the app begins to lag.
Also, some users were annoyed by the overly sensitive interface of this app. For example, one of the users had a problem with scrolling in the app. The user tried to scroll down or up, but as soon as the finger moved to the right or left, the image changed, and then it was difficult to find it again.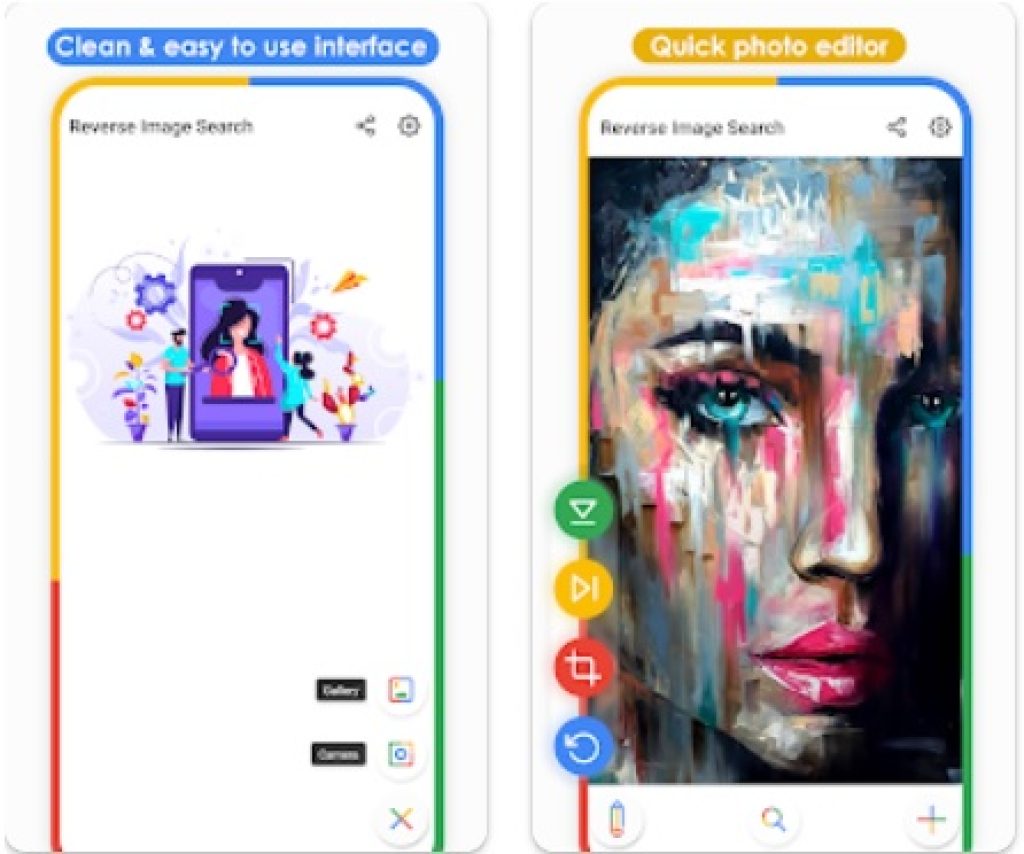 CamFind
This app will help its users to search for anything on the internet and get an infinite number of search results using only their phone's camera. This app is especially handy for those who want to search for accessories and clothing items online.
Moreover, this app is convenient for online shopping, because here users can easily compare the prices of goods and choose the best option. Also, if users need, they can share the results of their searches via:
Facebook
Twitter
Email
Text.
With this app, users can not only easily take photos on the spot, but also quickly upload photos from the phone's storage. There is also a QR and Barcode Scanner. The interface here is really simple, clear, and user-friendly.
According to user reviews, the search function for similar photos works properly, and if the user is looking for a product, then they can even see the price. However, some users say that this app is quite hard to navigate.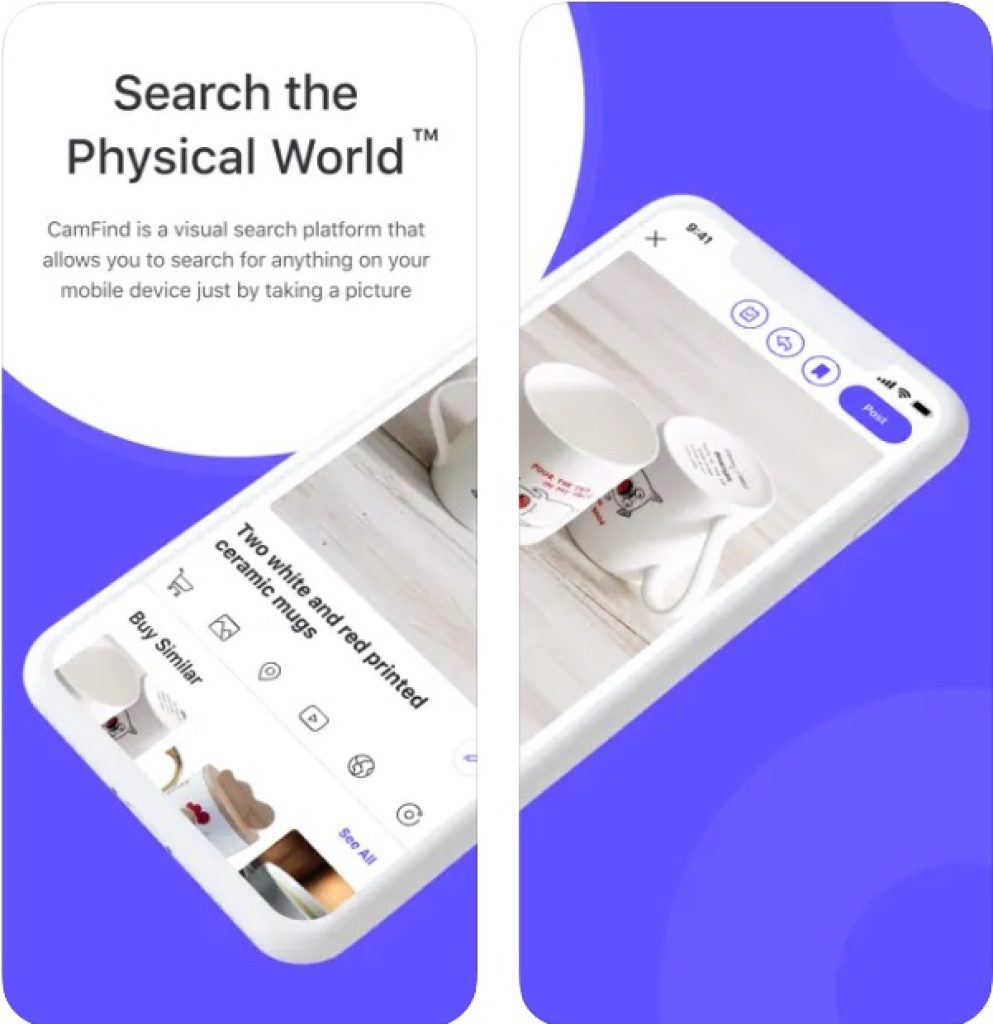 You may also like: 11 Best Second-Hand Clothing Apps (Android & iOS)
Asos
Asos is one of the largest shopping platforms that helps people from all over the world find the right clothes for them at fair prices. In addition to 850 brands and the possibility of free shipping, there is also a search function for goods by photo.
Photo search in this app works on the basis of the reverse image search function. Here, as in other similar apps, users can either immediately take a photo on the spot or upload an existing photo from the user's device.
After uploading a photo, the app automatically scans it and gives the user similar images. However, the options that ASOS offers are limited to Asos apparel. At the same time, Asos is a fairly large shopping platform, the choice there is quite large.