Soccer, and especially the UEFA Champions League tournament, attracts the attention of millions of people around the world every year.
In addition to such major tournaments, there are also simple friendly matches of popular teams, other tournaments, championships, and even national cups. In each of the competitions, there are many teams, many of which are already loved by all soccer fans.
If you are weary of waiting for the next game, or you do not have the opportunity to fully observe the competitions, it is not a reason to despair. Probably, you just like soccer as a game, but you don't play on the soccer field in real life. You can play it on your smartphone with the list of the best soccer game apps.
In this case, you can try to become a real soccer manager or coach even sitting on the sofa in your living room. We have collected for you these free football manager games for iOS & Android, which will brighten up any of your evenings.
Top Eleven – Be a soccer manager
Top Eleven is the most popular soccer manager simulator for mobile. Every year the developers update their application, and not release a new part for the new season. More than 200 million people all over the world play in Top Eleven – the numbers are really impressive and it means that there is a reason for this.
Here you get the opportunity to plan special training, develop tactics, and place players in a certain way, as well as to choose more simple details – for example, the form for your team.
In Top Eleven you will find the best players among thousands of others and try to sign a contract with them. Only the best players can lead you to victory and give glory to your club.
In the 2020 update, the main innovation is the youth academy, which gives you access to young and promising players. Since they are just beginning their careers, their contracts will not cost you too much, and the skills can be excellent.
Also in Top Eleven, you will be able to change all the details of the design – for example, the stadium, the form, and many other minor points.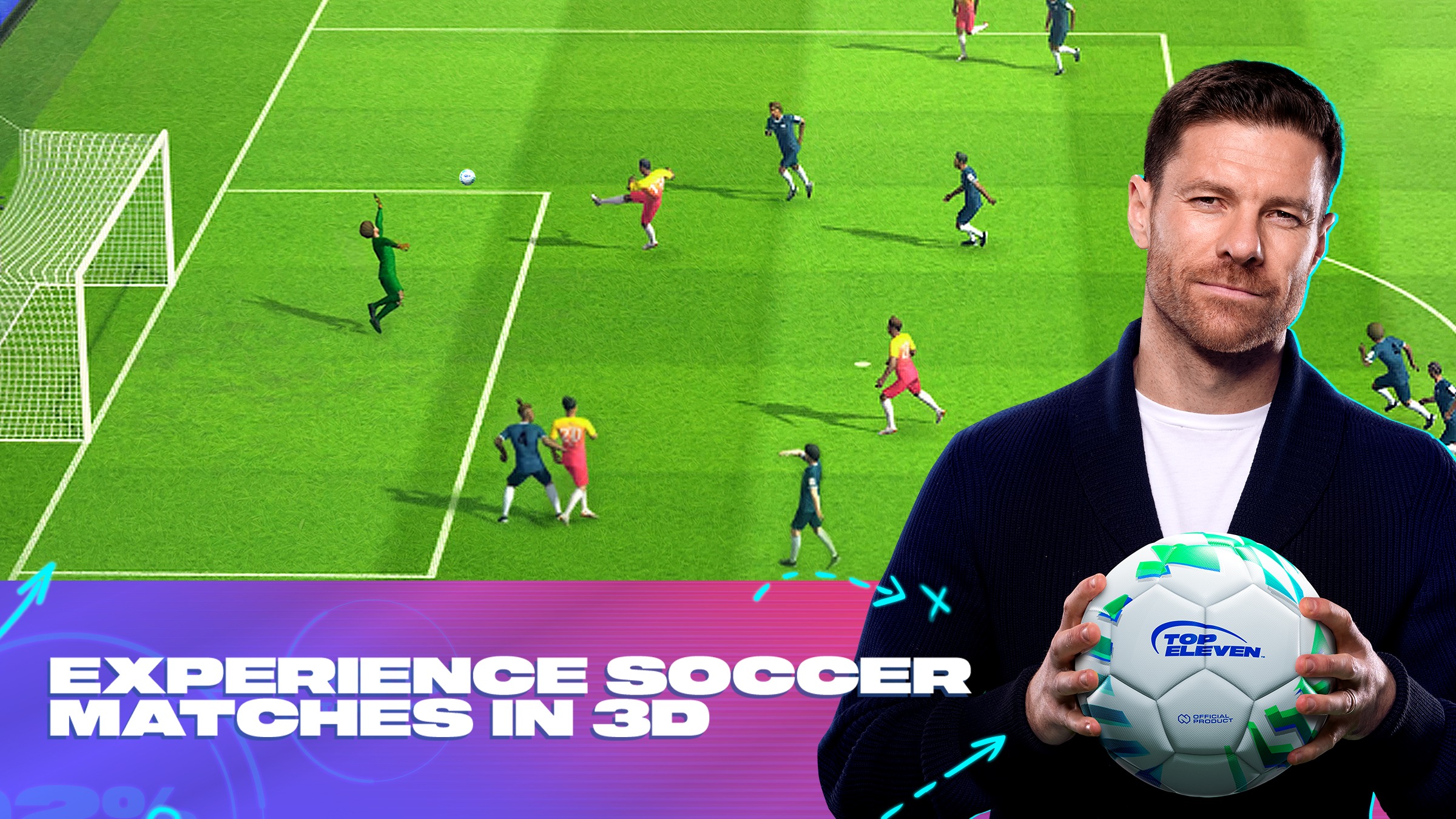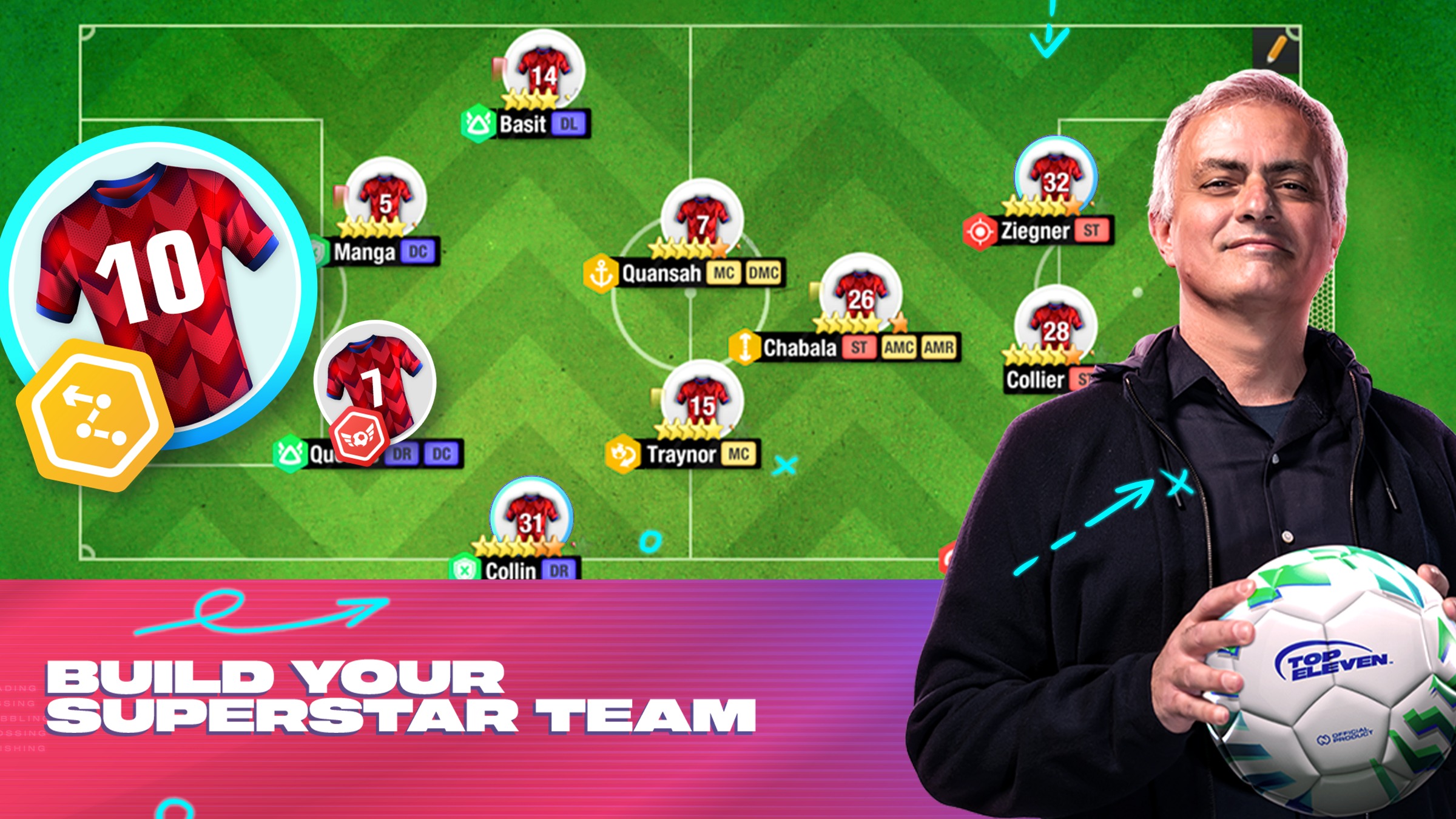 You may also like: 9 Best Soccer coaching apps (Android & iOS)
FMU – Football Manager Game
Football Management Ultra allows you to control all aspects of your club (including planning training sessions, developing club facilities, selecting players for the team, allocating player numbers, and determining tactical formations).
This level of control makes the game incredibly exciting! Managing a team is no easy matter. Decide who stays, who leaves, or who warms the bench. If you want to see if you can lead your team to success.
When you first enter the application, you are asked to choose a country, the name of the team, after which you can continue the game. If you have already played, you can enter your team via Facebook or Apple account.
On the main page, you can start a friendly game, as well as go to the office manager. Before you start the game, you can assemble your lineup for the match.
If you do not like your players, you can go to the transfer market and buy the player you want. Once you have assembled your lineup, you can try it out in tournaments.
In the app, you can expand your stadium stands, organize friendlies, develop strategies, train your worst players to turn them into stars, make your board of directors happy, and do many other interesting actions.
It is all about becoming a better soccer manager. Nevertheless, do not forget about being a coach, not a player.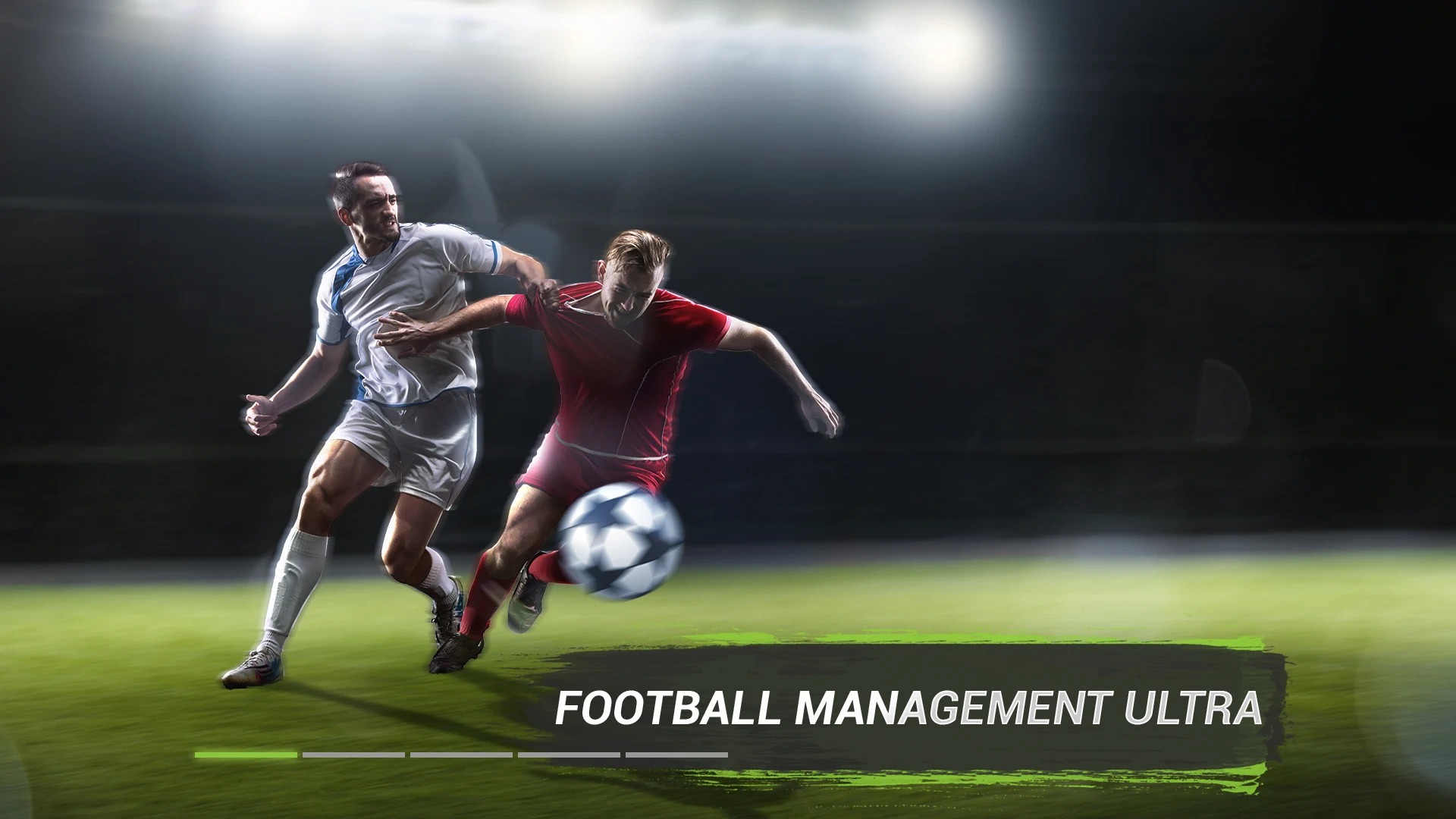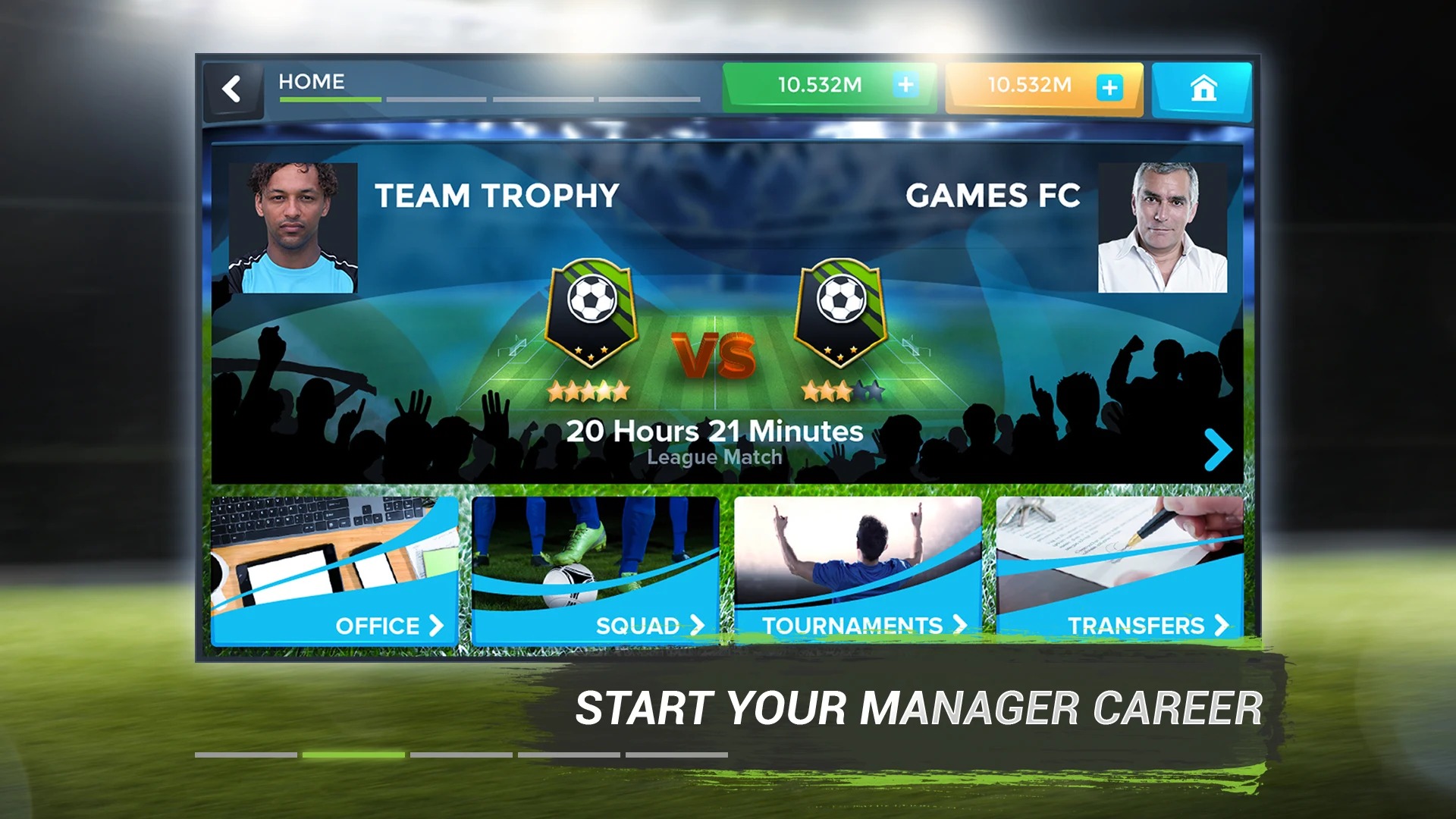 Online Soccer Manager (OSM)
Would you like to choose players from hundreds of teams from a huge number of countries? If your answer is yes, then you can try your skills as a sports strategist in the game Online Soccer Manager.
This is a free application in the genre of soccer management, which has real soccer leagues, clubs, and players.
You will be responsible for all the parameters and capabilities of the team – the starting lineup, their tactics, the purchase of new players and work with old players – you will need to think about all the nuances that occur in the real everyday life of the sports manager.
Since Online Soccer Manager is a management game, you will not be able to relax in the learning process. At some point, you will discover a lot of information that you need to apply in the right direction. The game has a beginner's guide that will introduce you to the details of the OSM universe.
Here you will focus on game tactics and financial issues, rather than playing a classic soccer simulator. To start with Online Soccer Manager offers to choose a country and a league in which you will participate.
The game will involve other teams, managed by real people – usually, they are much stronger and more experienced than you. If you are a newcomer, we recommend you to choose a strong team in the top-level leagues to make your first games a little easier.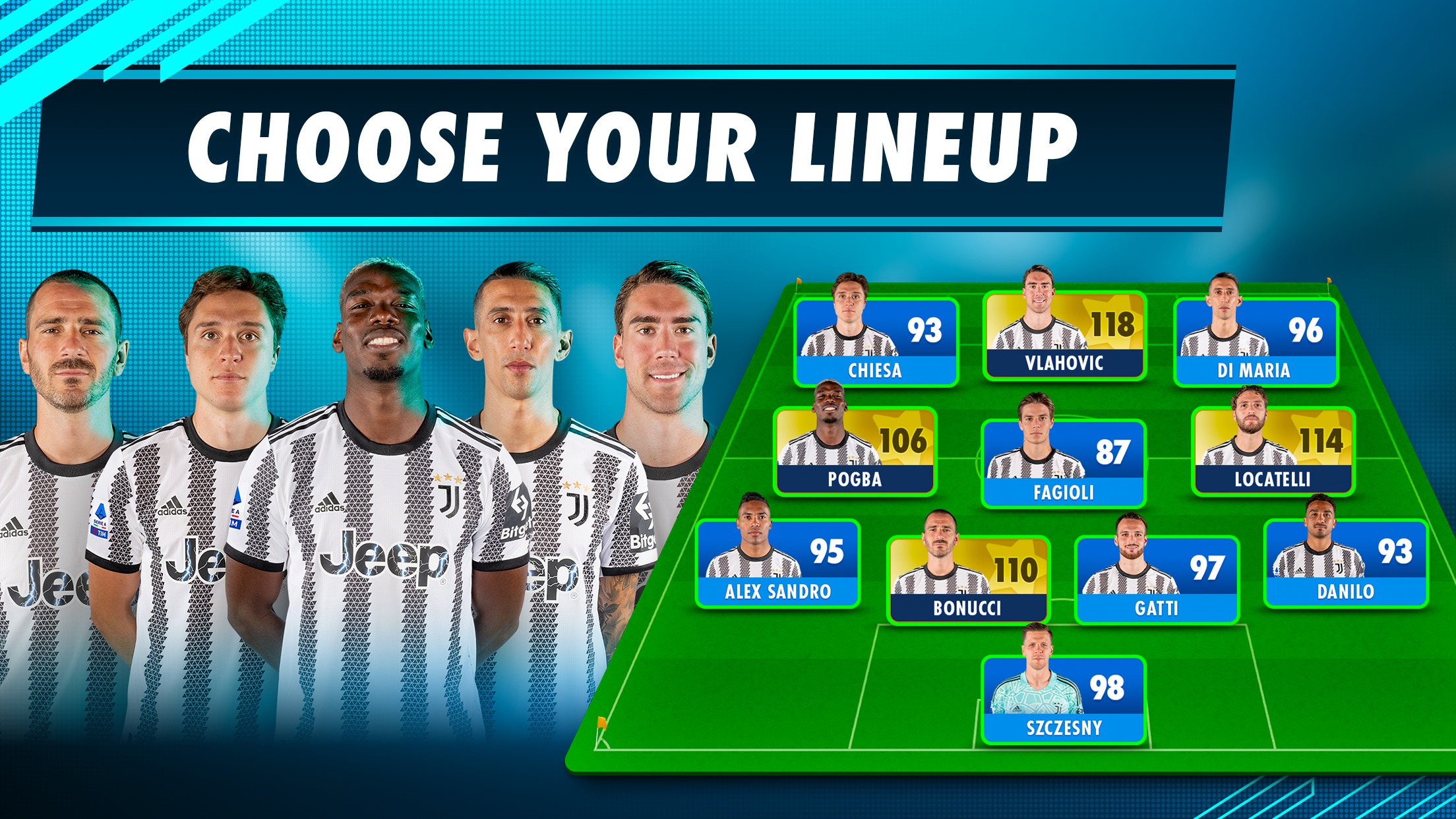 Top Football Manager by Gamegou Limited
Top Football Manager is a popular game, in which even soccer stars play. Some of them are so passionate about the process that they may not even comply with their regime – they themselves confess to it in their interviews.
However, you are unlikely to be a professional sportsman and have a strict daily routine – so Top Football Manager will not harm your usual life. Here you will be able to compete for both with live people via the Internet and with the computer, honing your skills and using tactics that are still unexplored.
At the very beginning, all players know whom you can buy into the team. Even if you are far from the world of soccer, you know very well that Ronaldo in the team is the key to success.
All players in Top Football Manager are initially given the potential, which is the maximum for their development. You can understand that adult male soccer players are unlikely to advance too far in their development – so it is better to bet on younger athletes.
It should be noted that in Top Football Manager there are rather scarce dialogues with players (usually they are limited to "Let's play" or "Give money" requests) and the atmosphere of communication is lost. In this case, the game is ideal for those people who would like to try themselves as a chief strategist in a team.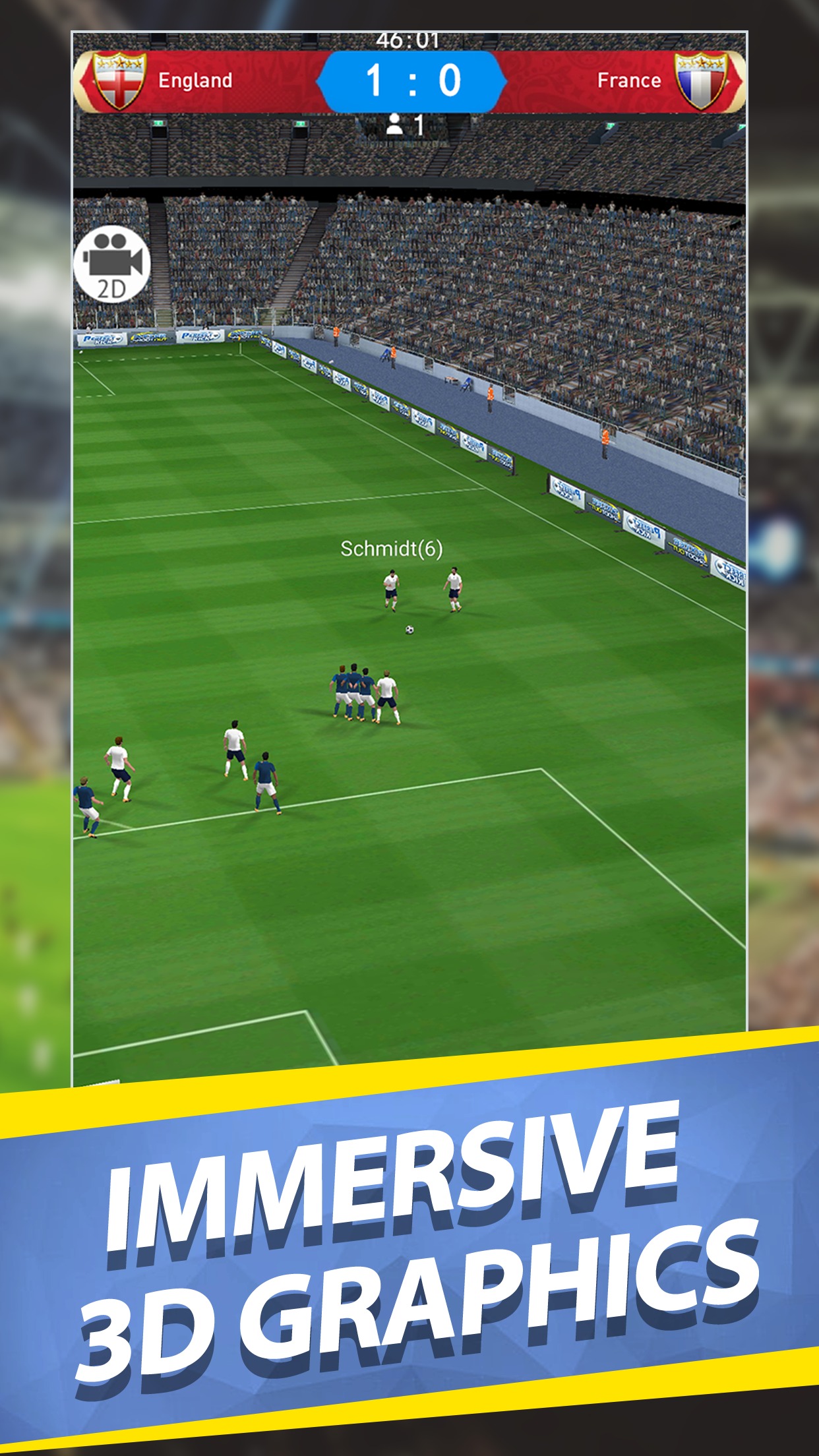 Pro 11 – Football Management Game
Your favorite soccer club can be in your pocket. In the game Pro 11, you can become a soccer manager of a legendary team, such as Madrid or Barcelona, and perhaps even enhance their success in the international arena.
In the game, you will compete with other users in your strategy and soccer skills, as well as try to win the best national leagues or other major competitions. To see the life of the team not only on the field but also from the inside, at a normal time is so interesting, especially if you watch them for a long time.
In Pro 11, you will have to pick up the entire team, manage their flights and accommodation, as well as to be present and supervise training sessions at all times. Do not forget that the game is multiplayer, and hundreds of people will do it simultaneously with you, but with their team.
You all develop the skills and abilities of athletes to find out in the future who is the best soccer manager and coach. Note the excellent graphics in the game, thanks to which the figures of the athletes on the field look realistic and of high quality.
The developers used the real movements of the best soccer players for the most realism. All you have to do is be a good manager – maybe you can even find young talent among hundreds of candidates for the team.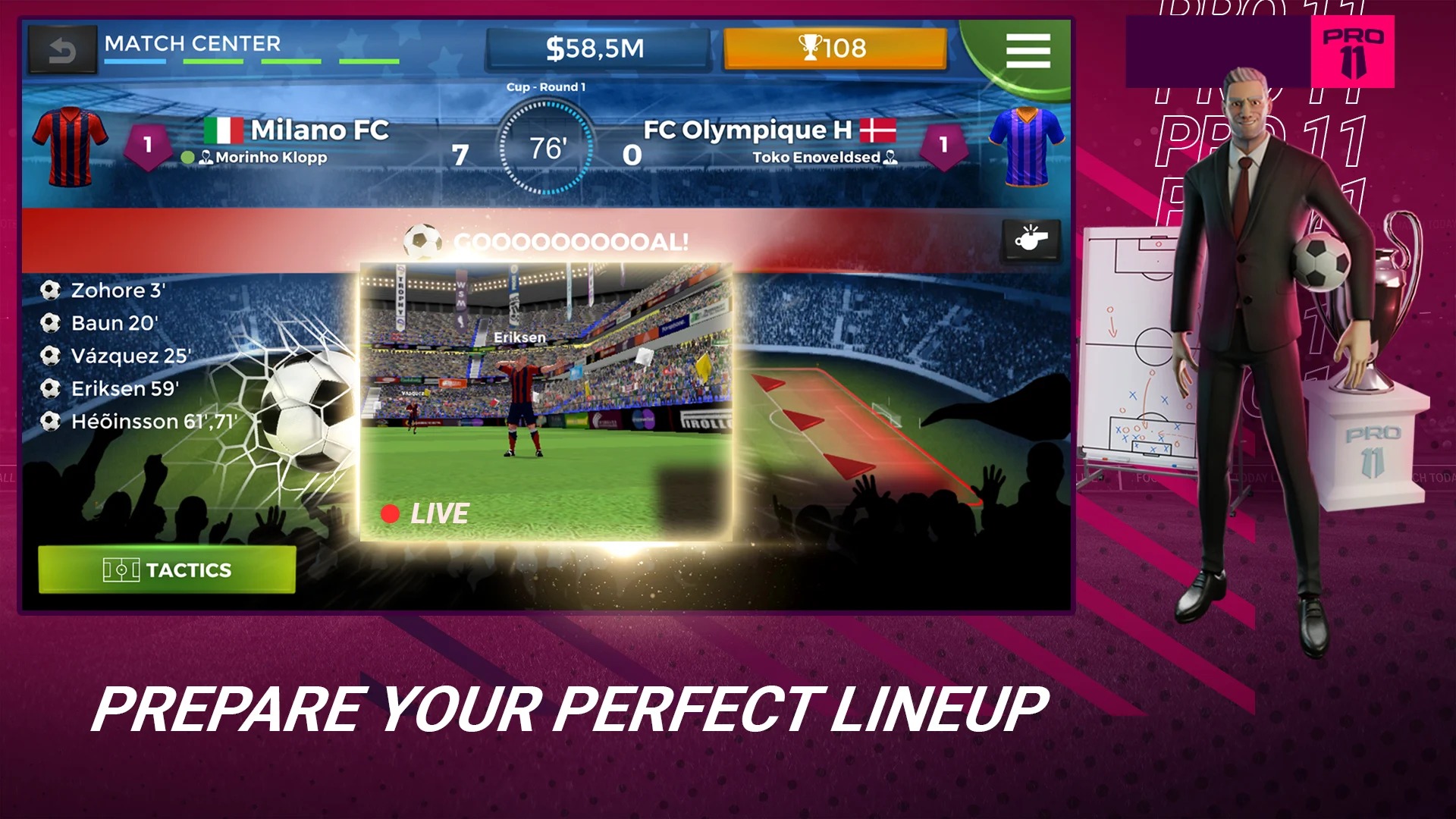 Football Master
This is one of the most popular football management games and it has more than 10 million downloads on Google Play. What is more this game has won a number of Game Awards and gained the excellent feedback from its users.
But let's not talk about it external achievements and rather focus on its functionality. So what's so unusual about this game?
It is licensed by leading clubs and fifpro. Moeover, this is an online multiplayer game so now you are able to play with all your friends all around the world!
What is more here you will have to build a world class 3-dimensional stadium so you can welcome all of your football fans there. You can customize the stadium up to 100%, so it reflects your personality.
Another cool feature of the game is that you have to customize not only the stadium but also the representation of your football club. For example you will need to collect outstanding jerseys and emblems that will reflect your football club Style.
You will have to link up with other football managers so you can make a team and organize weekend tournaments.
Tournaments take place constantly in this game. And of course, one of your main goals is to sign up as many football stars to your Club as possible.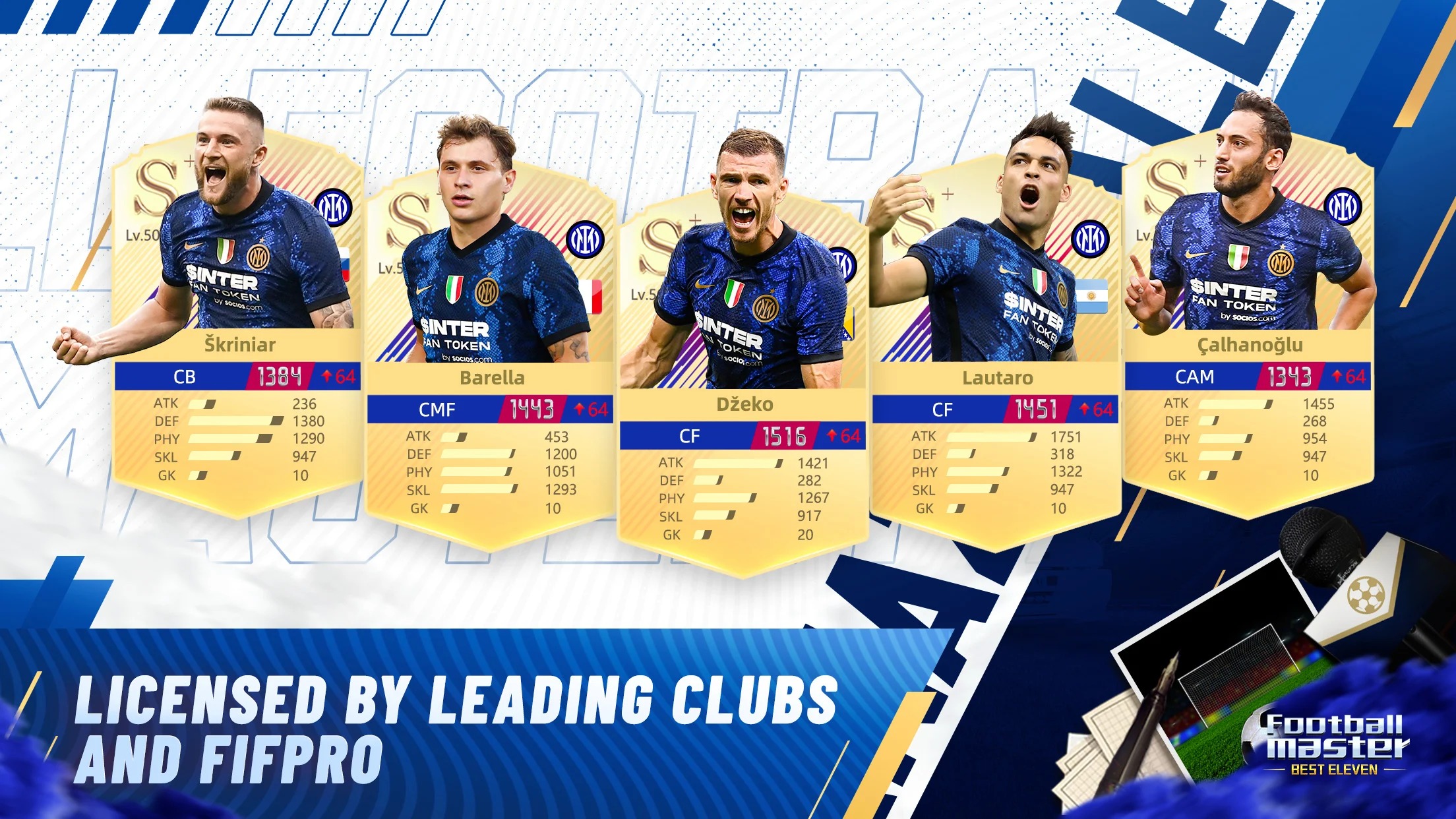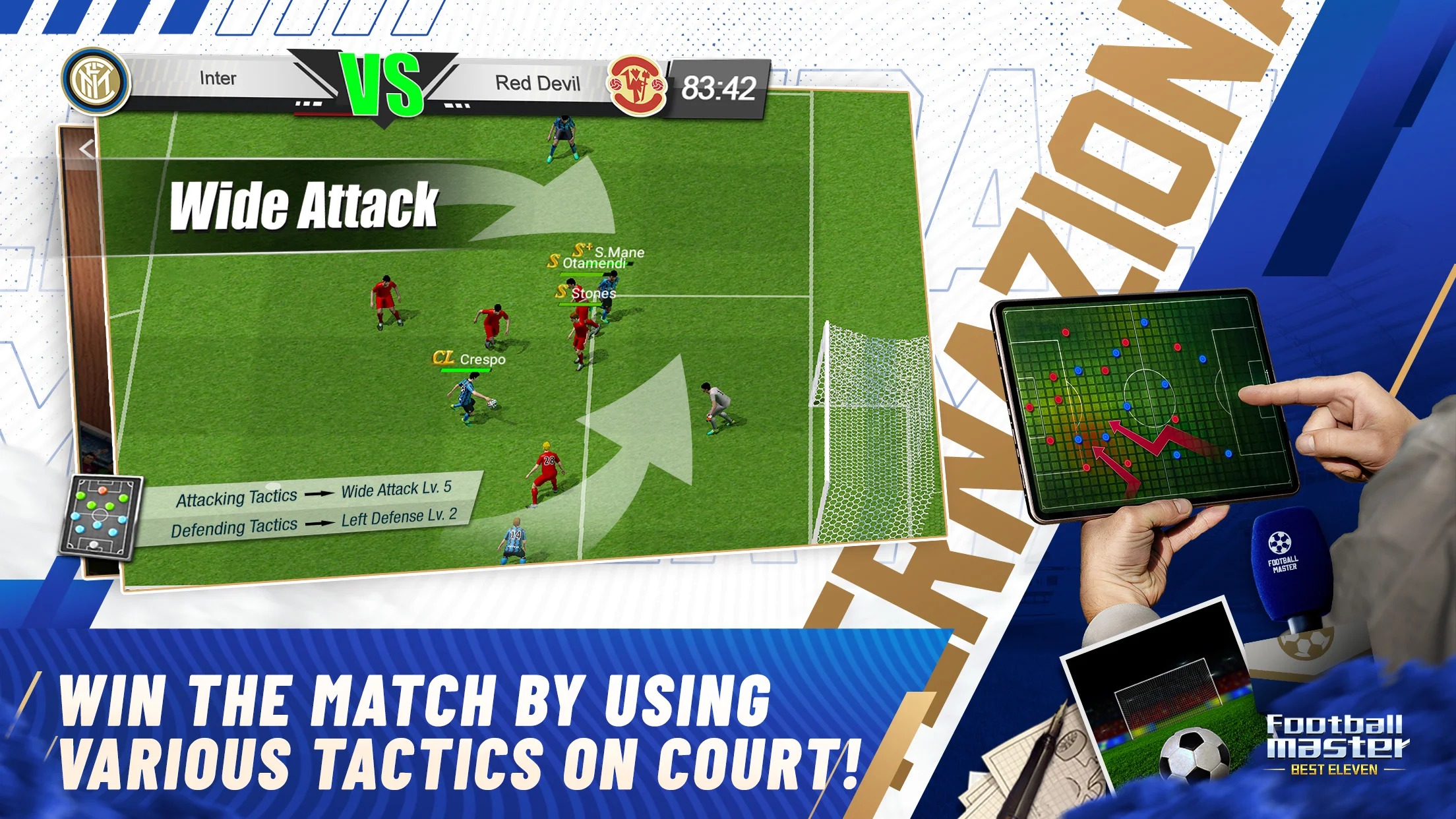 You may also like: 11 Best Fantasy Football Apps for Android & iOS
Club Soccer Director – Soccer Club Manager
The sport games have a huge number of varieties. For example, you are very fond of soccer and would like to have some fun, while not just watching the players' actions on video. An excellent solution would be to download Club Soccer Director.
This is a team manager simulator, which is very convenient for playing on your mobile phone. You have to create your own soccer club or go the easy way and take control of an existing team.
In Club Soccer Director you will raise your income or incur huge losses (depending on how successfully you build your business), as well as look for sponsors and new players.
In the game, you are promised to choose from 38 different leagues from 14 countries around the world. You can manage your club in absolutely all spheres – choose stadium and training grounds for them, create your youth academy on the basis of the team, and so on. You can also hire assistants.
Club Soccer Director offers you to make purchases inside the game, which will significantly accelerate the growth of your profits in the future. It should be noted that you can achieve success even without investing real money – just make the right decisions.
The game is mainly designed for real statistics, so you can just use your knowledge in mathematics and probability theory and become the best manager in Club Soccer Director.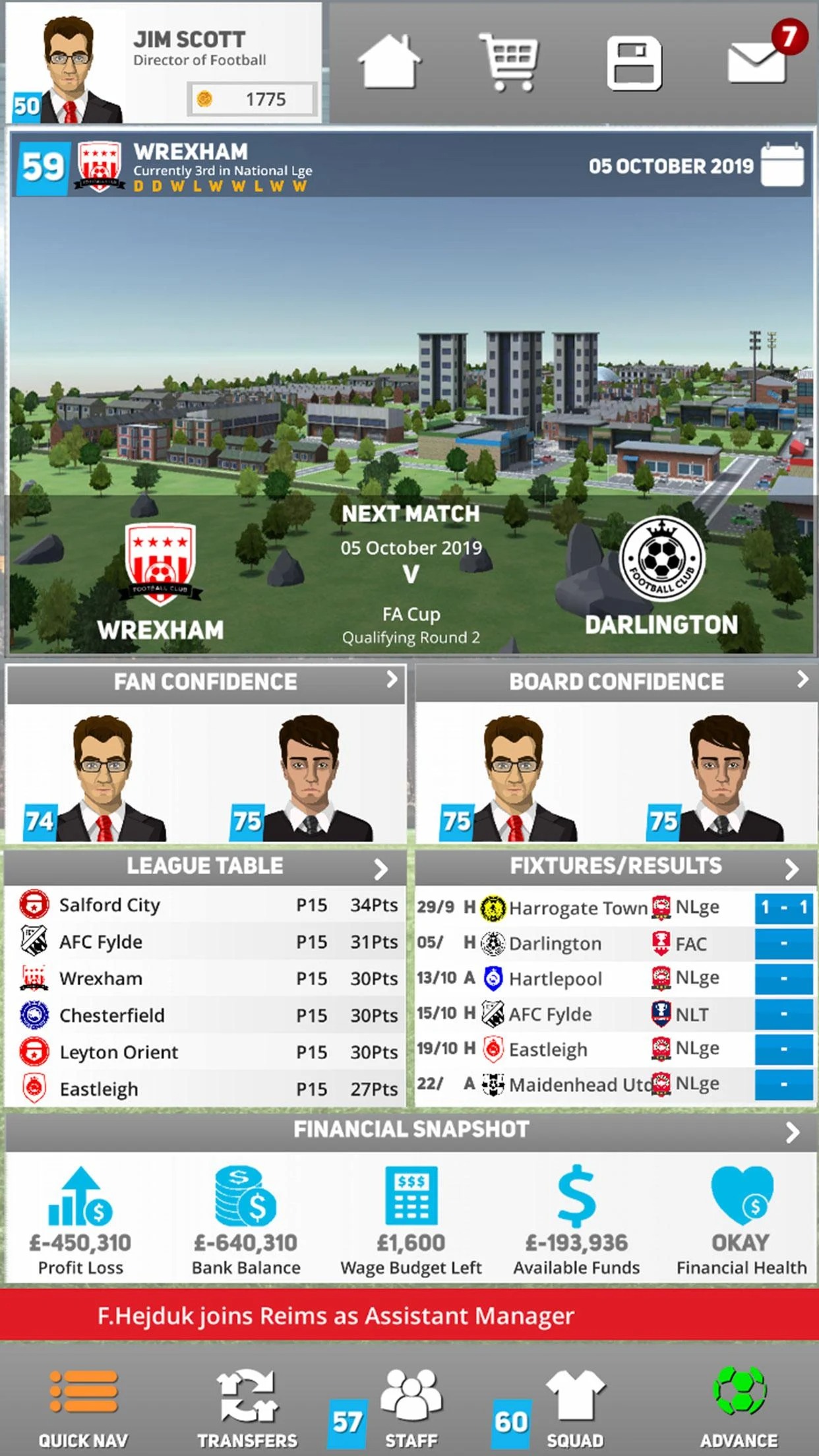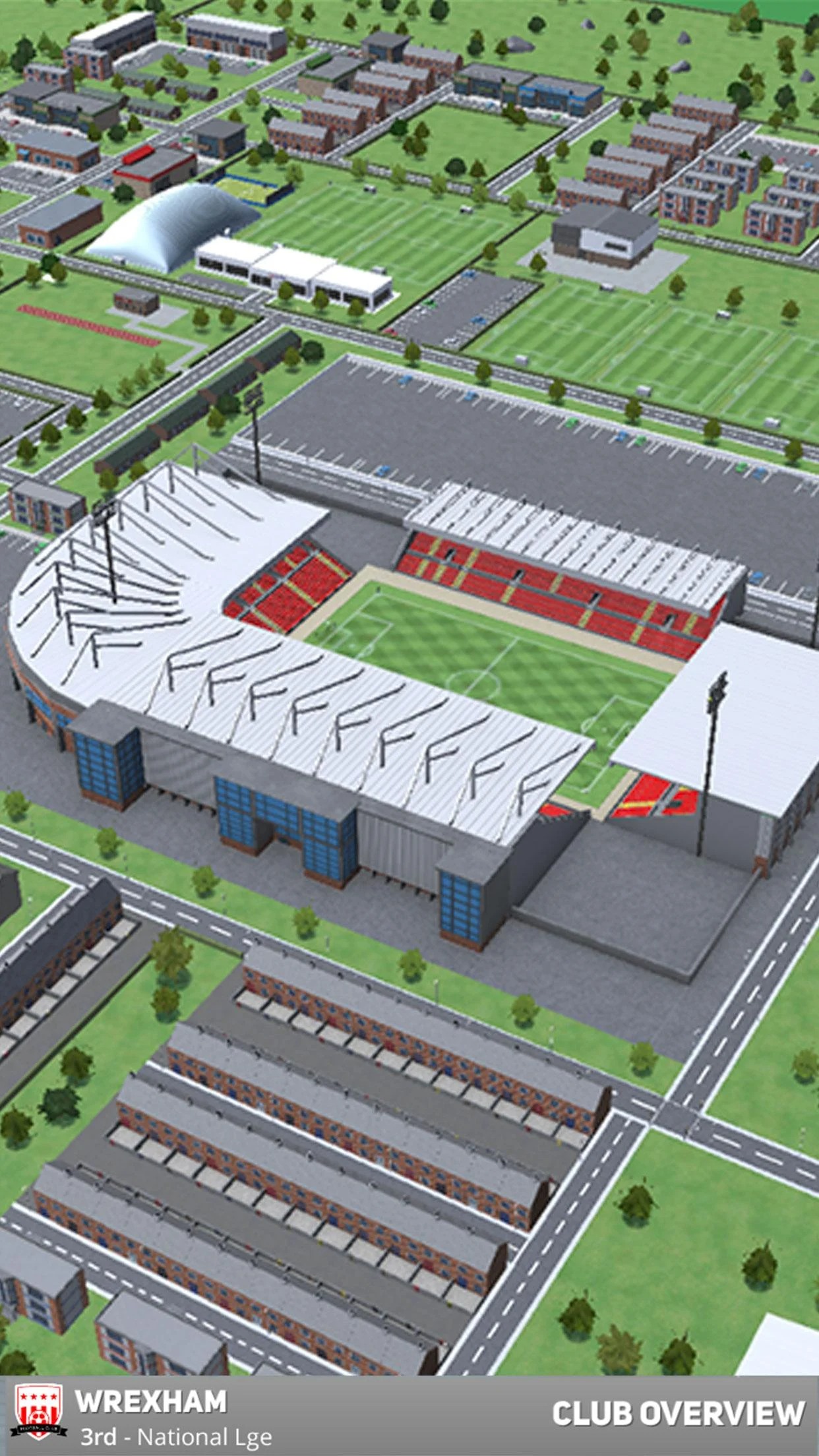 True Football National Manager by MKR Studio
True Football National Manager cannot please all soccer fans – there is no bright animation, beautiful graphics, or convenient management. This game is designed for strategists who already have certain ideas on how to lead the team to victory.
True Football National Manager can also be called one of the few games where you will work not in the club, but in the national team of a certain country. Training, matches, and other settings are absolutely the same as in other simulators – you should make every effort to develop the skills of players.
Although it is useless to expect a lot of settings from True Football National Manager. When you choose the national team for your game, it is best to pay attention to already known and strong teams.
You should agree that the national team of Andorra is unlikely to become the champion of Europe, no matter how well you train them. Perhaps, for some people, such wording sounds like a challenge, but the best choice will be Austria or Sweden.
Training in True Football National Manager is designed as a strategy, where you have 30 points, which you categorize. You can increase your energy or stress resistance – this is where you have to do some thinking.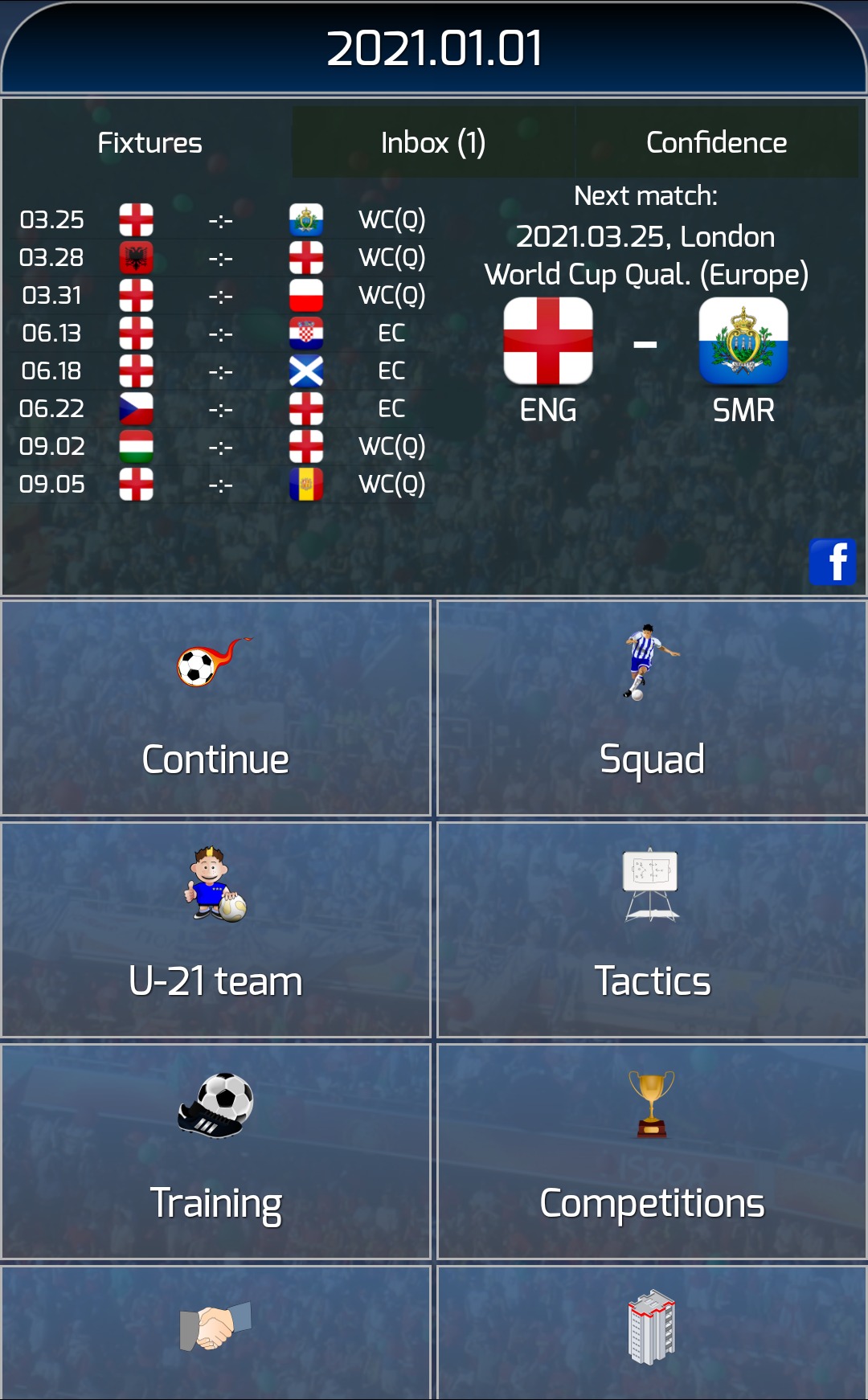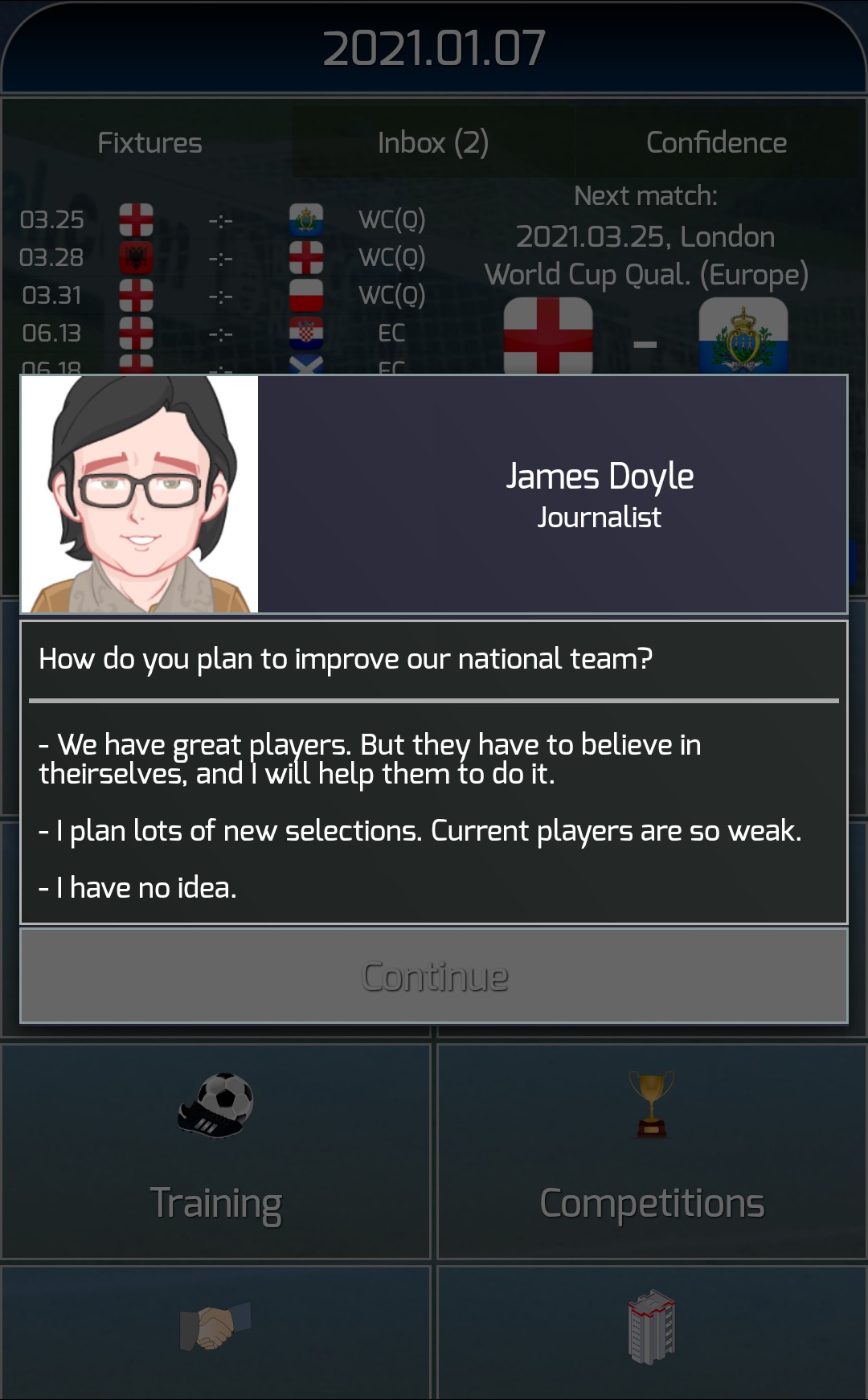 11×11: Football Club Manager
11×11 is a network game about soccer, where you can become a manager of a team. Some time ago this game was presented only in a browser, and you had to constantly sit at your computer to play with your favorite team.
Now you can just install the application on your smartphone and start playing. In 11×11 is easy to understand, and to simplify your mission, you can immediately join the soccer alliance. After that, you will try to help other managers so that the improvement of the team performance will be much more effective.
Although 11×11 is positioned as a free game, developers are constantly trying to make sure that you invest in it. The money to build and improve the buildings, to buy players, and much more is difficult to earn.
You can get it for winning matches and tournaments, as well as by selling existing players – but in reality, the reward is not that big. You also have a manager level, upon which the maximum level of players depends. Try to develop all the skills in 11×11 without a coin – it will be difficult, be sure.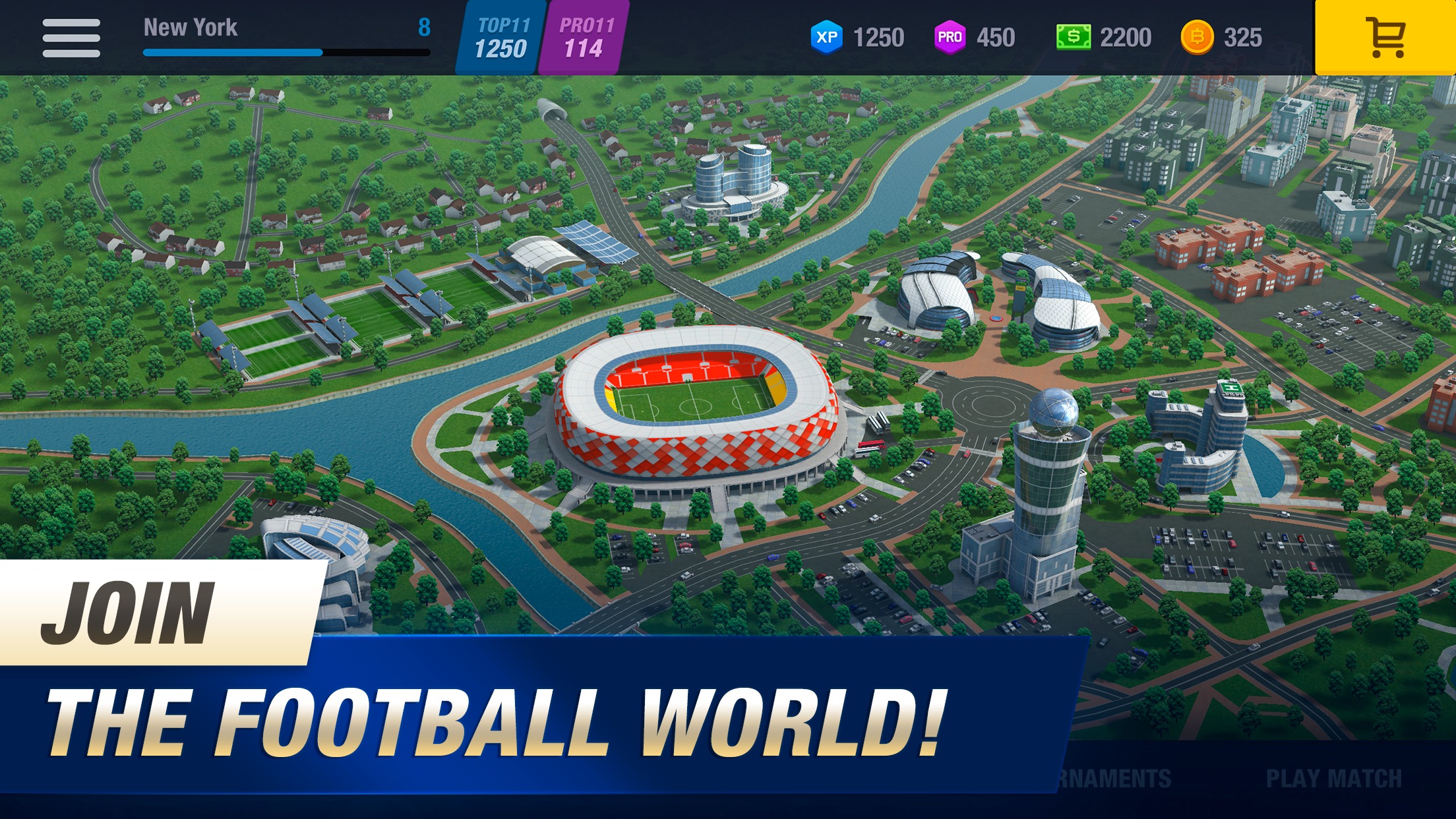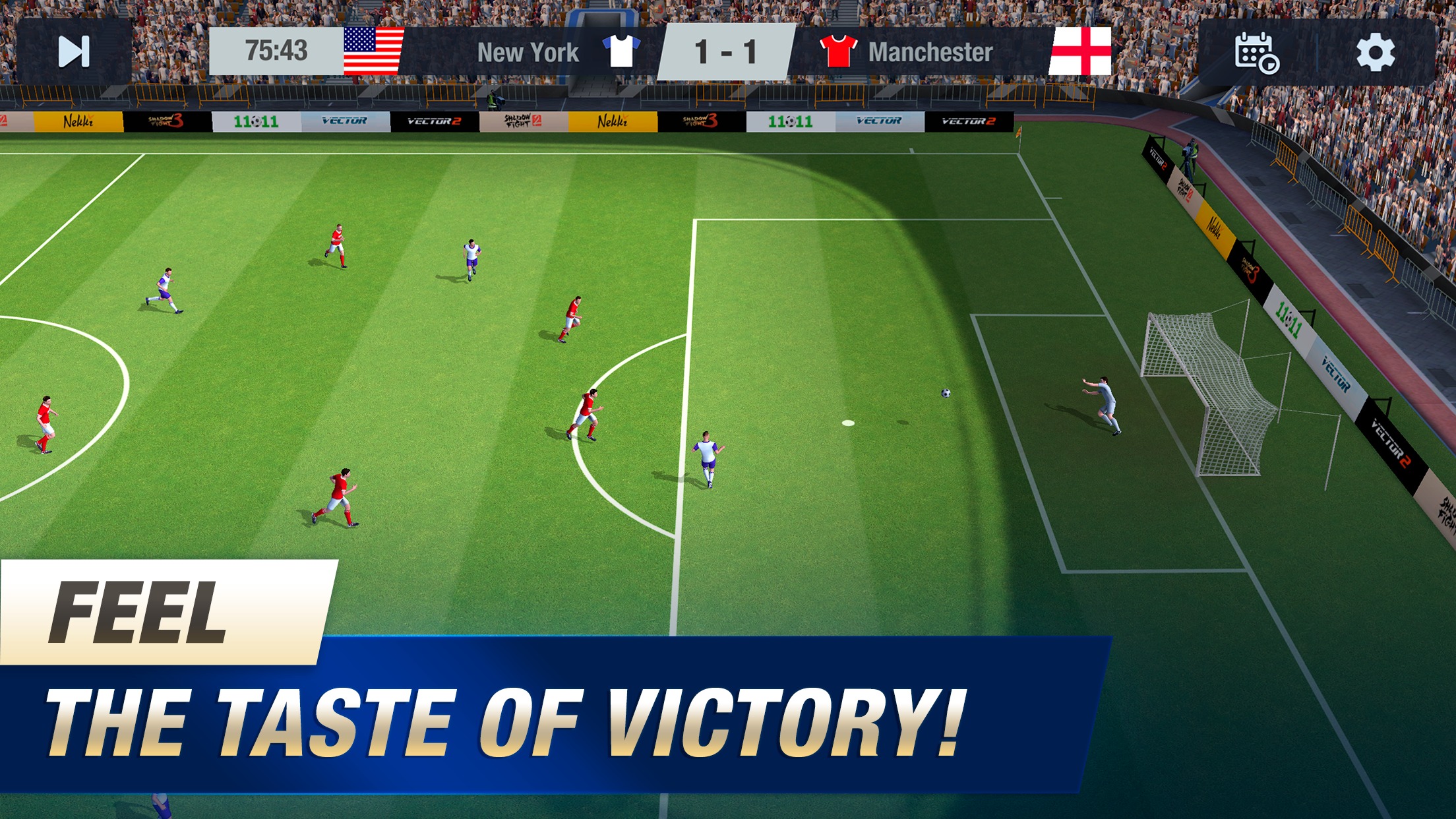 Bemanager – Be a Football Manager
Bemanager is a strategic game where you can not watch the bright battles in 3D mode. In the game, everything is designed for your thinking and strategy, with which you will try to lead the team to victory.
In Bemanager you can compete with other players or friends in your skill, or you can even arrange a full friendly tournament, during which you can win all your friends. You can sign the best world players to the team – but it's not just worth thoughtlessly adding all the celebrities.
In Bemanager, the competitive spirit is very vivid, where you can engage in plots with other managers. For example, you will steal players from other teams, offering them more money than your competitor.
All matches, although they are played in a schematic mode, have a little realism – for example, unexpected injuries and exceptions.
You will also be evaluated by major publications and sports newspapers – in Bemanager you will read what other professionals think about your work. During the game week, you will be able to make quick decisions to correct your mistakes and failures.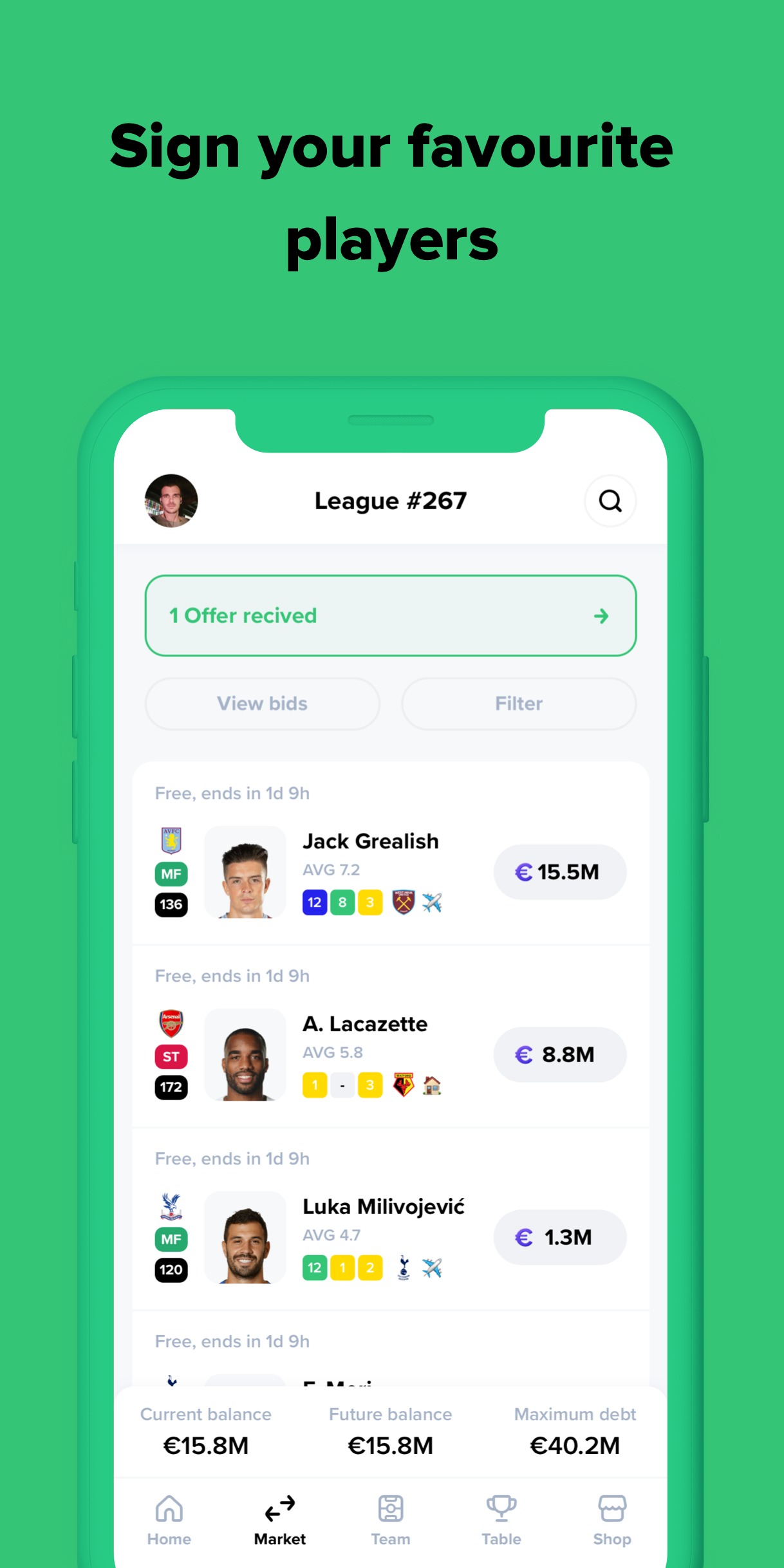 Soccer Manager – Football
Soccer Manager is an exciting game that allows you to become a real manager of a soccer club. The game features real teams and players, which allows you to immerse yourself in the atmosphere of world soccer.
You will be able to manage both famous and little-known clubs to achieve fame and recognition. The game allows you to make all the important decisions about the composition of the team, such as signing new players, renewing contracts, choosing tactics and formation, as well as training players.
It is essential to manage the team's budget correctly to optimize its development as much as possible. You will also have to interact with the media, manage the financial aspects of the team, take part in the sale and purchase of players, and conduct training sessions to improve your skills.
Take part in qualifying tournaments, play at World and European Championships, and lead your country to victory. You will also be able to analyze the game of your team both before and after the matches.
For successful completion of trials, you will receive rewards, which you can later use to increase the level of your team.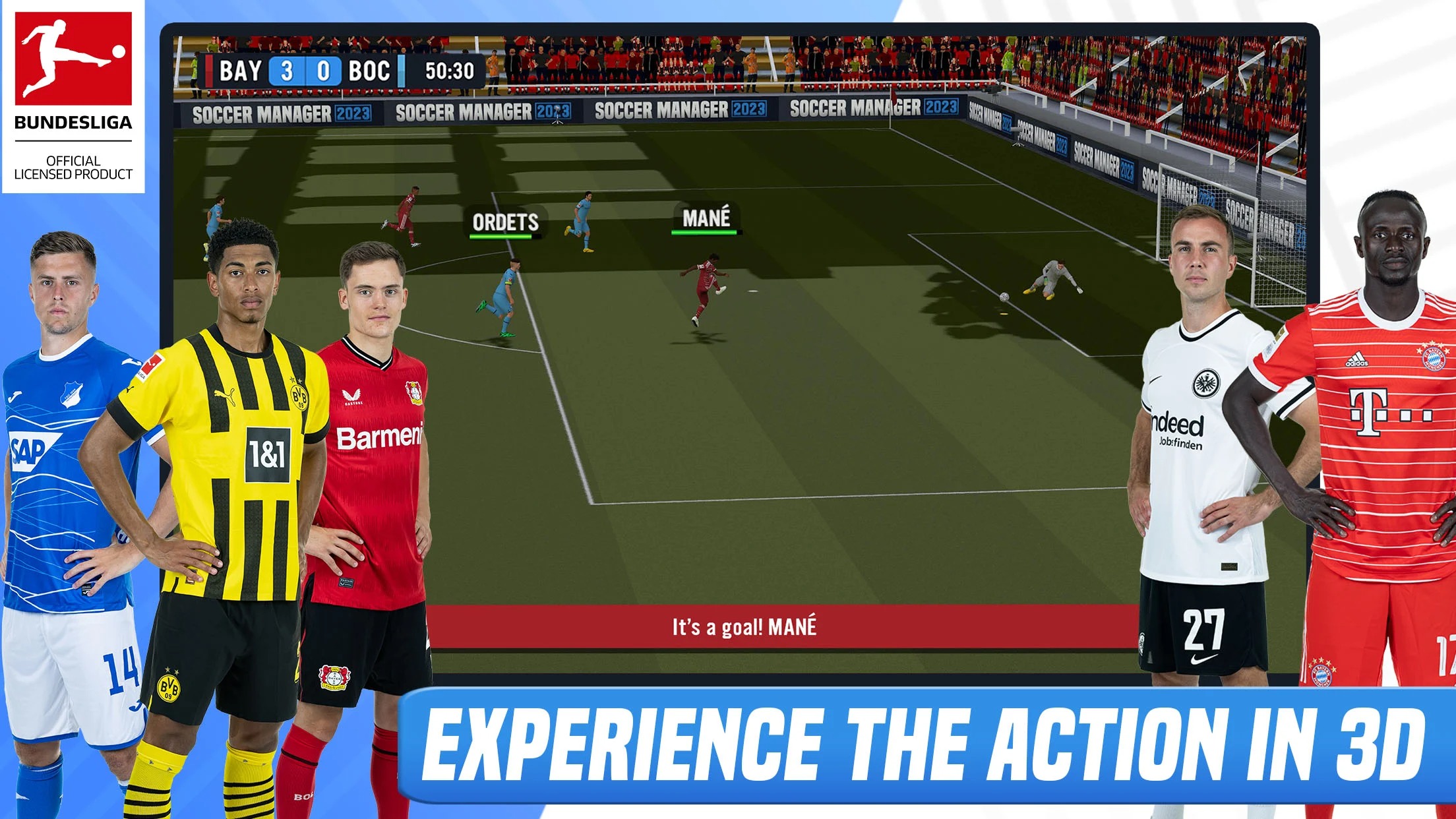 Matchday Soccer Manager
Matchday is a game for all soccer fans who dream of becoming successful soccer managers. With this app, you will have the opportunity to build your team from scratch. You can choose a small and unknown team and turn it into a real-world famous club.
You will have to be responsible for all the duties of a soccer manager: from hiring and developing players to setting tactics and selecting the squad for each match. You will be able to fight with other players online and take part in leagues and tournaments.
There are many features that will make your game real and realistic. You can train your players, improve their skills, and hold friendly matches to check their progress. Moreover, you will be able to improve your team's stadium and develop your players' skills so that they can defeat all the opponents.
Besides, in the game, you will sign new players to strengthen the team's roster. You can also take part in the bidding market to sell and buy players. To make the game even more interesting, you will be able to choose a unique stadium for each of your teams.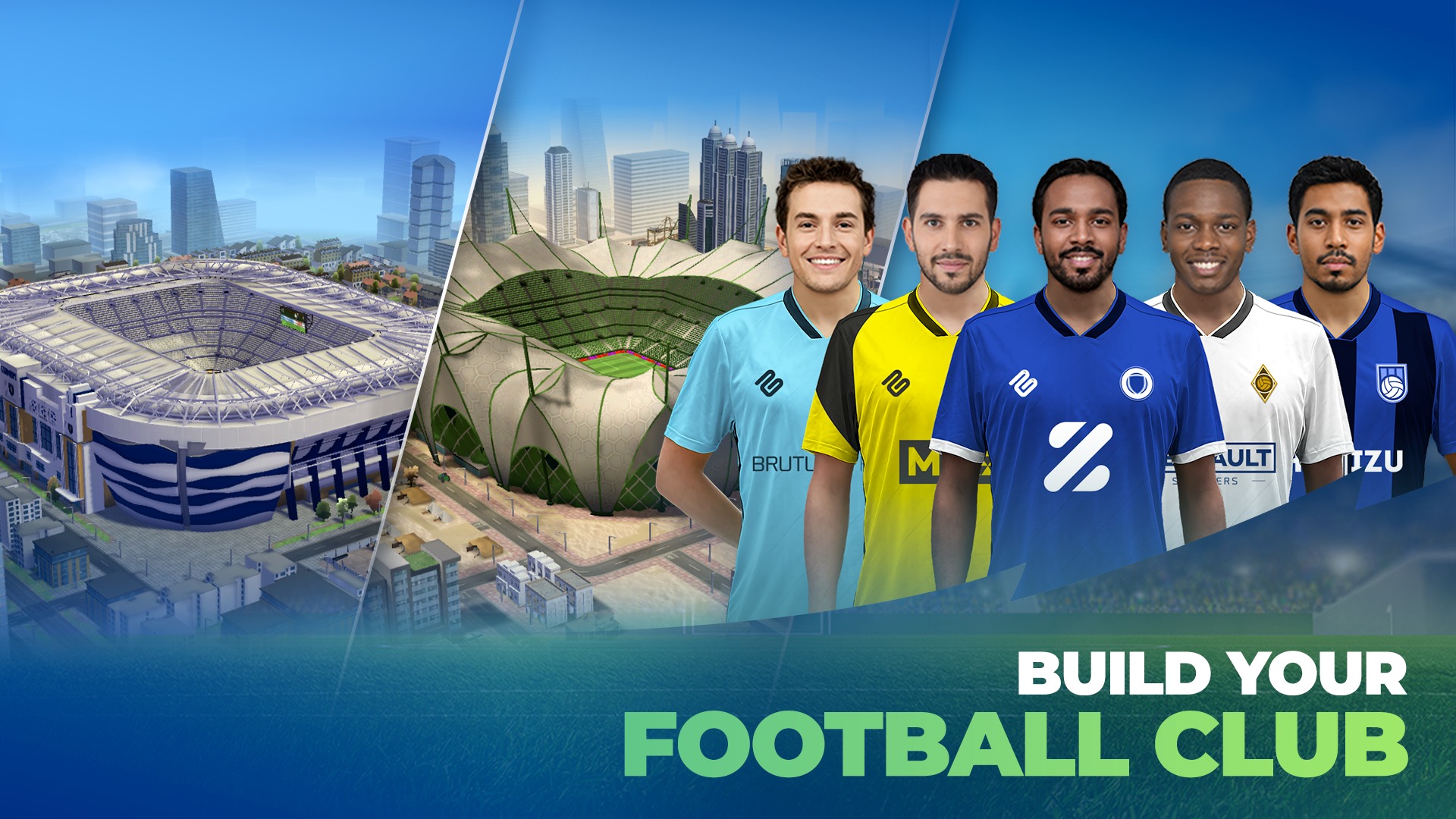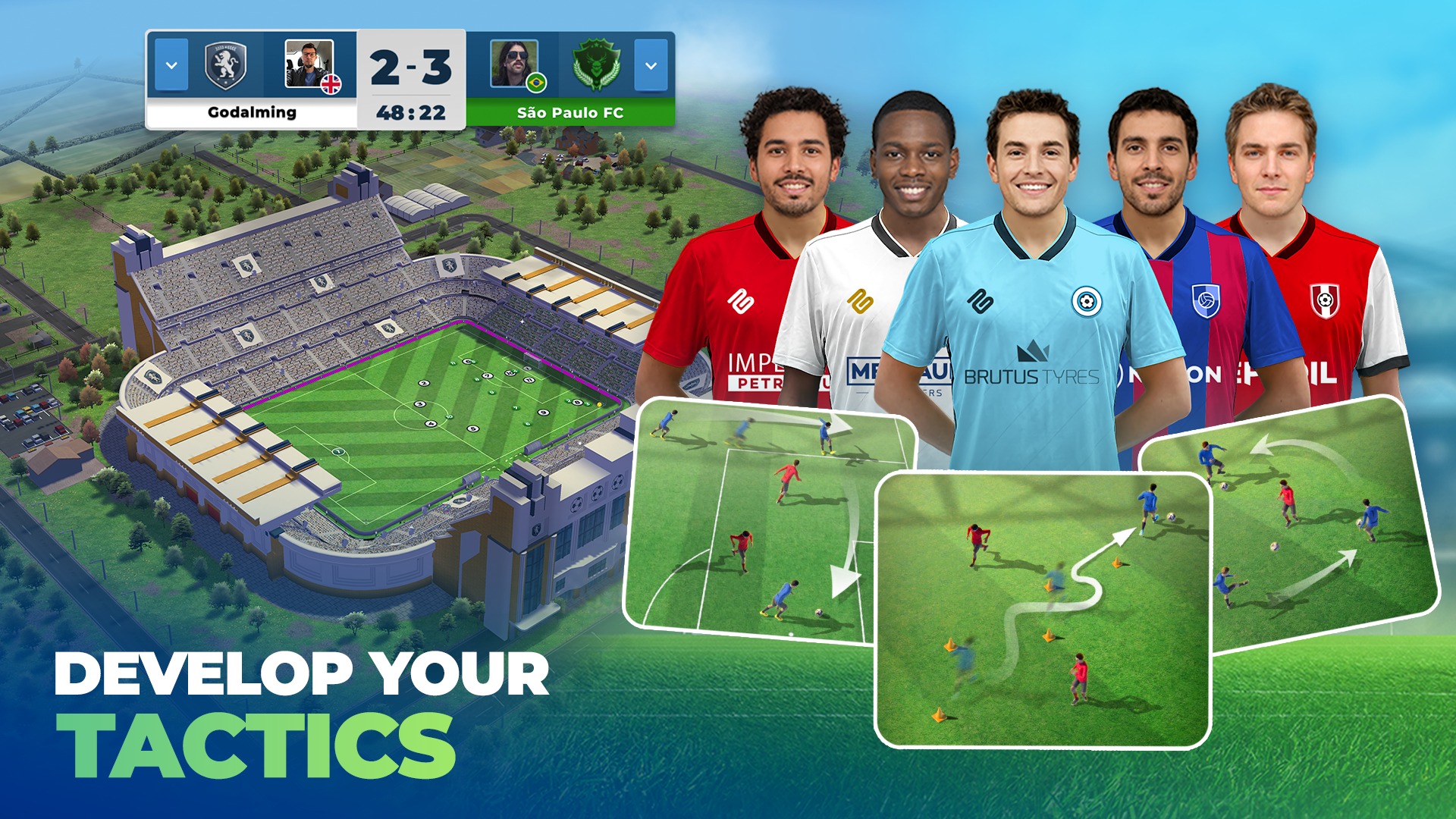 You may also like: 9 Free Football Card Games for Android & iOS
Futuball
Futuball is a game in which you can become a real soccer manager. In this app you can collect and develop your soccer team from scratch, pumping each player individually and the whole team.
You will be presented with a huge selection of teams and soccer players here. Choose and manage your own team, consisting of the most famous and talented soccer players in the world. Each player has unique abilities that you can use during the game.
Here you can fight with other players. It is also possible to play with friends, create your own league, and hold competitions with each other. If you prefer to play alone, there is a career mode available.
The details of the soccer field, the animation of the players, and the whole gameplay will immerse you in the atmosphere of a real soccer match. You can easily control your soccer players using a few buttons on the screen of your device. Passes, kicks on goal, receiving the ball – all this is performed with maximum accuracy.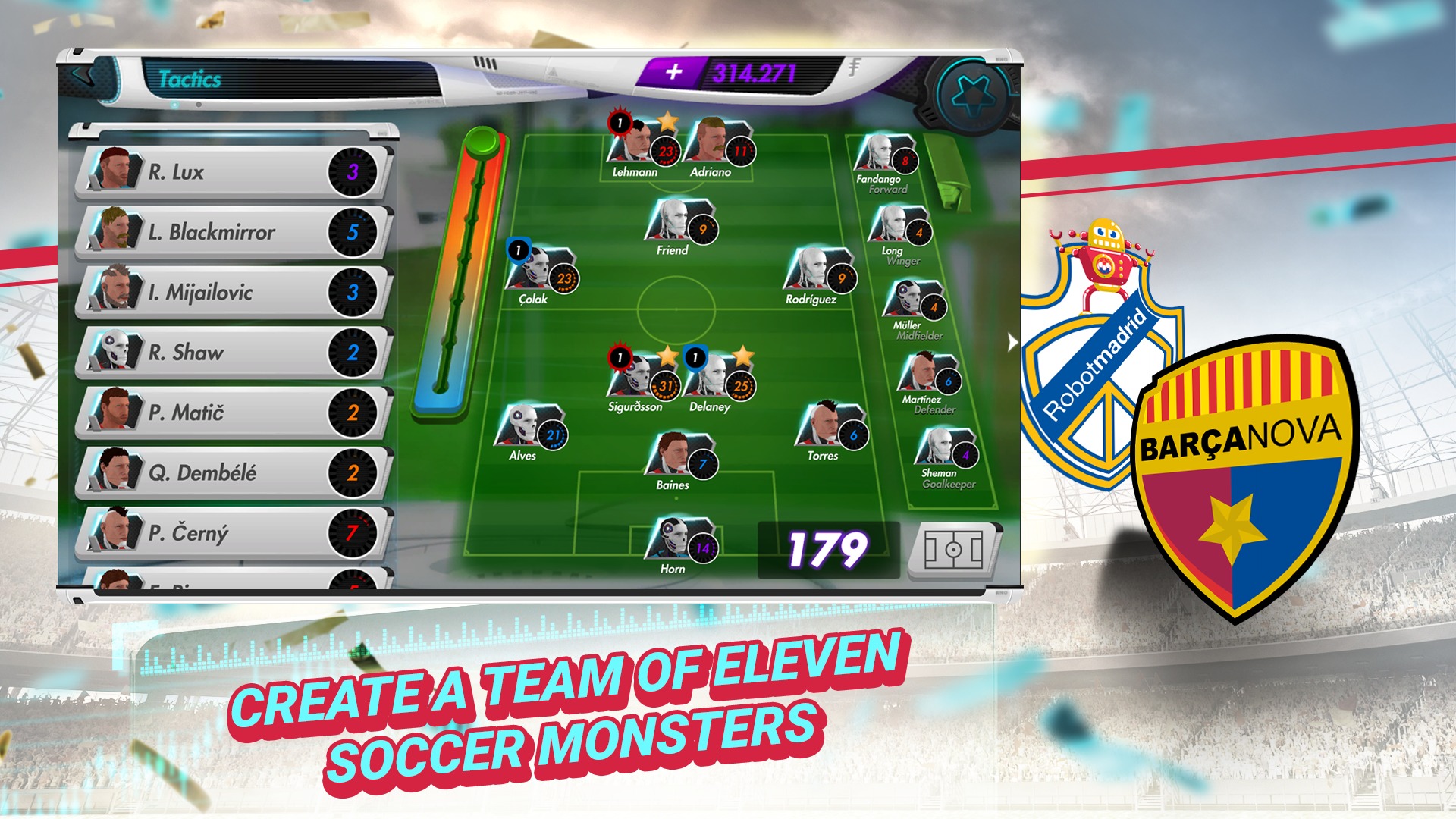 No game can compare with the sensation of sitting on the podium, and your team scores a winning goal on the field. Unfortunately, not all fans have the opportunity to attend such events, and some do not even have time to watch the broadcasts.
In this case for soccer fans, there are many games and applications on different platforms, which are designed to entertain you. This is the famous FIFA, and simulators for smartphones, various football manager games, and so on – the list can go on for a long time.
We have tried to select for you really good and at the same time free games that will help you feel involved in the big games of world soccer.