Imagine you decided to have a party with your friends and nobody has speakers loud enough to put the music on. What kind of party is that without music?
Fortunately, today you can find many apps to sync music on multiple phones and amplify the volume, you just need your friends for it. Streaming music to multiple devices simultaneously you can enjoy the loud sound wherever you are.
You may also like: 11 Free AI Music Generators from Text (Android & iOS)
Music sync apps can help you in different situations. If you have several devices you can collect all your tracks in one place. With a large variety of services, such as Apple Music, SoundCloud, Deezer, Spotify, and so on, it's much more convenient to have everything in one app.
Some of them go on different platforms, both for Android and iOS so you can share the sound with your friends even if you have different device preferences. So, let's take a look at the best music syncing apps for any situation.
AmpMe
AmpMe is probably the best free app to sync your music on different devices. It goes both on Android and iOS devices. The app allows you to stream the music and video from your music library or from YouTube, Spotify, SoundCloud. You can sync your music up to your friends nearby or who are far away from you, or to strangers across the globe.
You can start your own Live Party and any person can join it. Being a DJ, you control what your friends are listening to and they can suggest their tracks.
What is more, the app allows streaming music to Bluetooth speakers as well.
The app works especially well with streaming services, you may have troubles with streaming music from your music library on some devices, though.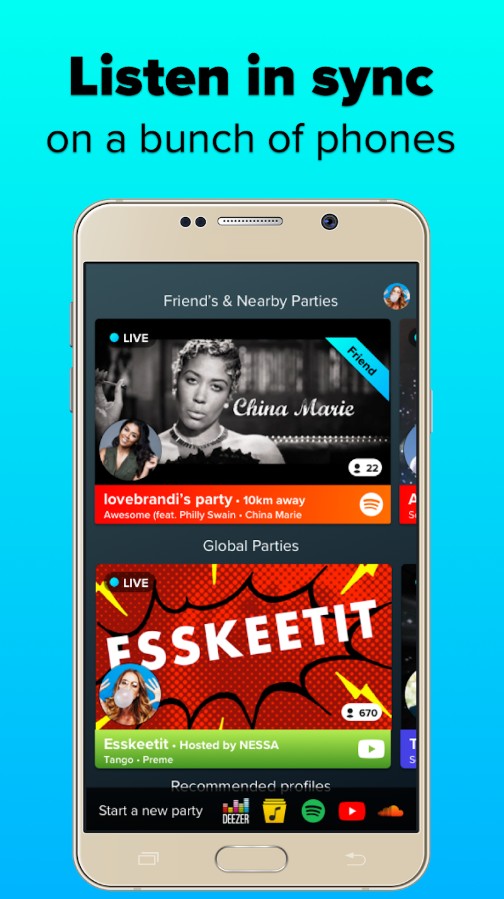 You may also like: 15 Best DJ Apps To Rock Your Party for Android & iOS
Rave
Rave is another cross-platform app to enjoy music together with your friends and other people from all around the world. With this app, you can easily turn your devices into a portable instant speaker system.
You can share tracks from your library or from different streaming services, including YouTube. You can mix the tracks and people will be able to enjoy your own sound everywhere.
It is necessary to note that Rave is created to stream videos. You can watch TV series from Netflix or videos from YouTube with other people even if they are not nearby.
Nevertheless, the app is perfect for sharing music, too. You can text and talk to your friends while you are listening or watching, so you can always stay in touch and feel each other around.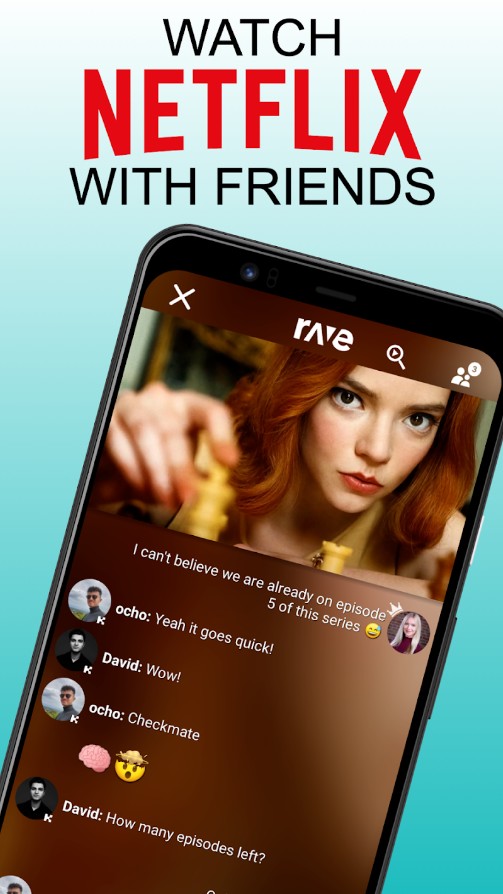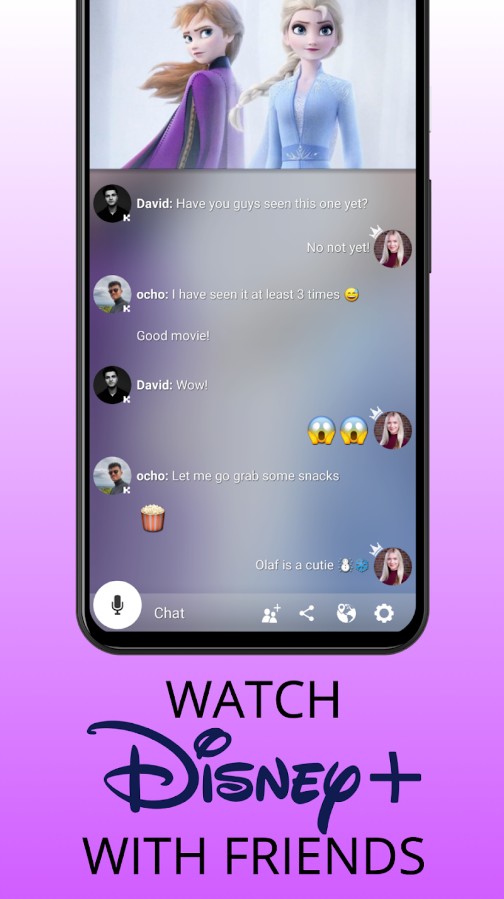 iSyncr
Want to get iTunes music on your cell phone but don't know how? Introducing the iSyncr: iTunes mobile app for Android. With it, you will be able to sync iTunes with your Android cell phone and enjoy listening to quality music.
You will have access to several libraries and will be able to sync playlists and even entire albums. In the app settings, specify your preferred memory card: external or internal.
Synchronization is done automatically without active user participation. Save and adjust your playlists and stay up-to-date with the latest music of the season.
The app is directly connected to iTunes, so it works without intermediaries. For full functionality of the mobile app iSyncr you need to install iSyncr Desktop, which will conduct synchronization. The free version allows you to access 100 songs in one playlist.
The file size is less than 8 MB, so the app has no negative impact on the battery and its temperature. Use the app for any Android 4.1 or later electronic device. Make listening to music a true art.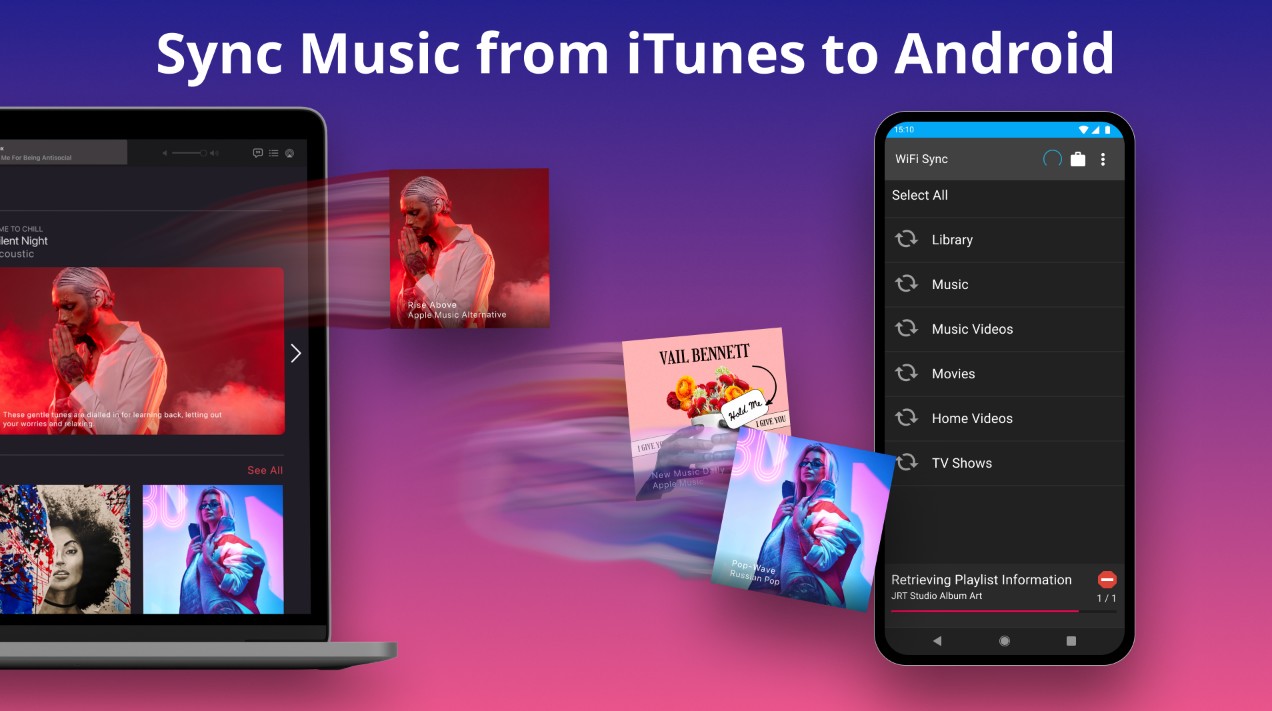 You may also like: 7 Best Trending music apps for Android & iOS
Group Music Playback – SoundSeeder Music Player
This app is quite simple and provides the opportunity to sync the music on multiple devices. You don't even need the Internet connection – the app works via Wi-Fi which makes it perfect for home parties. You can stream music from different services including more than 25 000 radio stations. You can control the volume and playback of all the devices remotely.
The app goes on Android, but you can also put it on your PC with Windows or Linux.
The free version limits sharing to 2 devices and allows streaming only for 15 minutes. If you upgrade the app, you will get unlimited access to all the functions. Before upgrading, we recommend checking what devices SoundSeeder work on.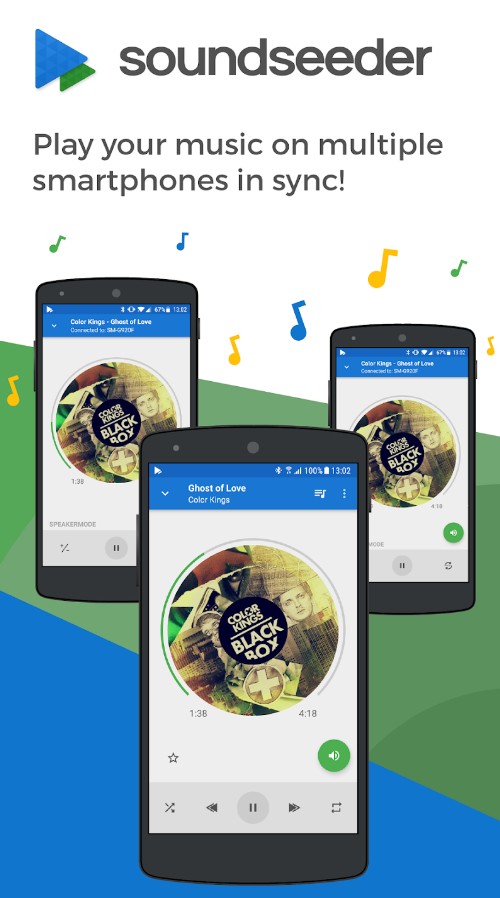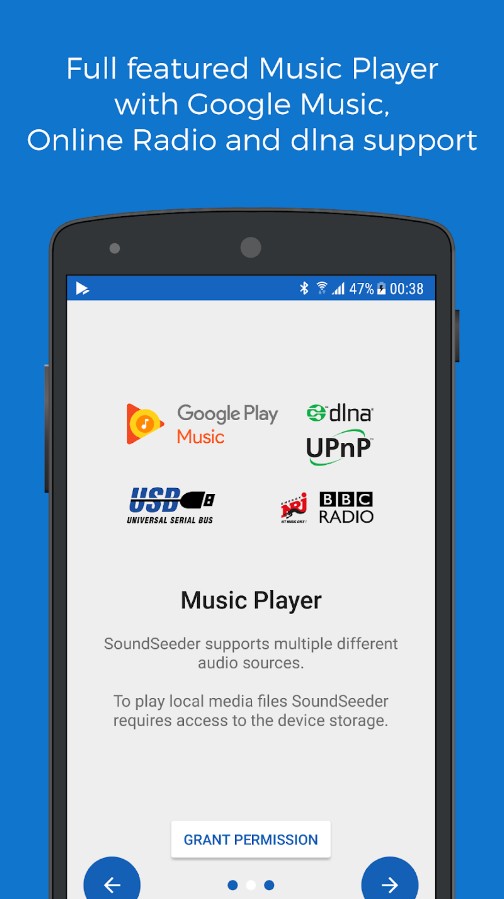 doubleTwist Music & Podcast Player with Sync
Nice and convenient music sync app since it allows you to have a player and a music sync app at the same place. Using doubleTwist you can connect to any streaming service and finally don't get dozens of connections and apps just to play music together with your friends.
What is more, you can even save the music in the app for listening offline and it is absolutely legal. Another cool thing that you can find here is podcasts. You can subscribe to the podcast channels if you want. Of course, it is pretty useless for the music sync app, however, it is still a nice bonus.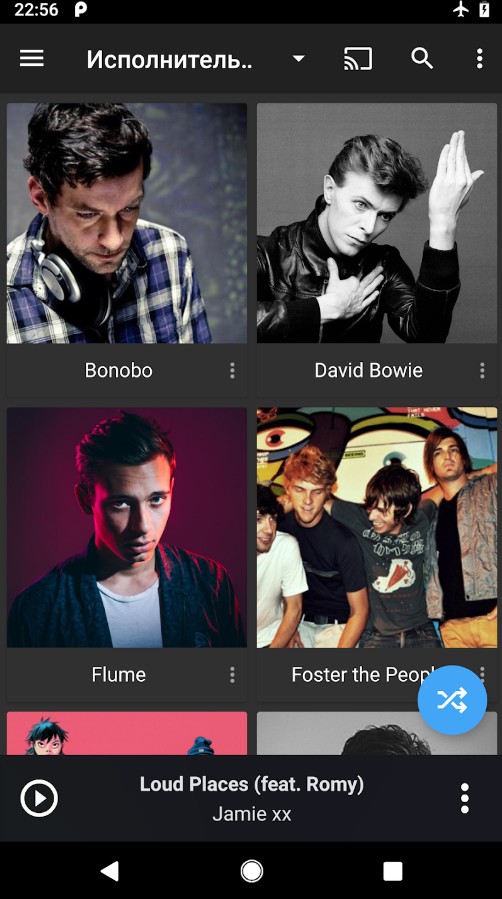 MusicSync
MusicSync is designed for true music lovers. Its user-friendly format and smart interface will make this app your favorite.
MusicSync does not require an internet connection. It plays the tracks from the cloud storage or the gallery of your electronic device. Take advantage of the app's advanced features to truly enjoy your favorite hits.
You can sync your Google Drive. to listen to even more music. MusicSync works with Chromecast and supports FLAC and ALAC quality at a high level.
The app is available for free. Adjust playlists, create new ones, and the app will sync on time. For even more comfort, use a headset and connect via Bluetooth.
Get artist info and artwork for the selected album. Add your favorite songs to your "Favorites" list and listen to them more often. The app continues to work even with the screen turned off and supports over 10 popular formats.
Speed up or slow down the playback of an audio file as you see fit. Pick up where you left off with the audiobook. Listen to podcasts, tracks, and audiobooks via MusicSync absolutely free.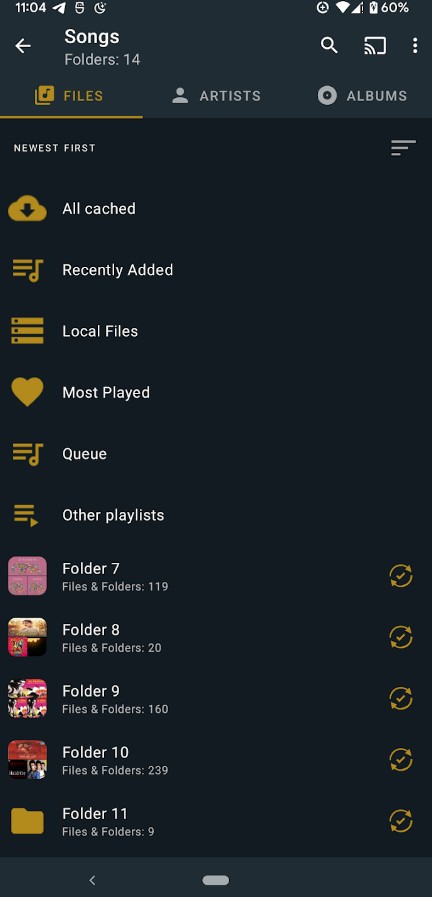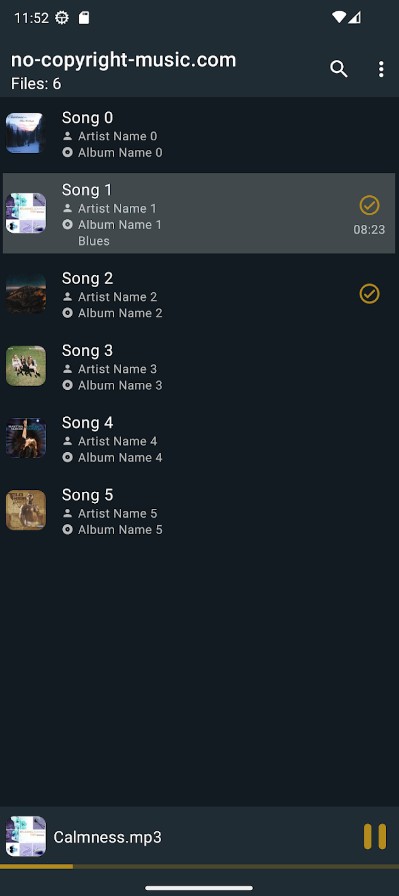 Music Cloud Offline
The Music Cloud Offline app is a universal tool that caters to music enthusiasts by providing a convenient way to sync and enjoy their favorite tunes, even without an internet connection.
The app offers seamless syncing of music files from various cloud storage services such as Dropbox, Google Drive, and OneDrive. This means you can upload your music collection to the cloud and then effortlessly sync it to the app, making your tracks available for offline listening anytime, anywhere.
You can create personalized playlists, ensuring that your favorite songs are easily accessible. The app likely supports various audio formats, allowing you to listen to your music in the format you prefer.
These could include advanced organization tools, ad-free listening, or expanded cloud storage capacity. Checking the app's description will provide more information about any premium options.
Overall, the benefits of using the Music Cloud Offline app are evident for those who value uninterrupted access to their music.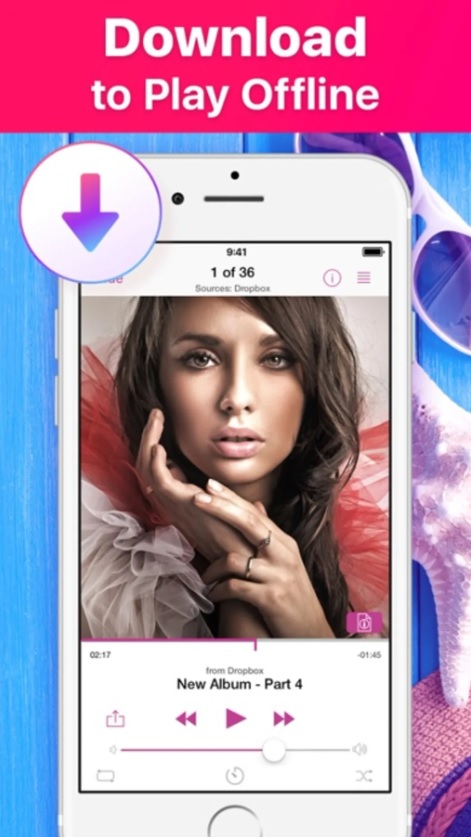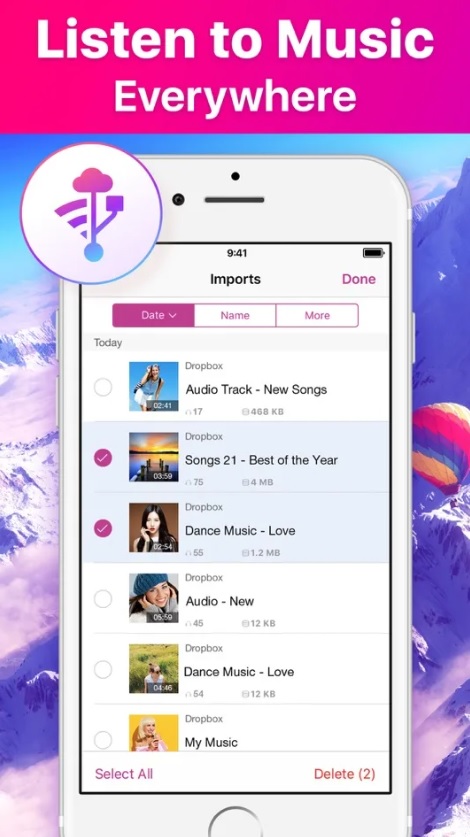 GOM Audio
The GOM Audio app is designed for listening to tracks, audiobooks, and podcasts. The utility allows you to create playlists, search for music channels and playback saved tracks.
It automatically analyzes smartphone memory, including the SD card, and shows a list of saved audio files. Tracks can be sorted by title, artist, date added, and album. It is possible to select songs to play soon. The utility automatically displays found tracks in four tabs: all, artist, album, and folders.
The app allows you to create playlists. Lists of recently listened to and frequently played songs are automatically formed. To listen to an audio file, you need to click on its name. The player supports pause, rewind, track switching, volume change, looped and chaotic playback.
The program is able to display the text of the included song or audiobook. In the utility, you can add the track to Favorites or activate the sleep timer. The player contains a built-in equalizer. It provides access to podcasts.
They are divided into thematic categories. For example, art, business, education, games, health, news and politics, sports, technology, and more. The app can search for podcasts by title. You can subscribe to channels and add podcasts to the built-in library.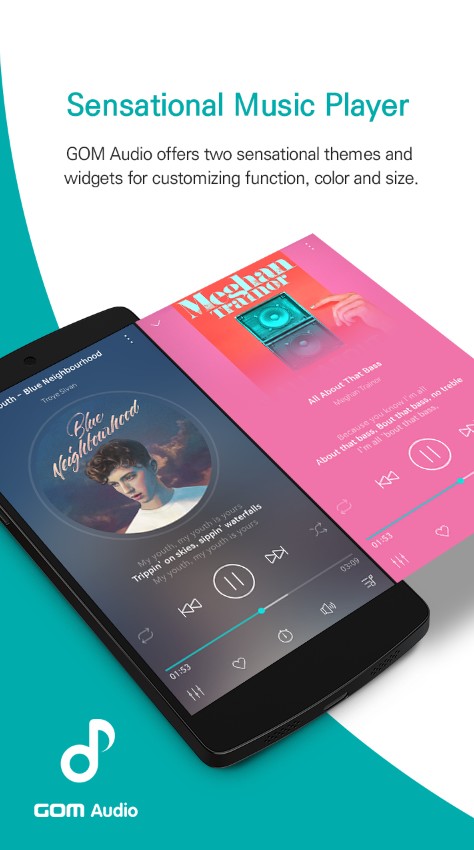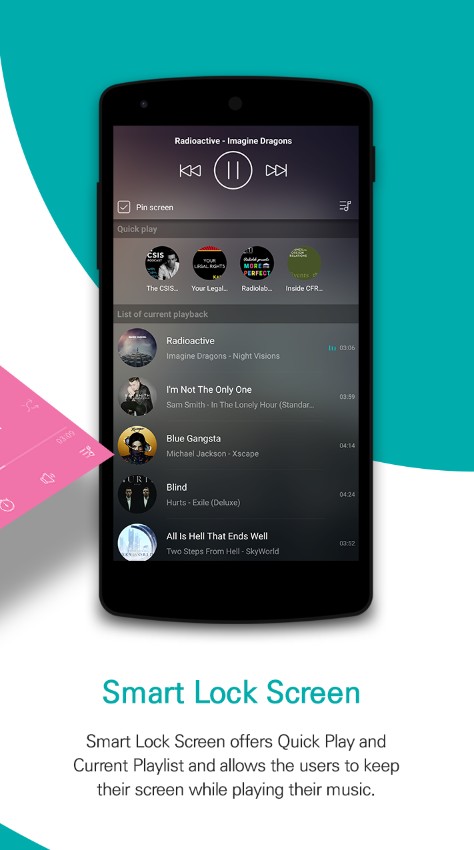 SoundSeeder
SoundSeeder is a game-changing app that elevates the way you share and experience music.
It employs innovative technology to connect multiple devices over a local network, transforming them into a synchronized speaker system. Simply select the music you want to play, choose the target devices, and let SoundSeeder create a unified audio experience.
The app supports a variety of audio formats, enabling you to enjoy your tunes in high quality. Additionally, SoundSeeder's user-friendly interface allows you to easily create playlists, manage playback, and adjust volume levels across connected devices.
It fosters a sense of togetherness by turning multiple devices into a synchronized sound system, amplifying the enjoyment of music-sharing experiences. The app is ideal for gatherings, road trips, or even just spending quality time with loved ones.
With SoundSeeder, you can turn any space into a personalized music lounge, where everyone can contribute to the soundtrack.
To sum up, I find this music player comfortable enough to listen to your favorite bands without any limitations.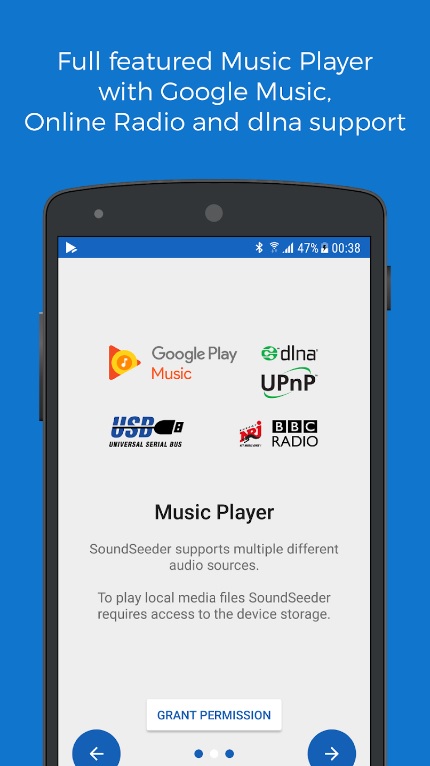 Chorus
The Chorus app is designed to share great music. To do so, it offers to synchronize two devices to play one song. This method will also help you to increase the volume of the sound and enjoy listening to a new level.
It is also worth noting that this app works on Android and iOS, which allows you to sync any mobile device. This program is available to all users absolutely free of charge. Moreover, there are no annoying ads here. So, nothing will distract you from listening to your favorite artists.
The number of devices that can be connected to the service is unlimited. Thus, you will definitely achieve the desired stereo effect. This app does not limit its users in any way. This means that you can listen to an unlimited amount of music content.
The intuitive interface makes using the app more enjoyable and leaves only positive impressions. Thanks to the Repeat feature, you can listen to one track you like as many times as you want. The Shuffle tool will surprise you with an unexpected selection of tracks that suit your interests. So, this app will not leave you indifferent and fulfill all your needs.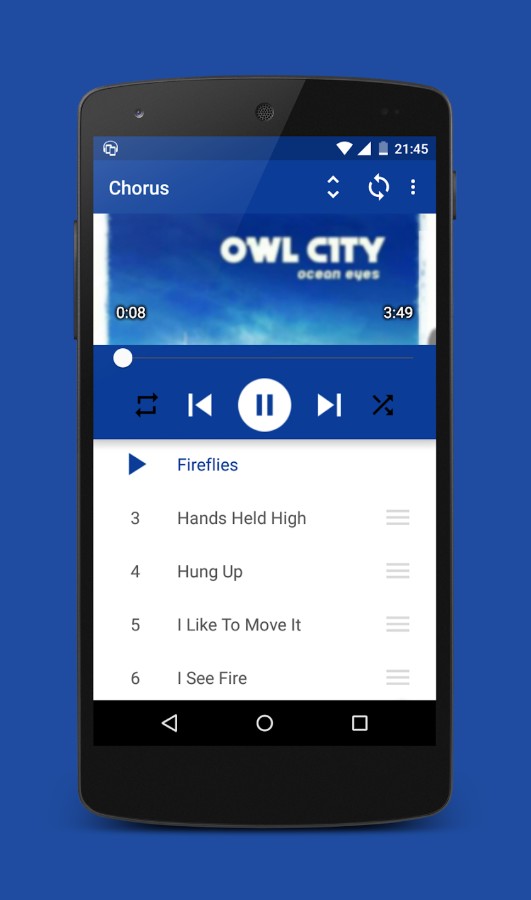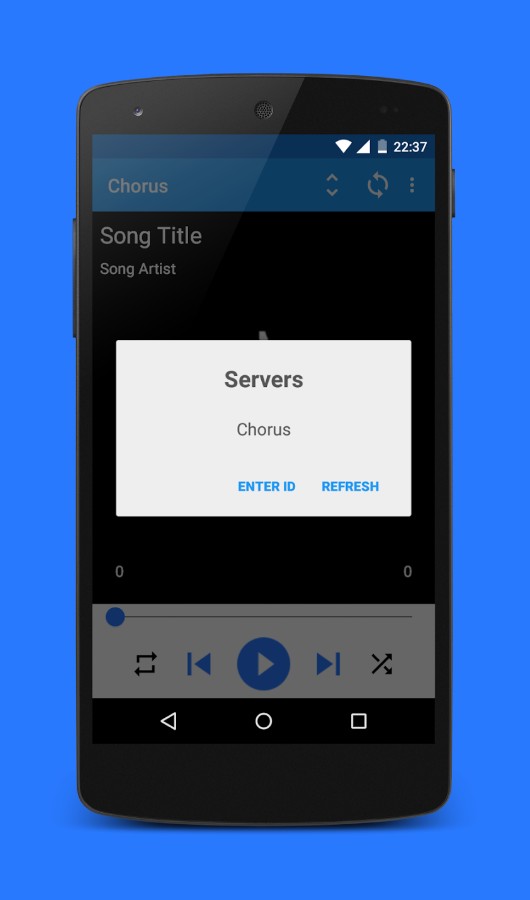 You may also like: 7 Free apps like Spotify (Android & iOS)
Music Sync – Music Player – Vo
Music Sync offers a seamless way to synchronize and manage your music library across multiple devices, enhancing your music experience like never before.
The app employs smart technology to effortlessly synchronize your music collection across various devices, ensuring that your favorite tunes are accessible wherever you go.
Whether you're switching between your smartphone, tablet, or computer, Music Sync ensures that your playlists, albums, and tracks stay in perfect harmony.
The app provides easy-to-use tools for organizing and categorizing your music library, allowing you to create playlists tailored to your mood, activity, or genre preferences. Additionally, Music Sync offers built-in music discovery features, helping you explore new artists and songs that align with your taste.
The app provides a clutter-free solution to managing your music across devices, eliminating the hassle of manually transferring files. Its intuitive interface and user-friendly controls make it suitable for music enthusiasts of all levels, from casual listeners to audiophiles.
So, this music player provides you with the special experience of listening to different singers in a convenient way.