Karaoke is a great way to have fun in pleasant company or practice your vocal skills on your own. There is an opinion that for this you need to go to a special establishment with all the necessary equipment.
But in fact, you can use your phone for this purpose if you install one or maybe even several of these free karaoke apps with lyrics for Android & iOS. Their clear advantage over other services is the availability of lyrics to the songs. So, you will be able to record your own track with just your vocals.
If you can't find the song without vocal, then use these best vocal remover apps.
StarMaker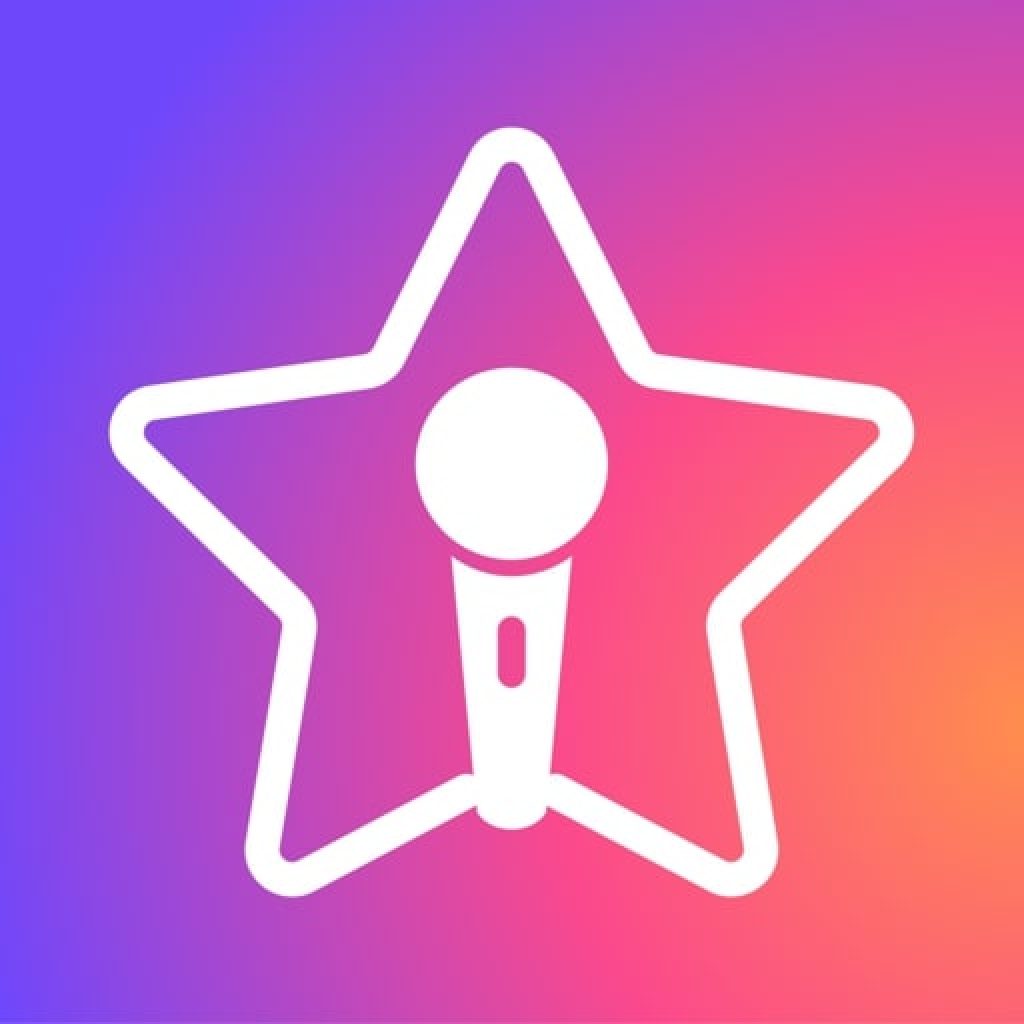 StarMaker is a mobile karaoke app that is always on your phone and doesn't take up much space. The app allows you to choose your favorite song and sing it with your friends, even those who are far away.
It is also possible with this program to find new friends and share your recordings with them. After launching the app, the user is in the sing section, which is accessed from the bottom menu. There are sections for performing songs as a duet.
The user creates a duet room and another can come in and start performing together. You will also find a section with song parties, videos, and daily bonuses. Below that are buttons for selecting artists and styles of music and a track feed.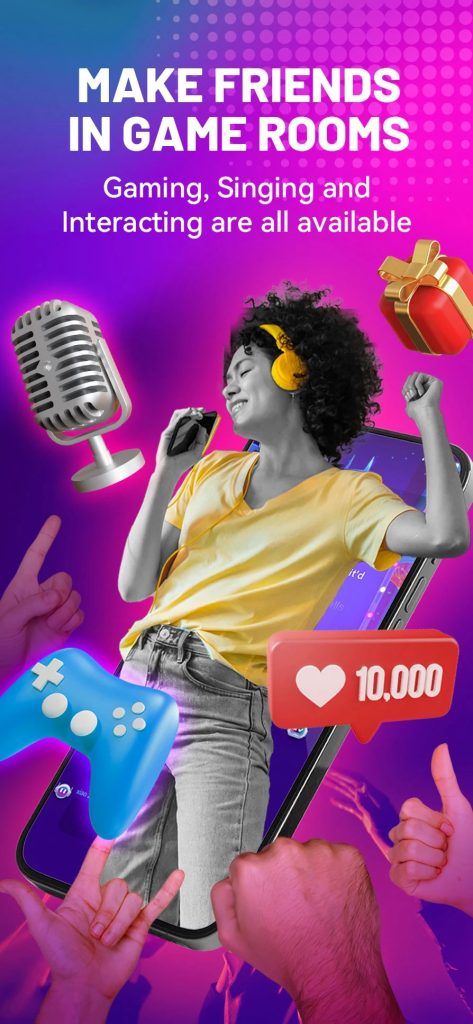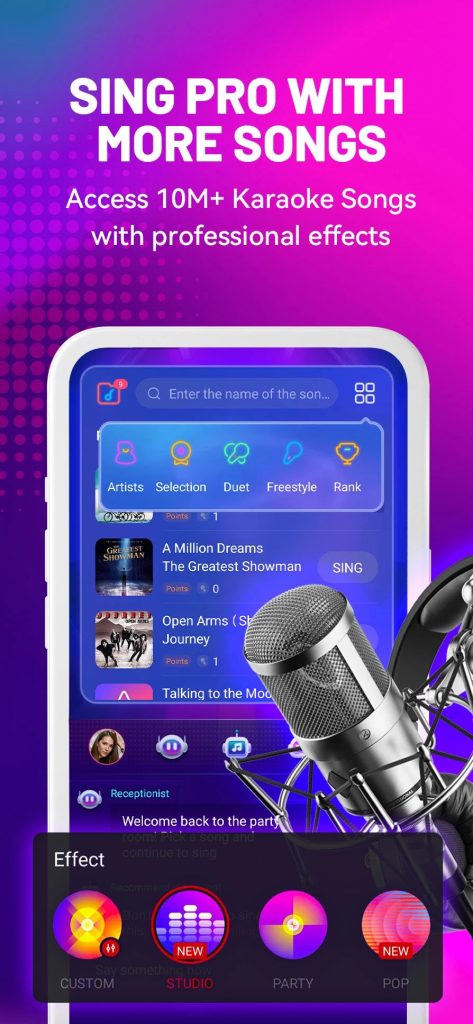 By default, the feed has recommended tracks and can be sorted by free, hot, popular, and new. Each row shows the track thumbnail, title, artist, and description. Once you enter the track, you can see three tabs on the track card: Daily, Total, and Duets.
Clicking the sing button takes the user to the performance of the song. At the top of the window will be a button to turn on the camera. Here you can show your picture or just sing, at the bottom, there are pitch and volume buttons.
By pressing the start button, the user starts the music playback, the text appears on the screen, and the active words are tinted. After stopping the track, you can download the recording, restart karaoke, or post it to your account.
If you open another user's recording with a video, you can see him, if he was in the frame, listen to his song. The video will have rewind and pause buttons, and messages from other users.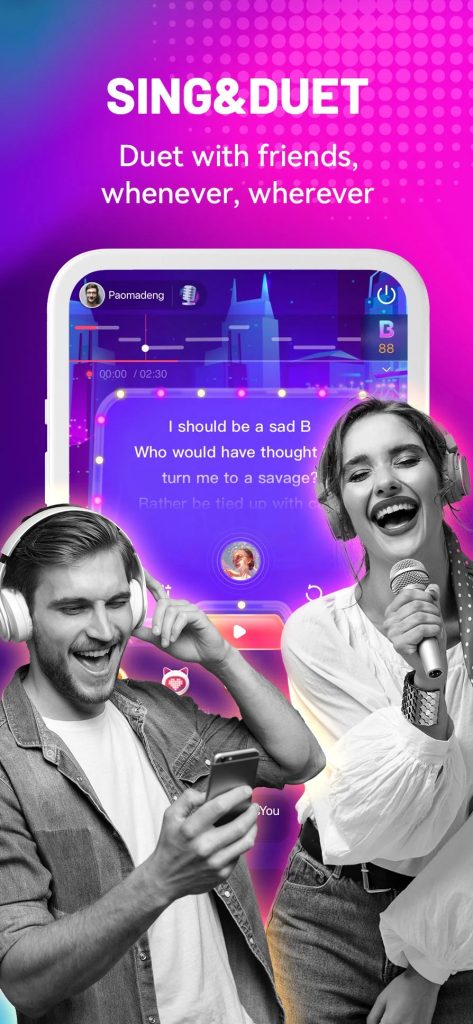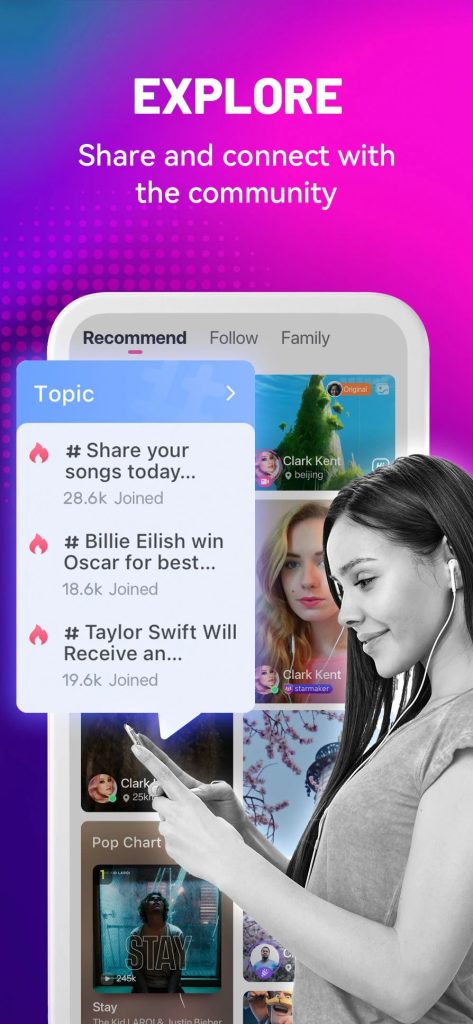 Below is the avatar of the artist, the nickname, and the subscribe button. At the bottom of the window buttons to like, comment, share with friends, and gifts.


You may also like: 9 Free Apps for Music Mixing (Android & iOS)
KaraFun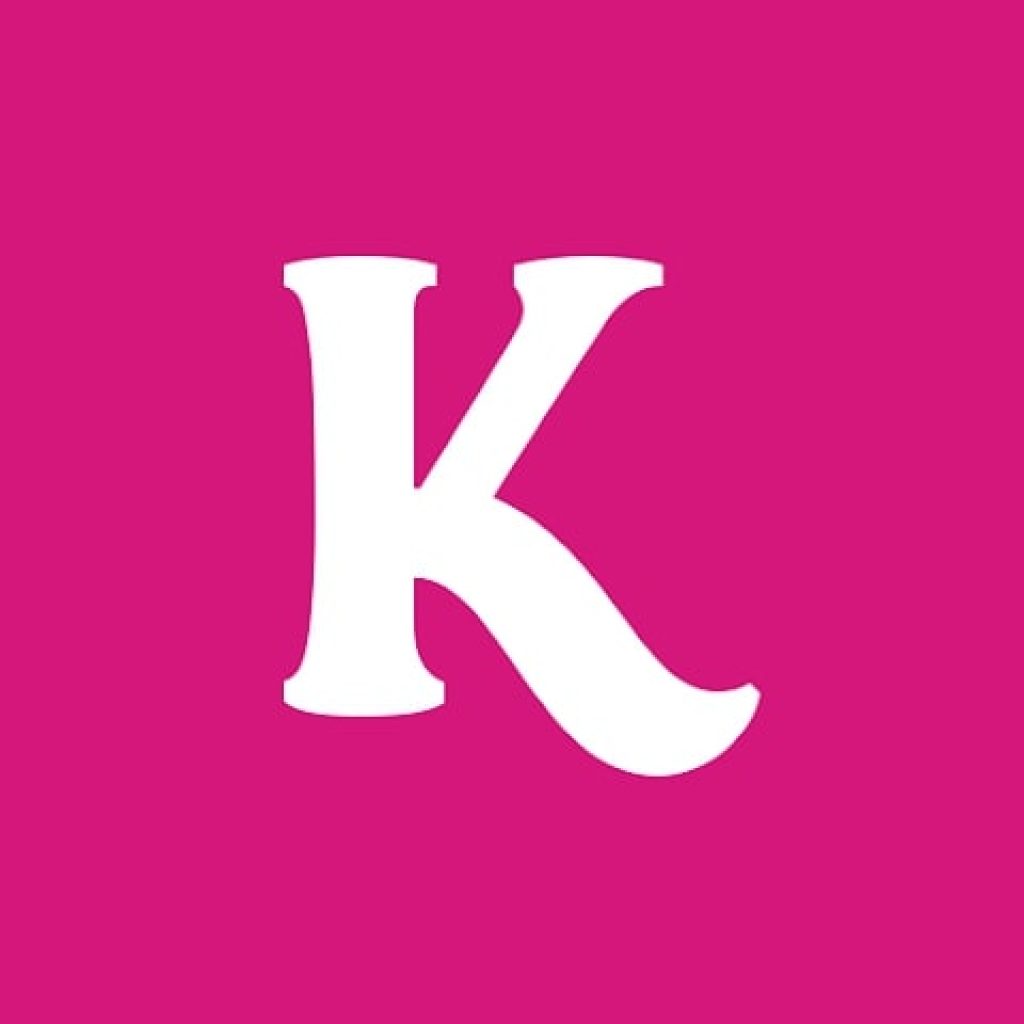 KaraFun is an app for those who like to have fun with friends and sing karaoke. Now you don't have to go to karaoke to sing songs, just download the app and sing at home. Invite your friends over and let the app do the rest.
The app allows you to sing many accessible and well-known songs. No matter what songs you like, modern novelties or old classics, you'll find it all here. Access the app from any device.
After downloading, set up an account with the app and access a portion of the songs to decide if you want to use the app. If you like it, you can sign up for a paid subscription and gain access to the entire catalog of songs.
If you have songs you particularly like, you can add them to Favorites and then easily find them. Customize each track just for you, sing along with the singers and singers or turn them off. Change the volume and tone.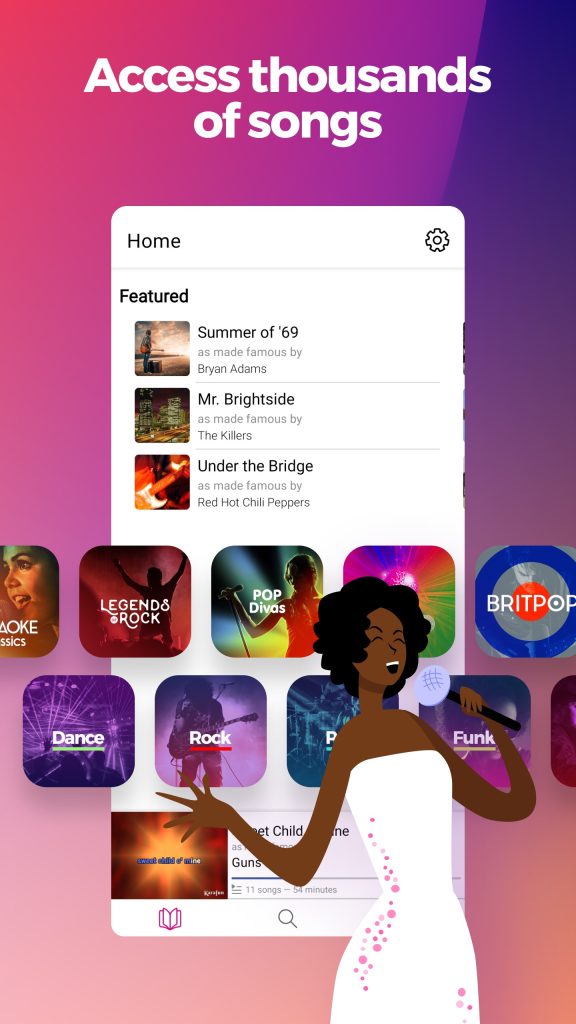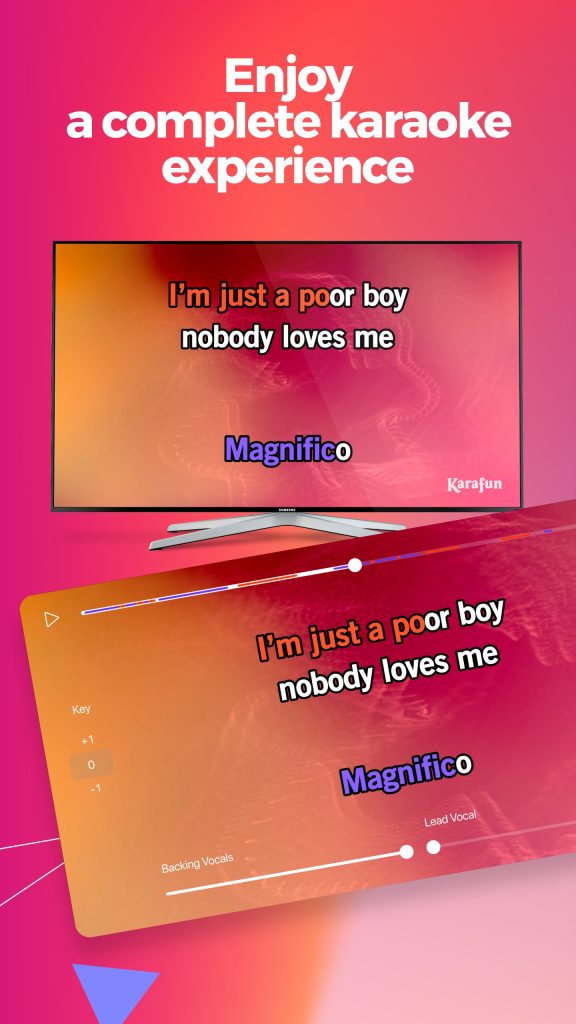 The app can work without the internet, which is very convenient. Connect your phone to any device and enjoy karaoke on the big screen. The song catalog is updated every week. A clear interface makes working with the app convenient.


The Voice – Sing Karaoke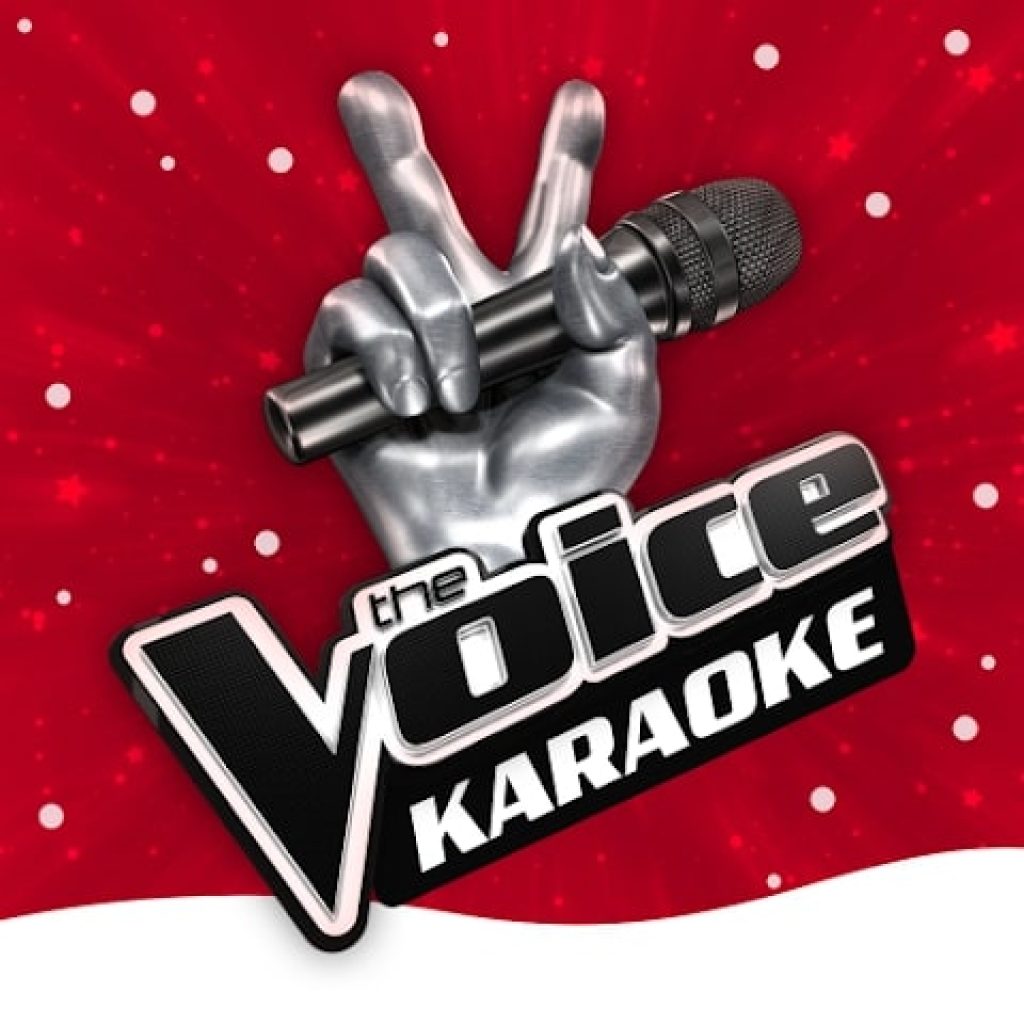 This is the official app from the "Voice" project. Here you can record your own covers and then share them with the community. There is an extensive library of songs.
There is an opportunity to perform modern tracks as well as decades-tested compositions that have long been considered classics.
The app has its own library of many songs. If the user is having trouble choosing a song, he or she can refer to playlists that have been compiled in advance by music experts.
The playlists contain songs from almost any music genre. If a song that one really wants to find is not available in the karaoke version, the user can always ask the developers. All problems are fixed rather quickly.
You can sign in to the app using your Google or Facebook accounts. There is also an opportunity to register or to postpone all of the above actions to a later time.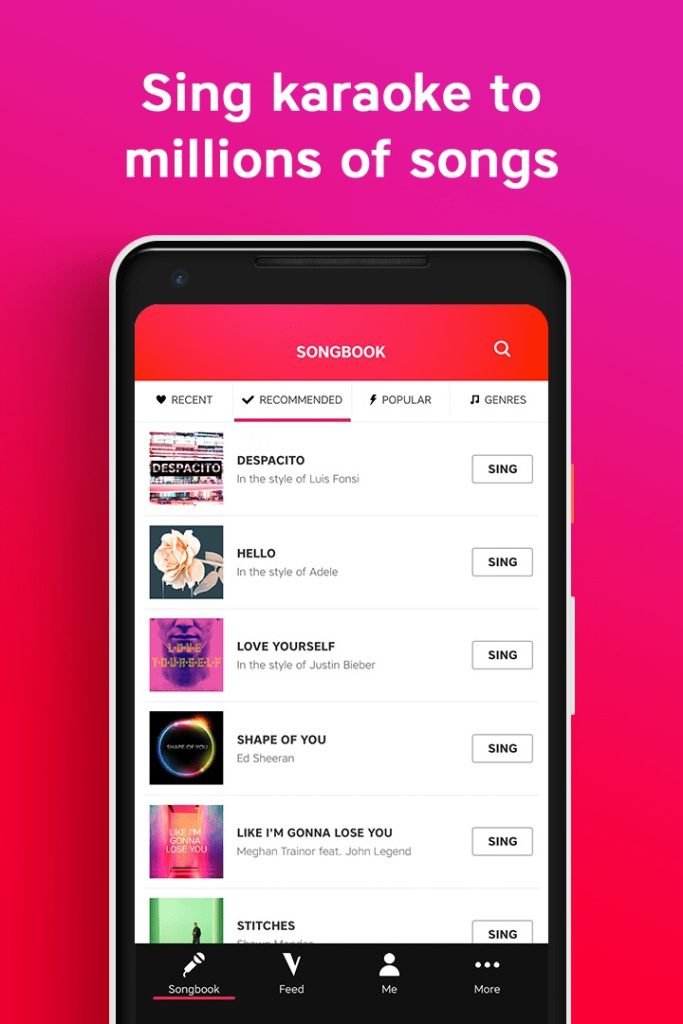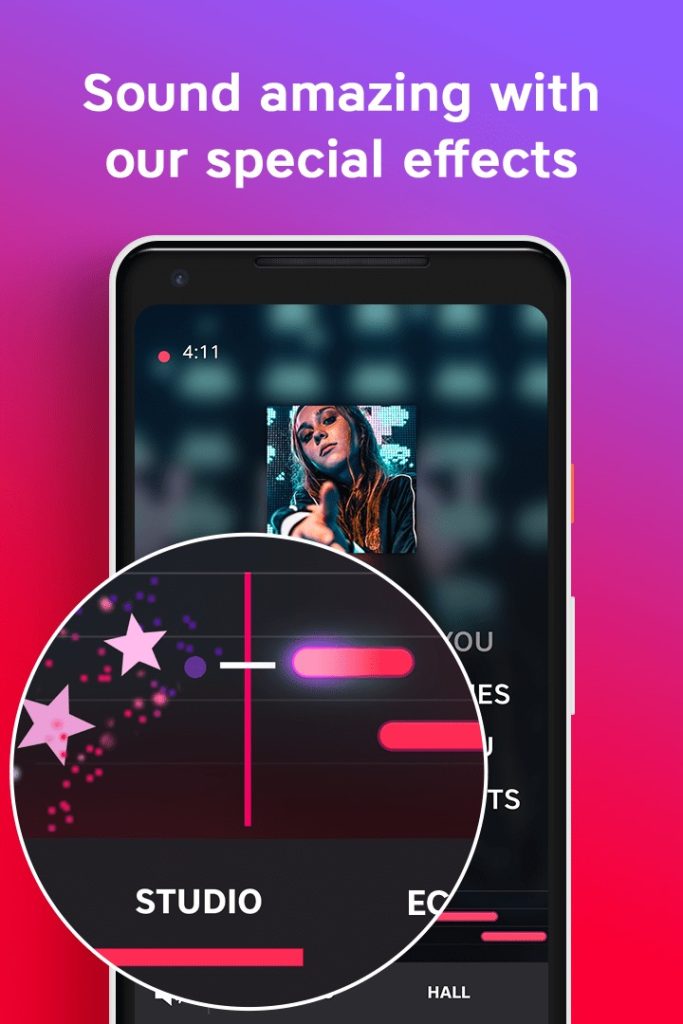 The app itself has a convenient menu at the bottom of the screen. Here you can see your profile, playlists, and which songs are currently popular with users.


Karaoke – Sing Songs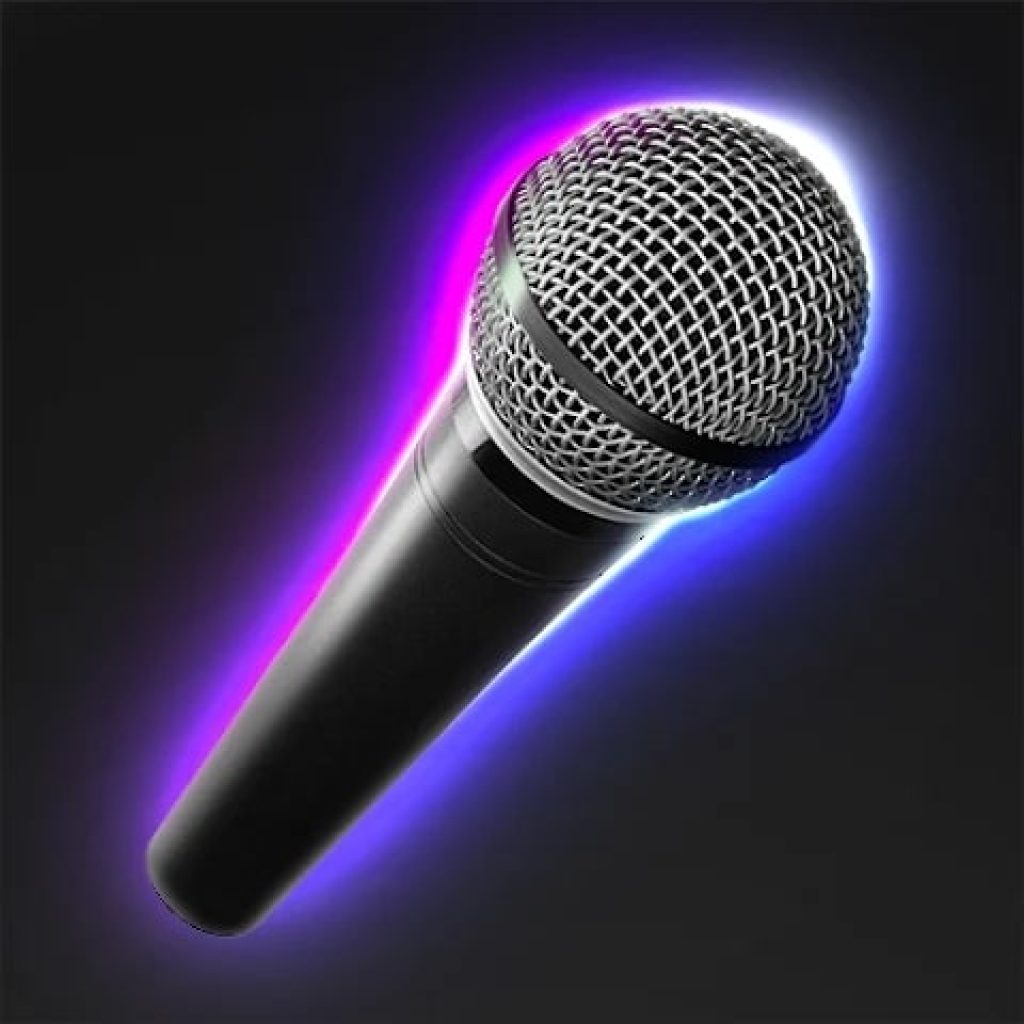 This is an app for singing your favorite songs at karaoke. Choose any song from the catalog, whether it's a modern novelty or an old classic, the app supports any track.
Express yourself through singing, record your tracks. In the app, you can use the recording function. You can use it to create your own hits.
There are more than 1000 songs, find something you like. Choose the genre you like best. Include playlists. There are new songs on the app every week, so you'll never get bored with it.
If you don't think your track sounds good enough, use special voice effects to fix it. Film yourself singing and get your own personal music video. If you've always dreamed of singing, this app is definitely made for you.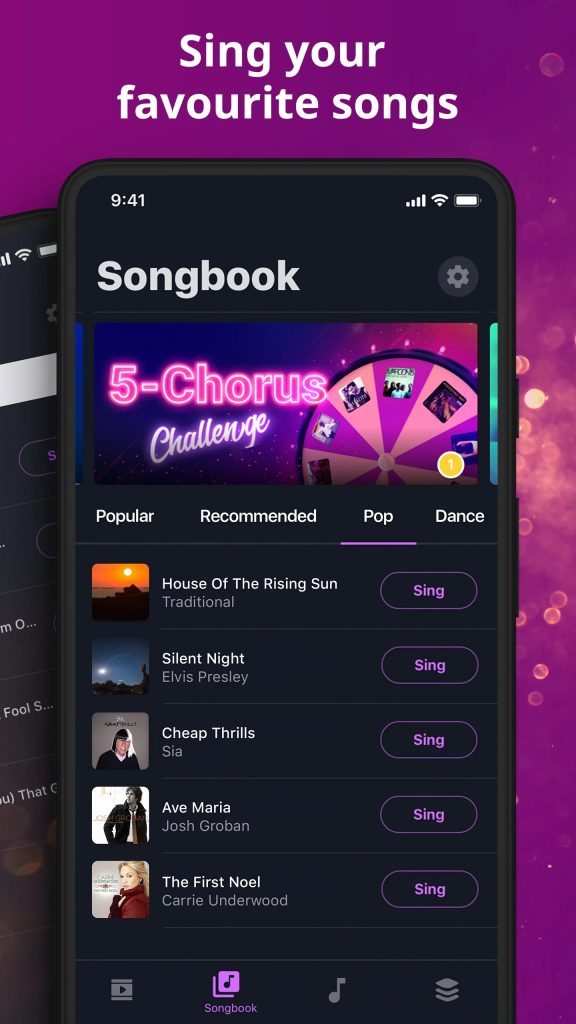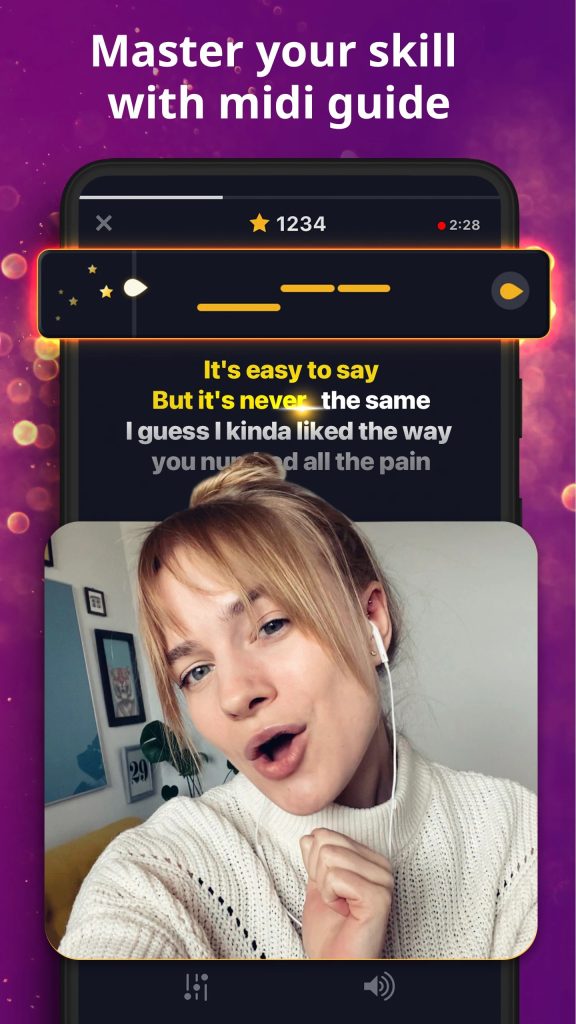 The simple and straightforward interface makes it convenient and enjoyable to work with. The app works for free and without restrictions.

Mixit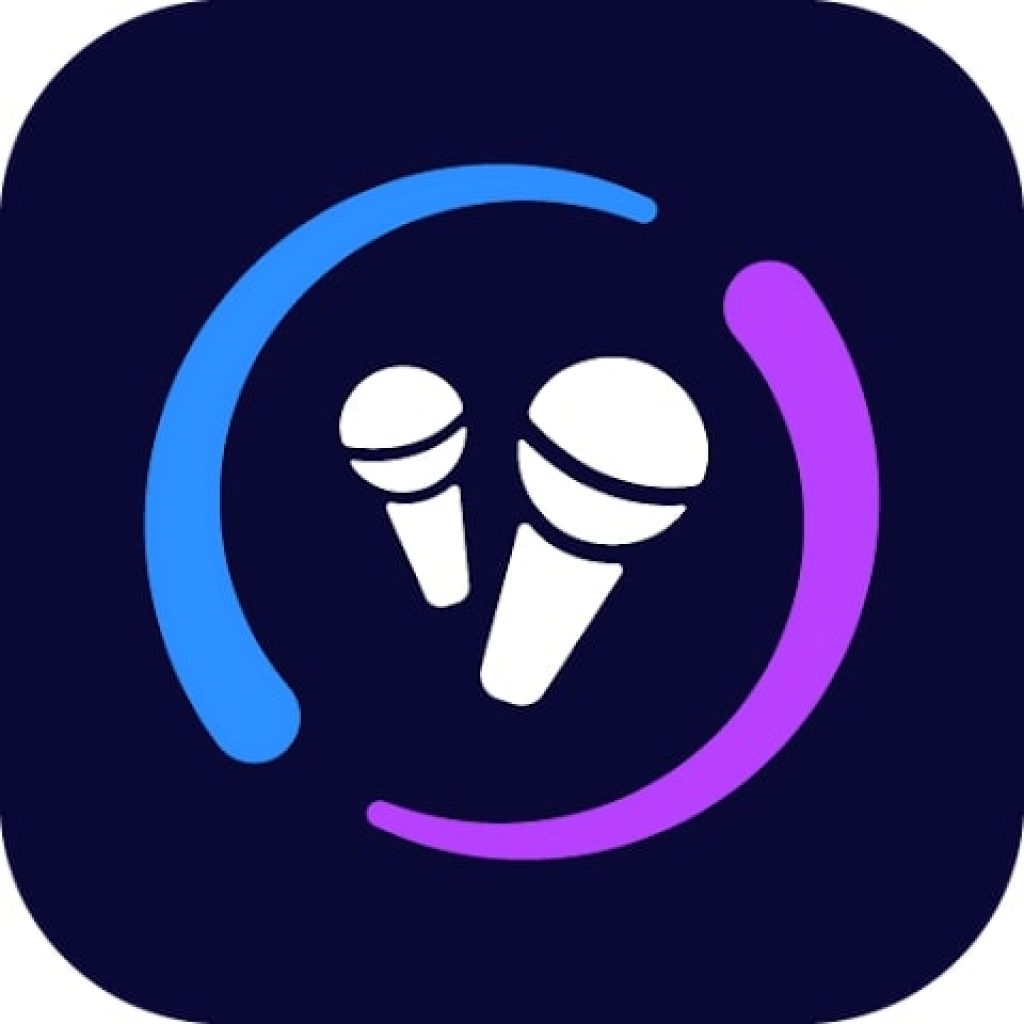 Mixit is an app for creative people who love to sing. Regardless of your favorite genre or musical era, you'll find something that works for you. There are many tracks here that you can modify and customize to suit you.
The functions of this app are very diverse. Choose any song, sing it and record your own track. Tweak your track with the following tools – change the pitch, and volume, and turn the backing vocals on or off.
Sing along to your friends who are far away and record duets in real-time. Sing karaoke with friends at home, with a special function that turns any song into karaoke. Put effects on recorded songs to make them sound even better.
Change Genre is a unique feature that allows you to sing your favorite song in completely different genres. The catalog features tracks ranging from old classics to modern innovations. Record a video.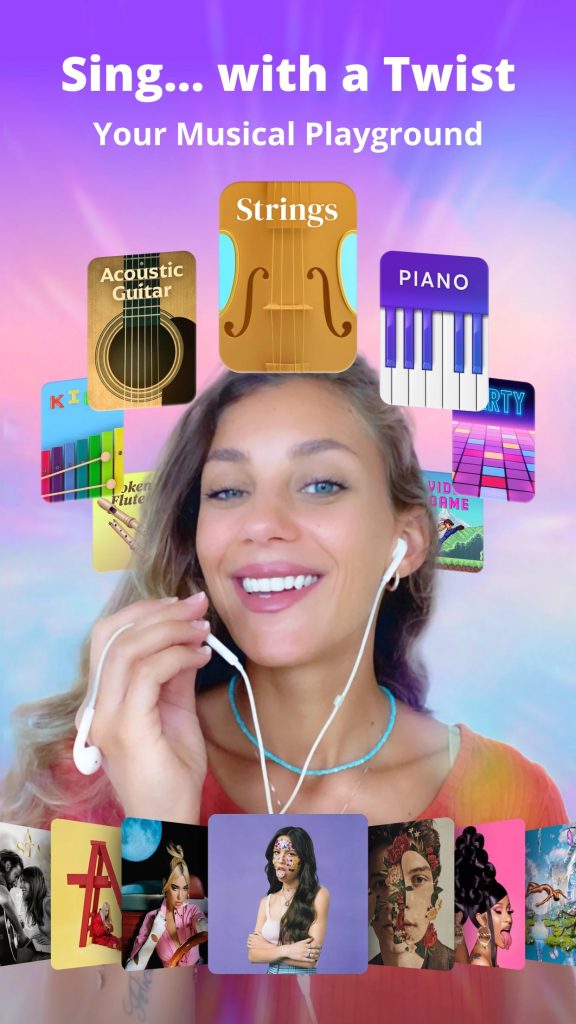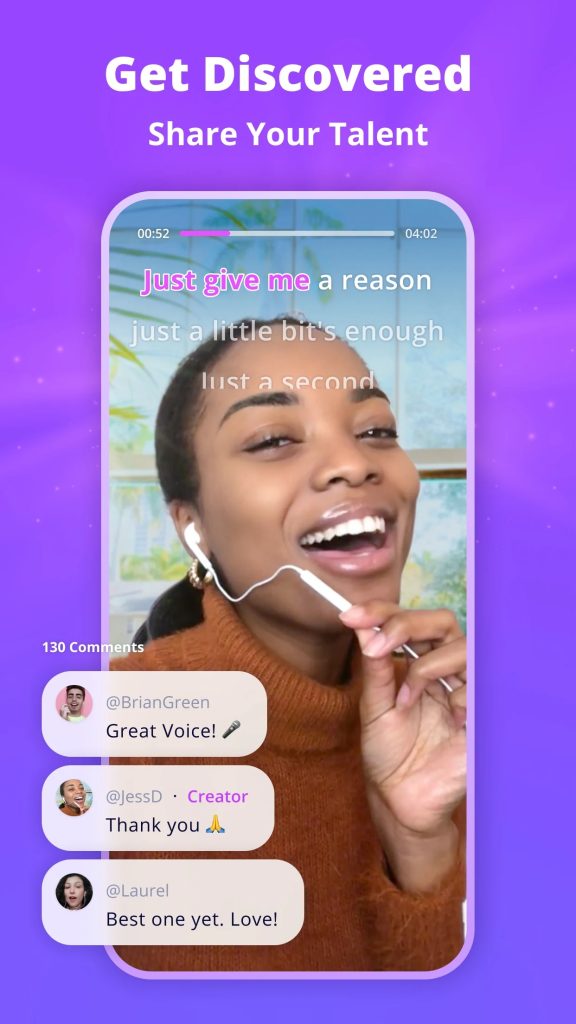 You can also compete with other users, the best track will get a beautiful cover. Change the sound of your voice. Share your masterpieces on social networks to find new fans.


Karaoke – Sing Unlimited Songs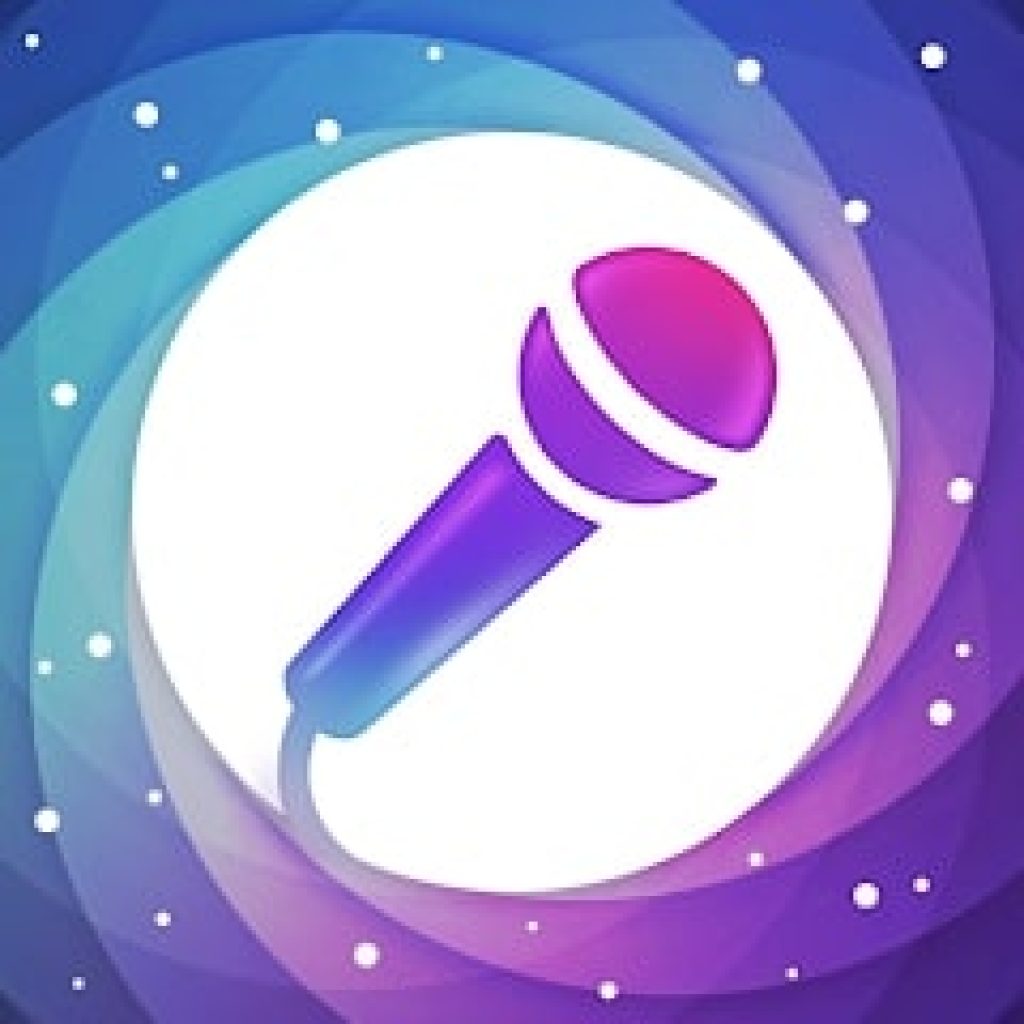 This is a free program through which you can download and sing your favorite songs. The app includes the most popular and frequently played songs, especially for fans of different musical genres.
The program is freely available, free of charge, yet, after installing it, you will be offered a one-month trial unpaid subscription.
After the trial period expires, a monthly subscription fee will be introduced. Be careful and remember to cancel your subscription if you intend to use the app for free.
The app also features song recording, and audio track pre-processing with reverb or echo effects. Successful takes can be posted to social networks or to the program's feed.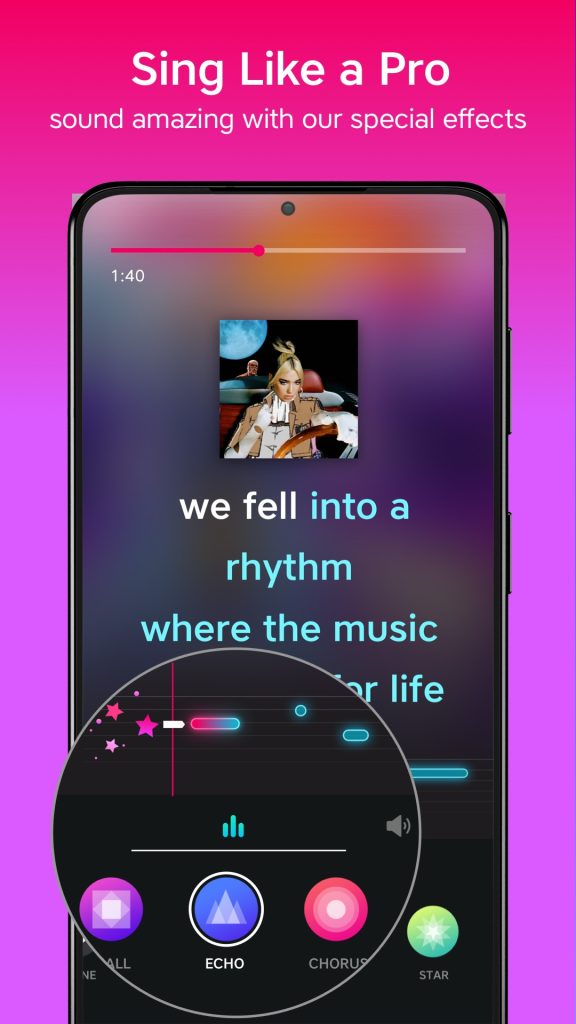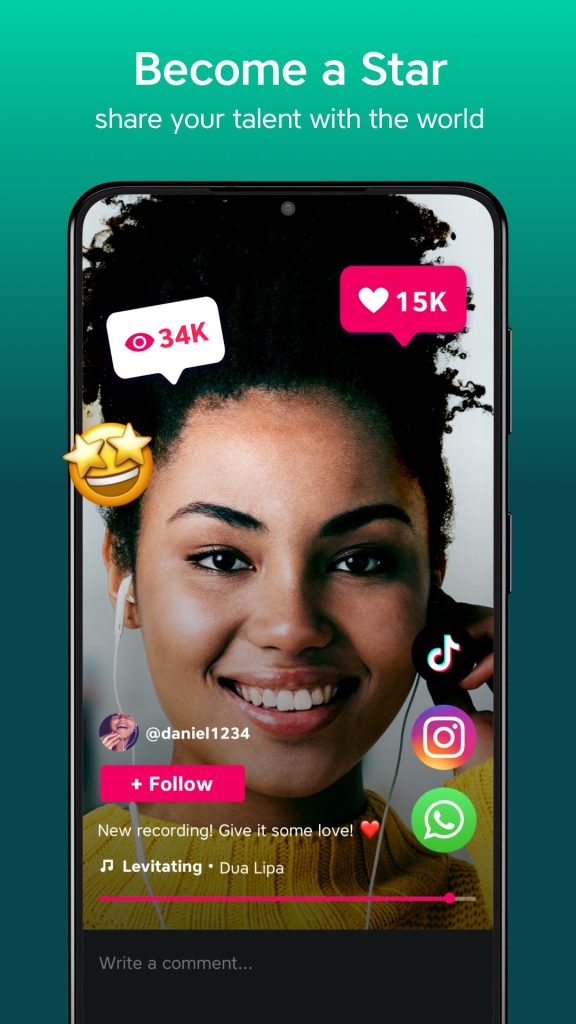 There, you can get a large number of views and likes from the same users of the app.


You may also like: 11 Best apps to speed up or slow down the music
Karaoke Party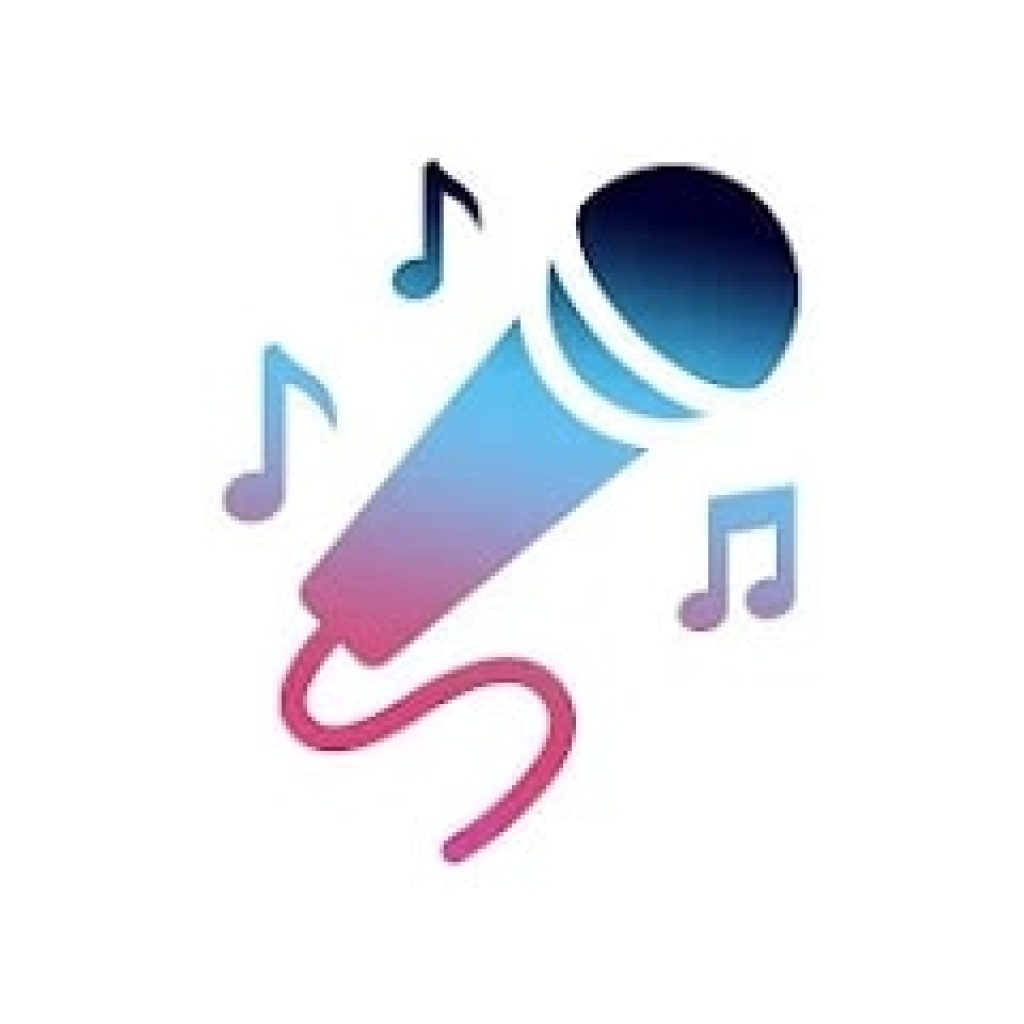 This app is for those who love to sing but don't like noisy karaoke bars. Install it and sing wherever and whenever you want. The app works for free. Choose any song available and enjoy.
Do you like rock? Open the rock category and find your favorite artists and tracks. Love chanson? Look in this category.
All time periods are represented here – whether it's old classics or new releases of modern pop. Every week on Fridays the catalog of tracks is replenished, so you will never get bored with this app.
Add your favorite tracks to your favorites. Enable the function to play tracks in a certain order, turn off background videos, and more. The functions of this app are varied. The app works for free.
Browse through new releases and find new and interesting songs. If you subscribe, you will be able to use extra features. For example, you will be able to view history, get access to favorite songs, remove videos from karaoke, and have access to a more diverse catalog of songs.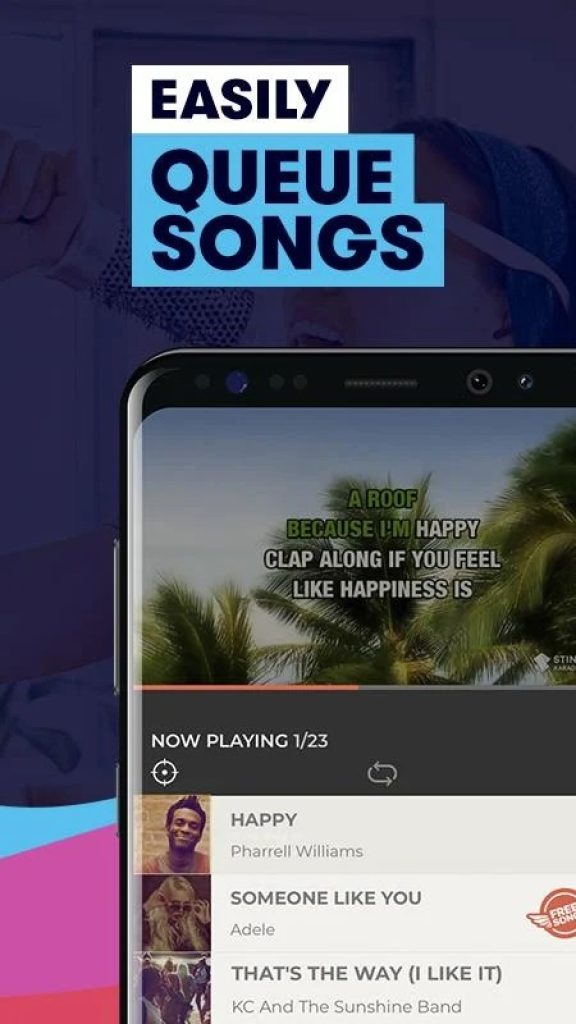 Connect a weekly, monthly, or quarterly subscription and enjoy karaoke without limitations.


Smule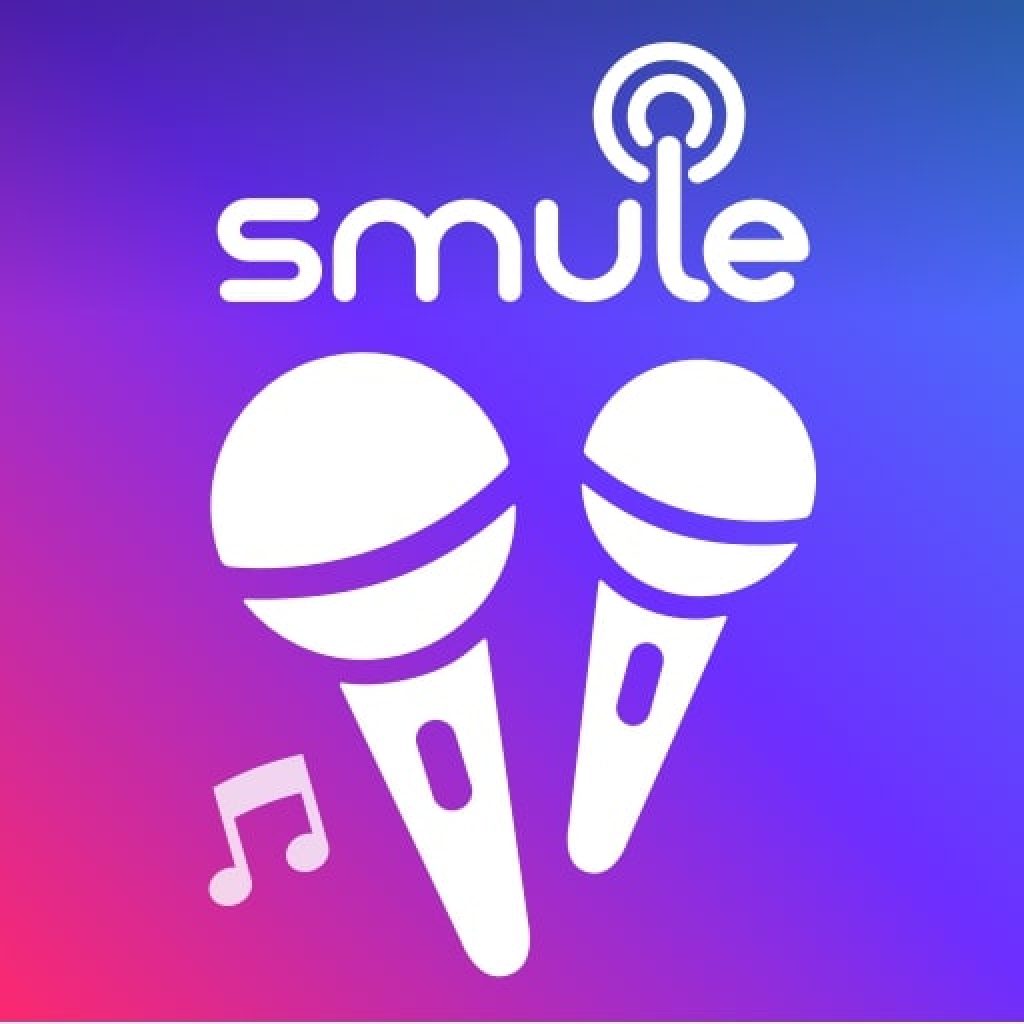 Smule is a music-oriented app with a social component in the form of communication with like-minded people.
The app is suitable for evaluating the vocal data of all members and for showing your own abilities through the built-in instruments. There are two modes of performing vocal parts individually or as a duet with a friend.
Several hundred pieces of music that are familiar to the public and that have made major contributions to the industry are available.
The program developers make timely updates to the music catalogs. The basic tools are easy to use. Voice volume boosting will make vocals sound more even in relation to the overall music track.
There are also several filters, such as changing the timbre of the voice. With this feature, the program will portray the human voice in an unusual and unconventional range.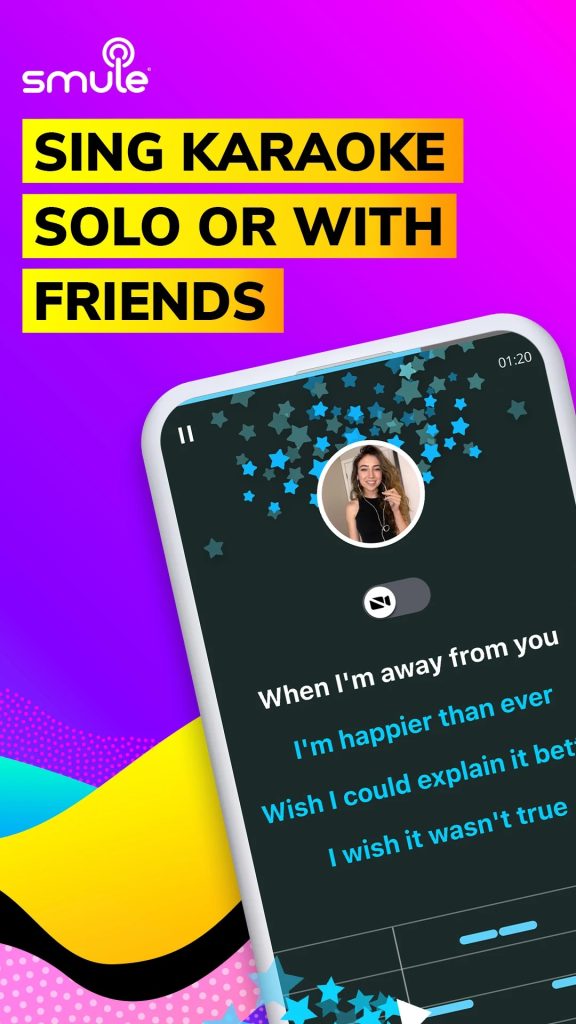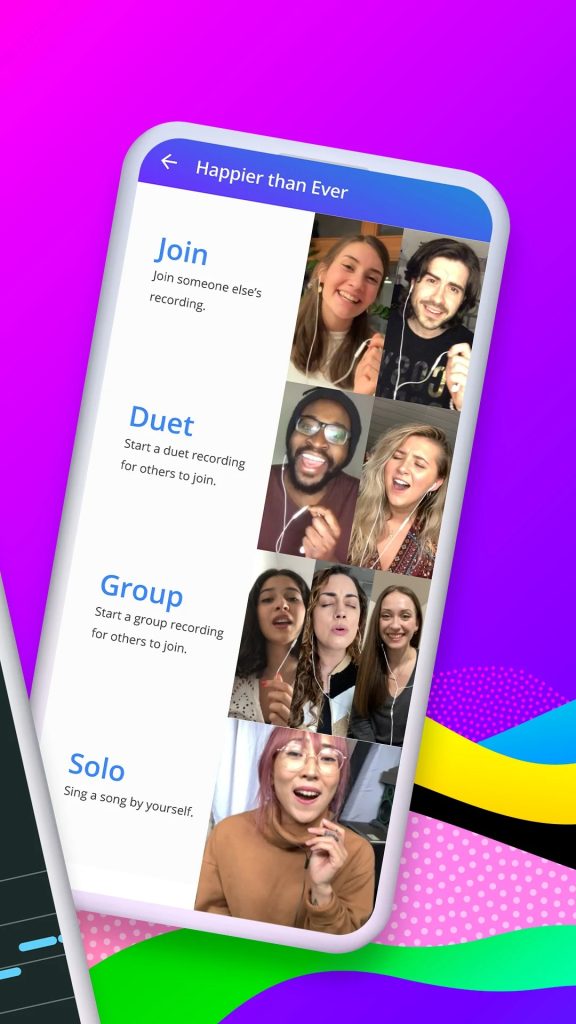 It is safe to say that the app can get a lot of fans by demonstrating the vocal data of the user.


Singa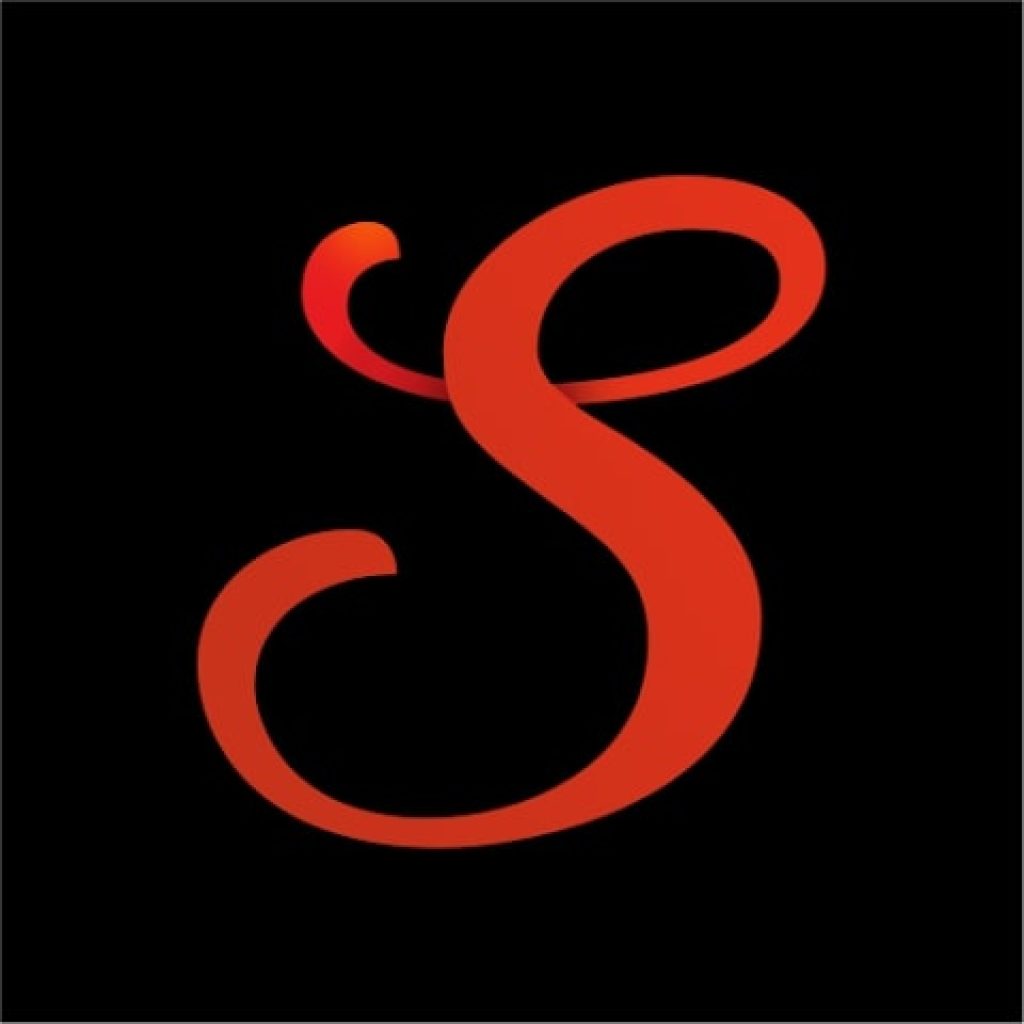 Singa is an app for people who really love karaoke. Thanks to it, you will be able to sing anytime and anywhere. There is a large selection of songs presented here.
Any genre, any musical era, any artist – you'll find it all here. Rock, rap, pop, chanson, jazz, old classics, or new music – choose what you like. Enjoy karaoke on any device.
High-quality video ensures the background video won't get blurry even on a big screen. You can also find any Singa Bar and feel like a star singing your favorite songs on stage in the karaoke room.
With a special feature, you can change the pitch of the song, adjusting it to your voice. Search for songs by category.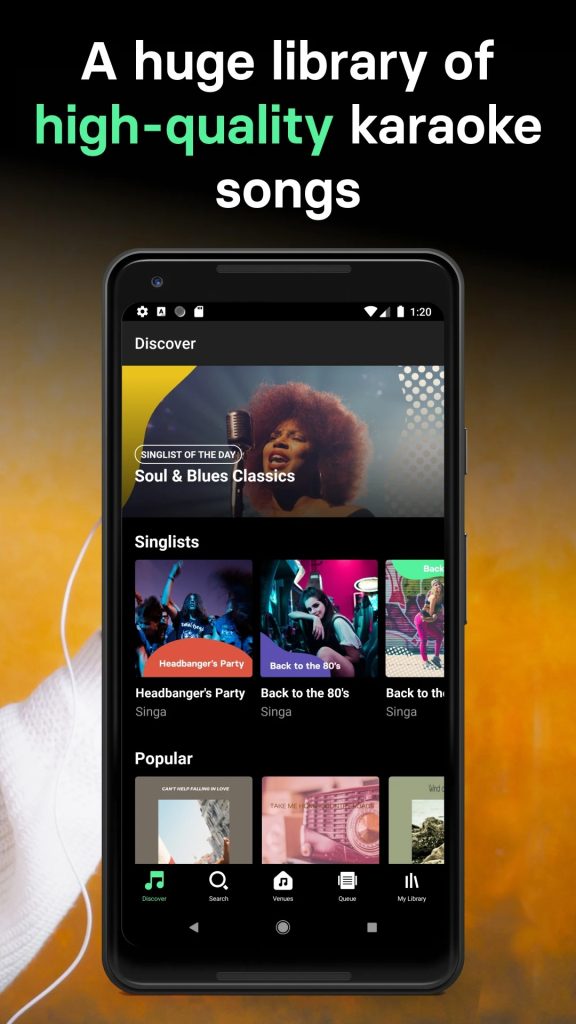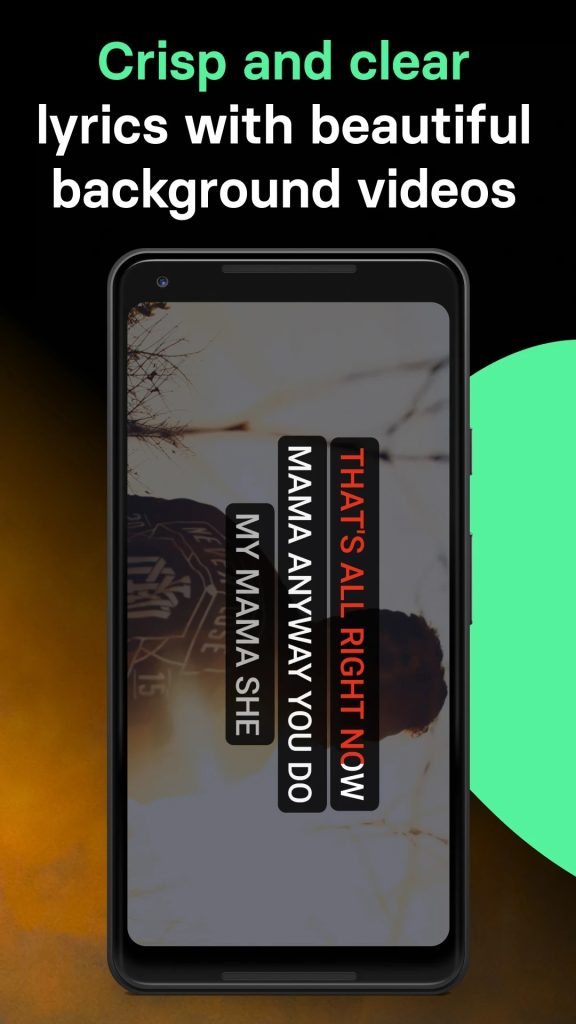 The app has a clear interface, so you can easily figure out how to use it. The song catalog is replenished every week, so the app always has fresh new songs. Download now and enjoy free karaoke.


SingPlay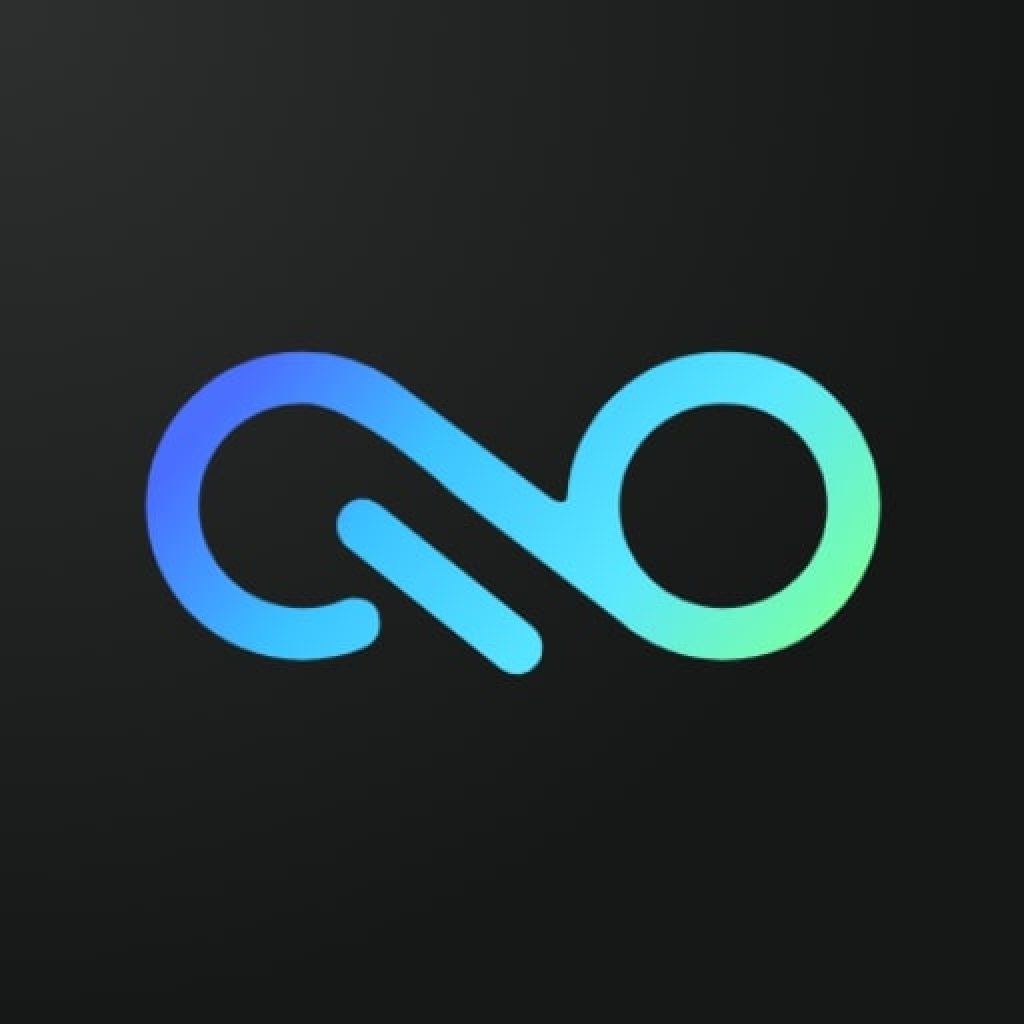 SingPlay is an app with which you can sing any song and record your own version of how it should sound.
The app has a wide variety of choices by genre and time. If you want something from jazz or rap, choose the appropriate category. Any musical era will be available to you – the good old classics or novelties of modern pop.
Choose the song you want to play, and record audio or video. Record your own version of a famous track and make a video for it. Before you record a song, you can practice and sing it several times.
Edit the lyrics or add your own. You can also add sound effects to make your track sound even better. Make video clips using the video templates provided in the app.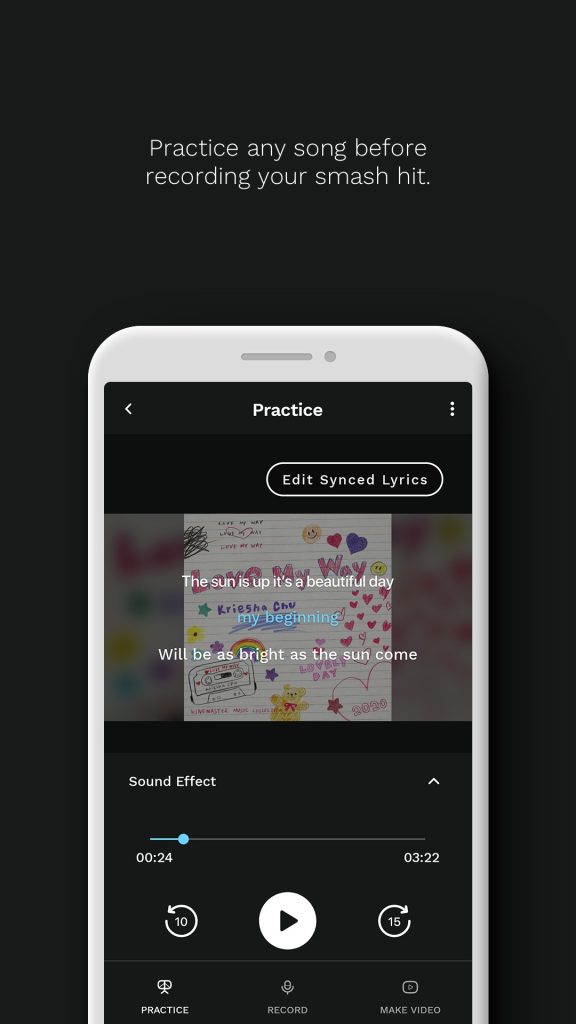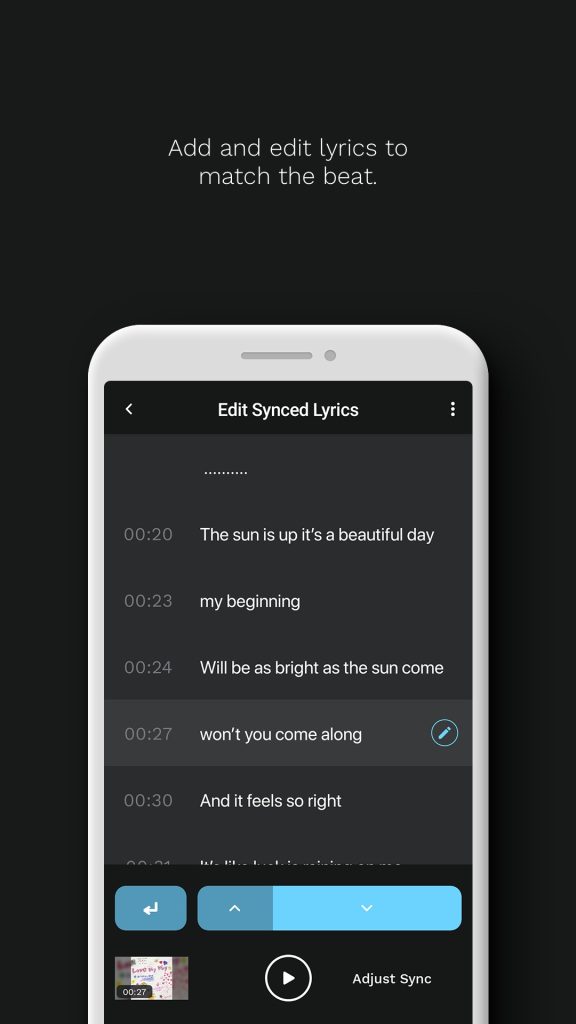 Share the resulting tracks on social networks and find your fans. A simple and intuitive interface makes working with the app very convenient.

You may also like: 15 Free Music Streaming Apps for Android & iOS
iSing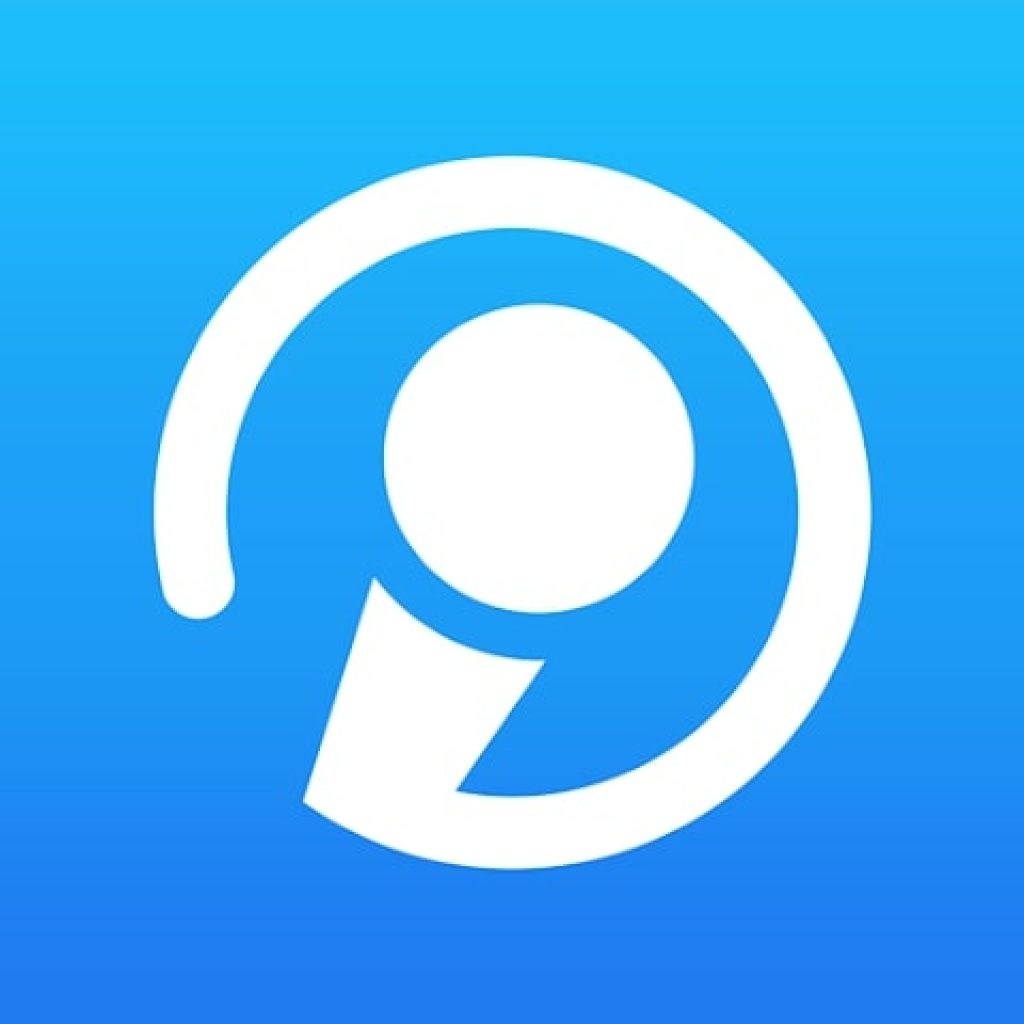 iSing is an app for those who really love to sing and want to do it from home. In the program, you will have several functions available to you at once.
This program also gives you the possibility to record the songs of your favorite artists in the version that you think is more beautiful. Interpret the tracks to suit you. You can create your own profile and subscribe to other artists.
Post recorded tracks, listen to songs recorded by other users, and take advantage of other features. There are many categories of songs in the app, so you're sure to find something you like.
The catalog is updated every week. Thus, new tracks are always appearing in the app. All the minuses are of high quality, so you will be able to sing in pleasure. You can include the song in one of two options – for beginners or professionals. Choose your level.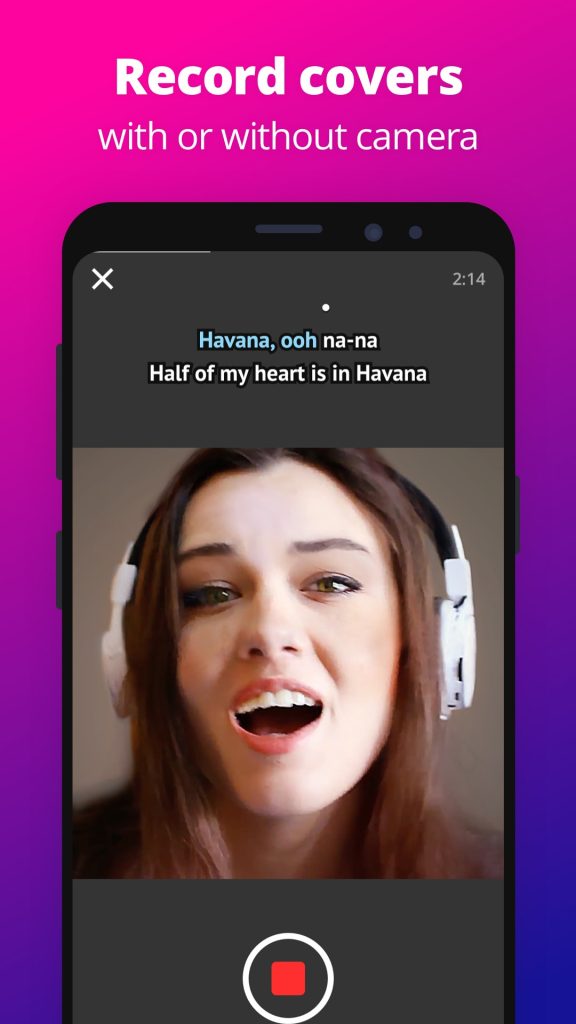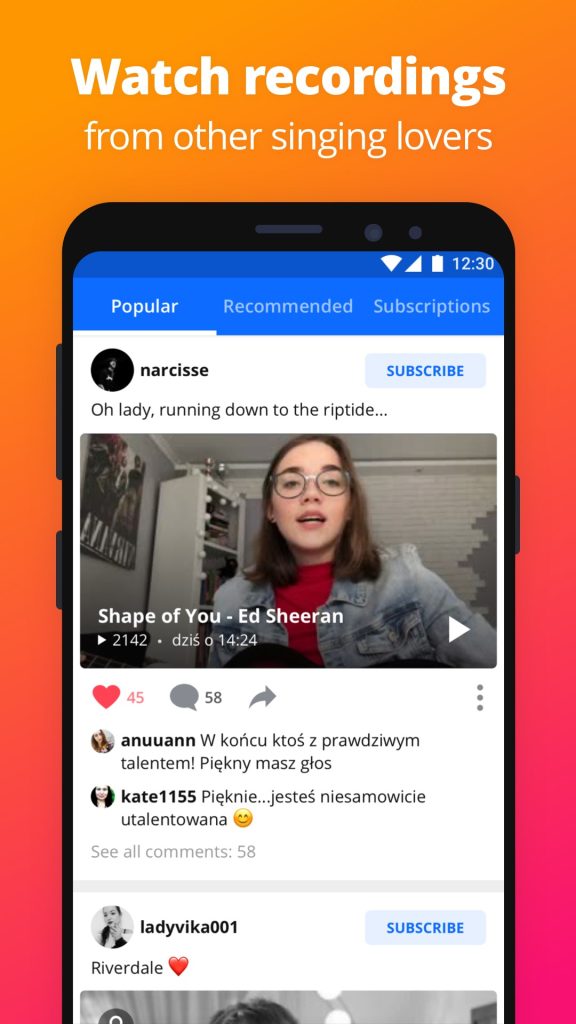 Download the app and enjoy the ability to sing anytime, anywhere.