Cycling is initially a relaxing and unhurried sport. Mobile games with bicycles as the main means of transportation offer to plunge into the world of leisurely cycling. Those who want to rent a bike can use these apps.

However, bicycles can become exciting if it's a race with their participation, where everything depends not on the power of the engine, but on your strength and tactics. Below is a list of the best bike city games.
BMX Freestyle Extreme 3D
This game is a real 3D simulator of freestyle BMX riding. There is an opportunity to perform many tricks on all kinds of stunt locations: on-ramps, in bowls, and so on. This game provides several specialized parks for stunt riding.
BMX Freestyle Extreme 3D contains 9 specialized steam with various installations for tricks: you can train on them, as well as try to perform a combo of several stunt elements, as real professionals do.

Moreover, you can even create your own park that is right for you: this game has a catalog of more than 40 stunt installations that you can place in your own park.
Do not forget about your character, which can be modified and pumped. For example, you can change his stylish clothes to the one that you think is more suitable for freestyle BMX.

Also, you can improve the level of ownership of your character's bike, for example, give him the opportunity to make higher jumps or perform more sophisticated stunt elements.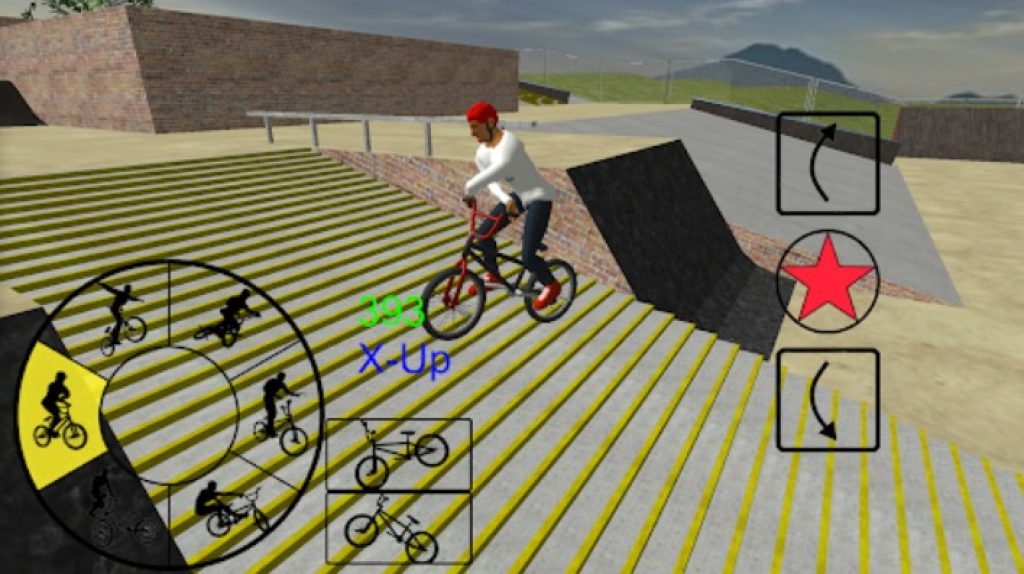 You may also like: 5 Best NFT Racing Games
Touchgrind BMX 2
This is a largely improved version of the first such game- Touchgrind BMX. There are much more chips, settings, locations, and ski areas. Here you can both drive at high speed through a diverse urban area, and perform the most difficult tricks not only on specialized installations but also on the roofs of skyscrapers.
In this improved game, there is an opportunity to assemble your own individual BMX. To do this, Touchgrind BMX provides a huge catalog with all kinds of parts necessary for assembly: wheels, frames, steering handles, and much more.

In addition, you can also receive special boxes, which you will open to receive additional patches for your personally designed BMX.
In addition to the above, there are several modes in this game, including multiplayer: you can not only train alone in skating and performing various tricks but also compete with your friends and jointly participate in various competitions in the city area.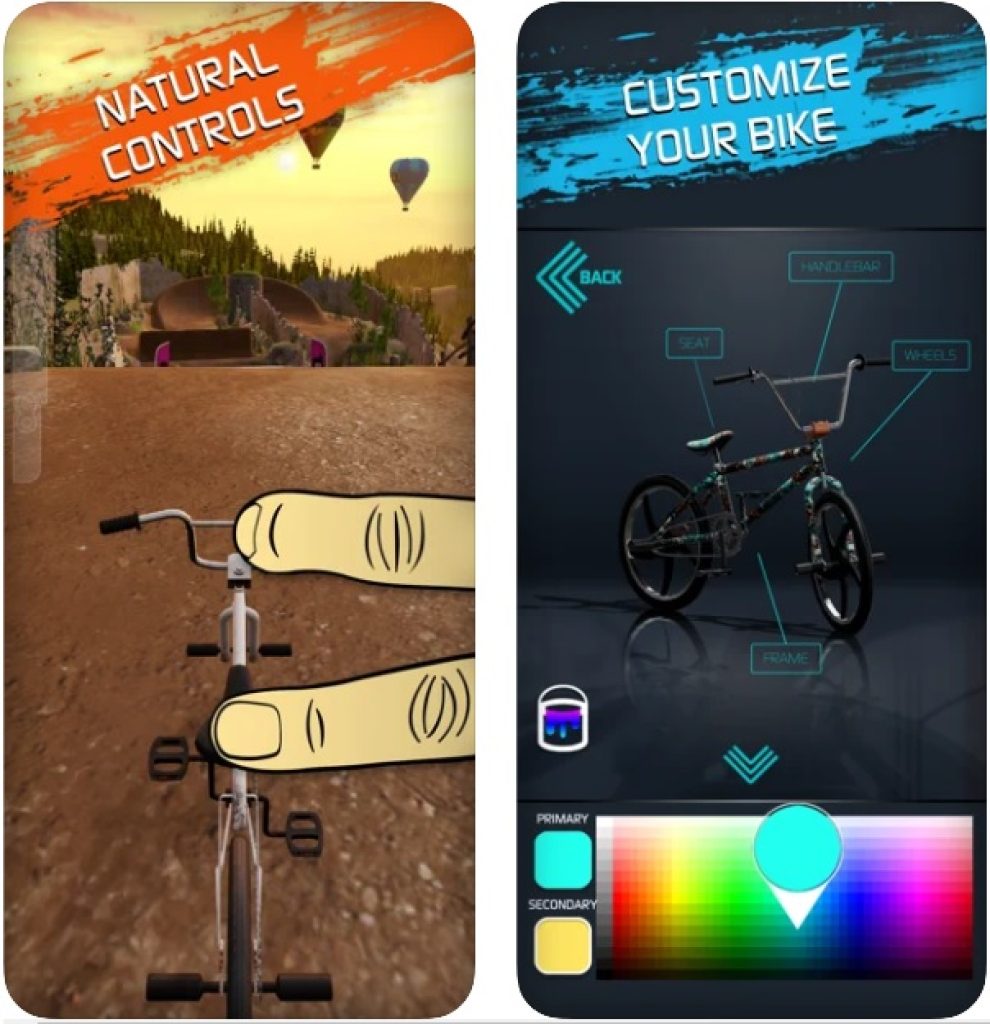 Ciclis 3D Lite
This is an arcade format game, which allows you to feel like a participant in a real bike race. You will have the opportunity to compete with other players in the peloton, while the landscape of the urban area will change around, moreover, artificially generated, but according to real prototypes.
To reach the finish line the very first, you will have to be not only faster but also smarter than everyone. Think over your tactics carefully, and choose your position in the peloton with extreme caution, because even a headwind can prevent you from reaching the finish line the fastest.

Moreover, you should also be very careful about choosing a traveling companion, so that he does not turn out to be faster than you.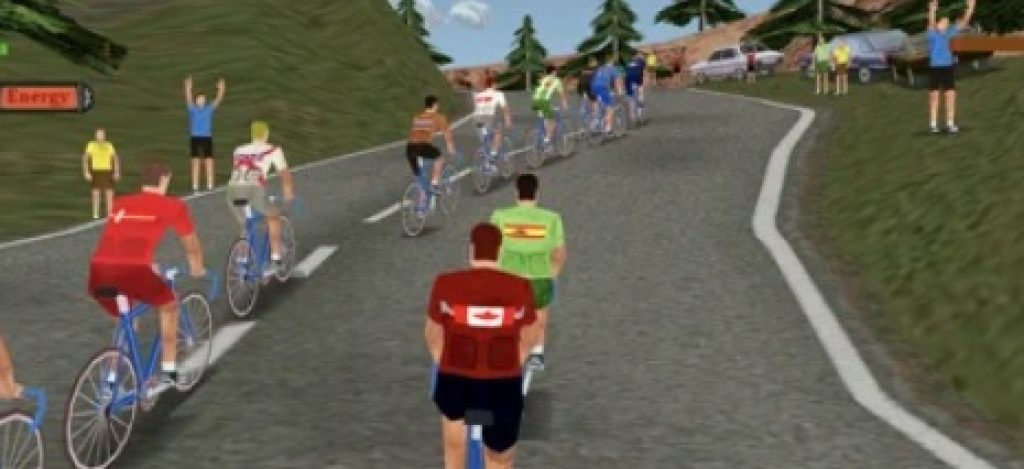 Bicycle City Rider: Endless Highway Racer
This is a bicycle racing simulator in an urban area. In this game you will need to compete with other cyclists for the title of number one in this sport, speeding through city streets and along highways.
The main feature of Bicycle City Rider: Endless Highway Racer is the fact that in addition to overtaking all your rivals, you will also need to watch the countdown timer: if you do not have time to arrive at the finish line before the time runs out – you have lost.
The developers of this game have provided a catalog with a variety of bicycles, each of which you can try out on your own in a bike race. Moreover, you can also customize the appearance of the race: weather conditions, time of day, and so on.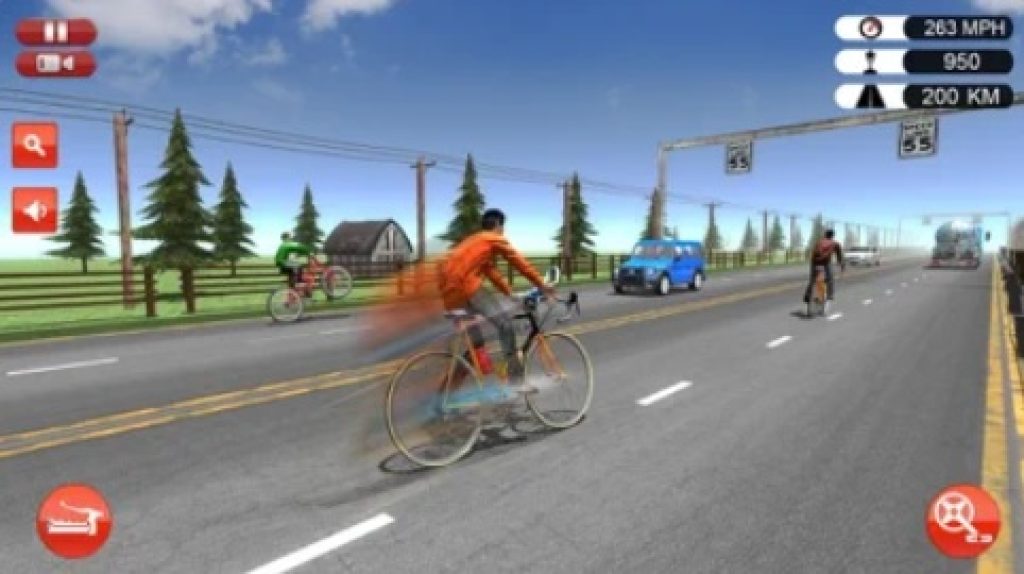 Bike life!
This is a kind of simulator of cycling in an urban environment. It is not only about a calm, measured ride but also about performing a variety of tricks, and driving around other vehicles on the move.
BikeLife! -this is a full immersion into the world of cycling in all its various manifestations. You will need to reach the finish line without crashing into cars, as well as earn the maximum number of points, the number of which will be displayed on the screen.

Also, there is a multi-level system in this game: pass new levels and get more difficult ones.
The graphics of this game are first-class, and the urban environment around is well-generated. Also, you have the opportunity to collect coins, which can later be exchanged for unlocking all sorts of tricks that will help you on your way to the finish line.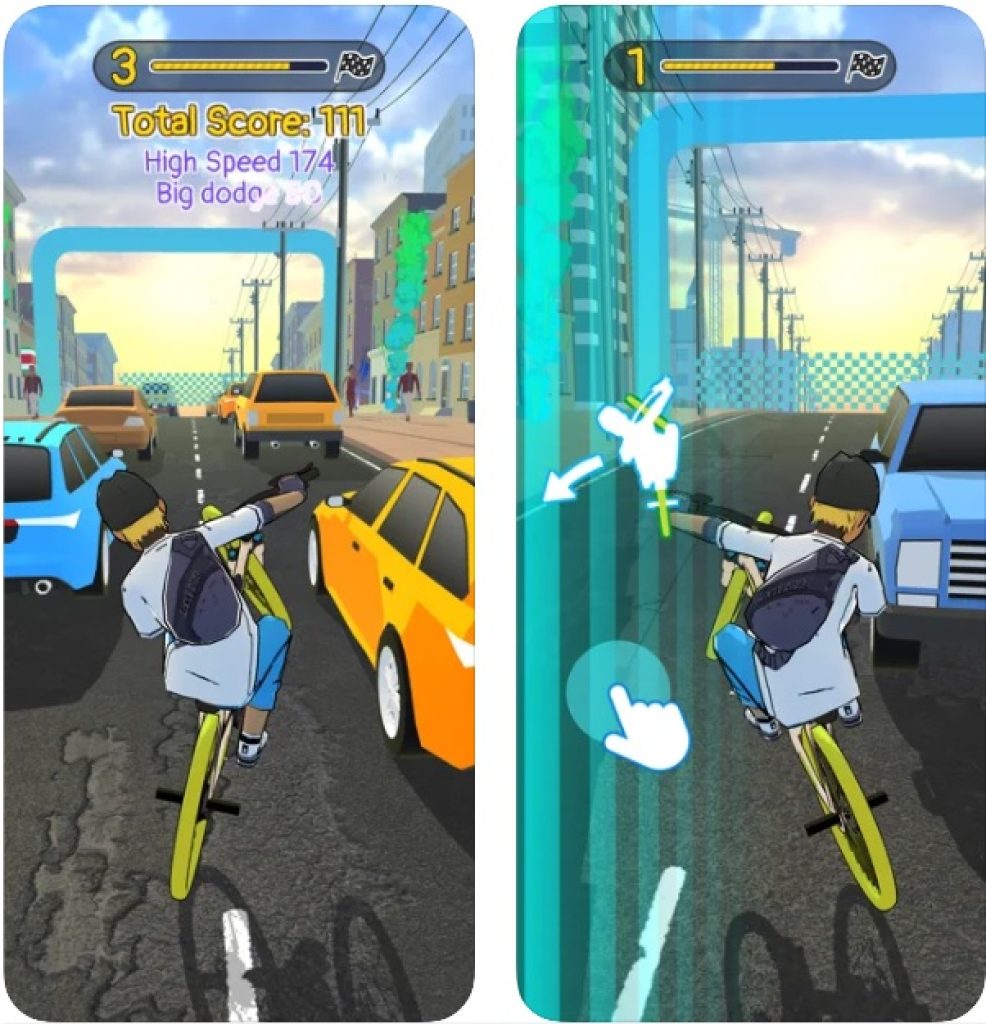 BMX Bicycle Taxi Driving: City Transport
This is a mobile simulator in which you have the opportunity to ride a BMX bike, earn game money, and also perform various tasks and errands, delivering passengers and parcels to different points of the city that are marked on the map.
Moreover, this game can not only be a peaceful pastime in which you complete computer-generated tasks, here you can also make your BMX riding exciting by accelerating to high speeds, as well as following the countdown timer that is given for each task.

This game contains very realistic graphics of the urban area, including real road markings, residential buildings, and buildings around, as well as much more.
In addition to realistic graphics, this game also contains a suitable soundtrack that will make your ride even more entertaining.

In addition, to make the plot of the game more interesting, the developers have provided for the appearance of regular customers who will always order taxi and delivery services from you, which will allow you to earn even more game money.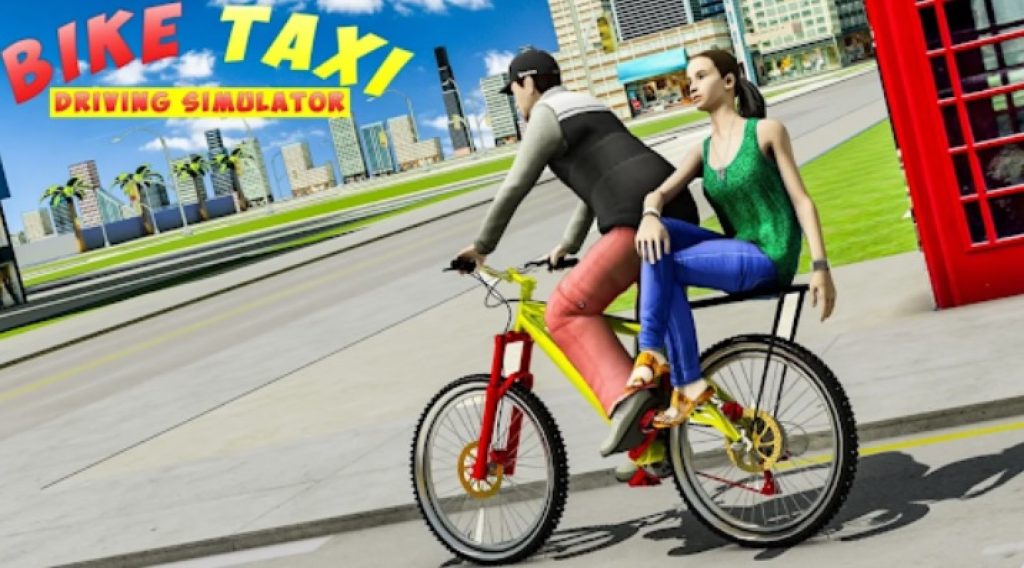 Bicycle Racing Game: BMX Rider
This is a game simulator of bicycle racing on the highway with huge functionality. Here you can play alone to hone your skills, as well as join the world cycling competitions and try to take first place among other experienced users.
There are several modes in this game: single, ring mode (for competing with users from all over the world), elimination mode (with a countdown timer, which makes the race even more interesting, because you need not only to defeat all rivals, but also to meet the time), and also a multiplayer mode in which you can compete with your friends.

There are also a few additional game modes.
Moreover, the developers of this game offer a large-scale catalog of different BMX bikes: starting with differences in frames and ending with coloring. Also, here you will find amazing graphics and very simple controls that do not require special qualifications and a lot of experience.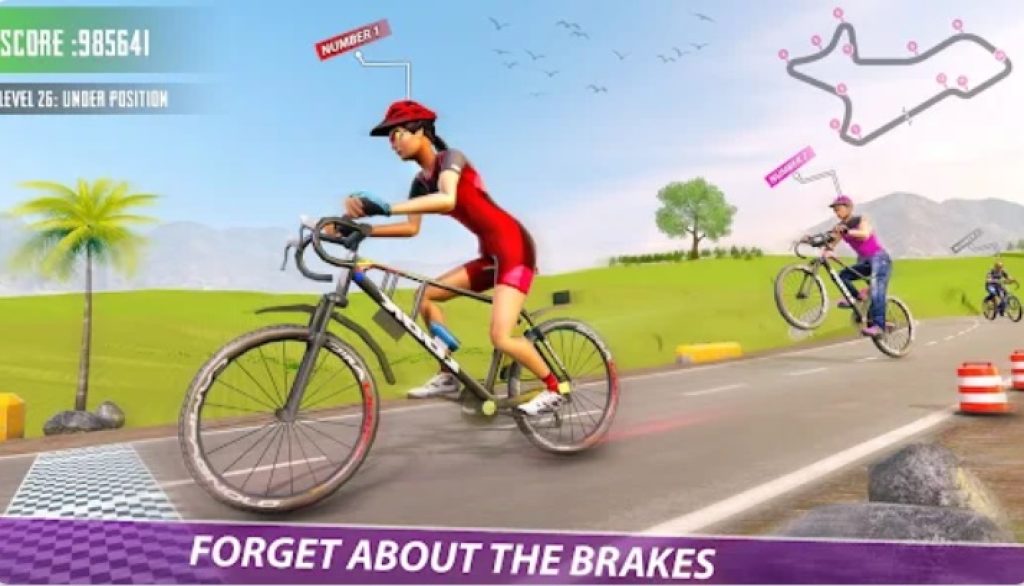 Bicycle Racing Evolution
This is a bicycle race in cartoon 3D graphics. This game is mainly suitable for children because the main characters here are children who go on an exciting journey on bicycles.
Bicycle Racing Evolution features a great variety of different locations with changing landscapes, including urban landscapes. You have to drive through busy highways, long suspension bridges, as well as many other things.
In this game, you can compete with computer rivals for the title of number one in bicycle racing. Moreover, you are given the opportunity to perform all sorts of tricks on the way to the finish line.

There are no complex bike control and control systems in this game, so even young users will be able to learn how to play, compete and perform stunts in Bicycle Racing Evolution.
Here you will find an exciting cycling trip, as well as excellent graphics and high-quality generated objects along with a colorful palette of surrounding areas.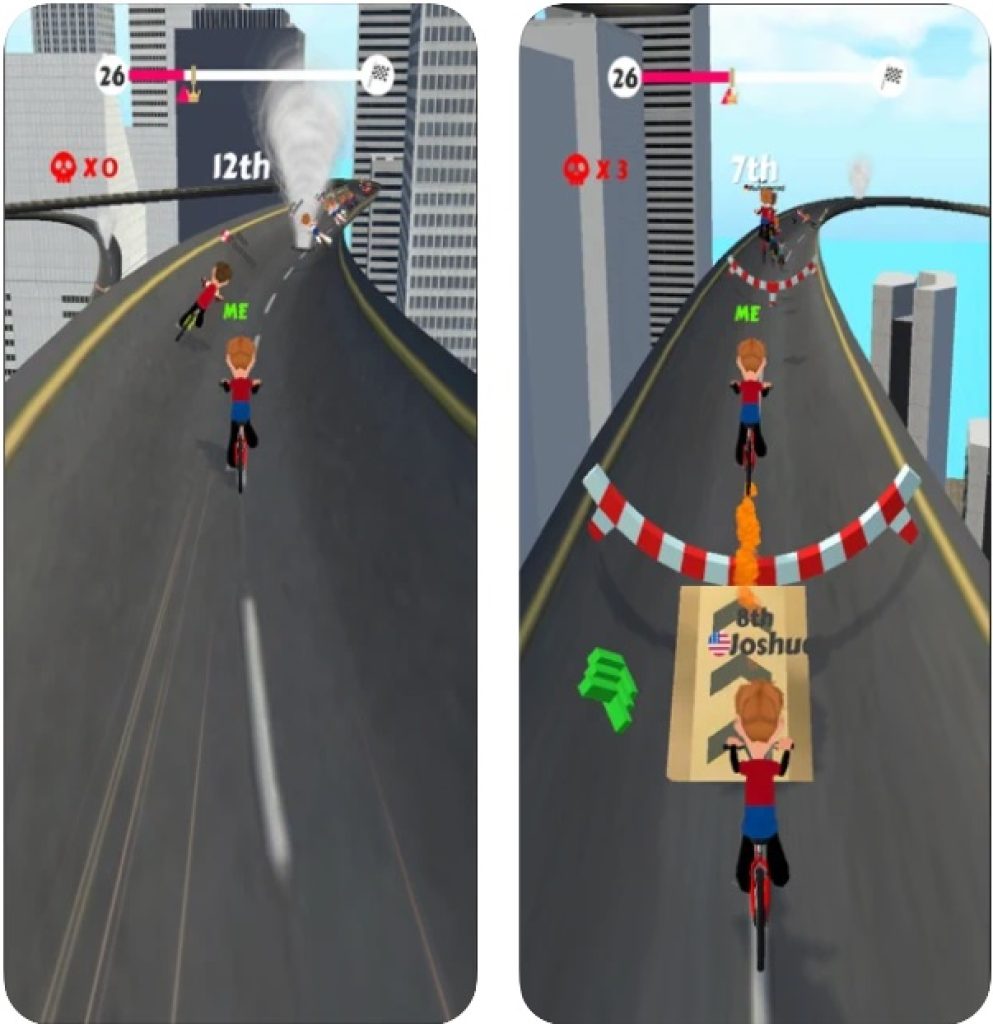 Bike Rush
This is a free mobile game in which you will need to compete with other participants in a bicycle race on the streets of cities. Here you have to try yourself as a professional cyclist who needs to get to the finish line first, bypassing not only rivals but also many obstacles.
The city streets in this game are generated very well: you get the feeling that everything that is happening is real. When developing high speed, remember that there will be numerous obstacles on your way that can prevent you from winning.

You need to be attentive and react quickly to the changing environment of the race track.
Among other things, in this game, you can perform various tricks to jump over the parameters and collect crystals, which can then be exchanged for various game improvements. The developers have provided several game locations with different atmospheres, landscapes, and terrain.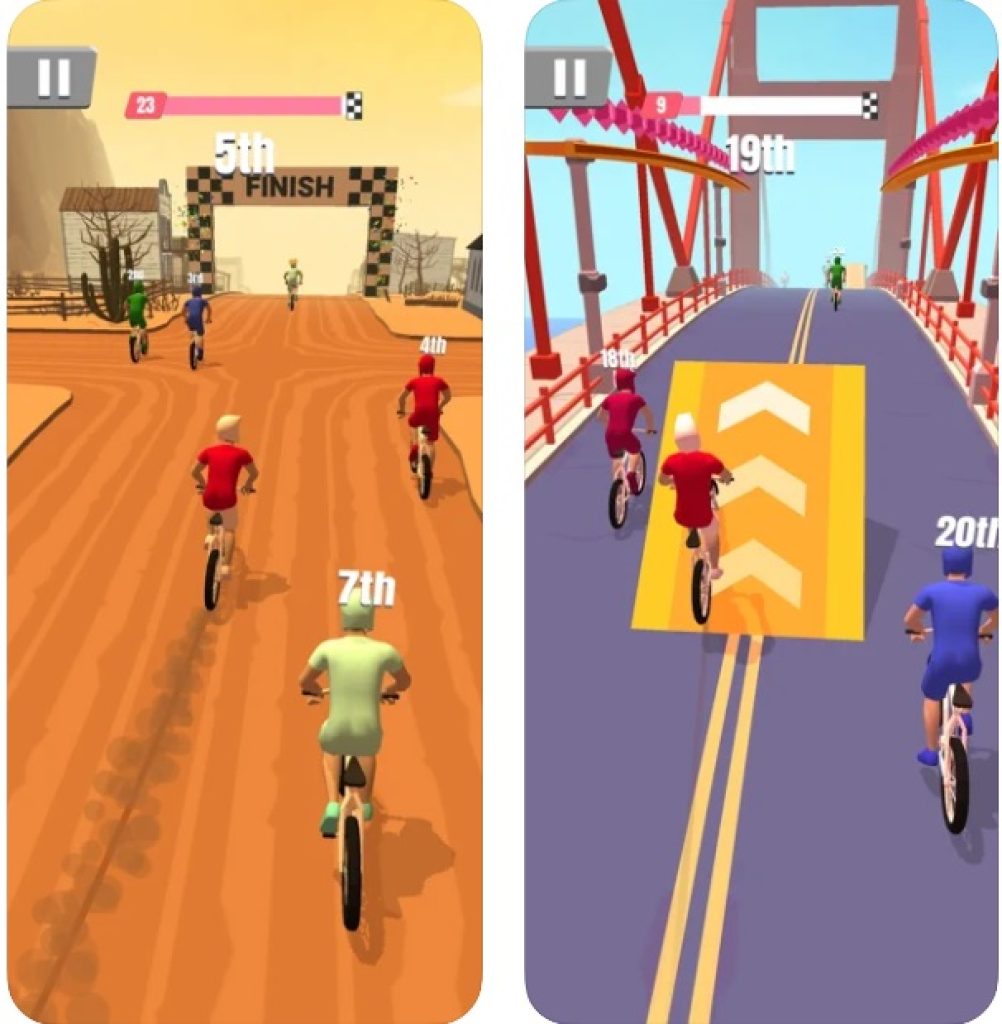 BMX Blast
This is a run format game in which your character moves on a bicycle. You have to go around a lot of obstacles, so you need to be more careful. The variety in this game lies in the different geolocation and the ability to choose and improve characters.
BMX Blast has a system in which you collect game coins while riding a bike, for which you can then buy new characters, as well as improve them.

Moreover, there are a certain number of missions in this game, after which you will be able to upgrade your level and at the same time unlock a lot of improvements. In addition to choosing characters, you can also unlock new bikes and upgrade them.
It is worth noting that in this application there are built-in purchases, which are based on additional character improvement and other features of the game, which you can disable through the settings of your mobile device.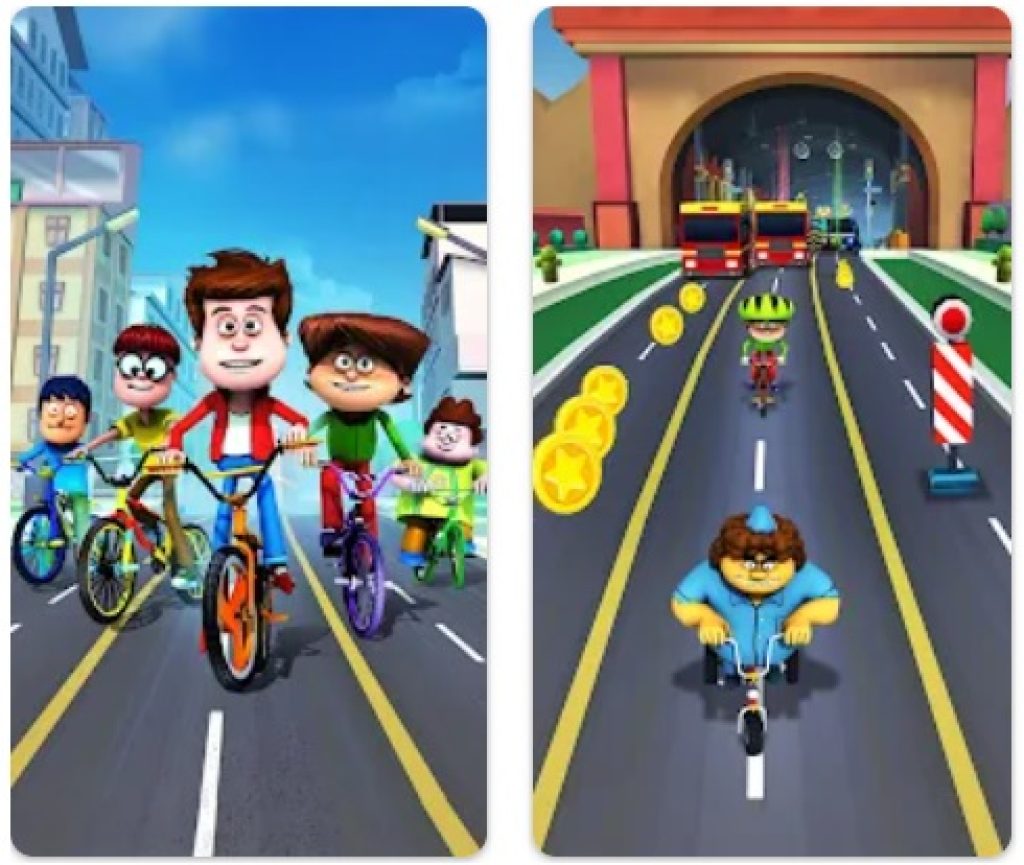 You may also like: 9 Best tennis games
Alleycat
This is a mobile game in the format of a bicycle racing simulator, in which you need to be not only faster but also more attentive than your peers.

On the way to the finish line, all sorts of obstacles will be waiting for you, which you will have to bypass to get to the finish line.
In this game, you will find excellent graphics, city roads as race tracks, as well as many obstacles. Moreover, Alleycat has the simplest possible control system: your bike will turn according to the movement of your finger on the screen (right or left).

Try to reach the finish line first, without catching the waiting difficulties.