If you've never heard of the name Michael Jordan you're either live in a very isolated place either you live in another century. The synonym of winning, hard work, unbreakable spirit, the idol for many young sportsmen all around the world, he is one of the most prominent basketball players ever.
Such titans as Magic Jonson, Wilt Chamberlain, LeBron James, and many others are also known for the unusual achievements in this game which has brought a lot of unforgettable memories for millions of people.
Besides, the competitions of such basketball teams as Chicago Bulls or LA Lakers gather hundreds of thousands of beholders each time they are played.
For those, who need a reminder – basketball is a game consisting of two teams competing with each other. The main goal of it is to own the ball before the rival and throw it through the defender's hoop.
The game was invented in 1891 by a Canadian citizen James Naismith. Originally, it was played with a soccer ball before the basketball ball was created. As we all see today, this game gained huge popularity all around the world and is beloved by millions of fans. In some countries, it is loved more, in some less.
In the United States basketball is definitely is a huge deal. Basketball can compete maybe only with baseball. But what is interesting, baseball players never get that much attention from the media and fans, as basketball players do.
So would you like to keep up with the latest basketball conquests? Are you a person who doesn't want to miss the creating of a new Michael Jordan and personally see all the incredible and unbelievable scores that happen throughout a legendary game?
Then, with the help of your smartphone, you can stay connected to your favorite game 24/7 and watch matches when it is convenient personally for you.
You may also like: 8 Best Basketball Manager Games for Android & iOS
NBA: Official App
It wouldn't be an exaggeration if we would say that the NBA is the most popular national basketball league in the world. Though only the US teams take part in it, its fame breaks out way further the borders of this country. And let's pay homage to them, they are really striking.
So it is logical, that such a big sports network would have its own app in the digital era. For a fan, nothing better than to stay in touch with your favorite game and players officially feeling the sense of belonging to a huge basketball community. Well, for true fans, this is a must-have.
The app shows the details fo the latest NBA games, the scores, the main moments of the game, outstanding players and so on. It also contains a schedule of all future games.
Just a small reminder here – the app itself and all the information which is stored there are free, however, the subscription to the NBA TV inside the app does cost something. Although, if you have downloaded this app, you probably had been aware of that so it shouldn't scare you away.
After subscription, you will get access to all the NBA matches live and will also be able to watch them in the record in case if you miss a game. Usually, the game is followed by an observing-coverage of all the main moments by sport TV studios – you will be able to watch those too.
In fact, there are several options for subscription: NBA League Pass Annual (billed as "NBA League Pass"), NBA League Pass Premium Annual (billed as "NBA League Pass Premium", and NBA Team Pass Annual (billed as "NBA Team Pass ") are each valid for one year.
You can choose between those options, however, when you first download the app you don't have to pay for it immediately.
Among other options, you will discover, that you will be not only to watch all the NBA games live but also to make your predictions about the upcoming match, track the game stats (for example if you are currently at work and can't watch a game), and, of course, keep in touch with the latest news.
The possible disadvantage of this app is probably that it covers only the NBA league. On the other hand, it would be weird to get an app with an obvious name and then be angry that it is only about the claimed subject.
Paid subscriptions are not the most pleasing option as well. But as it was mentioned before – if you are a true NBA fan, you will find this app invaluable anyways.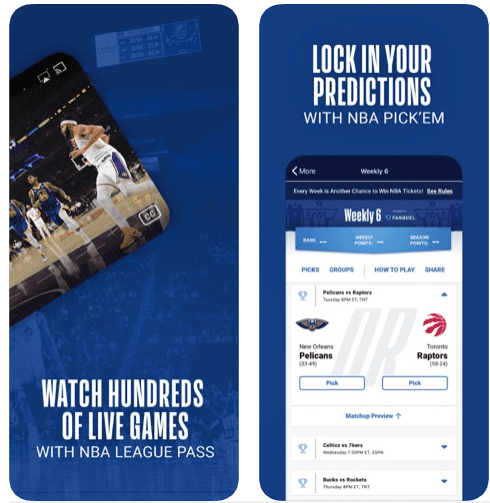 You may also like: 7 Best apps to watch NFL games on Android & iOS
Live NBA NCAA WNBA Basketball
Live NBA NCAA WNBA Basketball is a mobile application that will allow you to enjoy watching your favorite sport without any hassle and difficulty.
Thanks to this application, you can watch basketball matches for free and without registration. You don't even need to create an account – just install the app on your smartphone. In the application, you can watch past episodes, highlights from hot games, or watch live broadcasts of basketball matches.
With this application, you can be one of the first among other sports fans to be up to date with all the news. The application supports high quality sound and images, so don't be afraid not to see how the ball hits the ring.
Despite its popularity and good quality, there are also negative reviews about the application. Some users have criticized it for crashes during operation and crashes in the middle of browsing. Some users have also reported that the game drains their phone battery quickly.
While the app does have some flaws that can be overlooked due to its positive features, its unique features make it a worthy download for any basketball fan.
Application features:
No registration required
High image quality
You can watch live broadcasts
Application cons:
• Failures and inaccuracies during operation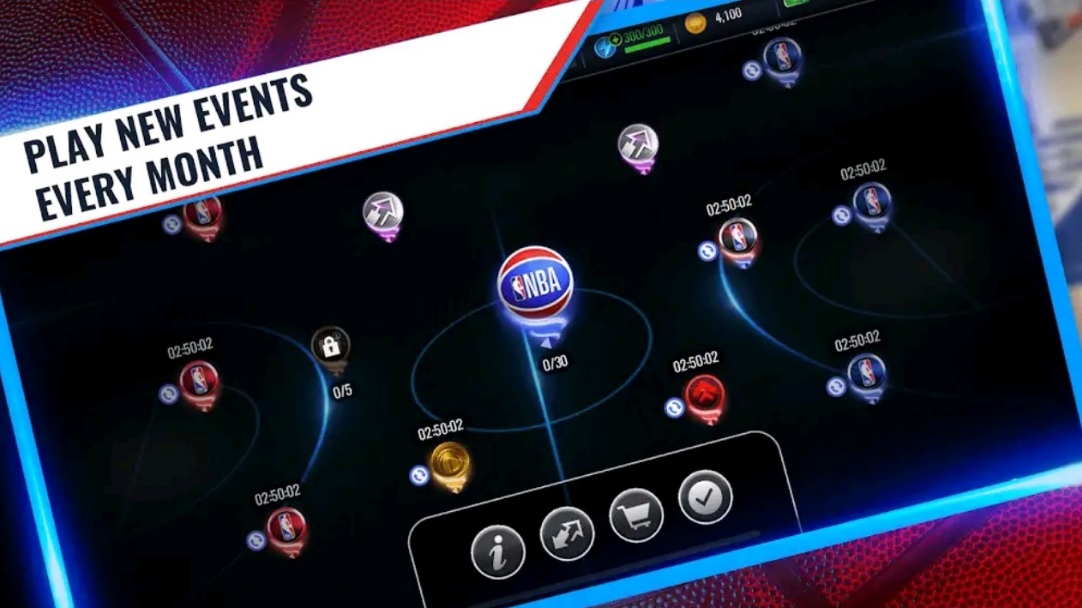 ESPN: Live Sports & Scores
You have probably noticed a tendency that watching some specific kind of sports is better in the apps which combine several of many kinds of sports.
It is more profitable and gives you more possibilities to watch different live games of any sports you like (and most people tend to like more than one kind of sport).
And usually, if you want to stay in touch with the latest news of one kind of sport why exclude others? Most users would sure be glad to have such an opportunity.
Still, for watching basketball it is also a very decent app. You will stay in touch with all the latest news and scores from the industry. By the way, here the virtue of the app that it forms its feed similar to the social networks' algorithm.
It tracks which type of sports event you watch the most and starts showing you dominantly the content related to that you are usually watching.
This way you don't even have to bother to be reminded about important matches or being informed about the hot news. From news about your favorite sports or favorite team playing right now, the home tab has you covered.
There is a top list of the games of the day where you can always see which significant games are happening today (even those which are not related to basketball – for those who worry about the diversity of the content). You will always find out about NBA playoffs or the MLB's latest rivalries first.
The list of the games is quite broad and you can see that basketball prevails among them: LB, NFL, College Football, NBA, College Basketball and many more.
There is also a possibility to upgrade your profile with a subscription to ESPN+ so you will get a premium account with access to thousands of various events and information that are not available in regular usage.
For example, you will be able to watch great documentaries such as O.J. Made in America plus get access to exclusive shows like Details, featuring Kobe Bryant's inside perspective on the NBA.
The app also provides podcasts and you can subscribe to ESPN radio as well. With the subscription to the ESPN+ live streaming of the sports will also be available for your Apple TV.
ESPN, ESPN2, ESPN3, ESPNU, SEC Network, SEC Network Plus, ESPNews ESPN Deportes, and Longhorn Network are all available to stream live in the ESPN App. Access to live video is determined by your TV provider and package and, in some instances, your Internet service provider.
The possible disadvantage that you may face while using this app is that sometimes the official schedule of programs doesn't match with that streamed online.
So it may be a disappointment if you have already got into a comfortable position, ready to watch that program about basketball and then it's not being shown. Also, the app contains the targeted ads that can be annoying.
However, the price for subscription is rather low so the huge variety of live sports games that you get with it is probably beating down all the disadvantages.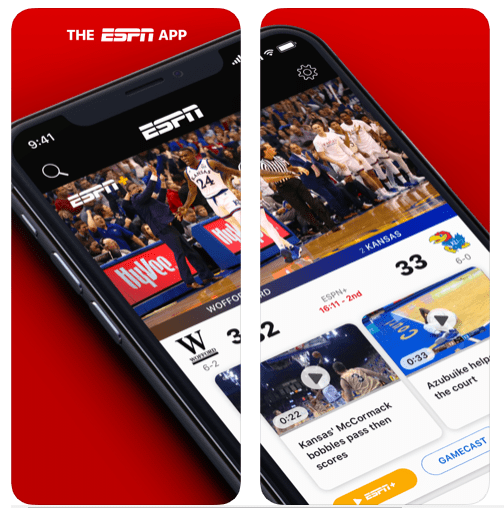 Watch TNT
At the first look at this app, you might think how is that actually related to the basketball. But if you take a closer look then you will get that this app offers a bunch of broadcasts and TV shows, and, of course, live sports streamings, which include basketball as well.
So for those you like to have all in one place (or app), this is your choice. And it really makes sense when you don't wanna limit yourself with watching the sports only, however, you don't want to install dozens of apps for that either.
But it this article we are talking about basketball, so let's see which option does Watch TNT can suggest.
Generally, it is a kind of a mix of a Netflix platform and a typical live TV streaming app. In other words, here you can watch both live broadcasts and the shows in the record. It is a very demanded option nowadays.
Especially those, who are, for example, fans of a certain TV series about sports and fans of basketball can switch between the streams quickly without being detached from their favorite subject of basketball.
First of all, you will find the NBA channel on this app. There are also some options to watch other sports channels, but the NBA is the most popular one for sure. Just download the app and sign in with your TV provider to watch the NBA games on TNT on the go.
If you're in a rush to watch or just want to test the streaming service out before you sign up for a cable or satellite TV account, know you can watch 10 minutes of live TV or five minutes of on-demand TV for free before you buy.
In addition, as it was mentioned above, the app grants you access to such famous TV shows as Supernatural, Animal Kingdom, Charmed and many others. Real bargain for a good price of the subscription.
There is also a library of movies to watch. However, for those, who would like to get more detailed content of basketball and don't like distracting factors will probably not choose this app.
Moreover, besides NBA it provides a really limited choice of sports channels, so in this case, if you would like to have your favorite movies and TV shows along with basketball live games you will probably have to sacrifice the diversity of choice.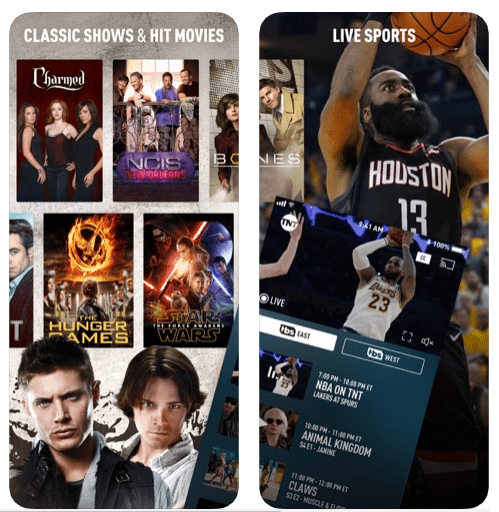 You may also like: 11 Best Basketball Games for Android
Watch NBA Basketball: Live Streaming for Free
OK, now let's present a variant for those people who don't feel like paying for watching basketball live streams. Well, if you don't watch NBA that often, it does make sense not to pay for a subscription (and even if you do, we all like to get things free).
But speaking in advance, you should be ready for that you will not get an eye-popping and multi-functional interface here. Since the app is free, it looks really simple and budget.
On the main screen, you will be able to see the list of future games and when they are going to take place. You will see the time and the name of teams which are going to play.
All the results of the games are constantly updated. What is more, you don't have to sign up or create your account for this app. All the NBA games, including playoffs for 2019 and 2020 and also the NBA Draft Lottery are available here.
The software also includes the stats on the most basketball teams that are currently playing in the US NBA: Chicago Bulls, LA Clippers, LA Lakers, Memphis Grizzlies, New York Knicks and many others.
The app was released quite recently but already gained popularity on the market of the free apps. The obvious disadvantage of it is that it apparently doesn't look decent and doesn't provide a diversity of actions inside the app. But for the free live streaming app, and specifically basketball – it is more, than enough.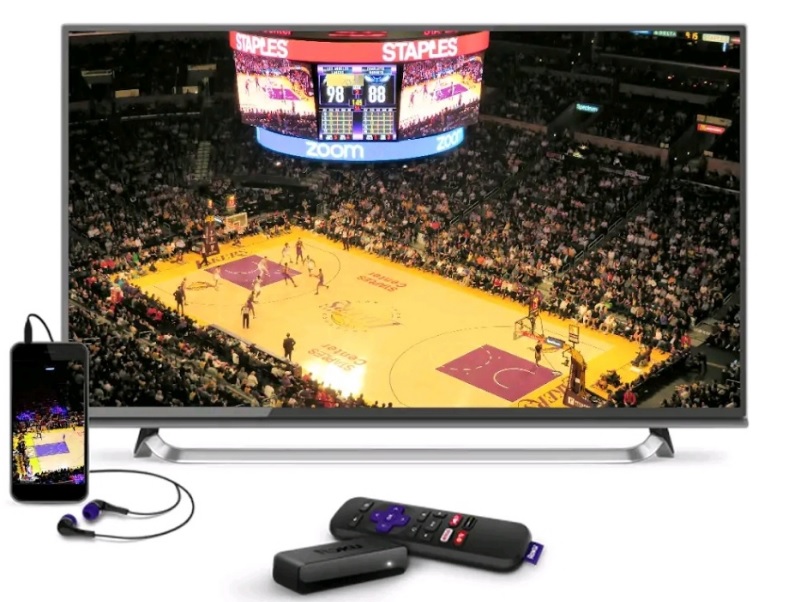 Yahoo Sports
Yahoo Sports is a top-grade application developed to enable users to watch live NBA or NFL games for free. In this tool, users can also monitor all the sports events and news in real-time.
Once you have opened the app, make sure that all the significant permissions are enabled. After that, you will need to choose your favorite teams by the league.
In a few seconds, you will be transferred to the main page containing the following sections at the bottom of the screen:
Home
Scores
Watch
Sportsbook
The first section contains a great variety of news items dedicated to your favorite teams. The only thing you need to do -just select the most interesting one.
Moving on, our next section provides users with detailed games' results. Here you can check scores, odds, standings, stats, etc. So, in this section, you can easily keep track of the performance of your favorite teams.
The application keeps you informed about all the topical sports events, as it will constantly send you notifications. Users will not forget about watching live NBA matches or you can also set alerts for your favorite teams.
All the users can watch NBA or any other live games. Just open the Watch section and click on the preferred video. Or, you can also paste its name in the integrated search bar to quickly find the necessary NBA live game match.
Furthermore, the app provides users with advanced betting features. For example, you can read betting guides, expert analyses, editorial content, etc.
However we have to mention that Yahoo Sports does not include gaming or betting, it contains only sports betting content and data.
Yahoo Sports does not support watching only NBA and NFL games. All the users will have access to other kinds of sports – MMA, NBA, MLB, NHL, Tennis, Golf, and so many others.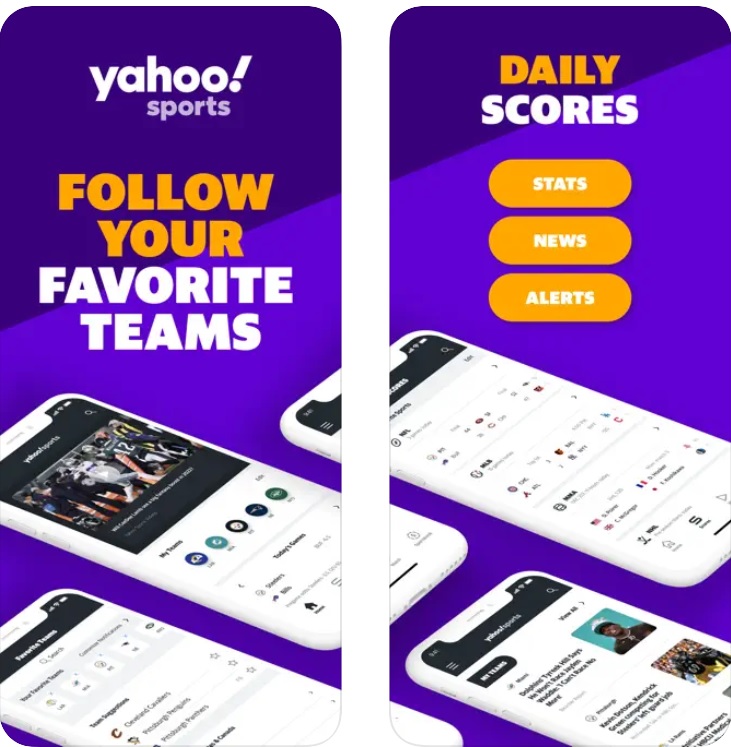 Basketball Live: Live NBA scores, stats, and news
Another great app for NBA fans that will help to keep in touch with the latest scores and news of this industry. This particular app is closing or list but it seems to be slightly better than the previous ones – however, keep in mind that it is only for the NBA.
One of the most significant features of it is that it is free. But this is rather an exception since it includes a bunch of useful functions. It was released on the market in 2016 and has gained huge popularity since then with more than 10 million downloads.
It literally keeps you updated on everything that is happening in the NBA. For example, when a game is happening, the stats (of course including the scores) is updated up to a second.
By the way, if you by a chance try to dig into the archives of the stats stores in this app you will probably be impressed, how much of this stuff in detail this app has. True fans will surely appreciate it.
The app also provides you with an exclusive analysis of all the new games so you will always get an additional informational bonus made by basketball experts.
Or maybe you are yourself working for a stats analytics company and this statistical database on NBA would be extremely useful for you to utilize. There are always video highlights of each game.
It doesn't matter which season is happening at the moment, a mid-season battle between conference leaders, a franchise on a double-digit winning streak or the NBA Finals, – you will receive all the details in any case. All the matches are accompanied by commentaries.
What is more, each player has its own stats that you are able to view anytime. Team line-ups are also displayed here. Among other options, you can choose your favorite club and subscribe to it. Then you will be noted about all the news happening in their team.
After every match they have played you will find the stats on their game, players and so on. Track their progress throughout the NBA season.
Stay updated on all the tweets that they make and keep an eye on your favorite players. In case some of the players get injured, you are always able to track even their injury status.
Once again, each team, trainer, player, and the league have their own KPI and stats rankings. Thus it is easy to see objectively who is the best this time.
It is interesting how you can monitor here the whole sports biography of every player of the NBA represented here. You can make comparisons, for example, looking at your current favorite player and a legend, let's say, Michael Jordan. Are they similar? It is always curious to know. A player comparison head-to-head is possible.
The features and possibilities of the app are constantly updated and polished what is an additional advantage for an app like this.
The NBA fans would be for sure happy to have this one because it really does provides a detailed analysis of everything that is going on on the NBA's pitch. This is probably the only basketball broadcasting app that doesn't have any significant disadvantages, and it has excellent reviews on both platforms, so it is really recommended.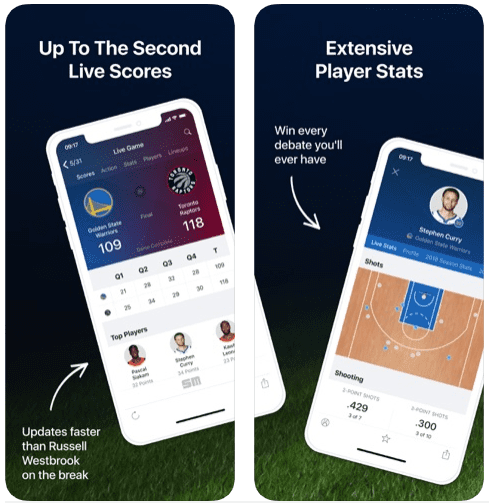 Official Euroleague Basketball App
Official Euroleague Basketball App is a sports app that gives you access to the latest news, results, statistics and highlights of the Euroleague basketball competition, one of the most popular and competitive leagues in Europe.
Upon launching the application, you are greeted with an elegant interface that allows you to view various sections such as news, results, standings, teams, players and videos.
The news section provides the latest updates, interviews and analysis, while the results section shows results and graphs for current and upcoming games.
The leaderboard section displays the ranking of teams in the league, while the teams and player's sections provide detailed information about each team and player, including their statistics and achievements. Finally, the video section features highlights, interviews, and other multimedia content.
One of the app's notable features is the real-time game updates, which allow you to follow the progress of the game in real time. This feature is especially useful for fans who cannot watch games on TV or the Internet.
Plus, you can set up notifications for your favorite teams or players so they never miss an important game or news update.
While the app offers a wide range of features, it has been criticized by some users for its intermittent crashes and slow loading times. Some users have also reported problems navigating the app, especially when trying to find specific information.
Despite some negative reviews, the app offers a number of useful features and is worth checking out for anyone interested in the Euroleague.
Application features:
Convenient to use
Thanks to timely updates, you will always be up to date with the latest news
Nice design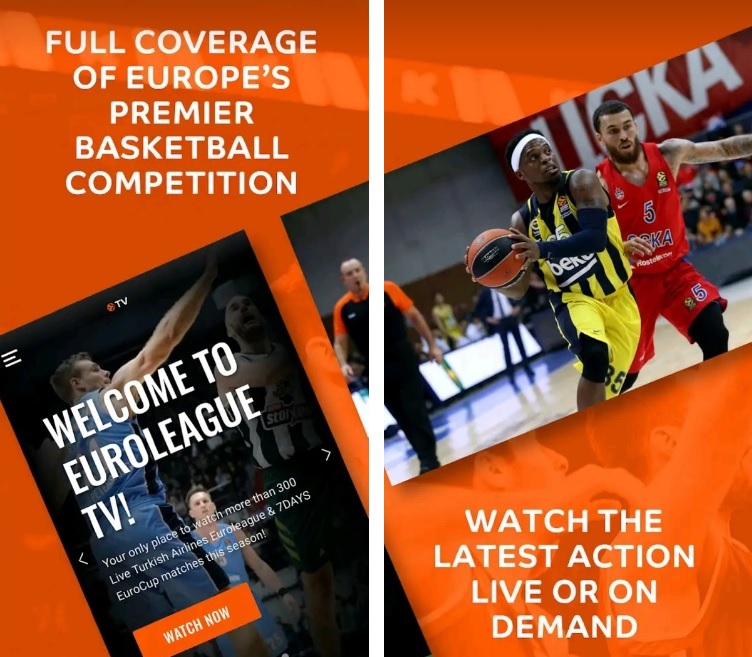 You may also like: 9 Best Apps to Watch Sports Highlights (Android & iOS)
NBA Live Streaming
NBA Live Streaming is a comprehensive platform that provides basketball fans with real-time updates on all NBA games. You can access the latest scores, statistics and news from your favorite teams and players.
The application has a user-friendly interface with convenient tabs that allow you to quickly switch between games, teams and leagues.
The main screen displays a list of current games and you can click on any game to get detailed information such as player stats, team standings and in-game updates.
One of the app's key features is the ability to stream games live. With a subscription, users can watch NBA games live on their mobile devices, providing a convenient way to keep up with their favorite teams on the go.
In addition to live games, the app also offers a number of other features. Users can set up personalized notifications for their favorite teams, receive breaking news alerts, and access videos and interviews. There is also a section for tracking statistics and performance of individual players.
While the app has many useful features, it is not without flaws. Some users have reported issues with the app crashing or freezing during live games.
There have also been complaints about the quality of the streaming service, with some users experiencing buffering and lag.
NBA Live Streaming is a useful tool for basketball fans who want to keep up to date with all the latest news and scores.
While there may be some technical issues, the app provides fans with a comprehensive platform to follow their favorite teams and players.
Application features:
No registration required
High image quality
You can watch live broadcasts
Application cons:
Failures and inaccuracies during operation