Stencils are a great tool for creating incredible art. You can use them to decorate clothes, make an unusual portrait, or even create a unique pattern for a cake. Use them however you want – there are really a lot of options.
Now services for their creation are available on mobile platforms, which allows you to quickly transform any photo. We have reviewed the best free picture stencil maker apps for Android & iOS, which have many useful tools.
To make new awesome art pieces try these best graph paper drawing and digital drawing apps for Android & iOS
Fx Stencil
With the Fx Stencil app, you can easily make a clear stencil from any photo.
Such a tool will come in handy for creating an original print on clothes, a coloring book, or just an unusual portrait.
For the stencil, there is a large number of different colors that you can use. As a source image, you can upload a photo from the gallery or take a snapshot with your camera.
Basic editing tools are available here, such as cropping the image and more. You can share the finished picture via Facebook and email, or save it to your device's gallery.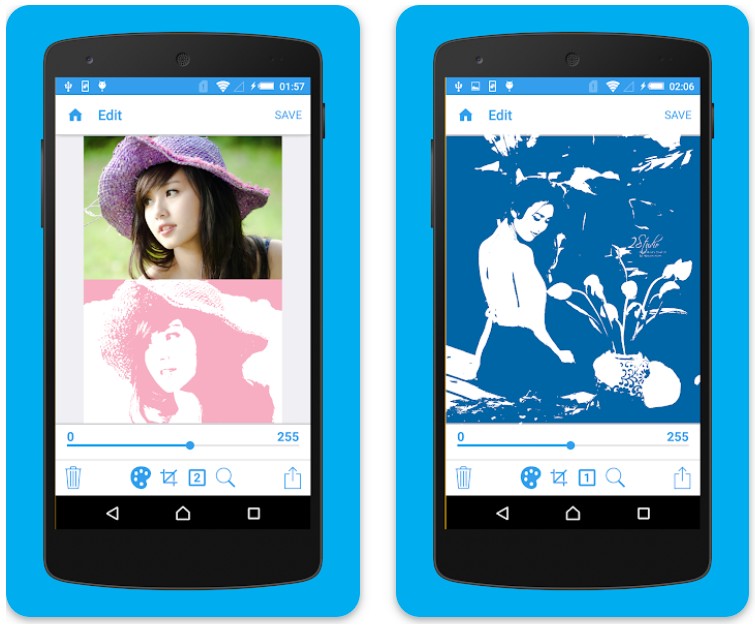 You may also like: 11 Overlay Pictures Apps for Android & iOS
Sketch Art Photo Editor
The Sketch Art Photo Editor will help you create a high-quality outline image of your original photo. It's easy to do with just a few simple steps.
First, you need to select an image from your phone's gallery. You can also take a new photo with your camera. Then press a special button and the app will automatically generate a ready-made stencil. After that, you can edit the picture.
Remarkably, you can edit absolutely any photo here. Scale it to make more precise changes. Explore the collection of textures and various backgrounds to apply them to your picture.
The final image can be saved to your phone gallery or shared on social networks. There are 11 styles in all, of which the main tool for you will be the stencil.
There are also, for example, sketch, hatch, and others. For fans of unusual filters, we would advise you to use the cartoon one, as it does a great job of transforming your photos.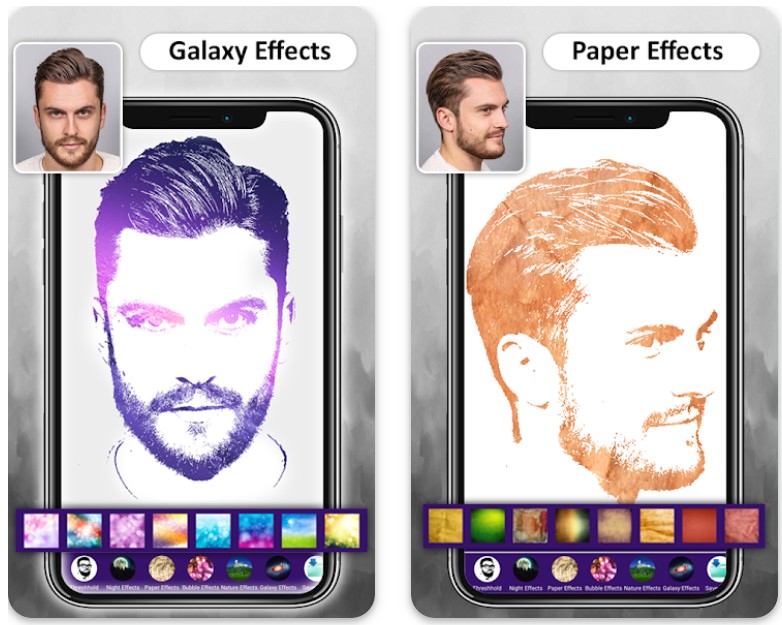 Color Sketch Art
Color Sketch Art is an app with which you will create a perfect sketch from your photo. All the features here are available for free, which pleases all users.
With their help, you can create a perfect sketch in just a few seconds. You can choose the color of the stencil yourself. Gradients and different pictures as a background are also available.
To get the result, you need to upload the original photo from the gallery or take a new picture. Trim the photo as needed. Then start the conversion process and you'll get a finished stencil.
There is also a layer blending feature. This will help make your image original and surprise your friends and followers. You can personalize your photo by adding text. Сhange the font, style, color, and other parameters.
An interesting collection of stickers is also available. You can make final changes in the editing mode. Enhance the photo and add a suitable filter.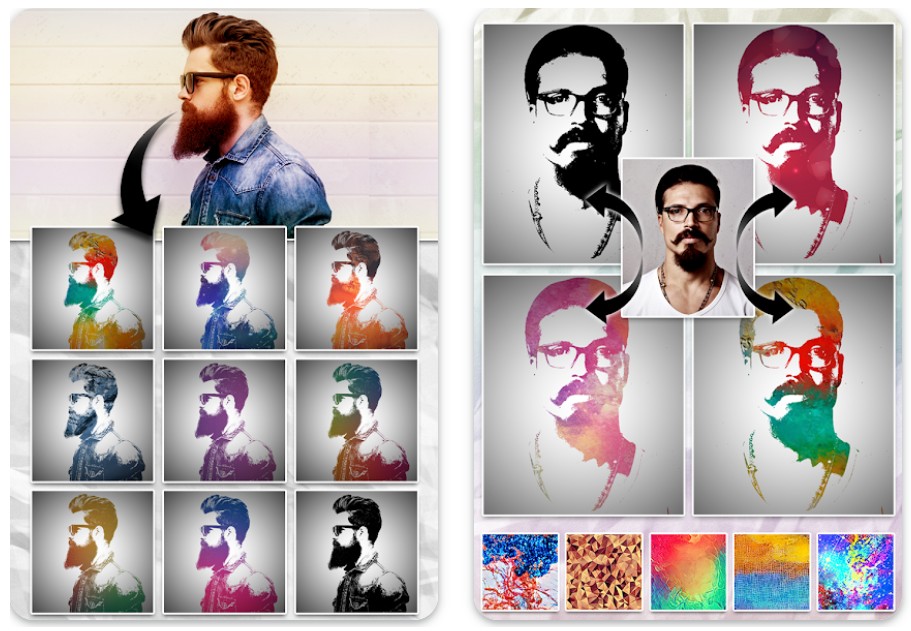 Photo to Pencil Sketch Maker
Photo to Pencil Sketch Maker is a free app that is designed to convert a photo into a stencil.
Here you can take advantage of the conversion to pencil sketch, line drawing, painting, and more. You will also have access to the automatically enhancing feature.
Of the basic editing tools, saturation, contrast, and temperature adjustments are worth mentioning. You can crop the photo or change the aspect ratio.
To protect it from plagiarism, apply text and select its design. Choose the best filter if you want a beautifully designed stencil. The conversion process is swift, you only need a few seconds.
Share the result on social networks. Twitter, Instagram, Facebook, and others are available here. You can send it by email if you prefer that method. Saving is available to your phone's gallery or SD card.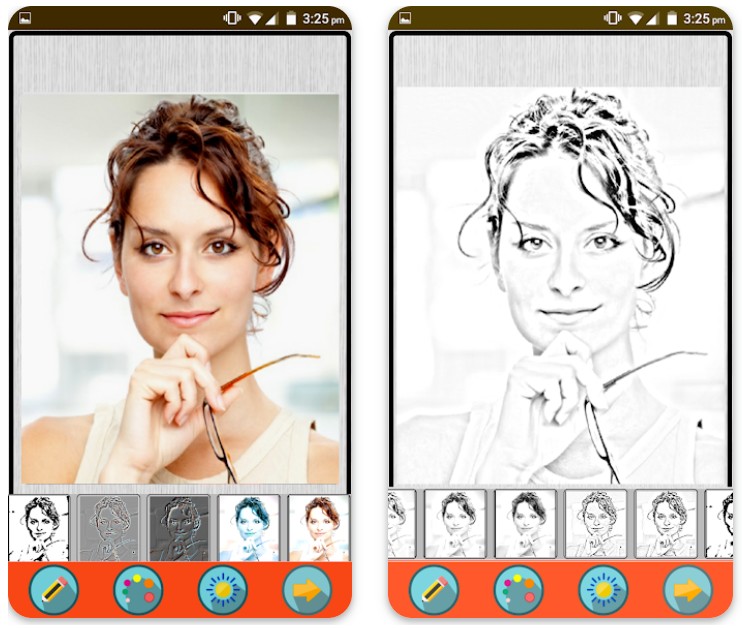 Tattoo Design Stencil & Ink HD
Tattoo Design Stencil & Ink HD will be your favorite app, especially if you are into tattoo art.
This program is based on artificial intelligence, which filters many possible options. This ensures that you get an accurate sketch.
You can use the work of other artists to get a stencil by processing their images. What's more, you are to join a community of users who also share their work here.
Give likes to the arts that you like. That way, the service will be able to offer you something that can inspire you in the future.
If you are also an artist, you can share your work and communicate with all users to exchange ideas.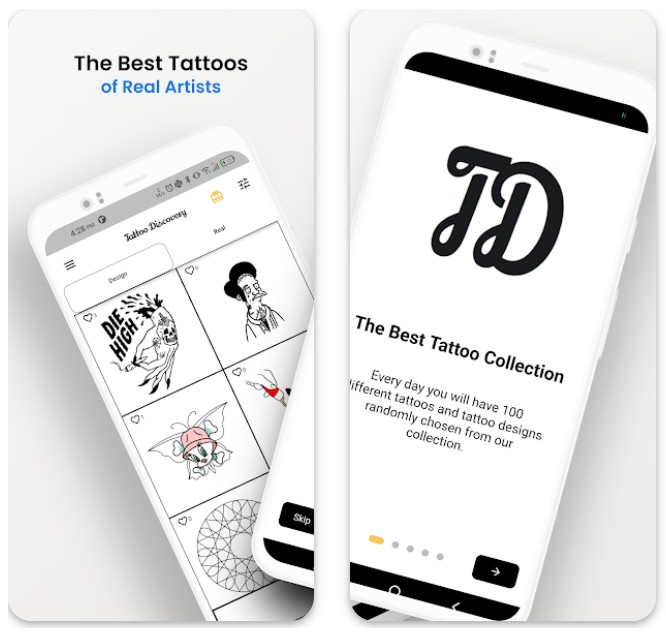 You may also like: 11 Free Picture Resizer Apps for Android & iOS
Adobe Capture
Adobe Capture is a sketching app. With it, you can draw using different brushes and colors to create a vector illustration.
The first time you open the app, an introductory presentation launches. The slides describe the features of the program. Here you can create sketches, save your work to the cloud, and publish your illustrations.
You are immediately prompted to log in to the service. To do this, use your Adobe account or you can sign in through Facebook or Google. After this step, the page with the new project opens. You can draw right away.
Create many layers of an image. They can be easily moved, merged, and renamed. As a layer, you can choose a ready-made image or a photo from the gallery of your phone. Here you can also change the blending mode, lightning, contrast, saturation, and brightness.
The finished project can be published in the community. To do this, you need to give a title and make a description of the stencil. By going to the Projects section, you can return to work on an existing sketch or add a new one.
When creating a new image, you need to select the format for digital illustration and printing. In the same section, in the Community Sketches tab, the work of other artists is available. You can rate, comment on, and share each of them in third-party apps. You can also follow other artists' work.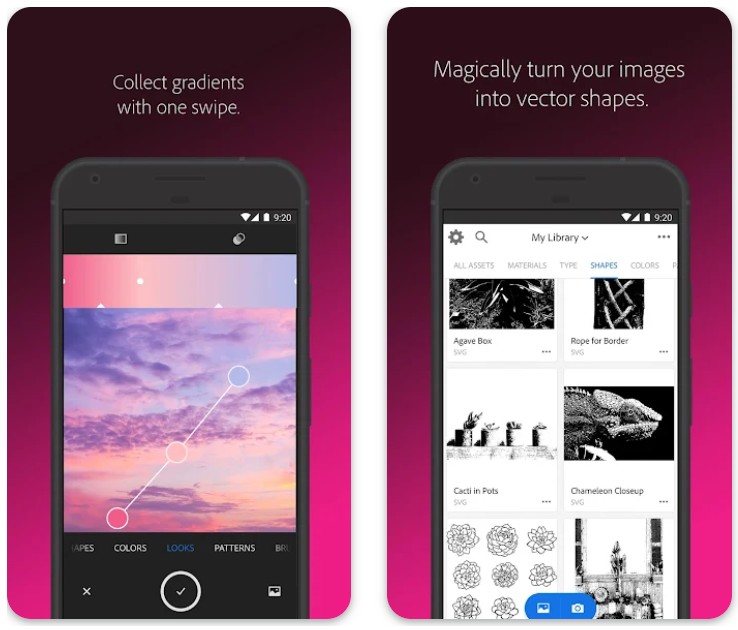 Pencil Sketch
Pencil Sketch is an app for converting photos into pencil sketches. You open an image from the gallery or use a snapshot from the camera to create a stencil.
Make black-and-white and color sketches in three styles with smooth edges at the touch of a button. The main window contains a sample sketch and the following sections: gallery, camera, samples, drawings, update.
The gallery contains all the photos from the phone's memory. The samples have examples of converted real photos that you can download and edit. The drawings section contains drawing tools.
Opening a photo from the gallery takes you to the editor. At the top of the Pencil Sketch editor are the tabs for selecting a transformation: draw, pencil, sketch, paint, graffiti, comic strip.
The slider changes the degree of effect of the first two tools. The photo editor contains the following features: filter, frame, exposure, contrast, and others.
In the Drawings section, there is a blank canvas for drawing, at the top buttons to save, share the result, and delete what you have drawn. At the bottom, the panel are tools for filling, color selection, line width, undo an action, return, photo editor. You save the result in the gallery.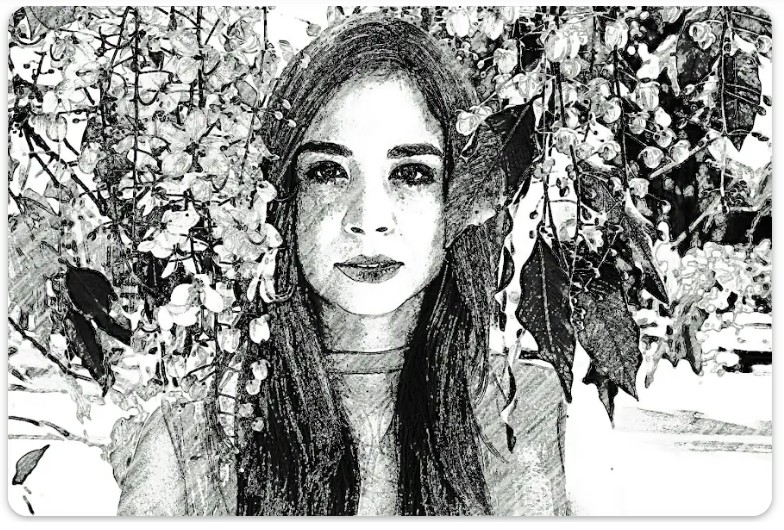 ibis Paint X
Ibis Paint X is a program that lets you show your creativity to the full.
The app adapts to most resolutions and also supports popular formats. Teachers will enjoy the ability to record the drawing process.
As for novice artists, the developer has thought of them and has provided a tutorial on YouTube. There is a special channel with tutorial videos dedicated to ibis Paint X.
The app allows you to smoothly draw and create stencils from photos. The creation of masterpieces and sketches is done at 60 frames per second. Thanks to this, you won't feel any discomfort – there are no touch delays.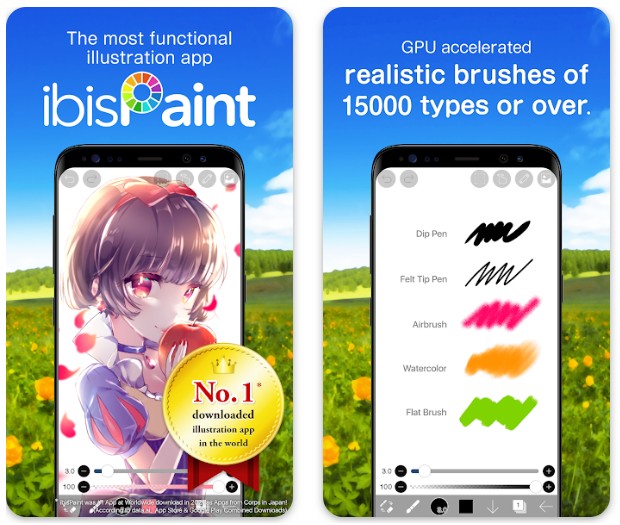 Coloring Book for Me & Mandala
Coloring Book for Me & Mandala is an entertaining app that captures the imagination with unusual images.
It unobtrusively immerses you in the creative process and promotes complete relaxation. At the same time, the program will be able to unleash your artistic potential and help you develop your skills.
A large number of tools and effects have been developed especially for this purpose. The coloring of personal photos is available.
The app allows you to convert your own pictures into a colorable stencil. If you need a raw version, you can convert the picture and save it immediately. To do this, you need to import any image from your phone's gallery.
There is a large selection of tools, such as markers, pencils, fill, erasers, and many others. The menu includes a function to send your artwork to your family and friends. You can do this using social networks or email.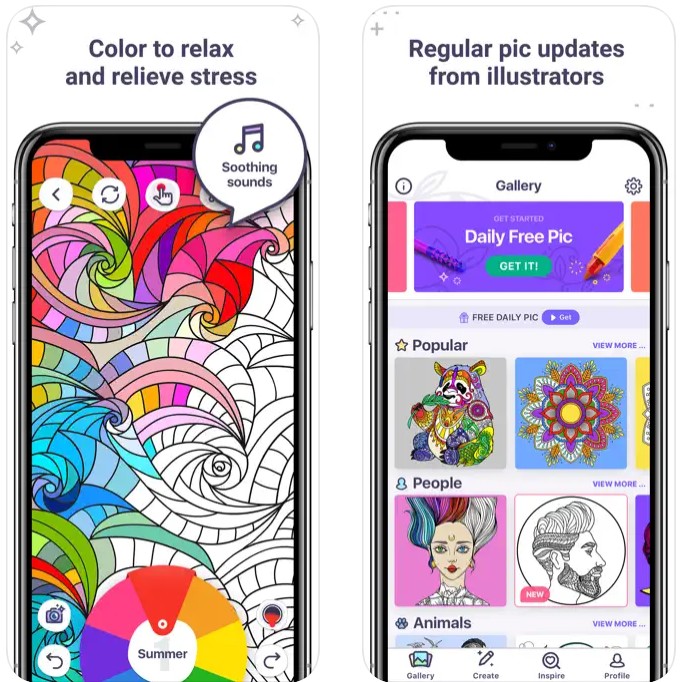 Stencil – Draw with Guidelines
Stencil is a no-so-popular stencil app, that, as it claims, teaches users to draw following the guidelines.
The app is full of pre-designed templates, which users can customize and modify to suit their needs. Those templates can include logos, social media graphics, posters, and more. You can also import your own images and designs to use as templates.
In terms of interface design, the app is quite ordinary and boring. But you can always quickly modify templates and add your own text and images. There is also the ability to adjust the size, color, and placement of each element.
And though the app is not specifically designed for learning how to draw, it can be a useful tool for beginners who want to experiment with different design elements and techniques.
The app's templates and pre-designed graphics can help users learn about composition, color theory, and other key elements of design.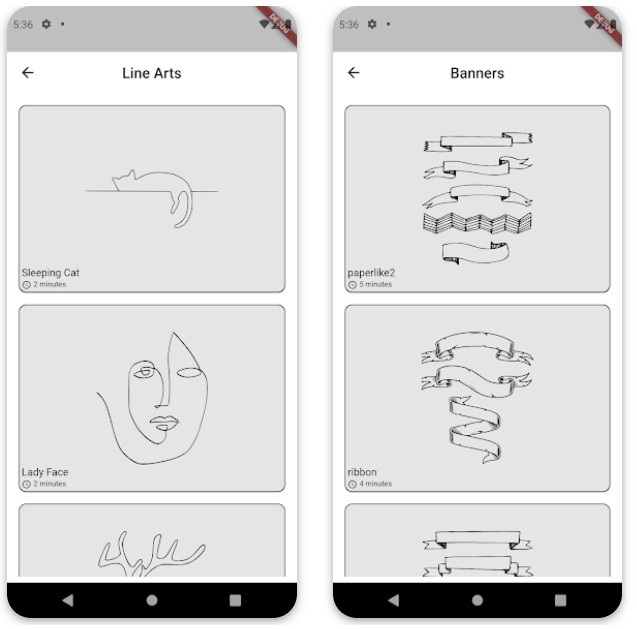 You may also like: 7 Best clone picture apps for Android & iOS
Sketch Photo Art: Image Editor
Sketch Photo is quite a primitive app for stencils. However, if you are not too picky about the interface designs and are OK if the app crashes from time to time, this might be an option to explore.
Here you will find such tools as brushes, pencils, and erasers. There is an abundance of brush sizes and colors to customize their sketches. As always, there is an additional feature to import images and photos to use as a reference or to trace over.
One of the drawbacks of the app is that it can be difficult to create precise lines and shapes, particularly for users who are used to drawing with traditional media. And we have already mentioned crashes and freezes.
At the same time, the app might be a valid choice for those who just want to practice their skills. The interface is easy to navigate, though we are quite sure you will get bored with the app quickly.