Scrabble is one of the classic board games that develop your intellect while playing. This game has been around for ages and gained a huge base of players all over the globe.
Nowadays, there are lots of free scrabble games for Android and iOS that empower you to play your fave game any time even if you don't have an opponent in the flesh. These apps have multiple modes you can try so you'll never get bored with playing.
And if you're a fan of intellectual word games, make sure to check out this article: 21 Best crossword apps 2020 (Android & iOS)
Here's the list of the 11 best free apps in that category you should try. Have a look!
Scrabble GO – New Word Game
Let's start with the game called Scrabble GO. This is a classic scrabble game that provides you the most realistic and satisfying gaming experience.
This game is often called the best scrabble game on the market and here's why. First of all, it has a sleek and easy-to-use interface that imitates classic scrabble boards. The game also enables you to personalize the scrabble with custom words. Each round you successfully pass will bring you coins and rewards that you can exchange on golden chests.
In case you'll find some levels too tough you can always use hints that will help you to get through them. In case you're just getting started with playing scrabble and don't want to risk your coins and hints you can try the practice mode and contest against the AI. Besides, all your stats will be saved and stored in your account so you could always view them.
Plus, the app has four gaming modes so you always get to try something new. The classic one is duels — this mode empowers you to play five turns against opponents that are on your level. Then, there's a word drop mode — this is a new word-searching type of scrabble. If you're into anagrams and stuff you should definitely try the tumbler mode.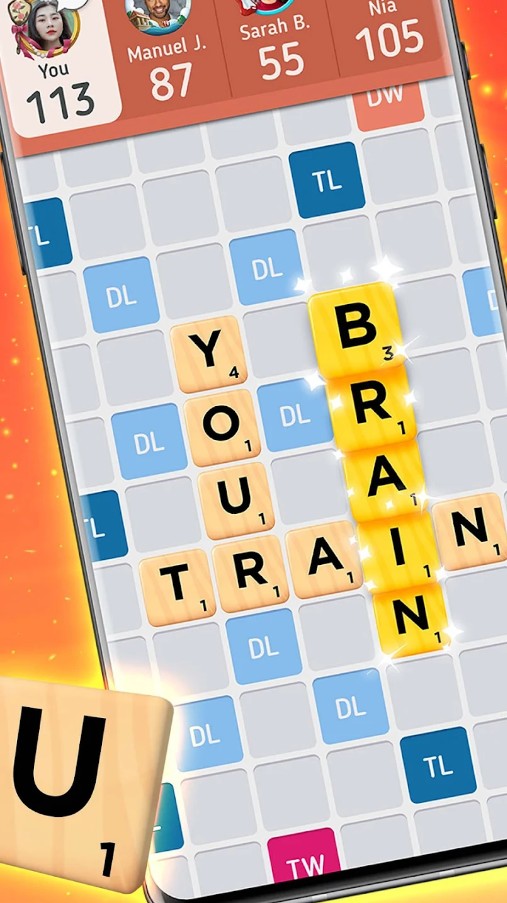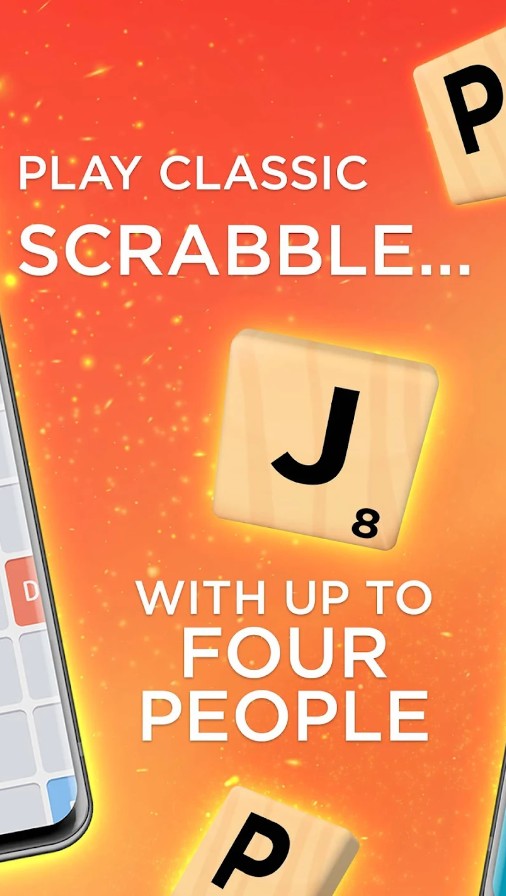 You may also like: 11 Best word association games for Android & iOS
Words With Friends 2
Words With Friends is the game that makes millions of scrabble lovers lose themselves for a long time.
Seriously, there are too many people talking about not noticing how they've spent hours passing through rounds. The main reason for this game's popularity is its smooth interface, eye-pleasing design, and the fact that you can calmly play at your pace without worrying about the records. The game saves all your stats keeps track of your overall scrabble skills.
Beyond that, the game also has several playing modes — from classic duels with players with the skills several to yours to the games against the computer. Therewith, this game is one of the best when it comes to playing scrabble with your friends. No joke, this game will even be addictive for people who wouldn't usually play scrabble with you.
As it always happens with these games, the more you play — the tougher the levels become so don't hurry to use all your hints at the beginning. Each round will bring you some points and rewards you can exchange on hints or other useful in-game stuff. You can also complete daily challenges to train your brain and get more points.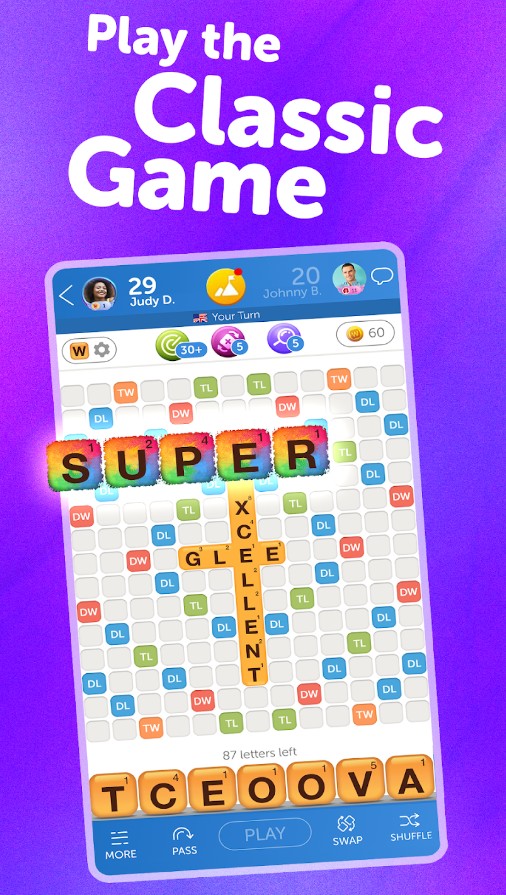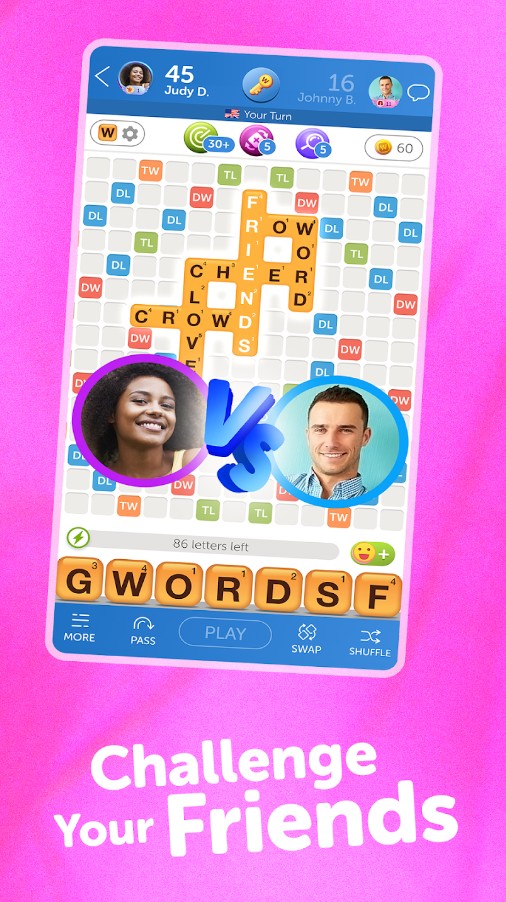 Wordfeud Free
Wordfeud Free is a multiplayer scrabble game that employs you to test your scrabble abilities in duels against millions of other players worldwide.
For now, the game has almost 30 million active users so you can be sure you will find an opponent whenever you decide to play. The coolest thing about this game is that it does everything for you to not get bored with playing. Thus, you can try various boards and change where the titles will be placed. But if you like to stick to the classics, there's always a good-old 15 by 15 board.
As always, you start with simple levels and then the difficulty starts to go up. You also get some coins and a couple of hints at the beginning so no worries about that. Each round will bring you new points and you can get more for doing some extra-smart moves like dual and triple words or letters.
Speaking about the playing modes, you can rather play in a duel against random players or your mates or practice your skills against the AI. That being said, if you'll decide to compete against accidental contestants, the game will automatically pick the opponents who have skills similar to yours.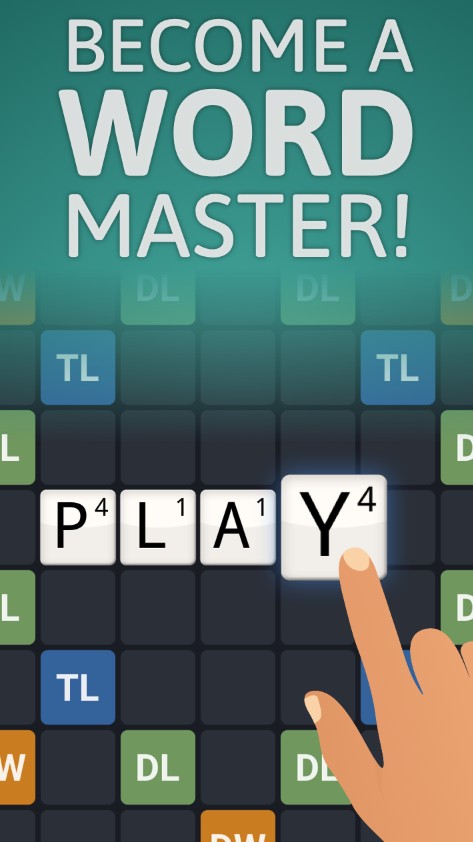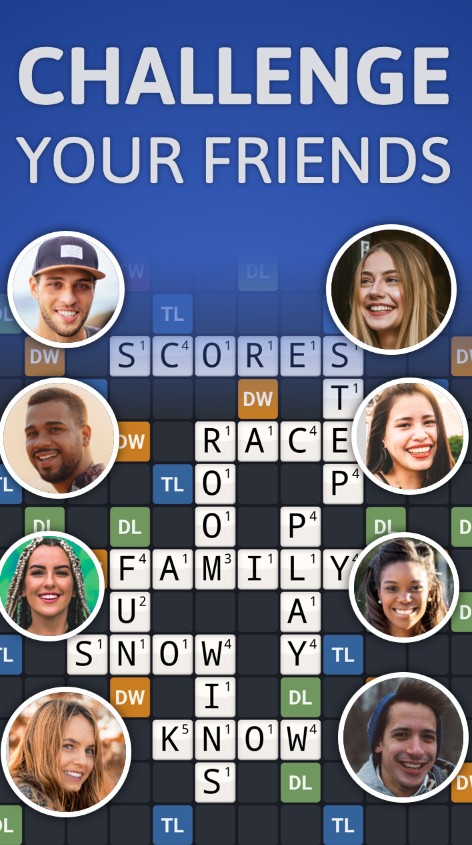 Classic Words Solo
As you can already guess by the name, Classic Words Solo is a traditional scrabble game that will pump up your vocabulary.
The coolest thing about this app is that you can actually view the definitions of all the words for each level. Moreover, you can save the ones you didn't know at your faves to always have them on hand. The games also have 6 difficulty levels so all kinds of players are covered — from beginners to experienced experts.
On top of that, the game has a sleek interface and all the boards are colorfully drawn. The outstanding thing about this app is it doesn't cover dual matches against real opponents. That way, you can play scrabble non-stop without the need to wait for your opponent's next move. Thus, you will need to beat the AI that immediately reacts to your every move.
Each move you make in this game brings you points. And the game has quite a generous reward policy — you can get lots of coins for double and triple words. Plus, you can use all seven letters of the track to get a bingo.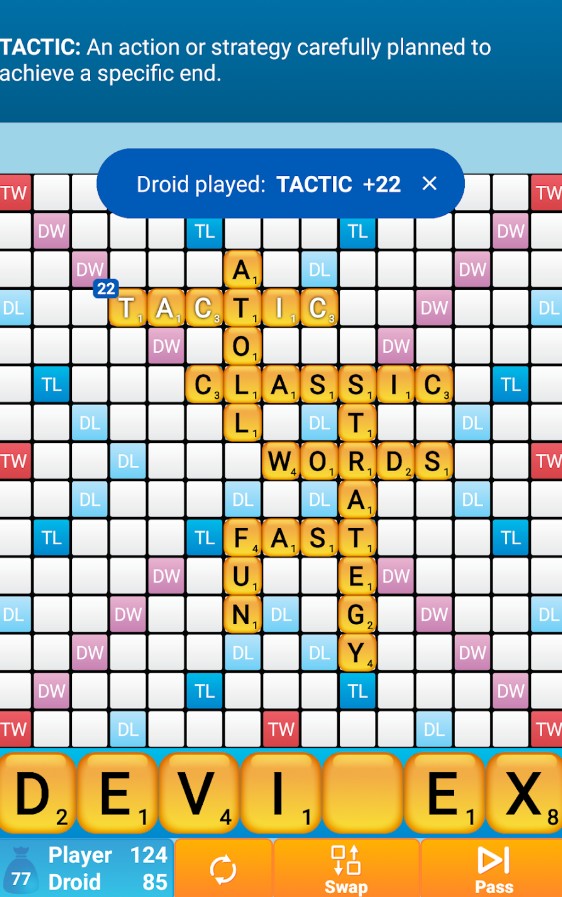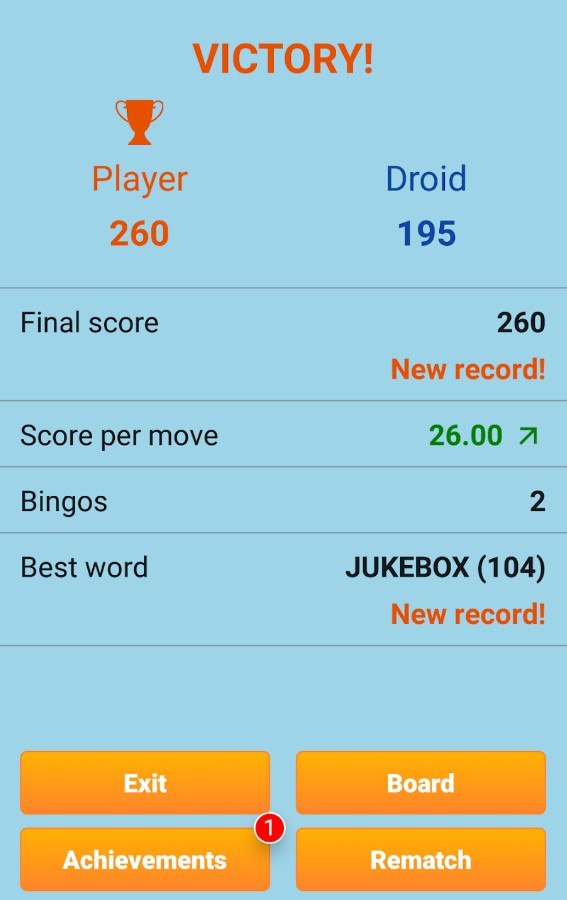 Word Crack
Word Crack is another scrabble game that will train your brain and extend your vocabulary.
Frankly speaking, this game has everything you might need from a mobile scrabble. Thus, you can switch different gaming modes to not get bored — you can play in duels with random players or your mates or play against the AI. Therewith, the game always estimates your gaming level and picks up the contestants with a similar one.
According to the genre, the levels will get more and more challenging when you'll move through them so don't hurry to use your hints. Each move you make will also bring you coins and if you'll do some smart moves like triple words you will get extra rewards. Plus, you get to participate in daily challenges to train your skills and earn coins.
There are also some advanced bonuses for people who get to use all 7 letters on the rack. The game keeps track of your score and overall results and you can always view them at your back's stats. You can also customize the look of your board and replace the titles as you like.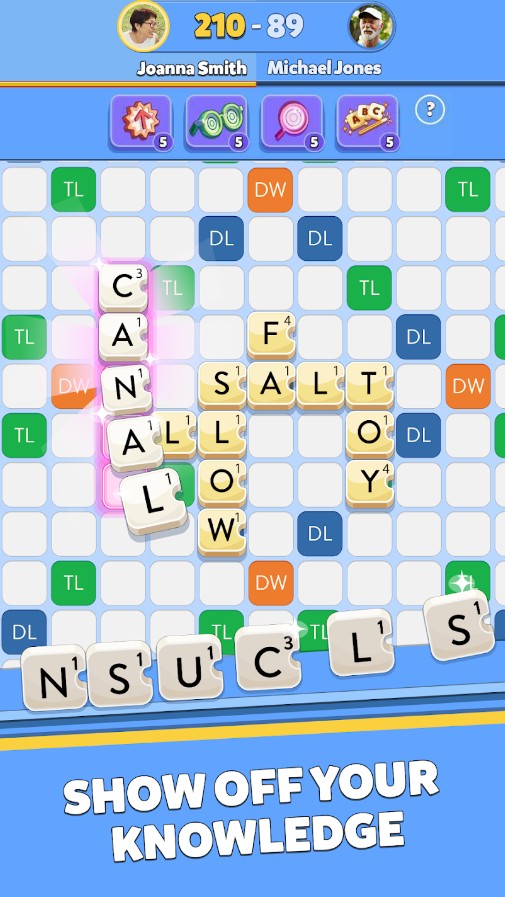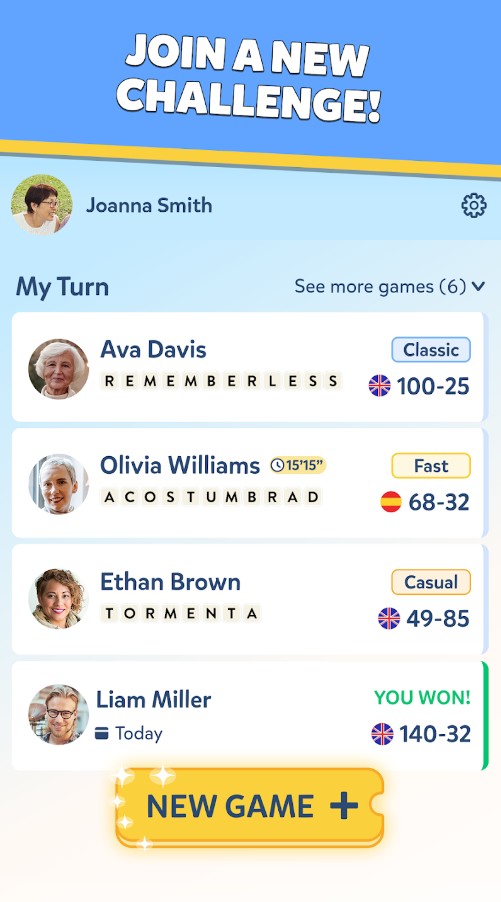 Word Wars – Best New Word Game
Word Wars is a well-known scrabble game with an army of loyal fans across the globe. This game has a bright and colorful design that will drag you into the world of scrabble. The game has absolutely no ads so nothing will bother you and distract you from the gaming process.
Plus, the game covers the players with various skills — from the very beginners to the experienced ones. On top of that, the game has several playing modes that won't let you get bored. Thus, you can try playing with mini boards (in case you're in the rush but still want to play a quick round). Besides, there are traditional duels that empower you to compete against random users or your mates.
It needs to be said, all the random opponents will be on the same playing level as you so you both get the same possibilities of winning. In case you're just starting to play or don't want to wait till your contestant makes a move you can train with the AI. The game has a generous points policy so you can always get yourself more hints or power-ups.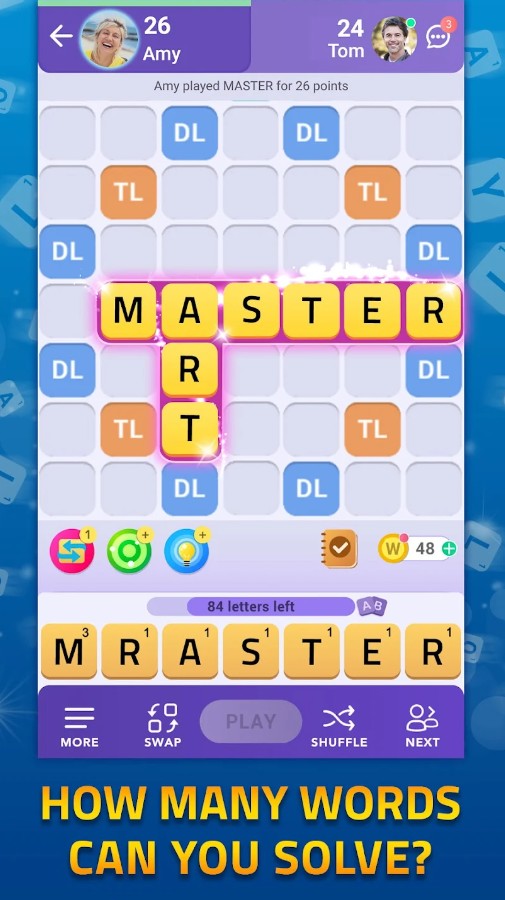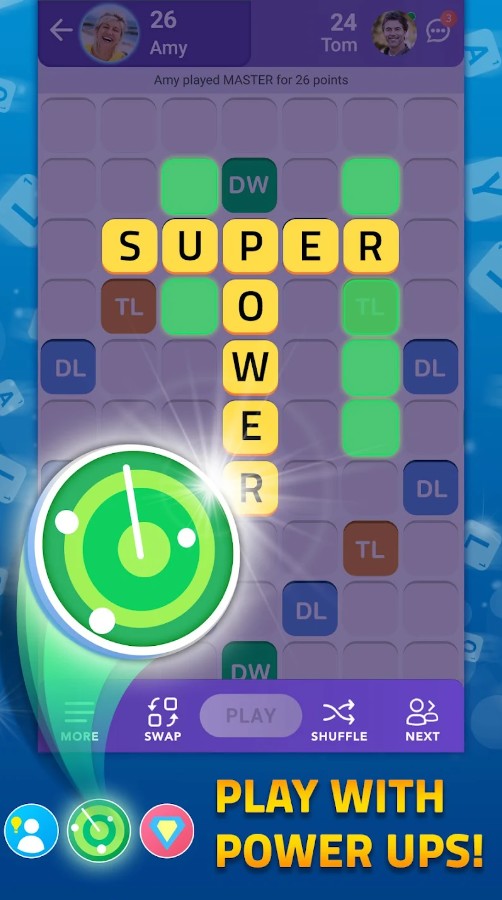 Check also: 11 Best Griddler puzzle games for Android & iOS
Word Chums
This word game app has been around for ages and has gained quite a following with lots of downloads. With it, you get to play Scramble, solve crossword puzzles, build words and create anagrams. In terms of additional features, there are power-ups, custom tiles, and adorable chums to collect.
Performance-wise, the app is sturdy and dependable, although it did freeze once or twice in my experience. It features a pretty interface fit for a fun yet intellectual challenge. Playing with your vocabulary is educational by definition, so I could call it "fun with benefits."
You can play solo, challenge friends, go head-to-head with just one friend or join a 4-player match, or get matched with random opponents. The app is truly a social one: there are leaderboards, challenges, and high scores to beat. You cannot play offline, though.
The app is pretty light on your phone's memory, too.
However, there are ads. Paid features are there, too: you can buy coin packs and remove ads if you wish. Besides, you can pay for word hints and drop Bombs to help unlock new letters.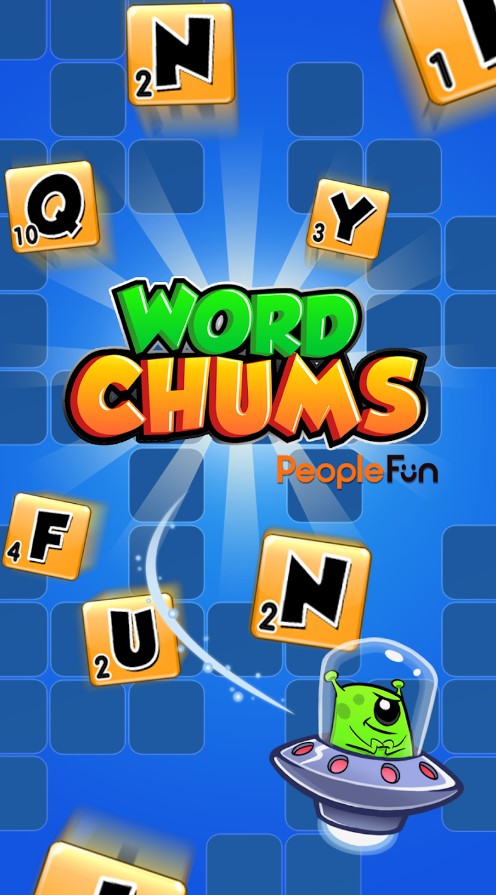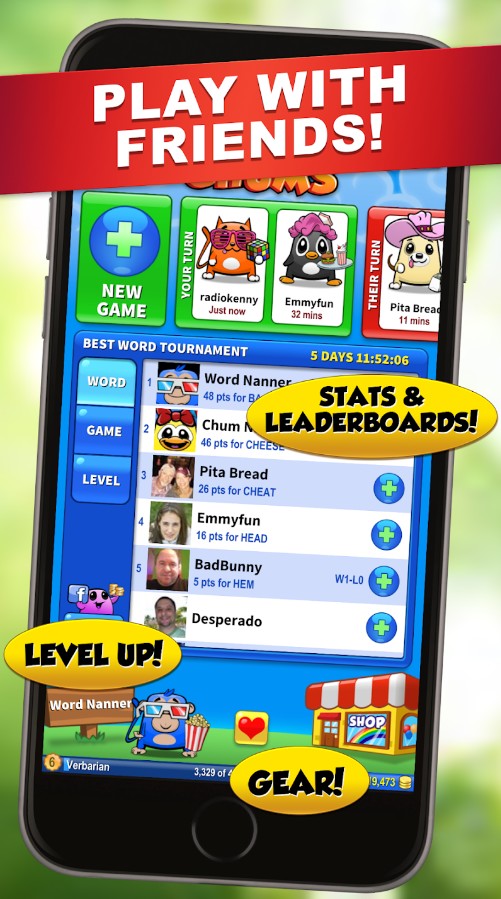 Word Blitz
Word Blitz is the game that will test and enhance your vocab while playing.
Along with its sister games, this one aims you to play against other loopholes and scrabble lovers to find out who's the best. The rules are quite basic — you will need to build words from the letters ordered by chance. The more words you find — the more points you get. Besides, you can get extra points for finding double words and letters.
And you can also get a super bonus for using all the letters from the rack. Therewith, you can swipe the letters in all directions including the diagonals. But don't rush to consider this game as easy — every level comes with a timer so you'll need to think quick.
Beyond that, the game empowers you to compete with both random users or your mates. There are millions of active users so far so you will find yourself an opponent at any time of the night and day. Furthermore, all the random players will have a level similar to yours so the possibility of winning is always fair. You can also participate in daily challenges to gain more points and train your skills.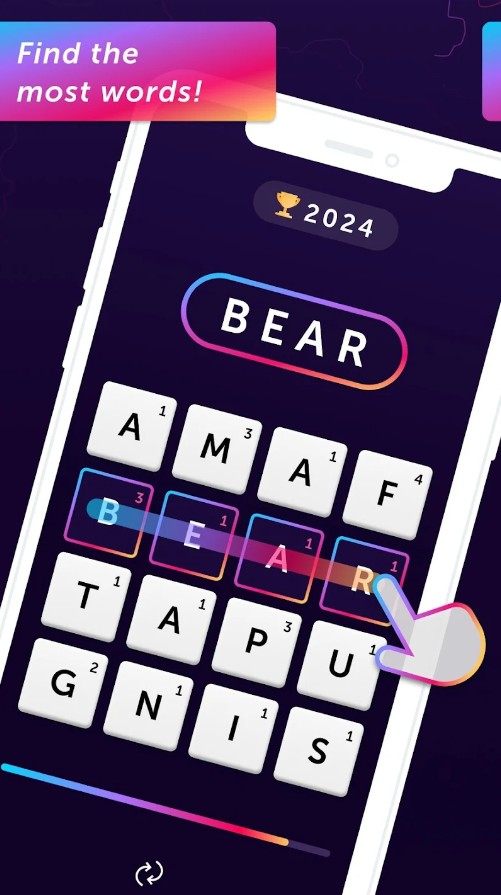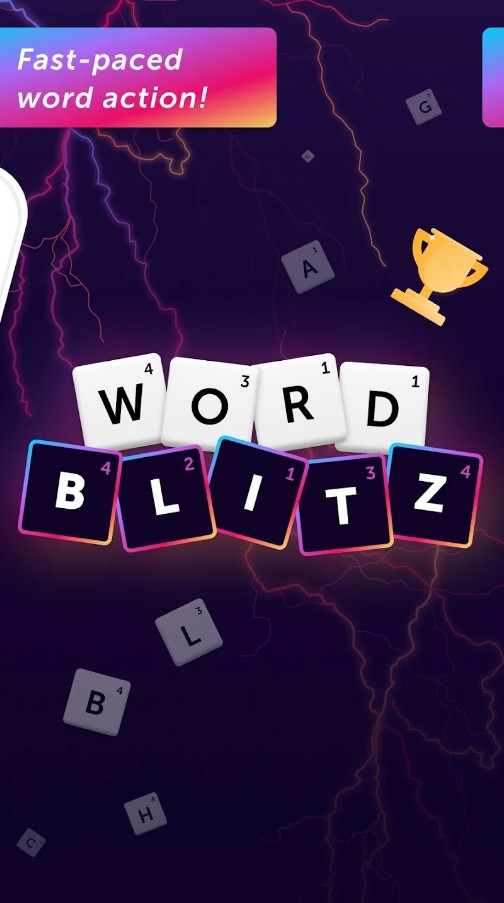 Word Buddies – Fun Puzzle Game
Word Buddies is a fun scrabble game that empowers you to compete against other players worldwide.
This game tries to do both — develop your vocab and let you have fun playing. That's why it has a built-in dictionary with a description of all the words and a cute design with funny animals. But beneath the colorful interface, there's a pretty traditional word game you all know and love.
As always, the difficulty of the game's levels grows while you move through them. With every new level, there will be more obstacles standing on your way to the win. Plus, you will need to pass the round successfully and get a certain amount of points to unlock the next one.
Each move you make brings you points you can spend on power-ups and hints. In case you want to get the biggest amount of points possible — think strategically and try to find double and triple words. You can also get some extra bonuses for filling in all the letters from the rack. As for the playing modes, you can compete against random users or your mates and even form teams.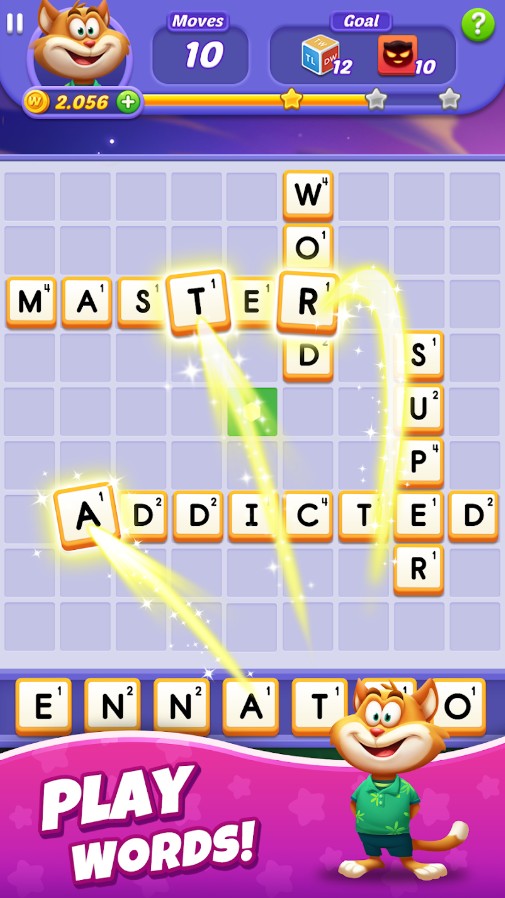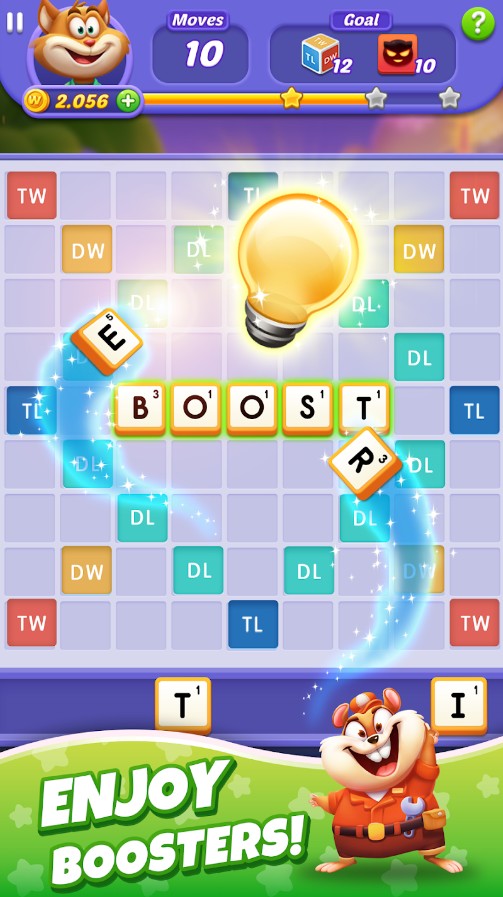 Word Master
The Word Master game has everything a traditional scrabble has and even more.
This game is some kind of innovative version of scrabble that has wide customization tools. However, when it comes to this app, it doesn't give you the opportunity to play against real people, only the AI. This might seem boring, but it actually has lots of advantages.
First of all, you won't need to wait till your contestant figures out his next move — the AI immediately reacts to your action. And secondly, the game doesn't require an Internet connection so you can play any time anywhere. The levels in this game become more and more complicated while you move up so don't waste all the hints on your first rounds.
You will get points for every word you lined up and it's possible to get some extra ones for double and triple words. You can also fill in all the letters from the rack to get an extended bonus. Besides, after each move you make the game will show you the words you could potentially get which is great for our vocab.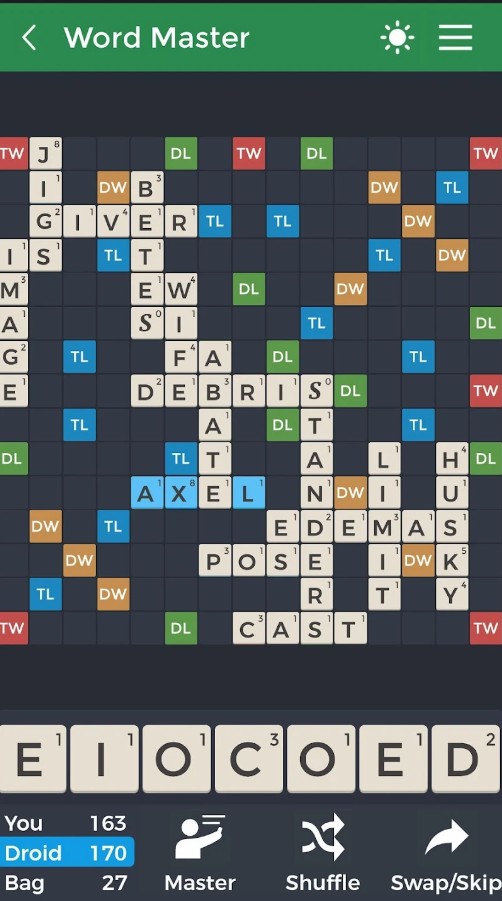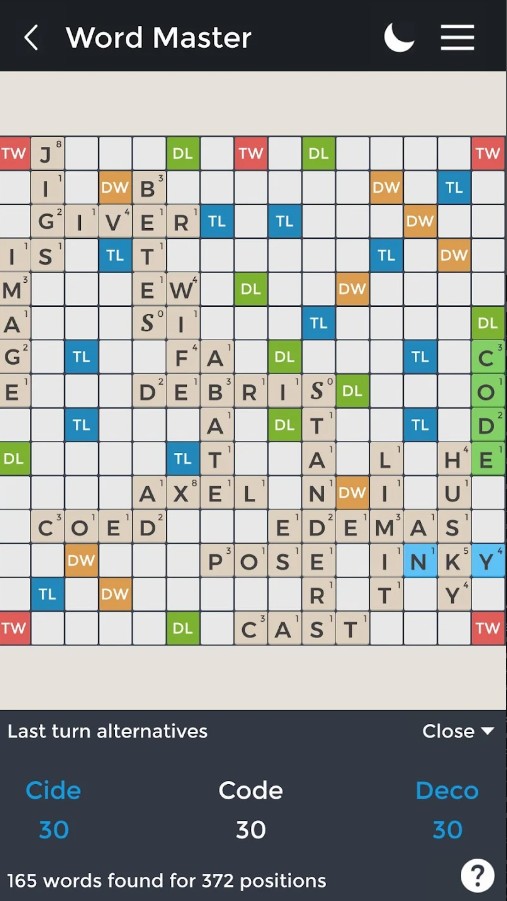 Wordox – Free multiplayer word game
And lastly, Wordox is a scrabble game that empowers you to test your skills in duels with worldwide players.
Apart from the previous game, this one aims you to play scrabble in turn against your opponent. All the rounds will happen in real-time without the ability to pause the game so you will need to think strategically and quickly. The app runs on traditional boards with 9 to 9 boxes.
According to the rules, the users who will get to 25 points first — wins. You will get points for every letter you arrange and the score will rise faster if you'll get double or triple letters and words. In case you want to get the biggest amount of points at one you will need to fill in all the letters from the rack.
Beyond that, you can not only play with random people — you can also compete against your mates or train with the AI. The game also has a leader board for each country and the world's one and your biggest goal here is to get on top of it.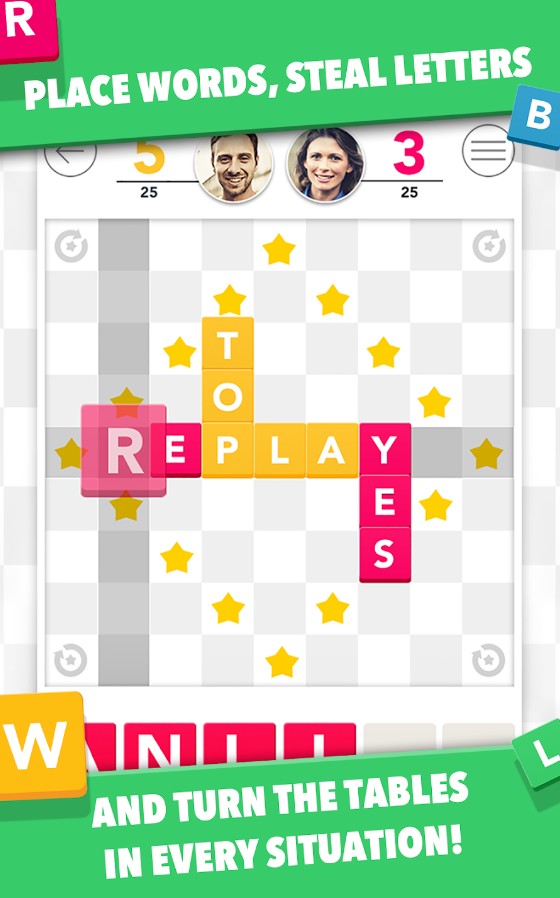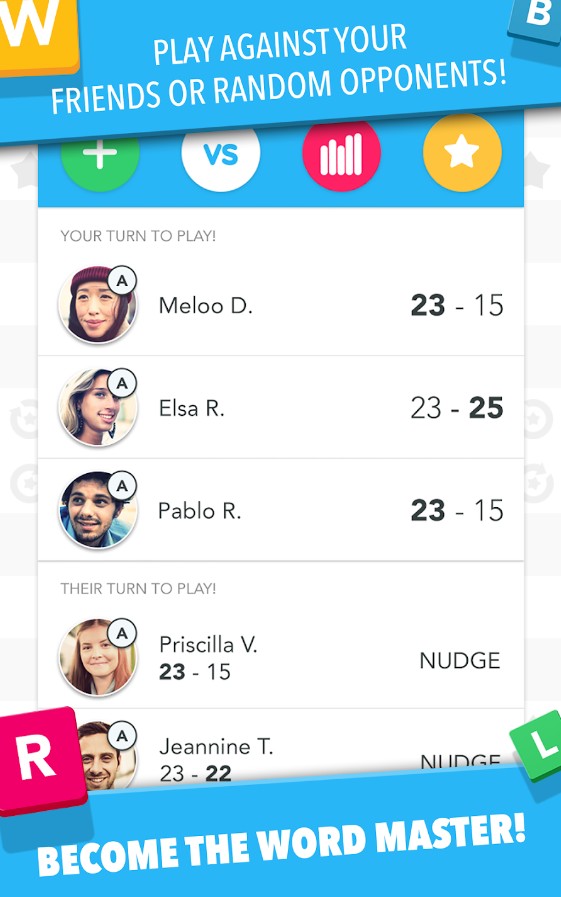 You may also check: 11 Best Dictionary & Word Game Apps for Android & iOS
WordCrex – The fair word game
If you have ever wished you could become a Scrabble champion, you can try your hand at WordCrex – a version of the popular game. You can create words, compete with friends or random opponents, and put your vocabulary skills to the test.
The inte­rface is designed to be user-friendly and approachable, in vivid blue and yellow hues.
Playing with others adds to the fun. You can invite a friend or join a game with up to four players. The­re are power-ups, and tourname­nts, and you can chat with other players while in the game. Plus, the game supports multiple languages so you can play and compete with friends from all over the world.
Unfortunately, playing offline­ is not an option: an interne­t connection is needed to compete against other players. The size of the app is not large at all. However, to me, it seemed somewhat buggy and a bit slow.
Speaking about additional features, there is an option to enhance your experience by purchasing coin packs and re­moving ads.