11 Best Mirror Apps For iPhone
Updated December, 31, 2016.
Hey, girls! I think, this post is a real find for you.  How many times per day we have to correct makeup or hairstyle if a nice guy goes aside you? Thousands of times, I don't mistake. Of course, there is a situation that there is no pocket mirror at hand. Life always kids you at every  inappropriate moment. But your smartphone is always in your bag! Actually, you don't know what your smartphone is capable of.
Every day we write posts about how to fix or improve your iPhone's work and make the best apps collections to make your life easier. This post is about how to turn your iPhone into a mirror. In case, that it has a full battery.
1.Mirror ◎ – Put on makeup, check your teeth & lipstick, or take a selfie!
Do you have a problem skin or there is a little pimple on your nose which is worried you? What should you do? Of, course, mask it! What should you use ? Yes, Mirror ◎- Put on makeup, check your teeth & lipstick, or take a selfie!
The feature is that it uses the front facing camera on compatible iOS devices to create a real mirror. So, your face every time looks clearly. Moreover, you can zoom the screen to notice the littlest details. Your makeup will be always beautiful and eye lines are straight
In addition, there is an option" Night Mode", which allows you correcting makeup in the evening. For example, if you go out to a Nightclub.
2.A Real Mirror Free
It akin to the previous app. Simple interface, clear image , it is free. Forward- facing camera allows your actual reflection to appear before your eyes.
Use it to create excellent hairstyles, ponytails and others. Correct makeup, skin tone, lipstick on your lips and draw straight lines on your eyes.
Tweezing eyebrows and making sure there is no food in your teeth.
3. @Mirror
What can be more useful and convenient than a pocket mirror! Of course, a mirror in your iPhone. This app provides you a great tool for putting make-up on. You have to look good, that's why this app is helpful for taking a sly look at yourself from time to time.
It's easy to use and have a lot of features. For example, if it a complete darkness and you can't see anything in a mirror, thanks to Night Mode , now you can. Your face will be a little bit highlighted, but quality will be still the highest.Use variable zoom from 1x to 4x. There is the option to freeze the image to capture a detail.The possibility to easily draw over your photos and edit them.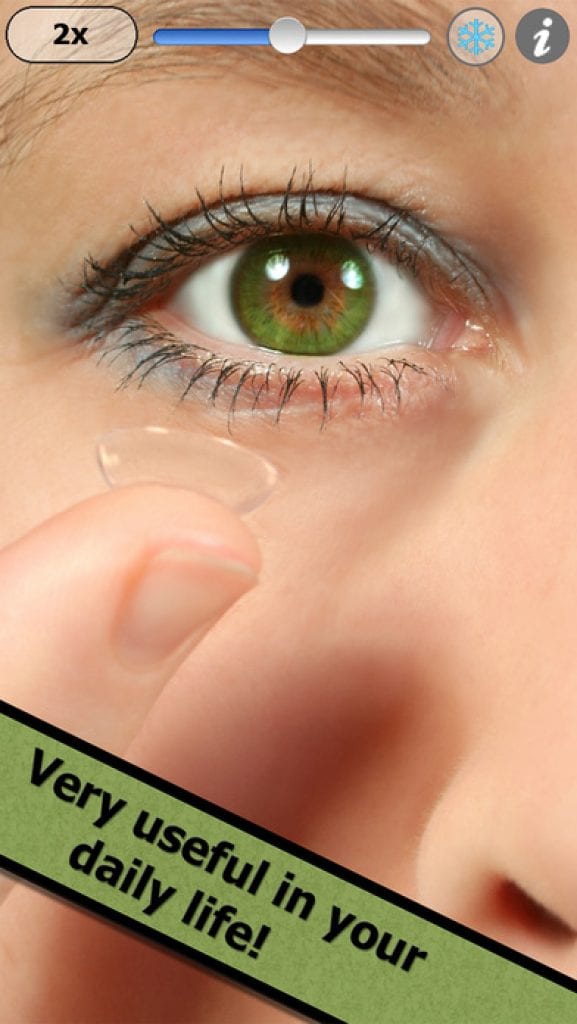 ore
4.Mirror ♡
Pretty app for girls , which works very simple. Devices with front facing camera's give you a real time image of whatever you are pointing your device at. Tap the screen to capture the image and zoom in and out. You just need to point your device's camera at your face and listen for the beeps. After all, it will take a picture of you and you will ba able to get a closer look , zooming in and zooming out.
It doesn't save pictures to your Camera Roll.
Speaking about its features , there are  3.3x Zoom, 5 different frames to choose from  and it always remembers your frame selection.
5.YouCam Makeup – Virtual Makeover & Beauty Studio
This app is more than just a pocket mirror. It is a pocket makeover and hairstyle studio with hundreds of makeup and beauty products for your digital makeover!
If you don't sure , what makeup, color, and hairstyle are the most suitable for your dress and different occasions, try to virtually change yourself without changing. Variety includes hundreds of different makeup and beauty products.
I will guide you briefly. There are several categories: Real-Time Makeovers, Flawless Skin & Face,Dye Your Hair or Change Your Hairstyle, Beautiful Eyes, Eyebrow Makeovers, Apply Lipstick & Whiten Teeth, Beauty Circle social network- Your Daily Beauty Guide. In every category you can add colors , choose a style and mix  whatever you want.
Moreover, you can record a Makeover Mashup Video, simply try on a series of makeup looks automatically and record them in a short video.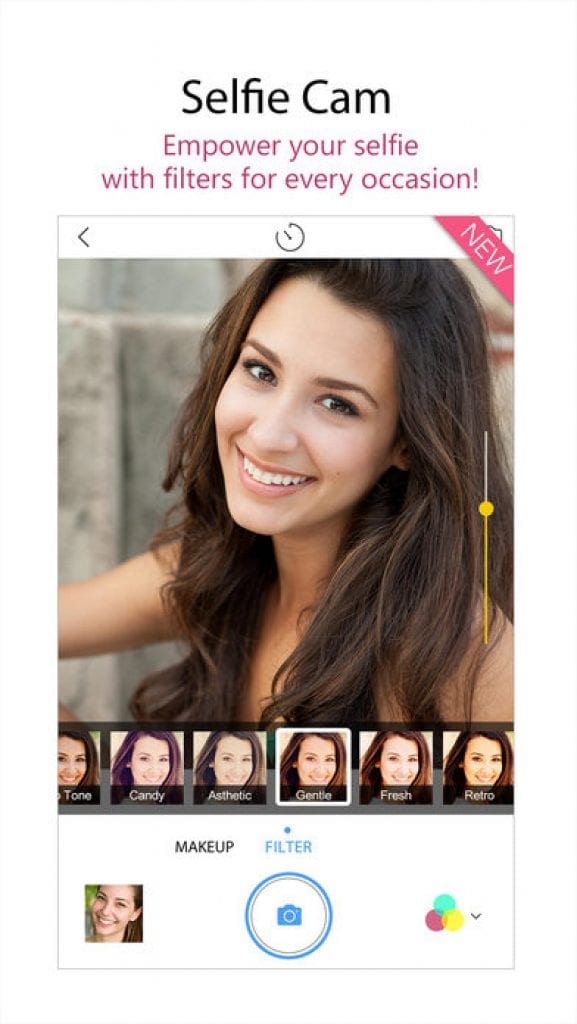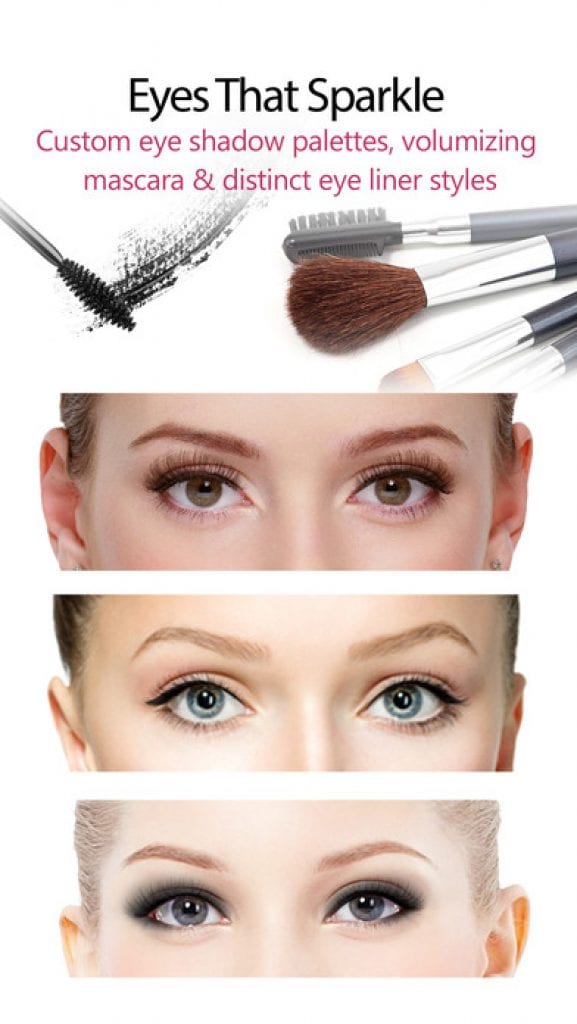 6.Makeup Mirror – Vanity Mirror In Pocket
Just friendly-to-use app which allows you using your iPhone as a pocket mirror. You can take it with you everywhere.
There are several special features : In addition to that, you also get zoom controls that allow you to zoom in and out of the image capture ( Tap on the screen to zoom in the image and tap again to zoom out. ) to get a closer look at that green thing stuck in your teeth.
If you want to turn you iPhone into a mirror, this is the closest thing you can get.
7.Magic mirror booth : Photo booth change your face and voice app
And if you tired of looking at yourself, or you are in a bad mood  because of many problems at work ,at school at a playground , following your child, try this app!
Take funny pictures and shoot videos of you and your friends in the magic mirror booth! 9 fully customizable effects with on-screen controls. Enhance your smile, stretch your face, look like a monster, alien, monkey, dog and more! Shoot videos with an altered voice for unending laughs. Share the fun with friends by email, twitter or Facebook.
The interface is very simple, so it is very easy to orient.
8. Real Mirror – Face Makeup Camera & Selfie App
This app made by Novix Technology inc. And it's pretty new one. Nevertheless, it can be your only mirror app, because it has plenty of options all in one. For example, you can compare your makeup with some model's makeup at one screen, which is cose. Also it has a pretty nice feedback from users with 4+ overall mark on iTunes.
Real Mirror has 12 languages to make it super international, but you won't really need them all, because using is really simple.
9. SmartMirror – Automatic lips and eyes tracking and zooming mirror
How is it different from other pocket mirror apps? Well, have you ever meet a mirror, obeying to your voice? No? Here it is! SmartMirror implements Open-Ears voice recognition for Hand-Free operation. So, tap on the right button for two seconds  or just dictate your wishes.
Also, it  uses face recognition algorithm to automatically zoom and track your lips and eyes, making it easy and fun when putting your makeup. Use it as a camera to take a selfie. They save automatically to Photo Album.
Customize your interface, choosing one of five different themes with different colors and enjoy it! Make the app yours.
10.MirrorMe – horizontal reverse your front facing camera photos
Women face the lack of a pocket mirror often than men, that's why we said that this post is for girls. But men also get in unpleasant situations like when a green piece of parsley stuck in his teeth, for example.
This app is interesting for its feature:  select the options, horizontal reversing or not and take photos in a real-time. The simple interface will help you to do it.
If you want you can share your photos to social networks like Facebook, Twitter, Instagram and etc.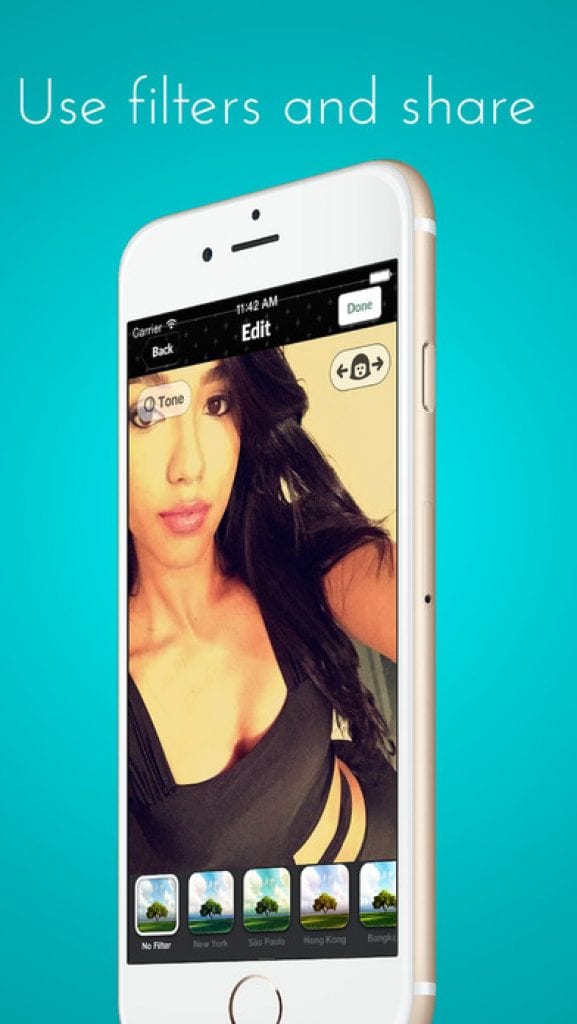 11.iNight Mirror
Well, imagine that you are sitting in a restaurant, bar , nightclub or another darkness place . And you feel uncomfortable because you don't sure that your hair is good at the moment, or your lipstick isn't eaten. But, you don't have a pocket mirror at hand, and there are a lot of people in a toilet. Use iNight mirror in such situations! This app was created by a person who has been in that situation many times.
He tried to create an app which allows people to see themselves even in complete darkness.
Well, there are the most valuable and convenient mirror apps we collected for you. And we hope you will really enjoy ,at least, one of them. Check your teeth to make sure that there is no green piece of something you ate.