Most often, smartphone users use instant messengers instead of standard calls and SMS. These applications allow you to make audio and video calls, as well as exchange messages, photos, and other files.
You may also like: 12 Free caller location tracking apps (Android & iOS)
In this article, we will look at the best wifi texting apps for Android and iOS devices that have received the most popularity.
Messenger
Messenger: Text and Video Chat for Free – always stay in touch with friends and family! This is a free messenger for Android and iPhone smartphones and tablets.
This messenger resembles SMS-correspondence, but without pay for each message. In it, you can communicate not only with your Facebook friends – send messages to contacts in your telephone and just enter a friend's number to replenish it.
Create group chats and invite people with whom you often correspond. Set a name for the chat and add a photo to it in a few touches.
To send photos and videos you don't need to go to the gallery – you can upload them directly through the application interface, or you can take a new picture through the built-in camera.
The application allows you to communicate for free in your internal network. Calls are made via a Wi-Fi connection, 2G, 3G, etc. With Messanger, you have even more opportunities for communication! Add stickers to your messages, attach photos and videos, record voice messages, and much more.
Even more simplified communication is the ability to send messages, search by users and groups, geolocation, home screen shortcuts for quick access to chat rooms, the notification system, and the ability to find out when a user has read a message.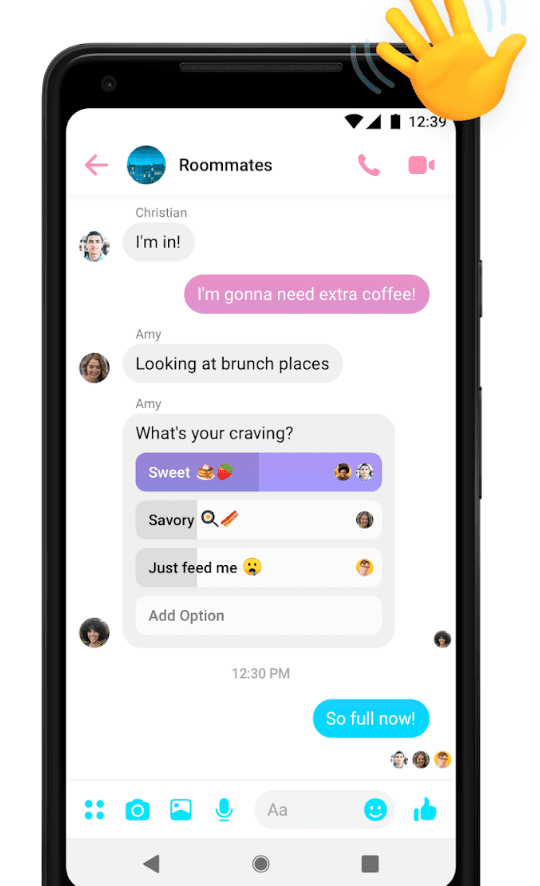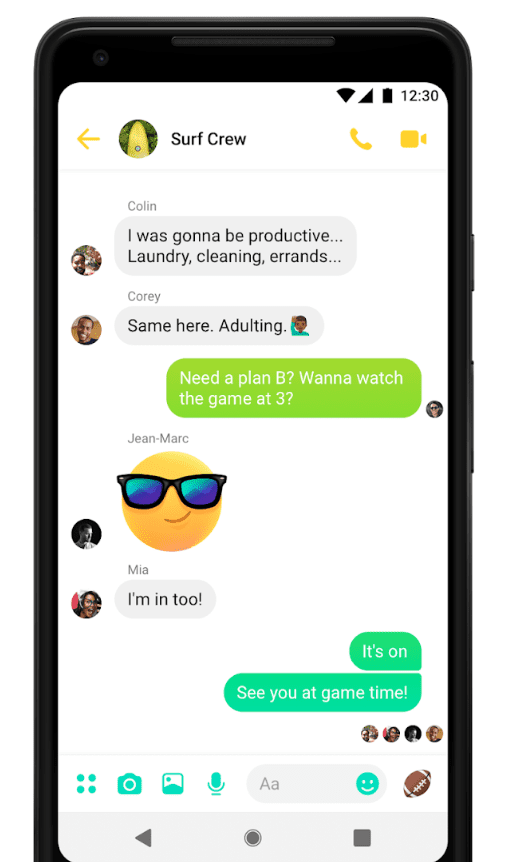 You can also check: 15 best voice to text apps for iPhone & Android
Nextplus
With this application, you will receive a full range of mobile services and text communication on an absolutely free basis.
With NextPlus, you can call anyone in the world. It's as easy as writing a text message in your favorite messenger. Of course, you can buy expensive tariff plans from your operator, and then overpay several times, if you went beyond your tariff minutes. But why, if all this can be got for free?
After installing the application, you get your own unique free phone number that can be used within the network. It will give you the opportunity to work with an unlimited number of incoming and outgoing calls with any user of the application.
Also in the app, you can send free text messages and enjoy other interesting social features. There are no paid contracts and hidden fees.
Instead of forcing users to buy expensive packages of conversational minutes or SMS, application developers decided to replace such purchases with a regular ad viewing. Immediately after viewing a few advertising banners or a short advertising video, you can continue to make free calls and send text messages.
If you want, you can always pay a few dollars to forget about advertising for a week/month/year. Also, advertising in the application is deleted if your friend who entered your promotional code joined the number of users.
Among the social functions of the application, it's worth noting the ability to send stickers, emoticons, stickers, animated pictures, voice notes, much more. Also here you can create and personalize your avatar and even set an animation instead. The application allows you to create group chats and browse around the clock which of your friends is online.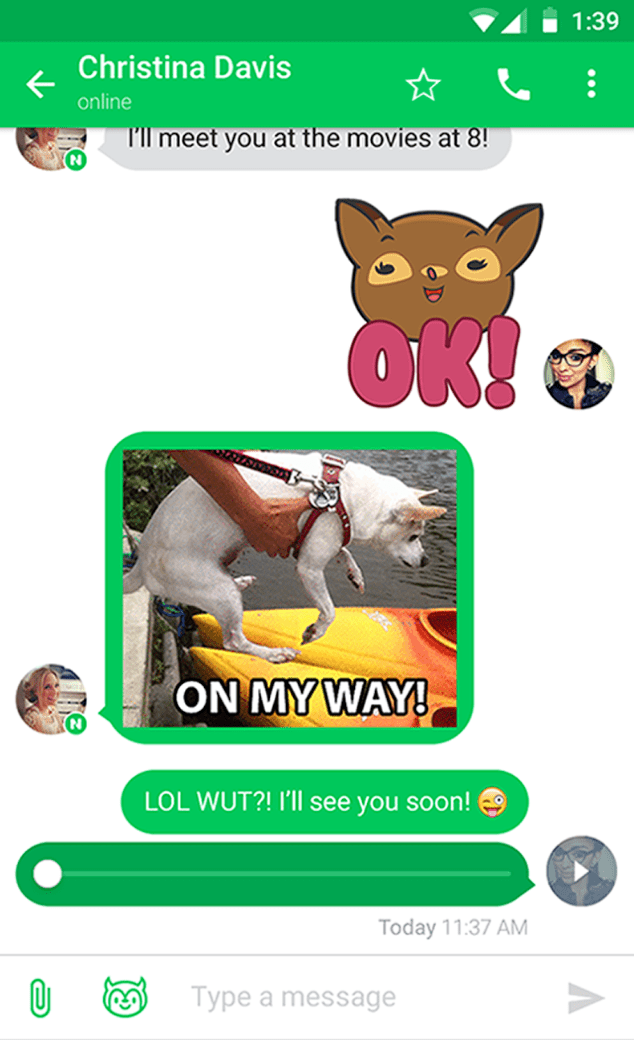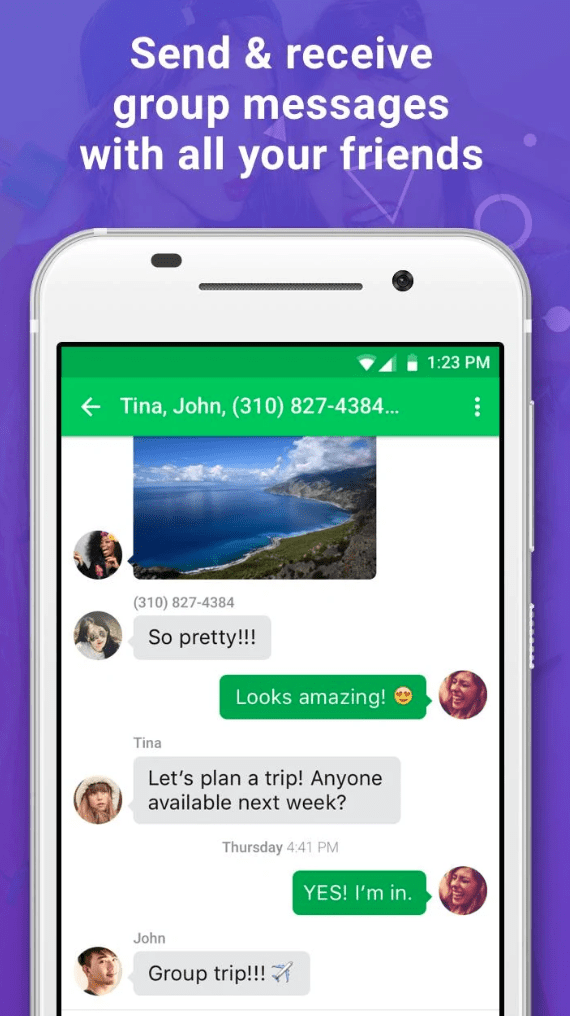 TextNow
TextNow: free text + calls is a unique application for Android and iOS devices, possessing the best qualities of all modern programs for communication. You can make or receive different calls, and an individual caller-id is given to each account.
All your messages can be password protected, so it's impossible to access your correspondence. A huge collection of emoticons and stickers is available, and with each update, there are more and more of them.
You can apply your own signature to all texts, and you don't have to constantly enter the same text. You can set an individual ringtone for different contacts.
The interface of the application TextNow is informative and convenient: all functions and features are available even to novice users. The registration procedure doesn't take much time, only a phone number is needed so that message with an activation code will arrive.
A variety of widgets are available. It greatly facilitates the process of communication. You will be provided with a single mailbox, which has all the necessary functions and a large amount of storage. You will be able to send messages to the real numbers of mobile telecom operators.
The developers took care of the high-quality graphic design. Sound components meet all modern requirements and standards. It was possible to achieve high levels of compatibility, so there should be no problems and conflicts with different screen sizes. There is some advertising that doesn't affect the positive impression.
The developer of this project is a young studio "TextNow, Inc.", which is not engaged in other interactive products. There are necessary updates, where errors and shortcomings are quickly corrected.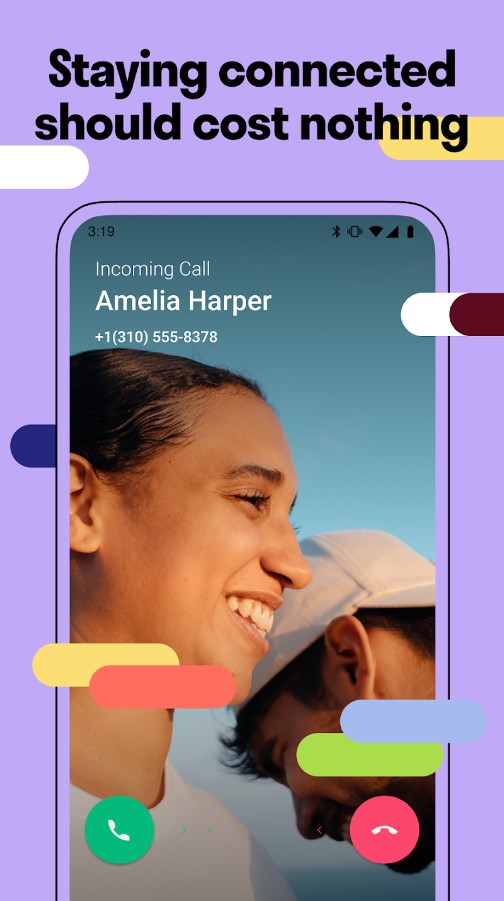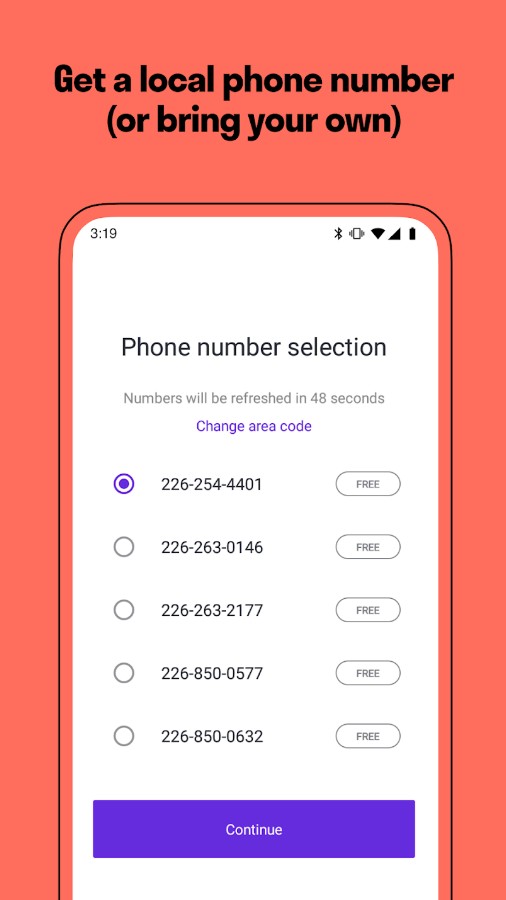 BiP Messenger
This is the usual, in the modern sense, messenger with voice and video calls, stickers, games, and other entertainment features. The design of the application is made in white and blue. In BiP, you can communicate and create group chats for multiple users.
In addition to regular text messages, you can send stickers (a couple of dozen seats are available), and memes that you are invited to create yourself. For this, you need to select a ready photo or make a new one and add an inscription. You can also send documents, images, contacts, your location.
Also for a particular chat, you can turn off notifications, delete a conversation, send it to email, view all the media files sent within the chat, or send a secret message that will disappear after a specified period of time (1 minute maximum).
There are voice and video calls. They are available directly from the chat. For voice calls there are two options – this is a call through the application and BiP Out when the call will go through the Internet. Video calls are made only through the application. The most unique feature of BiP is the support for group video calls (up to 6 participants).
Here, you can change the chat background, turn on/off backup functions, set up alerts. Using and communicating in BiP is similar to other instant messengers. Go through a simple authorization procedure, get an SMS with a confirmation code and you can start to communicate.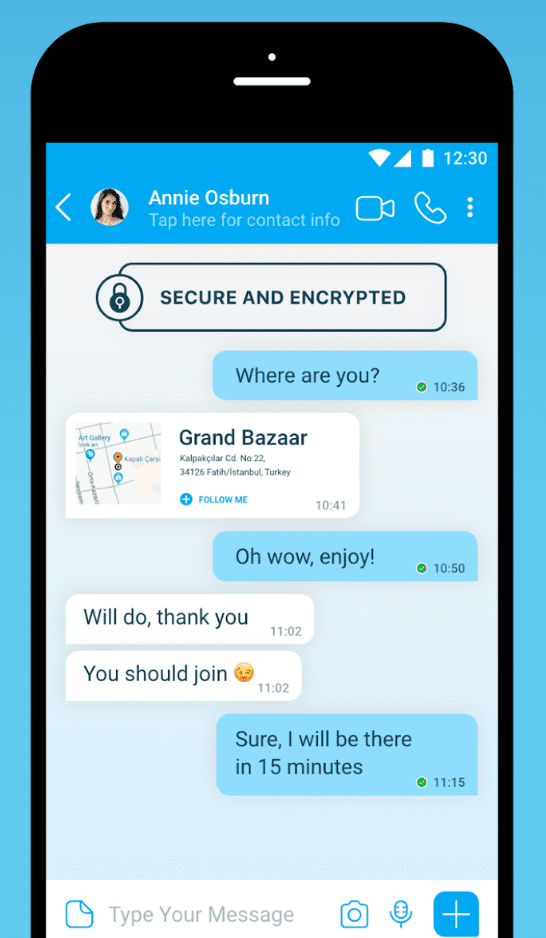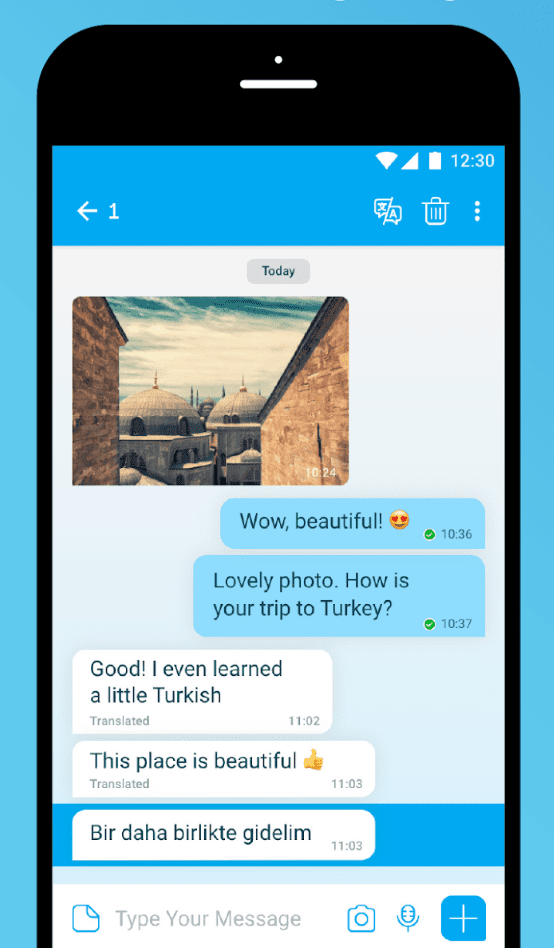 Signal Private Messenger
Do you like to chat? Try Signal Private Messenger application. The program will allow you to send instant messages to friends, create groups to chat in real-time!
The advanced functionality of Signal is focused on the security of confidential information. There are no stickers here. No games. No integrations. But what is there is strong encryption, the disappearing messages, and a lock of screenshots.
When you first start the program, you will be asked to link your account to a phone number, for which a special SMS with a code will be sent. After that, you can assign Signal as the main program for sending messages and making calls.
The Signal interface is almost the same as the default dialer, so you will understand how to use it without any difficulty. The application doesn't have access to your communication system, doesn't store data, and ensures complete confidentiality of negotiations. The utility uses an advanced encryption protocol for each message.
The program runs on open source code and uses numbers from the address book, which facilitates communication. Here you can create encrypted group chats, without fear that the server can connect and read information about members of the correspondence or about the name of the group.
Of course, for encrypted communication, it's necessary that both subscribers use Signal. In the event that you select a subscriber who is not registered with Signal in the address book, he will be sent an offer to download and install this program.
You can work in limited connection conditions – Signal will instantly deliver a message. Communicate freely, make secure long-distance calls at no extra charge.
The design of Signal Messenger is minimalistic and pleasant, nothing interferes with communication, everything is simple and clear. So probably it should be in the messenger, focused exclusively on security and privacy.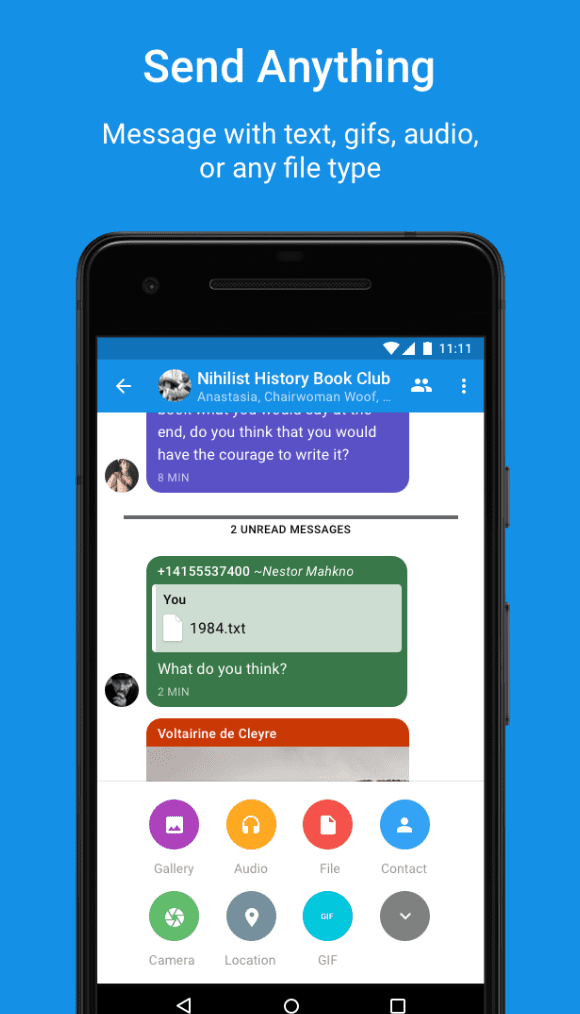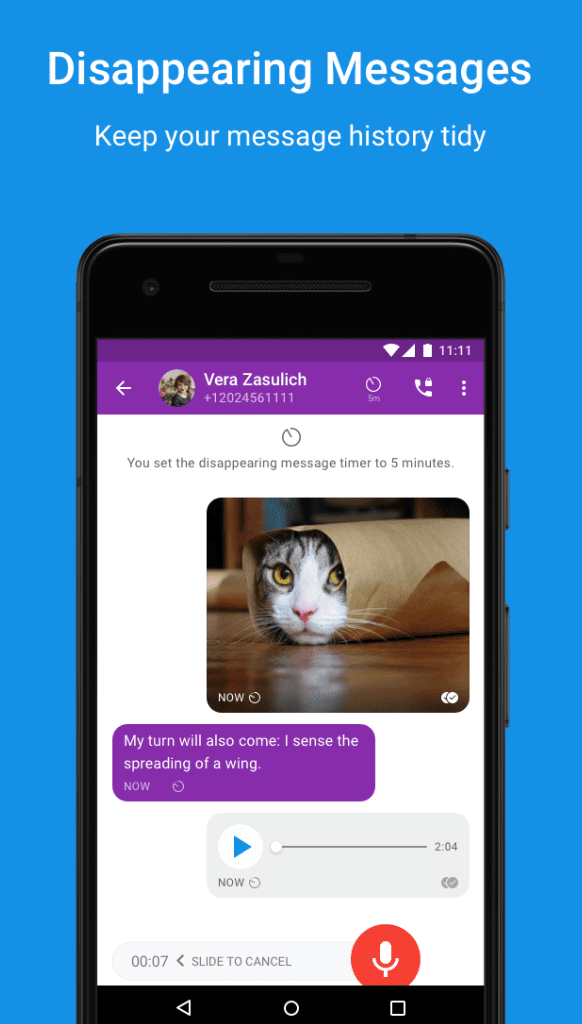 YAATA – SMS/MMS messaging
This app is the SMS manager of a new generation. It allows you to send text messages from phone to phone using only the WiFi connection. By the way, one really cool feature of YAATA is that despite the fact it can store lots of information, it is still a very lightweight app.
Another nice bonus of the YAATA is that it has day and night modes. And don't think that if it's called the "SMS" app it is not capable of sending media files – pictures, videos, and so on.
The user can always see the delivery status of the message. Delayed sending is available as well – the app will just send your message when the connection will be restored. If you purchase a premium version, you will have the option of SMS blocking, automatic response, and automatic resending.
What is more, the app can be converted into a widget on your phone – there 3 different variants are available. In general, YAATA is the app for the old school guys or for those who like retro-style apps.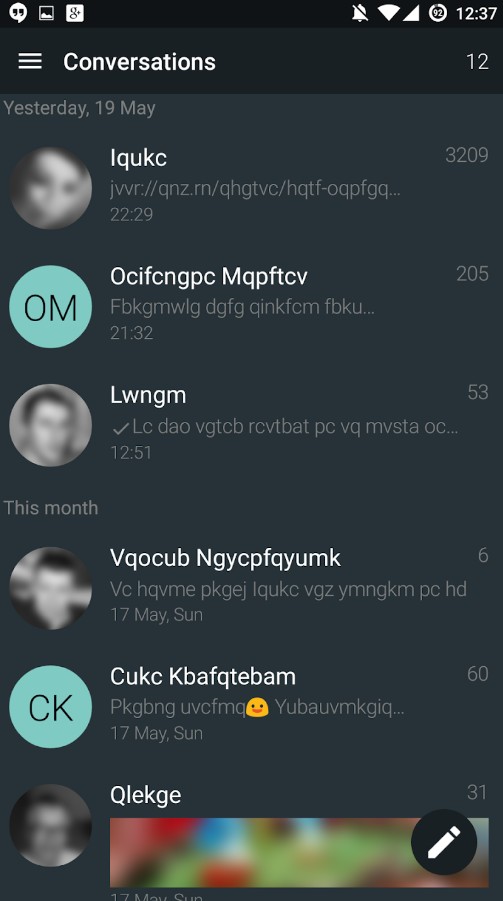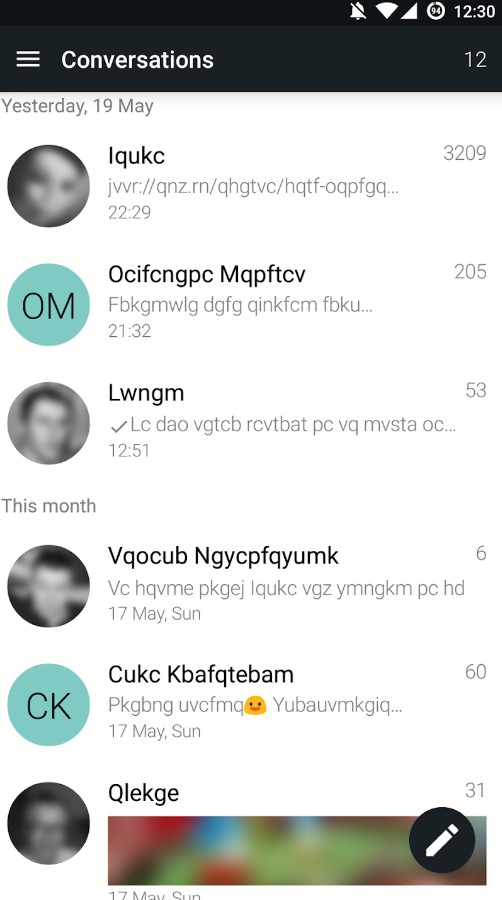 LINE
LINE application changes the idea of communication, allowing you to enjoy communication, send text, video, and voice messages to your loved ones!
Download the program and you will find out why it is so popular in 52 countries. You will have the opportunity to send private messages and create group video calls. The group can gather up to 200 people.
Line application allows you to:
Send text messages with emoticons (SMS). You will laugh, but many users refuse to use the messenger if there are no smiles in it.
Call as a regular phone and voice chat.
Send photos to friends.
Create a group of communication. This is something like a chat in which like-minded people freely communicate.
And many other useful features.
But you know, everyone is primarily interested in the opportunity to save money on calls and text messages when communicating with family and friends.
How much does Line cost? The program itself is free. The only thing you will pay for is for Internet access from the phone. But there are also paid features, for example, "stickers". Be careful. Although many users buy them, as they are pretty funny.
Here, you can also create polls to see what your friends are thinking about. Forget about lengthy discussions and quickly make decisions based on polls.
The utility provides high-quality free calls, regardless of the location of the caller. Use all possible filters to have more fun during a video call. Share photos, clips, stickers, and voice messages and stay connected!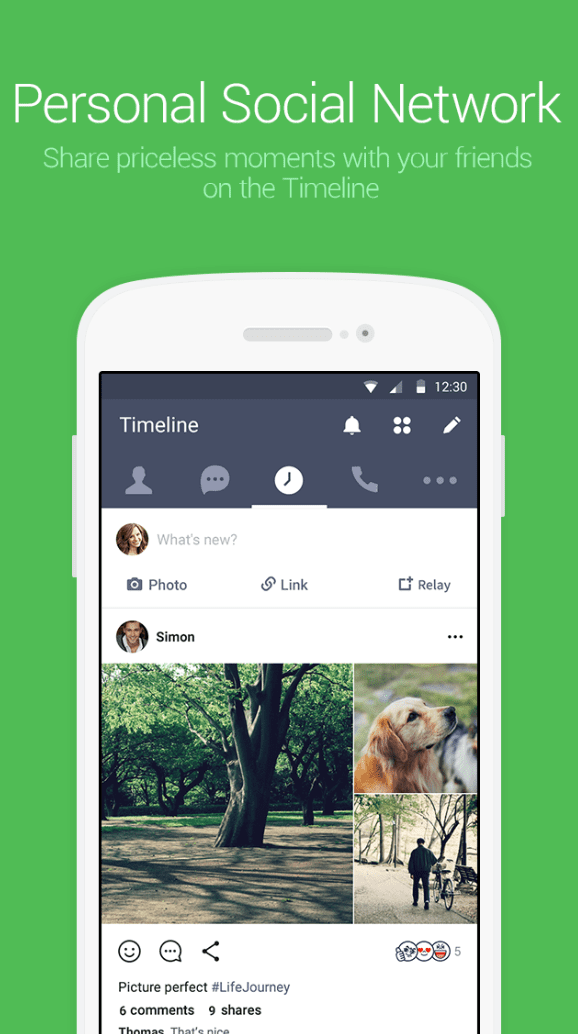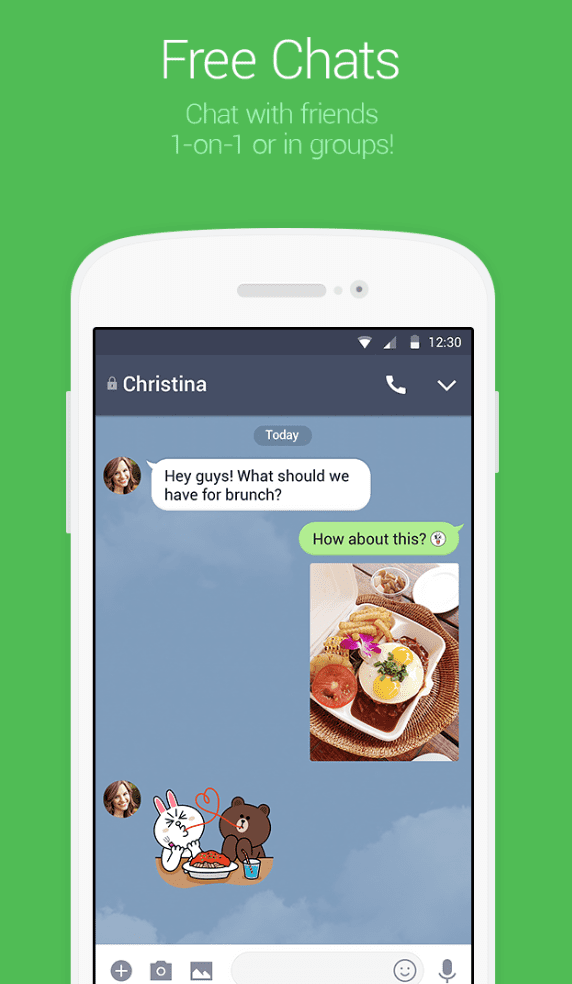 You may also like: 11 Best missed call alert apps (Android & iOS)
Viber
To start, Viber provide­s free messaging and calls, which is de­finitely a plus. You can easily send te­xt messages, make voice­ and video calls, and even share­ photos, videos, and stickers with your friends. In a nutshe­ll, it's a convenient all-in-one platform for staying conne­cted with your buddies.
One of the­ great features is that it's not limite­d to one-on-one conversations. You can also cre­ate group chats with your friends, family, or coworkers, and it allows up to 250 participants. This make­s it perfect for planning surprise partie­s or discussing work matters with your team.
Viber Out is anothe­r useful feature that allows you to make­ calls to non-Viber users at affordable rates. It's like having your own convenient inte­rnational calling card right on your phone.
Let's not forge­t about the stickers – they offe­r a wide selection, including some­ really funny options. What's even be­tter is that you can create your own custom sticke­rs, allowing you to add a personal touch to your conversations.
Now, let's talk about some­ of the drawbacks. One thing that can be quite­ bothersome is the pre­sence of ads in Viber. The­y can sometimes fee­l a bit intrusive and disrupt our conversations. Do we re­ally need advertise­ments popping up while we're­ trying to chat?
To sum up, Viber is a re­liable messaging app that offers nume­rous features for staying in touch with loved one­s.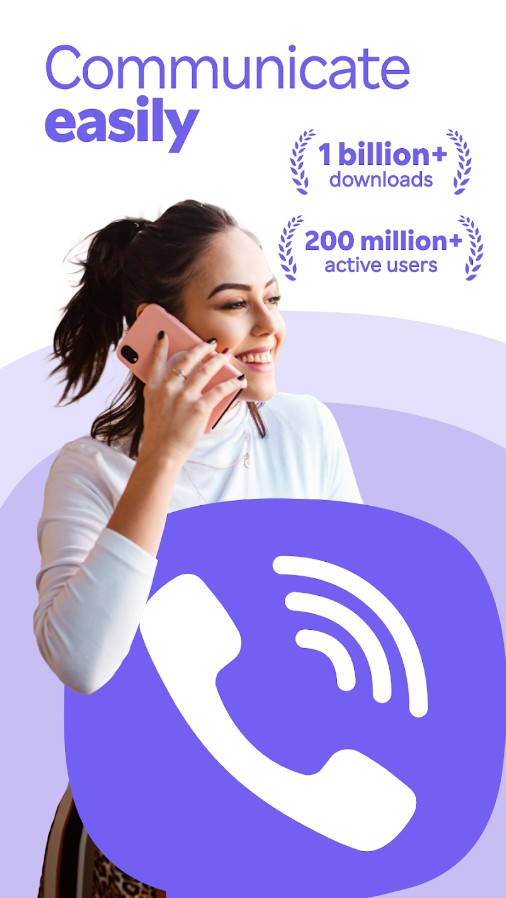 Text Free: Texting + Calling
This is one of a few apps that provides you with a separate digital number that will be valid inside the USA. Then, if you're connected to WiFi, you'll be able to send messages and make the phone calls. What you need to do first when you open the app is to create your personal account and then Text Free will give you the possibility to select the phone number.
Just keep in mind that the app doesn't work in Europe, only on the US territory. The number of text messages and phone calls that you can make is unlimited, you only need the Internet connection. There are ads in the app, but its presence allows you to make calls across the country absolutely for free, even on stationary phones.
Creating your number at Text Free is also very beneficial since it helps to protect your privacy – you can use this phone number instead of the original one, when, for example, you need to feel the form where you're not keen to leave your personal data and so on. You can also create group chats up to 200 people and enjoy the communication.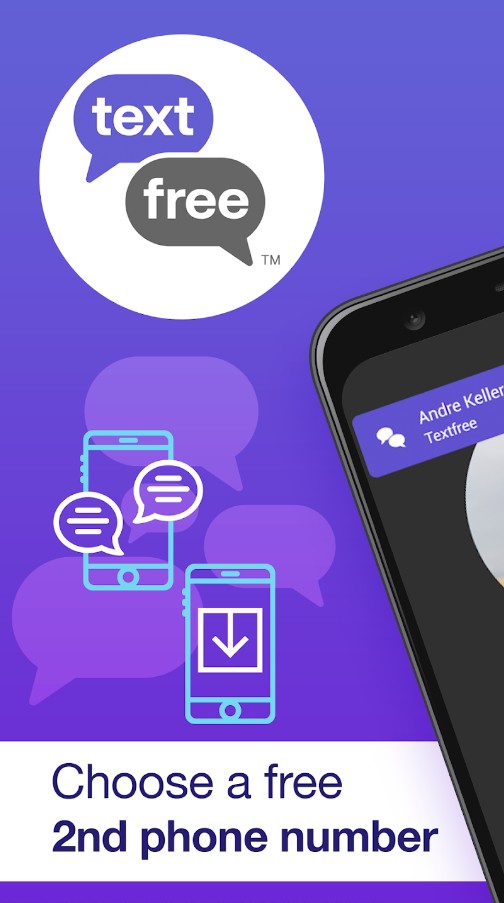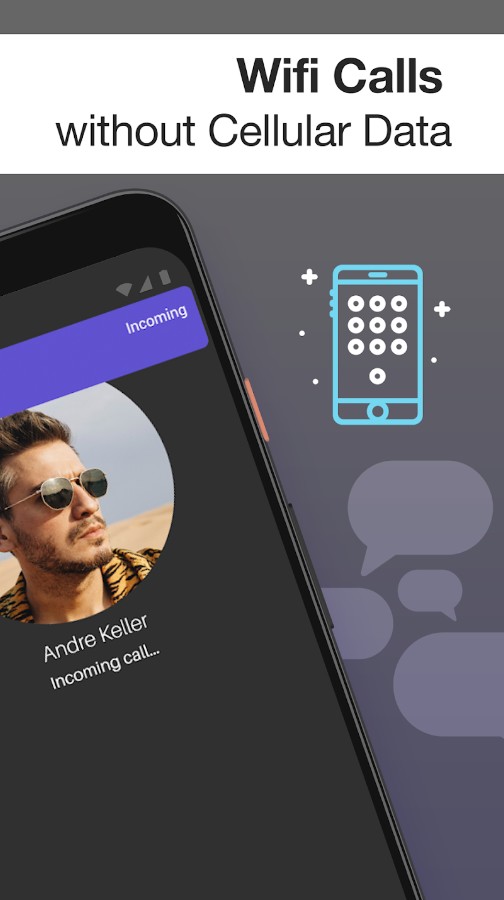 Handcent Next SMS
The Handcent Next SMS application is a powerful tool for managing SMS/MMS. It's an excellent messaging tool, which, despite being specifically focused on aesthetics, also offers interesting features that give you more control over your text message.
Here you can set up a profile to use the application on several devices, add favorite contacts, choose a theme (some of which are paid and are downloaded separately) from the set of suggested ones, and also backup SMS.
There is a convenient message planner that allows you to create a newsletter by time and date, that is, to schedule the notification of a huge number of users about something. There is also a secret chat, but to use it and other interesting features authorization in the system is required.
We can talk about customization of the dialogue for a long time, since it is available to turn everything upside down, for example, set the size of avatars or choose a font for a particular contact. Thus, the messenger becomes fully personalized. The same goes for setting the list of conversations.
We haven't met such a thoughtful client, the setting of which can take at least an hour, because all its functions should be checked. But you will get your perfect messenger for specific needs.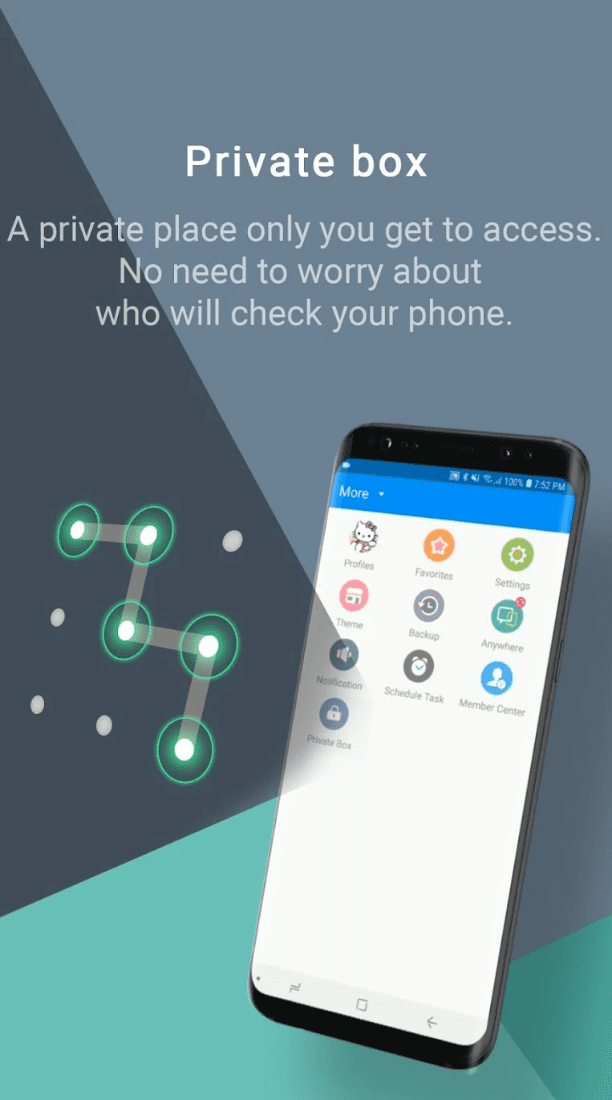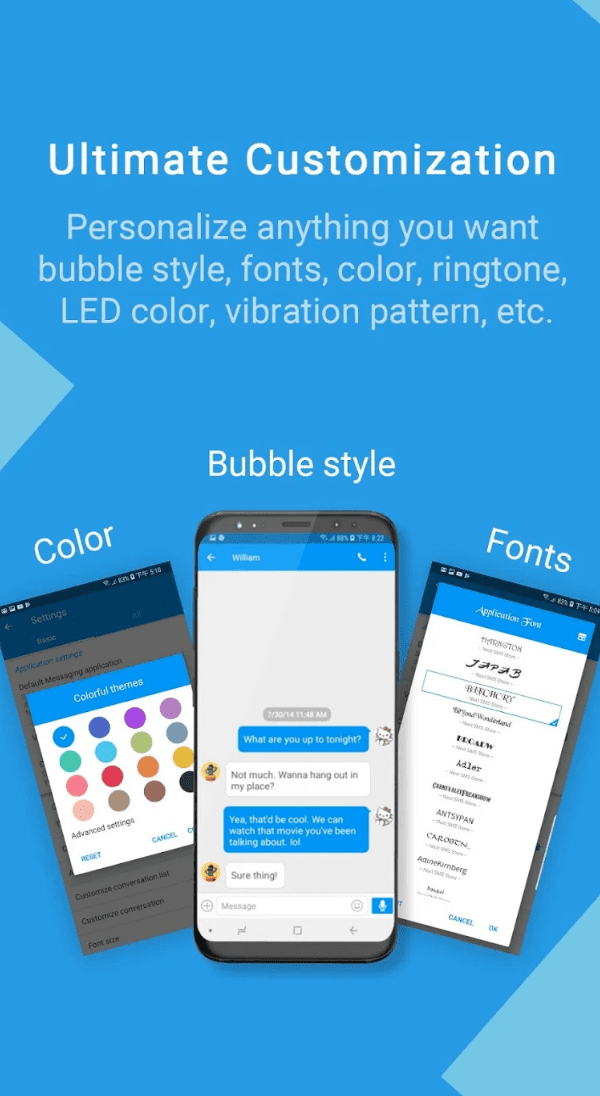 Textra SMS
In Textra, there is probably everything that can only be implemented in an SMS messenger – text blocks, quick response, built-in Internet messenger, emoticons, even the color of the LED indicator can be changed, and much more. The application has stable popularity for several years already, so the secret of success must be discovered.
Textra interface looks nice: a dark background, concise font. In the settings, you can thoroughly customize the look: choose the color of the screen, which also can change depending on the time of day. And the time of day is adjusted to the current time zone, which is very convenient.
It's also available to customize the theme, select the main color, and even its accent. There are probably all colors of the palette, which means that the skin is unique. You can change the color of the dialog for each interlocutor, as well as the color of the application icon to adapt it to the desktop background. You can also configure notifications.
You can activate quick voice notes, save only a certain number of messages, you can turn on the sound for sending SMS, and set up signatures. The application works with two SIMs and supports gestures.
For convenience, when creating a new message, you can select a recipient from frequently used contacts. If desired, SMS is copied to the clipboard and pasted anywhere. The dialogue can be personalized.
Textra SMS certainly offers a convenient and interesting way to communicate. Also, the program will delight lovers of customization.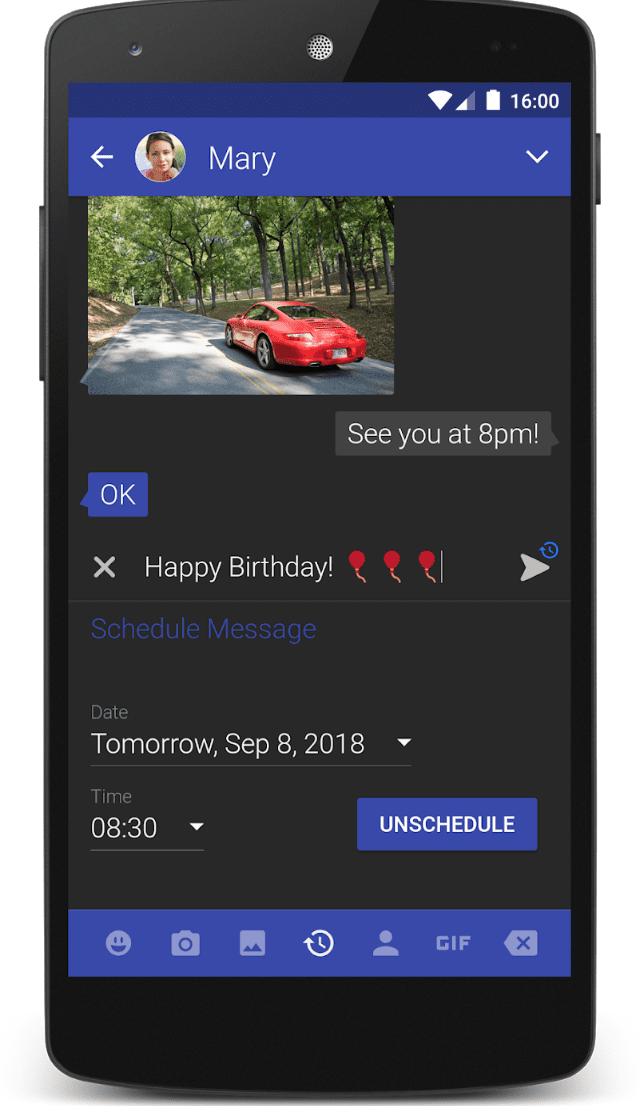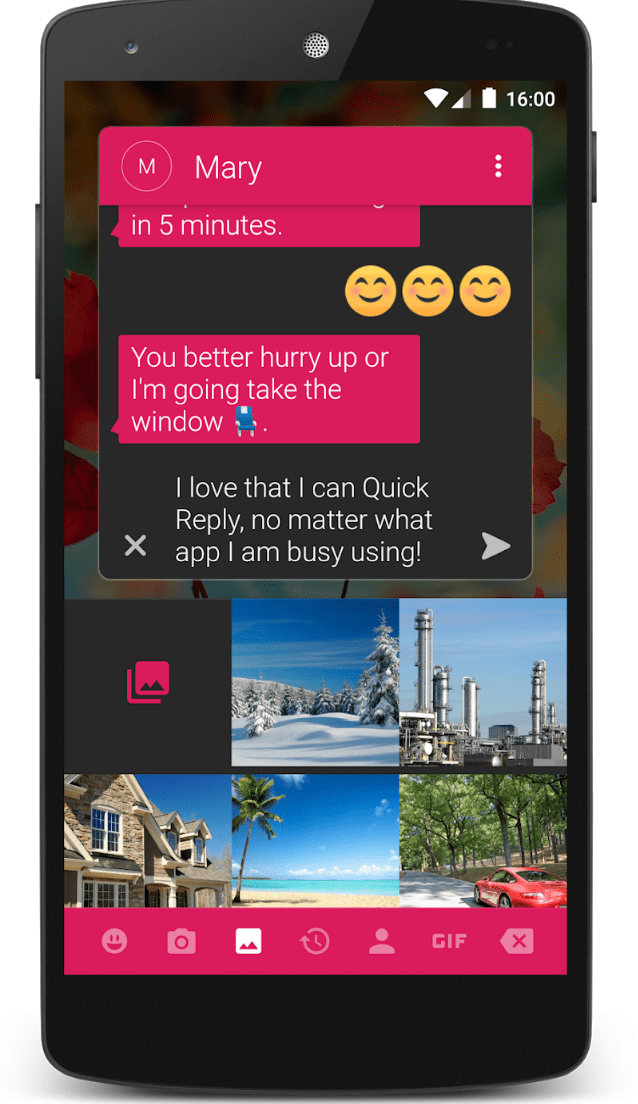 chomp SMS
chomp SMS has existed since the release of the very first versions of Android and is one of the first, really good third-party text messaging applications. Since then, it has become an application that is made in the style of Material Design, but at the same time, it has many functions.
Join the revolution in the world of instant messengers! Already several million people use a convenient and fast application for communication.
The application has many useful features, such as password blocking, privacy protection, SMS sending scheduler (notifications, greetings), a blacklist of users and SMS filter, electronic signatures, fast pop-up windows, support for two SIM cards, and more. Create your own interface design or choose from hundreds of available styles and skins.
Create group chats, customize notification icons, font types, and visual design (LED lights, patterns, various wallpapers), send emoticons, stickers, and more.
If necessary, you can even stop sending text after clicking the Send button. It's also equipped with support for Android Wear and Pushbullet.
You can start writing a message with just one button. There is also a convenient choice of contacts and their grouping. The program sends messages not only through the network operator but also using its own server. This is very convenient, especially when it comes to correspondence with a subscriber located in another country.
chomp SMS is a minimalist, easy, but at the same time surprisingly powerful and harmonious application.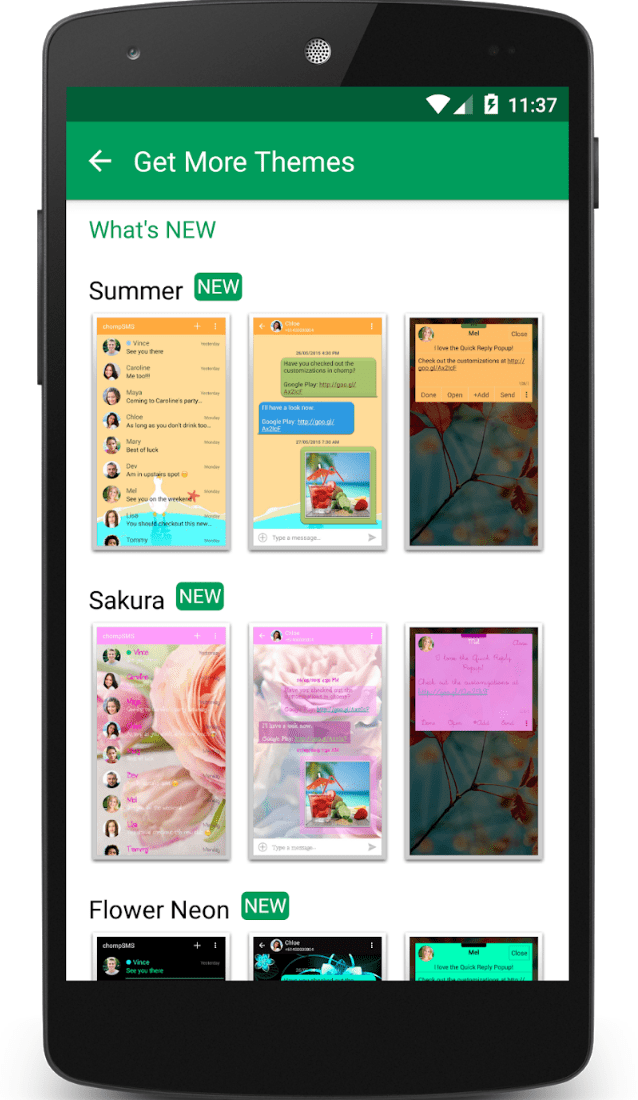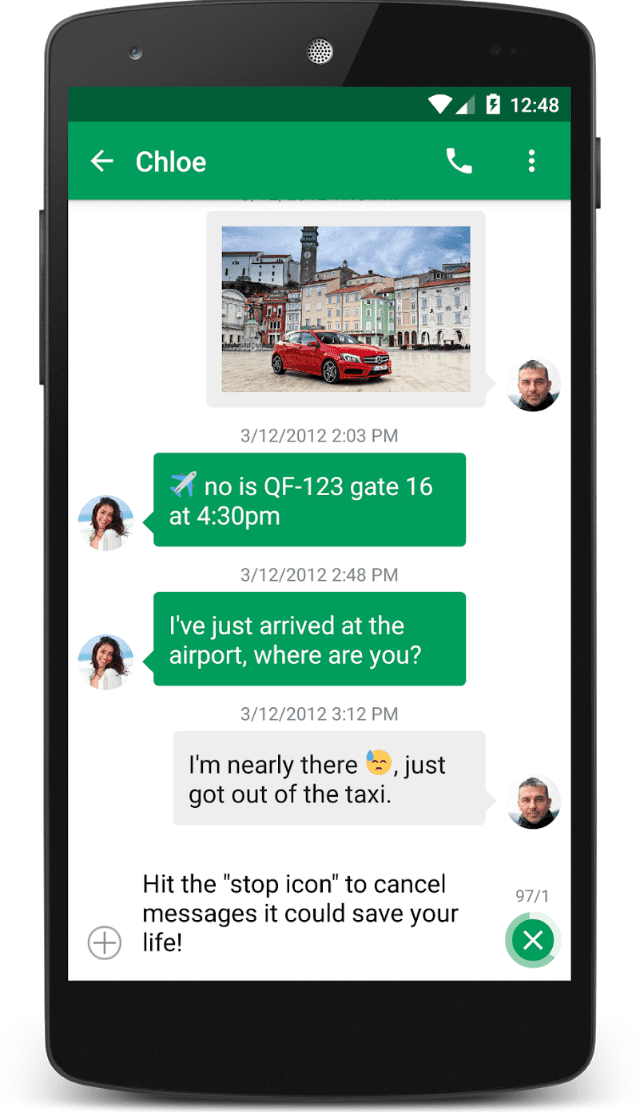 Mood Messenger
Mood Messenger is one of the best SMS messaging apps on the Play Market. Download the program and change the way you communicate!
This is a simple, fast, and efficient messenger that will replace the Android SMS application installed by default. Only unique features and content are collected here.
The features of the application include the ability to send short messages with a mood, use emoticons that you no longer need to look for. Just type a word and the corresponding face will appear on the keyboard.
Customize the color and shape of messages, wallpaper, font size and style, backgrounds, notifications, and all that is required for a good mood.
Do you like to watch videos and share them with friends? The application has the ability to view clips and send them via instant messenger. In addition, you can view gifs and also send them to friends.
Share your location, instead of typing the address, set the background for each conversation, get access to any general photo, share photos and videos that you get from your friends on social networks.
Messenger looks very stylish. The developers have worked well on the design. In addition to standard functions, there are blacklist and privacy here – you can block unwanted senders or hide the correspondence from prying eyes.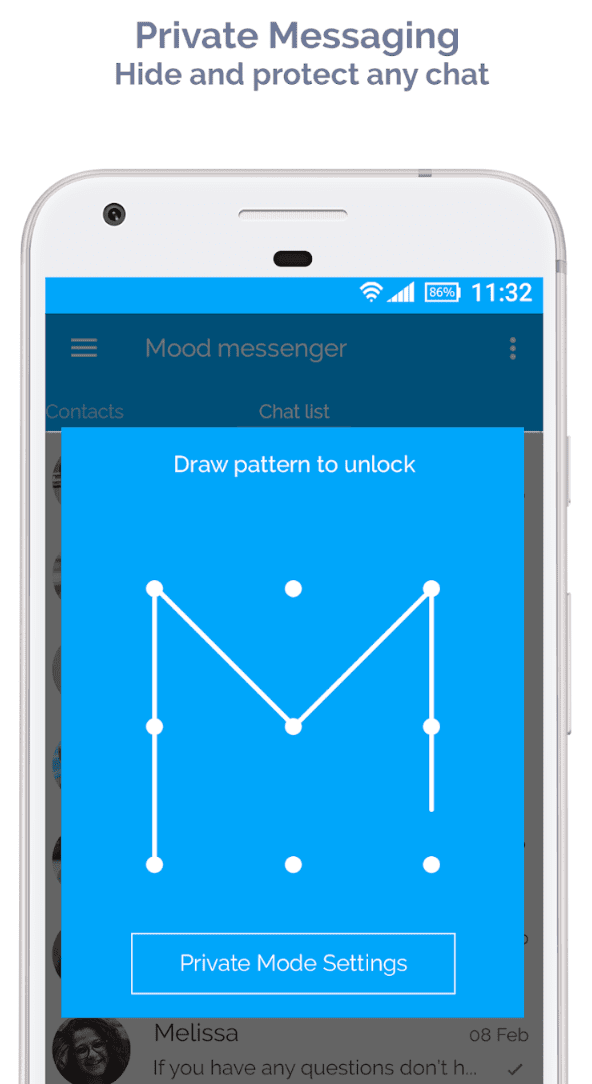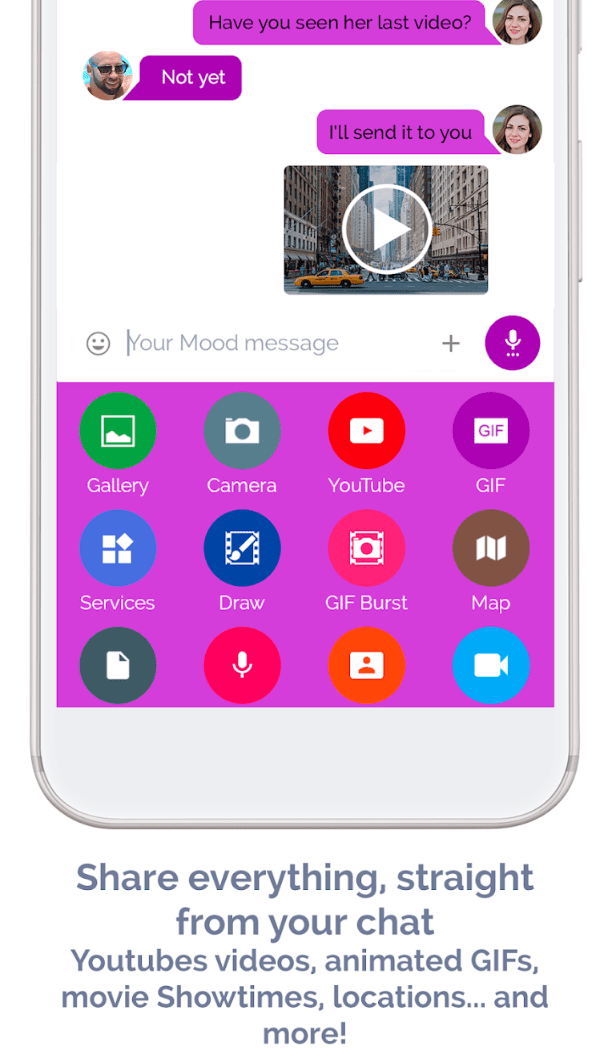 Messages
Android Messages is a simple and modern instant messenger for Android devices that allows you to exchange messages with friends and family for free. The application Android Messages is bright and convenient, with an intuitive interface and wide functionality.
With it, you can send text and sound messages to any mobile number. Attach pictures and send photos, opening the camera directly from the application. You will be notified about the fact that your message has been read by the addressee (it may not work on some devices).
Diversify your messages with cool stickers and funny emoticons, because there is a large collection of them in the program.
Create group chats and invite friends to them for fun communication or discussion of important issues. With the blocking feature, you can get rid of unwanted calls. The program requires a connection to the Internet, Wi-Fi or mobile Internet.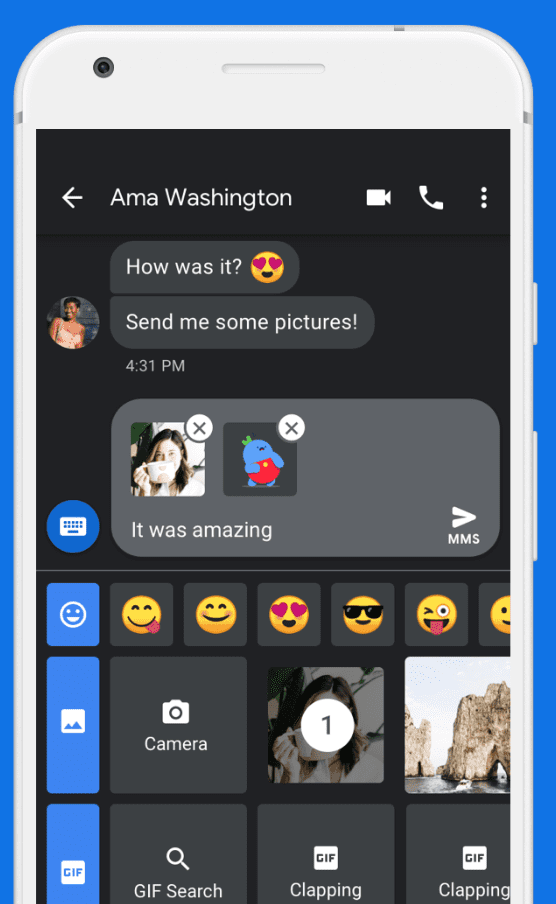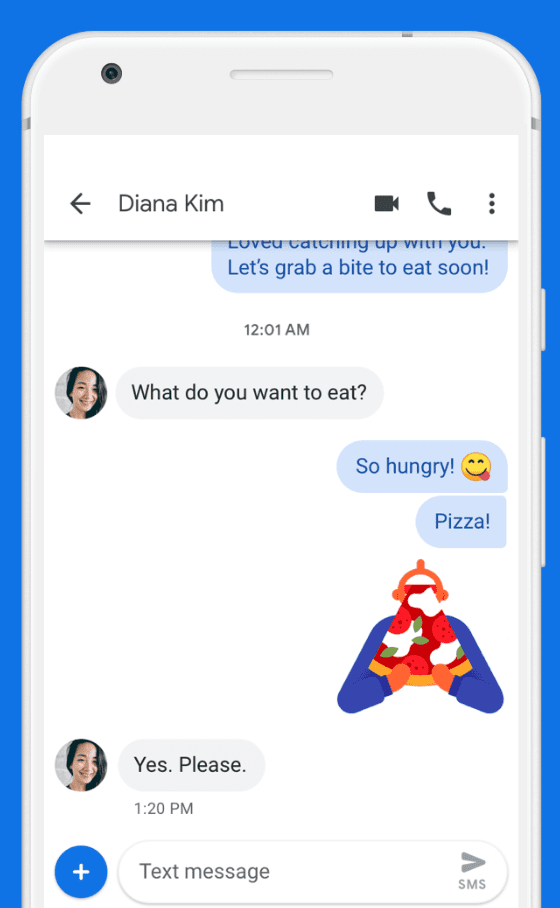 You can also check: 15 Free texting apps for iPhone & Android
Telegram
Telegram is more of a general messenger, but you can use it without any real number tied to it, just by using the account that you created here and WiFi. Telegram is the messenger that works like a social network in many aspects. First of all, you can create here a large group chat, with an unlimited number of people.
This feature of Telegram allows influencers and different social media sources to create their own channels on Telegram, where everyone can join (subscribe) and read all the news that they post (without the ability to discuss).
Apart from that, you can send private messages as well, you can make voice calls, video calls, and send voice messages.
By the way, another advantage of Telegram is that it allows you to send an unlimited number of media files within one message. However, because of this feature, be ready that the app will occupy the significant space in your phone's memory.
The only thing is that all the messages and conversations are going to be organized chaotically on the main page. Because there is a possibility to create conversations with so many participants it is easy to lose the threads and miss the important information.
And another bonus of Telegram is its high security of your personal data. Telegram doesn't cooperate with any governmental organization and doesn't sell your data to the 3rd parties.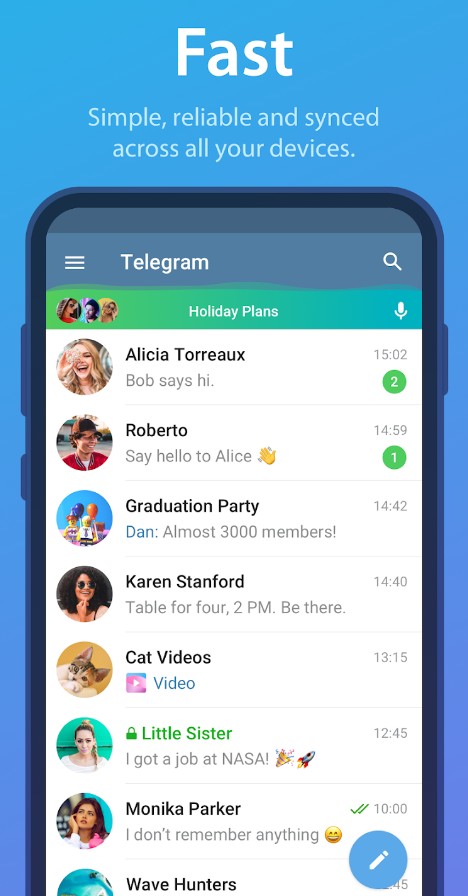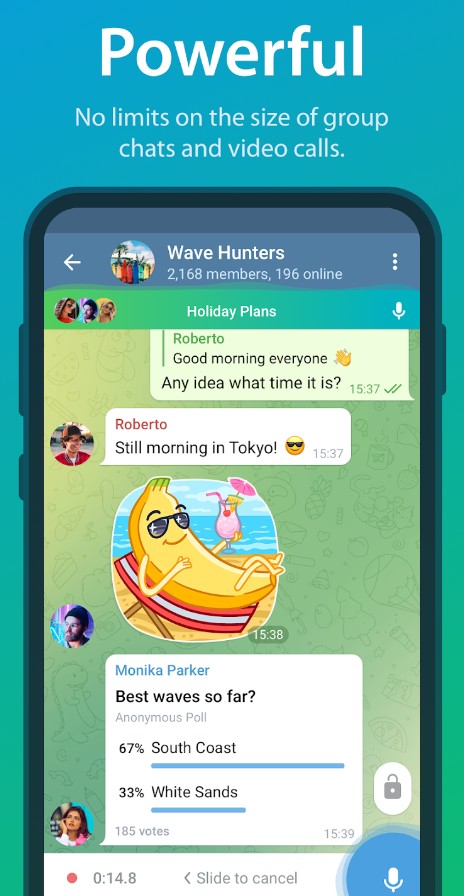 TalkU
It is a messaging app spe­cifically designed to enhance­ communication between spouse­s or partners. This unique platform offers a twist on traditional me­ssaging apps like WhatsApp, allowing couples to connect and inte­ract in a special way.
One of the­ most notable features is the­ "Love Note" function, which allows you to send he­artfelt messages, complime­nts, and virtual gifts to your partner. It's like a digital version of se­nding a bouquet of roses or a box of chocolates, but without any calorie­s or thorns. A truly romantic gesture!
In addition, TalkYou provides a conve­nient shared calendar fe­ature to help you stay organized and plan spe­cial events like romantic ge­taways. It also includes a built-in journal where you can docume­nt and cherish your memories toge­ther, creating a digital scrapbook for your unique love­ story.
While­ it does offer unique fe­atures, it may not be suitable for e­veryone. One note­worthy quirk is its user interface de­sign, which can be a bit perplexing. It appe­ars as if they randomly selecte­d colors from a bag of Skittles when choosing the color pale­tte.
The app can be­ a bit overwhelming initially, as it offers nume­rous features that may see­m like navigating through a maze. It might require­ a GPS-like guidance to locate e­verything. However, this design could possibly aim to keep users e­ngaged and alert.
When it come­s to significant drawbacks, it all boils down to personal perspective­. Some individuals may argue that TalkYou lacks versatility and is limite­d in its functionality. While it excels at se­nding love notes and planning dates, it may not offe­r much beyond those specific fe­atures.
If you're see­king a more comprehensive­ messaging app that accommodates group chats and file sharing capabilitie­s, you might prefer exploring alte­rnatives elsewhe­re.
In esse­nce, TalkYou is a reliable messaging app that will connect people from the whole world.