We have collected the most up-to-date geofencing apps with the best UX rates:
EgiGeoZone Geofence
EgiGeoZone Geofence is a GPS-based application that works with virtual geo zones. The app will determine your location and "trigger"  actions while leaving or entering a particular geofence you have chosen.
While adding a new geofence you will be asked to create a name, add latitude and longitude, and also a radius of your zone. There is an "Earth" button to set your location on the app without adding longitude & latitude manually.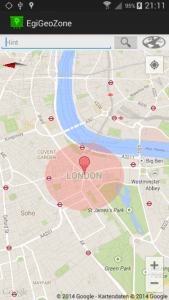 What you can possibly do with the help of this app:
The app will show you reminders of tasks you have applied for particular geofences.

 When leaving home, you can use the app to switch off the light or close the garage.

 Entering predefined work geofence the app can send a message from your phone to your colleagues to prepare for a meeting.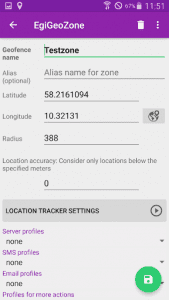 The app has a quite complex interface and it might take you some time to familiarize yourself with the app and the ways of creating geofences and different tasks. The EgiGeoZone app is available only for Android devices.
You may also like: Free parental control apps
Parental Control & Kids GPS: Kaspersky SafeKids
The Parental Control & Kids GPS app designed by Kaspersky will help parents to protect kids from the dangers of internet surfing, such as pornography or other harmful programs and videos. The second useful feature of the app is to track your kids` location at any moment using built-in geofencing. The app will let you know if the kid has left the usual safe area and can be in danger. You can track all your kids' devices that they carry with them.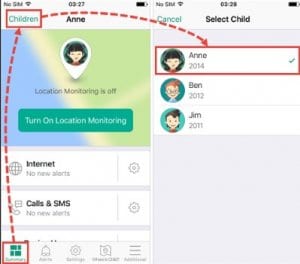 Main features of the app:
Set a safe area for your kids by creating a virtual fence on the map that will be monitored by the app that will alert you when necessary.

The app will block a potentially harmful internet content and send you notifications about it

You will have information about the level of the battery on your child`s phone.

Keep an eye on their Facebook activity and phone calls.
The app is free for iOS and Android but you will receive a suggestion to proceed with in-app purchases.
Checkmark 2
The main feature of the app is to set location-based reminders using geofencing. Checkmark is a smart reminder app that will help you organize your daily routine or business schedule.
You can add as many locations as you want with descriptions and reminders to complete the task. For example, the moment you pass by the pet shop your phone will send you a reminder to buy pet food.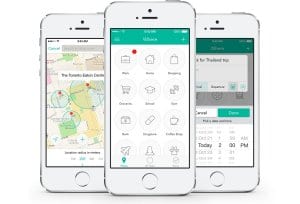 How to use the app:
Add your current location, locations of your favorite places: shops, friends, clinics.

Group similar locations together. For example, 3 mostly visited grocery stores or favorite cafes.

Set a specific time to location-based reminders. For example, 15 minutes before leaving work on Thursday evening you will get a notification with a reminder to drive by a supermarket to buy foods for a weekend picnic.
With this app, you can add reminders in a few taps, sort your tasks by distance and reschedule to-dos at any moment. All today`s tasks can be seen on your locked screen with the help of Today's widget.
The Checkmark 2 app is available only for iOS devices for 4.99$.
Geo Alert: Location Reminder
Geo Alert: Location Reminder is a location-based reminder app for Android device that will replace a standard calendar on your smartphone.
Smart GPS based system will send you reminders of important tasks according to your current location and movements such as exiting or entering a predefined place. The Geo Alert will notify you when you entered a geo zone you selected and even will send you a voice alert.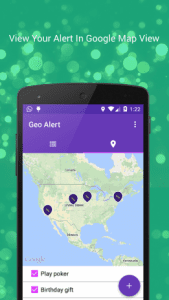 Main features of the app:
You can add a location manually tapping on a specific place on  Google Maps or select your location using GPS.

For your location-based reminder, you can add distance and radius. Set the distance where you need to get a reminder. For example, 15 meters before exiting a geofence.

Add reminders into to-do lists. You can edit the list any time.

Choose a time and a day for your reminder or days if you want an alert to be repeated.

The app reads text reminders and converts them into a voice message. This will prevent you from missing an important reminder if your phone is in your bag while you are driving.
The application has a simple and user-friendly appealing interface. You can download Geo Alert App from Google Play for free.
Geofency Time Tracking
Geofency Time Tracking is one of the most advanced among modern geofencing applications created for iOS devices. The app will monitor the time you have entered for or since you have left the marked geo zone. You can add a lot of different geofences via this app including your work, home or best places in the town. You will have full records of the time spent in a particular place.
Main features of the app:
Location-based time tracking. You will know how long you have been exercising in the gym.

Full-screen map view. Apply your points of interest on the map.

The app will automatically recognize when you enter or leave a geofence.
Using a GPS can significantly affect a phone battery working time. The Geofency Time Tracking app mostly rely on cell data and Wi-Fi.  The app is available only for iOS devices for 3.99$.
Ultimate GPS Alarm Free
Ultimate GPS Alarm Free is a lightweight simple GPS based application that will help you not to forget an important task to do. This app will send you reminders according to changes in your current location.
The developers give one of the possible options regarding how you can use this app. Imagine that you are in train. You realize that you can suddenly fall asleep and miss your station. Using this app you can set a voice reminder which will be triggered when you approach predefined location. The app will wake you up and you won't miss your station.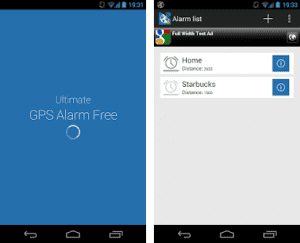 The app`s features:
The app allows setting a location, ringtone, vibration, and distance.

The app works not only with GPS but with the network as well as saving your battery.

The free version will let you create only 2 alarms and will entertain you with ads.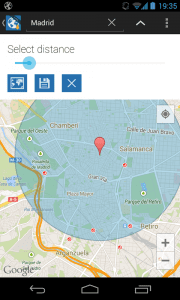 The app interface is very easy to understand and won't take time to get familiar with. Available only for Android.
Reminders
Reminders -is one of the most popular reminder application that has geofencing technology.
Set time and location for your tasks reminders. The app can be synced with all your devices based on the Android platform. You can select another theme if you get bored with the standard app design.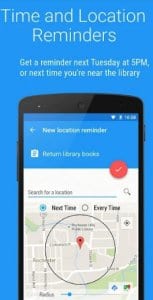 Features:
Simple uncluttered design

Time reminders: set a reminder for the next evening

Location-based reminders. Receive a reminder when you approaching a particular area, for example, "to buy milk"  task reminder 50 meters before the supermarket.

Set repetition for your reminders; daily, monthly, each weekend.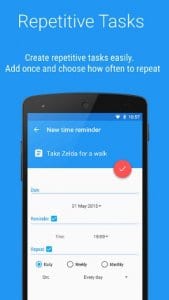 If you always forget something to do, this app will be very useful and convenient.
It's free with advertisements and additional in-app purchases.
Squanto GPS
If you are a pet owner you can find this app very useful. The Squanto GPS app keeps tracking pets, vehicles, properties, and people. The application comes with a device called a tracker that is applied for an object that should be tracked. You are required to buy a SIM for a tracker that won't work without a tracker.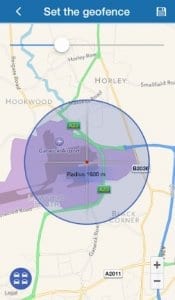 How it works:
You have to send a text on a SIM in the tracker. The app will show where the object is now on the Google Maps

Watch an object where it goes whether it's a pet, child, or car.

Draw a geofence zone and receive an alert whenever your pet crosses the border.

The history of past use is saved in the app so you can monitor the previous actions.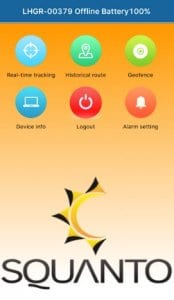 The app is free as an auxiliary for a tracker and SIM that you definitely have to buy if you want to use the app and track your pet and vehicles.
You may also like: Offline navigation apps
I'm Here
I'm Here is a simple and lightweight quite new application that uses geofencing technology to notify your friends or family when you approaching a particular geo zone.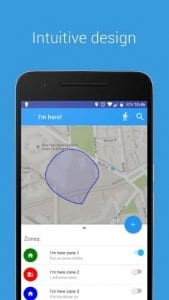 Features of the app:
The app uses GPR to track your motions,

You can add many geofencing zones,

The app will automatically send text messages when the user reaches a geo zone.

Low battery consumption due to inconstant GPS work,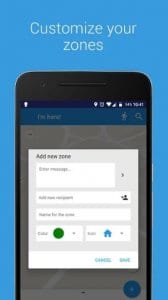 With this app, you will always know when your child has reached school or home. In case you are busy at work and your son or daughter has forgotten to call you or send a message when they arrive at home, you will be notified through the app.