11 Free Fax Apps in 2022 for Android and iPhone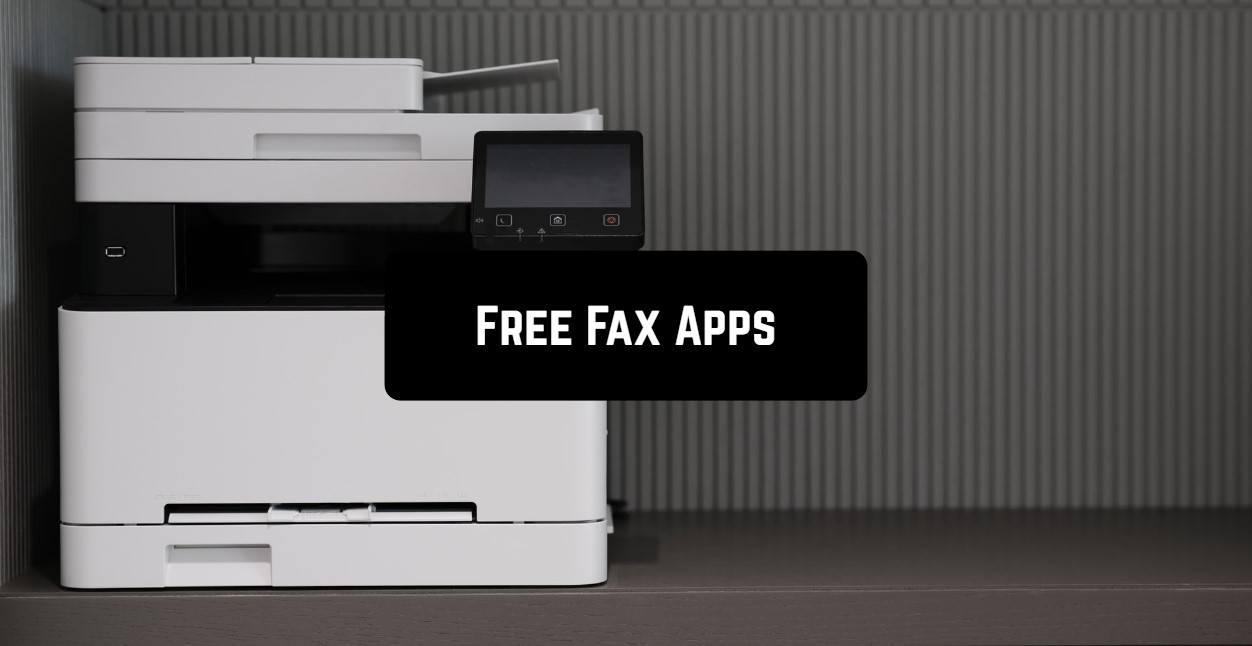 In the world of advanced technologies, it is not necessary to use special fax machines to scan and send a document. Now, this process is much easier and faster because now all you need is your phone and a special fax app to send documents to anyone.
For those purposes, we collected the best free fax apps in the article down below. And if you think it's not enough, more fax apps can be found here.
Fax Apps for iPhone
Fax for iPhone
Through this app, iPhone or iPad users can easily send faxes. The app supports faxing in and out of the US, Canada, and many more international locations.
All the user needs to do to send a document is select the document itself and enter the fax number. Through this app, you can send multiple faxes to multiple recipients at the same time. Moreover, users can send documents using Google Drive, Dropbox, and iCloud Drive storage.
This app supports sending documents in any format. Therefore, users even have the opportunity to send pictures. In addition, in this app, you can scan a document using your phone's camera. According to user reviews, the app is relatively easy to use and works almost flawlessly.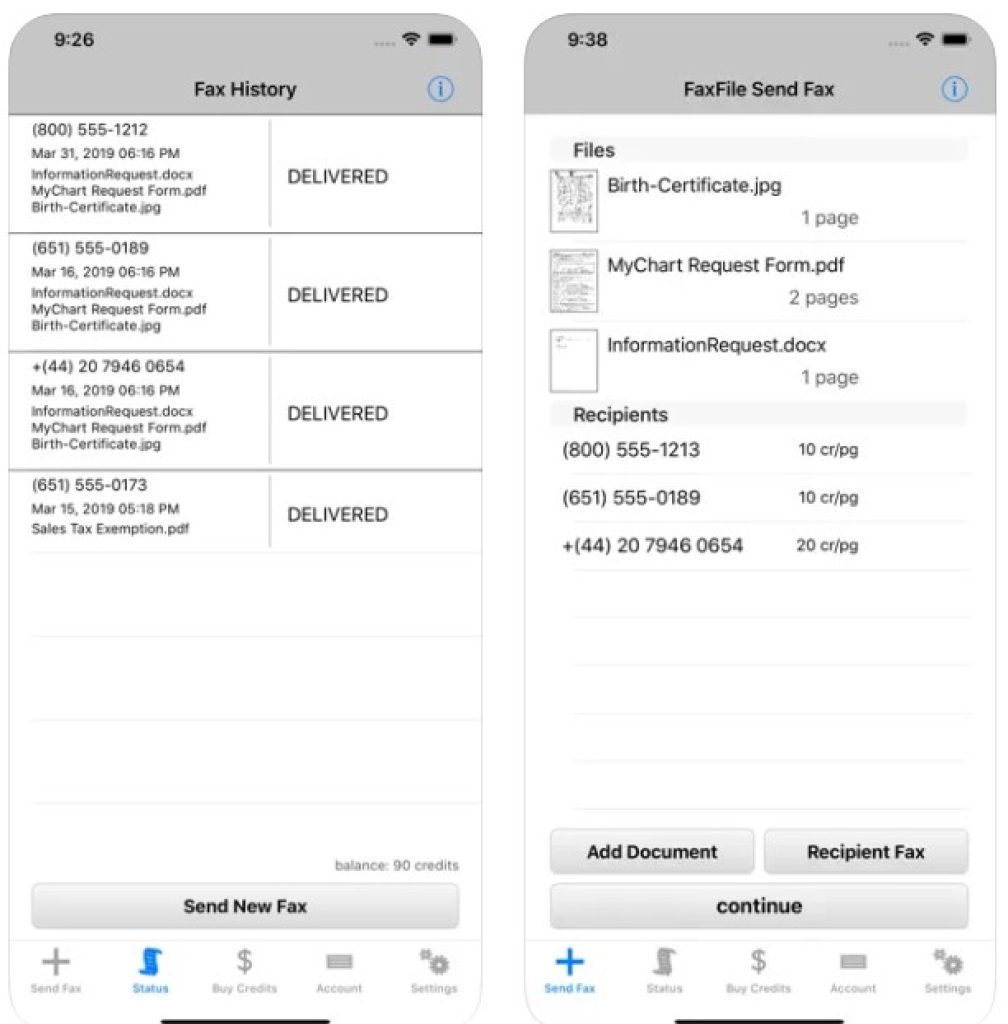 You may also like: 17 Best Apps to View Documents on Android & iOS
Fax Burner
Fax Burner is a fax app for iPhones or iPad. This is one of the few apps that users can start using absolutely free of charge.
In this app, the procedure for receiving or sending faxes is quite clear and simple. If the user sends a fax, the app gives a fax number that can be used in the next twenty-four hours. If the user receives fax, the app will notify them about it, save the fax, and, in addition, send it to the user's e-mail.
With this app, you can effortlessly sign documents, fill in the forms, and fax them back.
Also, for convenience, users can connect to Dropbox so that they can upload documents from there. In addition, users can scan necessary documents using their phone's camera and then fax them immediately.
Each received fax is saved in PDF format. According to user reviews, the app is really convenient and can fully replace a fax machine.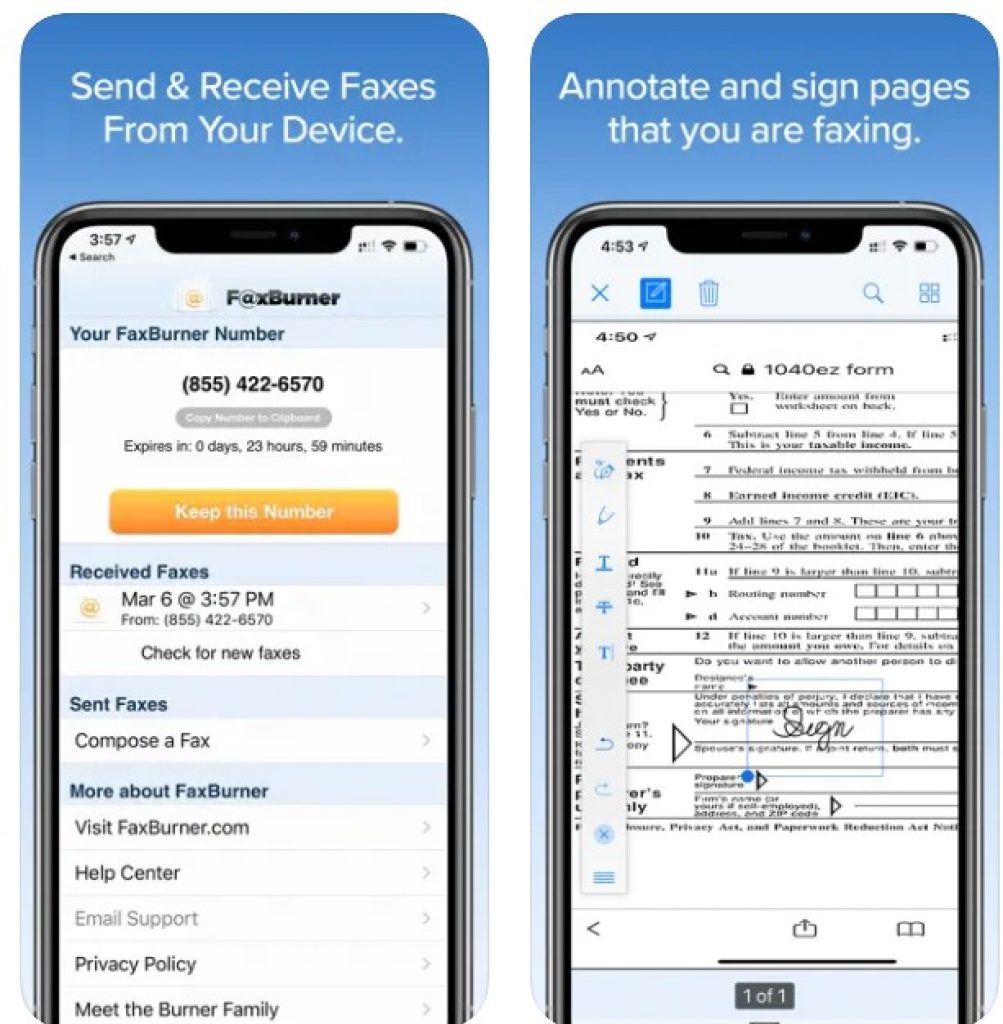 Fax From iPhone (GEODELIC, L.L.C.)
Fax From iPhone is an app that will help users send documents quickly and without loss of quality, even if they don't have a special fax machine.
The app positions itself as one of the best among the apps of the same type because it guarantees the preservation of the quality of documents. The app interface is quite simple and user-friendly. The developers of the app say that a person from any age category will be able to send documents with ease via this app.
All users need to do to send a document is enter the fax number and attach the document itself. The app supports such document formats as PDF, DOC, JPG, PNG & TIFF, and HTML.
The app has an advanced document scanner and image processing. Users can combine multiple documents into one fax.
Moreover, users can also upload their documents from cloud storage such as Dropbox, iCloud, Google Drive, Box, or any other storage.
In addition, you can track the status of sent faxes. According to user reviews, the app is really simple, concise, and straightforward.
However, there were several points in the functionality that users did not immediately understand. Therefore, it would be really helpful if the developers of the app added more detailed instructions to the app.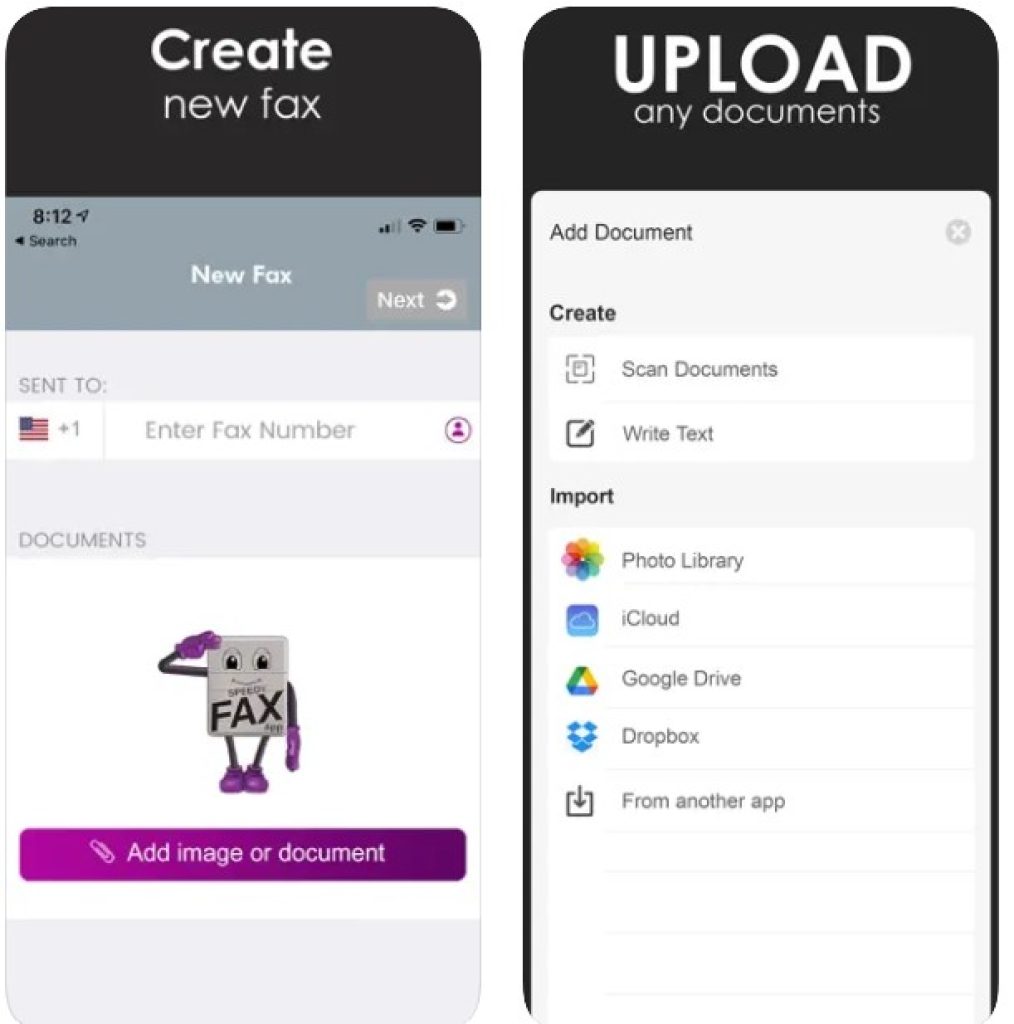 JotNot Fax
JotNot Fax is an easy and reliable way to send, receive, and store your faxes in one place. The app includes a built-in document scanner so users can do everything they need to send a fax on their smartphone.
All the user needs to do is scan the document using the phone's camera, write the fax number, and click on the "send" button. To synchronize their faxes, users can register in the app and then all their documents will be available from any device.
Also, cover pages for faxes are already included in the app. The app supports all major file formats such as pdf, docx, and images.
According to user feedback, they appreciated the possibility of receiving a certain "check" after sending fax. It assures that the procedure went successfully.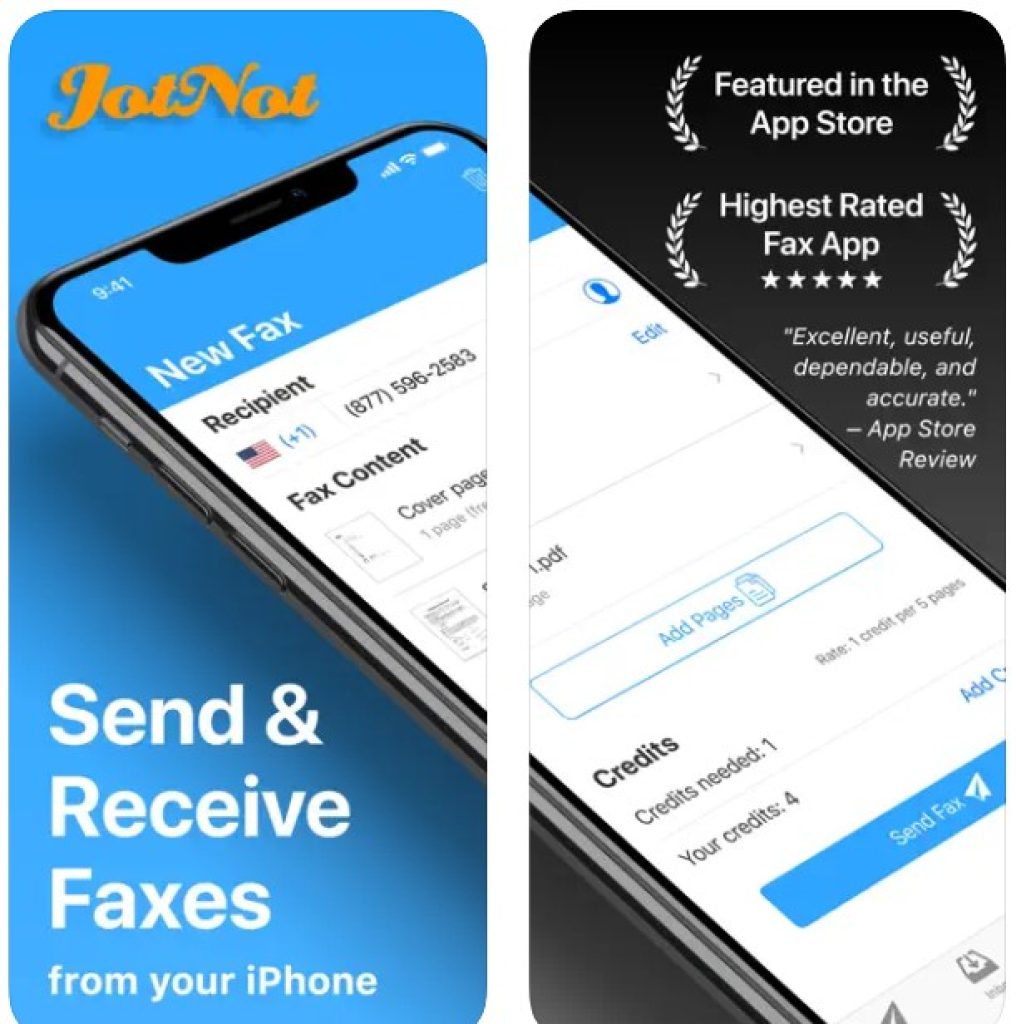 You may also like: 11 Free print apps for Android
Fax from iPhone (Appxy)
Tiny Fax is an app that positions itself as a convenient way to send any documents. This app has been functioning for more than seven years.
Almost all possible types of documents are recognized by the Tiny Tax app. Users can scan and fax documents such as books, notes, photos, letters, newspapers, and more.
Users can also add covers to their faxes for a more presentable look.
In addition, the app supports cloud storage. For example, Dropbox, Google Drive, Box, iCloud Drive. You can then save the received faxes.
The app also allows you to view the status of all sent faxes and check if there are any new faxes received.
For convenience and organization, users can sort faxes into groups.
According to the feedback of one of the users, the app often helps him out, because he has to regularly send documents and letters. With this app, this process takes less effort and time.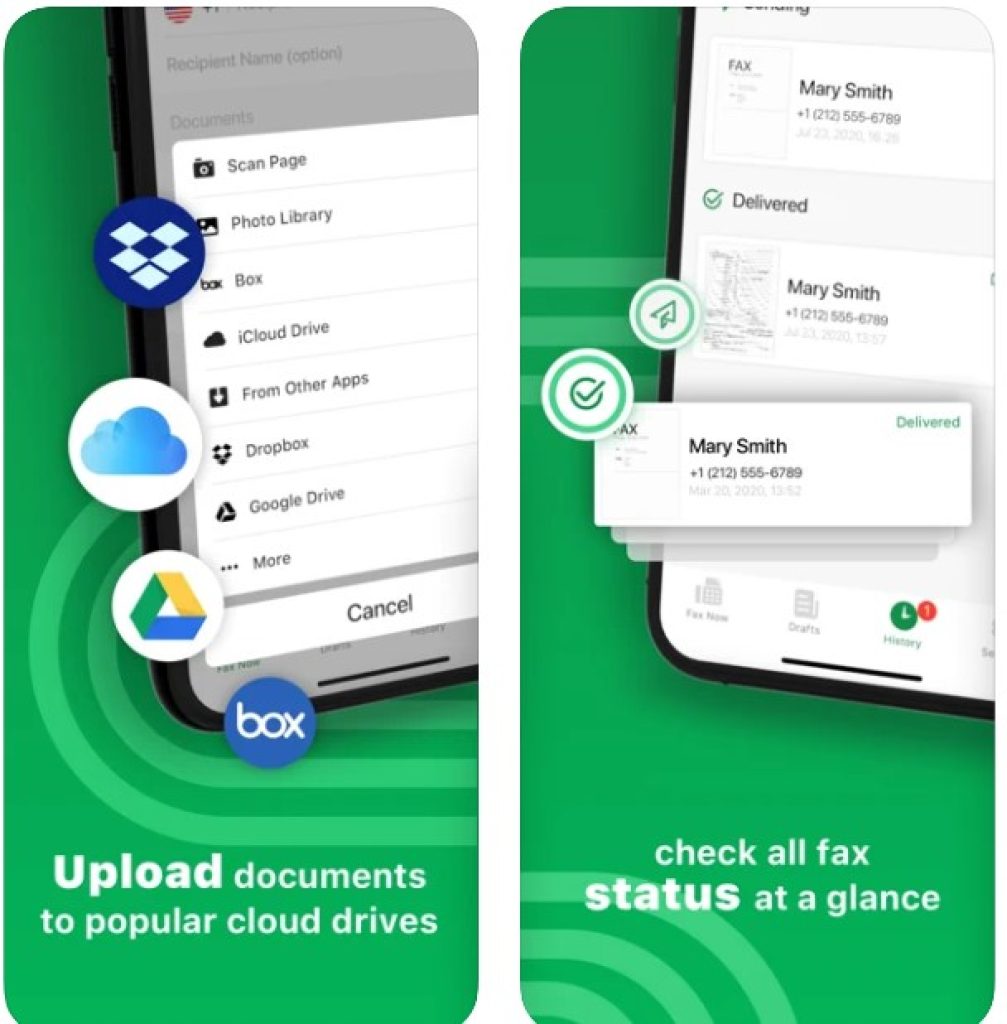 Fax Apps for Android:
Fax App (Dingtone Phone)
This mobile app is able to turn the user's phone into a fax machine and facilitate the process of sending documents. Users can send their faxes to anyone, anytime, for free.
Also, the app promises to ensure that there are no time delays. In addition, the app will send notifications of newly received faxes so that users do not miss anything.
Users can scan documents using the camera on their mobile phones. Also, documents can be added both from your device and from cloud storage.
Users can combine multiple documents into one fax. Moreover, with this app, users can monitor the status of a sent fax and get a notification when the fax is delivered successfully.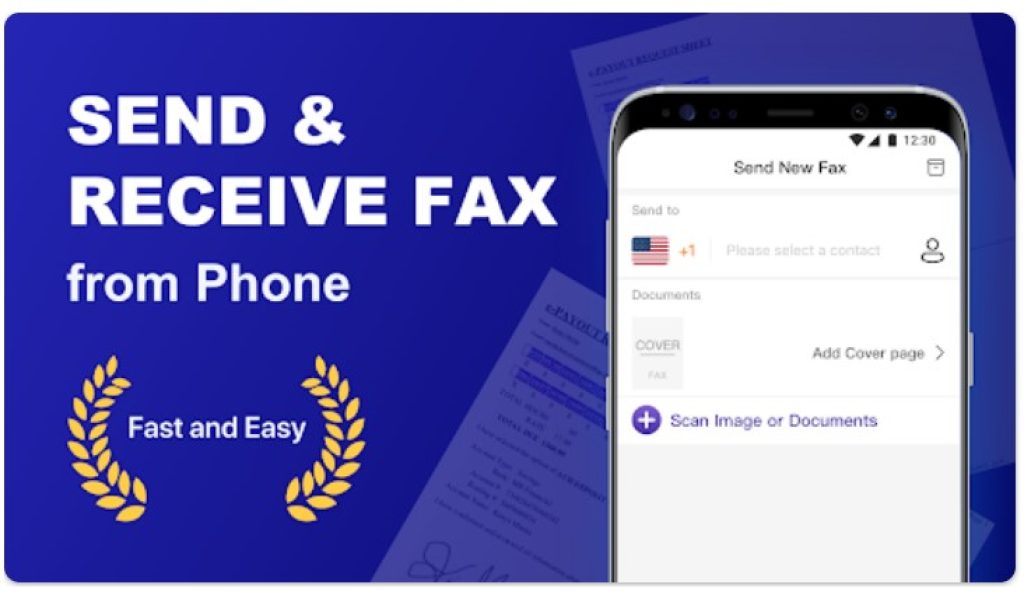 FAX.PLUS
The FAX.PLUS app is one of the best online fax services to send and receive faxes from your phone or tablet.
This is a fairly simple, fast, reliable, and secure solution for those who regularly need to send documents to people in different places.
To send a document, you can use your phone's camera to take a photo and instantly scan the desired document. The scanning process has been brought to automaticity, since the app itself finds the document, corrects it, and crops the borders.
Users can also upload a document from the internal storage of their device or from the cloud storage. Examples of such storage are Dropbox or Google Drive.
If new fax appears in the mailbox, the user will receive a notification in order to get important information in time and not forget to answer. In addition, the app greatly speeds up and facilitates the process of signing documents. It has an electronic signature feature.
The app also allows you to add a cover page to your fax. Another advantage of this app is that there is support for several document formats: office documents, PDF, JPG, PNG, TIFF.
What is also really convenient, users can send their faxes on a certain date in the future. This date has to be set in advance.
According to user feedback, like many apps of this type, this app is not finalized in many ways. Some users are able to send a fax after authorization; some are not.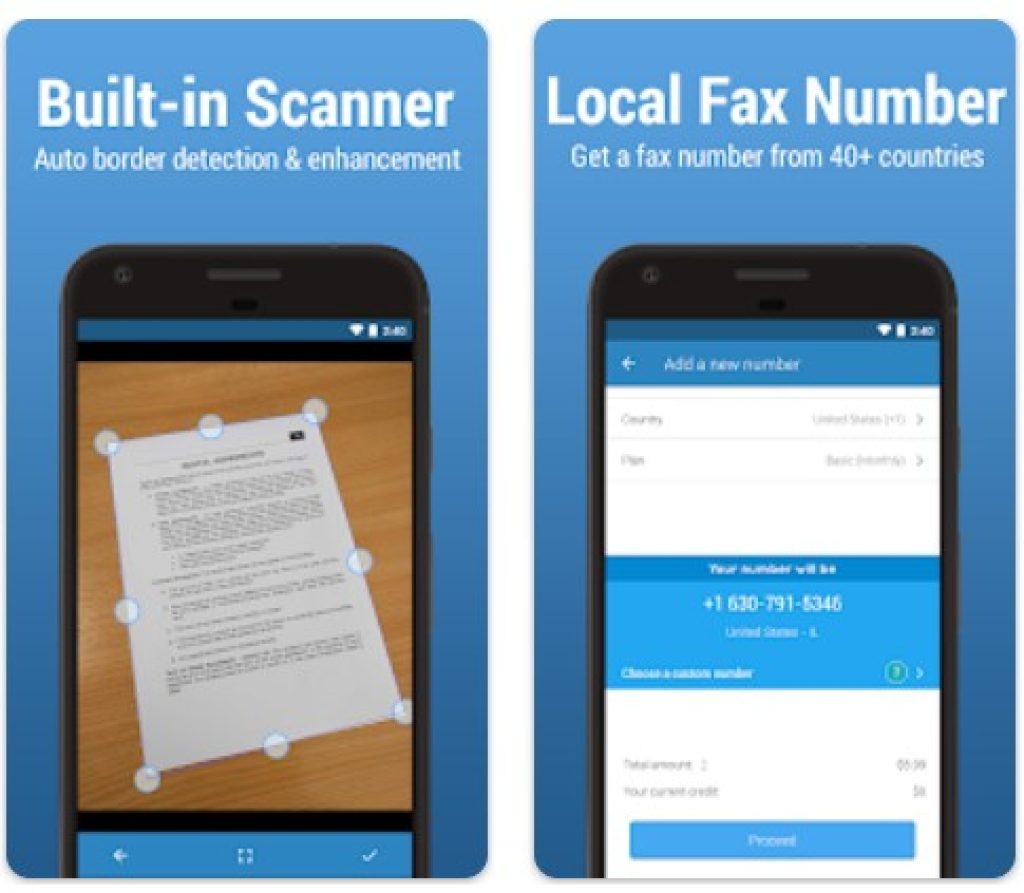 Fax App (Municorn)
With this app, users can fax documents from their Android device from anywhere in the world.
Users can also track sent documents to make sure the process was successful and the document was delivered to the recipient.
As for the functions, users can scan the desired document through this app by using their mobile phone camera.
The app has a large selection of document formats that the user can attach and fax. For example, the app supports PDF, DOC, JPG, PNG, TIFF, and HTML.
In order to verify the correctness of the document, users can view them before sending. You can also combine several documents into one fax here. According to user reviews, the interface is simple and straightforward.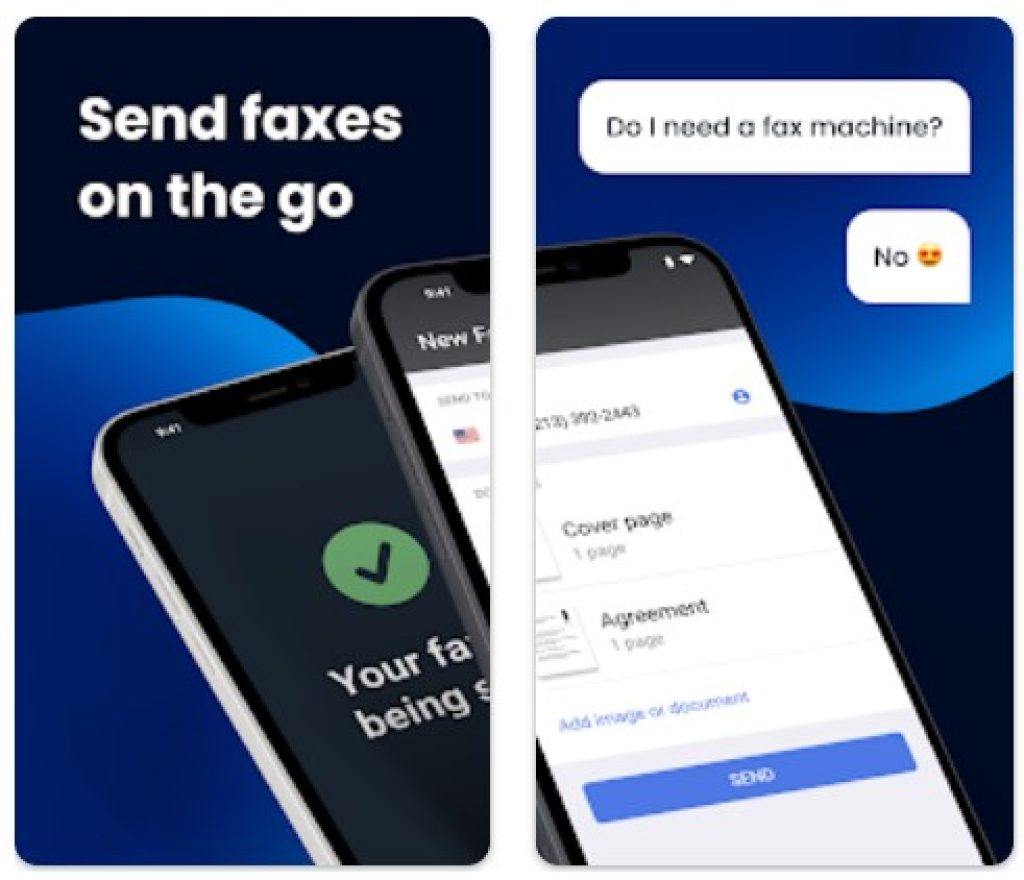 iFax
The IFax app is a tool that will help its users in sending a fax without any extra effort and cost.
According to the description of the app, a fax can be sent as easily and quickly as an email. Users don't even need to register to get started with the app.
In this app, users can send any kind of document they need. For example, here you can fax images, fax photos, PDF fax, documents, and files.
This app also supports another way of attaching your document. All the user needs to do is scan the document using the phone's camera.
In order for all the information on the document to be clearly visible, the scanned file can be edited. The background of the picture/scan can be lightened or darkened.
Cloud storages such as Google Drive and Dropbox are also integrated into the app.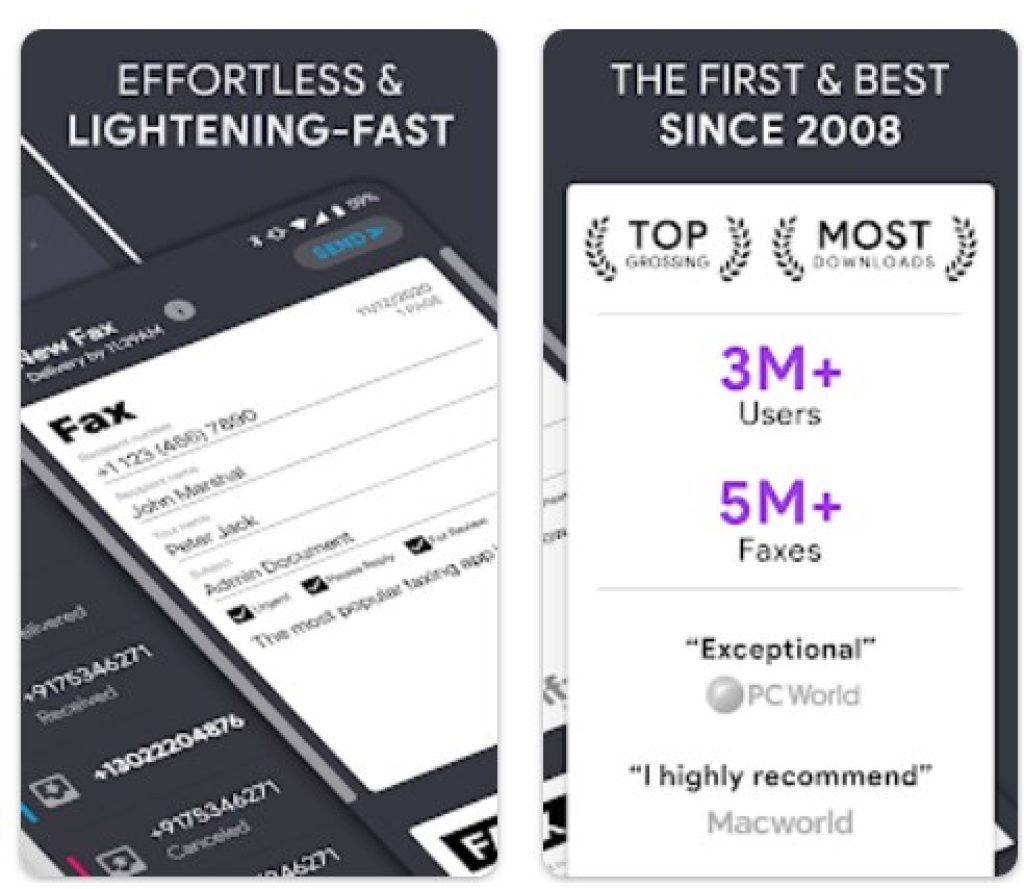 eFax App
The eFax app will help you send any necessary documents directly from your phone. In order to send a fax, users only need to scan a document using their phone's camera.
Moreover, documents can not only be scanned, but also uploaded from Google Drive, Box, or Dropbox. Also, in this app there is a cover page function for the proper formatting of the fax.
In general, eFax is quite a simple app with an obsolete interface – such an option will be suitable for people with less powerful Android devices.
As for the faxes that users receive, they can be edited and signed directly in the app with a user's finger. The documents themselves can be saved in the cloud in PDF format.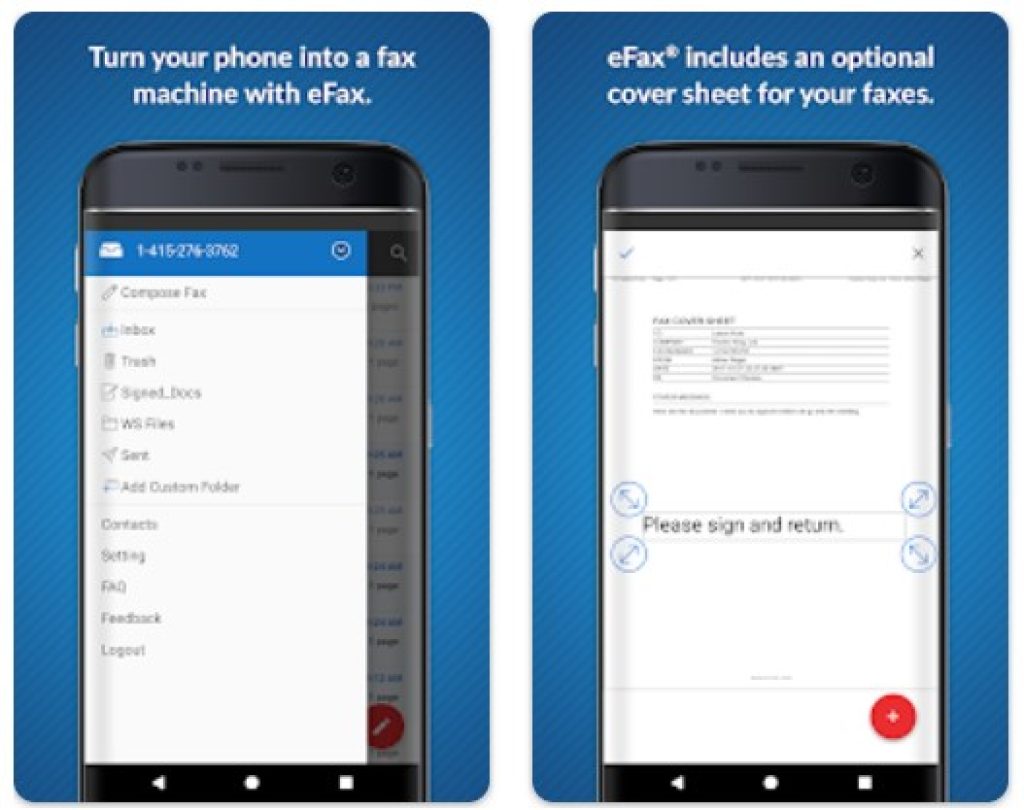 You may also like: 13 Best Document Editing Apps for Android & iOS
MyFax
This app includes many useful features for easy and fast faxing to anyone.
In order to send a document, the user has two choices. The first is to upload a document from the device itself or from the cloud. The second is to use the phone's camera to scan a document directly in the app and immediately send it.
Received faxes can be saved securely in cloud storage.
The app has several sections to make it easier for the user to navigate through all the documents. In addition, there is a section with drafts. You can always access it to send a document that you have postponed.
In addition, users are not limited by the sections available in the app. Each user can add folders with unique names there.