The summary is an important part of the job search and the beginning of communication with employers. It is very important to draw up this document correctly, as, in fact, it is your "first-person" in the hiring process.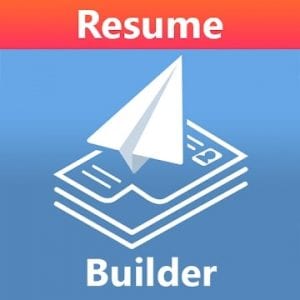 Summaries have many different features, so it is best to use special templates or programs. Go2Job is a great helper to create a great first impression of yourself.
Using
After installing the application, you'll see a welcome screen with necessary hints that will make it easier for you to use the application.
After viewing these pages, you will need to fill in the "Name" and "Position" fields. If you do not want to enter your data, you can set the automatic input. The application will enter the random data there. Then you will see a window with the application features.
In the upper part, you can open a menu or buy a "Premium" version. In the menu, you can adjust the necessary settings, check the app, share with friends, contact the developer, re-check the tips, check recent submissions, and view your resume.
At the bottom of the screen are the "Complete CV" and "Submit CV" functions. You can also add a new resume by clicking the button in the middle of the screen, where you can also take a photo for your profile. There are also current job offers in the bottom box that may interest you.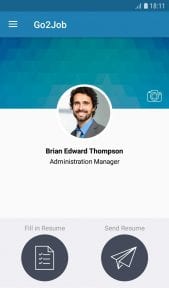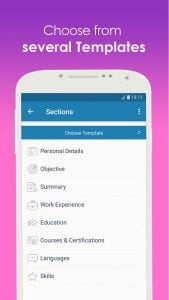 Creating a resume
When you create a resume, you are asked to give it a name and choose a language at the beginning. The languages to choose from are Portuguese, English, French, Italian, and Spanish. You can also delete it here. Then click "Fill in Resume" on the home screen. Here you can select more precise options:
One of the templates available for you to choose from. There is also the "Edit" mode. Where you can customize margins, color, and graphic elements.
Personal data. Here you enter your name, title, mail, phone number, date of birth, address, and country.
Here you need to specify your goal for a specific job selection in a detailed form.
In this paragraph, you specify your best qualities and skills that will be useful for the job.
Work experience. Here you list all the places you have worked before. Place of work, position, and time of work.
In this section, you list your university, specialization, and years of study. You can also add a description and even several universities.
Courses and certifications.
Extra information that you should specify here is the level of fluency.
Here you can specify the computer programs that you know how to use and the level of your skills.
QR Code. This is an interesting and quite new feature. You can add a link to your website or another personal web page to your resume using the QR Code. So, even in paper form, your potential employer will be able to scan this code with his or her phone and quickly browse your website.
Extra features
When creating and editing your resume, you can add extra features that are optional but will definitely help you pay attention. Among these features you will find:
Publications.

Projects.

For example, blogs.
Awards & Honors.
Interests.
Test scores.

References.

Volunteering Experience.
Extra information.
Also in this editing mode, you can place the page break where you want.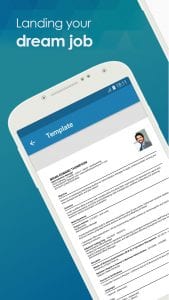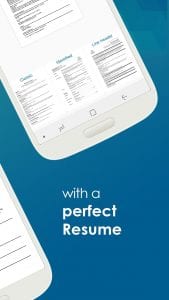 In general, the Go2Job app is a great helper to create a resume when you're looking for a job. All you have to do is enter the necessary data into the appropriate fields. The app will automatically create the perfect resume for you.
You may also like: 11 Best Free Resume Maker Apps