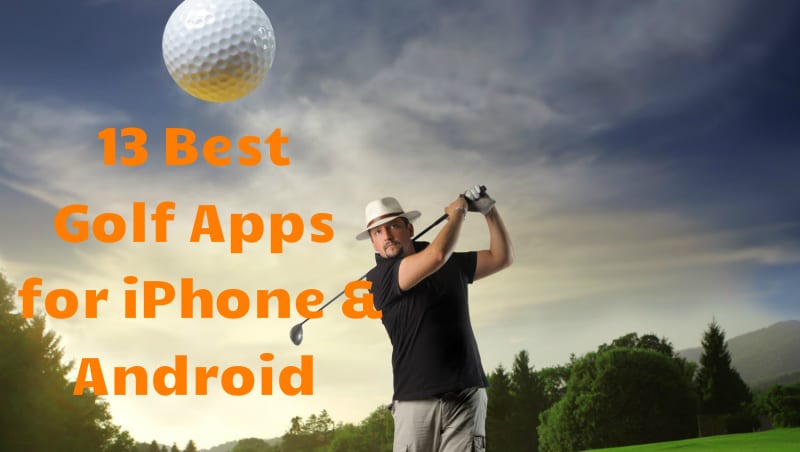 Golf is a game of wealthy men. Just listen, who else want to pay for a full equipment, if it will cost you about few thousands of dollars. Also, you need a personal coach for $300 per 2 hours for several detailed lessons to pick up basic skills, rent a golf car to move around a golf car for $150 per 1 day and don't forget about luxury dinner with other rich golf players. Brrrr! Stop! There is another way to have a good time and play golf without any costs! What is more, you don't have to search for a fittable field and go there- all necessary conditions are… on your phone!
We have selected 13 best apps for playing golf on your iPhone or Andriod so you will try yourself as a golf player.
---
By the way, check our posts related to games. Such collection as "15 best free chess game apps for iOS & Android"  will be interesting for those people, who enjoy thinking about a few steps forward his opposite, special strategy and that kind of things.  But if you are in addiction to golf, you also will like playing 8 Best Biathlon Game Apps For Android & iPhone.

---
1 Golf GPS & Scorecard – Swing by Swing Golf
The first respective place is awarded to Golf GPS & Scorecard! Why is it so? Because it looks like you play golf via Google Maps- with coordinates, some figures, and indicators. Speaking about its features, A free GPS rangefinder with distance to the center of a green and every obstacle on the course as well as a digital scorecard. The scorecard automatically advances from hole-to-hole.
Keep score for your entire foursome quicker and easier than a pencil and paper.  Stat tracking is very helpful in focusing practice needs. Besides, tracking your progress is an important part of every game, and Golf GPS provides you the best way to track your progress on the course and to keep score
What is more, it is hard to get through 18 even with lower battery usage settings.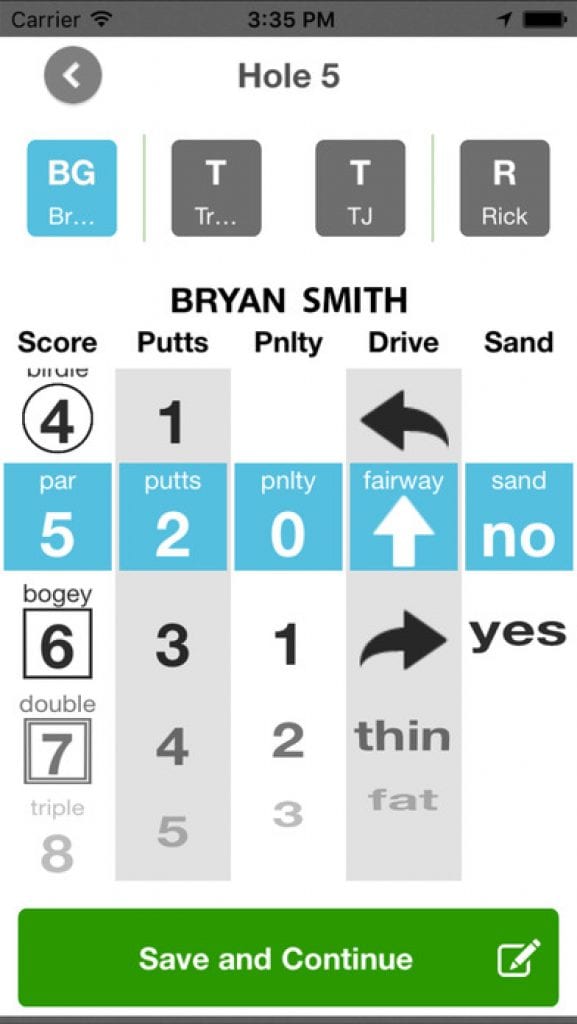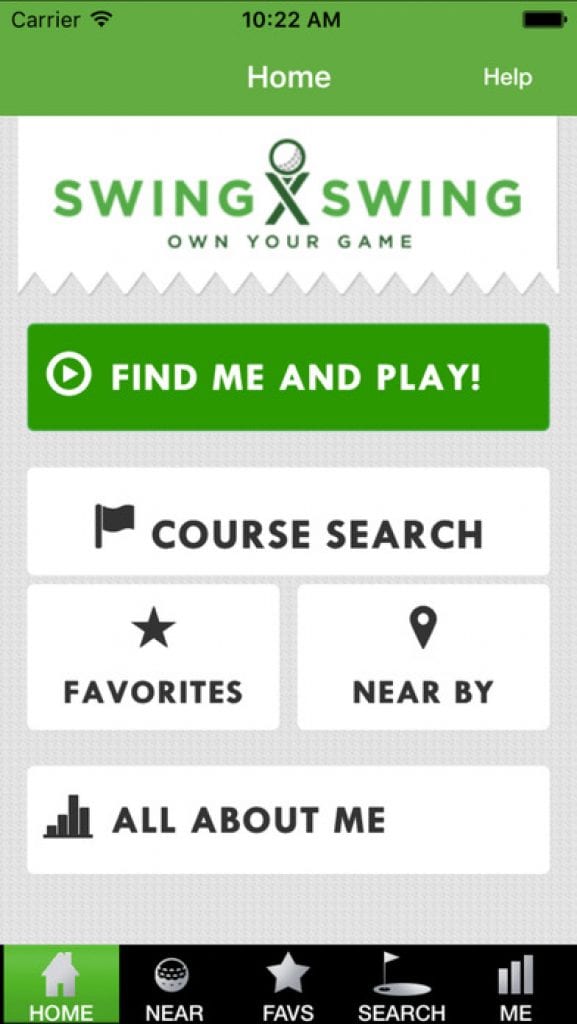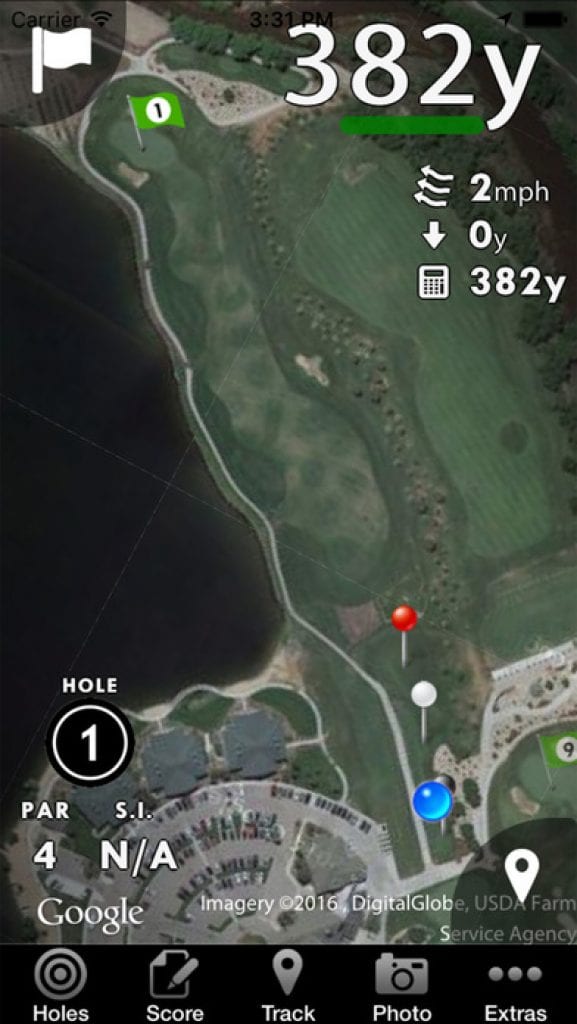 Get it on AppStore
Get it on Google Play
2. Golf Star™
This one provides you the most realistic graphics, golfing techniques mastered by the pros, and a simulation powered by real physics-based gameplay.
Let's look at it more detailed. First of all, you can choose a language you are going to use, so choose from the list:  English, 한국어, Deutsch, Français, Português, Español, 日本語, 中文简体, or 中文繁體. , Indonesia or ไทย.
Secondly, if you always want to pick up basic skills of playing golf, realistic graphics, master techniques and simulation will provide you all necessary information about what should be your pose, how should you keep the putter, move and so on.
Speaking about the app, there are several modes you can choose from : Career Mode: Play Single Player rounds and Quests or compete in the NPC Tournament.
Career Mode: Choose Single Player to play rounds or compete in the NPC Tournament
Friend Match Mode: Challenge your friends to find out who is the winner.
1:1 Tournament Mode: Challenge real players from different corners of the world in 1:1
Skins Mode: Max. of 4 players will compete against each other to win each hole, and the winner will earn the prize money.
Get scores and win!
Supported as on tablets as phones.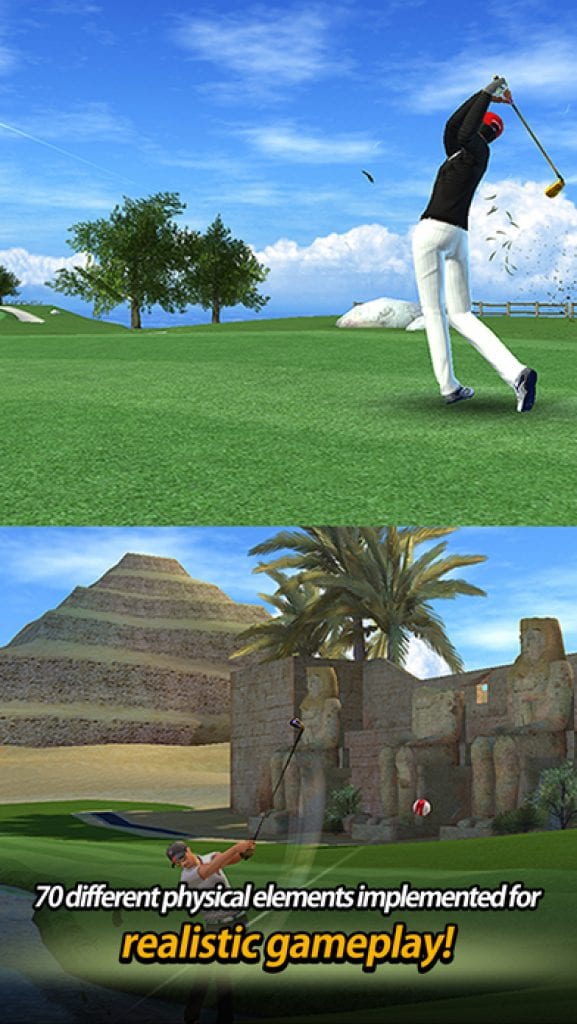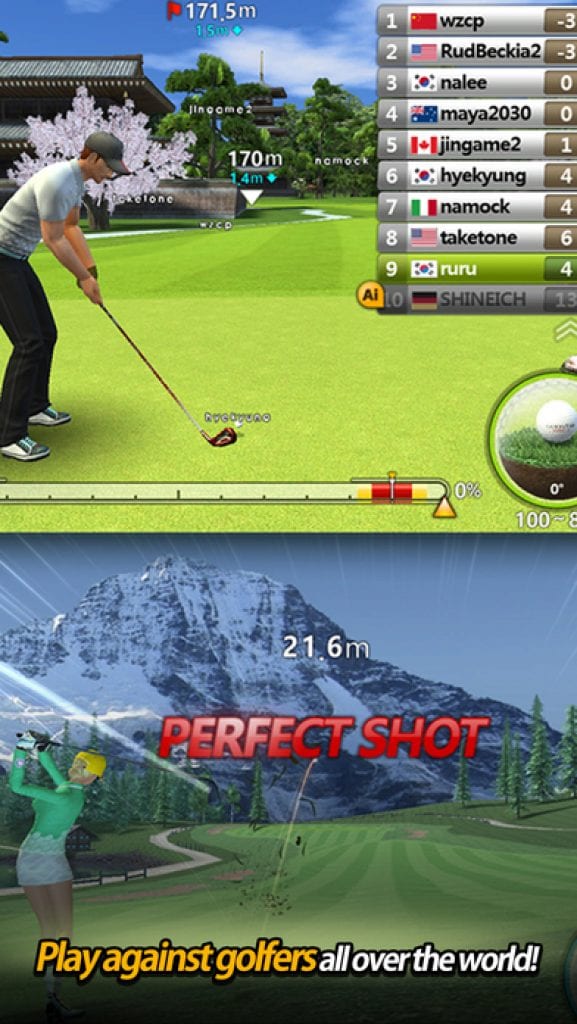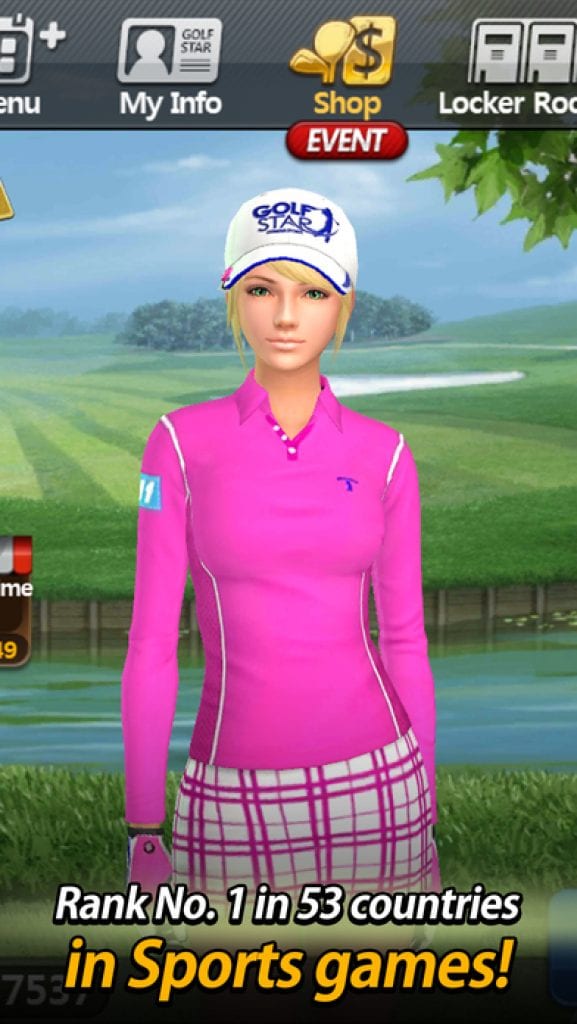 Get it on AppStore
Get it on Google Play
3. WGT Golf Game by Topgolf
Where else you can ba a part of the world famous tournaments like Chambers Bay (2015 USGA U.S. Open) Bandon Dunes (Golf Digest #1 rated resort), Harbour Town (PGA RBC Heritage), Pinehurst (2014 USGA US Open), St Andrews (2015 British Open), and Valhalla (2014 PGA Championship), Congressional (2011 USGA US Open) and  that kind of things.
Apart from great 3D graphics and perfect simulation, you will get full 18-hole stroke play with putting and 9-hole closest-to-the-hole golf game formats.
Moreover, you can create your own tournament with up to 6 players, compete, swing, drive, chip and putt using different golf shots from different lies on the tee, fairway, rough, bunkers and get scores . The best shots you can share with your friends via Facebook, Twitter or another social network.
Supported as on iPad 2 and latest, iPhone 4 and latest and Android devices.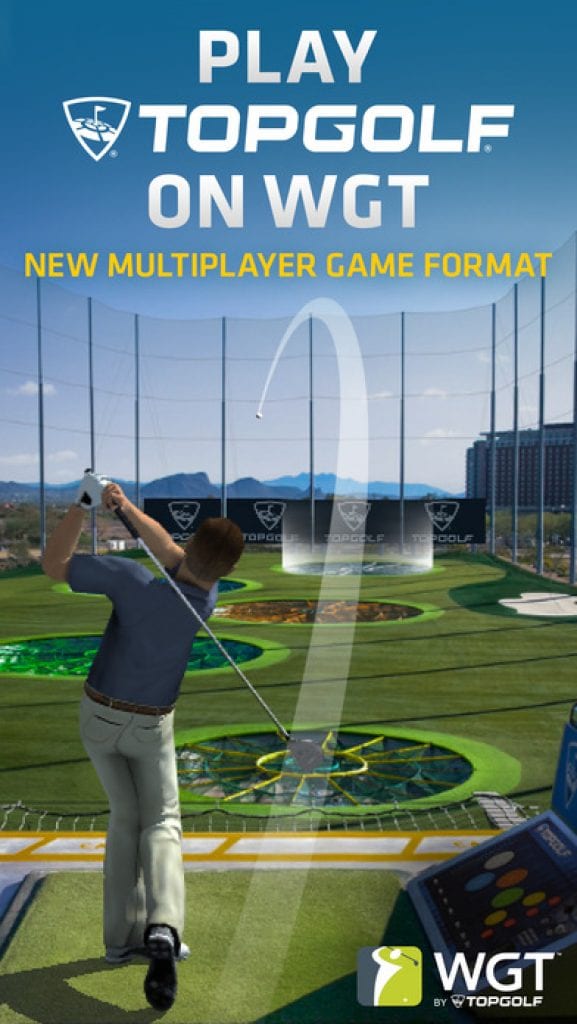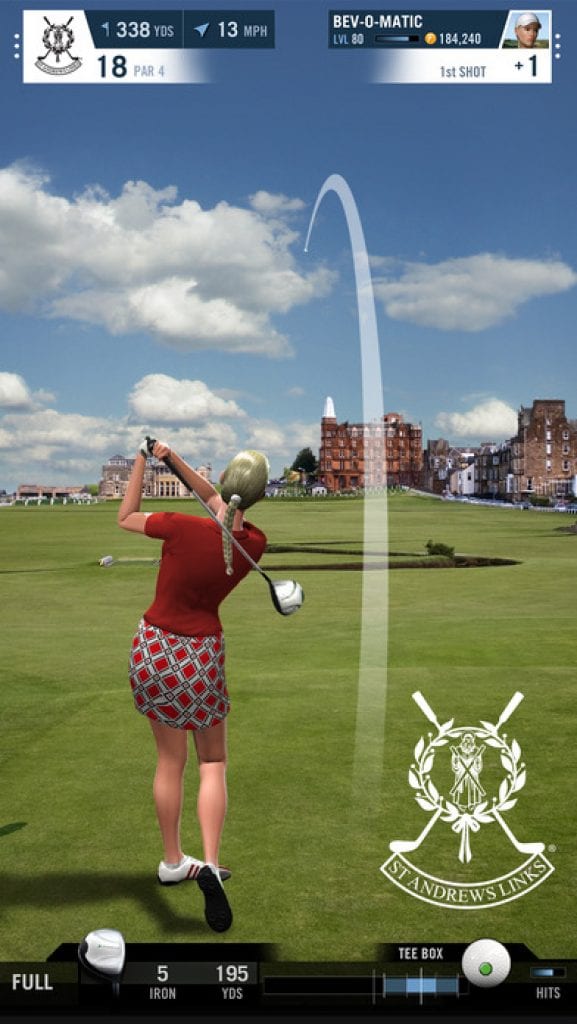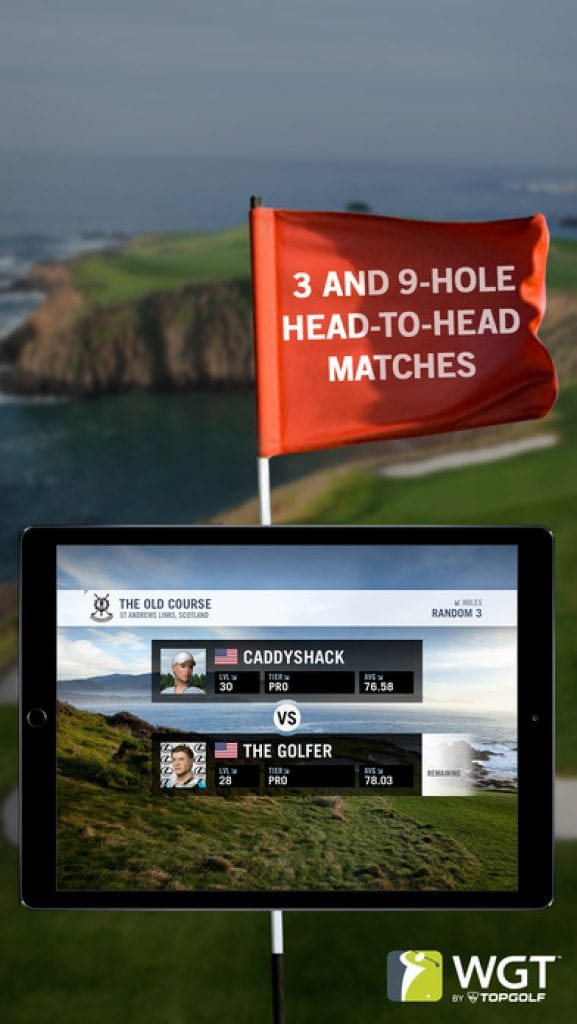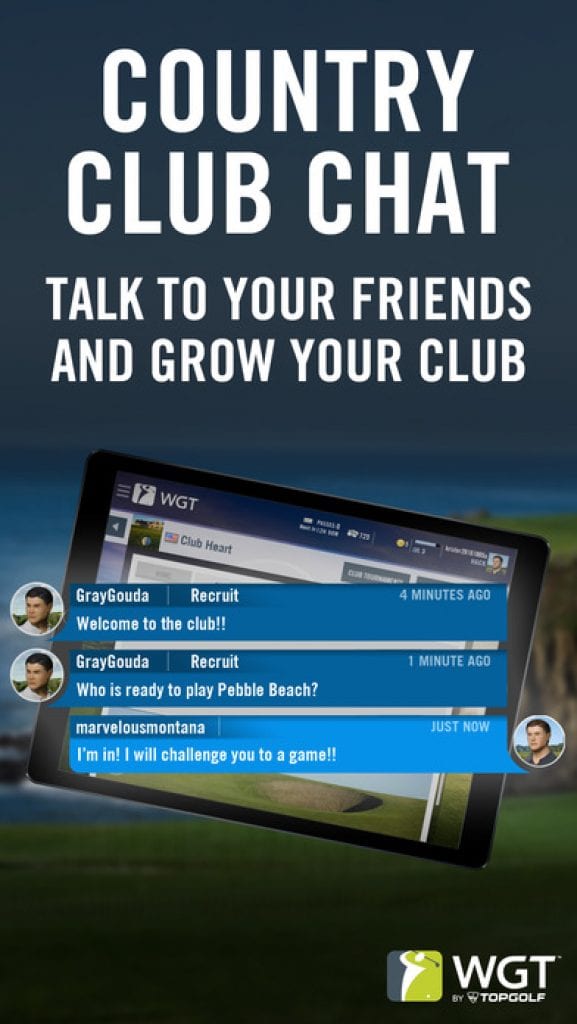 Get it on AppStore
Get it on Google Play
4. Super Stickman Golf
Let's forget for a little time about real 3D golf games and just look at this minimalist super Super Stickman Golf game. Developers warn : "Once you pick up this game, you may not be able to put it down. You will definitely never play "golf" the same again".
Speaking about its features, there you can find 6 unlockable clubs, which will impress you. There is a little secret: Each super club has a unique ability to make your round a little easier. Apart from , you are given  261 unique holes, including all the classic courses from Stick Golf 1 plus new 'super' courses. Earlier, you can compete with your friends via Game Center and compare your achievements.
If we are talking about its graphics, all animated character players are in an HD quality due to Retina Display and the high resolution.
Supported as on iPad 2 and latest, as iPhone 4 and latest and all Android 2.1 devices and latest.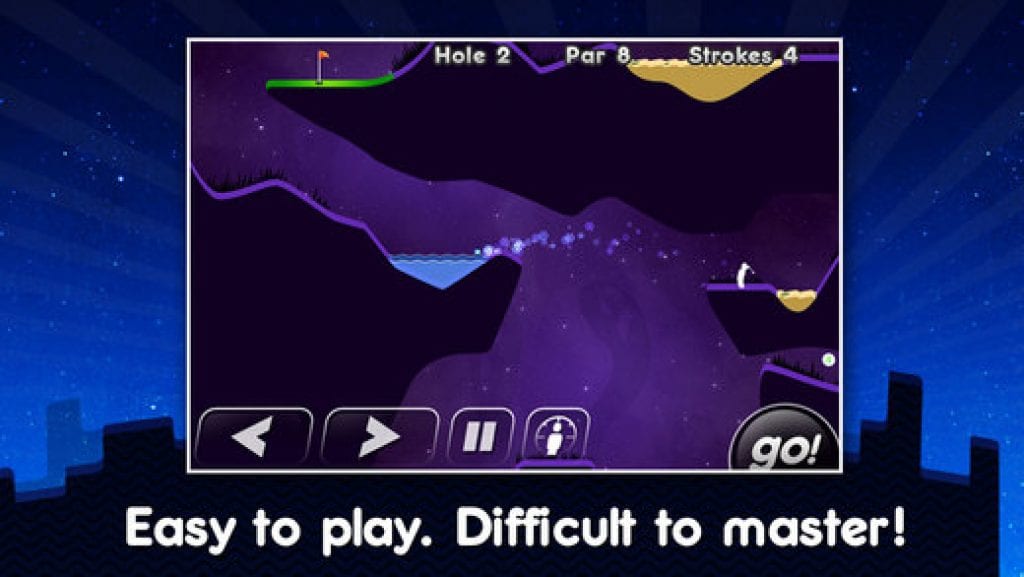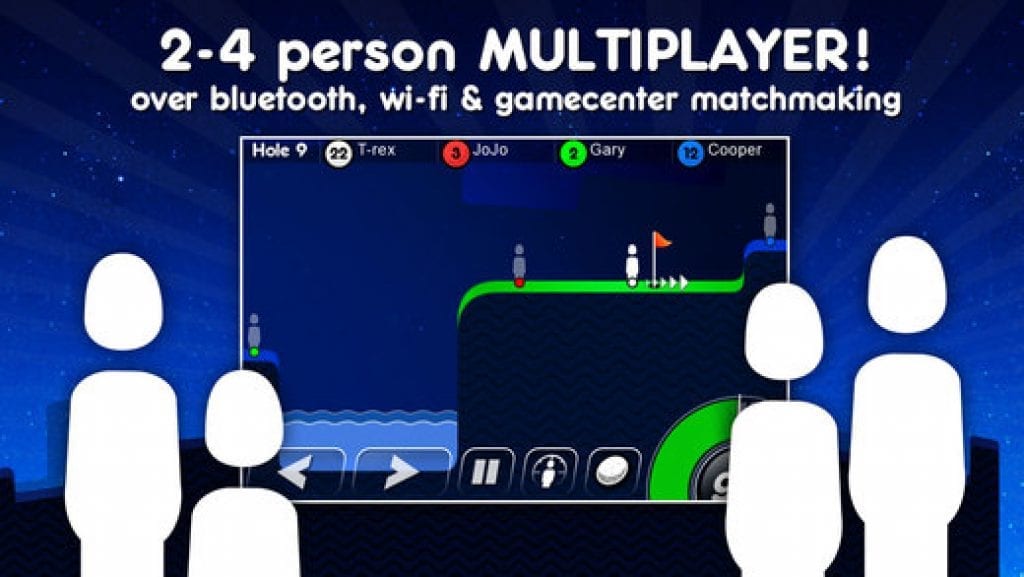 Get it on AppStore
Get it on Google Play
5. Flick Golf!
If you remember the game about Madagascar Golf, you will be pleasantly wondered. It absolutely akin to that game, but developed as much as possible- Course graphics recreated for a new generation .
There are no 3D players. You play in the 1st person. There are no clubs, rules. Flick, spin and curve your shots to sink the perfect hole in one. All you need is to watch out for hazards because everything will challenge your skills as you drive for the high score. For example, bunkers, trees, sand, and the wind will distract you from getting high scores.
Now it's all about its features. The game will please the owners of iPhone 6, iPhone 6 Plus , iPhone 7 and iPhone 7 Plus with  Full HD resolution and  Retina Display. Speaking about the game, you are able to change weather conditions and keep controls  for in-flight spin and curve.
When you will become a professional of Flick Golf, don't forget to challenge your friends via Game Center and compete! After all, your achievements will be shown on Game Center leaderboards and achievements.
Supported as on iPad 2 and latest, as iPhone 4 and latest and all Android 2.1 devices and latest.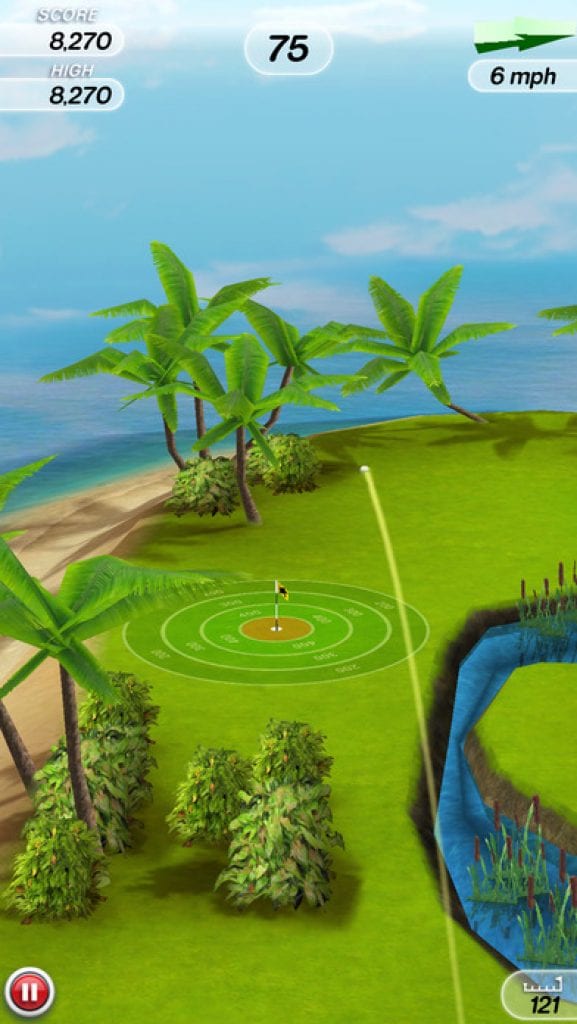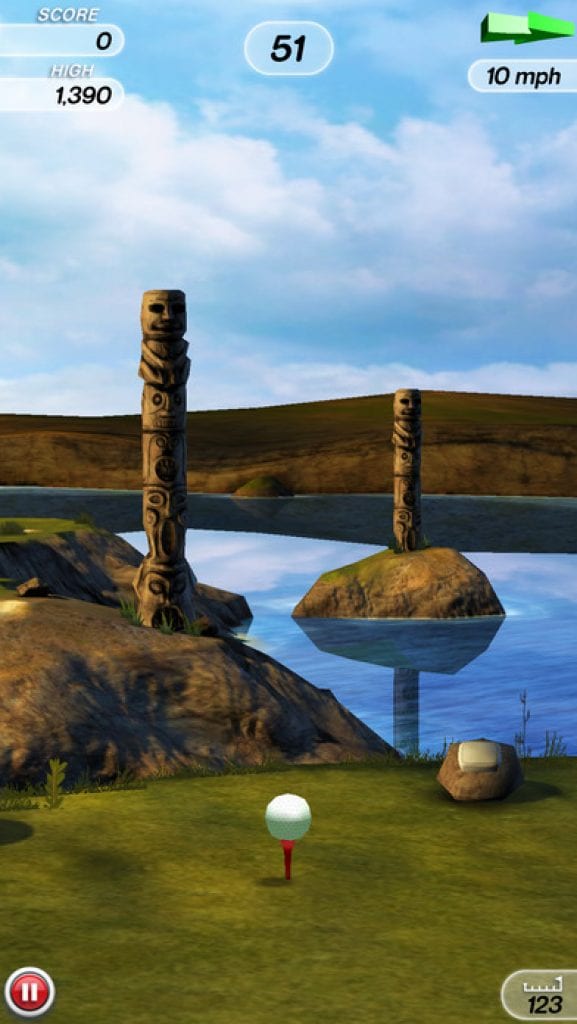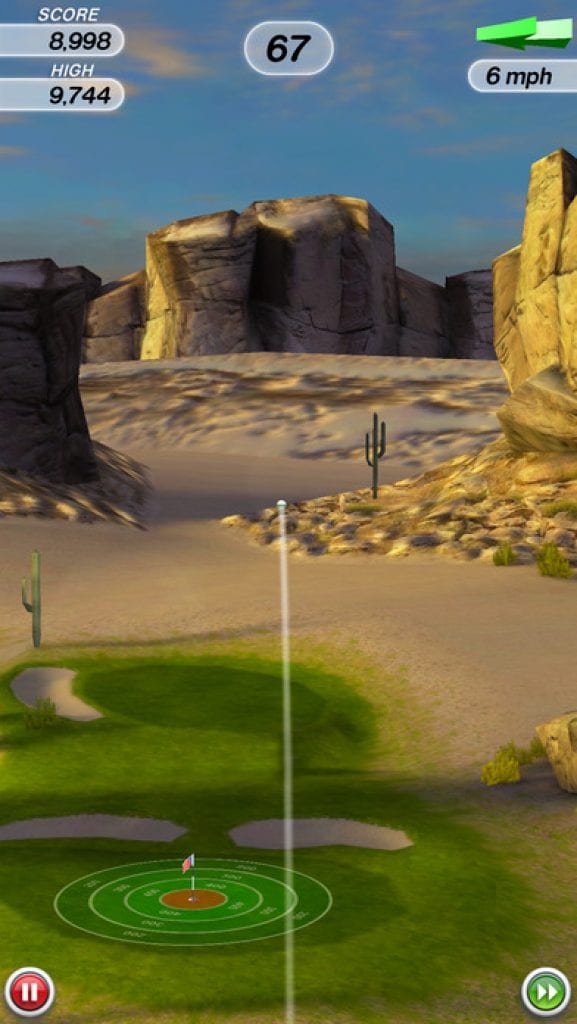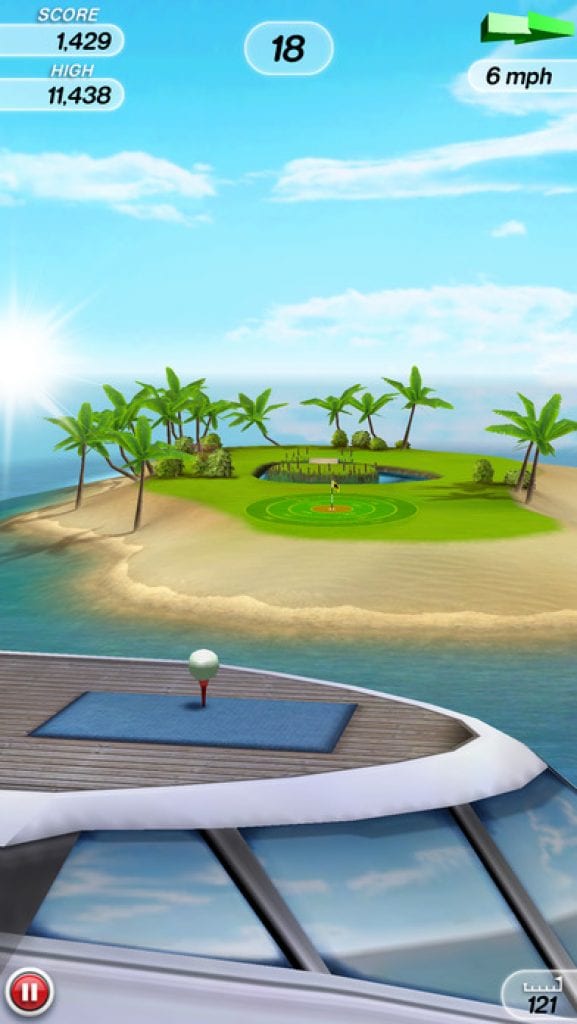 Get it on AppStore
Get it on Google Play
6. Mini Golf MatchUp
To my mind, this application will be the best entertainment to your little sister, brother or children. The design is created in animated cartoon style. It is exactly all that children need and what can attract their attention.
First of all, it is free to play. There are no in-built fees and paid subscriptions. You can give your tablet to little users without any doubt that they will buy something. They will collect stars from previous courses to unlock a new one.
Speaking abut the game, there are 7 curious courses with more than 70 holes. It is a quite big quantity. Moreover, dodge obstacles with 3 unique putter and ball upgrades, challenge your family, friends or other real players all over the world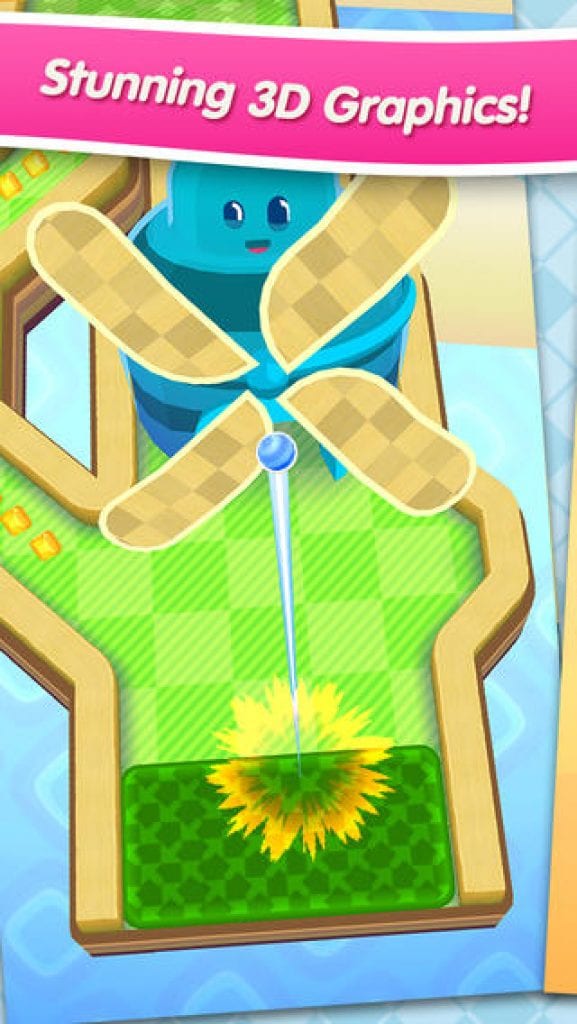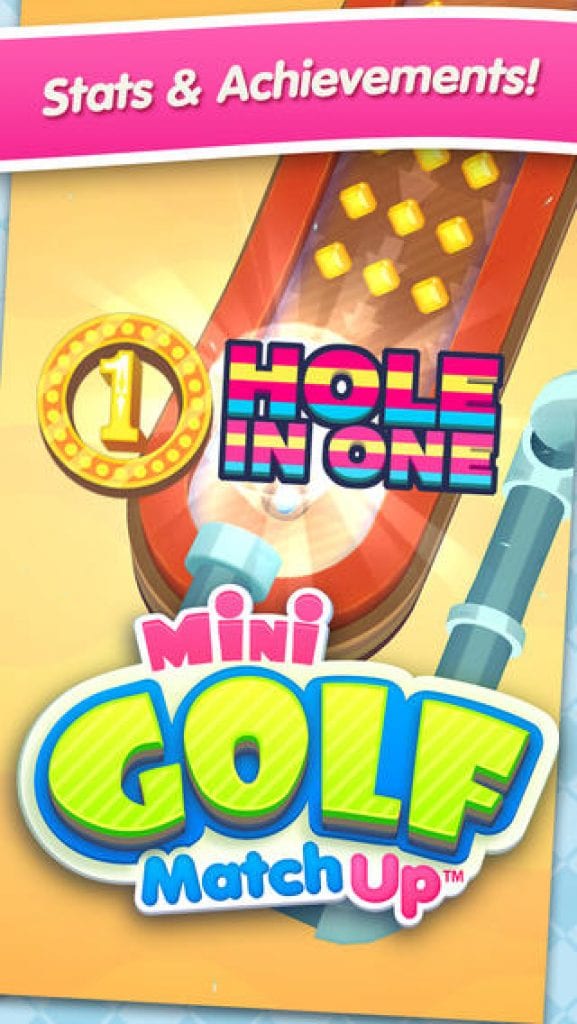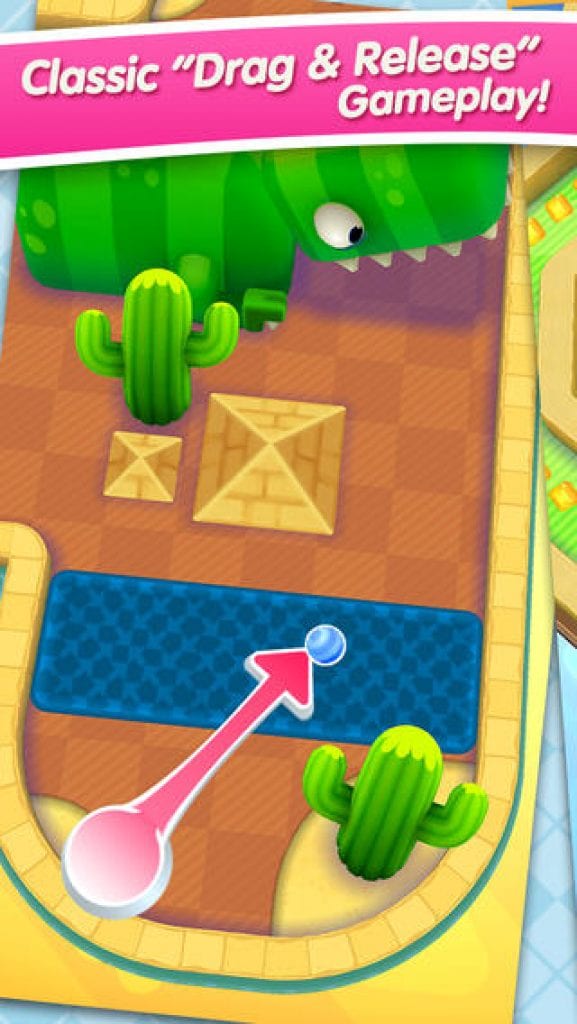 Get it on AppStore
Get it on Google Play
7. GL Golf Lite
The most realistic app is GL Golf Lite. Developers tried to create everything you can see, playing real golf on real golf field, so physics system and great simple graphics, you and up to four players can golf all 720 holes for countless hours.Everything in a real game of golf is included, such as water hazards, sand traps, trees, bushes, the wind, four seasons, different time of days to play, and a driving range. Other great features include both the internet and individual high score list, game saving, great music, iTunes controls, 3 difficulty modes, mulligans, the ability to choose your set of clubs, match/stroke play, online tournaments, customizable male and female golfers, and much more. GL Golf is constantly being updated with free new features. Four new courses are released every year, available for in-app purchase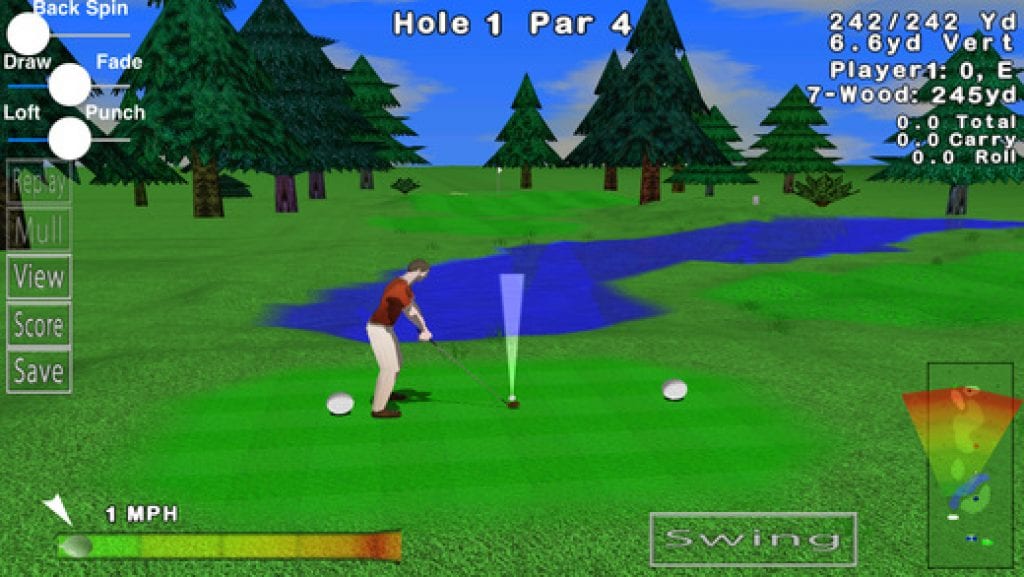 Get it on AppStore
9. King of the Course Golf
Entertainment applications for tablets and phones are the best ways to waste time, playing picturesque games like golf ,for example. The main feature is that you can take your golf field wherever you go and play golf whenever you want.
King of the Course Golf provides you with plenty of quick-play challenges, including stroke play and trick shots. Hit the bull's-eye, land on floating platforms, and even skip across water.
What is more, developers offer you to try yourself in real  major courses in the world — TPC Sawgrass, St. Andrews, Banff Springs, TPC Scottsdale and Pinehurst No. 2 and so on. In other words, more than 300 courses wait for you and your friends, who you can challenge and compete with. After all, you can compare your results on the leadership boards.
To become a pro you can learn some tips from best of the best – Bubba Watson, Ian Poulter, Jason Dufner, Dustin Johnson, and Keegan Bradley. Then put their advice to the test when you face them in boss battles!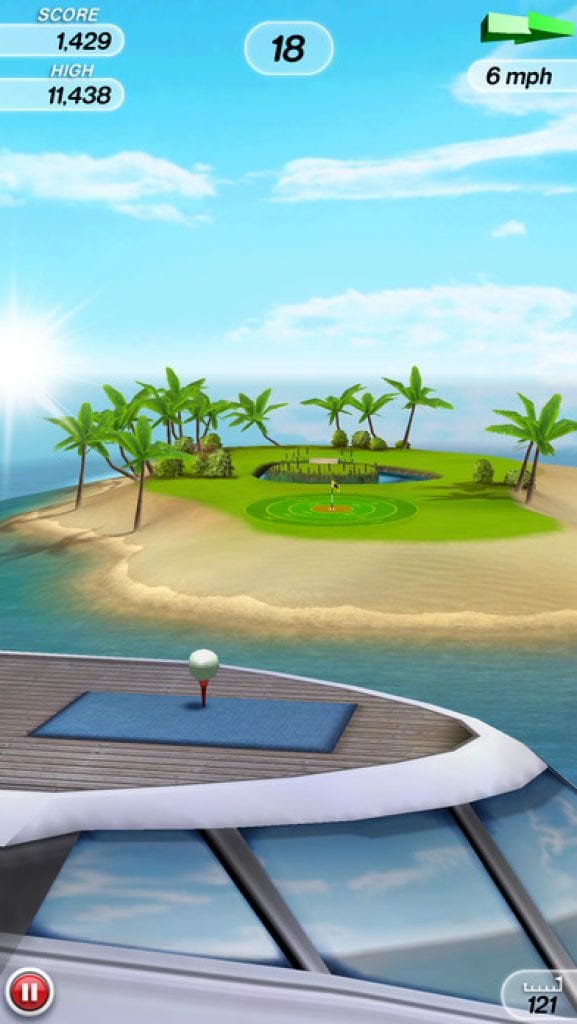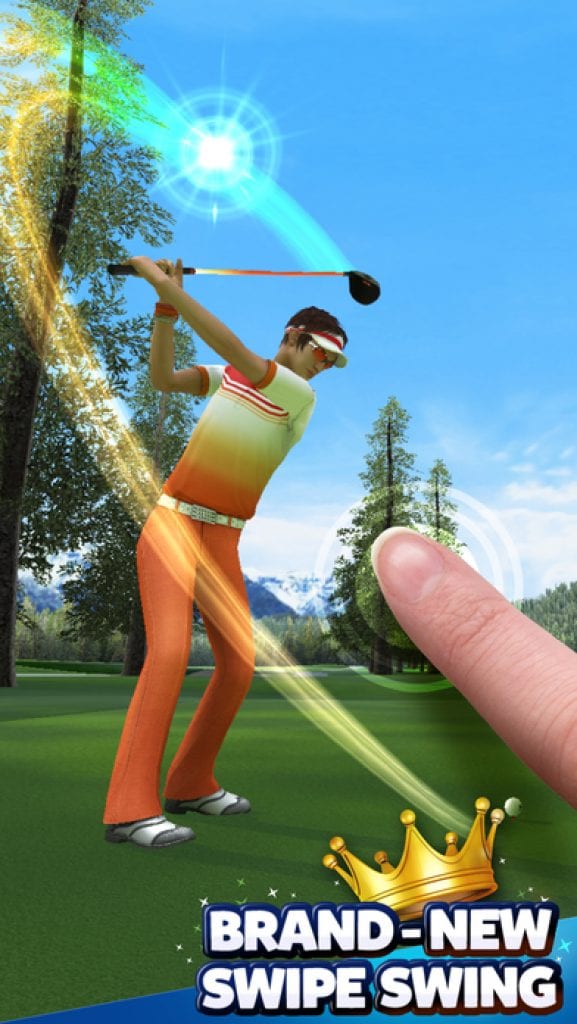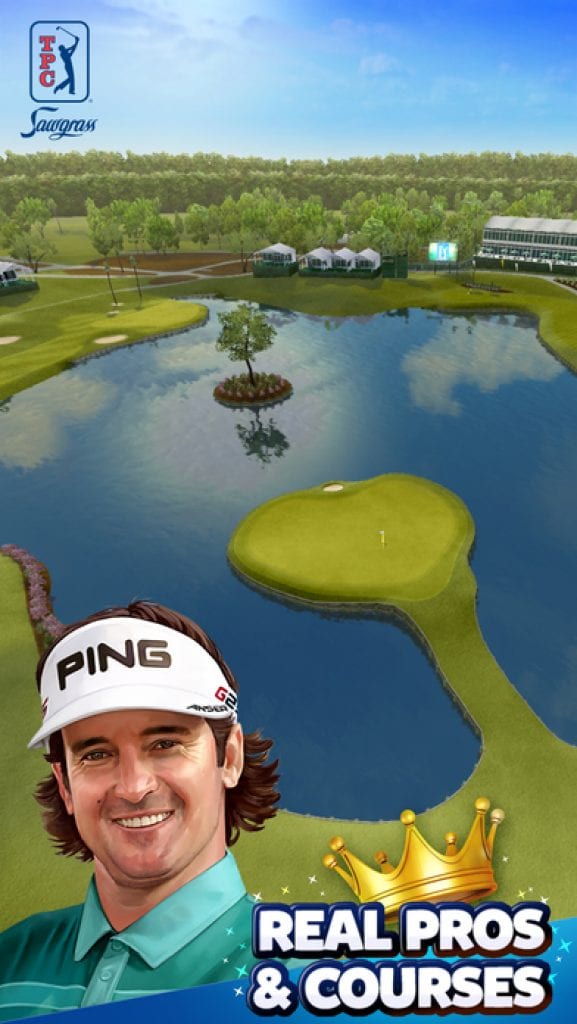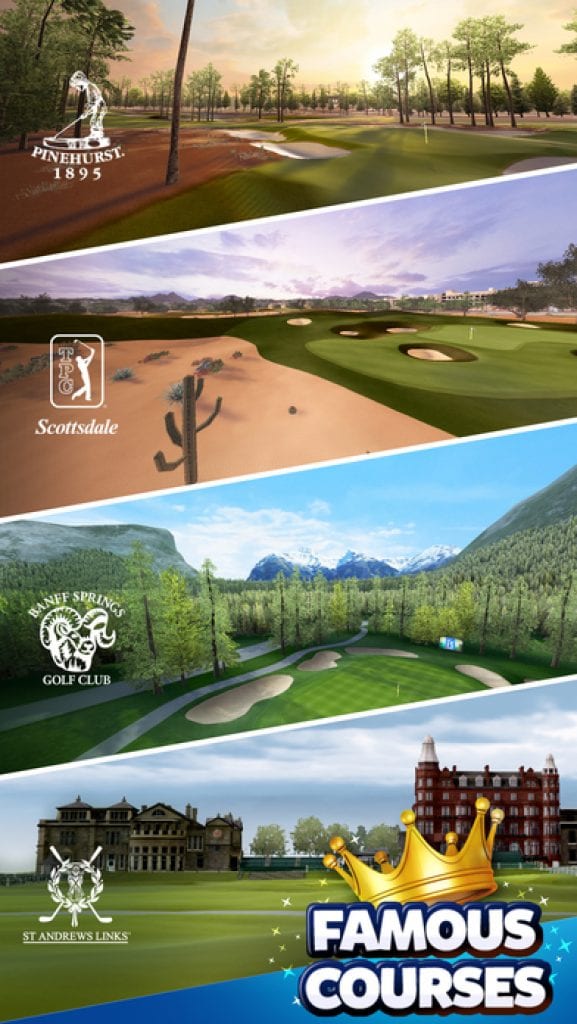 Get it on AppStore
Get it on Google Play
10. Golf Putt Pro 3D
Another cool free app for playing golf. Especially, if you are going to travel by bus or by train for a long time. The Golf game is the best solution for you. Moreover, you will never get tired because as you play you will earn scores to unlock new incredible features.
Speaking about the game, there are some features:
Putters- There are five putters to unlock, some have bonus features such as improved aiming and earn double coins!
Balls – Your balls can stand out among the other balls in other apps! There are 11 different balls to choose from including flame, camo, pink, neon and smiley. About courses- Get your hole-in-ones all over the world and unlock more stages.
Play golf in New York, Las Vegas, Sydney, London, in cities,located in Egypt and other most famous place in the world.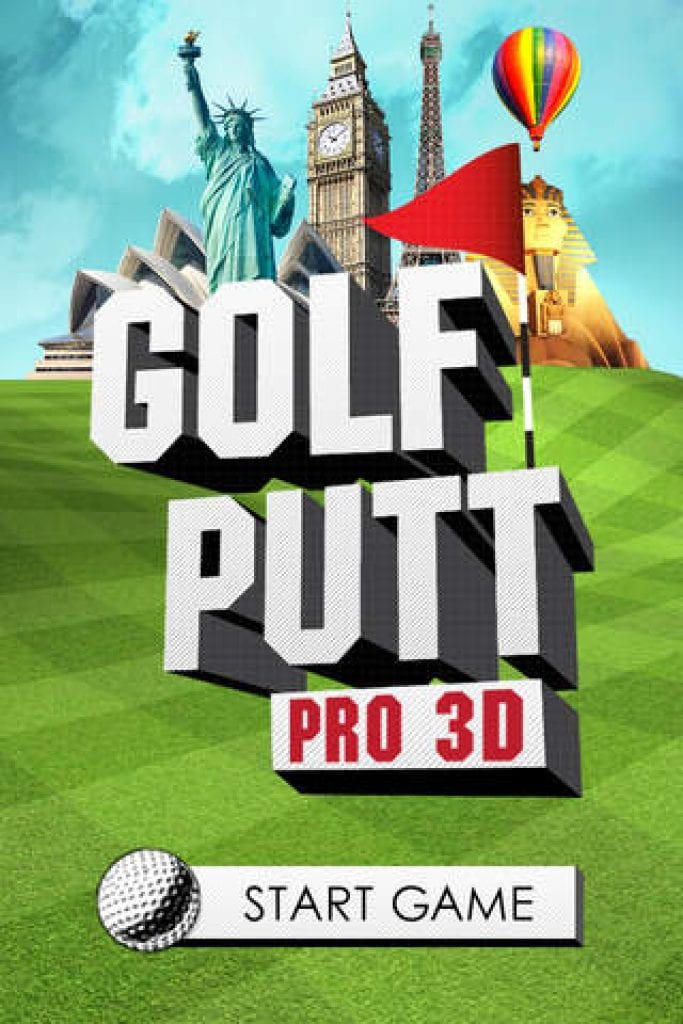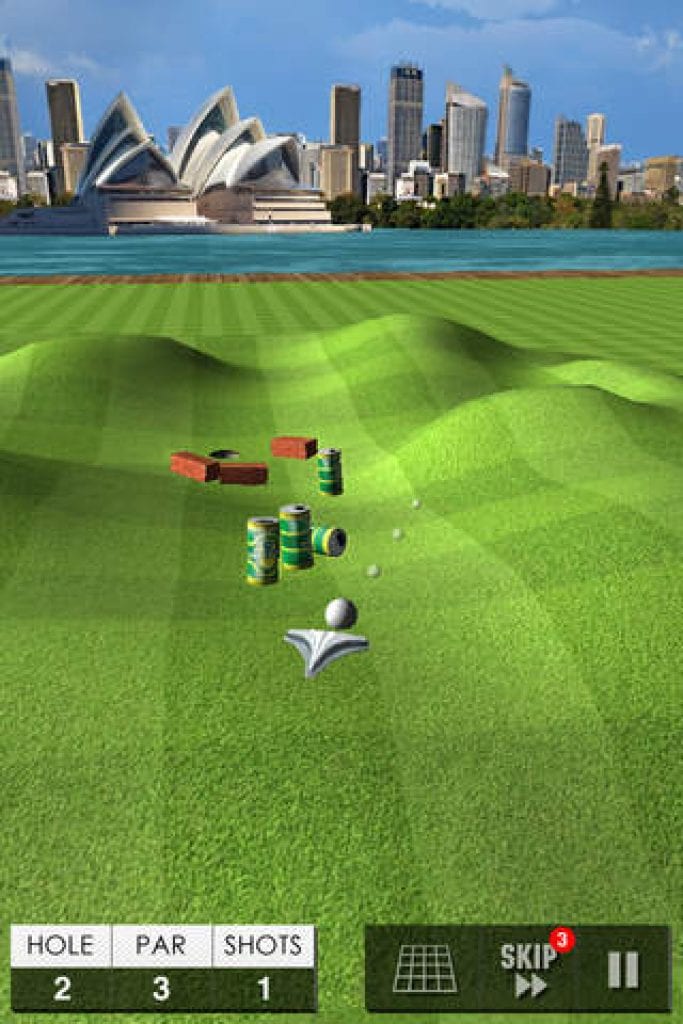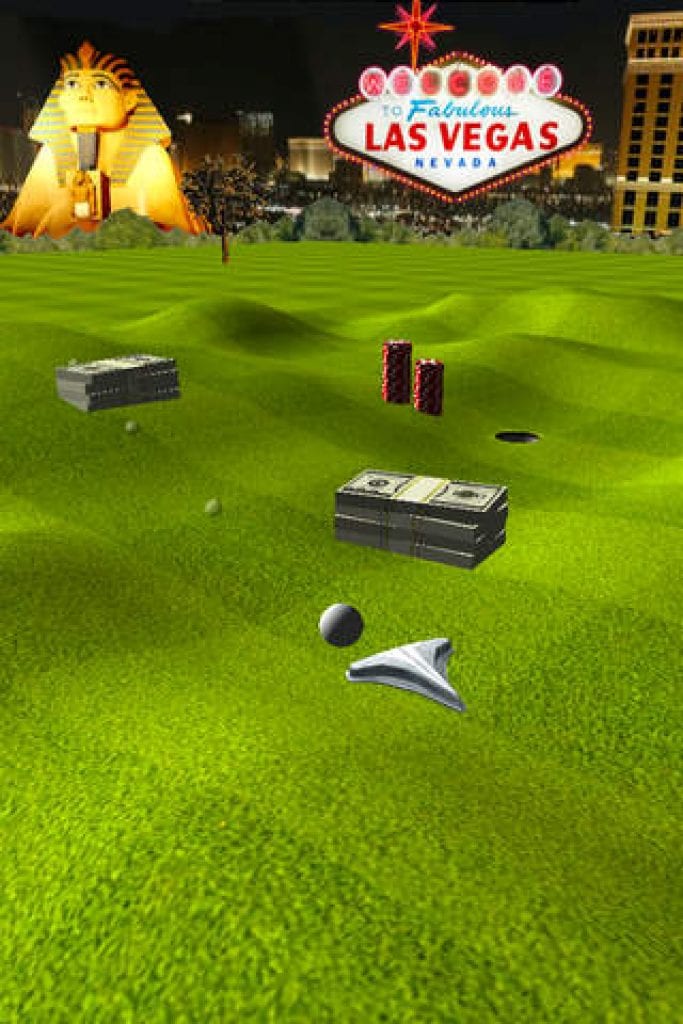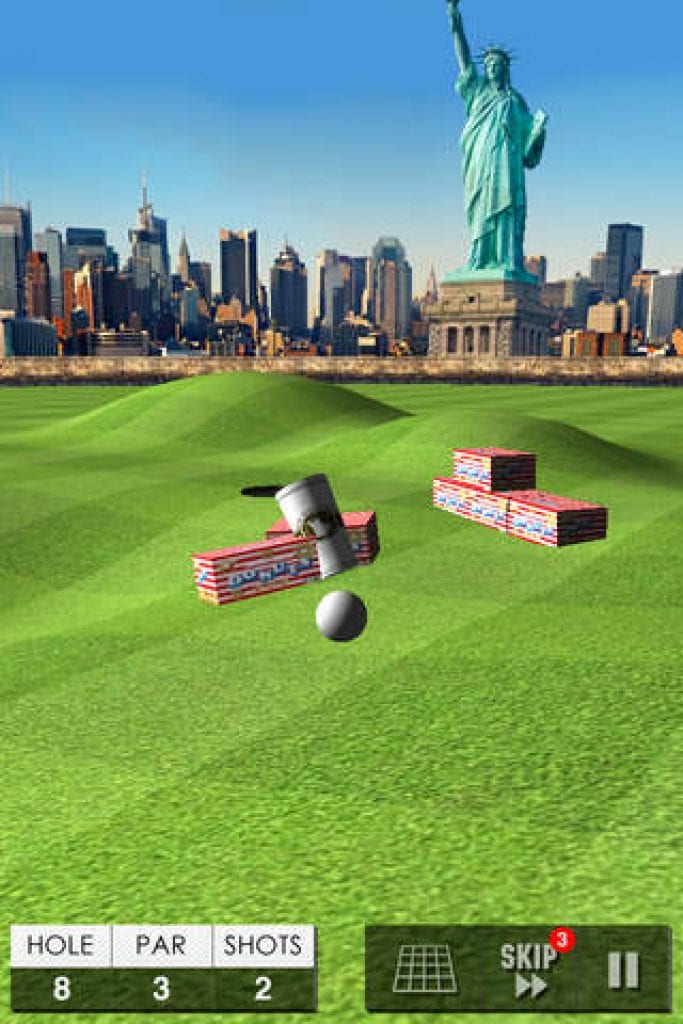 Get it on AppStore
11. My Golf 3D
Golf is not as difficult sport as it says. So this app was created especially for learning and entertainment. My Golf 3D is very similar to other applications for golf. But it has its own features, which make the app especial.
At first, 3D technologies can be different either good or poor. As for this application, it guarantees full high Def 3D textured environments with full 3D physics at 30 FPS.
Speaking about the parameters, you can play against your friends, family or other real players all over the world, multiplayer allows to invite up to four players. Configure up all your profiles so to keep track all your achievements. Moreover, you will exactly know, where your competitors are from.
As for the game features, there are 4 perfect to play courses you can choose from, 6 configurable characters to choose from, 5 levels of CPU difficulty and availability of a variety of clothing, putters, golf balls and pin flag styles to choose from. If you want everybody will know about your perfect results, best shots, share them with social networks and the world's gonna know your name.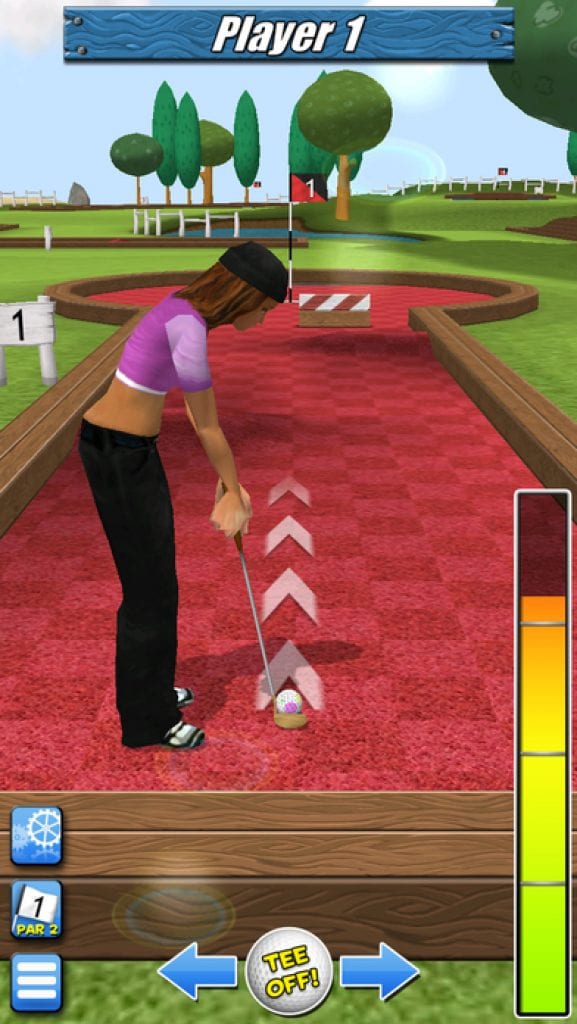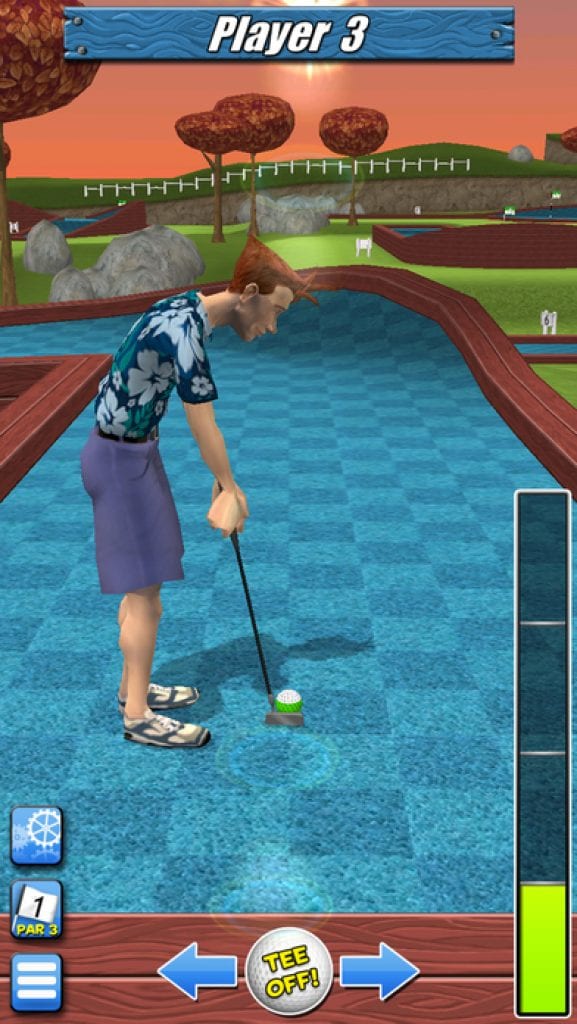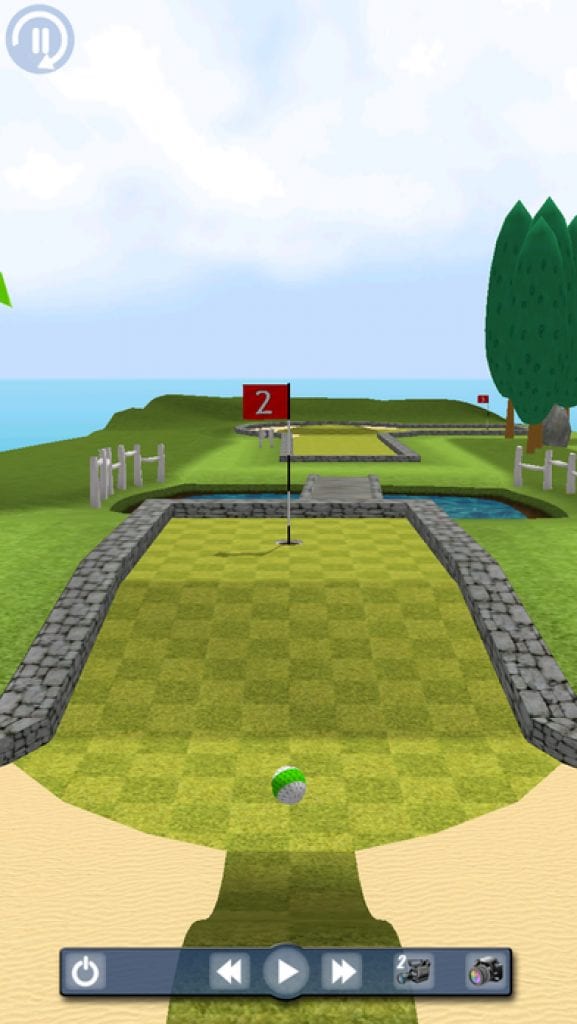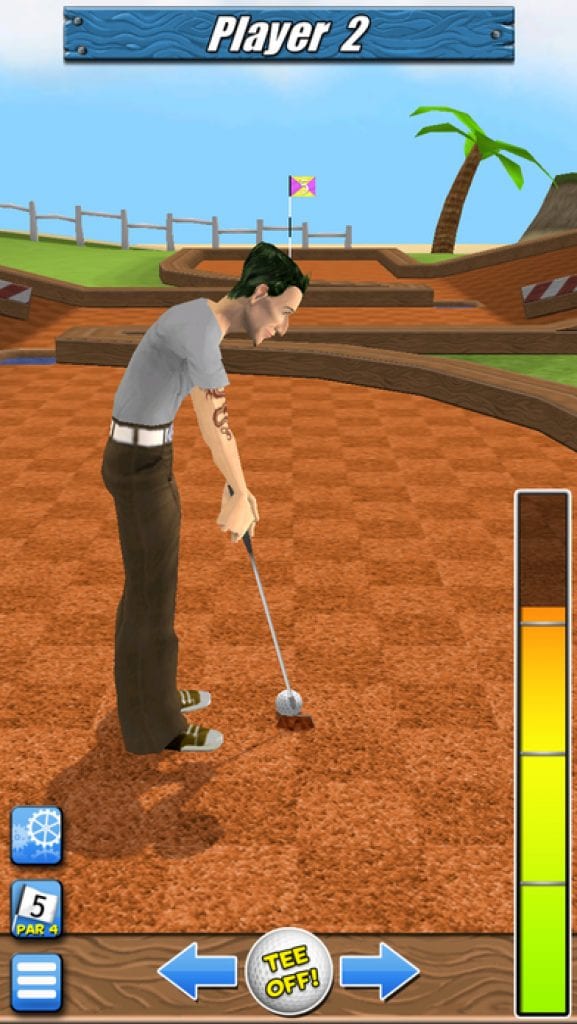 Get it on AppStore
Get it on Google Play
12. Real Golf 3D Pro
As for this game, I can say that all 3D golf games are akin to each other. So it's up to you what game will you choose.
Speaking about this one, I can say that it's very simple to use and very friendly to play.
Drag Screen Right/Left angle to position ball towards the flag
To power up click & hold the HIT button; & release to play shot
Before hitting perfect shot, make sure that wind direction & distance is viewed
Tilt the device in to & fro motion to control ball's flight in the air
And it has a unique system of scoring: Scores will be added if the ball stops on the Hole circles.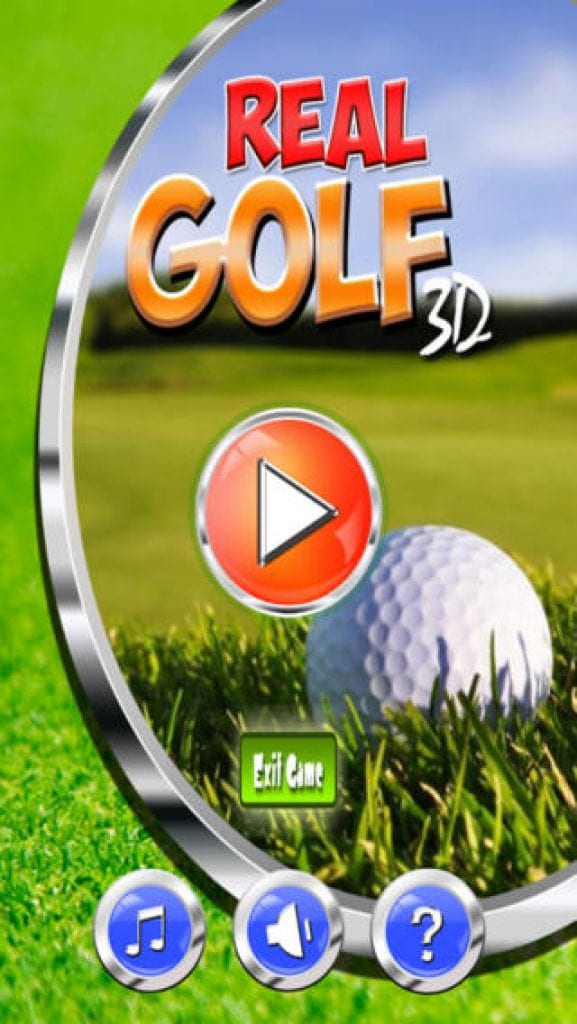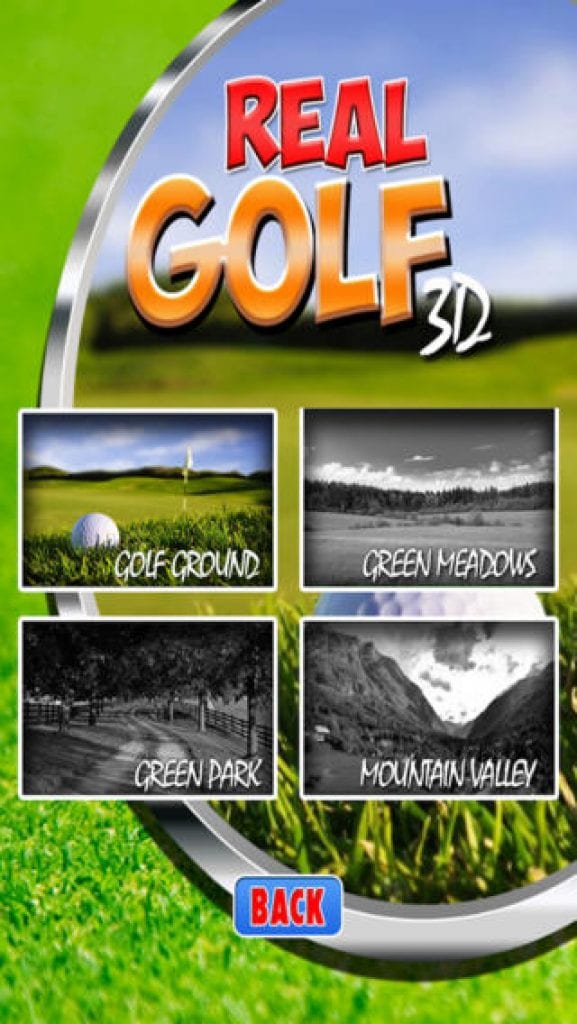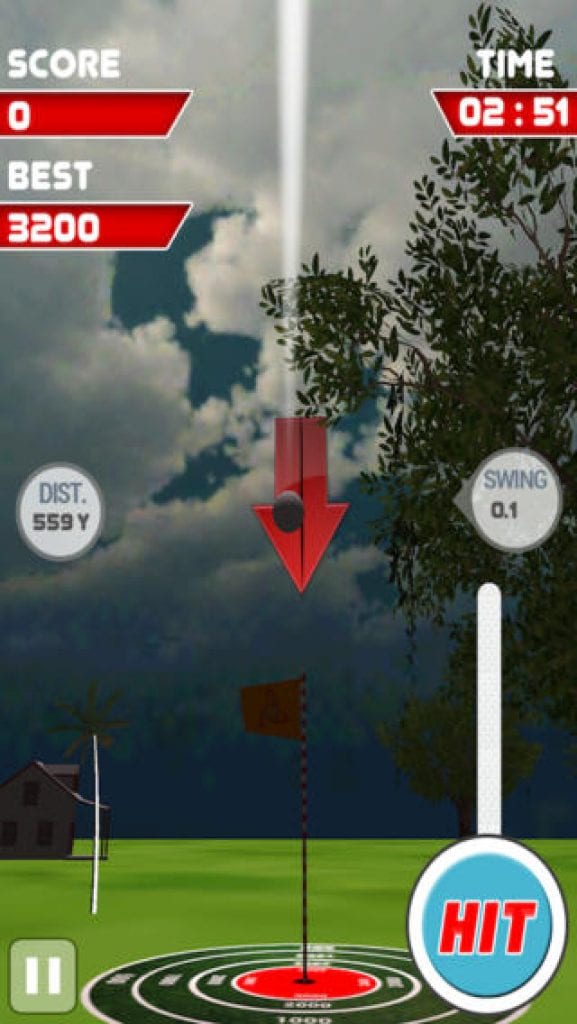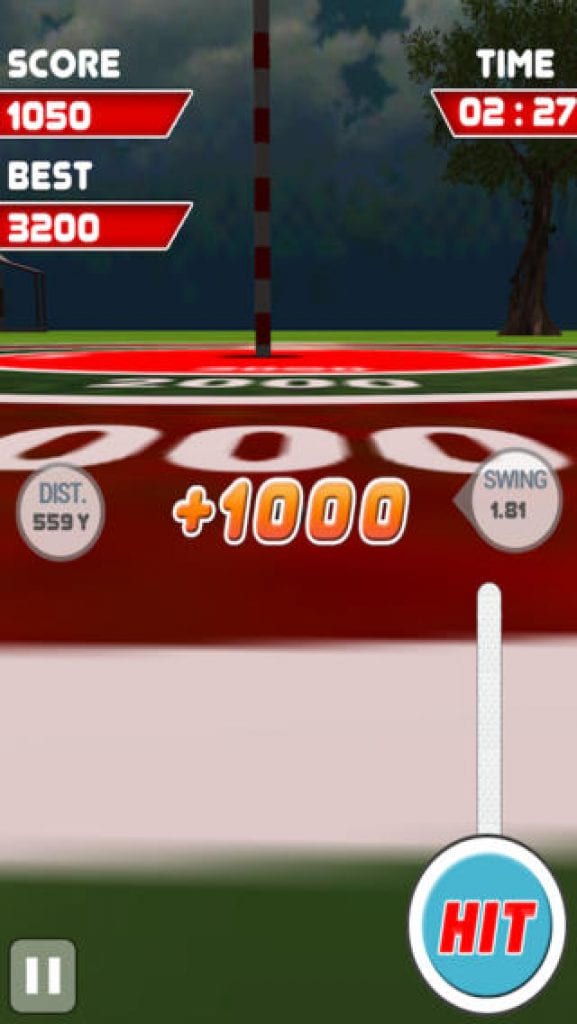 Get it on AppStore
Get it on Google Play
13. Eagle: Fantasy Golf
The cutest application among the other apps in this list.  Fantasy Golf is a fun free-to-play casual golf game. The game features easy controls, a comprehensive single-player story quest, team events, character development and customization through an ever-expanding lineup of fantastic equipment, outfits, and costumes that aren't just for show. It also has an Item Mall where you can purchase Charge Points (CP)  to purchase additional equipment and outfits from the In-game Shops.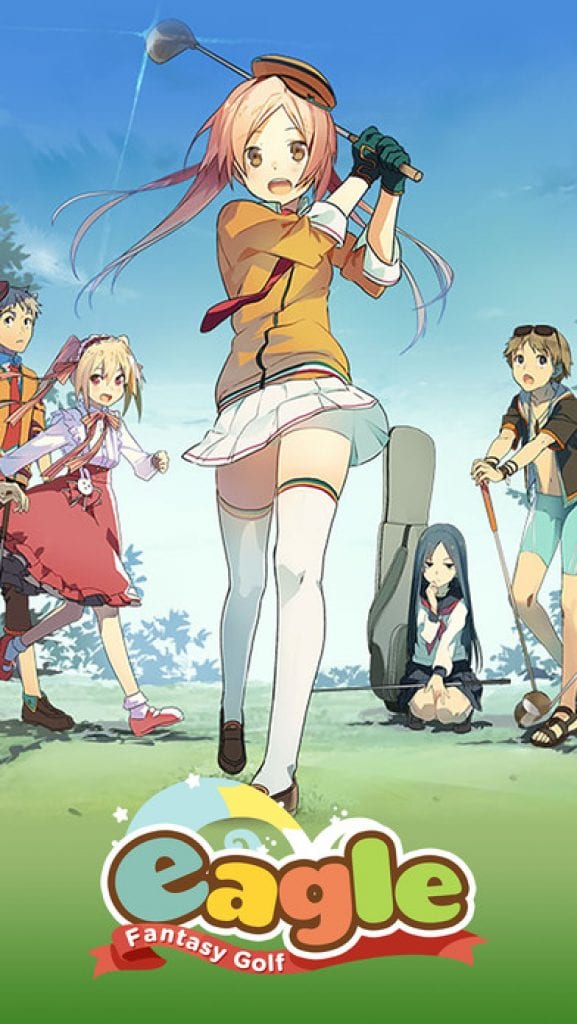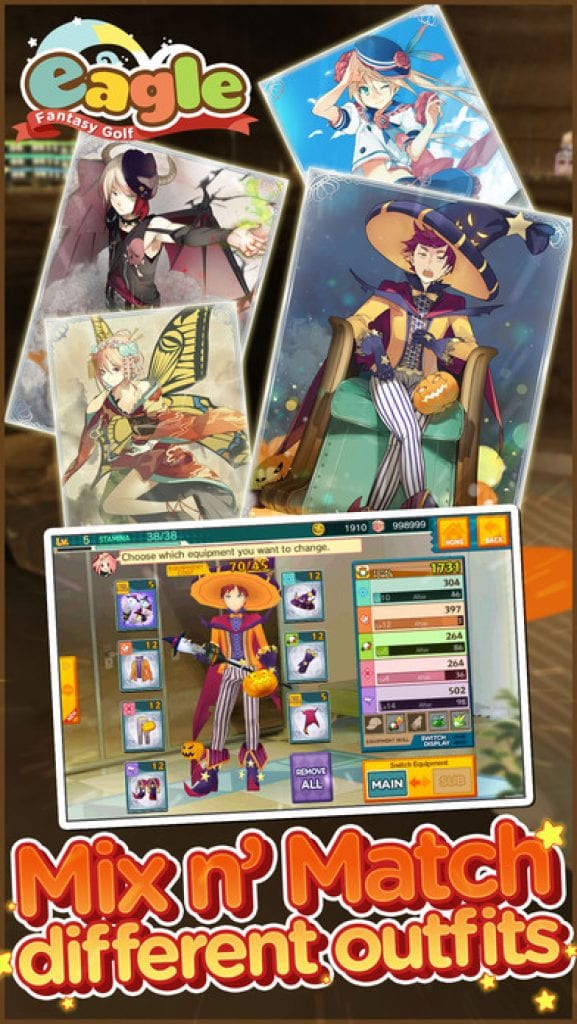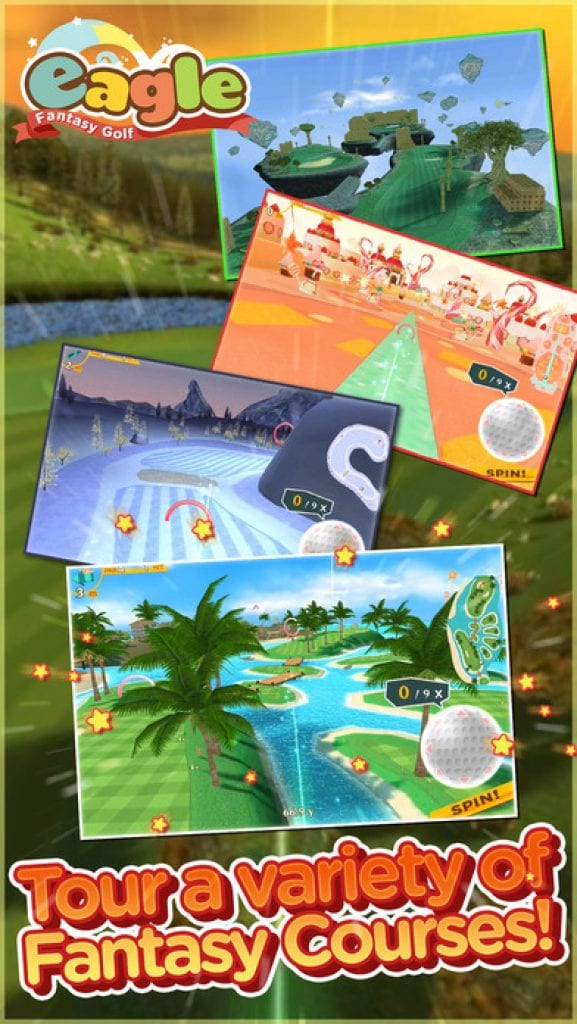 Get it on AppStore
Get it on Google Play