Golf is a game of wealthy men. Just listen, who else wants to pay for full equipment, if it will cost you about few thousand dollars.
Also, you need a personal coach for $300 per 2 hours for several detailed lessons to pick up basic skills, rent a golf car to move around a golf car for $150 per 1 day, and don't forget about luxury dinner with other rich golf players. Brrrr! Stop!
There is another way to have a good time and play golf without any costs! What is more, you don't have to search for a fittable field and go there- all the necessary conditions are… on your phone!
We have selected 13 best apps for playing golf on your iPhone or Andriod so you will try yourself as a golf player.
You may also like: 15 Best Free Chess Game Apps for iOS & Android
Mini Golf King – Multiplayer
People like serious games with realistic graphics, but let's be honest, sometimes all we want is to relax and have fun during the process.
For those purposes and for those who want to combine it with the golf game here is an excellent app called "Mini Golf King" – just one form the series of similar games, but this one, doubtfully, the best among them all.
You will be playing at beautifully designed locations. The style of graphics is a cartoon so if you don't like this type – this app isn't for you. Moreover, as you could understand from the name here, this is a multiplayer game, so be ready to compete with other players in the real-time mode!
The game control is extremely easy – just swipe and tap! The best players will be promoted in the weekly leagues. Moreover, you can travel through more than 50 wholes and win special prizes.


You may also like: 8 Best Biathlon Game Apps For Android & iPhone
Golf GPS & Scorecard – Swing by Swing Golf
The first respective place is awarded to Golf GPS & Scorecard! Why is it so? Because it looks like you play golf via Google Maps- with coordinates, some figures, and indicators.
Speaking about its features, A free GPS rangefinder with distance to the center of a green and every obstacle on the course as well as a digital scorecard. The scorecard automatically advances from hole-to-hole.
Keep score for your entire foursome quicker and easier than a pencil and paper. Stat tracking is very helpful in focusing on practice needs. Besides, tracking your progress is an important part of every game, and Golf GPS provides you the best way to track your progress on the course and to keep score.
What is more, it is hard to get through 18 even with lower battery usage settings.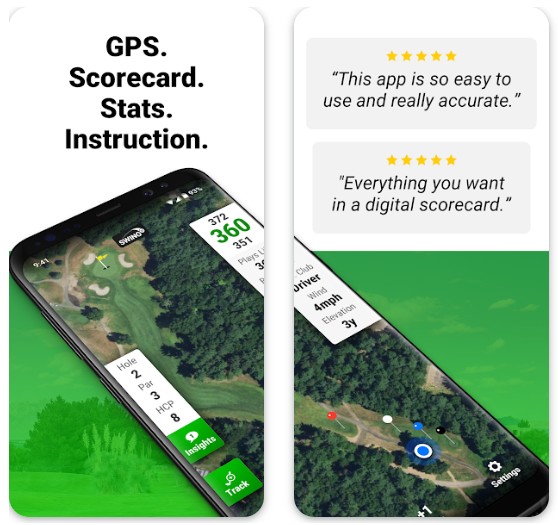 Golf Star
This one provides you the most realistic graphics, golfing techniques mastered by the pros, and a simulation powered by real physics-based gameplay.
Let's look at it more detailed. First of all, you can choose a language you are going to use, so choose from the list: English, 한국어, Deutsch, Français, Português, Español, 日本語, 中文简体, or 中文繁體. , Indonesia, or ไทย.
Secondly, if you always want to pick up basic skills of playing golf, realistic graphics, master techniques, and simulation will provide you all the necessary information about what should be your pose, how should you keep the putter, move, and so on.
Speaking about the app, there are several modes you can choose from: Career Mode: Play Single Player rounds and Quests or compete in the NPC Tournament.
Career Mode: Choose Single Player to play rounds or compete in the NPC Tournament
Friend Match Mode: Challenge your friends to find out who is the winner.
1:1 Tournament Mode: Challenge real players from different corners of the world in 1:1
Skins Mode: Max. of 4 players will compete against each other to win each hole, and the winner will earn the prize money.
Get scores and win!
Supported as on tablets as phones.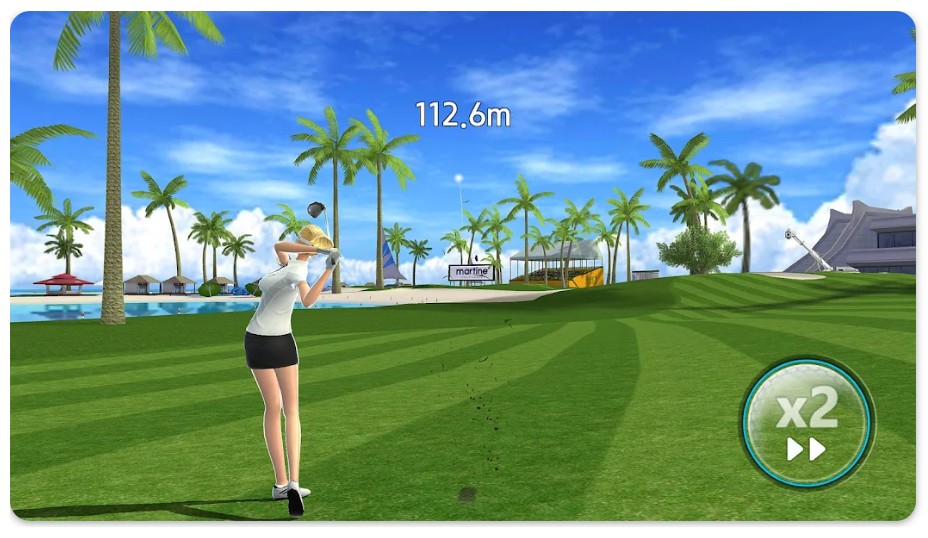 WGT Golf Game by Topgolf
Where else you can be a part of the world-famous tournaments like Chambers Bay (2015 USGA U.S. Open) Bandon Dunes (Golf Digest #1 rated resort), Harbour Town (PGA RBC Heritage), Pinehurst (2014 USGA US Open), St Andrews (2015 British Open), and Valhalla (2014 PGA Championship), Congressional (2011 USGA US Open) and that kind of things.
Apart from great 3D graphics and perfect simulation, you will get full 18-hole stroke play with putting and 9-hole closest-to-the-hole golf game formats.
Moreover, you can create your own tournament with up to 6 players, compete, swing, drive, chip, and putt using different golf shots from different lies on the tee, fairway, rough, bunkers, and get scores. The best shots you can share with your friends via Facebook, Twitter, or another social network.
Supported as on iPad 2 and latest, iPhone 4, and latest and Android devices.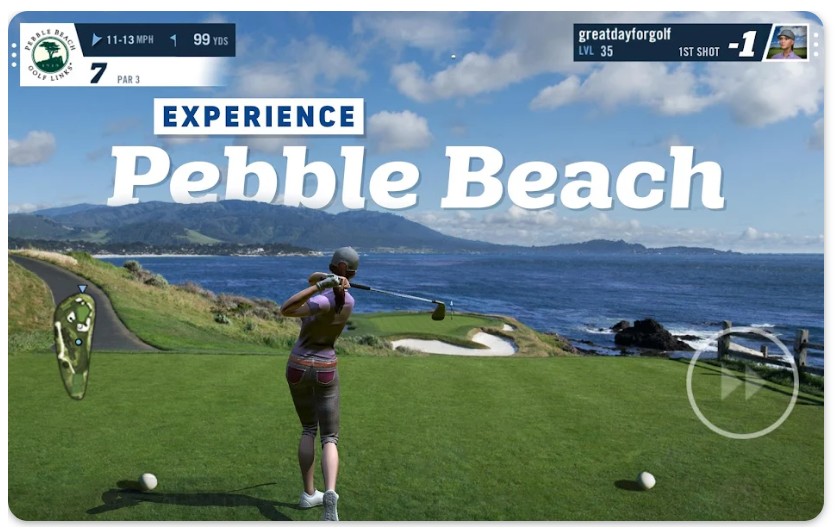 Golf Orbit
Golf Orbit is a popular game developed by Quiet Games Inc. The game boasts entertaining gameplay that will not leave anyone indifferent.
When you pass a simple installation, you can start playing straight away. The major task here is to throw a golf ball as far as possible.
In the first level, you should reach 200 feet to unlock the next golfer. If you shoot too far, you can even find yourself on another planet.
On the right side of the screen, you can monitor such data as the golfer's strength, ball's speed, and bounce.
As for the app's interface, it is very simple to manage. The game combines colorful graphics and amazing animations. All the locations and characters are thoughtfully developed.
The only significant drawback that we have found there – it does not contain a data saving function.
We have to warn you that Golf Orbit comes with a 3-day free trial. But you can also purchase the paid version at a quite accessible price.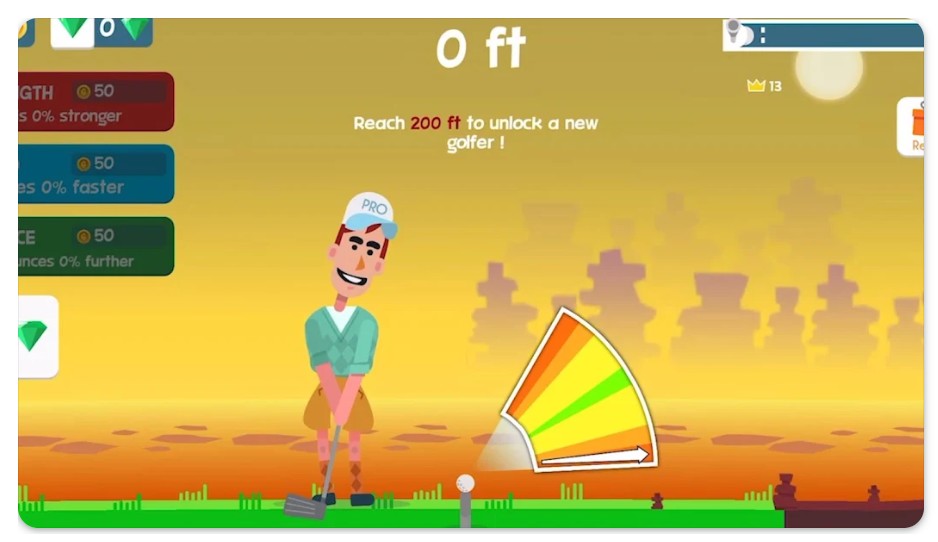 Flick Golf!
If you remember the game about Madagascar Golf, you will be pleasantly wondered. It absolutely akin to that game, but developed as much as possible- Course graphics recreated for a new generation.
There are no 3D players. You play in the 1st person. There are no clubs, rules. Flick, spin and curve your shots to sink the perfect hole in one.
All you need is to watch out for hazards because everything will challenge your skills as you drive for the high score.
For example, bunkers, trees, sand, and the wind will distract you from getting high scores.
Now it's all about its features.
The game will please the owners of iPhone 6, iPhone 6 Plus, iPhone 7 and iPhone 7 Plus with Full HD resolution and Retina Display. Speaking about the game, you are able to change weather conditions and keep controls for in-flight spin and curve.
When you will become a professional of Flick Golf, don't forget to challenge your friends via Game Center and compete! After all, your achievements will be shown on Game Center leaderboards and achievements.
Supported as on iPad 2 and latest, like iPhone 4 and latest and all Android 2.1 devices and latest.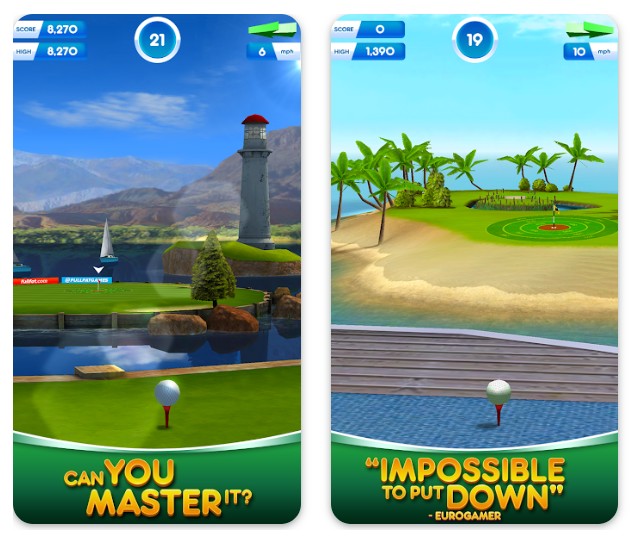 Mini Golf 3D Multiplayer Rival
An extremely popular app on Google Play because hey – who doesn't like multiplayer golf games? It's 100 times more captivating to compete with real people in real-time mode. In the game, your rival gets selected randomly, so it can be any person in this world. Don't forget to add a funny avatar!
Another cool feature of this Mini Golf 3D is that it has a collection of golf balls painted into the flags of various countries. You need to earn the scores in the game to unlock them all. And when you are competing with an opponent the action always takes place at a new location. In total there are 7 locations.
Your task, obviously, is to make the ball get into the hole. And you can regulate only one aspect – the power of the strike when you beat the ball.
The graphics in the game have their own unique style, however, the overall gameplay can be a little disputable. The motion of the ball is sometimes unrealistically slow and thus seems artificial.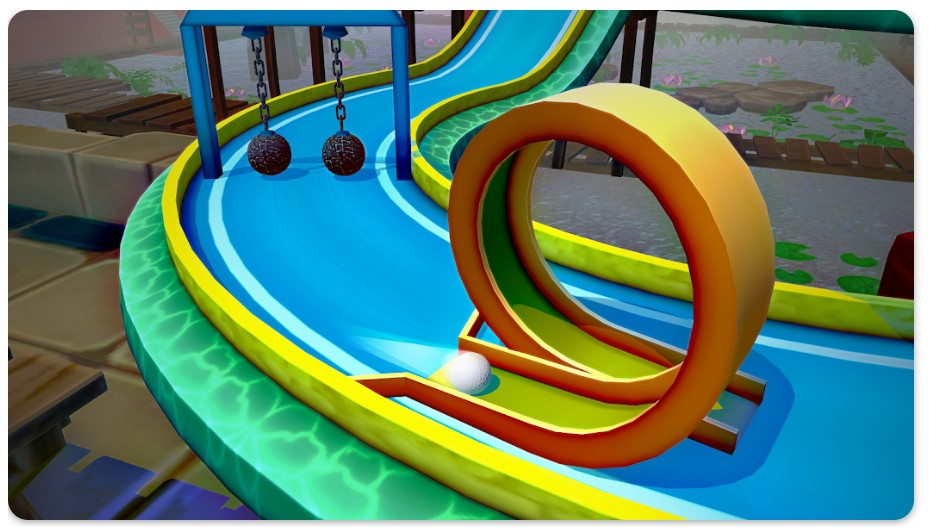 You may also like: 10 Best Ball Jump Games for Android & iOS
Perfect Swing – Golf
If you are a true golf buff, we have to advise you to try the Perfect Swing app. The game enables players to compete with others in real-time.
Perfect Swing offers a realistic golf simulator. As you play, you can take part in worldwide championships, receive awards, and gain victories.
Furthermore, players can always change the outfits of the characters, as the app comes with an assorted collection of clothes – e.g. tops, shoes, bags, etc.
In this game, you will also find a great variety of clubs. So, you can try putter, wood, iron, or any other types.
All the users can also play a ten-day PVP tournament and increase their rating.
We were impressed by the magnificent app's design that combines realistic characters and splendid graphics. Plus, the game does not contain any ads.


Golf Blitz
For those who are looking for the more unusual version of the golf game apps, this is something you definitely should check.
This is a cool app with the fun graphics that allow you to compete with other players in real-time mode. Here you can customize your golfer in the way you want, and give him/her the best equipment so they would defeat everyone.
The game allows playing simultaneously with 4 people in one race. Another cool bonus of this app is that it has 25,000 combinations of fun golfer avatars and memorable hats. You will get 16 uniquely designed balls which you will be able to upgrade as long as you are earning more points.
And here just like in some other gold apps, you are able to watch the live streams of other golf competitions. Overall, the best aspect of this app is probably the fact that it is constantly evolving and upgraded. New features, challenges changes are added on the regular basis, so you will never get bored with it.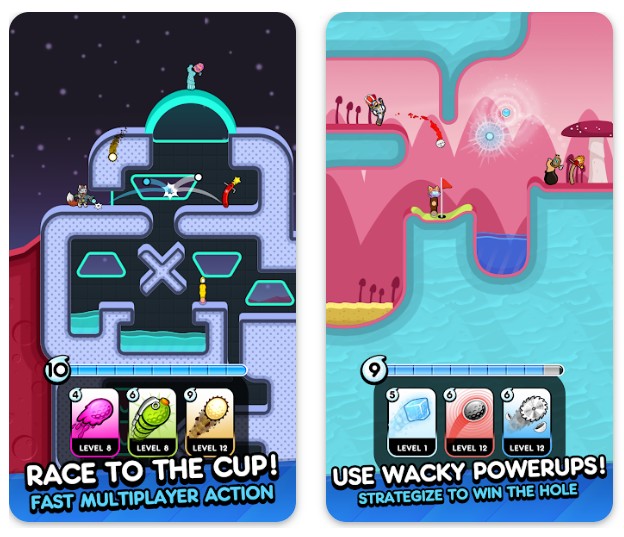 Golden Tee Golf
Golden Tee is a legendary game that is played all around the world. Be ready for a mind-blowing challenge, 9 beautiful locations, and, of course, marvelous prizes.
The one really cool bonus of this game is the customizations of the process. You can choose your equipment and the clothes of your character from dozens of variants.
You will be getting new challenges every day. Take 9 shots in a 24-hour period with a chance to win prizes on each stroke.
As you are going through the game, the challenges become more difficult, the holes get smaller. Another nice feature of this game is that you can watch the other players' games in Contest Mode and actually learn from them.
If you're looking for a more traditional Golden Tee then check out the Campaign mode. You'll tour some of Golden Tee Live's most famous locations, smashing golf balls and scoreboards through some of the series' most slickly designed circuits.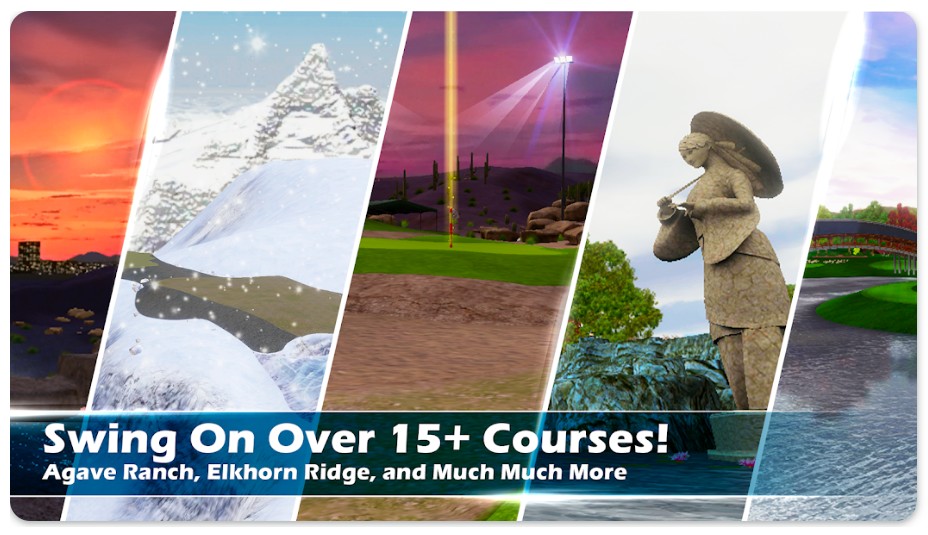 My Golf 3D
Golf is not as difficult sport as it says. So this app was created especially for learning and entertainment. My Golf 3D is very similar to other applications for golf. But it has its own features, which make the app special.
At first, 3D technologies can be different either good or poor. As for this application, it guarantees full high Def 3D textured environments with full 3D physics at 30 FPS.
Speaking about the parameters, you can play against your friends, family or other real players all over the world, multiplayer allows to invite up to four players. Configure up all your profiles so to keep track of all your achievements. Moreover, you will exactly know, where your competitors are from.
As for the game features, there are 4 perfect to play courses you can choose from, 6 configurable characters to choose from, 5 levels of CPU difficulty and availability of a variety of clothing, putters, golf balls and pin flag styles to choose from.
If you want everybody will know about your perfect results, best shots, share them with social networks and the world's gonna know your name.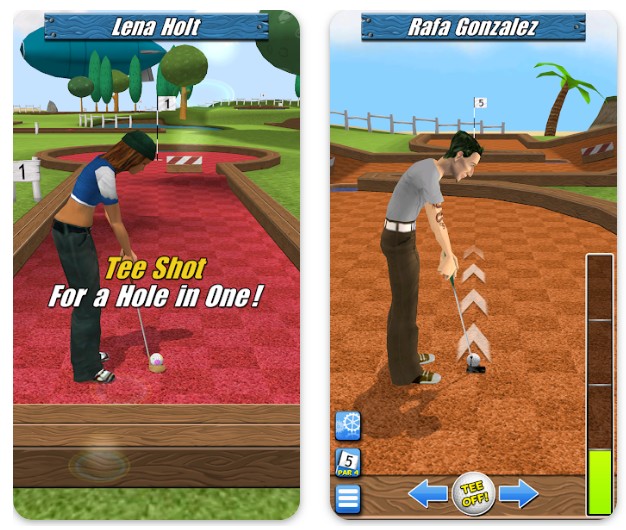 Golf Battle
Golf Battle is an engaging golf game that combines skill, strategy, and competition.
With intuitive controls and stunning graphics, you get a realistic and immersive golfing experience that can be enjoyed by players of all skill levels.
Whether you're a seasoned golfer or a beginner, you can choose from a variety of courses and challenges that will keep you engaged and entertained for hours.
One of the best features of Golf Battle is its multiplayer mode, where you can play against other gamers.
You can also form a clan with your mates, compete in weekly contests, and earn rewards and prizes for your achievements.
Golf Battle also offers a solo play mode, where you can hone your skills and test your mettle against various challenges and obstacles.
You also can unlock new clubs, balls, and other equipment that will enhance your performance and help you climb the leaderboards.
Advantages:
Realistic graphics and intuitive controls.
Variety of courses and challenges to keep players engaged.
Ability to form clans with friends and compete in tournaments.
Drawbacks:
Some players may find the game repetitive over time.
In-app purchases may be necessary to unlock certain items and features.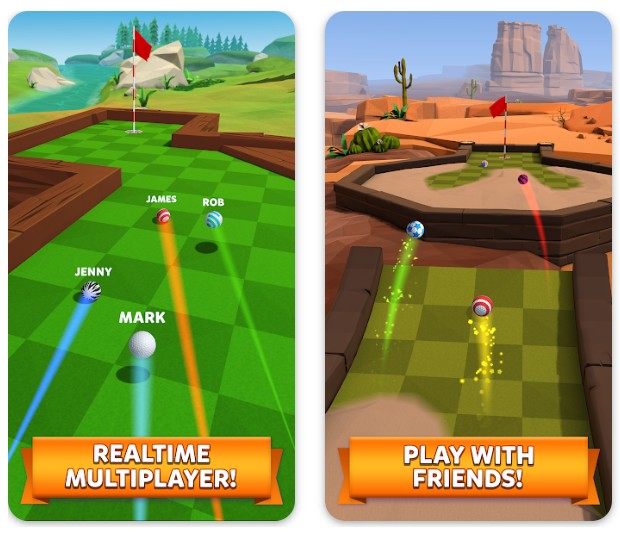 You may also like: 7 Best Mafia game apps for Android & iOS
Retro Golf!
Yes, all you old school lovers, this is the game for you. Want to get nostalgic about those times when all the games were played at the game consoles and had 8-bit graphics?
And at the same time, you want to play a golf game? This is your perfect choice – Retro Golf is a great example of a retro game.
In the best traditions, the difficulty level of this game is above the average because that's how the games used to be. By the way, take into consideration that this game is in the Putt-Putt genre. Here you will get more than 200 variations of the placement of the holes, with the possibility to unblock better balls as you are progressing in the game.
And just like the best golf game apps, this Retro Golf also has its internet top of its players. So get in the game, get the score and see your name on the list of the best! Oh, and of course, enjoy the retro atmosphere of the game.