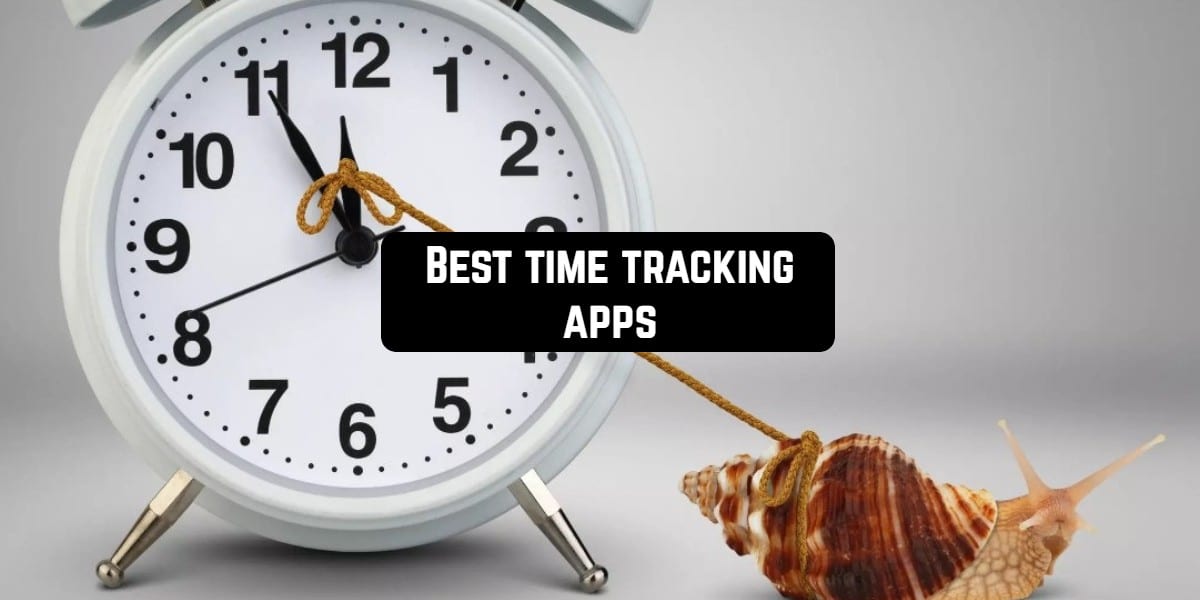 No concentration. Procrastination. Distraction. This can lead to low productivity and efficiency at your work or overall time organization of your plans. The result is you haven't done much of planned or you feel extremely wear off at the end of the day or a week. The problems lay in wrong time management.
Check how much of your time used for useful activities and how much time you simply waste for procrastination. Below you will find useful and mostly free time tracking apps for Android and iOS. Choose one for yourself and tidy up your time.
Smarter Time
Smarter Time is created to track our productivity and time spent on different actions. This highly advanced intuitive app will calculate and analyze the time you are spending on phone talks, sleep, reading books, sports activities or work. The result will be shown in hours and minutes in different graphs and charts. In the end, you will see a summary of the time you have spent on beneficial activities and when you were wasting your precious minutes.
You will be able to use your time wisely avoiding procrastination, arranging your day time to get a better result at the end of the day. You will be able to get rid of stress and anxiety related to unfinished but planned activities. Be productive with the Smarter Time app. It's free for Android devices.

You can also check: 5 Coolest clean time counter apps for Android & iOS
back to menu ↑
Hours Keeper
House Keeper is a useful tool for those who need to calculate their time spent for particular work or work project. Along with time tracking, it will calculate wages and create invoices. Therefore you will find it easier to calculate your income and send it to a client.
Overall it includes:
Time and earning tracking for different clients.
Calendar for better calculation and plan settings.
PDF format invoices for clients.
Overtime work calculation.
Passcode protection.
The app is free for Android and iOS devices.
back to menu ↑
Boosted – Productivity & Time Tracker
Boost your productivity with the next app up in our list. Many users have found that app useful and beneficial thus rated it with almost 5 stars. Wonder why? Because it's so easy and useful that you won't be bothered by trying to track your daily routine. Create different projects and activities on your list. Then simply press the  "start" button any time you began to do something. The app will count time for you.
There are different kinds of available reports in the app with different duration. Thus check out how much time you spent reading a novel during last month and how much was spent in front of the television. You will be kind of shocked seeing such graphs. Subsequently, you may make new life-changing decisions regarding your schedule and time portioning.

back to menu ↑
Time Tracker – Timesheet
Here is another advantageous time tracker for work objectives. Do you work on multiple projects and do different tasks that are required time calculations? Timesheet time tracker is a well known highly popular app with a built-in time recorder. It works easily, Press the "play" button to record time in a task. It will be highlighted in red. Don't forget to stop or pause the recording. After all, you can find daily, weekly, monthly reports.
In addition, there is an importing feature that allows extracting your reports into MS Word or Excel to use it in further analysis. Also, the app is free in general but you will find some offers for premium subscriptions and in-app purchases.

back to menu ↑
ATracker – Daily Task and Time Tracking
Not less popular than previous apps ATracker will help you count your time spent on different deals. Without much effort, you will record each minute of your time. Whether you read, swim, jog, do home chores or eating out with friends. Just tap on a task and it will start count time automatically. Tapping on another task will stop the previous one. It can be concluded that the app is time-saving itself. That is a sufficient point for those who are keen on saving time and being punctual in each activity. Time flies as we all know. SO may need to pay more attention to it.
In the app, you will find a complete timesheet with activities and statistic charts. Moreover, such reports are presented in a nice colorful and comprehensive pie charts. You even can share them with friends via social media.
back to menu ↑
SelfM
SelfM is yet another time tracking app that is created to work on your time was and boost your productivity. With this app, you will know how much time goes on each beneficial activity and how much on futile. What is more important and useful in time-saving is that you can set widgets for faster tracking time on each action. You lock screen will display all major tasks including both work and leisure.
Intuitive design and interface will simplify the process of time control. Adding a new activity you can set goals and limits. This way you easily will be controlled. Finally, you will have statistic graphs and pie charts showing you spent time. Get to know how much time you use.

back to menu ↑
Jiffy – Time tracker
Log your working time into Juffy Time Tracker to have an organized work schedule. Fortunately, this app is available for both platform iOS and Android. Most of the function is for free but there are a few additional and advanced with the price 8.99$
Check the main features of the app and what you can get from it:
Generated time sheets.
Vivid intuitive design.
A different setting for an employee and a freelancer.
Easily to log time into an entry
Summary of time spent on each project.
It's essential to monitor the time you spend on work and leisure. For good productivity, it's essential to avoid procrastination and dedicated an exact amount of time for work. Then to have a deserved time for the rest and for time with friends or family. Jiffy is capable to help you to do such an uneasy job.
back to menu ↑
TimeTrack – Personal Tracker
It has never been so easy to be productive and control your time throughout a day. TimeTrack is an excellent time personalize time tracker that with one tap will count time for you. Whatever you are doing at the moment. Resting, reading, working out or having lunch out. The app will record time for you.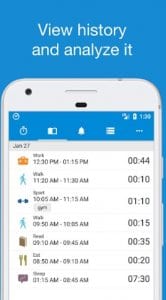 The final result is a statistic collected and summarised. Charts and graphs will show you how many hours and minutes you have spent on a particular activity. There is also an average indicator. Its useful as well for example to find out how many hours on average you usually sleep.
The app is free and weight way too few. You will be suggested some in-app purchases that won't cost you an arm and a leg.
back to menu ↑
Time Recording – Timesheet App
Easy and convenient. Light and free. This app has gained enormous popularity among its users and smartphones' owners in general. It has been downloaded million times and nevertheless, it remained high rated with mostly positive reviews.
Check out some details about this app:
Beneficial for work purposes.
"Check in" and "check out" of your tasks in order to have the job counted( including wages you have earned for each task).
Google Drive and Dropbox back app are highly recommended in case you've lost a phone.
Delta is a time indicator that shows time above or below the goal that has been set for a particular entry.
Unfortunately, the app is only for Android devices.

back to menu ↑
Swipetimes – Time Tracker
Here is the one more time tracking app in our list. With a touch of a button, it will track your activities to help you to recognize how much time u use for fruitful deads and when you are just a time waster. Swipetimes will automatically count the time you spend on each project of your work. Wifi configuration can help with it. Pinch in and out will be enough for this app. Though you can manually add time at the end of the day. Add some notes for later better understanding.
The final result will appear in statistic generated by the app according to your logged time. Moreover, you can export those reports into, for instance, Excel format. Integration with Google Calendar will help you to organize your work in general.

back to menu ↑
aTimeLogger
Simple and well organized time tracker aTime logger is available for Android by far. However, it's so nicely developed so iOS version may appear soon.
With this app, you can track your time with one tap on activity. You can add as many of them as you want. Leisure time and work time. If from the next month you starting something new add it as well. There are different icons for each activity that helps distinguish them by a glance. FOnt used in the app is big and pleasurable for the eyes. The timetable is split by days that simplify the perception of the app`s interface.
Have a look at the pie chart that shows statistics of your time usage. Estimate your time, management and enhance your productivity.

back to menu ↑
RescueTime
This app will help you to rescue your time. It's not a joke. XXI century is a time of internet and electronic devices. Do we actually know how much of our time is dedicated to those time eaters? Of course, we do useful stuff there, work or study. But sometimes we simple procrastinate in our smartphones. So, install the Rescue Time app and learn more about your time consumption.
The app will monitor and track how much time you usually spend using your device. It will show you how many minutes or hours were spent in a particular application like Facebook. After all, you can set your goals or time limits. Rescue Time will notify you about accomplished goals and failed ones.
Available for both Android and iOS devices the app can block websites chosen by you.
back to menu ↑
Focus To-Do: Pomodoro Timer & To Do List
You must hear about Pomodoro Technique that helps to stay focused, increase productivity, avoid fatigue and have your time well organized. 25 minutes are dedicated for each activity, whether its work or entertainment. Scientifically proven technique says that we can stay focused on one task only for 25 minutes regarding our brain features.
With this in mind, Focus To-Do lets you set a task to accomplish. Get ready. Press the start and concentrate on your task without being distracted for anything else. After 25 minutes the app will give you a signal that you must stop, otherwise, your productivity will fall.
Besides, the app does common time tracking functions counting your time spent on different activities and creating reports for you. Luckily it's available for both Android and iOS.
back to menu ↑
FocusTimer Pro: Habit Changer
Along with all common features peculiar to average time tracker, Focus Timer Pro will count your time being placed with a screen down. This will be enough for time tracking. Isn't it fascinating? Probably these unique functions make this app isn't free. As well as not that expensive. Estimated with 2.99$ the app is available on both the Android Market and Apple store.
The app will help you to focus on one task. The app`s alarm will notify you and will create charts on your activity. This app will be a real godsend for students, freelancers, and those who want to be concentrated on one task.  It will also record the time you spend on the internet. SO you will defiantly know how many hours from planned you really had spent on studying and how many on procrastination.
back to menu ↑
WorkingHours
A perfect application for those who need to track time spent on work, projects and free time. Working hours is supported on all kind of devices including Android, iOS, and Windows. Your time can be counted easily at any moment even without opening the app itself. Set up widgets to get faster access to the app main function: time tracking.
The interface of the app is so comprehensive and user-friendly. From the moment you first launched the app, you will know how to take the best of it. Moreover, it's free with some optional in-app purchases. And finally, the app supports more than 20 different languages.
back to menu ↑
QualityTime – My Digital Diet
Check out how much time you spend or waste with your smartphone. You may don't notice that talking in whats app, browsing Facebook and playing Candy Crash taking hours of your day time if summed up together. Try hard to find anyone, not smartphone addict nowadays. Thereby, the main idea of a Quality TIme app is to count the time you waste on your device.
My Digital diet has lots of functions like the ability to block specific apps or games or limit the time you can spend on them. You can set alarms for each of them to notify you about overuse. The app will provide you with daily, weekly reports on how much time you have spent on each application. If you can't control yourself, this app can do it for you.

back to menu ↑
Timely
Timely is a good tool for busy workers and freelancers whose work consist of projects, tasks, and meetings. It will help them to have control over time and money related to working hours. The result is reduced productivity and efficiency.
It has a few main features:
Calendar with daily tasks with full details.
Detailed entries include project name, task, tags and logged hours.
Location tracker to help to count time spent in one area.
Hours that have to be estimated in real money always will be automatically tracked in this app. In the end, you will have a summary of all your work.
You can also check: 11 Best birthday tracking apps (Android & iOS)