Who does in your house observe the availability of necessary supplies for everyday living? If it is you, this post will be a good finding! One of the main tasks of that person is to monitor the lack of some supplies, quality of particular products, and buy them in a supermarket from day to day.
Do you agree with me, that every person will get upset if he eats flakes with sour milk or steak without a sauce? That is a pity! There is a decision- smart shoppers write down products on pieces of paper and take them to the supermarket. Forget about this old way.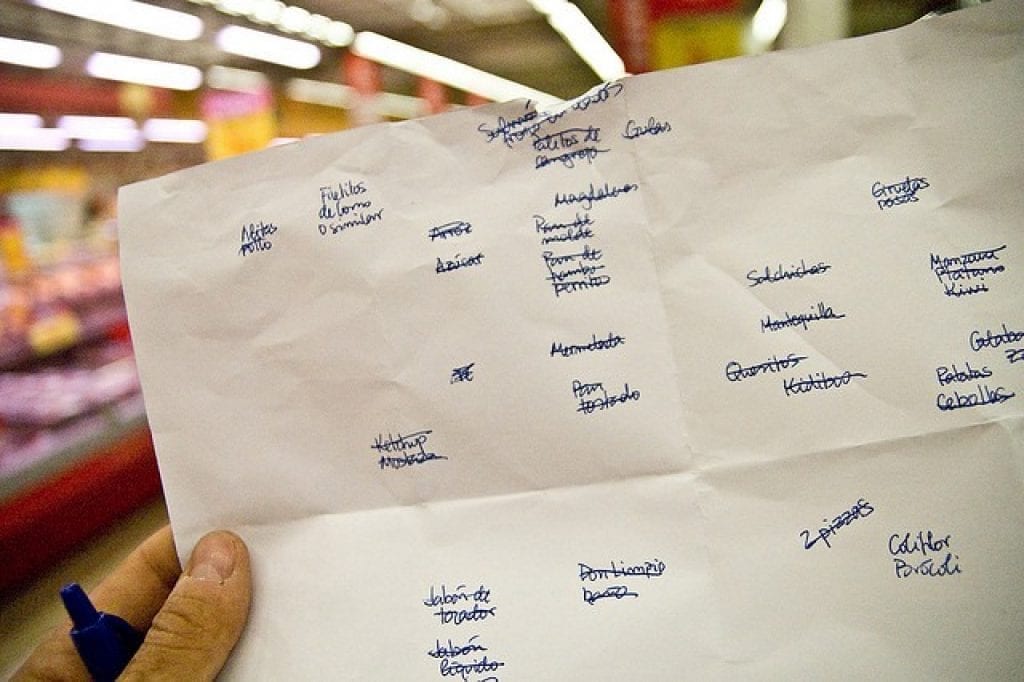 Nowadays there is a rapidly growing trend to replace ordinary things with new technologies and gadgets. They also break into our everyday life and become very helpful companions in a question of planning to buy some supplies, On the one hand, it has a lot of disadvantages and negative points.
For example, you always have to take care of a high level of battery life ( By the way, check our post about how different apps for iPhone and Android influence the battery life and how they can extend it- 15 Best Battery life saver Apps for iOS and Android).
What is more, there can be no internet access and you won't be able to have all benefits of using a gadget. But on the other hand, there are a lot of benefits. Firstly, everything you need to buy is under the hand. In other words, the grocery list helps you to buy all the necessary household supplies, and don't forget anything.
By the way, check other posts on the theme " Shopping". Everybody knows a worldwide day of shopping called " Black Friday".
It is a magical day called Black Friday when you can catch the best deals and things with a big discount. We have prepared exactly 20 different apps that can help to find great sales directly from your gadget- 20 Best Black Friday Shopping Apps for iPhone and Android
Out of Milk Shopping List
Well, as for the Out of Milk Shopping List, it will become your first planner, to-do list, and grocery list, as well. What else can remember you about every important thing and buying better than your personal list on your Android device?  This shopping helper stays with you everywhere you go and you'll have it on-hand once you're ready to go grocery shopping. Be sure it will never let you down.
Speaking about the app, it is very friendly to use and to add items to your list. First, you need to click the button Shopping list and tap on a plus symbol above to add a product or another thing to list. Another way is to use a voice to add items or its barcode. As for features, nice design and pleasant colors make shopping curious.
There is an ability to group items into one category that allows you to save time and not to forget about all items in this section. Moreover, if you are not a person who is responsible for buying supplies for a house, you can share your list with another person, who can do it instead of you.
The app also features a Pantry list. Here you can compile your spices, condiments, and anything found in your kitchen's pantry.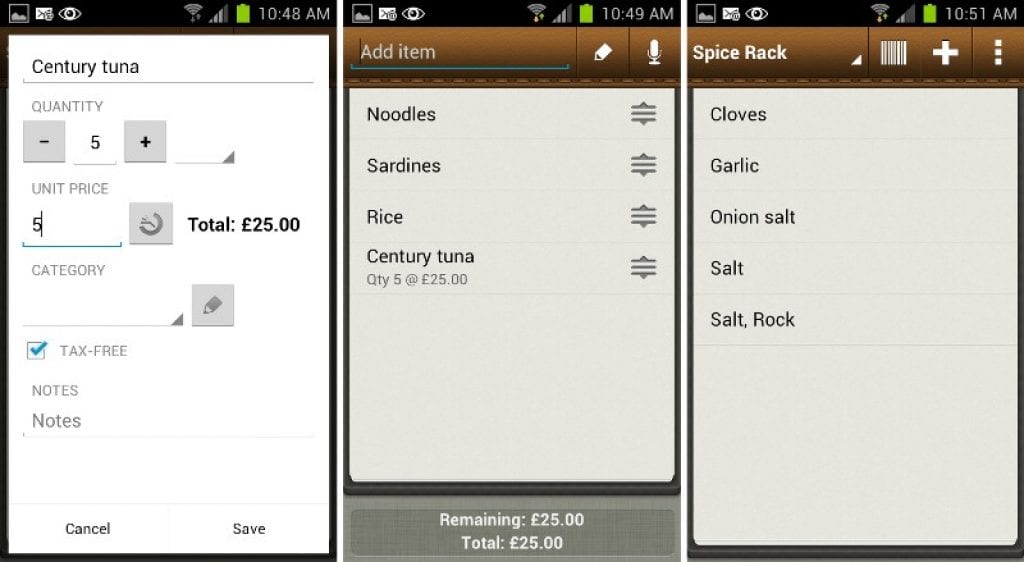 You may also like: 15 Best free wishlist apps for Android and iOS
Food Planner
I think food occupies not the last place in our lives. People, in any way, addicted to food and cooking tasty and yummy deserts, hot steaks, pasta with a lot of parmesan, and a lot more (sorry, I have a gastronomy orgasm). And the best way not to forget about every necessary ingredient is to write them down to your shopping list.
Another good alternative is the Food Planner on your Android that allows you to quickly plan your daily meals using a selection of recipes downloaded from all of your favorite cooking blogs and recipe sites.
As for features, planning menu from day to day and from breakfast to dinner allows you to add necessary products to a grocery list appropriate to a day you want to cook. What is more, import your favorite recipes from different sites and support them by colorful photos.
Another feature is that you can save your weekly food plan and use it later, keeping all necessary items in a grocery list. It saves a lot of time and allows you not to forget about the main products.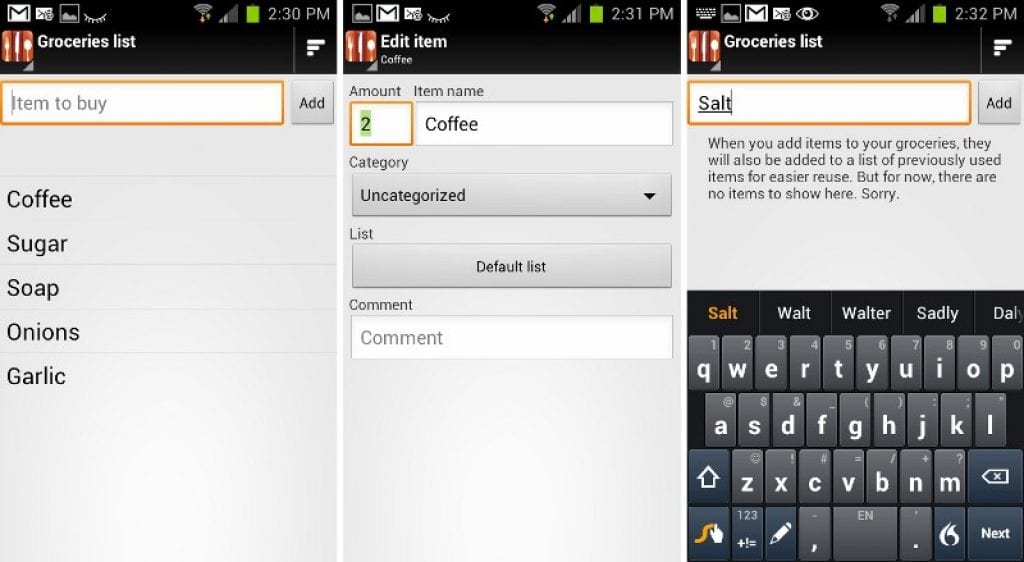 Grocery List – rShopping
If you are looking for not just simple grocery list, but a colorful and well-designed app which provides users with a list of products supported by pictures and description, download and install the Grocery List – rShopping. It is very important to supply the house with a sufficient amount of fruit, meat, vegetables, and that kind of thing.
If you're looking for an app that can be used as a food planner and takes note of your grocery list, here it is.
As for features, firstly, it is fully loaded which means that over 300 commonly purchased products are included in a sample shopping list, but it is suitable for other types of shopping as well.
What is more, if you have some favorite stores and items, just add and save them in the app. Secondly, it is the smart app that remembers prices entered at each store for the last time. rShopping Grocery List has a warning when you are about to purchase an item that was less expensive at another store.
To sum up, such features as an in-app basket, bar code scanning and an ability to send a list to someone make the app a useful companion.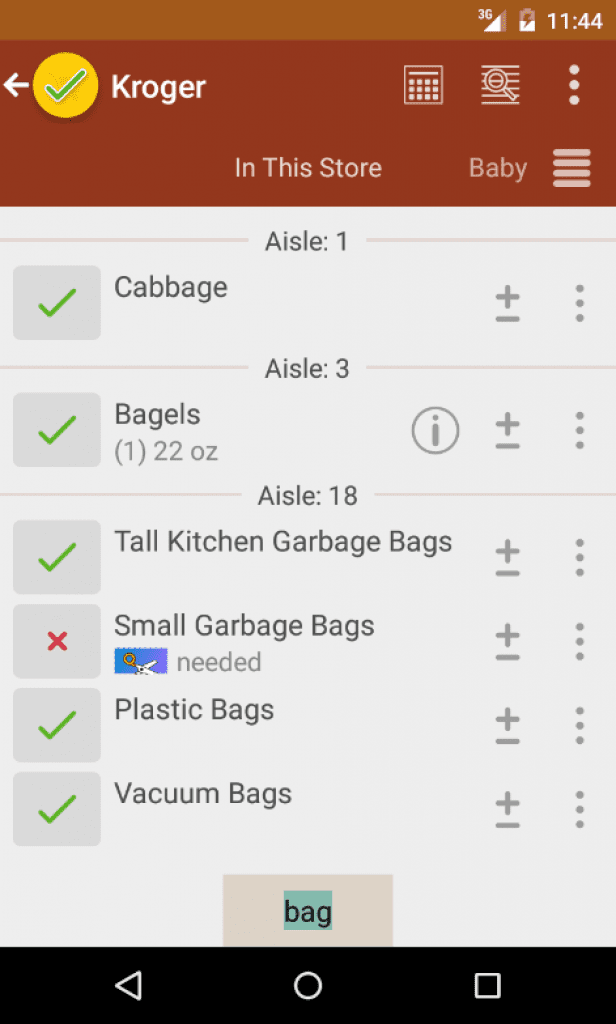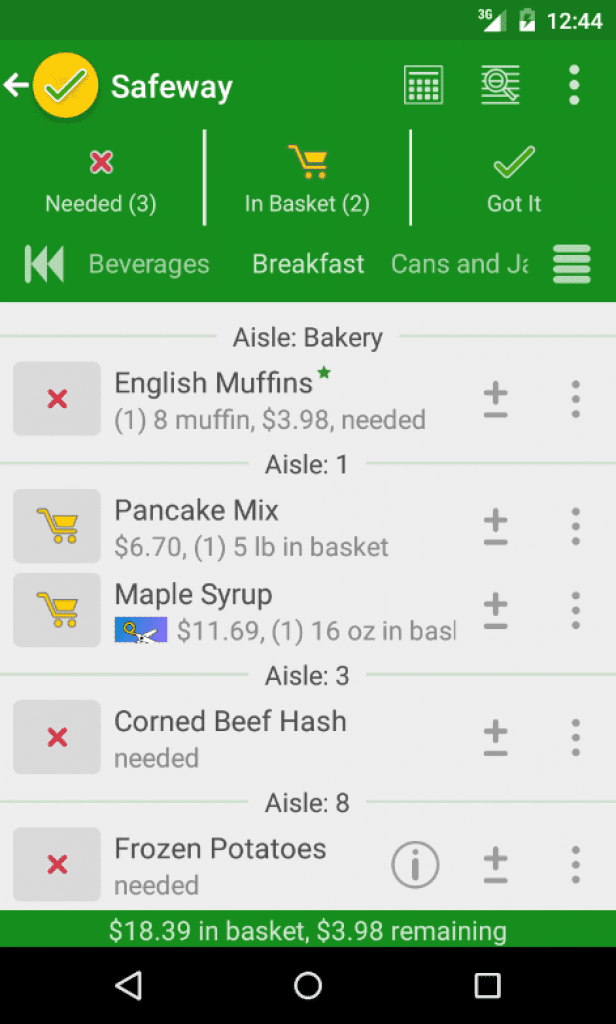 Mighty Grocery Shopping list
Do you know, why people write necessary goods and essential household things down? Well, scientists discovered that when you see everything you need to buy, you spend less money than these people who go shopping without a list. If we talk about the best grocery lists, Mighty Grocery Shopping List, to my mind, is one of the best.
Firstly, it, of course, has its own unique design that stands it out from the others. Moreover, users have the ability to create as many lists as they want. It can be various types of lists- from technique to grocery list. Every item on your list is supported by a picture. What makes this app stand out is its smart voice recognition feature.
You can access this feature by tapping the microphone icon on top. The app worked flawlessly as I dictated my grocery items one by one. Apart from, the app is perfect for comparing prices in different stores. I think there is no necessity to pay more if a neighbor shop is almost the same product at the lowest price.
By the way, the last feature and also backups, premium-designed themes, recipes, and bar code scanning are available after updating to a full version.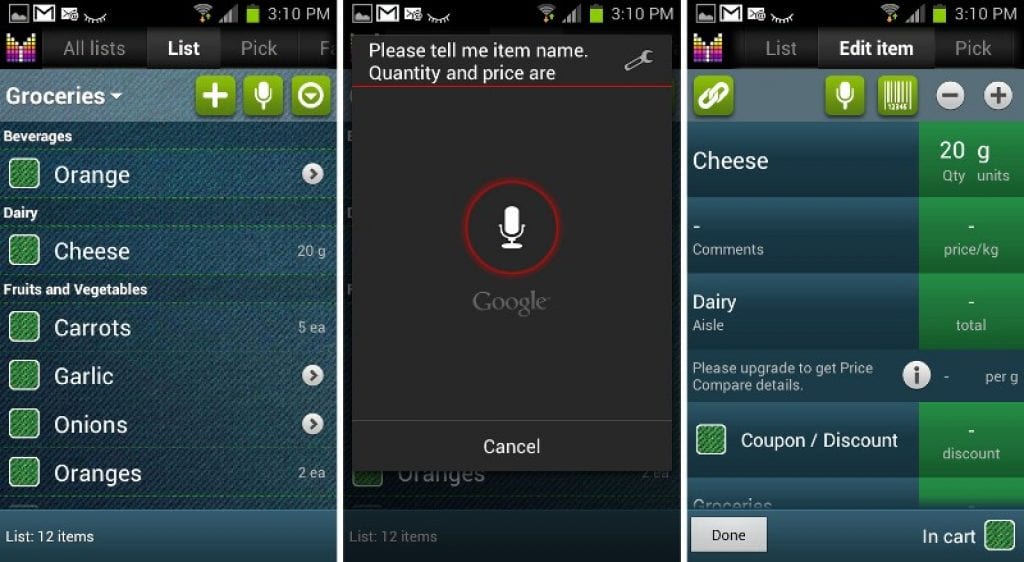 Bring! Shopping List
At first, sight Bring! Shopping List seems to be a very ordinary but well-designed app. After I tried it on myself, I totally changed my opinion and found out a lot of benefits the app brings. ( Bring! brings :). This app helps more than 3 million people all over the world plan and manage all necessary goods for home and kitchen.
The app takes care of everybody's desires, so it always keeps them in touch. All people in the household are always aware of what needs to be bought. Moreover, the app allows them to change something before another person buys everything from the grocery list.
Another strong point is the ability to create limitless grocery lists for every occasion or everyday using.
For example, create a Monday grocery list and list for Saturday's party at the same time and add appropriate items to them. Beautiful and colorful templates help you to do it faster. Last but not least, brands also occupy a big place in our lives, so buy only the right brands due to a list supported with photos of items.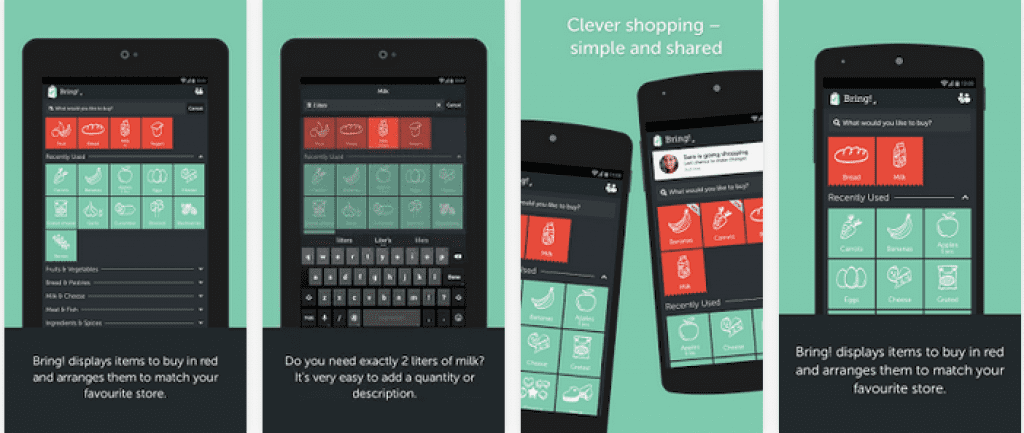 Our Groceries Shopping List
Family shopping is a great idea for spending a weekend together, do you agree with me? And, of course, you need to decide what should you buy and in what quantity. Making a list can also help you sort out and prioritize the items you need to buy.
If you want a simple app that lists your groceries,  we offer you to download and install the Our Groceries Shopping List that makes shopping faster, more pleasant, and less expensive.
As for features, if you want to cook a specific dish, add your recipe to the list and look at these products that you don't have in your fridge. In this way, you will exactly know what should you buy in a supermarket and won't miss anything.
Moreover, all members of the family also can get access to the grocery list. You just need to share it via email, Facebook, or message, even if they have an iPhone.  Add items using your Amazon Alexa device, such as the Echo.
Apart from the ordinary version, there is a premium account that allows you to support all points in a grocery list with photos or scan items by barcode scanning feature.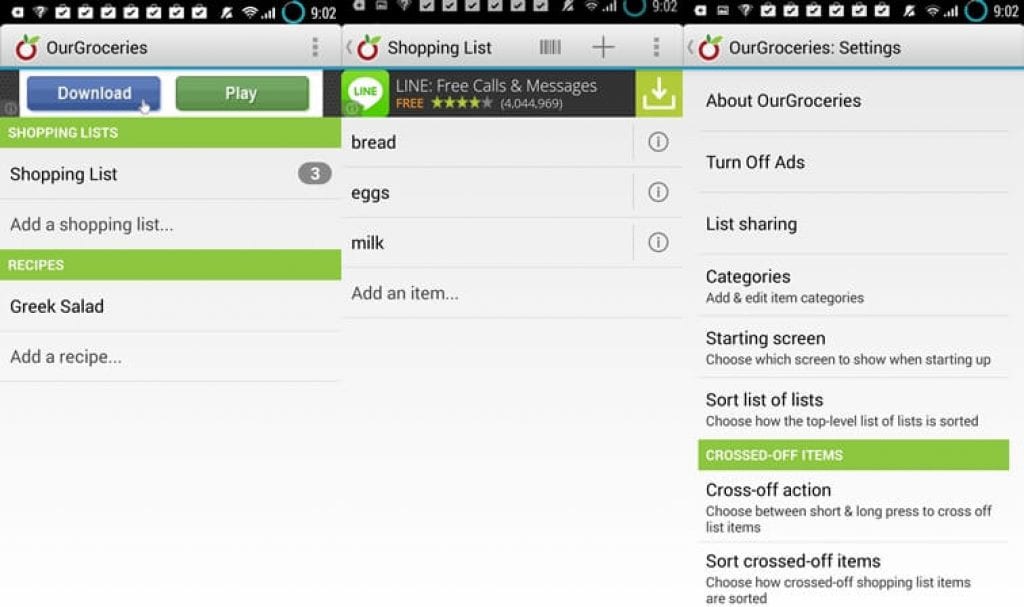 You may also like: 11 Best Craigslist apps for Android & iOS
Shopping List
Another good application in the question of buying some supplies for a house. For the first time, it seems like an ordinary shopping list with some features. But if we learn it more detailed, we will find out that there is one important feature that not every app has got.
I am talking about voice to text feature. Not only this feature but a lot more have to make you want to download and install Shopping List. Especially, if you're looking for an app that can be used as a food planner and takes note of your grocery list.
As for features more detailed, add items via your voice. The special function called voice command allows you not to write all necessary products by tapping but do it using your voice commands. Such companions as this feature make not only shopping faster but life in general easier.
What is more, you can create limitless amounts of lists dedicated to different events or for everyday using. Re-order items in a list also become easier, to do it you just need to drag and drop. If you need to share your grocery list with another person, do it via social networks, email, or via synchronization.
It allows every member of your family, friend, or beloved to have access to the shopping list and buy all necessary supplies.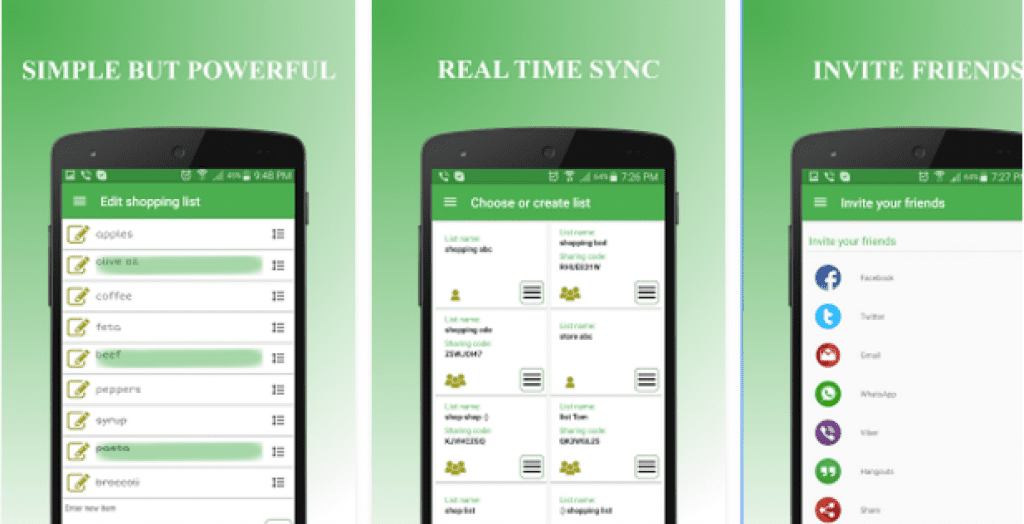 OI Shopping list
Well, if you have already seen many simple to use shopping lists and if you are looking for something more complicated, I am glad to introduce OI Shopping list to you. It allows every person who owns an Android device to monitor and manage the availability of essential goods and products.
I can say that this app has a lot of useful features that can help you with a question of purchases.  The app has a theme option that lets you add and change the appearance of the app. The app contains three themes: Default, Classic, and Android. You can buy additional themes from the Google Play Store for a price.
As for other features, you can make the app yours and customize it. For example, adjust the font size, shake the phone to clear the list, toggle fast scrolling, and much more. You can also add and save the prices of items from different stores.
This will help you track the prices of each item when buying groceries from different stores. Moreover, an ability to add and remove items from the shopping list is also a good feature.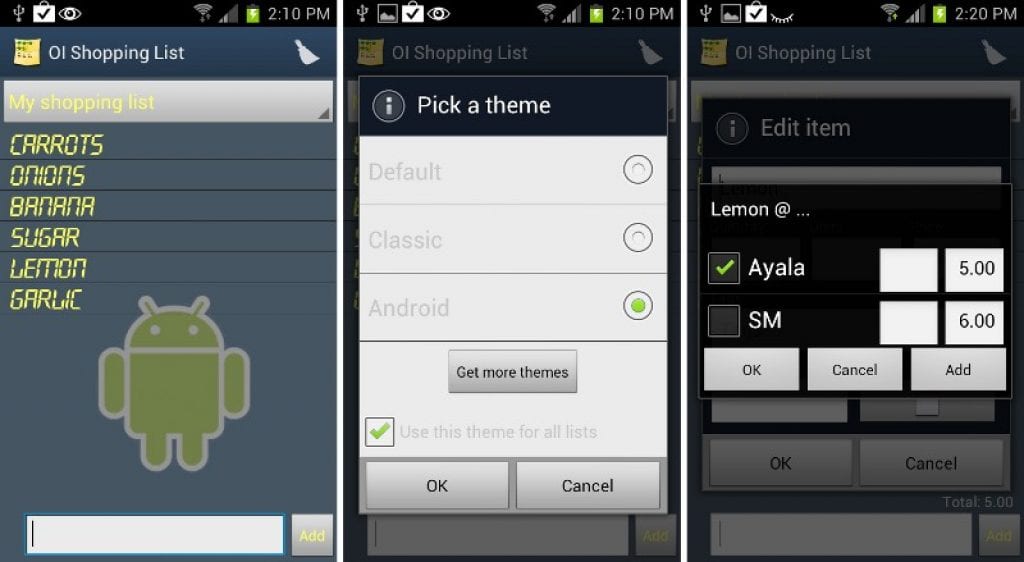 Grocery Tracker Shopping List
Another good app to manage purchases via grocery lists on Android. Maintaining an adequate supply of goods is one of the primary tasks of household owners. This app can be not only a grocery list but a good manager of supplies necessary for a house. List the item's name along with its specific details such as the price and quantity.
Use the Inventory tab to add a thing or a product, its quantity, and where an item should be used at the home – kitchen, bathroom, bedroom, and that kind of thing. Monitoring and tracking supplies can help you not only at home but at the workplace, doing some activities, hobby and so on.
Moreover, the Grocery Shopping list can turn into a recipe book that will keep your favorite or new recipes and necessary ingredients for them. So you can add your own menu, identify the ingredients, and place the procedures on for preparing the menu.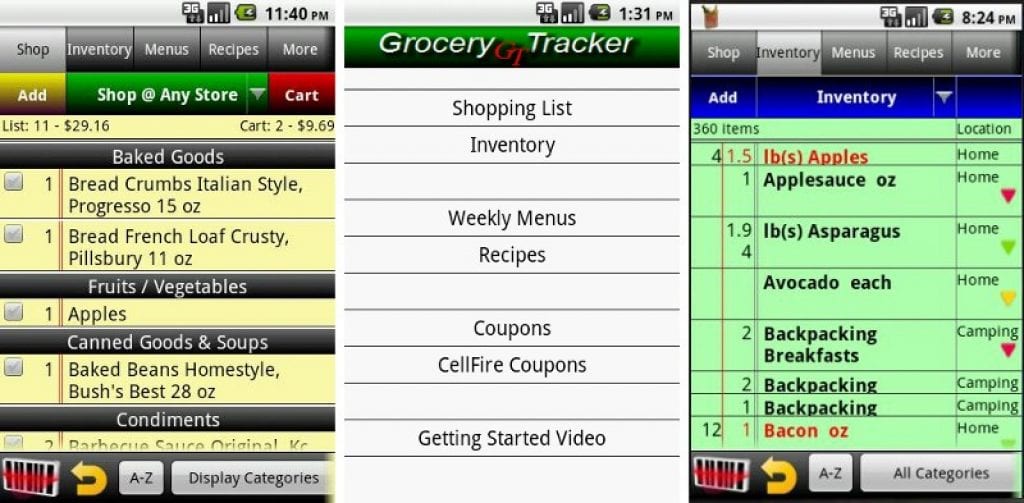 My Grocery List – Shop & ToDo
It is an amazing app that makes shopping easy and friendly. Monitor and track every purchase and task for a day via My Grocery List- Shop and ToDo. Over 4 million people all over the world have tried it and said that due to the app they spent less money, didn't forget to buy important things and manage their time properly.
As for features, like other grocery list apps, it provides users with an ability to add goods and products to a list and remove items from it. You can create an absolutely different list- it may be dedicated to some event or for everyday using.
Also, you can give access to every person you want. In this case, they will be able to add necessary goods and edit a list on their way. Moreover, if you just create a list, you can share it with a person who will buy everything from it via email or message.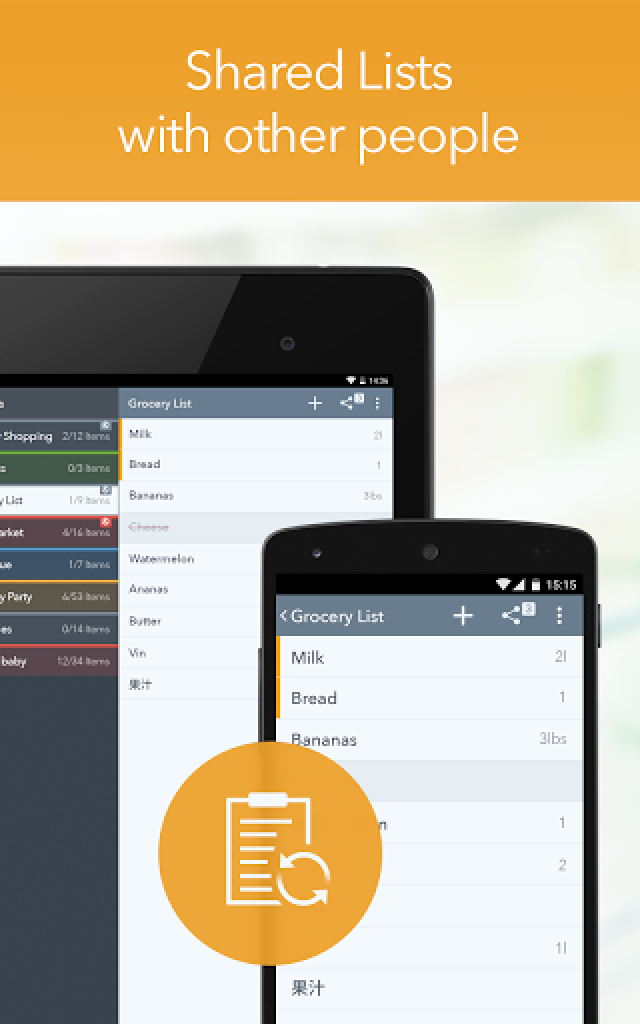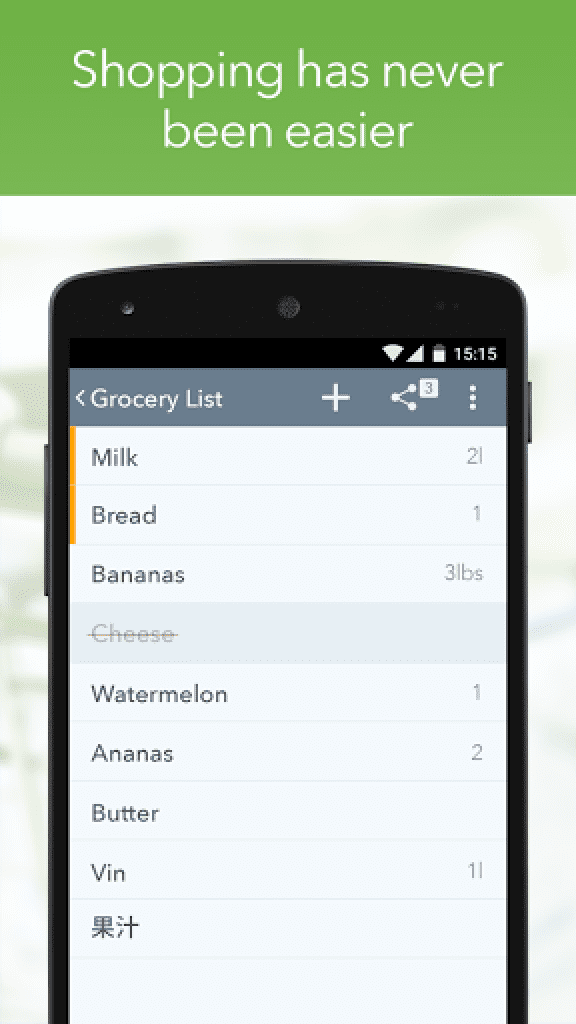 Smart Shopping List – Listonic
Just like the apps mentioned above, this app saves your grocery list inside your Android device, making it available wherever you go. What amused me were the animated category icons and the home screen widget that the app features.
It is easy to use – about 70% of products on your shopping lists are reoccurring items. That's why Listonic now suggests your favorite products first. You're also able to add quantities with one simple tap and of course if you prefer you can choose the voice input option.
Moreover, the app gives you smart and useful shopping tips and hints– Listonic provides hundreds of useful tips and hacks on buying, preserving, and cooking to help you make the most of your groceries. The products on your lists can be sorted automatically according to store aisles to make your shopping easier and faster.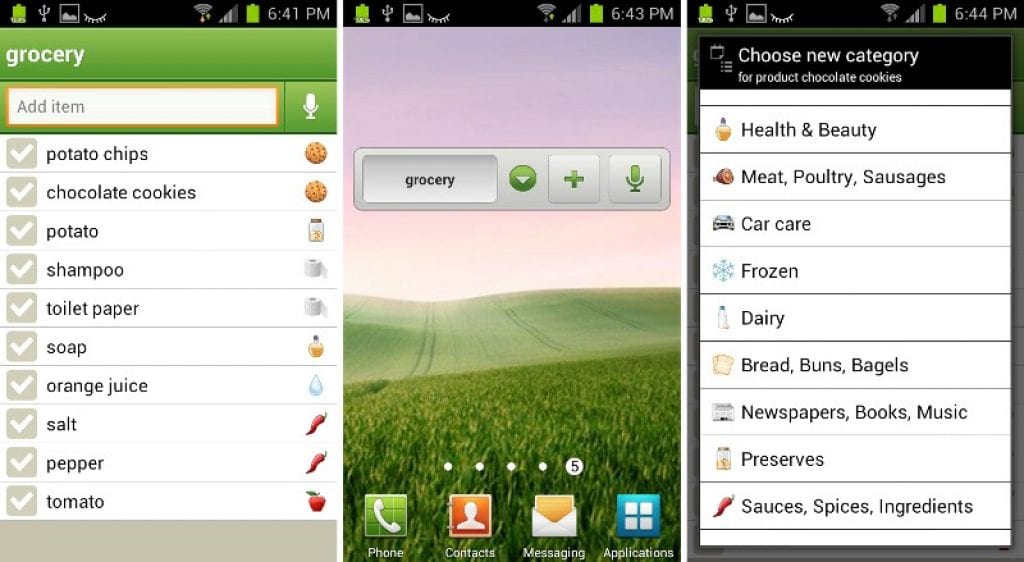 You may also like: 11 Best Food Delivery Apps In USA for Android & iOS
Google Keep
One of the most popular apps for making a grocery list on Google Play though it is not a specified app for grocery shopping. More than 5 million users have already used this app. The secret of its popularity probably lies in the fact that it is not a typical grocery list app, but it has some useful extra functions.
It also includes recipe block and discount coupons for popular retailers. By the way, an interesting fact about Google Keep is that it was also awarded by the sign "editor's choice". Well, of course here you will be able to compile your shooting lists before going to the store.
However, a distinctive feature of this app that makes the usage of it more convenient is that it contains ready templates for the grocery lists. After you have created another list, you can share it with all the people you want. In the templates you will find various options: for home, office, or picnic with friends.
You can always enclose the pictures of goods to the list so you won't forget (or the person you're sharing it with) which brand it is better to buy. Another curious function is that you can set up this app in such a way, the users from your contacts will be receiving notifications every time you are going for grocery shopping.