Searching for police-related games? We will surprise you. There are so many different genres, ideas, and scenarios of games headlined with the word Police.
Here you can find simulators, police dogs training, racing, and criminal chase. The whole action can take place in different locations. For example, airport and border control.
The number of police games is huge and thus, we had to narrow the selection leaving aside some average games. As an outcome, we have just 9 but truly best police games for both platforms Android and iOS.
You may also like: 15 Best Mystery & Detective Games for Android & iOS
Police Cop Simulator.Gang War
The next game on our list has more advanced graphics while its gameplay is a bit similar to the previously described game. Yet another Police Cop Simulator called also a Gang War promising us a little bit more of action and criminal acts.
One of the prominent features is a growing potential for each police officer that gives a chance to grow from cadet to captain.
Police also have a lot of work: checking pedestrians and drivers for prohibited and illegal items or the absence of documents. If you ever dreamt to try to be police without being involved in a profession in a real-life, this game is a real must-try.
There is always a choice for police either to choose a legal way or illegal or to cooperate with criminal groups. This game offers the same choice, and as long as they are many gangs in the game, you either chose to combat them or to betray the law.
Lots of police cars and epic police chase are presented in the game. You will never get bored here. One can even choose the appearance of his character and one of 10 different uniforms. A huge variety of weapons which you might use very often.
Everything in this game looks real: police ranks, wages, and authority inspections, wars with gangs and normal citizen inspections.


You may also like: 11 Best tank games for Android
Cop Duty Police Car Simulator
Yet another police job simulator that looks a little bit like GTA. With stunning and vivid graphics the game will immerse you in the world of law- protecting job.
It is all about driving your police vehicle crossing each turn without considering the traffic light. All this is due to switching on the siren.
Going through one mission to another mission, earning money and finishing your fuel, the player will feel more like a real police officer.
Undoubtedly there is a ton of different weapons that you can switch during the scene of a violation. For example, you may have a mission where you need to find criminals, eliminate all of them and save hostages.
Main features:
Nice graphics with different sceneries and detailed cityscape.
Realistic effects, realistic damages of cars and other objects.
A big variety of weapons and police vehicles.
Different missions to complete.
The only thing that should be added to make this game more popular is online multiplayer. Though many people found this game captivating even without it.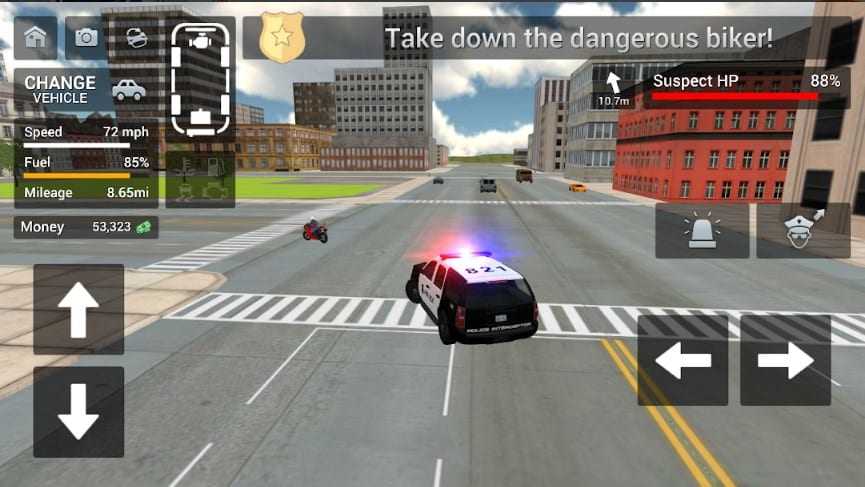 American Fast Police Car Driving: Offline Games
Why does everybody love playing games where you need to drive police cars? Well, that is more a rhetoric question.
If you like this type of game you should definitely try this one where you will find the abundance of American police chases. The graphics are at the top level and the gameplay is realistic enough to pass the atmosphere of the chase.
One of the advantages of this game is that you don't need the Internet signal to run it. What is more, this game is open world and it means that you can always complete it with your own creations together with other players.
When you just start the game you have to choose among 5 various police cars, 3 various signals of syrens, and other customizable aspects.
While you are driving the car, you listen to the police radio which sounds extremely realistically. Your task, as you have already guessed, is to stop any breakage of the law, whether it is a red-light crossing or a homicide.
As you are progressing in the game you can unlock new cars and new challenges. It is a fun and exciting game that we recommend you to try.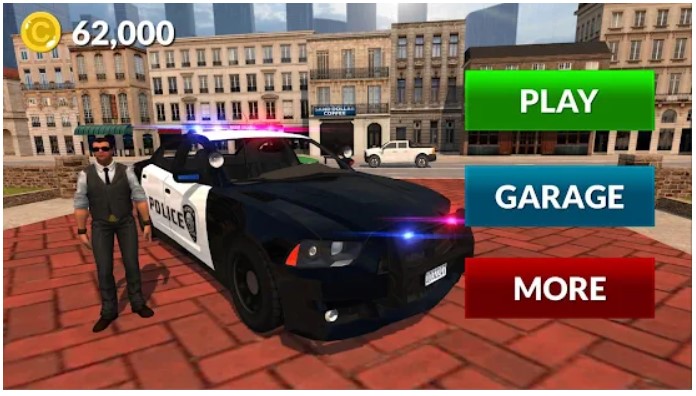 My Town: Police Station
From the first sight, you can understand that My town: Police station game is suitable for younger players. No doubt, the game looks bright and colorful, and the gameplay is easy and funny.
As it's mentioned in the game`s description, the game is safe for children from 4 to 12 yeas old without cruel scenes and acts of violation.
The player can feel like real police especially if she or he dreams about such work for a future carrier path. There are a lot of missions to complete, catching criminals, locking them in prison.
Main features:
There are many different characters to play with. You can be a policeman or woman or play other roles like a detective.
There are 7 different locations to play including police station jail. Additionally, there is a dog training mission.
A lot of different missions and easy gameplay where you following arrows and step by step instructions.
The game is free and available for both platforms Android and iOS.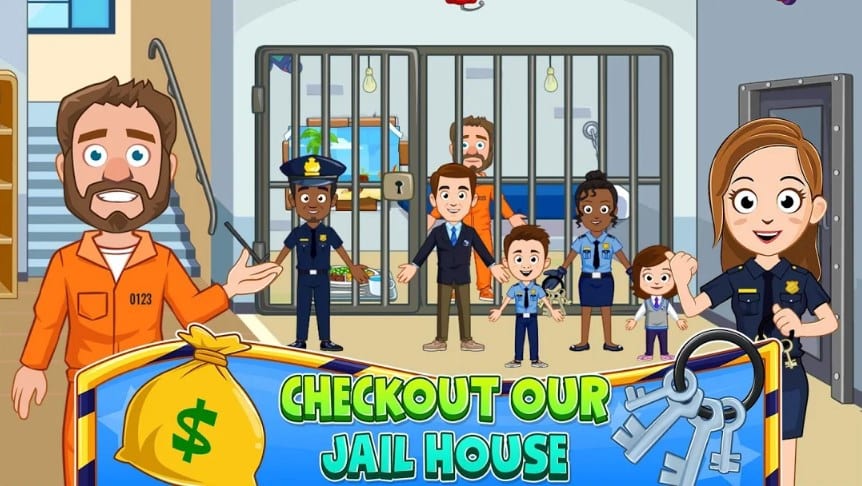 Miami Crime Police
Miami Crime Police represents a strong action with a lot of bloody scenes and cruelty. It reminds us of a classic shooter where the main hero runs everywhere shooting dangerous criminals that go with the police siren.
This game reminds us of GTA as well. Though some moments are ridiculous and funny as the police officer can hijack someone else car and drive-thru streets hitting others.
Here we have mostly bad police that shoot everyone on his way because he was sent to a criminal district and there is no other way to deal with a crime. So, if you are in search of a real shooter and not just a police officer work game, the Miami Crime Police is right for you.
No fines, penalties, or other boring stuff related to police work. There are only strong buttles between the law representative and people of crime.
The graphics and the interface are amazing. The screen is full of different buttons and indicators showing the map, weapons and its remaining capacity. The game is free to play with in-app purchases at different prices. Also, it's available for Android and iOS as well.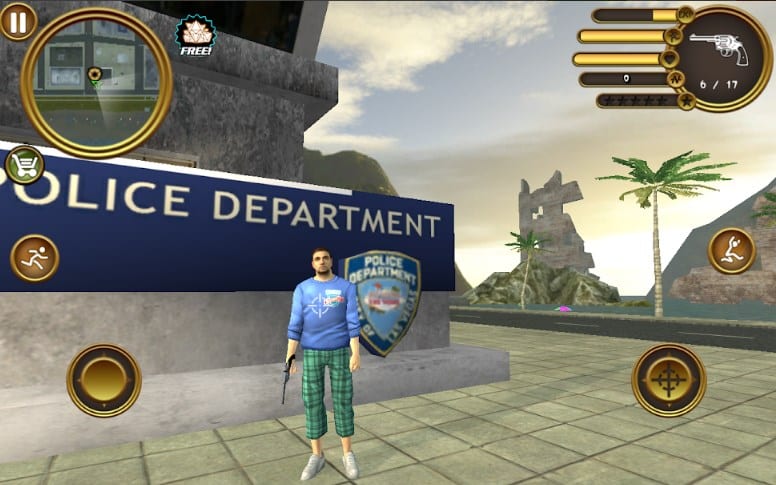 City Traffic Police Driving
City Traffic Police Driving is yet another great police game where you mostly driving through the city going from one mission to another.
While driving you have to collect badges that will contribute to your success in the game. The graphics of the game is captivating with nice city streets design that also looks very unusual.
It's more of a driving game where you must perform even different tricks. Roads in the game are not normal, they are curved and steep. So, try to balance your car good not falling down and at the same time speeding well to maintain a good jump onto another road. It sounds crazy, yet the process is fascinating.
Starting a new mission, you must chase the criminal that violated the law or offended citizens. It's quite a simple game and suitable for young players. There is no action, guns, shooting or blood. After all, there is not much of cruelty.
Though there are a lot of racing through obstacles. If you are dreaming to ride a real police vehicle accompanied by the police siren, this game will amuse you.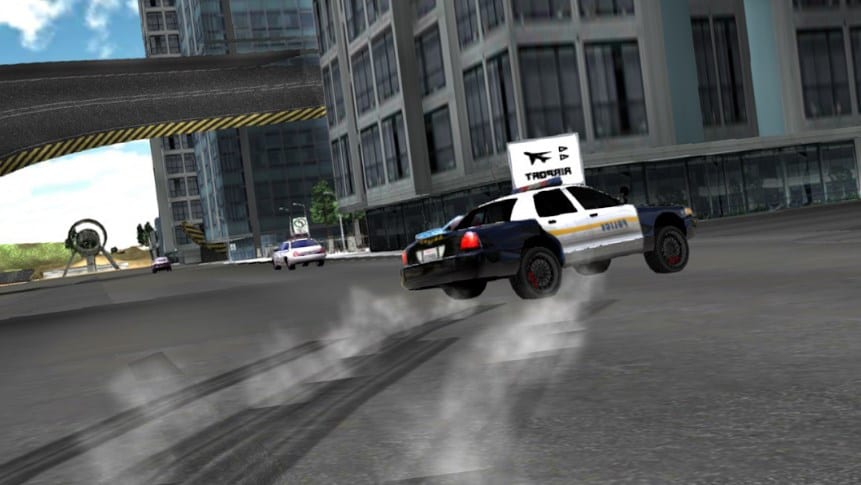 You may also like: 11 Best Theme Park Building Games for Android & iOS
Police Car Driving Offroad 4×4
This game is more of racing where you must chase criminals. You will find here neither real police officers, no fines, citizens or city traffic. The developers decided to choose an offroad location somewhere in the countryside.
However, the sceneries are very picturesque. You will hear the exciting sound of the engine pressing the gas pedal and exploring the map.
Of course, there are different missions to complete and all of them are related to the police work. Save normal citizens or catch those who violated the law. For instance, car accident victims are in need of the help of the police.
As long as the action takes place somewhere in wild nature, the player will meet wild animals like wolves. So, your mission is to save your area from them.
In this mobile app, the player will face a lot of beautiful landmarks, landscapes. For example, temples, airports, farms, camping spots. Roads are also different, wide motorways and narrow offroad.
The game is very popular, and the rating says everything better than words. There are also more than 5 million downloads. The game offers in-app purchases but prices are not high.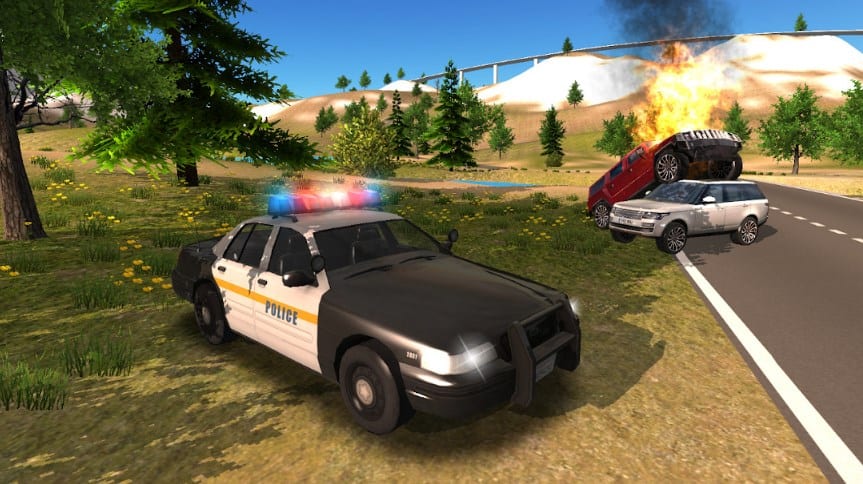 Idle Police Tycoon-Police Game
This game belongs to a type of tycoon game where you need to manage and develop the world dedicated to a certain theme.
In the case of this game, you are running a police station in a big city. You need to organize an enormous flow of people every day and also manage the archives, laboratories, catch criminals, ask witnesses and victims.
You need to grow the reputation of your police office by lowering the crime level in your area.
A distinctive feature of this game is its graphics in lego style – thus, Idle Police Tycoon will be interesting to play both for children and adults. Overall, the game is recommended for kids above 6.
Another cool feature of Idle Police Tycoon is that by progressing in the game you are unlocking the new characters and famous thugs in your area – your task is to catch them all and gain points. All in all, it is a fun and cute police game that we recommend trying.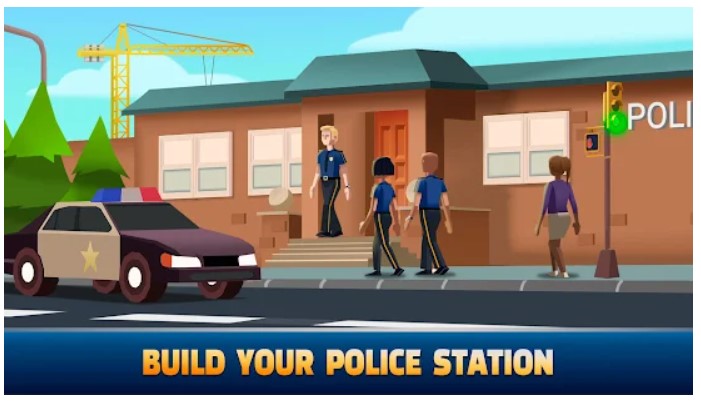 Secret Agent Crime Operation
Play the role of a secret agent crime operation in one of the best games in its genre. There is no police uniform or police cars that can give away your occupation.
However, there may be more work for you to chase real gangsters and liquidate them all. There are a lot of different missions where each one goes with little instruction.
Main features:
Big variety of weapons.
The image of high definition with stunning graphics.
A realistic environment of the city, streets, buildings, roofs.
The game has found a lot of fans among shooter lovers.
However, many commented on the number of missions saying that it must be increased for the sake of the game. It would be also better if the developers would create an Android version of this game. To sum up, the game is free with in-app purchases that are optional and not that expensive.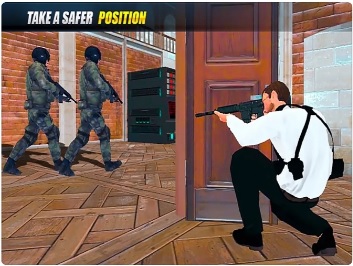 Street Cop 3D
Street Cop is a popular mobile game that puts you in the shoes of a police officer patrolling the streets.
As a police officer, your goal is to patrol the city streets and keep the citizens safe. You will encounter various situations, such as traffic violations, robberies, and even car chases.
You must make quick decisions and act accordingly to maintain law and order.
One of the nuances of the gameplay is the use of energy to perform actions such as chasing criminals or responding to incidents. This energy can be replenished over time or through in-app purchases.
The game also includes a ranking system that allows you to compete against other players.
Also, the characters and vehicles are well-designed, but the environments lack detail and can feel repetitive after a while. The sound effects and background music are also average, but they do not detract from the overall experience.
Advantages:
The energy system adds challenges.
The ranking system allows for competition.
Drawbacks:
Average graphics and sound.
Occasional glitches or bugs.
Repetitive gameplay.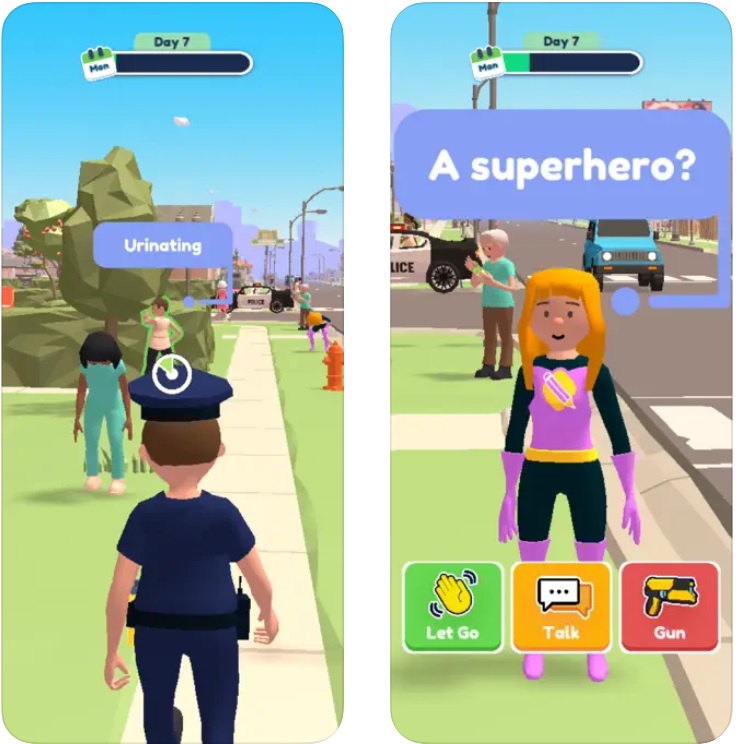 You may also like: 16 Best survival games for Android & iOS
Traffic Cop 3D
It is a traffic management simulation game that puts the player in the shoes of a traffic cop.
The gameplay is simple but challenging. The player is tasked with controlling traffic at different intersections by directing cars, trucks, and other vehicles to their respective destinations.
Moreover, this game is divided into levels, each with increasing difficulty. The player must be quick and efficient in managing the traffic, as the game gets harder with each level.
Players must balance different factors such as time, vehicle types, and traffic volume to succeed.
The game has a cartoonish feel to it, with bright and vivid colors. The vehicles are well-designed, and the overall layout is visually appealing.
However, the graphics could use some improvement, as some textures appear pixelated and the animations are not very smooth.
Although, there is a lack of variety in the gameplay. While the levels get harder with each stage, the game mechanics remain the same. This can make the game feel repetitive and tedious after a while.
Advantages:
Challenging gameplay.
Good strategy game.
Visually appealing graphics.
Drawbacks:
Finicky controls.
Repetitive gameplay.
Pixelated textures and animations could use improvement.