Have an appetite for homemade dishes made with love? This article has you covered!
There are homemade food delivery apps for the USA (Android & iOS) that will bring you freshly cooked meals right to your doorstep. The concepts of these apps are all different — some let you order from home chefs, while others deliver products with recipes that you can make a cookbook of. But one thing is the same for all apps — you'll get to eat healthy home-cooked dishes without spending much!
We've gathered together the 5 best apps in that category you may try. Take a look!
HomeMade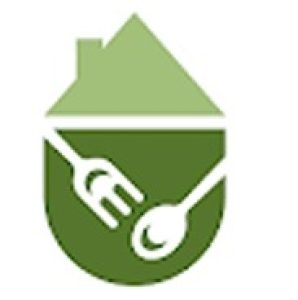 Let's start with an app that helps you get into home-cooked meals.
It needs to be said, the concept of this app is pretty unique — it's not your regular delivery service. This app lets you discover home cooks nearby and delegate cooking to them. In order to do that, you'll need to view the unique menus they offer and pick the one you like most.
Once you're chosen a cook, you'll need to pick the dishes you'd like to eat and wait for them to be delivered right to your door. You'll get to track your order all the way through, so no concerns about that. In case you don't want the food to be delivered, you may order for pick-up as well.
Herewith, the app only shows you the cooks in your neighborhood to make sure you'll receive freshly-made, warm dishes ready to be eaten. You may also search for specific meals or the filters of your preference. The app also lets you find invitations to private dinners or neigh out barbecues. The best thing about this service is all the food is affordable, so you won't empty your wallet.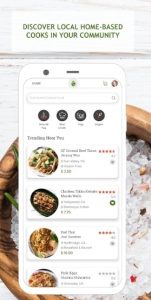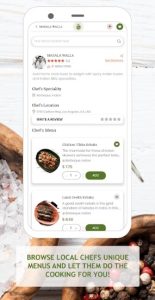 You may also like: 11 Best Food Delivery Apps In USA for Android & iOS
Savorly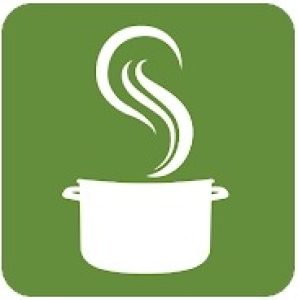 Next, we have a food delivery app that lets you order home-cooked dishes.
In case you're yearning for homemade meals made with love but don't want to cook — this app will help. The concept of this app is similar to the previous one — you view the list of home cooks in your neighborhood and pick dishes from the ones you like.
Herewith, the app also lets search via filters of your food prefs. There are such filters as vegetarian, vegan, organic, and more. Plus, you may view all the available dishes by categories like breakfast, dinner, and all that. All the dishes come with a detailed ingredients list, photos, rating, and all the other info you may want to know.
Additionally, you'll get to see the distance between you and the chief you're about to order from. You may also chat with a cook for special requests or questions. Once your mill is started to cook, you'll get to track the progress in real-time. The only con is that the app only works for take-outs for now, but it will be improved in the future.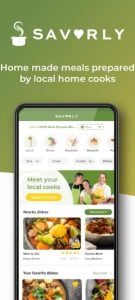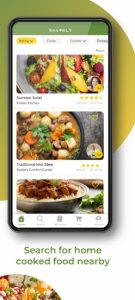 HelloFresh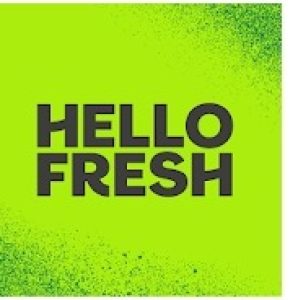 Another way to get fresh homemade food is by using meal kit deliveries.
This app is the most popular meal kit service, so if you've never tried this type of delivery — this app is a safe choice. As for the concept, it's practically a subscription for food delivery for a week. The subscription includes 5 meals for 2 to 4 people that will be delivered to your doorstep daily.
Herewith, you need to consider that this service won't bring you cooked meals — you'll have to get them done by yourself. What you'll get is an easy-to-follow recipe and a precise amount of products to cope with it. The majority of the recipes won't take less than 30 minutes to cook, so the process isn't time-consuming at all.
Besides, the app covers thousands of recipes in its collection for you to choose from. It covers the dishes for all kinds of preferences, so you won't have issues with that. You may rather pick all the dishes for the week or choose them every day. In case you won't be satisfied with the food, you get to disable the subscription at any time.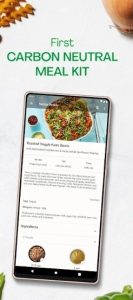 Check also: 7 Best Food Safety Apps for Android & iOS
Green Chef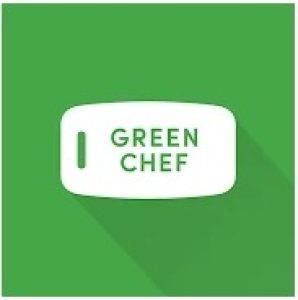 This is another meal kit app that will get you into eating fresh healthy home food.
This app is all about sustainable eating — it covers thousands of organic meals for all kinds of preferences. Whether you're on a keto, plant-based, vegan, paleo, or any other kind of diet — there are plenty of dishes for you to try. The app offers weekly menus for 2 up to 6 people.
Plus, the app covers various plans that may include up to 4 meals per week. You'll get to switch meals at any time needed along with canceling the subscription. You may also choose the delivery day and time if needed. All the meals are easy-to-prep, so even if you're not into cooking you'll easily cope with it.
In case you're worried about time-consuming, most of the recipes in this app take less than 30 mins to make. Beyond that, this service runs in collaboration with organic farmers, so the products you'll get for the recipes are 100% healthy and fresh.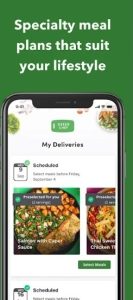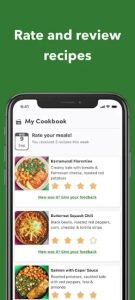 You may also check: 15 Best Food Coupon Apps for Android & iOS
DishDivvy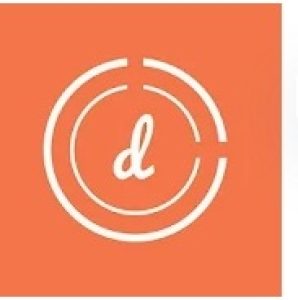 And lastly, we have an app that will connect you to local chefs ready to cook for you.
This app uses your GPS data to find the nearest cooks you may order meals from. All the cooks offer their unique menus you may pick the dishes from. Herewith, all chiefs go through a strict certification process, so you can be sure the food will be cooked in safe conditions out of fresh healthy products.
Additionally, the app covers various filters that let you mark your diet prefs. There are such diets as keto, vegan, gluten-free, dairy-free, and more. Plus, there are a bunch of allergy marks you may set if needed. You may even order a weekly food plan if needed — all the food will be delivered straight to your door.
There's also an ability to order dishes in advance, so you could plan your future dinners. In case you're planning to re-order some meals — make sure to add them at your faves for quick access. The app also lets you chat with the home cook to give special prefs or ask questions.