We all spend tons of time on our phones nowadays. And if you think you're an exception—just check out your weekly screen time report.
Well, what does the report say about your screen time? Most likely that it's way higher than it should be.
Lucky for you, we've figured out how to block Android apps at certain times to overcome your phone addiction. The best about it is that you already have an app to reduce your screen time without even knowing. Thus, you won't even need to install any extra third-party apps at all! In case not—we'll give you a couple of try-worthy alternatives as well.
Digital Wellbeing
Here it is a built-in Android app that will help you with app usage limits. As it was already said, you may have no idea that it even exists, cause it goes by a pretty unintuitive name.
It needs to be mentioned, that Digital Wellbeing is available for devices with Android 9 and higher (including the Android One). In case the app won't come pre-installed on your phone, just get it on the Play Store by following this link.
Once, the app is installed, it will appear as a Settings item. In order to find it, you should go to the settings and find this entry: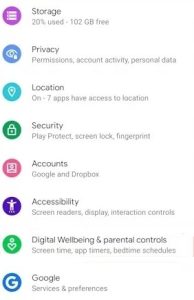 As you'll get in, you'll see it also monitors the time you spend on the phone. More to that, it tells you the exact time you've picked up your phone throughout the day and what app you've used the most. It even counts all the notifications you get. It's getting done to help you decide which apps usage you need to limit.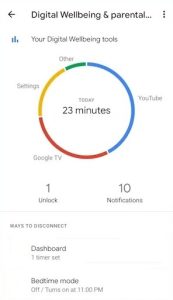 The tool you need here is an app timer that hides in the Dashboard section (once again, a pretty confusing naming for such a tool). As you tap on the Dashboard, you'll get to see your daily screen time spend. Plus, you'll get to see the most time-consuming apps.
The next step will be to pick all the apps you'd like to limit and set the timers for all of them individually. Herewith, you get to set any limits you want—even a 30-minute one. The thing you should remember here is all the timers reset at midnight, so you'll need to be a bit more self-disciplined at nighttime. Then, you'll need to confirm the timer, and it's done.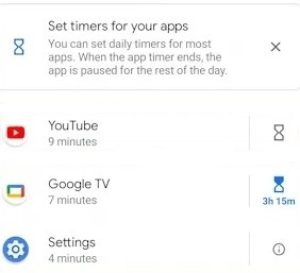 Now, when your usage limit will get close, you'll get a notification saying how much time you have left. The moment you'll reach the limit, the app will shut down till midnight with the following notification: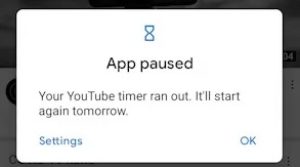 Besides, you'll stop getting notifications from this app, and its icon on your Home Screen will turn gray. Of course, nothing will stop you from going back to the Settings and increasing or disabling the timer. But the app will try, though—it will say that you've already spent too much time on the app.
You may also like: 9 Free Screen Time Apps for Parents (Android)
Bedtime Mode
Another way to get used to a Digital Wellness app is to try a Bedtime mode. To do that, get back to the starting page of the app and scroll down to the Bedtime Mode section.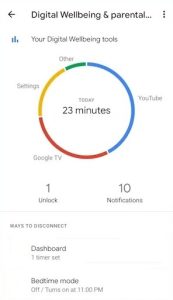 Although it's not a classic app blocker, it's a pretty useful tool to get rid of wake-up calls from colleagues, friends, and—the worst of all, ad calls. More to that, this mode will set you free of all kinds of notifications.  
There are several ways to set up this mode. The first one is based on schedule—it lets you pick the exact time your phone will fall asleep and wake up (well, metaphorically, of course). In case you tend to charge your phone at night, you may also tie that action to bedtime mode.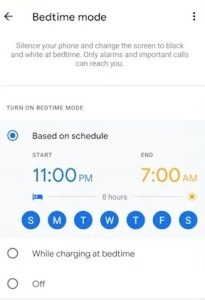 There are also a couple of extra customizations you can do. For instance, you can set a "Do Not Disturb" mode, grayscale your screen or keep it dark through the entire night. The dark screen is a pretty useful feature, especially if you usually sleep next to your phone (which is not the best habit).
Check also: 7 Best Parent Control Earn Screen Time Apps for Android & iOS
Focus Mode
If you're on Android 10 and higher, there's one more feature you can use in the Digital Wellness app. Of course, the bedtime mode is great, but what if you need to limit the apps during the daytime? Then go for a Focus mode!
This mode lets you pick all the distracting apps you'd like to limit and pause them all at the same time. That's right—one tap and all the addictive apps will be shut. Herewith, you may rather make a schedule for this mode or do it manually whenever you need.
In order to find this mode, go to the Settings and find your Digital Wellness app. Then, scroll down and tap on the "Show Your Data" switch. Then, tap on the Focus mode.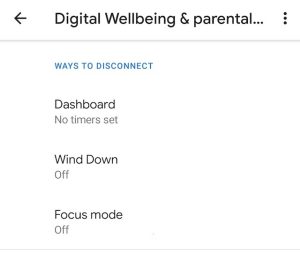 Next up, select all the apps you wanna pause and turn on the mode. The trick for the most functional usage here is to add a Focus mode button to your notification panel (to avoid going to the settings every time).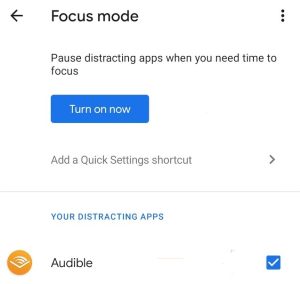 You may also check: 11 Best Apps that Block Social Media (Android & iOS)
Alternatives
In case previous methods won't go with your phone -don't worry. We've got you covered as well!
The functionality of these apps is pretty similar, so just pick the one you like most. Here are 3 third-party apps that help limit apps usage easy as pie:
AppBlock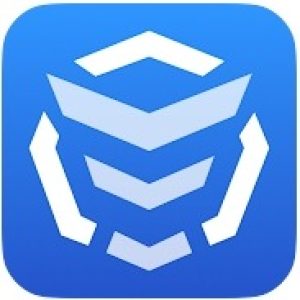 First of all, we have an app that helps you block other apps and websites.
It's a productivity app that is incredibly easy to use. Al, you need to do here is to quickly pick all the apps to be limited, and that's it. The app has a wide range of websites, but you can also add custom ones to your personal block list.
You'll get to make a blocking schedule, or even sync it with your location (for instance, when you're at work or at school). It also comes with a stats tracker, so you'll get to view how your screen time gets better.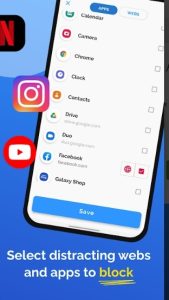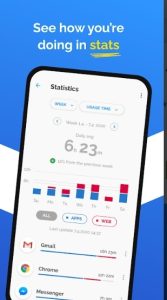 StayFree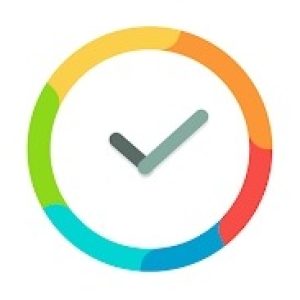 Next, there's another intuitive app to limit your app usage.
It's a self-control app that shows you how much time you spend on your phone, what apps you use most, and lets you restrict its usage. The usage limits are up to you—it can be from 30 minutes to several hours.
Once the time runs out, you'll get an alert to shut down the app. That's right, this app won't shut down the app completely—you'll need to be a bit more disciplined here.
The app also comes with a bedtime mode, which is great. However, it runs on sub packs, so not all features are free. But the good thing is—it doesn't have ads.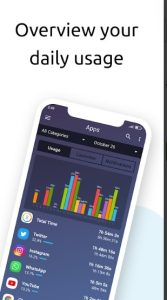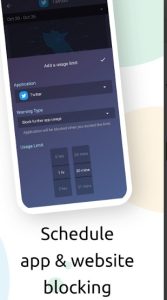 You may also like this guide: How To Make Apps Download Faster
Stay Focused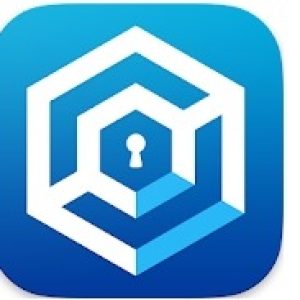 And last but not least, we have a manager app that lets you track and control your mobile usage.
This app covers many limiting ways, and all of them are helpful. First of all, you can set classic usage rules for a day, half a day, an hour, and all that. When the time will run out, you'll get an alert to shut down the app and go mind your business.
Plus, you get to block apps for some custom time intervals or according to the number of launches (the last one is a bomb, you should definitely try it!).
In case you don't fully trust yourself, there's a strict mode that prevents you from opening the app and disabling the restrictions. And if that's too harsh—there's a lock mode that outs password protection to the app.