Do you love your cat? Well, we all adore our pets. But sometimes it seems too hard to understand them.
Now you can easily understand your cat thanks to our new list of applications. They will help you to translate your cat's meow to human language and finally get to know each other better.
There are great options for iOS, as well as Android users. Most of them are free to download.
You may also like: 7 Best Pet Camera Apps for Android & iOS
Human-to-Cat Translator
Do you often get irritated by your cat not understanding you? It's high time you fixed the situation! With the new Human-to-Cat Translator it will be super simple. The only thing you have to do is to talk.

How does the app work? Well, the scheme is quite primitive:
Open the application. Then turn it on and start talking.

The app will analyze your voice and then translate it to the language your cat understands.

Then it will play the sound for your cat.
There are many cool features available for free:
Three feline voices

(they will be included in the basic version of the app).

Many

kitten samples

, up to 25. Play them at any time.

The application

supports all human languages

. It doesn't matter if you speak English, French, German, Russian, or any other, the service will still work.
Please note that your cat can react in many different ways. If it shows any sign of aggression or stress, stop using the service immediately.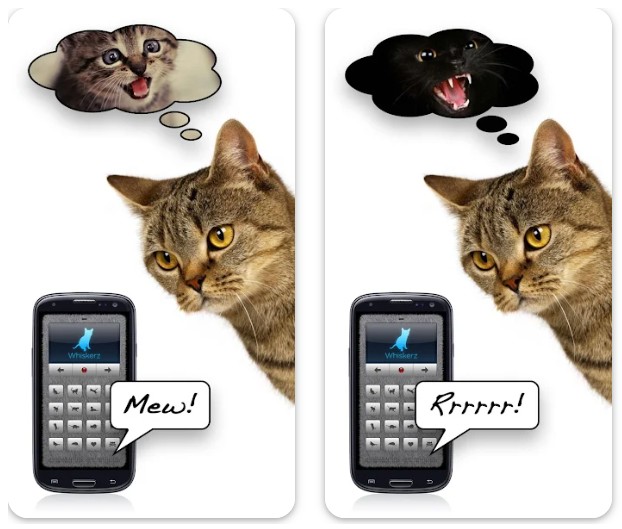 You may also like: 11 Best Virtual Pet Apps & Games (Android & iOS)
Meow Talk
Did you know that every cat has its own unique vocabulary? It means that communicating with your cat is a challenge but today it's possible to talk thanks to Meow Talk.
The app works pretty well thanks to machine learning. It has artificial intelligence modules that make it possible to interpret your cat meows.
Of course, we can't guarantee the service works accurately but it will entertain you.
If you look at the comments section, you will discover many positive reviews. Some people even write that they managed to differentiate their cat meows, telling 'let me out" and "I wanna food" from one another.
The developers update the app regularly, adding new functions with every update.
The service is free with its basic options. Should you need more, don't hesitate to go premium. The cost will depend on the number of features you need.
Another nice thing is the size of the app. What is more, the application supports up to 12 languages. New ones are being added all the time.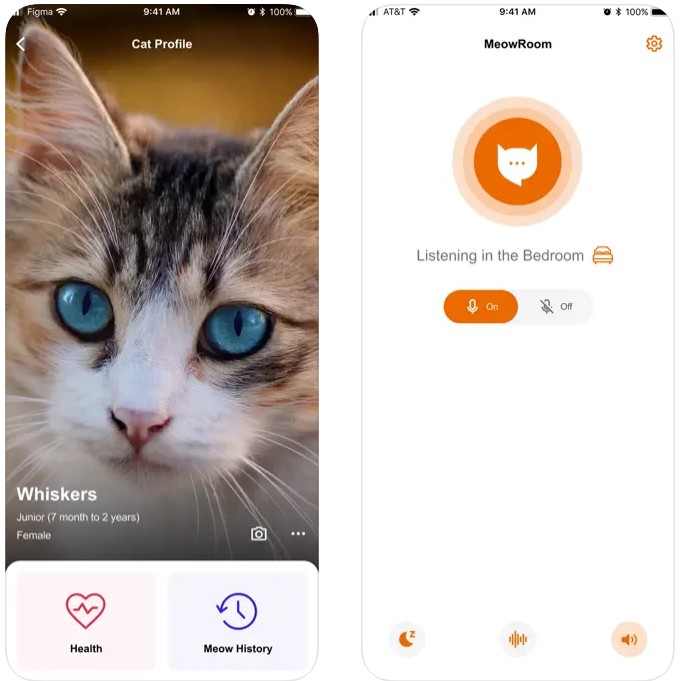 Cat Translator – Meow
When a kitty appears in your home, you feel like playing with it all the time. However, sometimes you want it to understand you.
This is why Cat Translator is a must for all cat owners.
Now let's look at the best features provided by the app:
You can

translate from human language to cat's one

and vice versa.

There are

good templates

to express a wide range of emotions.
If you need more voices and templates, you can always go pro. If you plan to use the app for a long time, it will be better to get a yearly subscription.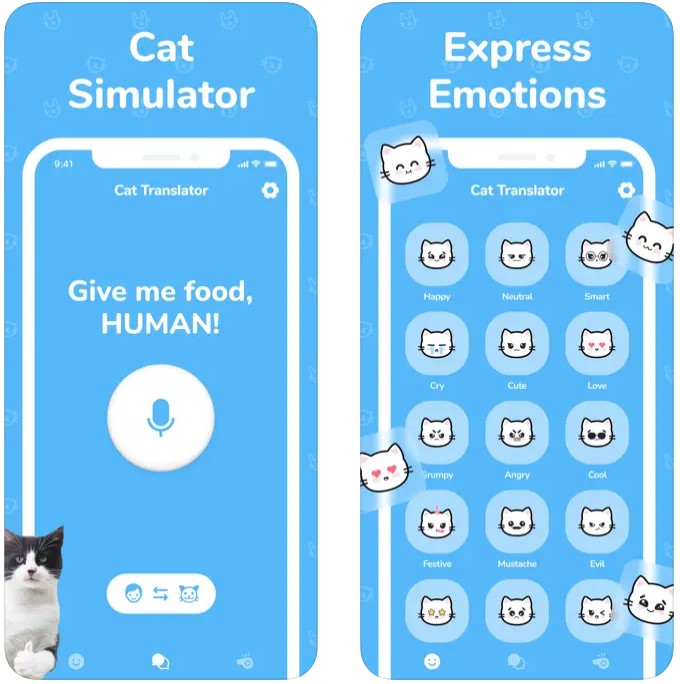 You may also like: 9 Best Animal Breeding Apps for Android & iOS.
Cat & Dog Translator
Do you want to play with your pet and fully understand it? If yes, you can hardly do without a good translator. The best news is that you don't have to search for it yourself.
This app is unique because it will provide you with a great number of functions. It combines two translators, both for cats and dogs.
Here are the most striking features of the Translator:
Simple and intuitive

interface. If you aren't a skilled user of a smartphone, it's not a problem. Press on the screen to record the sound. It will be translated automatically.

The app will

create an album

of your pet 'words'. It will add new ones every day. The best thing is that you don't have to do anything manually.

Multiple ways

to use the app. You can use it for fun or for training your pet.
Please be careful while playing the pre-recorded sounds. Your cat can react aggressively. If it does, stop using the service not to harm your pet.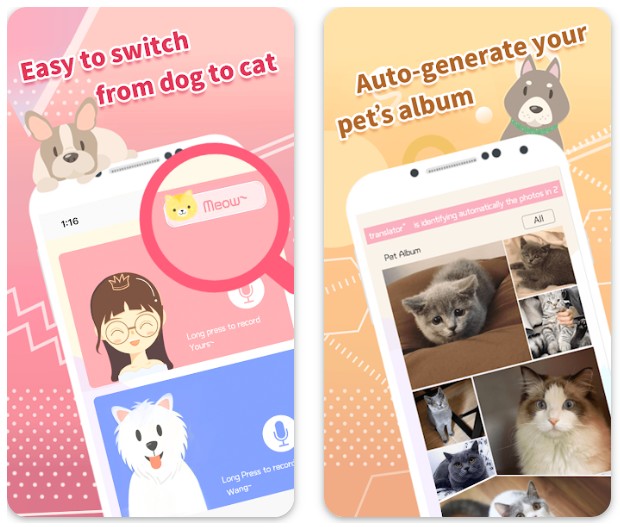 Cat Translate: Speak to Your Kitten
When you buy a little kitten, you become a parent to him. It's hard to love your 'child' when you don't understand him. This is why a translator is what you need to get first of all.
Of course, it won't provide you with a real translation but it will be fun to try. You can use templates to express emotions so that the cat can understand that you are angry or happy.
The interface of the service is quite easy. You will understand how it works without any instruction and guides.
The application supports all the languages that exist today.
Be attentive to your cat or kitten. Some of the sounds might be traumatizing so always look at the reaction of your pet.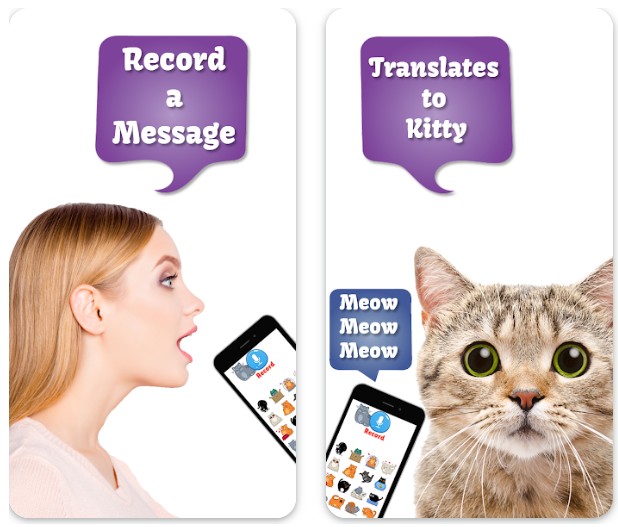 Cat Translator
Cat Translator is a fun app that allows you to communicate with your cat. Thanks to this application, you can be on the same wavelength with your cat.
One of the features of the application is its simplicity. All you have to do is record your cat's meow and the app will analyze the sound and then provide you with a translation. The app also includes various cat sounds and phrases that you can play to your cat to get a response.
But at the end of the day, you need to keep in mind that all the cat translator apps are just a fun prank. We saw some frustrated comments under this app's page saying the app isn't accurate or so, but c'mon, there is no such thing as an absolute cat translator app.
Therefore, you can only translate the very basic cat souds here.
Whether you're trying to decipher your cat's meow or just looking for a fun way to communicate with your pet, the Cat Translator app is worth trying. Just don't expect it to give you perfect translations every time.
After all, cats are known for their cryptic habits, and things can get lost in translation!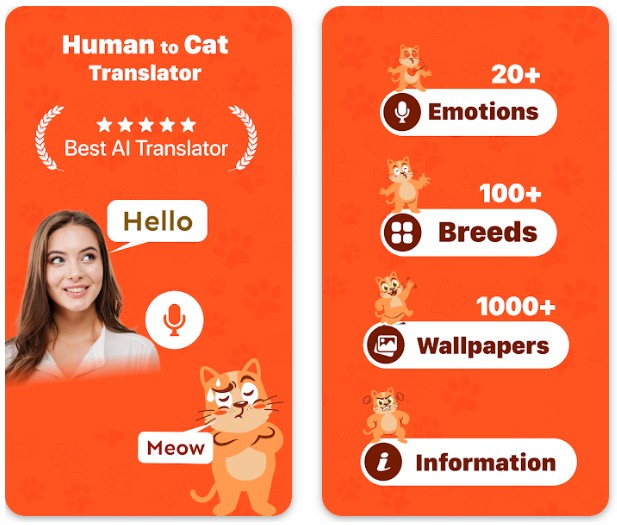 You can also check: 7 Best Animal Identification Apps for Android & iOS
Animal Translate
Animal Translate is an app that supposedly helps you communicate with your pets. With this app, you can "translate" what your pet says and better understand their needs.
The main feature of the application is the ability to translate animal sounds into English. For example, if your cat is meowing, the app will display a message that says something like "I'm hungry" or "I want to play."
The app also includes a feature that allows you to record your pet's sounds and save them for later analysis.
There are some drawbacks as well. Many users have complained that the translations are inaccurate and don't match what their pets are actually trying to convey. Some even called the app a "scam". In addition, the app's interface can be confusing and difficult to navigate.
So if you want to have some fun and maybe get some insight into your pet's mind, give Animal Translate a try – just don't expect it to be perfect!