Enjoy a good-old golf card game? You've come to the right place!
We've rounded up the best golf card game apps for Android & iOS you could try. These golf solitaire games let you enjoy endless fun wherever you go.
The apps let you customize the decks, try different modes, and even join a full-fledged tournament with your friends. And if you've trouble remembering the rules, these apps will give you a quick tutorial for starters. Let's get into it!
Play Nine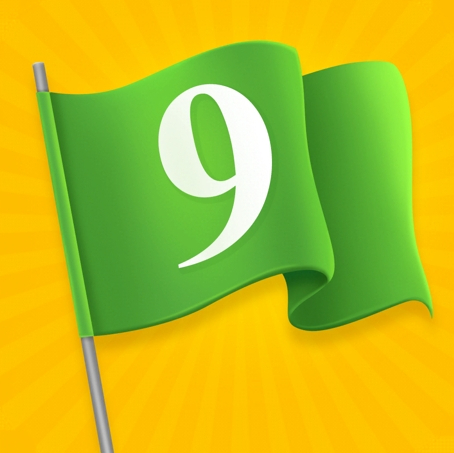 If you enjoy real-life golf card games, you'll definitely like this one. This app brings the fun from an actual card game into your pocket, so you could carry it around and play at any time needed. It's a reimagined version of a classic golf card game, but don't worry: the rules haven't been violated at all.
The app comes with compelling gameplay and a bunch of funny golf characters to keep you entertained along the way. The card design looks great, too: it's not fully classic, but you won't be bothered if you prefer the original decks as well.
There are two modes for you to try. First, we have an offline one where you'll stand against the AI. It's great for training, and you can access it wherever you are. The levels will become more and more challenging, and you'll get a new bot to play against every time.
The coolest part is the multiplayer mode where you can contest with friends and fam. It's just like a real-life card game night, but you can now gather your entire fam effortlessly. There's even an in-game chat for you to communicate while playing. You can set the game to include from 2 to 9 players, which is handy.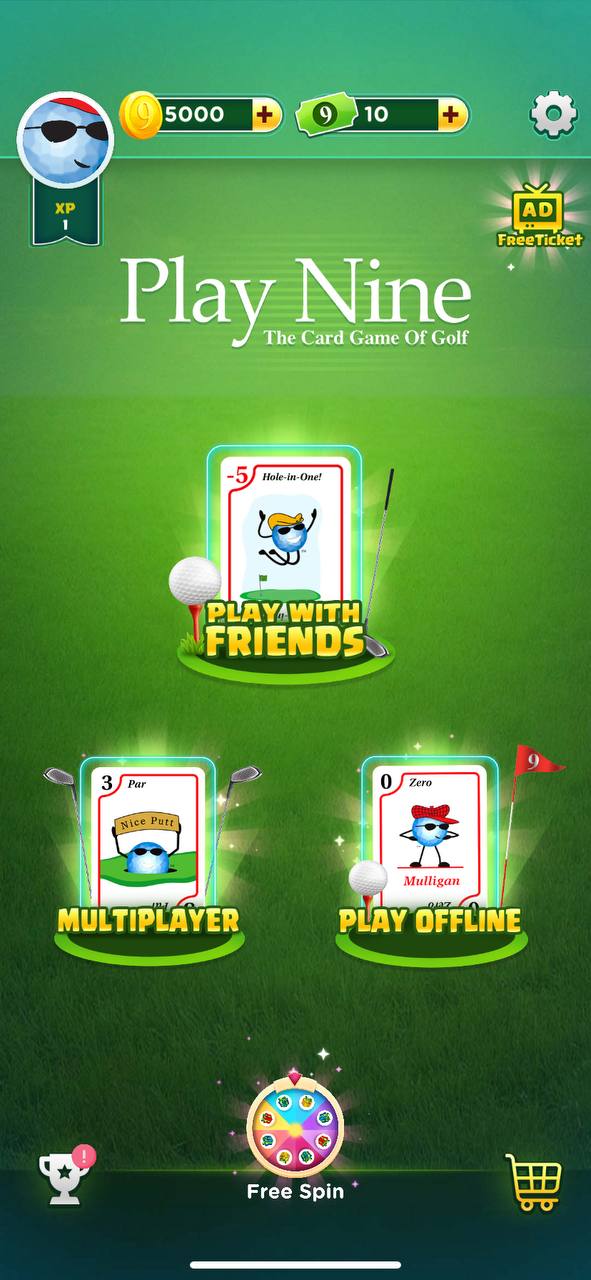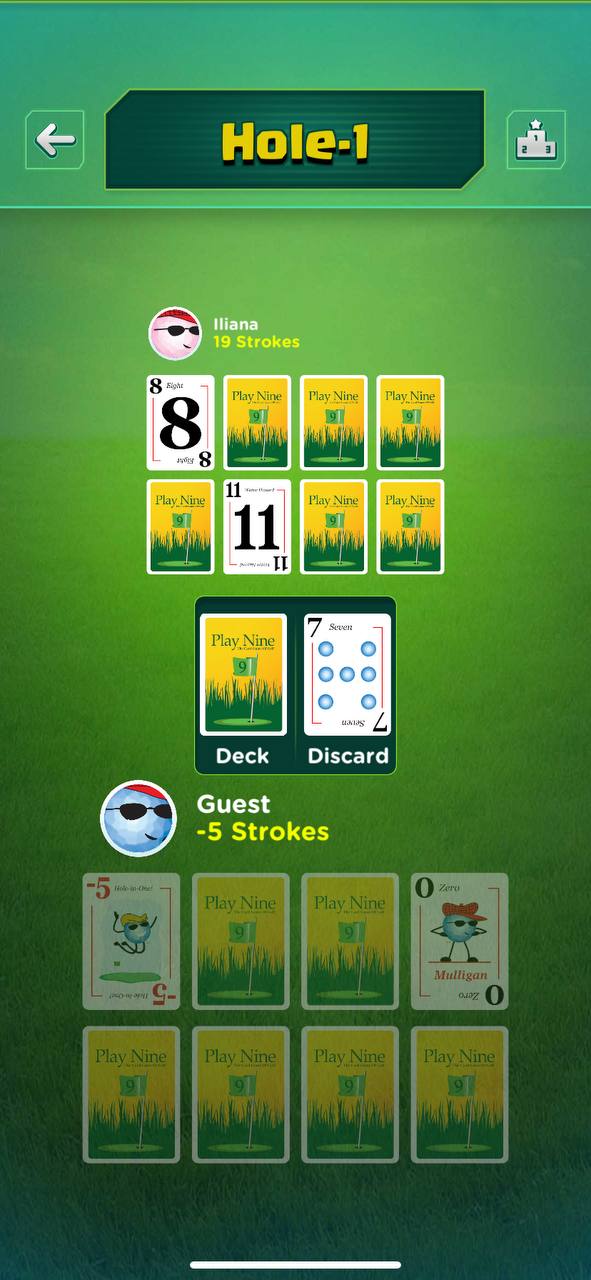 You may also like: 11 Best Rummy Card Games
The Golf Card Game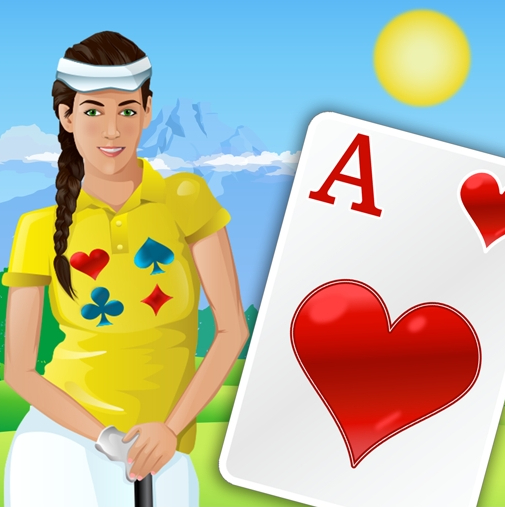 If you tend to dislike the design of mobile card games, make sure to give this app a try. It's another take on a good-old golf card game, and it's a must-have for the fans of Hearts and Spades. The concept is easy to learn, and there's a step-by-step tutorial to get you through the process.
The game can be played by 3 or 4 players that will take turns trying to get the score closest to zero. To do that, you'll need to swap your high cards for low ones. There are two versions of the game here: with 4 and 6 cards, so just pick the one you like most.
As for the design, the app comes with a colorful UI filled with stunning car decks. And if you're not into the default theme, there are tons of other options for you to try, so no worries. There's everything from traditional to trendy decks, so you'll definitely find smth to like.
You can even set a different theme for every mode if needed. The app covers both offline and multiplayer modes, and each of those is entirely free.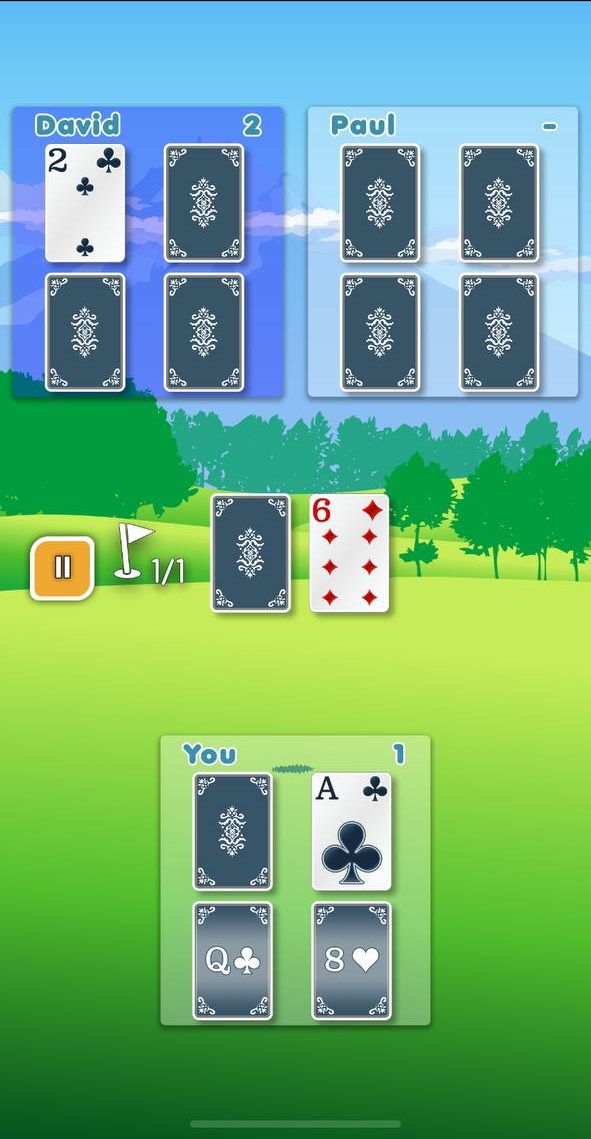 Fairway Solitaire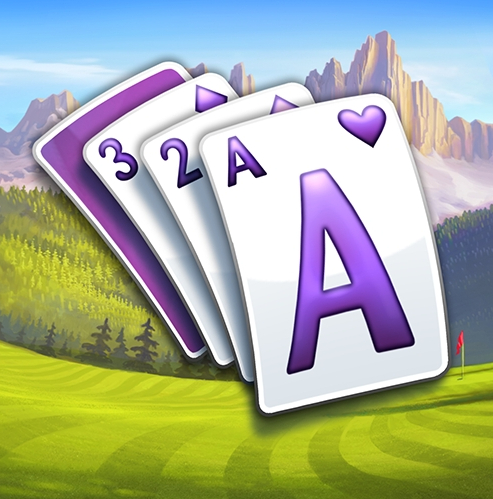 Here's a game that will change the way you play card games. In terms of the concept, the game is pretty classic, the rules are the same as the original golf card game. However, the visual aspect is slightly uncommon and at this point, you either like it or hate it. The game is filled with cute characters to entertain you during the sessions, but they might seem annoying to someone.
All the sessions take place in different locations that imitate scenic courses from all over the globe. As for the rules, you'll need to play one card up and one down and the goal is to move the most cards in each hand.
Above that, the app has a booster system that will help you move on if you'll lever gets stuck. All the boosters are golf-themed, and here are over 1K levels for you to pass. However, there are also traps and hazards to slow you down, so there's no room for boredom here.
And don't forget to enter the game every day to never miss any of the exciting challenges like a treasure hunt. You may even join a country club to get more rewards and power-ups.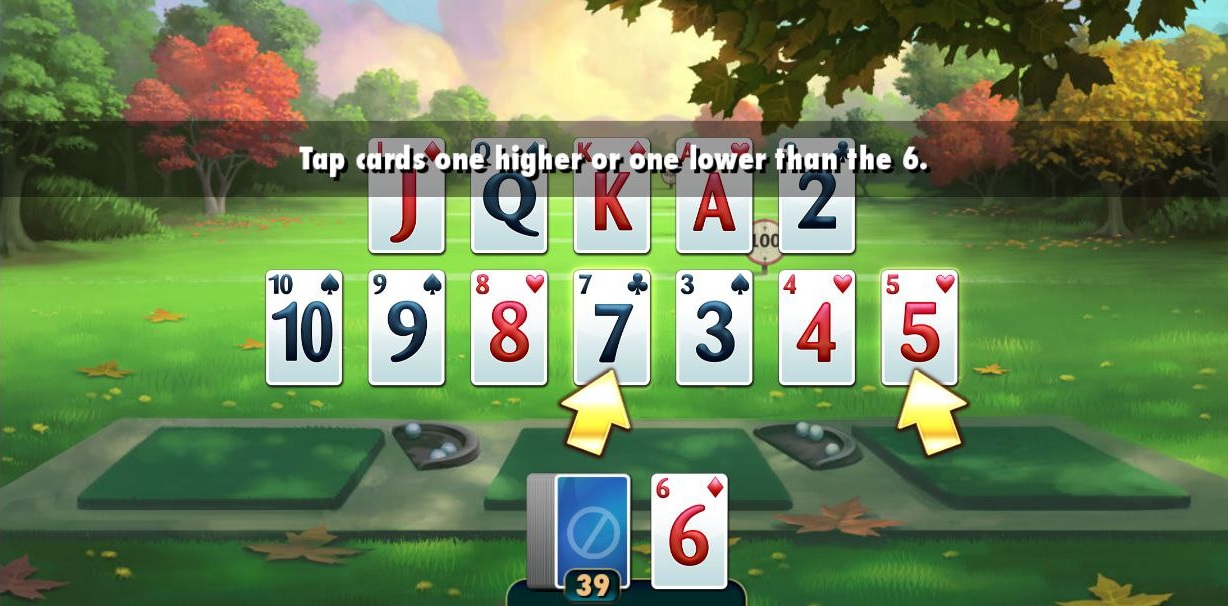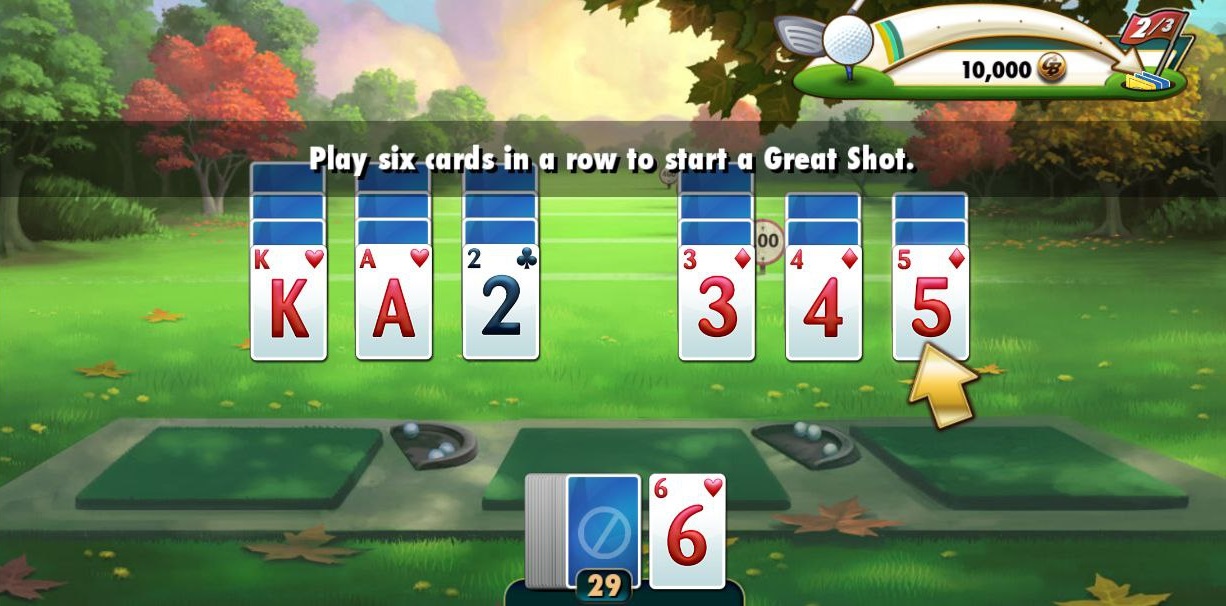 Check also: 8 Free Websites to Play Online Card Games with Friends
Golf Solitaire
It's a fun golf solitaire game you won't be able to put down. The game is fully skill-based, so only your knowledge and strategic thinking will help you become the best player of all. All the cards are visible right away: there's nothing to unlock or pay for, so no worries.
This game can be called classic in both concept and design. The visual aspect is pretty standard, the decks look simple and traditional. However, there are over 25 design options you can try if needed. As for the rules, these are the same as the real-life version of the game. Your goal is to earn the lowest number of points in nine deals, and the player who does it first – wins.
The difficulty of the levels will vary, but there are no deals that are completely unsolvable. You get several options when it comes to mods here. There's a classic with 9 holes, a special one with tons of custom layouts, and one with over 100K levels to get through. Plus, there are multiple challenges you can join for extra rewards and boosters.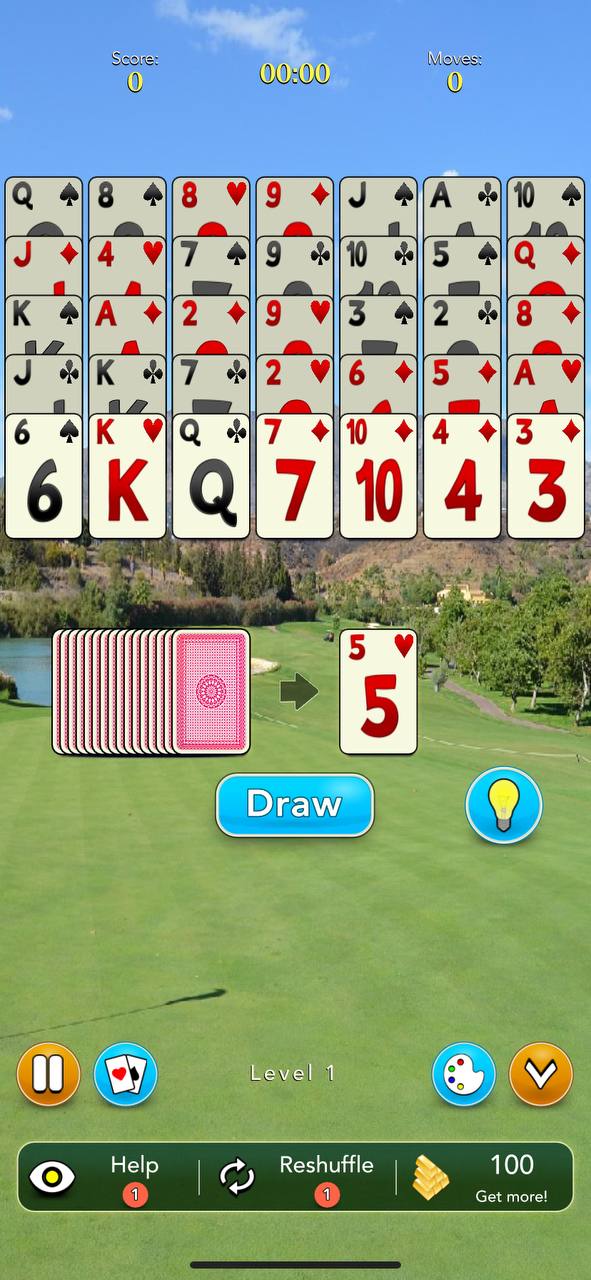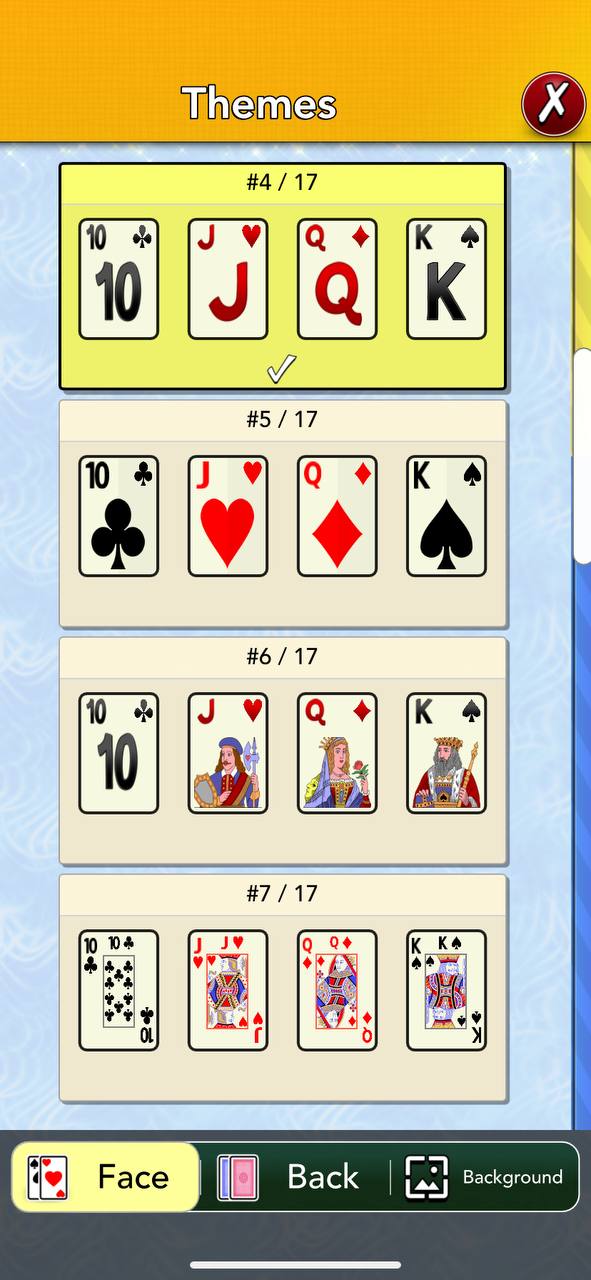 Golf Solitaire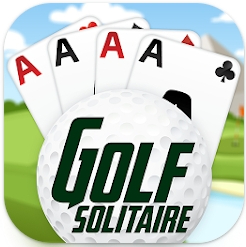 That's a new take on a classic golf solitaire game that you can enjoy at any time needed. It comes with a sleek design and a couple of deck-back options for you to switch to (in case you're not a fan of traditional ones). Plus, the cards are pretty large and are easily viewable on all devices.
Herewith, the game doesn't have a multiplayer mode, so your only goal here is to try and beat your own score. The difficulty of the rounds will increase with time, so you won't get bored here. Another great addition is an undo feature that lets you fix all the mistakes easily.
The hints are also included, and you can get more by spending the bonuses you've earned through the rounds. You can also compare your score with the global leaderboard if needed. The game comes with sound effects and a soundtrack, but you can turn both of these off in the settings. The same goes for a landscape mode, which is handy.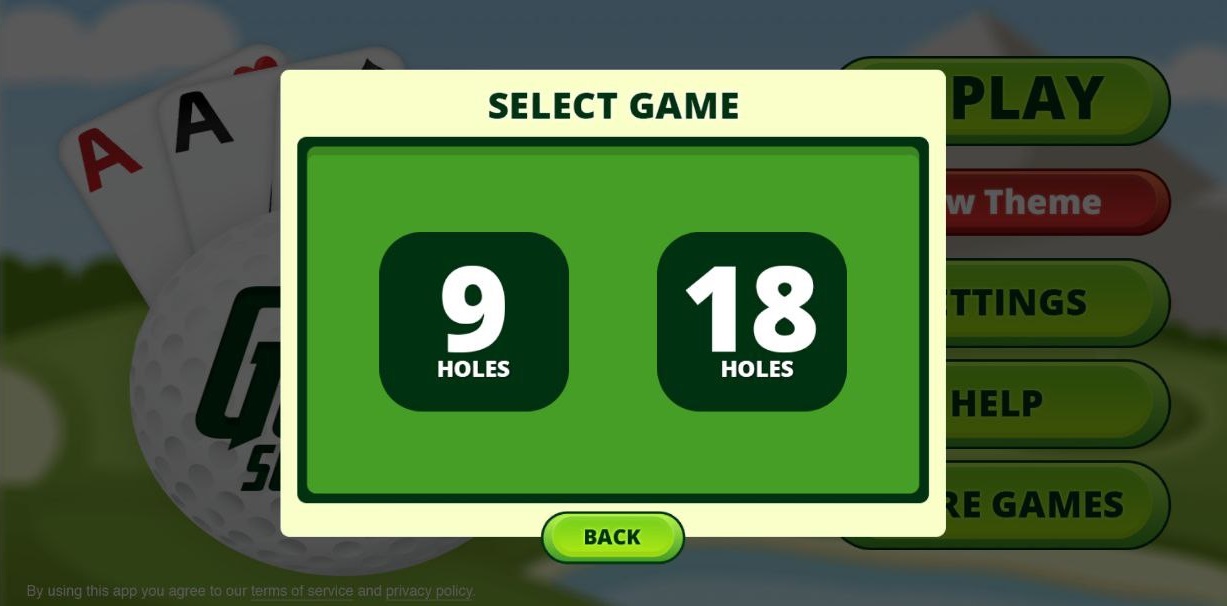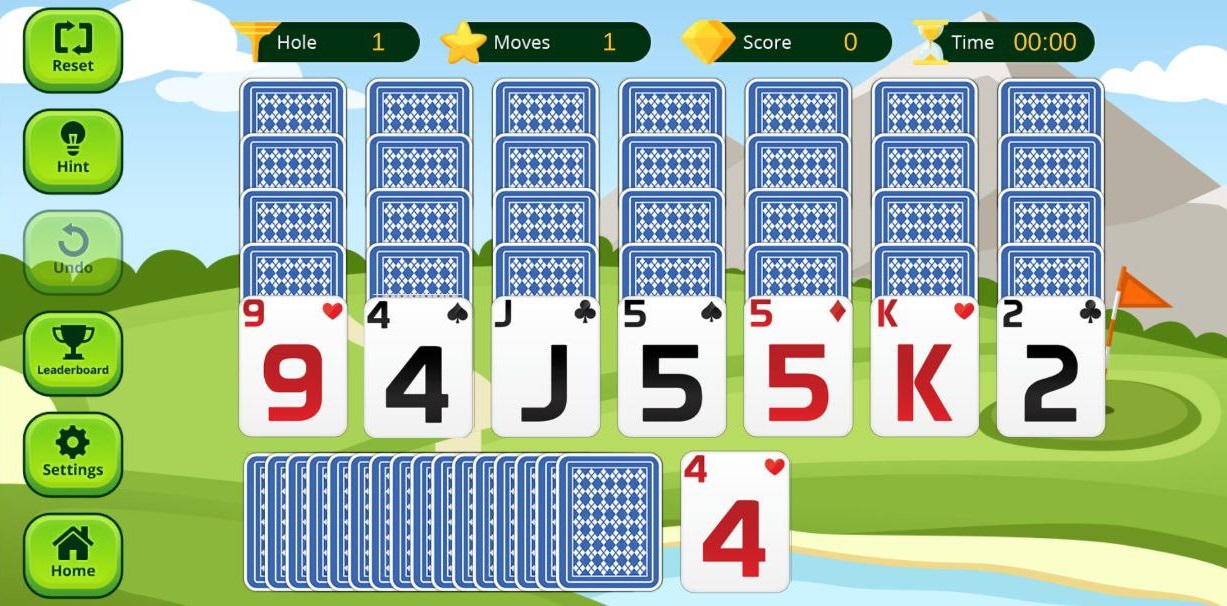 Golf Solitaire Pro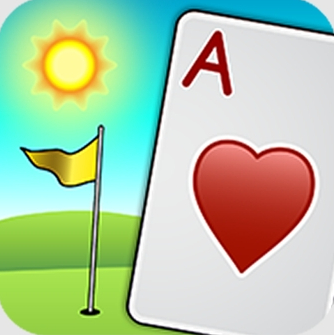 That's a cute golf-themed card game. And if you tend to enjoy solitaire, this one is definitely worth trying. The rules are pretty simple, and there are in-depth instructions at the beginning, so you can easily figure out how to play.
In order to win a round, you'll need to clean the golf course from all the cards before the deck runs out. That gets done by matching the cards (aka switching the higher and lower ones). Plus, there are wild cards to help you move on from tight spots.
There's no multiplayer mode, s you can only beat your old score here. However, it doesn't make the game less exciting. There are tons of levels and the difficulty with increases with time. You can also view the scores of other users in the leaderboard. Plus, there's an animated scenery and a cute deck design with a bunch of fun characters.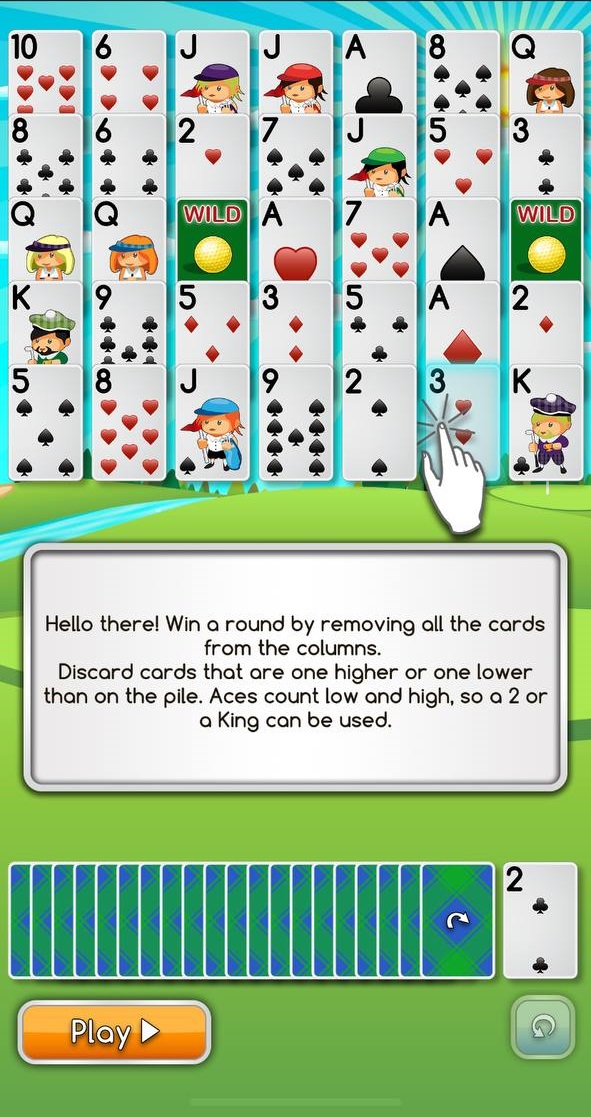 You may also check: 7 Best Meme Card Game Apps
Golf Solitaire Classic
And lastly, we have a classic version of the golf card game. The UI of this one is beyond simple, and the design of the decks is purely traditional. The image is crisp and clear so that you can read all the cards easily. There are even right and left-handed layouts, how cool is that?
The rules are classic as well: you've got multiple holes on the table and the gold is to complete the golf course. All the cards are faced down, and you need to clear all the pieces on the table to win the hole. It gets done by the strokes, just like in an actual gold game. And if you're not familiar with the game don't worry: there's a detailed beginner-friendly tutorial to help you out.
Above that, the game comes a bonus system that can drastically change the final score (just try to get as many boosters as you can). You also get unlimited undos to quickly fix all your mistakes. The game covers in-depth stats info, and you'll get to compare yourself with other users worldwide.