Do you know how lumberjacks live and work? What does their daily routine look like?
Well, now you can easily find it out. With these great lumberjack simulator games, you can make yourself a lumberjack for some time.
By the way, if you wanted to play cool simulators where you control everything, try 9 Best God Simulator Games for Android & iOS.
There are good options for iOS, as well as Android users.
Lumber jack Challenge Wood DIY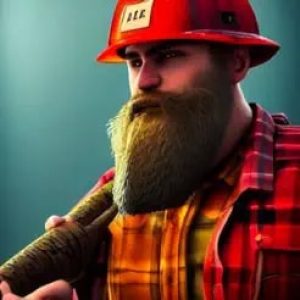 It's high time you tried to become a lumberjack, or at least to try this role. In this game, you will also work as a businessman. It means you will need to cut trees and also think about the development of your logging business.
Here are the best options you'll see in the Lumberjack Challenge:
Ride your car

and look for the trees to chop. Luckily, you will find yourself in the forest!

Chop the trees properly

. There are cut zones marked on the trees. Make sure you cut the tree in these zones. If you don't, they might fall on you or your truck. So be careful! Lumberjack's work is quite dangerous.

Do tasks.

It will make the process of the game quite interesting. However, you can also play in the free mode and do what you want.
This simulator game was designed for the iPad, this is why we recommend playing on this type of device.
You can download Lumberjack Challenge Wood DIY on the App Store, as well as Google Play.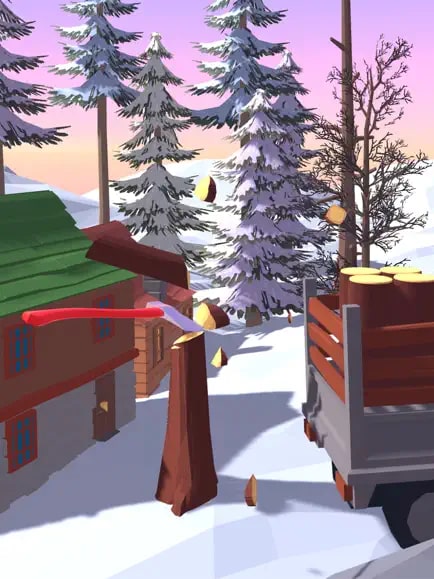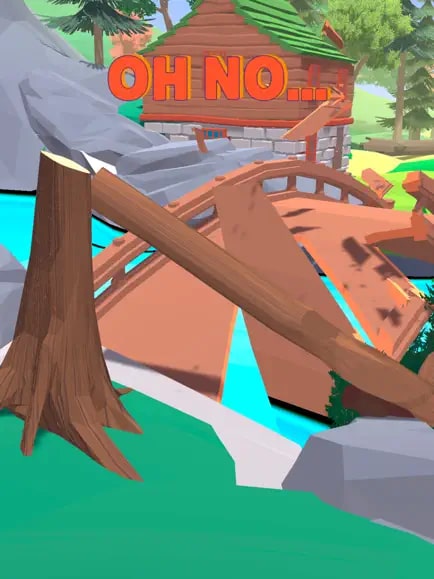 You may also like: 9 Best Army Simulator Games for Android & iOS
Lumber Mill Idle Farm: Offline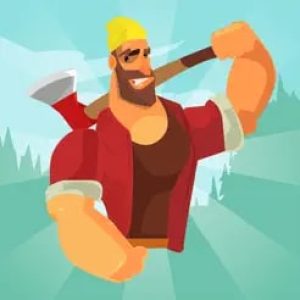 Here comes another great lumberjack simulator game! With Lumber Inc, you can do a great variety of things, from cutting trees to improving your instrumentals and running a logging farm.
This game is extremely addictive thanks to its multiple levels and tasks. Let's check what you can do:
You will find yourself in

a big forest

surrounded by trees. And you aren't alone here – there are other lumberjacks! Make sure you

coordinate your efforts

.

Get money

for each cut tree. This is the money you'll get for the sale. Still, the sale itself isn't represented in the game. This is why you get your money instantly.

Use the trees

you chopped to

make new things

, such as lumber and furniture. You can sell it later to gain cash and develop your farm.

Buy

boosters and bonuses

to speed up your progress. If you don't feel like gaining money and passing some levels yourself, boosters may come in handy.
As you see, the game contains ads and purchases. Still, you can easily do without paying, just download the app and enjoy your lumberjack work.
Both Android and iOS users can download the app and start playing at once.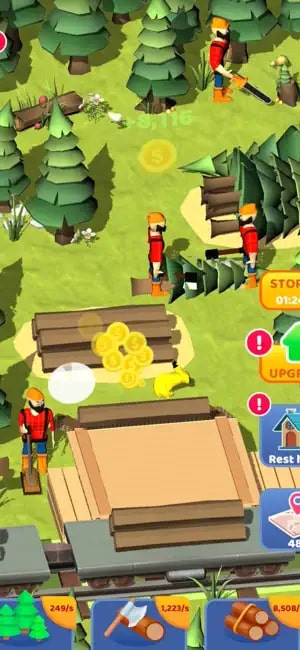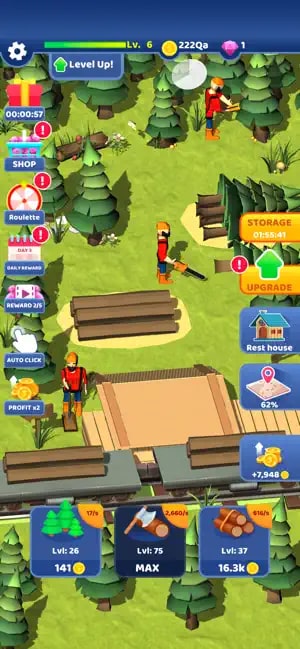 Wood Inc. – 3D Idle Lumberjack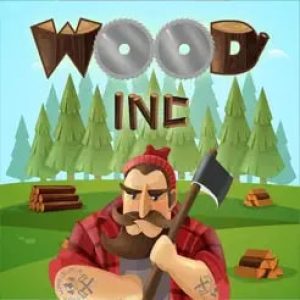 If you love idle simulator games, you will probably love Wood Inc. Here you have two cool opportunities – to try being a lumberjack and become a millionaire.
The graphics are far from ideal, everything looks a bit cartoon-like. However, the number of options is impressive:
Discover a vast forest

around you and think of the approach to work.

Check the instruments

you already have. At the beginning of the game, you will be given a basic axe. The more trees you cut, the better improvements for your tools become available.

You can't do a lot when you work alone. This is why

hire other lumberjacks

and manage their work!

Automate your work

. Use machines and top-notch tools to work less and earn more.

Sell wood and get money

. This will allow you to get rich if you manage to cut a lot and sell in time. You can use the money to buy additional tools or hire new workers for your business.
What is more, you can play anywhere you want, even when you are disconnected from the Internet. Play offline – the set of options will remain the same.
You can download Wood Inc on your Android or iOS device.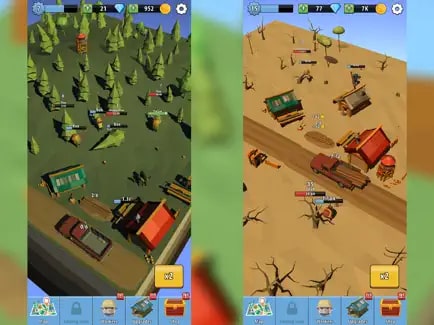 Irish Lumberjack 3D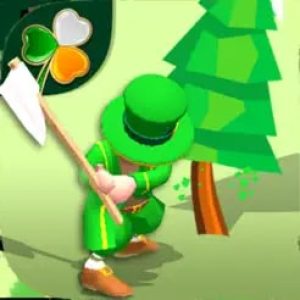 It's time to sharpen your axe and start cutting trees, just like a real Irish lumberjack. This is a simulator and a casual endless game at the same time.
What makes the game so addictive? First of all, it is endless, meaning you can play as long as you can. Secondly, you aren't limited by rules and missions.
Make a choice. When you chop a tree, you get a reward. There are two options to choose from – you can either upgrade your axe or sell the wood.faster,
Collect boosters and bonuses. They will help you to chop trees faster, at least for some time.
The game is 100% free of charge. Some ads keep the content available for you.
Both Android and iOS users can get Irish Lumberjack 3D and try to become a lumberjack.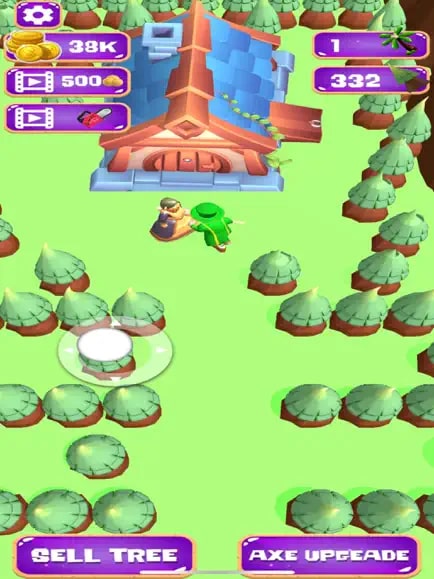 Lumberjack – axe simulator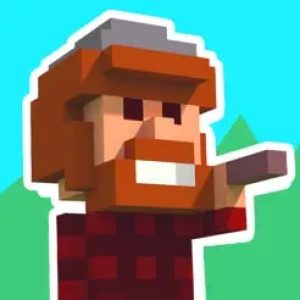 Here is a simple lumberjack simulator that will help you to reduce stress and have fun.
The graphics are quite simple, and this fact might disappoint some people. It looks just like Minecraft.
Here is what you can do in the Lumberjack axe simulator:
Cut down the trees

you will see in your forest! Well, this is your primary task as a lumberjack.

Use

a great axe

. This is a super tool that allows you to cut a big number of trees at a time. It is helpful when you need to cut and clear big land.
By the way, if you are interested in driving, make sure you read 11 Best Bus Simulator Games for Android & iOS.
Axe Simulator is simple and fun. You can get it on the App Store. We recommend playing on your iPad, as the game was initially created for a tablet.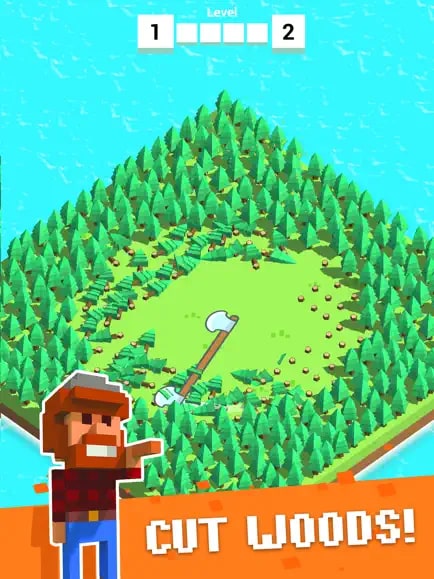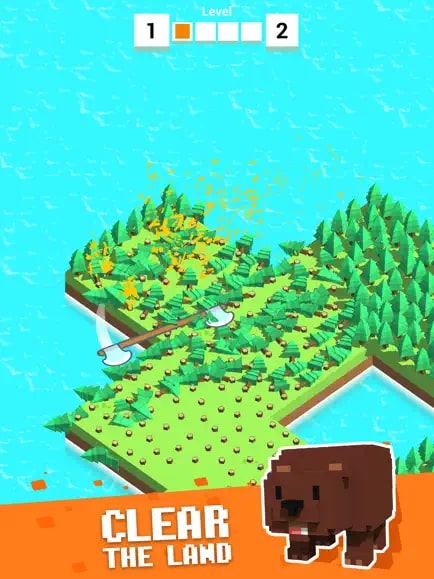 Lumberjack Simulator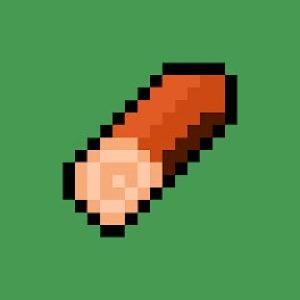 This game will be a good choice for you if you like Minecraft and games with super simple rules. Here you play for a lumberjack, and your aim is to chop down all the trees you see around!
You can do only two things:
Look for the trees

you can chop and cut them down. The more trees you cut, the better instruments you will get.

Move through the forest with your

green friend

. He will assist you in your lumberjack work.
The game is free of charge. At the moment, you can get it on Google Play only.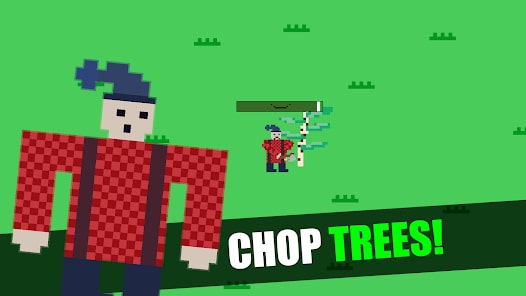 Lumberjack Simulator Truck Sim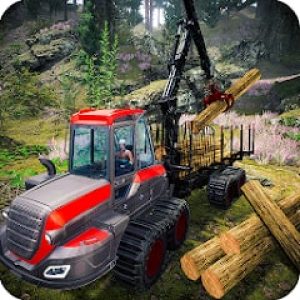 Now you can become a lumberjack and a driver at the same time! Here you can easily move through the forest in a huge truck.
In this game, an extensive set of options is available. Let's review some of them:
Enjoy

amazing controls.

You will be able to fully appreciate it when you drive the truck for the first time.

Find the

best physics!

In this game, everything looks so realistic, especially the fall of the trees and truck movements.

Make sure you use the crane of this huge truck. It will help you to cut trees much faster and waste less energy.
Upgrade your truck to make it more powerful and clean the land effectively.
Lumberjack Simulator Truck is free with ads and in-app purchases. Some users complain there too many ads, and they get distracted.
The game is available on Google Play.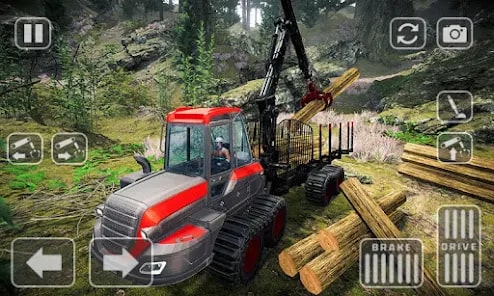 Cutting Tree – Lumber Tycoon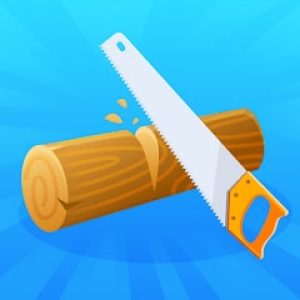 You know how hard it is to get through a vast forest full of high trees. Now you can fix this situation yourself!
Being a lumberjack is a hard task. During the day, you will need to do a huge set of things:
Discover new items.

There are knives, saws, axes, and other tools. The more trees you manage to cut, the better tools you will get. They will allow you to cut more wood at a time.

Do tasks.

Their difficulty increases gradually so that the game isn't too simple or too complicated. All the tasks are based on what you can already do.

Use machines and advanced tools. It is much easier than working manually using an axe.

Use the wood

you have collected. For instance, you can build a house in the forest where you could spend time and rest.

Cut the trees correctly.

The zones you can cut are marked. Make sure you follow the recommendations so that the trees won't fall at your and your houses.
There is a pretty serious disadvantage – the number of ads is too big. You can hardly concentrate on the game itself.
At the moment, you can get this nice simulator on Google Play.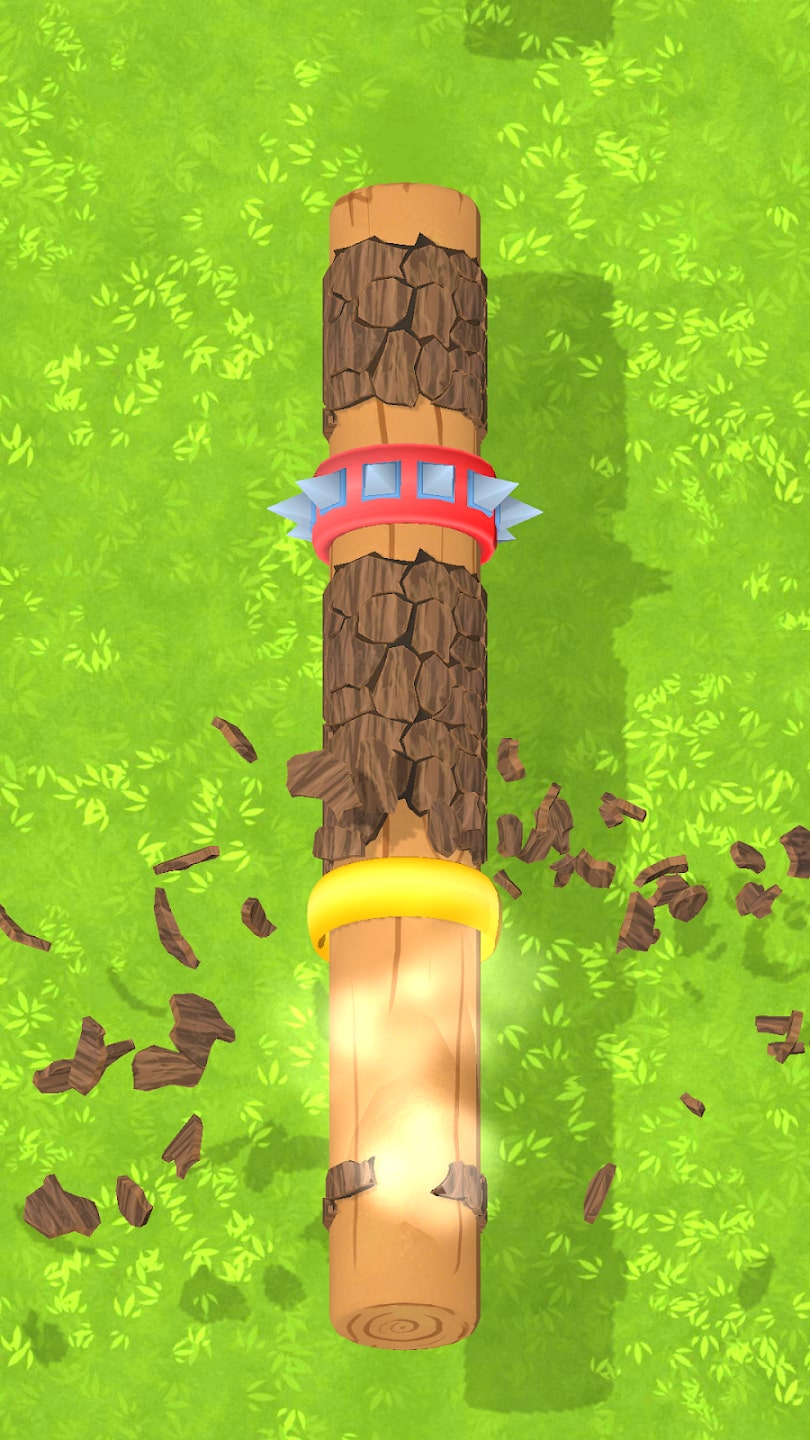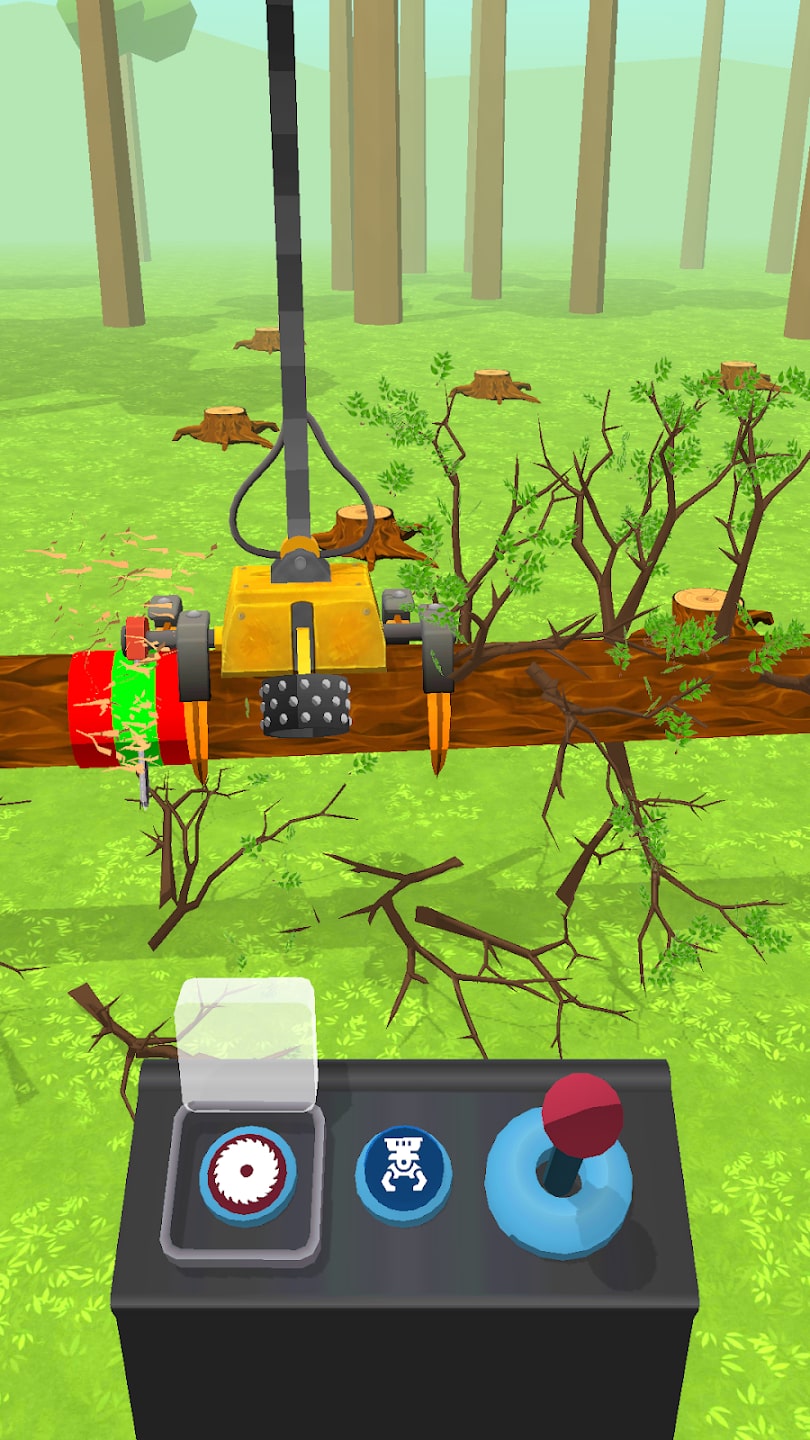 You can also check: 11 Free Construction Simulator Games for Android & iOS