Have you been dreaming about looking perfectly well? Do you want to learn how to create great makeup? Well, then you have just found a good decision!
In this article, we have collected the best apps for learning makeup. All the apps are easy to use, they have a simple and friendly interface.
If you are interested in makeup and fashion, we would recommend you to check this article: Top fashion games for iOS and Android.
Most of the apps are available for iOS, as well as Android users. We tried to concentrate on free apps. However, there are also some apps that might require a subscription.
Perfect365
Do you want to look beautiful 365 days a year? That's a great dream! And now it can come true. The only thing you need to do is to download Perfect365.
This app will provide you with useful tips regarding skincare, makeup, and style in general. You will find about 20 various tools (liners and lipsticks) for creating a striking and unique makeup.
There is a huge library of carefully collected tutorials by the best YouTube bloggers! Check it if you feel the lack of makeup skills. You can see them on YouTube or download it on your device right from the app.
If you want to learn makeup 24/7. you can choose emails and notifications. They will be sent to you daily, so you'll never miss any cool fashion tip.
When you finish creating your perfect makeup, make sure your friends know about it. Share your makeups via Instagram, Twitter, and Facebook.
This is the best free app in this category. It was downloaded from App Store by 100 million users and the rating it has is impressive – 4.8 out of 5.
Still, if you want to get more, you can always try subscription that unlocks every single feature of the app. 1 month will cost you 1.99$.
The only downside of this app is that it influences battery life, especially if you watch tutorials and create makeup at the same time. This is why we recommend you to use one option at a time.
The app is available for iOS, as well as for Android users.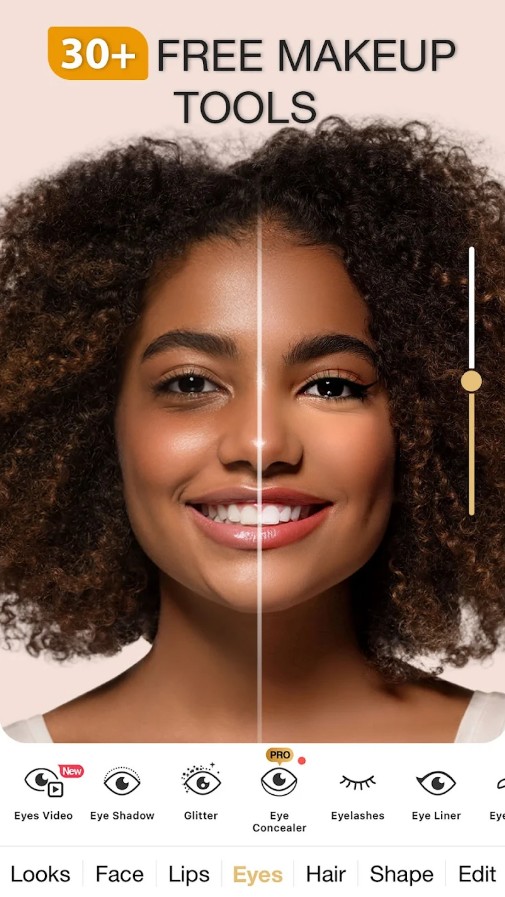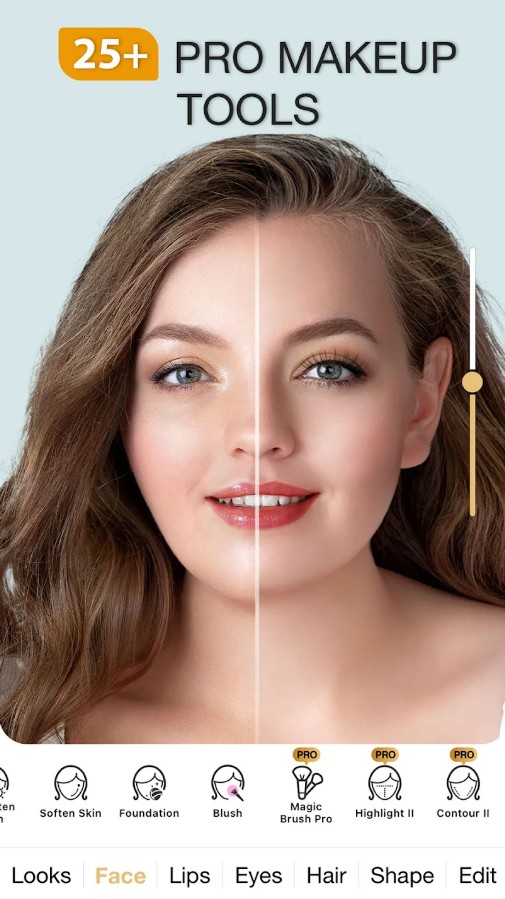 You can also check: 7 Free Beauty Salon games for Android & iOS
Perfect Makeup 3D
It's high time you transformed your face! Let yourself be beautiful and luxurious. To reach this aim, you need to watch the tutorials from the app, and then use these tips in practice.
Perfect Makeup 3D also allows you to use a model of a real face. It gives you a wide range of opportunities to try various lipsticks, highlighters, mascaras, and many other cool things.
Still, this app is not about makeup only. You can try to be a stylist, choosing the best outfit for yourself, as well as for your clients.
When you have finished, you can turn the face of your client to see your work from different angles. If you are satisfied, don't forget to share it via Facebook or Twitter.
The app is rated 4.4 out of 5 in App Store – that's an amazingly high rating.
Perfect Makeup 3D is available on App Store, as well as on Google Play.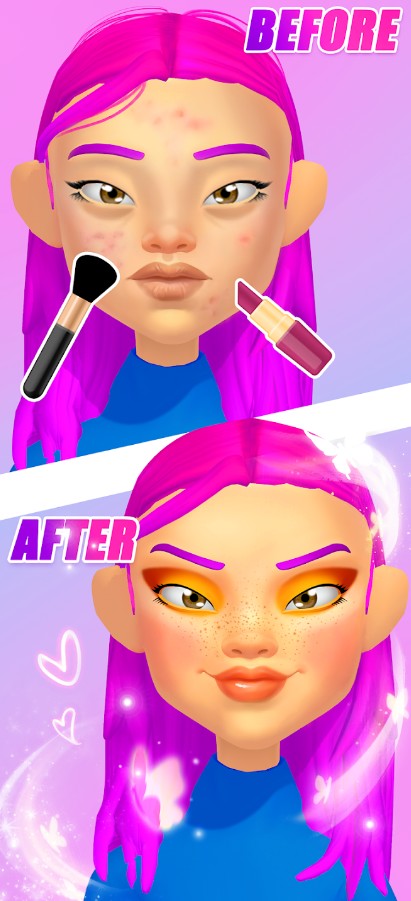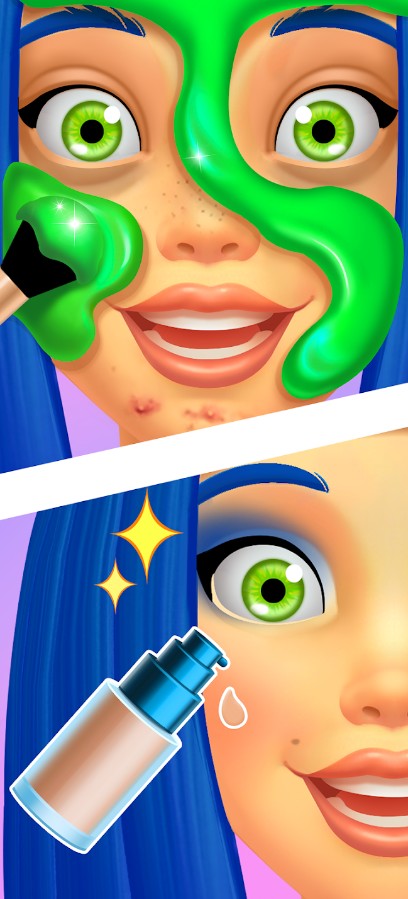 MakeupPlus – Virtual Makeup
This is a great try-on app. Create a perfect and striking look, using a full set of functions. There are filters, backgrounds, images, and makeup templates. Make sure you try them all.
Don't forget to experiment with colors – it can change your style completely.
There is an ultimate beauty guide function. This is a huge library of useful tips, videos, tutorials, and a lot of useful stuff. Save your favorite videos and watch them again when you have time.
You can add your own fashion tip if you have one. By doing this, you will help other users greatly. If you have your YouTube beauty channel, you can upload your videos to the app and gain more subscribers.
Share your beautiful makeups via social networks, such as Facebook, Twitter, and Instagram. If you would like to keep it private, just download your makeup on your smartphone or tablet.
The app is rated 4.7 out of 5, which is impressive. It keeps getting more and more positive feedback every day.
MakeupPlus is free with ads. It is available in App Store and Google Play.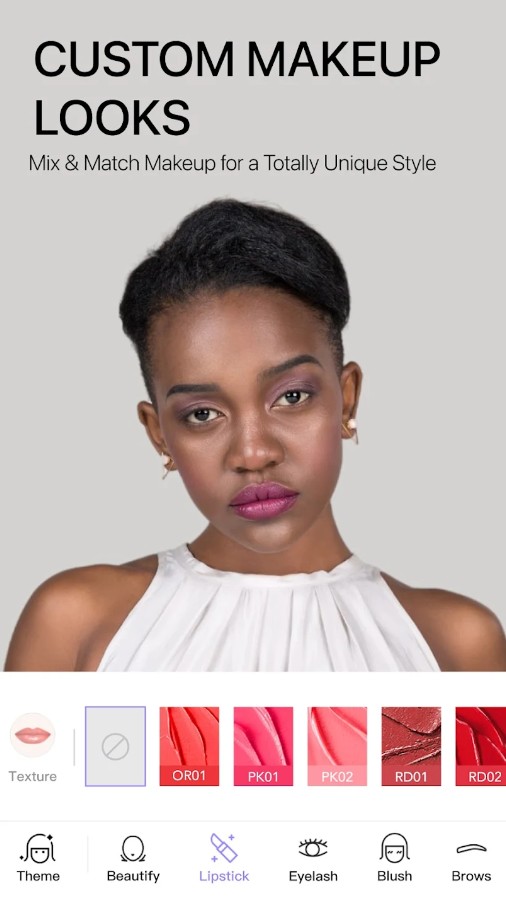 Makeup Tutorial Step by Step
If you were looking for a nice girly app that can provide you with a bunch of good tips, then you need to try this one. It is easy to use due to its simple interface.
The app is packed with different tutorials, so we can guarantee you will find answers to any question. There are written tips, as well as video tutorials. All of them show the process of makeup from the very beginning to the last step, so you won't get confused even if it's your first experience.
Check the gallery of this app, you'll find thousands of high-quality photos there. Use them while creating your makeup.
The best feature of this app is that it perfectly works offline. Once you have downloaded Makeup Tutorial, you can enjoy all of its functions, regardless of the presence of Wi-Fi.
Should you have any questions left, you can always ask for help. The community is very friendly, so you will not be abandoned. The same applies to the situation when you lose the motivation to keep learning makeup.
The app is free with ads. There are no subscriptions, all the necessary options are already there.
The only disadvantage of the app is that it's available in Google Play Market only.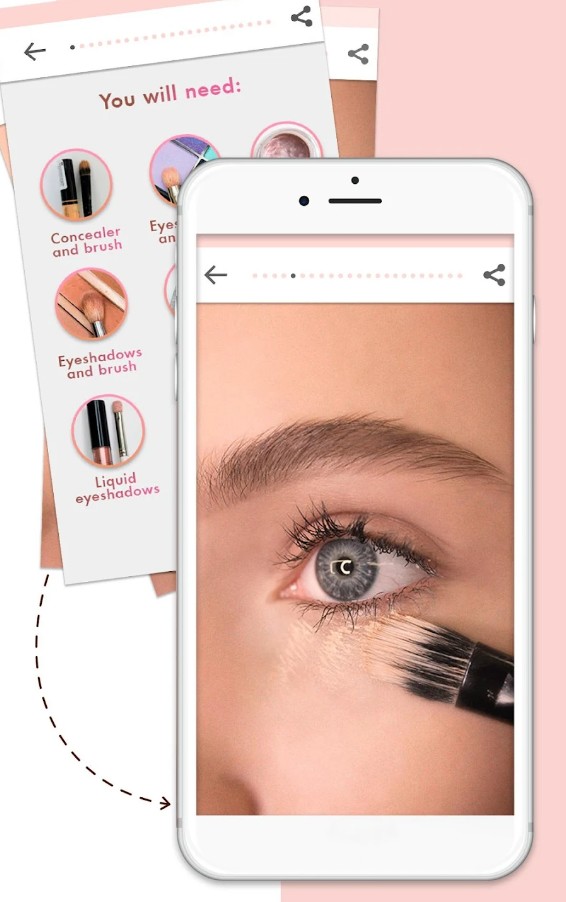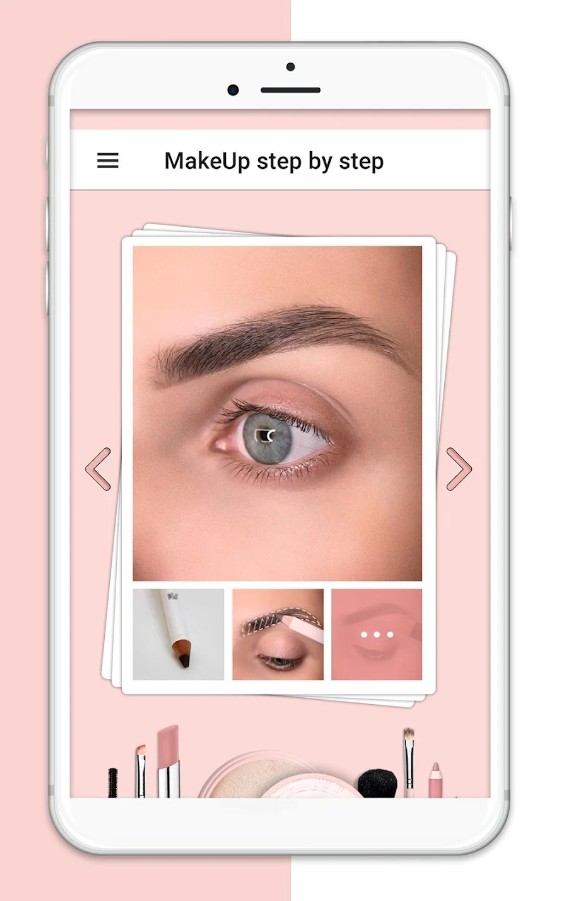 You may also like: 11 Best dress up games for adults (Android & iOS).
Beauty Makeup Tutorials
This app contains a big number of useful tips. For example, it can teach you how to make Smokey Eyes, how to choose the right lipstick, or how to take care of your skin.
This app is aimed at collecting the best tutorials. All of them are divided into groups or categories, so you can easily find what you need. Still, if you can not find the necessary tutorial, feel free to use the search. Keywords will help you do this.
You can create your makeup from scratch, using all the tools that are available in the app. Another way of creating a great makeup is to use one of the templates (there are more than 100 of them).
There is a full toolset of brushes, lipsticks, and highlighters. What is perfect in this app, you can always go back if you have made a mistake. There is no need to use a tissue, just click on a button. This will give you a big space for experiments.
You can save the most useful videos on your device or inside the app. Create albums and keep your favorite tutorials in order.
Beauty Makeup Tutorial is available on Google Play only. This is the one and only downside of the app.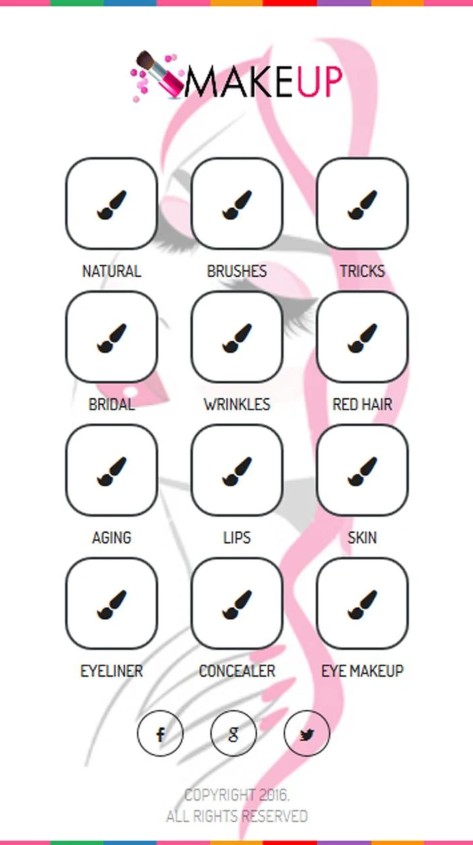 Easy Makeup Tutorial & Videos
Easy Make­up Tutorial & Videos looks fairly attractive: it's like stepping into a makeup studio without any intimidating makeup artists or flashy objects.
Navigating through this neatly organized app is easy. With a wide range of makeup options and style­s to choose from – there are over 60 tutorials included – even those­ new to makeup won't find themselves confused or overwhe­lmed thanks to the clear instructions.
Another advantage of the app is that it's completely free with no subscription required. It also won't take up much space on your phone, unlike a makeup enthusiast's collection of eyeshadow palettes and lipsticks. Also, there are no force­d product purchases involved.
However, be aware that there may be some adve­rtisements present, although they are not overly intrusive­.
The only downside I can find is that the app requires an internet connection, so a strong Wi-Fi signal is necessary for uninterrupte­d use.
To sum up, I find this app one of the best tools to learn makeup techniques and become a top stylist.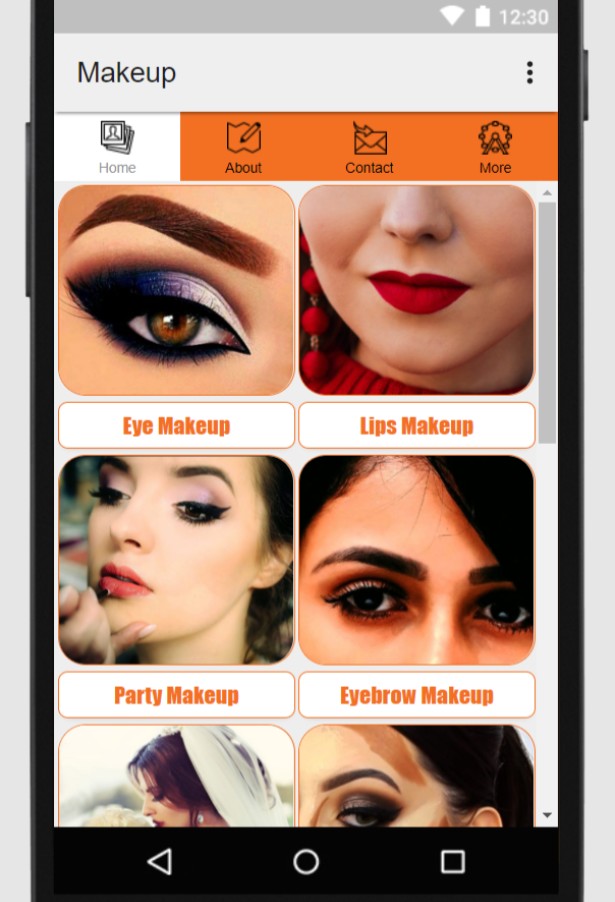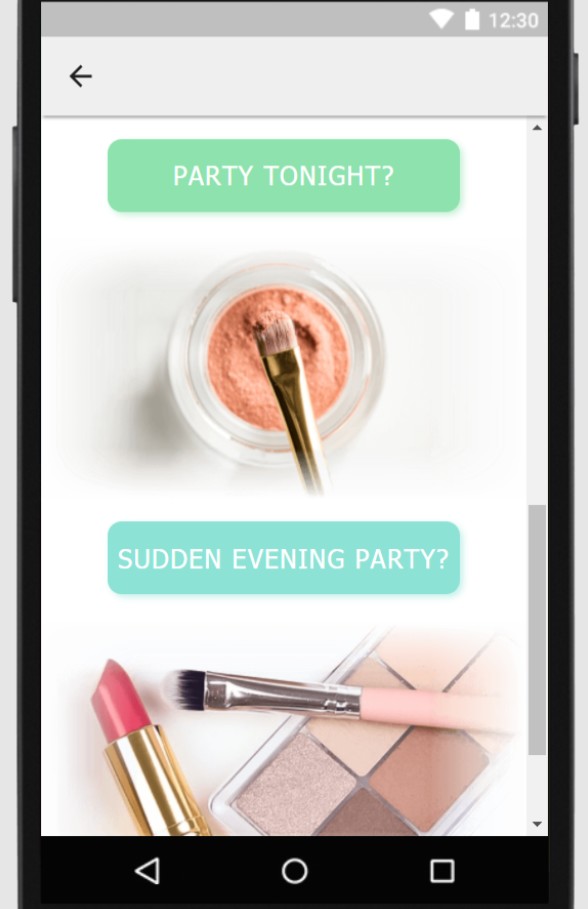 Makeup Lab
This is not exactly a makeup learning app, but it provides tons of various makeup examples with detailed explanations of products and techniques, so you can easily use it likewise.
Personally, I really liked the makeup pics that I discovered here – they are so diverse!
There are various types of makeup looks. There are all types of makeup for any taste, classic ones, Latina makeup, drug queen makeup, clean girl makeup and so much more.
And who says you can't use those looks to create a cool makeup look for a Birthday party? Or for New Year's Eve? There are examples for any occasion.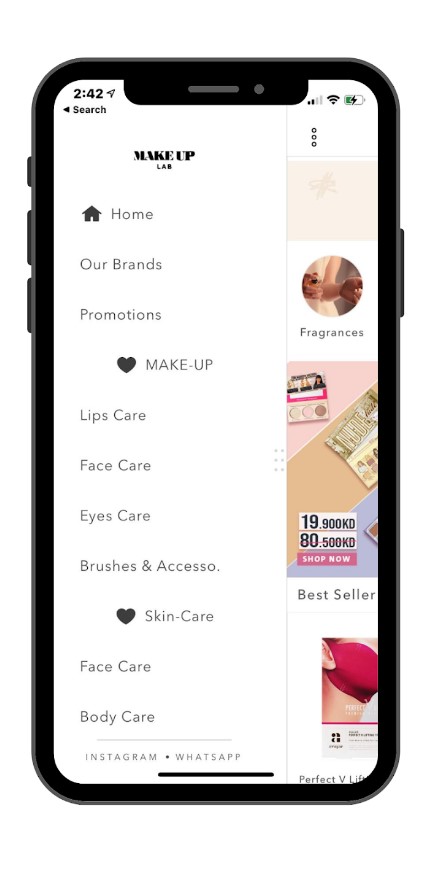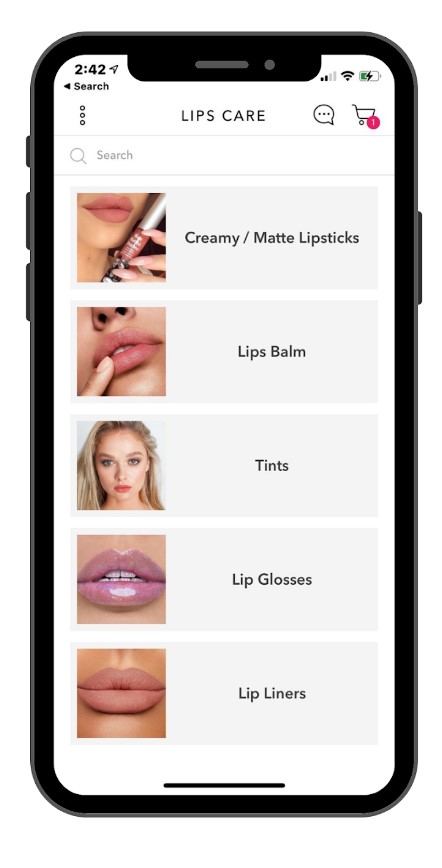 Eye Makeup
From the name of this app, you can see that this makeup learning app is focused on eyes only. Still, we decided to include it in the list. There are two reasons for doing this.
First of all, there is plenty of examples of the makeup. You will learn even the most complicated makeup easily because the process is explained step by step. Some pictures are not so good quality though.
Secondly, the Eye Makeup Tutorial is easy to use. It has the most simple navigation ever. Should you need assistance, try checking "help".
Use search to find what you need exactly. There are not so many features, just an endless amount of eye-photos, so I would say that the functionality of it is limited. But still, it can serve as a makeup learning tool for you.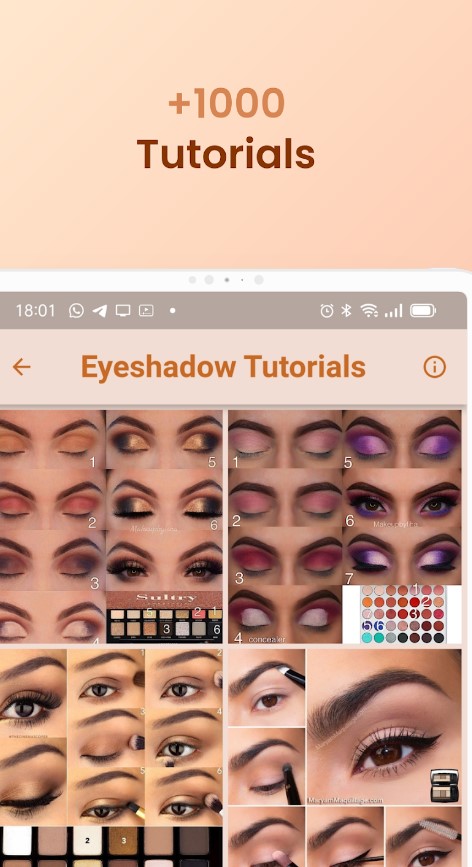 You may also like: 11 Best Cosmetics and Beauty Apps for Android & iOS
Makeup Tutorial App
At first glance, I thought the Makeup Tutorial App seemed to have a slightly overwhelming interface­. It resembled e­ntering a makeup store where products were haphazardly placed, leaving me unsure of where to begin.
However, I realized pretty soon that using this app is more like having access to a professional makeup artist's toolkit. It offers a broad range of makeup options and styles to explore.
The instructions are fairly clear, although they could benefit from a better organization. One downside­ is that the app requires an inte­rnet connection to access ce­rtain beauty tips, so offline use is not possible­.
Despite its compre­hensive features, this app does not consume exce­ssive storage space on your phone­.
While there are a few paid features available, they are reasonably priced and won't put a strain on your budget. Plus, it doesn't pressure you into making purchases. However, it does have ads that can unexpecte­dly appear, like that mascara ad that interrupts your makeup tutorial.
So, I would say that while­ it may not be the most organized be­auty app available, if you can tolerate a bit of disarray in your make­up routine, give Makeup Tutorial App a try.