You won't hear anything new in a statement that we live in a dangerous time. Tensed political, economical, and especially environmental situations provoke acts of aggression in different ways.
The most devastating example – mass shootings in the US. Many adults and children are injured or killed. Besides, even in better times, it is good to be prepared for the worst.
You may also like: 11 Best Heart Rate Monitor Apps for Android & iOS
So provide yourself with a safer life with the emergency medical record apps. If something happens, you will always have the essential information about your health on the screen of your phone. What is more significant, medicians and rescuers will be able to use it to maybe, save your life.
ICE – In Case of Emergency – Medical Contact Card
Everyone can get into the situation when we need urgent help. Unfortunately, most of us consider it will never happen to them, but the fact is that life itself works in a way that anything can happen. Each tool can be useful in an extreme situation, including an app.
In this ICE app, you can create your emergency contact card and all the necessary information about your health aspects. All this info will be displayed on the screen of your phone without the need for unlocking.
People will find their contacts, your medical conditions, including blood group, emergency contact number, etc. In other words, everything, that you may need to get the right kind of help in an extreme case.
You are able to add to the app not the basic info only, but also notifications about your allergies, medicine, and disease. In addition, there is an option which is called "passcode".
It is a special encrypted block with the contact information of a person which is extremely important to you. To unlock it, you need to know a unique password or encryption.
Other details like your vaccine history, physician contact, and insurance may also be stored in the app and may come in handy when receiving medical emergency help. You may ask, how exactly people get access to the info?
They will see a notification in the corner of your screen and can tap on it. The Medical ID ICE App currently offers support for 6 languages: English, Italian, German, Dutch, French, and Polish but will include more upon request from the users.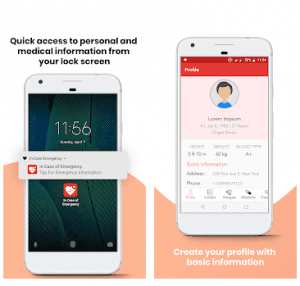 You may also like: 5 Best Health insurance apps for Android & iOS
Medical ID Record
It is always useful to have a medical record app in case of an emergency case even if nothing threatens your life. It will always be easier for you to explain yourself faster to a doctor, plus you won't forget anything essential. As you open the app, you can see several sections.
There you can see various details, starting from your blood type, Diabetes, Height, Weight, ending with organ donation info.
In medical conditions, you can list any significant features of your health. Hospital visits will help you to track all your hospital history. If a person has a certain reaction to some products it can be recorded in the app.
In the app settings, you can choose whether you want to keep an icon on your blocked home screen or not. When you do, there will always be a short table on the blocked screen of your phone, listing the essential parameters about you.
What is more, it is possible to add PDF attachments to the app. The app can be controlled by voice. All the contacts of your closest friends and family in case of emergency situation will be saved in here as well.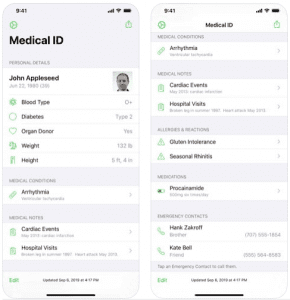 Doctor At Work (Plus)
This app could easily replace a patient's electronic medical card. The system also tracks hospital visits, your medical care bills, Rx printer, and incomes/expenses report. This app will help you to document the history of your treatment, it manages your check-ins to the doctor, monitor your expenses for medical care.
The usage of the app is completely safe. It has the safety PIN code. All the information about a patient is well-structured and organized. Moreover, if you have any kinds of previous medical records in audio, video or text formats – the app can read all of those and display it for you.
Besides, Doctor At Work contains a number of medical forms and templates which help to save tons of your time. In case you are a representative of a company using this medical app – you can add your logo and business sign to it. The interface is nicely organized and easy to usage.
In case of emergency situations, you can always use basic medical records. You will find them in the app. You have probably already noticed that this app contains a little bit more functions than the previous one, but it can be even more convenient – when you have an extreme case, the medicians can find detailed information about your previous treatment.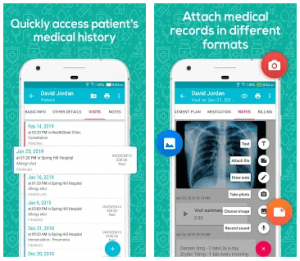 Emergency Contact Data
When you put your crucial medical data in this app for emergency cases, it is stored on your device within 5 seconds, worldwide, 24/7, without the Internet. This way if something happens, the medicians will always have all the necessary facts about you. When you are in shock or unconscious you can't speak, but the app can speak for you.
The immediate display helps first responders and medical personnel provide the most definitive care possible. This is a huge advantage in dangerous cases and can play a significant role in your life. And in addition, it is always useful to keep track of your medical procedures since it reduces your expenses on it in the long term, not speaking of serious health problems in the future.
The app can also be useful not only in emergency situations. You can use it in your regular visits to the doctor, to check some facts or compile a form. The immediate display helps first responders and medical personnel provide the most definitive care possible.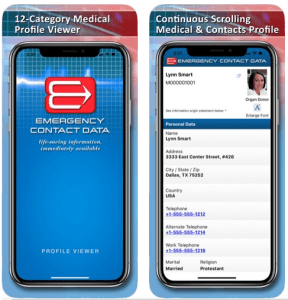 Emergency Medical Form
You know it is, right, how important the first medical aid in saving someone's life? If you have a healthy lifestyle without exposing yourself to risky situations it is still useful to be secured all over. The Emergency Medical Form is irreplaceable in emergency situations when every second is vital for your health and life.
In situations like these, medicians usually ask you a standard set of questions. The app helps you to fill some of them in advance.  This app is multi-functional and can be used by both public and first responder use, EMF to help individuals, families, senior citizens, and first responders.
Don't think that if it requires the filling of medical forms it is complicated to use. For better efficiency, save important medical documents, such as your latest EKGs, healthcare records, paper forms, and more.
EMF allows you the ability to store your medical information, making it available to first responders in your area, so you're always one step ahead.
And don't worry that the information you put into the app is going to be leaked or stolen. The security measures, used by the app are relatively safe. All the forms in the app are printable so if you see someone around you need this form, you can easily print it out.
Via the app, the doctor and the patient can quickly pass the forms to each other. This version of EMF is only available to first responders and emergency agencies such as fire departments and ambulance services and allows you to modify based on their department needs.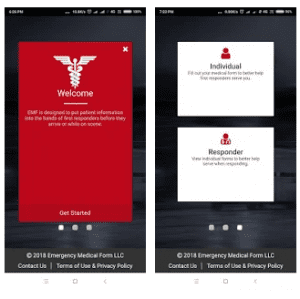 ICE Medical Standard
This is one of the most popular apps in this sphere. It was even shown on The Rachel Ray Show by Self-defense Expert and Former CIA Officer Jason Hanson along with useful tips on how to use this app in emergency cases and ICE Medical Standard could save your life.
This app displays all the important health information on the lock screen of your smartphone. If you are in an accident, first responders, EMS, EMTs, FEMA, and ER staff can find your emergency medical contact information by just looking at the screen of your smartphone.
The app includes the base of more than 14,000 hospitals, medical clinics, medical schools, and visiting angels – America's Choice in homecare and living assistance services. Over 550 franchise offices across the United States are recommending and listing ICE Medical Standard App on their Websites and Emergency Pages.
There are 3 levels of Color-Coded Medical Status. The first responders or the medical crew will be able to see them on the screen of your smartphone to see immediately your current state (since it matches the medical system of overall state estimation).
The red color is the worst condition status. The yellow color is a medium risk status and means that this person needs to speak only to medicians. The green color is "good to go" status.
However, it's always up to you to decide whether you want to show or hide your personal information on the screen of your phone. You can set these options in the app. By the way, it is already used by more than 100 million people in the US.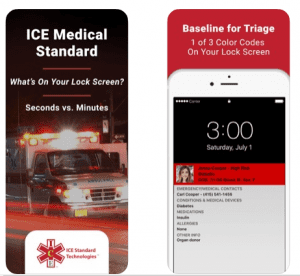 iCE Angel
Lately, the issue of having a weapon has been widely discussed and you can guess why. Mass shootings took place at several cities and took dozens of lives, including children. It's not the best choice to believe in the worst scenario but staying prepared is always better.
At least if something terrible happens, you will get a chance for a fast and effective medical aid. Thus, you will save not only your life but also the lives of others, since doctors will get more time to take care of others.
In fact, emergency cases can happen anywhere. So stay prepared with this app. In extreme cases, it will allow you to react immediately, with a panic button on your phone and smartwatch for rapid self-activation.
Moreover, an emergency QR code displayed on your phone lock screen, or a wallet card that any rescuer will be able to scan to activate the alert button. This will also make the app call your family.
The notifications can be also sent via email, Facebook Messenger, and website notification. It is better to mark all your allergies and diseases in the app so they could be viewed by doctors if needed. It will accelerate the medical help that you might need.
Your insurance will be also contained in the app which is very convenient and time-saving. Especially in the US where healthcare is incredibly expensive.
Blood type, allergies, medication use, immunizations, medical conditions, surgical history, family medical history, and organ donor status – all these facts will play a significant role when giving the first aid to you.
Besides, the app has an option Emergency Wallet where you can put some amount of money which will be used for the medical first aid. Encode it so only you and your family members have access to it. If you want you can add the profiles of other members of your family so they could get the first aid fast as well, with the help of this app.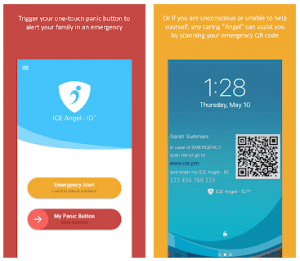 You may also like: 11 Must-have emergency apps in 2020 (Android & iOS)
MTBC PHR
This app is more difficult to handle so its interface hardly can be called user-friendly. On the other hand, with this app, you can always be sure that in an emergency case doctors will be 100 percent able to provide help for you. This app is able to record all your medical statistics up to the tiniest details.
What is more, MTBC PHR includes much more functions than other medical records apps – here you will find appointments' booking, it allows you to store in the app all the documents related to your medical history.
Thus, when you visit the doctor, you can ask them to duplicate all the records to the MTBC PHR, so you always have the complete medical info with you.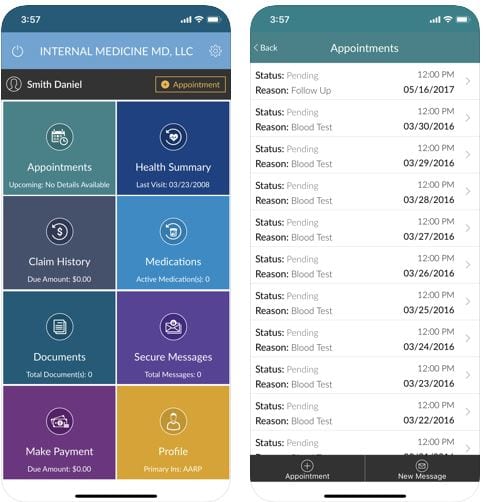 You may also like: 33 Best Health Apps for Android & iOS
Microsoft HealthVault
A few people actually know but Microsoft also has its own medical records app that you can use for emergency cases as well. It stands out with a little bit different interface – because it's an app from Microsoft, so you will have to et used to it. You will need to create your profile here and then fill out all the necessary sections with the information about yourself.
Which kind of medicine do you take? Do you have any special food and medicine intolerances? Which routine do you usually take? Put all that info into the section so in an emergency case doctors could easily read it and provide the necessary help.
Additionally, the app also serves with a chronic medical history and insurance information at the time of an emergency.  By the way, even though this is an app by Microsoft it slowly becomes one of the most popular apps on the market.