How often these days we share photos, selfies or just images of beautiful nature on the Internet! Our current social networks are based mainly on visual content – that is, on pictures and drawings. Now it's hard to surprise someone with an original photo or find something unusual in your Instagram tape.
However, if you want to stand out from the crowd, you can easily do it! Among the hundreds of funny masked selfies, with effects and Photoshop applications, it turned out to be easy enough to do something different. Remember the breakthroughs you've made in the past with paintings, sketches and even comics.
You can turn your pictures into something like that! You should agree that it is rarely possible to meet someone's image, made in the format of a sketch or comic book. We are not talking about drawings with paints, as such effects have long ago become basic.
We offer you to convert your photos into real sketches in just a couple of clicks! We present you 11 best and most importantly free apps for your smartphone, which will allow you to become a little bit of an artist.
You may also like: 11 Free Photo Sketch Apps for Android & iOS
Sketch Me! – Sketch & Cartoon
The name tells you that you will get the desired effect as a result of your work. If your smartphone is based on Android and you do not want to install applications that are overloaded with various functions, Sketch Me is perfect for you. Simple and easy to use, it won't disappoint you.
Your pictures can now be drawings, cartoon screenshots or comic book clippings. All these effects are presented in the application gallery and you can use them freely. As for the sketches, there are several variations available to you.
For example, you can use white and black strokes, pencil sketch effect, as well as color sketch. You can adjust any of the filters by intensity and shade.
Even though the application is free, you can buy the Premium version. It will not show ads. But editing itself does not require any attachments.
You simply upload a picture from your gallery or take a picture with Sketch Me and choose the effect you want.
The app will save both the original photo and the new version of it. Sketch Me allows you to fully control the process of editing and applying filters – just adjust the intensity sliders to your liking.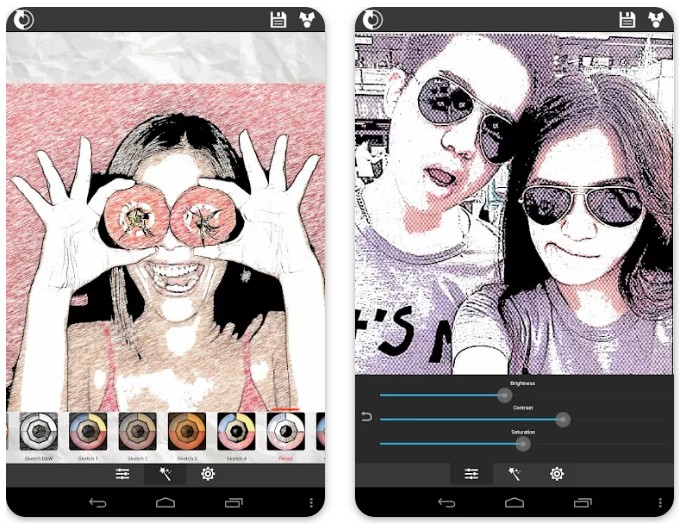 You may also like: 11 Best graph paper drawing and digital drawing apps for Android & iOS
Clip2Comic & Caricature Maker
Clip2Comic & Caricature Maker is an excellent and high-quality application that gives you a lot of room for imagination regarding the editing of images. Turn your photo into a comic book, sketch, or any other variation. Using some tools in deformation mode, you can even turn a photo into a caricature or a professional cartoon!
Interestingly enough, the application is not only designed to work with photos. You can do all the same manipulations over the video. Download the video from the gallery of your phone and after processing you will get a full cartoon with your participation.
In the photo mode, you can work through each section in more detail – down to the smallest line or stroke. The app is designed for Apple technology, so you can edit not only with your fingers, but also Apple Pencil.
You get really good quality final pictures. Videos support a maximum of 1080. Speaking of which, we talked about printing the resulting sketches, didn't we?
Clip2Comic is ready to take on even this part of the job! The developers actively cooperate with MyPostCard.
With this service you can get your sketch for less than 2 dollars – and that's with delivery! Don't miss your opportunity to get a quality and beautiful work.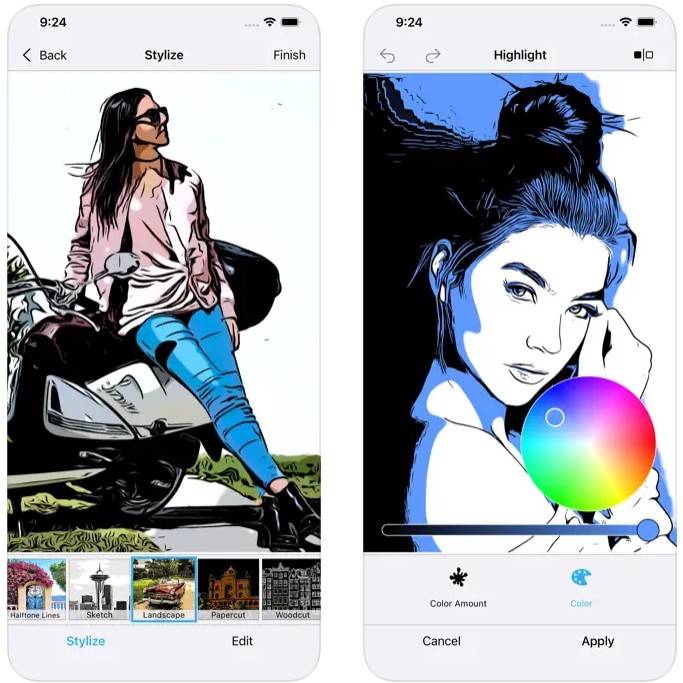 Photo Sketch Maker
A great number of functions is not always good. If you really only need to create a sketch from a finished image, Photo Sketch Maker offers you only the features you need. It may sound strange to some, but the app only gives you a couple of options, such as trimming your photos and converting them into images.
Photo Sketch Maker has several types of thumbnails that you can apply to your photo. These include standard variations such as pencil sketches, which can be adjusted in terms of intensity, tones and colors, color, or a more modern cartoon style.
There is also an opportunity to apply the "water" effect. It is very similar to posterization and perfectly conveys the color scale of your picture.
Directly from Photo Sketch Maker, the result can be uploaded to your social networks or simply saved in the gallery. An application folder will be created automatically where you can see all your work.
One inconvenience to note is the ads. In fact, it is possible to remove them only by means of payment. But it is worth noting that they do not affect your work with photos and do not interfere, so that the purchase is completely unnecessary.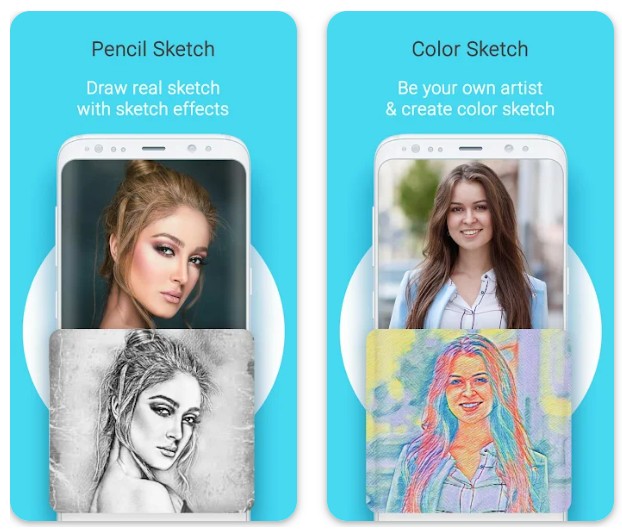 Pencil Sketch Photo – Art Filters and Effects
An app that allows you to make your photo a pencil drawing, portrait and sketch. This is easily done by selecting your picture in png, jpg format. Transform your photo into a picture made with a pencil, and then, if desired, color it, feeling like a real artist.
To do this, you only need to select a photo in one of the above formats from the smartphone gallery or take a photo right now, using the camera, and then make a drawing, thanks to the Pencil Sketch Photo Maker app.
The new version of the app has added even more different styles for sketches, as well as drawing. Therefore, you have the opportunity to choose a style to your taste from those presented in the app. Save the converted photo to your gallery, then share this masterpiece with friends, family or show them to others in social networks.
Advantages of this app:
Two formats for creating hand-drawn images.
Smooth, realistic sketches.
Tools that are imitations of hard pencils for drawing by hand.
The choice of many different pencils.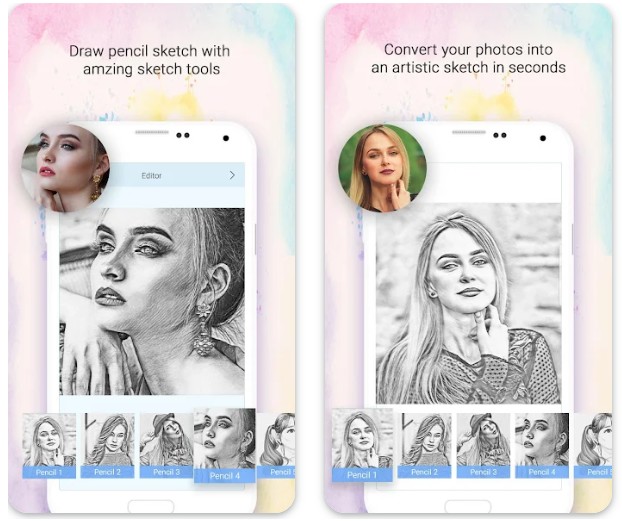 Enlight Photofox: Digital Art
The images that have been processed with Enlight Photofox look like real works of art. Users can start editing photos even without any knowledge or editing skills. The application will help you to learn how to handle the processing from the most basic parameters – from brightness and contrast to exposure.
In fact, Enlight Photofox is a full-fledged photo editor, which partially has artistic functionality. Many people, installing it, do not even realize that they can actually use something more than the effect of soft light.
Converting a picture into a sketch, drawing or sketch can be done in the application in a separate window, where you will be working. In addition to the sketch effect, you can use other artistic effects – such as a color glitch, for example, as well as other color "failures".
Such processing transforms your photos into beautiful images that will accurately impress your friends. It is worth noting the possibility of working in layers. So you can apply several effects simultaneously, creating a double image.
You can share your results with other Enlight Photofox users and also take fresh ideas for processing from them. Edit TIFF and RAW – this feature is available in a small number of applications and Enlight Photofox is one of them.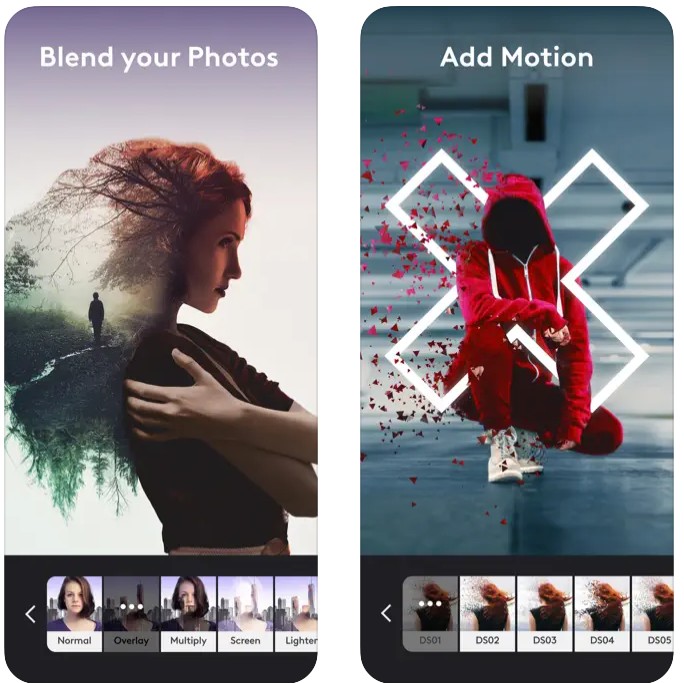 You may also like: 10 Free anime drawing apps for Android & iOS
Prisma Photo Editor
In order to create a really beautiful image, you do not need to be able to draw or have a great talent. Prisma is a unique application that has been developed based on paintings by great artists. Every day, developers add new and improved filters, each of which can be attributed to a certain style in the art or even a certain person.
The application works with purchases available inside. It is presented in such a way that you can use any filters from 2 basic collections free of charge, and already more interesting and artistic require a paid subscription. It is worth noting that the free collections also have a stylization for sketches and paintings of great artists – there are simply fewer of them than when purchasing a Premium account.
Prisma itself is easy to use due to its simple navigation and intuitive interface. For example, you can easily find the style of a comic book or sketch you need without spending countless minutes on it. It's worth noting the quality of the result.
In the free version, the application saves your snapshot with the lowest resolution, and editing by subscription allows you to work with HD quality. Of course, it's not much noticeable on your smartphone screen, but if you plan to transfer the photo to a wider screen – take it into account.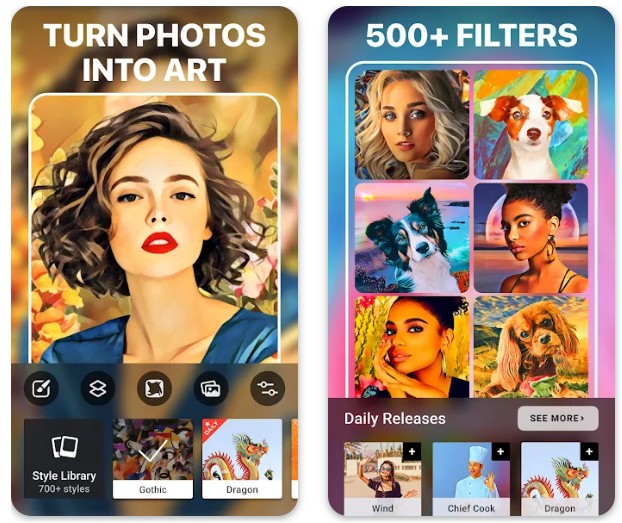 Photo Lab: Face Picture Editor
As a fan of more rough drawings, the Photo Lab is what you've been looking for. The app works perfectly with large format images and all the photos you take with your smartphone camera.
Also on the home page the developers immediately show you what they can do with the pictures. There you can see examples of real-world works that were implemented in Photo Lab.
The number of effects in the application is impressive. As for the sketches, they can be made in different techniques and using different materials – for example, with the help of charcoal, pencils or even gel pens. Of course, there are also standard effects with oil painting, watercolors and other artistic techniques.
All navigation in Photo Lab takes place at the bottom of the screen. So you choose effects, as well as basic tools – such as trimming, drawing and so on.
In the list of effects Photo Lab immediately shows you an example of an application – the collage from the original image and the edited one is displayed. All available tools are in the Thumbnail and Picture category – that's exactly what you need.
In case you're not editing your own photos, but pictures or animated images, you can use the smart Smart FX feature built into your Photo Lab. If you use it, you will be shown all the images similar to yours. You'll need to have internet access to use the app, but if you want to share a photo, you'll definitely have one!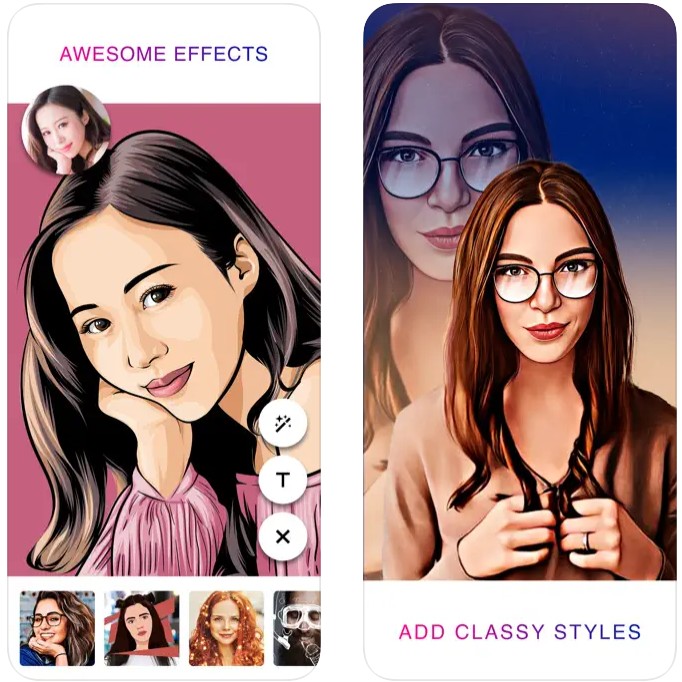 Pencil Sketch
Most often, sketches are drawn in pencils. This is because pencils are the most accessible and cheapest option that a person can always have at hand. Regardless of the color scheme of your photo, you will be able to feel a bit like an artist anyway.
And just before you start, you'll be able to apply the "auto-improve" effect, so you can smooth out all the drawbacks of your shot (if any) and balance the colors.
Pencil Sketch has a total of 4 modes of operation. It's a sketch, comic strip, pencil and Doodle. Each of them is guaranteed to belong to the sketches and you can adjust the style according to your wishes. The sketch fully embodies the style of the sketches in their standard sense – bright images with clear contours.
Doodle looks like a colorful cartoon, whose style you can find in almost any animation. We don't think you should talk about pencil much – you all understand perfectly how sketches drawn in pencil look like.
The comic book style is applicable to any photo and gives great results in the photos – if other effects are not always perfectly applied to the photos, the comic book does not give a mistake.
You can also draw yourself directly in Pencil Sketch if you want – but it's much more convenient to turn your photos into drawings and not to waste time, but to get a good result right away.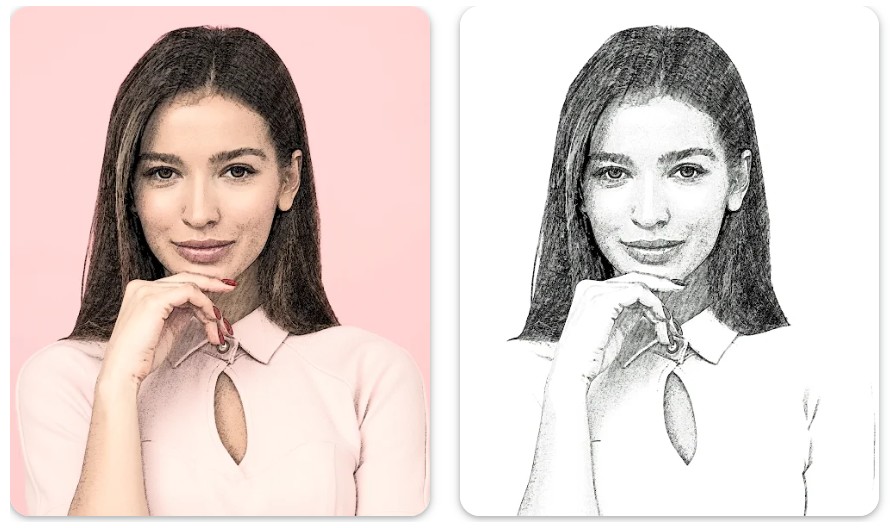 Varnist – Photo Art Effects
Varnist uses neural networks and artificial intelligence to generate new and modern effects for image processing. With this application, you can convert photos into beautiful images that are hard to distinguish from images in real life. However, Varnist has several important nuances to consider when processing.
It is advisable to use the effects directly when shooting. If you want to change some old photo or even downloaded from the Internet, the result may not satisfy you 100%. In the free version there are several effects that can be considered universal. The rest you can first just look through – and then decide whether to buy a premium set.
Varnist is popular with its processing styles. It can be as styles of drawing such as manga or sketches, as well as styles of famous artists or in the form of mosaics. You just need to choose the mode you are most interested in and just apply it. Modern application technology with the camera turned on will give you a delightful and psychedelic result.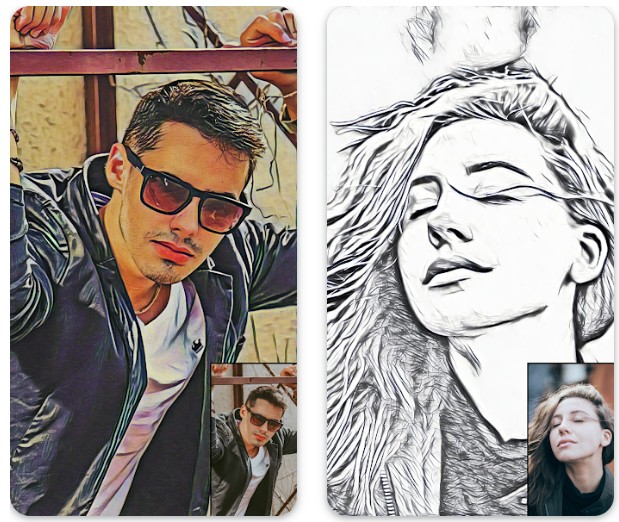 Painnt – Art & Cartoon Filters
Digital art is becoming more and more popular and widespread. We are seeing more and more beautiful and interesting drawings and sketches that really attract attention. How often do you wonder: how could a person do this on their smartphone?
Well, if you want to repeat the same drawing effect, you can use Painnt. This application works well with graphics and converts your photos into drawings and sketches. There are more than two thousand effects and their variations, but there is a slight nuance. All photos are watermarked. It can be removed only after buying a subscription – its cost varies depending on the time.
Drawings of artists, popular comics and other effects that really immediately catch your eye. But if you consider yourself a really original and talented person, you can create your own, author's filter. So you fill up the catalog of the application itself, as well as get a unique result of processing!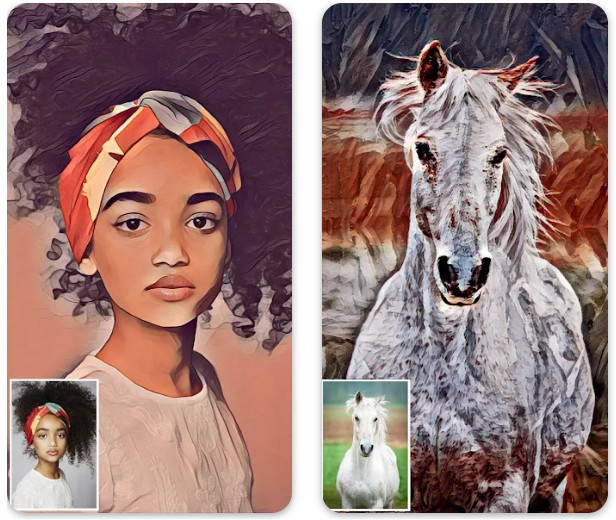 You may also like: 11 Best Snapchat Filter Apps for Android & iOS
Artomaton – The Motion Painter
Artificial intelligence is talked about by everyone around us, but we don't always see its work. Artomaton is an artist of a new generation – the application creates drawings based on the analysis of your photos.
As tools can be used absolutely different techniques and styles – oil paints, watercolors, pencil sketches and so on. As a result of the work you get real pictures, where you can see the texture of colors and paper.
You do not apply the effect, but really redraw the picture. Because of this, you will be able to choose between canvas and the materials that will be used to create the masterpiece.
In the Artomaton catalogue there are both materials available at once and those that you will need to buy. The most interesting moment in the whole drawing is the process itself. The great news is that there is a video in the app that will show you how to draw.
You can change the images as you like – zoom, change the brightness and contrast, and other parameters. When you draw sketches, you can edit the thickness of the lines and their color, as well as what you draw – pencils, brushes and markers.
If you don't have time to finish your masterpiece, just save it as a project – so you can continue working when you want.