I recently discovered the "Meteofy – weather and forecast" app, and I think it's a promising one in the world of the forecasting apps. It is a convenient and innovative app that allows you to customize the notifications about the weather forecast strictly for you.
One standout feature is the ability to receive weather forecasts for up to two locations. This is incredibly useful for someone like me who often travels between two cities. It's easy to set and switch between these locations, ensuring I always have accurate weather information at my fingertips.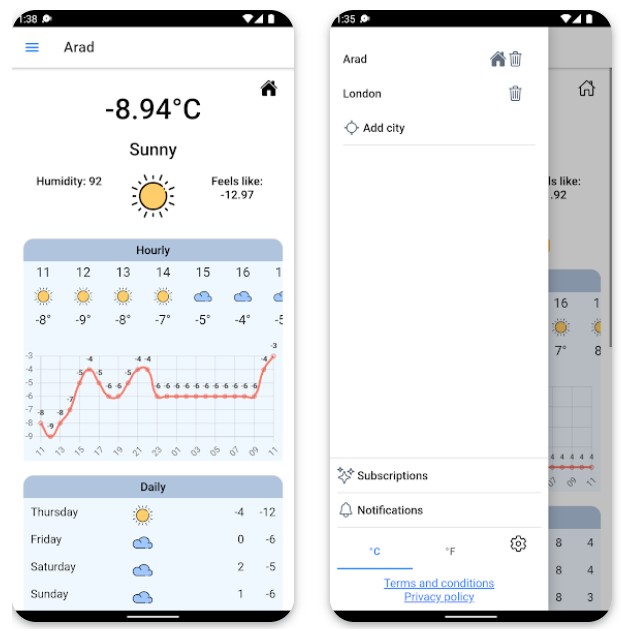 Another impressive aspect of this app is the option to customize when I receive weather forecasts. I can set specific hours to get updates, which is incredibly convenient for planning my day. Knowing the weather conditions in advance helps me make better decisions about my activities and what to wear.
One of the app's most valuable features is the ability to receive notifications when the weather is above or below your expectations. This is a game-changer for those who want to be alerted when there's a sudden change in weather conditions. It's especially handy when you're planning outdoor activities and want to stay prepared.
Moreover, Meteofy also offers rain notifications, alerting you when rain is on the horizon. This is a lifesaver for avoiding unexpected downpours and staying dry during outdoor outings.
Beyond its functionality, Meteofy boasts an elegant and minimalistic user interface design. Its clean and intuitive layout makes navigating through the app a breeze. The fair, minimalistic tones used in the design create a pleasant visual experience while using the app, making it a joy to interact with.
The Meteofy app is a comprehensive and user-friendly weather forecasting tool designed to keep you well-informed about current and future weather conditions. Whether you're planning your day or preparing for a trip, this app provides you with accurate and up-to-date weather data to ensure you're never caught off guard.
Key features of the app include real-time weather updates, a 7-day weather forecast, and detailed information such as temperature, humidity, wind speed, and precipitation. Users can easily switch between Celsius and Fahrenheit, making it accessible to a global audience. The app's intuitive interface displays weather data in a visually appealing manner, with easy-to-read icons and charts.
One standout feature is its live weather radar, which allows users to track storms and rainfall in real time. This feature is particularly valuable for those in areas prone to severe weather conditions.
While the app offers a free version with essential weather information, it also provides a premium option for users seeking additional features, such as an ad-free experience and more frequent updates.
Overall, the Meteofy app is a reliable and user-friendly tool for staying informed about weather conditions. Whether you're a daily commuter, an outdoor enthusiast, or someone who simply wants to plan ahead, this app provides all the necessary information to help you make weather-related decisions with confidence.
In summary, Meteofy is a promising weather app that offers customizable forecasts for multiple locations, timed notifications, and alerts for weather changes. Its user-friendly design enhances the overall experience. I highly recommend Meteofy to anyone seeking a reliable and feature-rich weather forecasting tool.