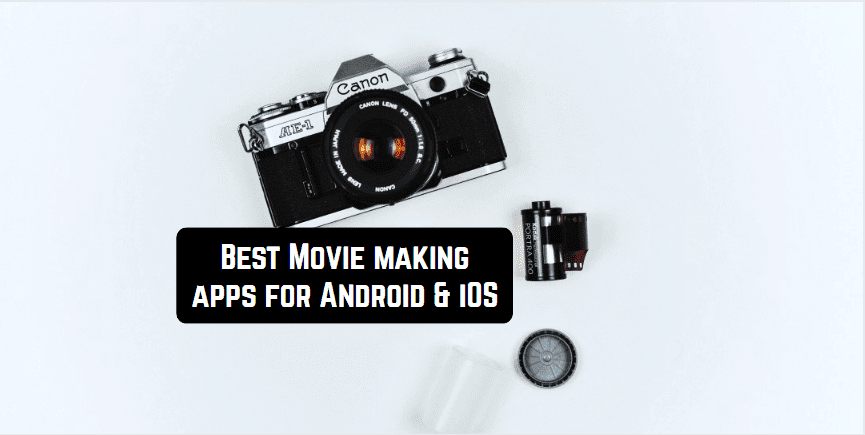 Too many home videos that you got no idea what to do with? Or maybe you wanna try yourself as a movie director? Perhaps, you need to film a video for your Youtube channel? Whatever your goals are, the list below will help you find the best movie maker app to put your ideas into reality! Check it now, choose the app that suits you most and have fun!
iMovie
iMovie is a stock video making app by Apple. This one might have everything you need to turn your videos into something cool and memorable. The app has got 8 themes with different titles, music, etc., 10 filters, and 14 trailer templates. For some people it is not enough – in this case, just scroll down to see the apps that are more complicated – while for others, nothing extra is really needed.
Besides the features listed above, the app also has such editing tools as slow motion, picture in picture mode and so on. iMovie has got a user-friendly interface and a nice minimalistic design. So, if you own an Apple device and are looking for a simple app to have fun with, this one is definitely worth your consideration!
back to menu ↑
Power Director Mobile
Power Director Mobile is a bit similar to iMovie, only it is for Android. The app is probably even better than the one above actually. It has got over 50 video filters! And all of them are free. There is also a solid package of transitions and other cool stuff.
With the help of this app, you can impose music on your videos to make them even more engaging. If you don't wanna use music, you can record your voice and use it instead, or you can do both, whatever. The app also has lots of editing tools like trimming, slow-mo, reverse and so on. Once again, if you need a simple good video making app and this time if you have an Android device, this one is definitely worth checking out!
back to menu ↑
Magistro
Magistro is an app for everyone! It will help you to make amazing movies in a couple of seconds. Just choose some videos from your gallery, choose a filter and then choose a song and that's it! As easy as that. The app was praised by lots of magazines and in general got many positive reviews.
Probably the only drawback of this one is that you don't have much freedom while editing. But the good thing is that you don't need to spend lots of time to get a cool and interesting movie. Get this app right now and enjoy!
back to menu ↑
Adobe Premiere Clips
Abobe is one of the most popular software-producing companies when it comes to editing. And this time this is not an exception. Adobe Premiere Clips is an excellent movie, clip, video, whatever, making app both for Android and iOS.
It is suitable both for professionals and average users. The former ones might find it useful that the app's files can be easily transported to your PC and be properly edited there. On the other hand, the latter ones would appreciate the feature of auto-generation that makes awesome clips without you participating in the process.
The app has got quite a lot of editing tools, such as slow-mo, transitions, lightening, etc. By the way, there are many lightening & color looks that can be applied to a certain video to make it look better. You can also add music, including your own one. So, if you need a comprehensive movie maker on your phone, this one is worth a try!
back to menu ↑
Quilk
Quilk is an amazing video editing app! The greatest thing is that it is absolutely free. 26 styles, various filters, overlays – all of that is available for everyone. The thing is that the app is developed by GoPro – maybe, the company uses it to somehow advance its products. Anyways, what we get is a great app without a price!
The app allows you to choose photos and videos from a number of sources, such as your gallery, Instagram, Facebook and so on. After doing so, you get to choose the order of the chosen files or let the app do this work for you. It is especially useful in case you want to add music to your clip – the app will automatically choose the order that best compliments your music.
Some of the other cool features of the app include adding text, choosing a font for this text, choosing filters and, most importantly, choosing format. The last thing is great since you never know what you're gonna edit your videos for. For instance, if you want to share them on Instagram, you will probably prefer a square format. In sum, Quilk is that video making app that everybody is looking for, but not everybody finds. Try it now! Maybe, it will be the one you were looking for as well!
back to menu ↑
FxGuru: Movie Fx Director
This is a fun one. FxGuru is an app that contains lots of cool effects. Turn your boring everyday videos into exciting and fun ones! The effects look quite natural, at least some of them do, so you can scare your friends or start some kind of hoax or anything. To name a few of the effects – an alien UFO invasion, a drone strike, a tornado… And there are over 90 like these! Get the app now and blow your imagination away!
back to menu ↑
VivaVideo
VivaVideo is a perfect choice for those who need a movie maker mostly for social media. The app will help you make your videos look the way you want them to look – you can use trimming, splitting, reversing and other tools to achieve the desired look. After having done all of the preparations, you get to be introduced to an enormous number of cool features like filters, effects, dynamic text, slow-mo/fast-mo, stickers, and others.
The greatest thing is that the frills this app has to offer are in a really large quantity, so you can definitely find the ones that suit your taste. However, VivaVideo has some disadvantages as well. They're a limited time in which a movie can last and a watermark. You can get rid of these inconveniences by buying a premium version of the app. So, all the Instagram lovers and Facebook admirers, this one is for you!
back to menu ↑
Boomerang from Instagram
Speaking of social media, there is a cool app called Boomerang for Instagram which is designed by Instagram. The app takes 10 shots of something that is preferably moving and turns it into a gif. You can share the result on Instagram, Facebook, Twitter or any other social media you like. So, just get the app and have fun!
back to menu ↑
Videorama
This amazing movie maker app is sadly just for iOS.  The app is really one of the most advanced ones in this category. Apart from standard editing tools, it has such cool features, as special effects, filters, cool overlays… And that is not nearly it! You can apply to your videos text, music, vector artworks and a lot more! The nice thing is that you can make your movie last for as much as you want. Videorama is definitely worth your attention!
back to menu ↑
FilmoraGo
FilmoraGo is an excellent movie maker, this time – both for Android and for iOS. The app has all of the cool features that were mentioned above, except only for special effects. It is a nice one to edit your Instagram videos and Youtube ones – the app has such formats as 1:1 and 16:9. The greatest thing of all is that it doesn't leave any watermarks!
Among the features are the following: lots of editing tools like slow-mo, transitions, and all the usual stuff; themes and effects that can magically transform your videos into something truly great; animated subtitles, titles, music or voice overlays, and a lot more. Get the app now and see if it is what you need!
back to menu ↑
Pocket Video
Pocket Video is an app specially designed for content creators, entertainers, and just Internet users who like to share their lives with the rest of the world (or with friends). If you are none of these things, the app still might be useful for you. In which ways? Let's see!
The app helps to create videos of different formats, edit them using filters and stuff, add titles, subtitles or other cool things and a lot more. You can make your videos last up to 10 minutes. And we're talking about HD! This is quite a length for a mobile app. Also, there are such cool features as green screen overlays and picture in picture mode. You'll surely find more helpful features – we've enumerated the most popular ones. Get the app today and gain this evanescent but still worthwhile internet fame!
back to menu ↑
VideoShow
VideoShow is one of the best apps for creating videos. It has all the most useful features and a bit more than that. The app allows you to choose a theme for a video, add music or dub using your phone's microphone, you can even add sound effects! What's more, you can play with a text if you need one – choose a font, a style, and all that stuff.
Of course, there are some basic tools as well – you can trim or change the files' order and all of that stuff. All in all, if you'd like to have simple yet quite a comprehensive video-editing app, this one is one of the best to consider!
back to menu ↑
Kine Master
Kine Master is an excellent movie maker. The thing is that it is made in a form of project-maker – some of the PC video-editors are made exactly in this form. What it means is that you have lots of freedom to play with layers like videos and pictures, soundtrack (you can use several songs at the same time), subtitles, titles.
Besides, you can use some basic stuff like trimming or transitions. So, if you are in a search for something that will allow YOU to shape your video, this one is a nice one to stop at!
back to menu ↑
ActionDirector Video Editor
This one is just for Android users. ActionDirector is a nice and simple video editing app. What is special about it is that you can shoot videos right in the app and start editing them right after shooting! Editing tools are not many, but they are definitely enough to make your movies look great!
You can customize saturation, brightness, and contrast, or you can apply one of the app's filters. After doing that, you can choose one (or two) of the frills like text, stickers and all of that. What's more, you can slow down, speed up or reverse individual segments of a video. How cool is that? If you also think that this is very cool, no need for waiting – just get the app now and enjoy!
back to menu ↑
Dubsmash
Dubsmash is not exactly a movie maker, but it is still a cool app that is connected to video recording. The key idea is to lip dub prepared sounds & sayings in the funniest way you can! The app has a lot of sounds – starting with the ones used in commercials and ending with phrases said by famous people. Choose the one you find most amusing, record yourself, and share the video with friends!
If you like the idea of the app, you will probably like the apps in this article as well: 15 Best Voice Changer Apps for Android & iOS. Get one of these and make your friends roll in the aisles!
That was it for movie making apps. Some of them weren't exactly for making movies, but I hope you still liked the article and found it useful! Create movies & videos in the way you like most and to do so, of course, be smart in choosing apps!