Modern life is full of stress, worries, and nerves. You can actually experience even the smallest things, accumulating all these negative emotions in yourself.
Psychologists often advise people to take a little distraction from stress, relieve tension. One effective way is art. But not everyone has the ability to draw – what to do in such a situation?
Coloring is often on sale – both for children and adults. Coloring for adults is more complex and has serious contours and drawings. It is worth noting that doing it in real life is not always possible.
For example, you can not take the coloring to work and relieve stress at half-time, as well as not be able to take all the tools to paint on the road. In this case, you can get the help of electronic coloring.
There are a lot of applications in which you can draw by number, pixel, or show your talent as an artist. We have collected the 11 best adult coloring apps for you today, which you can install on your tablet or smartphone.
No.Pix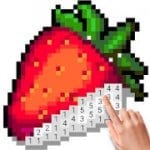 In the vast expanses of the Internet, you can sometimes find images that consist of very large and bright squares. This is the so-called pixel painting, which is an image of pixels.
If you like such an image of objects, animals, or people, then we suggest you try your hand at No.Pix. This application is also popular among those people who are bored with conventional coloring.
The whole process can be started even without a network connection. By the way, you will not even need to use application templates. No.Pix allows people to create their own pixel drawings by converting images or photos into templates.
If, however, you still prefer to paint something abstract, you can find one of the hundreds of images that are most suitable for you offline. New templates and coloring are added daily to help you relax. You can share the result with your friends – we think they will appreciate such an unusual creation.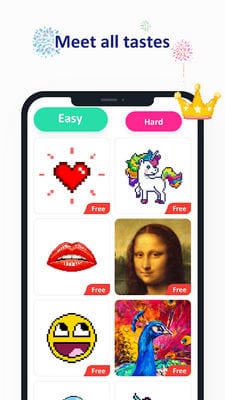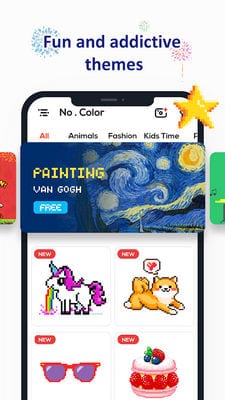 Coloring Book For Me by Apalon Apps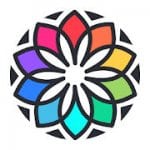 Using your device to relieve stress is a great solution, as you always keep your smartphone with you. Coloring Book For Me is easy to download and designed to eliminate your everyday stress. A man simply plunges into a world of colors and bright colors, forgetting what's going on around him. It is worth noting that you can even discover the talent of an artist or decide to draw your first picture.
Coloring Book For Me allows users to choose from a thousand templates. Everyone will find coloring to their taste – animals, food, flowers, patterns, and much more. Just like the previous application, Coloring Book For Me offers you the possibility to make a coloring from your personal image. The app will turn your photo into a sketch that you will be painting.
There are different ways to paint and tools in the app, such as pencil, eraser, continuous fill, and more. By the way, if you start to paint your images, then at your service is quite an extensive palette of colors, among which you will make a choice.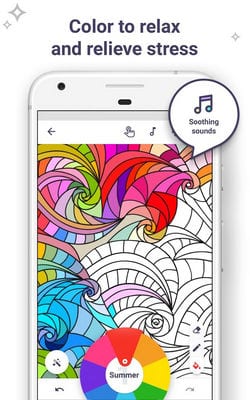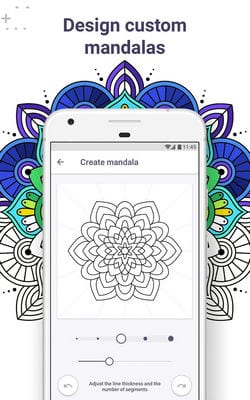 Colorgram: Adult coloring book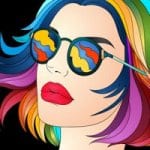 In case you are used to sitting on Instagram, you know exactly what it is like to watch pictures. Imagine that Colorgram is a collection of different colors, among which you will choose the ones you like most. A relaxing app will help you get a little distracted from your daily life, as well as serve as small and easy stress prevention for you.
The creative community that unites Colorgram receives many new colors every day. Among the entire catalog, you will find mandalas, images of girls, animals, and much more.
Inside the application, there is also a large number of different colors and palettes, which are presented in both flat and gradient colors.
Whether you need to reduce anxiety, deal with panic, or somehow take up your free time, Colorgram guarantees you several hours of fun. In the end, you can even see a video of you painting the sketch – accelerated, of course.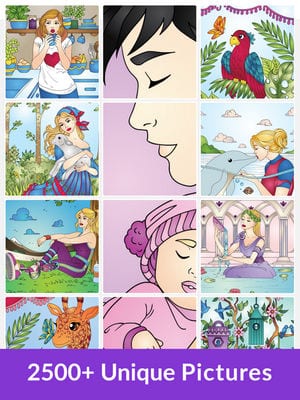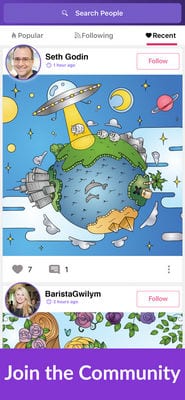 You may also like: 11 Best home painting apps for Android & iOS
Recolor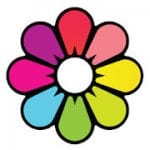 Coloring is not necessarily created by a computer or a special system. For example, Recolor developers claim that their content is created by professional artists.
They make a lot of different images in different styles and with different characters, and you just have to choose among all the variety. The application is downloaded to the device in just a couple of minutes, and you can start processing sketches immediately.
There are only about 4 thousand illustrations in the catalog, but not all of them are available for free download. Recolor also offers you a premium version, which is updated daily and has more pictures.
The whole catalog is divided into separate categories and you can immediately choose what you like most. Every day each user gets 3 free colorings from Recolor – if you want more new content, you have to pay.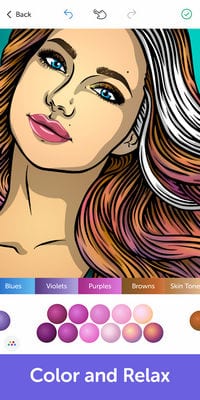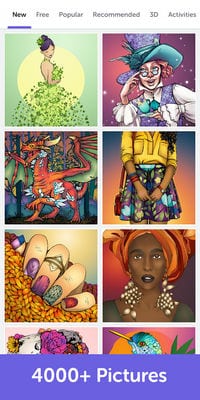 Colorest – Coloring, Drawing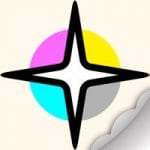 A great artist is dying in you? Or perhaps you just like to paint as much as you like to color? Then you'll be interested in the Colorest app, which allows you not only to paint pre-created sketches but also to create something new yourself.
You don't have to use real pencils and paper, all the pictures are easy to make in your tablet or smartphone.
In Colorest there are a lot of different shades of pencils that you can draw with. If you run the coloring mode, you can choose from a huge number of colors. There are also sets of different pencils – the ones that you can not find in reality.
For example, an iridescent or shiny brush or pencil can bring your drawing to life and add a little relaxation to it. You can also choose whether you want to fill, paint, or mix colors and gradients yourself. If you're bored, you can paint a single drawing online with your friends.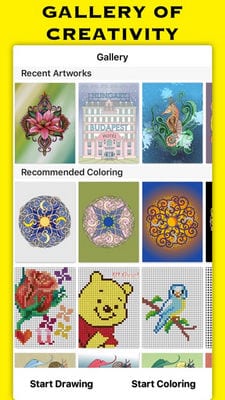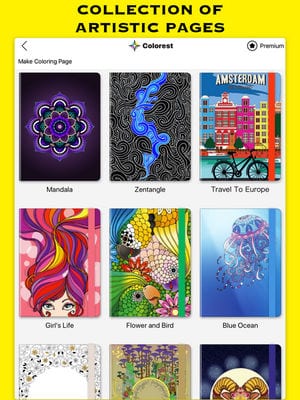 ColorFil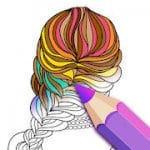 ColorFil offers you to fill your life with paints, adding a little brightness to it. Coloring even the simplest drawings, you can reduce your stress levels, distract from life's problems, as well as gather strength for work.
In the application library, there are many templates and colorings that you can use. If your day at work or at home is too boring, we recommend installing ColorFil – time will pass unnoticed.
During the coloring process, you will be able to create your own shades by mixing different colors. You can also set the level of complexity – for example, if you are already a pro, you can find even the most complex drawing.
Regardless of age, you can find a picture that suits you. If you do not know what to do with your child, ColorFil may well be the solution. The most convenient thing is that you can paint anywhere and anytime – you do not need light and special equipment.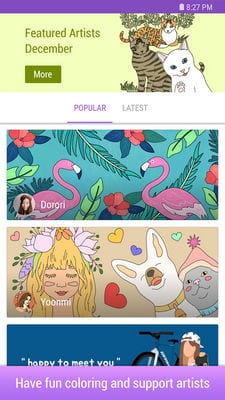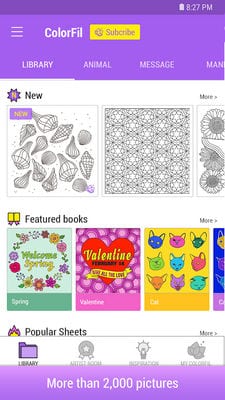 Paint.ly: Color by Number Game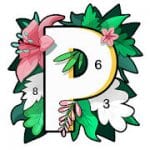 Paint.ly can help you recharge your energy, relax, or take your mind off something unpleasant. This application has a huge number of downloads around the world, so people really like the content inside it.
The application has a set of thousands of unique and unusual colors that you have to color. There are sketches of animals, mandalas, plants, and much more – this is in addition to the fact that you have the opportunity to make your own coloring.
In Paint.ly: you are not only asked to add color but also to do it by number, so you will know what color a certain detail should be. At the end of the work, you can make a video that will show the whole process of your work.
You can enjoy the process, and in the end, you can do something beautiful. At any time you can start a new work or continue to paint a picture you've already encountered.
New sketches with cartoon characters, different characters, and animals come out every day. Paint.ly has a paid subscription, which gives you more access to pictures and concise design of the application.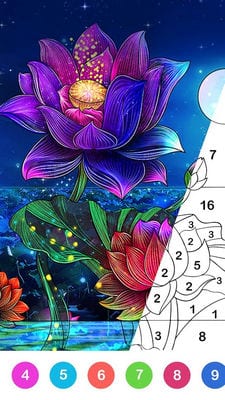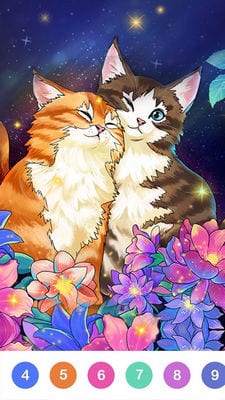 Coloring Book for Adults | Adult Coloring Book App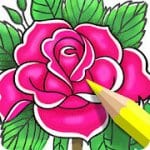 Coloring Book for Adults is a completely free coloring for adults, which is available on all mobile devices. You don't need to buy a subscription, pay for the content, or extend your usage.
You get 100 coloring books at once. They will help you relieve some stress and show your creativity and talent. Each image is of high quality, and you can share them on all your social networks.
In your pocket, there will always be a tool that you can use to simply relieve stress in a couple of minutes. You can do it everywhere, absolutely without paying attention to a network connection or subscription.
In the Coloring Book for Adults application, you can find both individual colorings that are interesting only to you and general categories.
Yes, you can really navigate by category – for example, Secret Garden, Design, or something else. This is why the application is suitable for all categories of people – everyone will find something for themselves.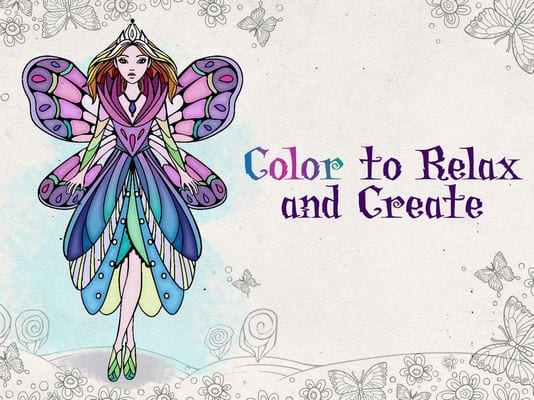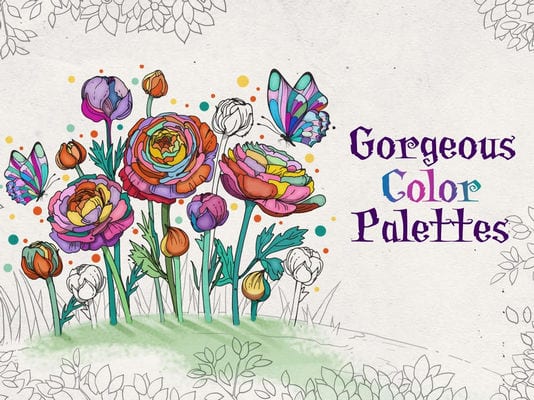 Colorfy: Coloring Art Games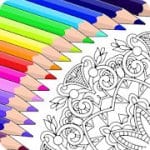 It is difficult enough to find something original among the coloring. Usually, all of them contain similar sketches to each other, which you have to paint.
In Colorfy you can really upload your own sketches or look for something original. The virtual gallery in the app will allow you to make your drawings more real and see how they would look in your home or just on the wall.
Colorfy can offer you to make your own mandala. Your imagination will tell you what to draw – this approach will give you more relaxation. If, however, you still think that your drawing skills are not enough to create original drawings, you can use the ready-made templates.
Colorfy offers a choice of more than a thousand different paintings, among which you can even find drawings of artists. At the same time, you can make your own adjustments in the form of a color palette. You can choose which color to use for a particular detail. You can also change brushes for additional visual effects.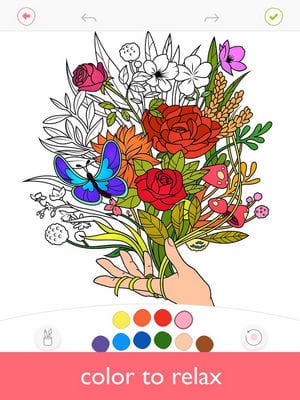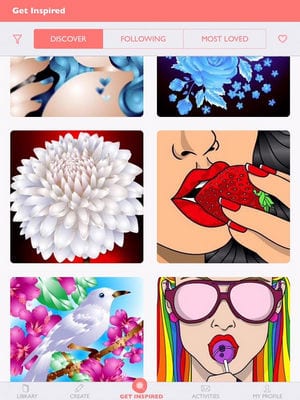 Lake: Coloring Books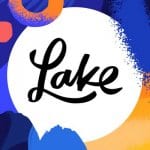 A simple design is key to the ease of use of the application. Lake provides you with a truly concise interface where you can immediately navigate and understand what to do.
Lake will help you relax and enjoy the art. All the artwork in the app is created by good international or local artists who understand what you really need.
When you choose to paint, you immediately determine that the next minutes of your life will be dedicated to art. It may sound a little silly, but it really is – even when you paint the simplest pictures, you are creating something.
There are more than 60 different indie style coloring books in Lake that illustrators create. They are constantly being supplemented and updated, so you cannot stop at some point and cease to do something creative.
You can color from side to side, as well as draw on your own – just by choosing an empty canvas. If you get inspired all of a sudden, you can bring the idea to life right in your smartphone.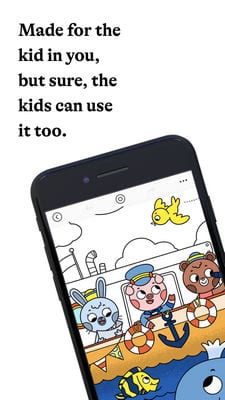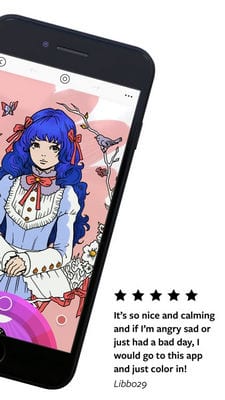 You may also like: 15 Best math game apps for adults (Android & iOS)
Pigment – Adult Coloring Book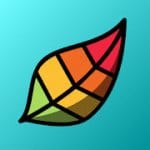 Stress and anxiety can haunt every person in everyday life. Pigment helps ordinary people to relieve stress and relax a little. Only 10 minutes a day spent in the app will allow you to practice attentiveness, increase concentration, and, of course, relax.
Pigment will be a great alternative for various mobile games, and drawings are a more useful pastime.
Pigment has exclusive access to original content from Disney and The Jim Henson Company. You can work creatively and easily with a variety of tools and textures – like oil paints or pencils.
For a more beautiful result, you can use blurry brushes or mix colors and textures. You can adjust the color yourself by choosing a shade from the standard round palette of all colors.
You can paint ready-made sketches – people, mermaids, landscapes, and anime, but you also can draw by yourself. Pigment supports Apple Pencil so you can add the smallest and most accurate details to your drawings.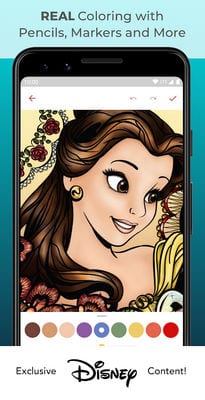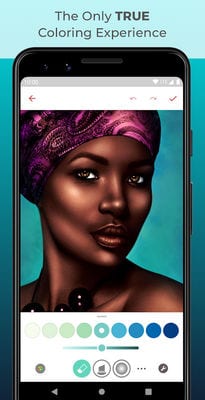 We all depend on digital devices and always keep them close at hand. If your smartphone has an app to help you relax during a hard day's work, it's just the perfect solution.
Of course, you can read a book, play a mobile game, or browse Instagram, but coloring pictures is more interesting and unusual activity. Monotonous creation of something will put your nerves in order.
Imagine you have a delayed flight at the airport or your boss at work piles you up with work. You can take a short break and relax by bringing bright colors to the screen. Hopefully, this way you can be less nervous and more balanced.