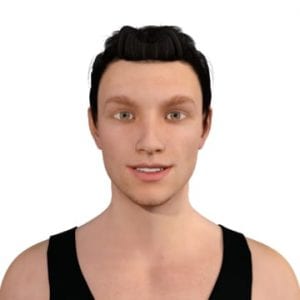 My Virtual Boyfriend Eddie is a great application for those who want to chat with a virtual guy or just have a good time.
Interface
The first time you launch the app, your new Virtual Boyfriend Eddie appears right in front of you. You can start chatting with him right away. At the top of the screen, there is a field for registering with the app.
There you can also open a menu window with such sections as about, my Eddie, sign in/up, content rating. To start communicating with Eddie, you need to specify your date of birth and accept the terms of the application.
Immediately after that, a dialog box will open in front of you, where you will see a picture of Eddie. It is very realistic and accompanied by animation. So you will definitely get the impression that you are in contact with a real boyfriend.
Customization
The appearance of a boyfriend you can customize according to your preferences. Choose the kind of body part you like best. Customize the appearance of your new virtual boyfriend, which will bring you only positive emotions.
You can also choose your character style. Bots can be trained in a special section. So, your communication will be even more enjoyable.
In general, this application is more suitable for those who want to feel in a loving relationship. Eddie can kiss, laugh, sleep, and much more.
He knows how to feel. For example, you can make her laugh or make her angry. You can also teach him and make him more sociable and like you so that he feels more comfortable. Teach him new answers through a fun conversation.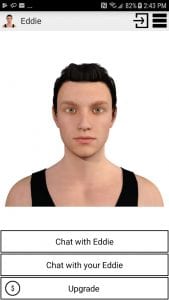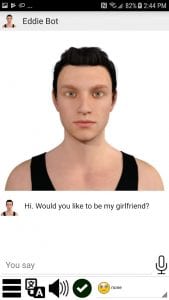 My Virtual Boyfriend Eddie is your new experience with a virtual boyfriend that will bring you a lot of useful emotions. Talk and train your bot, and then you'll never get bored.
You may also like: 11 Best virtual boyfriend apps for iOS & Android