Ever wanted to play to earn and not only have fun? This article have you covered!
There are lots of NFT crypto games in 2023 (Android & iOS) that let you earn in-game tokens and trade them with other players. These games come in different genres — from strategy to racing and board games so whatever your taste is — you'll find something for yourself.
It needs to be said, a huge part of these games are in the early beta so you get the chance to be among the first users trying them.
Wanna try your powers in real trading? Check out this article: 11 Free stock trading apps (Android & iOS)
Here's the list of the 11 best games in that category you may try. Take a look!
Splinterlands
Let's start with the Splinterlands game. It's a classic card game that aims to form a deck before every round.
All the tours in this game are automated so you get instant feedback and go through several rounds in a short period of time. Furthermore, the game picks a contestant according to your power and exp so the chances are barely the same. Herewith, each fight comes with individual limits and terms — that's why you get to build a deck before each one.
As usual, you start with a small number of cards but you'll get a chance to get more with time. The higher your level is — the more generous goodies you'll be rewarded with. However, the main question is — how can you earn tokens in this game? Truthfully, you can earn DEC tokens for each win along with the weekly season finally.
Furthermore, the game covers some extra tournaments and events where you can earn tokens too. Then, you get to trade tokens at exchange platforms if needed. The trick is — you need to buy a starter kit for $10 to start a game. Herewith, there's a free trial that lets you see if it is worth it.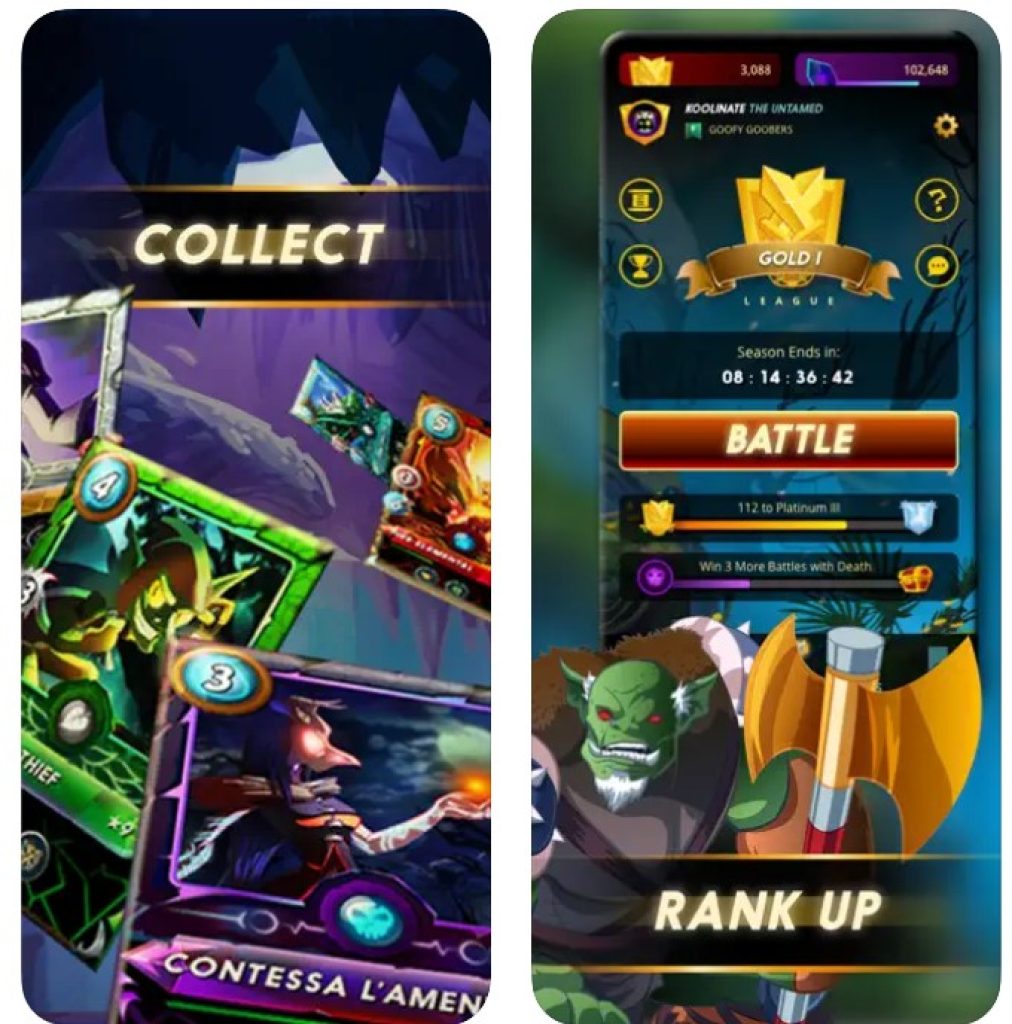 You may also like: 17 Best Games Where You Upgrade Your Character (Android & iOS)
Forest Knight
Next, we have a strategy game that brings you to an epic fantasy world.
It's a turn-based game that has a full-on in-game economic system built on token standards. The game has a huge map filled with versatile lands, creatures, and fun stuff to explore. Your goal here is to pass levels, crash ministers, and raise your exp as much as possible.
When you'll reach the 6th level you'll get the ability to participate in PvPs with real users. Each mission you complete gives you NFT and useful objects as a reward. For now, the game covers over 100 items and more are yet to come. Plus, you get to form a team out of knights with different abilities and fighting techniques.
You'll also get to build your own city and maintain a stable economy within it. You'll need to make sure your citizens have enough food, equipment, and other stuff that may need. Besides, you'll feed to protect your city from monsters and dragons so make sure to get enough armor and weapons.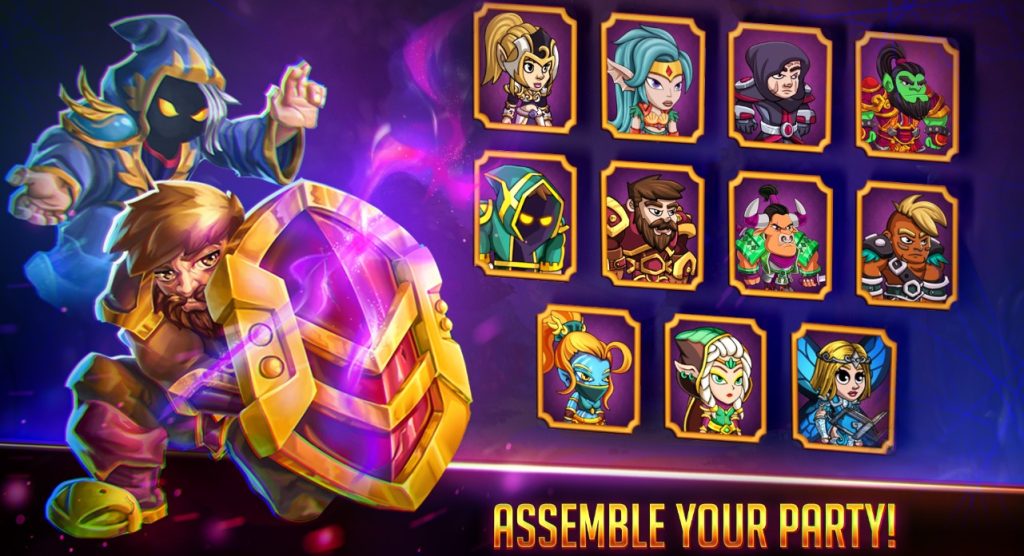 League of Kingdoms
This is an MMO strategy game powered by its users.
Yeah, the mechanics are quite classic — you own and rule a piece on the game's map. Thus, you get to decide what's going to happen next — you can develop the economy, turn alliances against each other and start a war, or do whatever else comes to your mind. The main thing that matters here is a strategy you'll choose to stick to.
As you may expect, your supplies in the game are limited so you'll need to make sure to fulfill all your stocks in time. Plus, your tactics will depend on the time, the distance, and all other stuff that can affect it in real life. You can also ask your mates to join the game and build an ally with them.
You'll also need t to develop your land and keep it protected from intruders. Besides, you get to investigate the map and collect powerful treasures. These treasures were once split into parts and once you'll get one together you'll get magical powers. You'll also earn rewards and in-game tokens you can buy stuff for.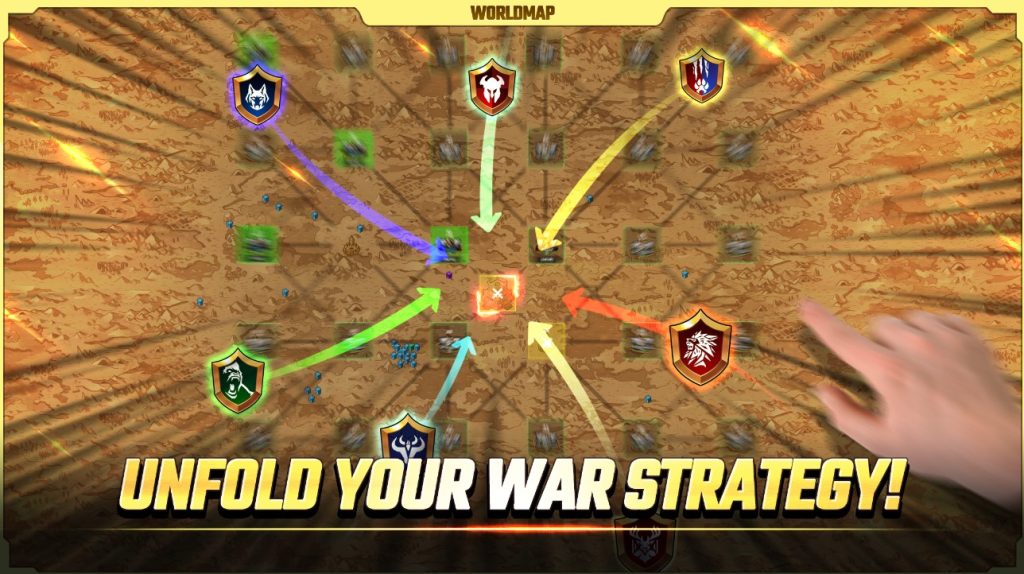 Skyweaver
This is a card game that lets you battle with other users.
If you're into card games — this one will not disappoint. The game has colorful and detailed graphics and a huge amount of cards to pick from.
Each card has its own weak and strong points you can use in battles. Each win gets you to reward tokens you can trade and exchange for more powerful cards. — just like you would with real ones.
Although the game process fully depends on your tactics and covers some difficult combos, the mechanics are quite easy to learn. In case you'll face any troubles there you can always view the starter guide. Once you'll get into playing you'll be able to form your decks wisely and make powerful combos.
Herewith, all your cards are secured on the blockchain so you're the only one who can access them. For now, the game covers over 500 cards you can collect and trade.
Herewith, the cards don't have a rarity tier so the chances to get a particular one are always the same. There are some extra boosts and items that have different rarities that affect their price.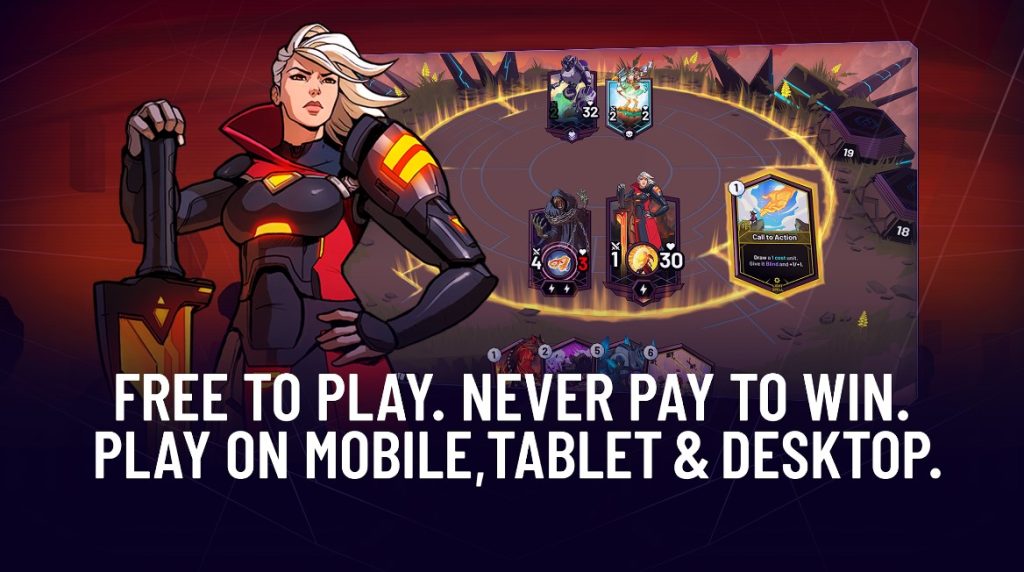 Spells Of Genesis
This is a roleplaying arcade game based on cards.
The game has a fantasy setting and lots of epic battles to entertain you. It needs to be said, all the details of his game work for the setting — from the level map to card design, and all that. Your journey begins in the land of Askian. Your goal here is to form a squad and defeat all your opponents to get the magic powers.
As always, you start with a basic card deck that you'll get to improve later on. Once you'll get used to the game you'll be able to combine the cards to get unique powerful combos. All the cards have individual abilities that can help you during tournaments so make sure to think strategically before forming your every deck.
For now, there are over 300 cards to collect so you won't get bored. The same goes for the levels — they are more than 2 tournaments to go through. Besides, the game's economy is built on tokens that you can earn and exchange on cards. There's also stuff you can get for real money but it's entirely optional.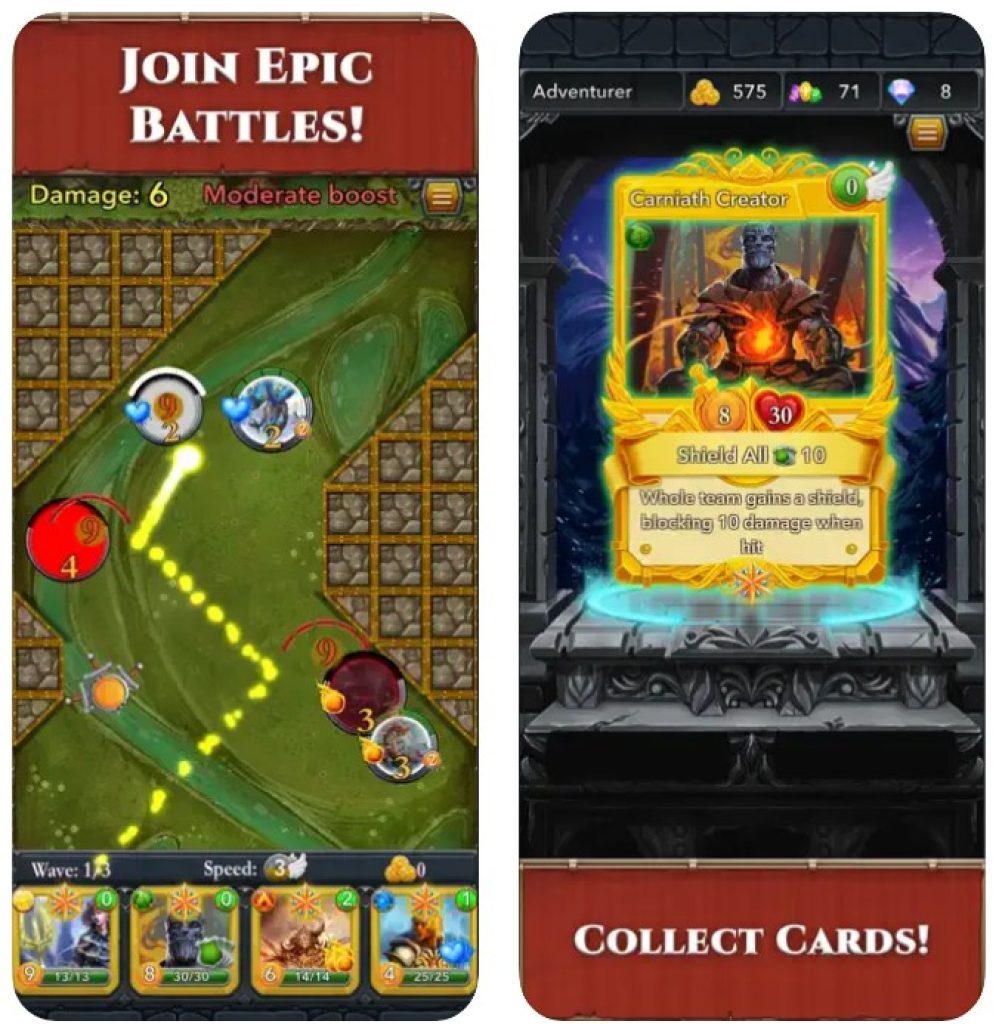 Check also: 8 Free Sandbox Multiplayer Games for Android & iOS
War Of Crypta
Moving on to one of the most known blockchain games out there.
It's a PvP fantasy game that lets you compete with other members for rewards. The game runs on NFT tech so all the in-game heroes are tradable.
According to the game's anons, you start with the basic form of your hero and your goal is to move through levels and improve his powers. The more tournaments you participate in the faster your hero's exp will grow.
Herewith you get to choose 4 heroes for every battle. Thus, you need to consider all heroes have their own strengths and weaknesses that needed to be considered. As for the heroes, all of them are some kinds of fantasy dragons and animals. You start with the baby creature and grow them up to be majestic beasts.
There are lots of species to pick from and more are yet to come. Plus, your heroes can learn new tricks and moves — there are over 200 covered for now. You can also trade and trade your heroes for other ones. The game gets regular updates so there are always new challenges to complete and tournaments to join.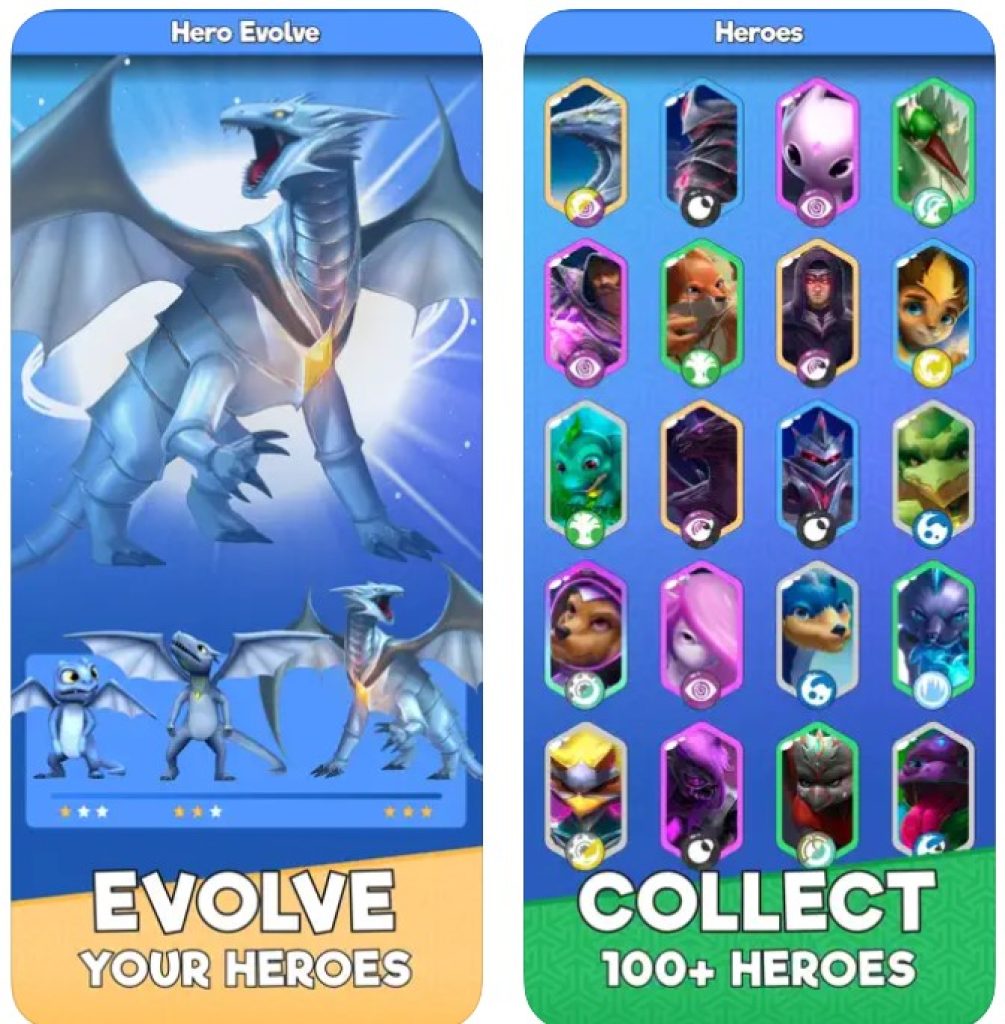 Battle Racing Stars
As you may guess by the name, this is a racing game.
The rules are quite basic to the genre — you join racing and battle with other users for leadership. As for the mechanics — it's more of a platformer than a classic racing so keep that in mind. There are plenty of characters you get to unlock and each of them has unique skills and strengths.
Additionally, it's an MP game so you can compete with your mates to see who's best. There are plenty of levels so you can spend lots of time playing.
All the levels happen in new locations and there are always new obstacles you need to consider while playing. Plus, the game gets new events every week so you won't get bored.
You get to boost your characters and get the new equipment to get to the finish line faster. The game runs on NFT tech so you can get extra items and vehicles along with trading them. The game covers a wide range of stuff you can combine to get unique powerful items.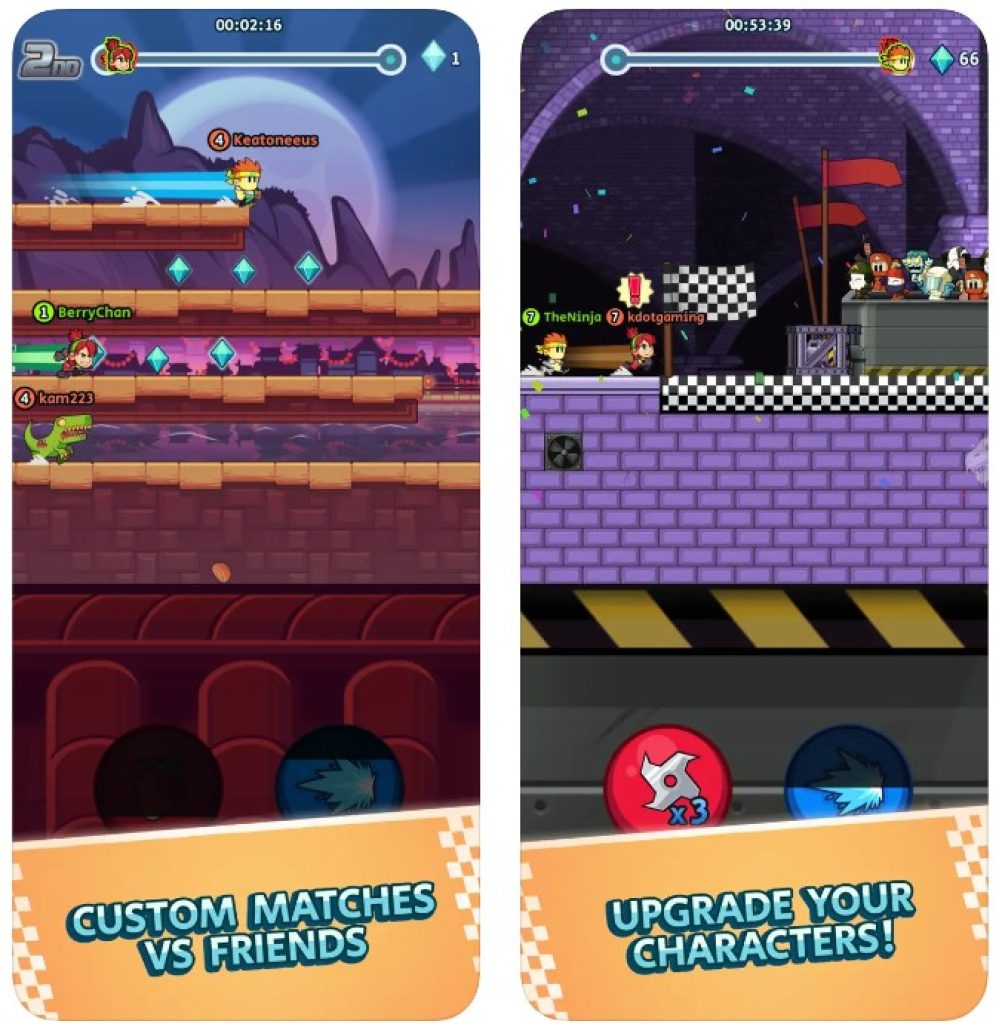 Crazy Kings
This is a roleplay tower defense game that lets you practice strategic thinking.
First of all, the game covers over 500 beautifully drawn levels. Your goal here is to command your own card army and participate in card wards against the opponents.
For now, there are over 90 collective cards with unique powers and more are yet to come. There are also over 15 spells you can learn ad combine to defeat your opponents in secs.
Plus, there are daily tournaments and challenges you can join. All the battles happen in different locations — from deserts to tundras so you won't get bored with the same view.
As it's a tower defense game, you need to make sure your towers are stable and secure. To cope with that, you'll need to get equipment and other items that may help in development.
You'll also get to fight against bosses ad beasts of all kinds — from demons to Minotaur. Each win brings you rewards and treasures that can boost the powers of your heroes. Once you'll get enough items in your collection you can trade them with other players.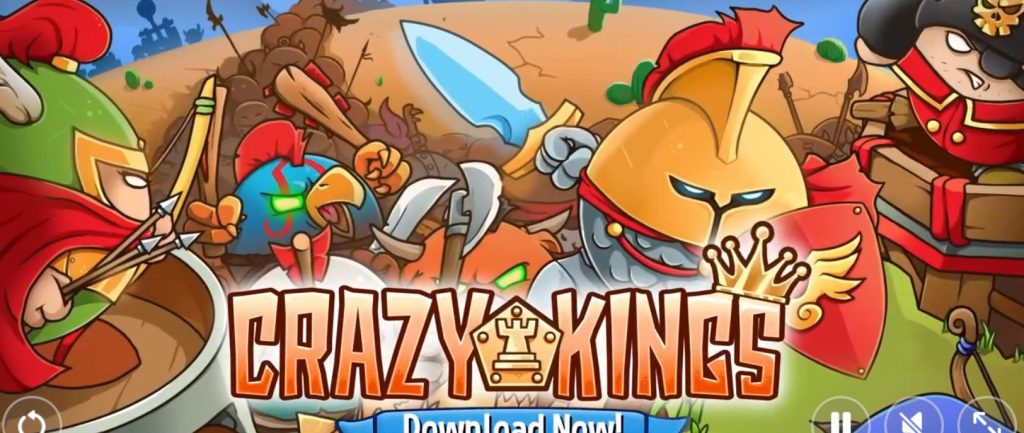 Upland
And lastly, Upland is an NFT board game that will keep your brain engaged for a while.
If you're a fan of Monopoly — this is the one for you. It's a property trading game that is based on real addresses and locations around the globe.
The game has its own NFT that you'll use to trade real estate and get bonuses for your actions. Along with trading properties, you can also go on a treasure hunt and do other fun stuff to diversify the playing process.
Besides, once you'll get a pack of properties with the same style you'll automatically raise your earnings there are plenty of other tricks like that, make sure to check the guide before playing. Another piece of advice is to sign up before playing cause you'll eventually lose your progress without doing so.
As for the currency, you may rather earn it within the game or buy it for real money. You don't get to trade the currency to exchanges but the game is partnered with Linden Lab so you can retreat your earnings in FIAT currencies.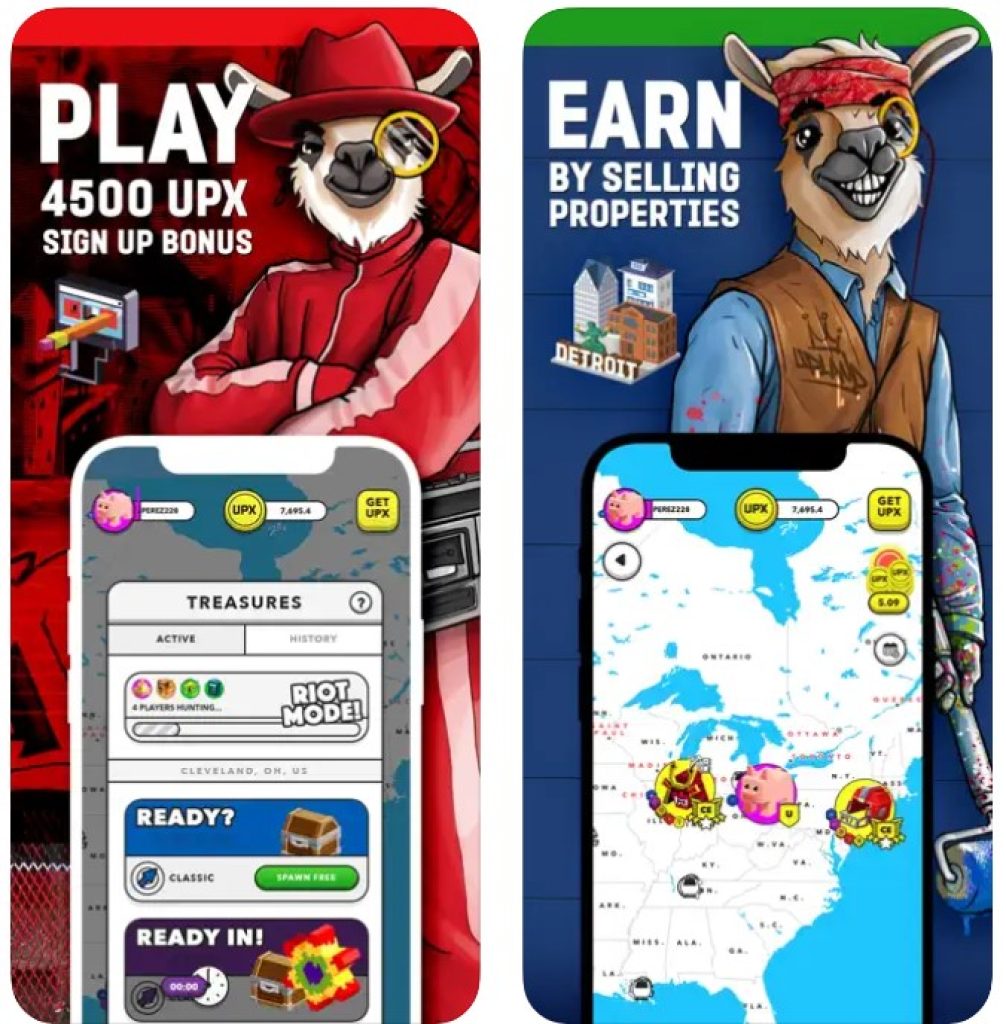 Crypto Dragons – Earn NFT
Crypto Dragons game has a simple plot that involves collecting tokens by completing various challenges, quests, battles, and so on.
Here the players can earn NFTs in two ways – by winning battles against other players or by purchasing them from the in-game marketplace using real money or cryptocurrency. You can also use those NFTs to unlock new features, enhance gameplay, or sold on third-party platforms for profit.
The game has several main aspects, including a battle arena, a marketplace, and a crafting system. The battle arena allows you to compete against each other using the NFTs.
The marketplace allows players to buy, sell, and trade NFTs with others. The crafting system allows players to create new NFTs by combining existing ones.
But just like in any other NFT game, we want you to stay cautious with all the transactions that you make. Even though the game has gained mainly positive feedback from its users for its graphics and gameplay, keep your eyes open.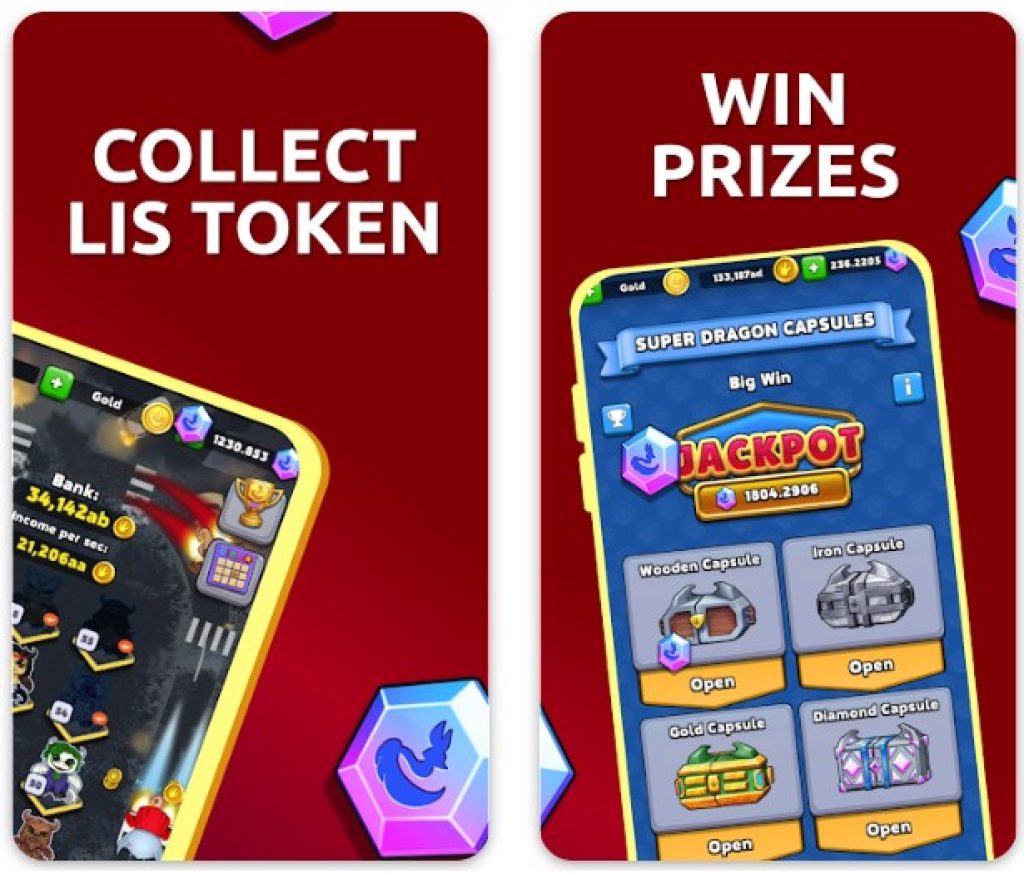 You may also chek: 9 Best Multiplayer Games with Voice Chat on Android & iOS
CropBytes: A Crypto Farm Game
This is an excellent choice for all the fans of farm games. Here you will be planting crops, raising livestock, selling produce, etc. The main goal of the game is to grow and expand the farm, earn profits, and, of course, complete various challenges.
One of the unique aspects of the game is the ability to earn NFT when you complete challenges and milestones within the game. These can be used to unlock new features, enhance gameplay, or be sold on third-party platforms for profit.
And of course, we couldn't skip the mentioning of the farming activities, a marketplace, and a crafting system. The marketplace, for example, allows players to buy and sell products. The crafting system enables players to create new items from raw materials.
The game has quite limited features though and a very slow progression process – there are complaints about that.
So to sum it up, CropBytes is definitely for those who have patience. The app is definitely reliable, but if you're looking for exciting gameplay, it's not your choice.