Racing games never go out of style. But you know what's even more fun? Extreme racing!
There are plenty of offroad racing games in 2023 for Android & iOS that will bring you into the world of trucks, mud, and extreme driving. You'll get to participate in the most intense car racing, filled with challenges and aggressive opponents that trying to knock you out of the trail. No boring rules, dull roads, and traffic – just extreme routes and the coolest vehicles of all time!
We've gathered the 11 best apps in this category you may try. Have a look!
Offroad Legends 2
Let's start with an off-road racing game for monster truck lovers.
If you have a soft spot for trucks, deserts, and the racing games that are more than just racing – you'll fully enjoy this one. The game covers over 60 adrenaline-filled tracks, over 15 vehicles, and several game modes. All the truks are fully customizable, and the trails are filled with obstacles for you to overcome.
The game covers various tuning options for your trucks, but some of them only unlock for in-game money. As for the routes, they are filled with trampolines, jumps, mountains, and more. Plus, the game comes with excellent dynamics and realistic physics, so you're getting the best of the best. The soundtracks are also great, and you'll get to hear realistic racing sounds as well.
Speaking of the modes, we have classic racing, transporter, destruction, and the player's favorite – lava jump! If you're into crashing opponents' cars and all that, make sure to try the destruction mode. The game also comes with controller support if needed. The game is free, but there are in-app buys that bring advanced features.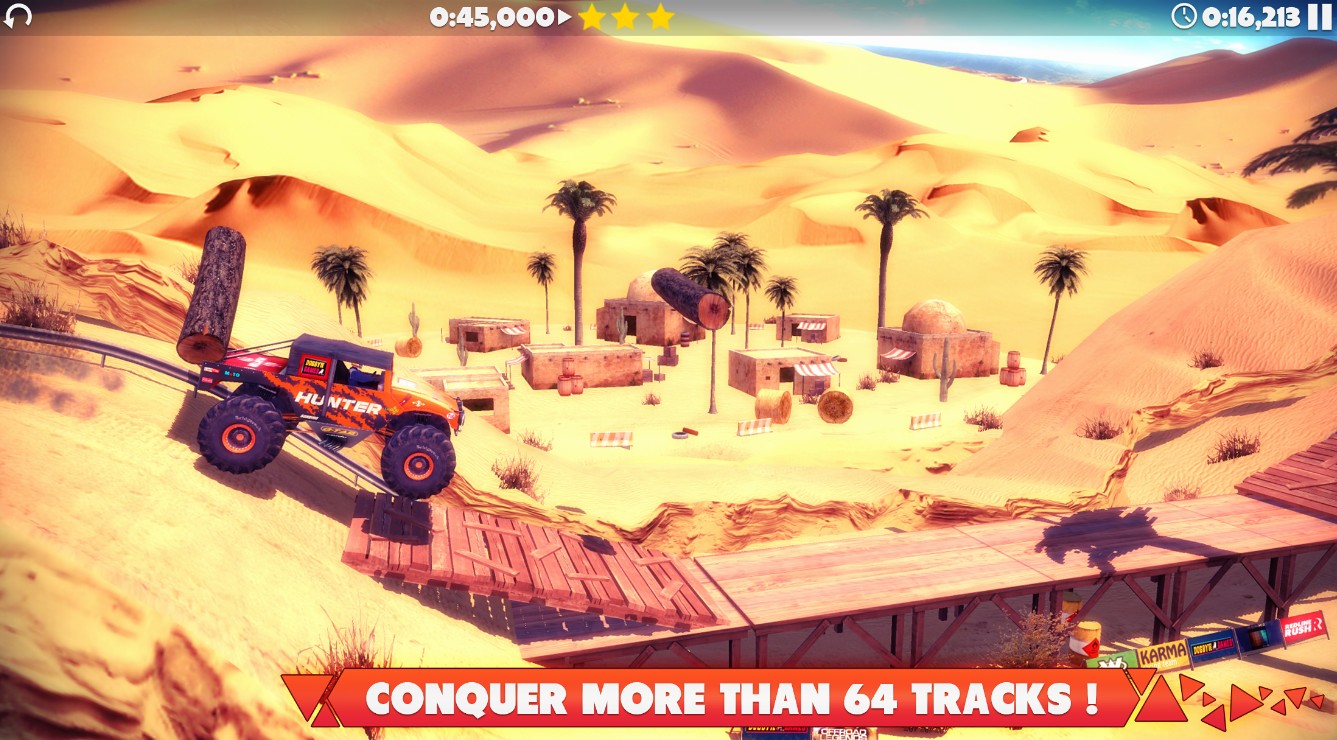 You may also like: 5 Best NFT Racing Games (Android & iOS)
Ultimate Offroad Simulator
If you're here to get the most realistic off-road driving sim – this is the one.
The game comes with realistic physics, tons of customization options, and a massive open world that is fun to explore, what else could you even want? Add the addictive gameplay to the list, and you get the game that is impossible to break away from. You'll get to customize all the little details about your car by adding more powerful engines and experimenting with tuning.
The game covers some cool paint finishes, neon lights, rims, and unique decals. Plus, the game covers a wide range of vehicles, such as SUVs, tuner cars, trucks, classic racing autos, and more. And if you'll get into mud r water it will affect your driving just like it would in the real life. As for the open world, it was designed to test your extreme driving capabilities.
There are plenty of fun locations: from deserts to cities, mountains, and more. The environment is very detailed, so it's a pure pleasure to play. The same goes for sound effects – all of them are recorded from cars, so you'll get to hear the authentic engine sound. There are also several modes to try, and you can change the viewpoint as needed. It does have a premium version, but you can fully enjoy it for free as well.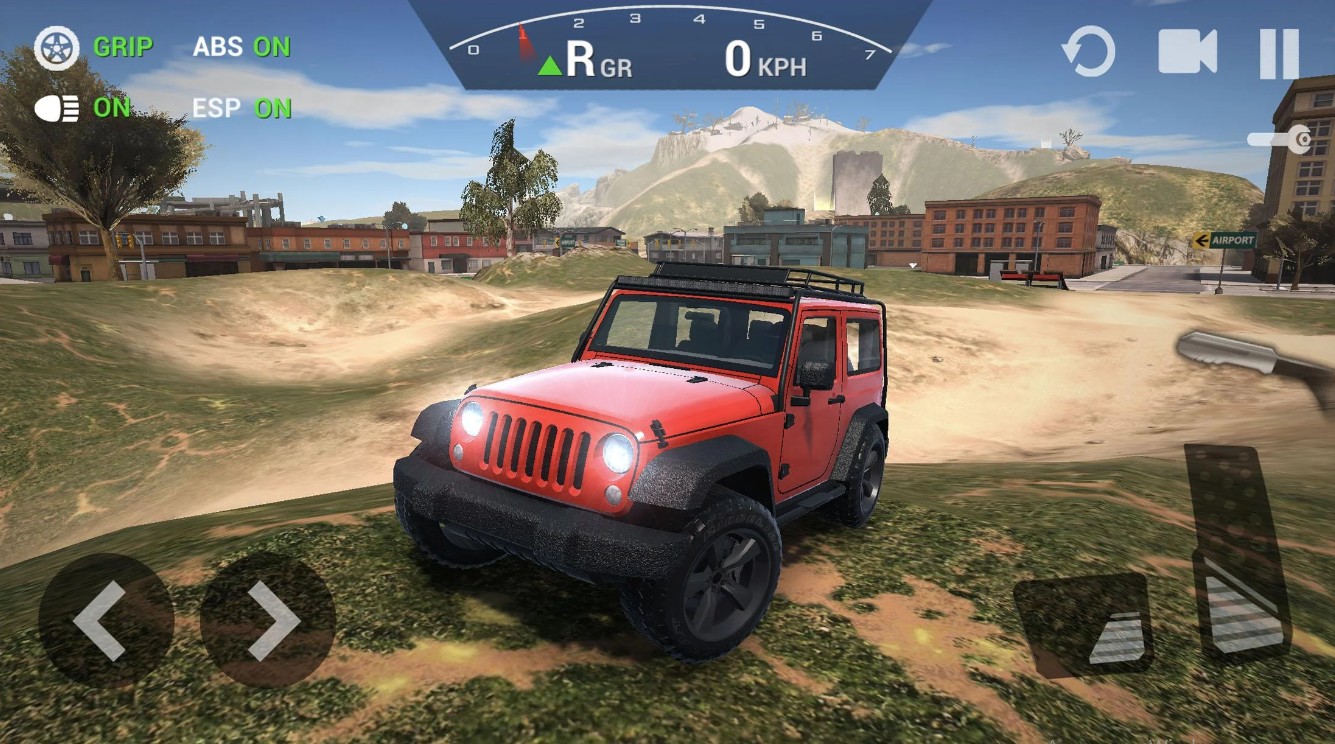 Asphalt Xtreme
Next, we have a racing game, developed by the Netflix team. Did you know Netflix makes games too? I bet you didn't.
At first, it needs to be said that you can only play the game if you have a Netflix membership. Yeah, sounds kinda unfair, but nowadays, it seems like everyone has it. It is made in the best canons of the OTR genre: it covers dozens of locations to test your extreme driving skills and plenty of customization options for your cars.
You'll get to drive through canyons, drift in the desert sands, climb cliffs, and all of that while trying to beat your opponents in a race. Get ready to put your fears aside and fully trust your instincts, as it's the only way to win here. As for the car collection, the game covers everything from muscle cars to trucks, so there's smth for everyone.
The game comes with an 8-player MP mode, so you can already tell the round is going to be filled with tension. Your main goal here is to win as many karts as you can and get on top of the leaderboard. As you win, you'll get rewards that can be exchanged for powerful engines, tuning, and other car upgrades.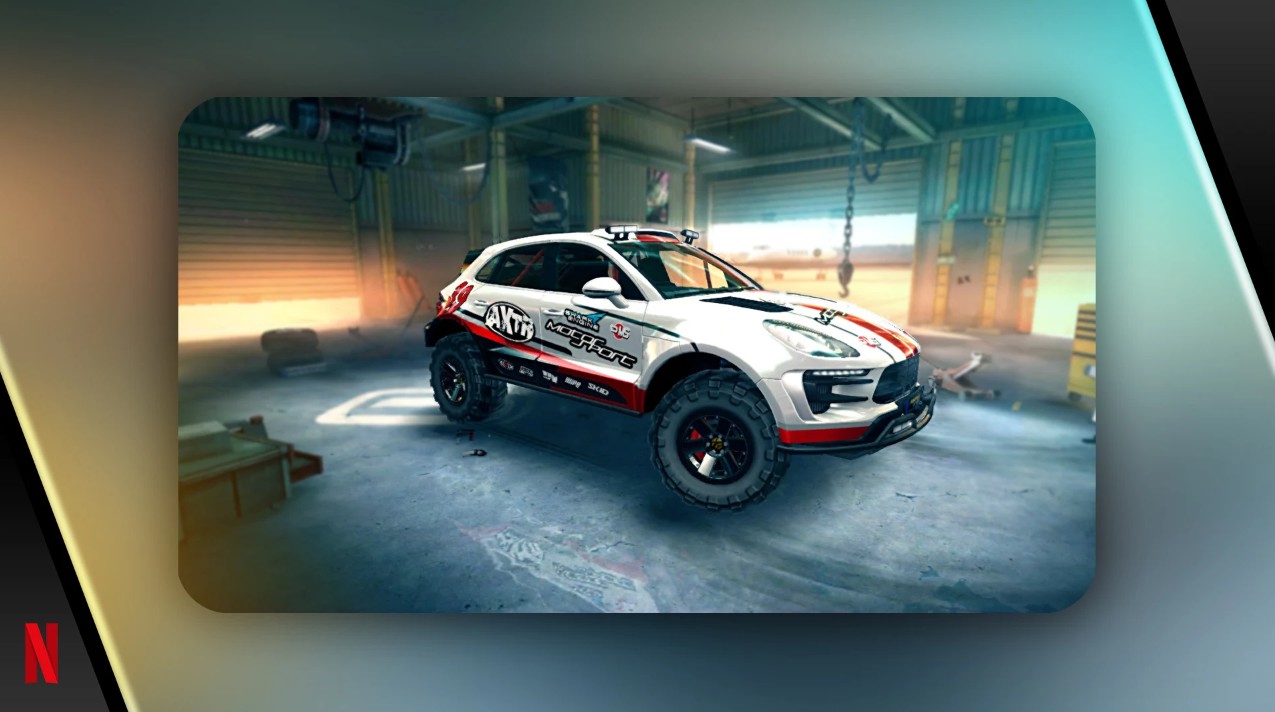 Teron Off Road: Driving Challenge
Nowadays, arcades, as well as racing games, are very popular. But what happens if you combine both of these genres? Thanks to the work of DiTronic Apps, such an exciting game was created – Teron Off Road: Driving Challenge.
The game has the ability to choose the terrain for driving, as well as the car. A smart upgrade system will allow you to improve your cars to such a level that you can qualify for the World Cup. There are now about 60 different levels in the game.
One of the most interesting characteristics is the lack of traffic rules and, in some ways, the laws of physics. In other words, you can test your car for strength in the literal sense of the word. Slide on the ice, crash into the destroyed station, race, and check the maximum strength level of the car.
It is important to note that the game has several types of controls: using touch buttons, a virtual gamepad, or tilting the phone in different directions. Since they tried very hard on the game, the graphics were worked out at the highest level. There is variability in the selection of the motion camera.
App is truly worthy, so join in and become a better rider!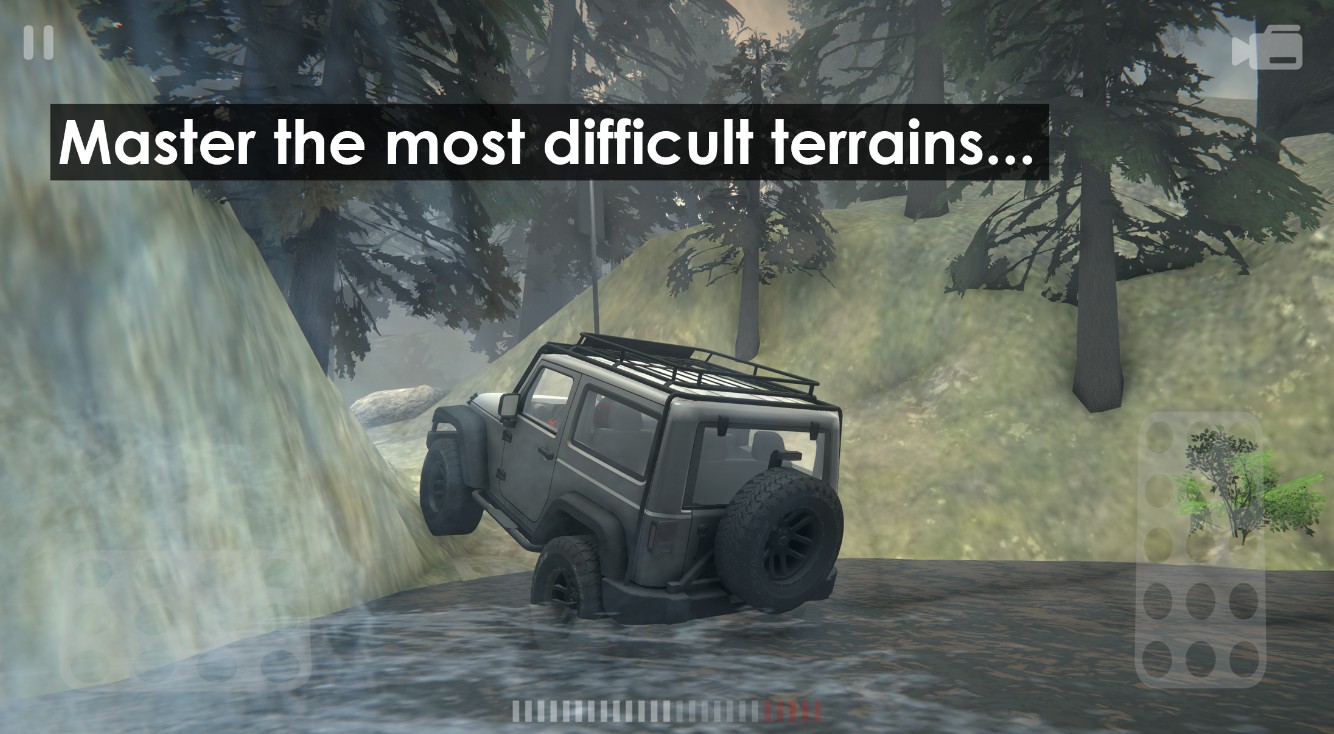 Off The Road
This is a mud OTR game that will test your racing skills.
Sooth to say, the app comes with the widest and most unique collection of vehicles to pick from. There are SUVs, trucks, muscle cars, boats, and even a helicopter (cause why not, right?). It pairs with a massive open world that is fun to research with all these vehicles one by one.
You'll get to fly on top of the mountains, explore lakes and sees to get to the islands, drive through the hills, and more. You'll even get to climb on top of the mountains using a cable rope with realistic physics. As you do, you'll get to pass challenges and earn coins that can be spent on car upgrades, and all that.
For some challenges, you may need to transport your vehicles, and you get to build houses and bridges for it. Herewith, you need to keep in mind that the game comes with a damaging tech, so you have to be cautious and not crash your vehicles. All the falls and hits will deform your vehicle and affect its features, so you'll have t spend coins to repair it.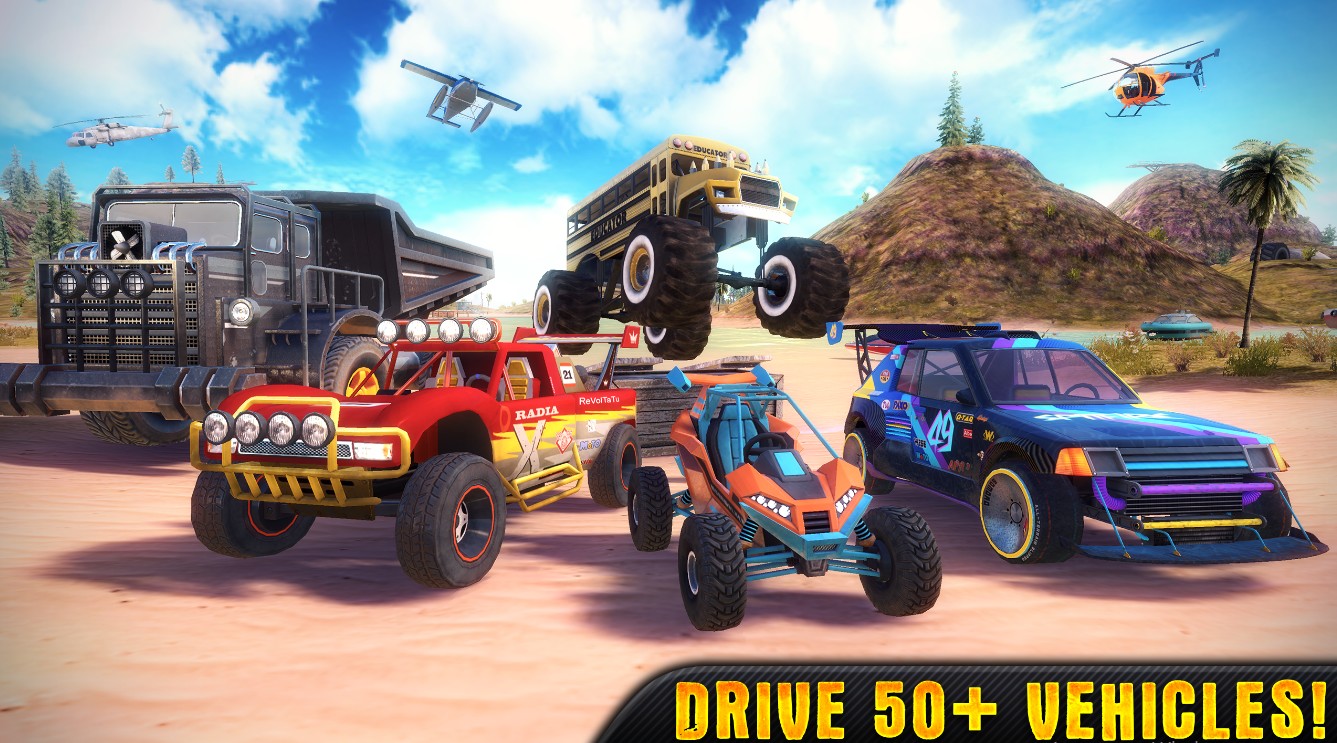 Check also: 11 Quick Multiplayer Games for Android and iOS
4×4 Mania
Here we have an SUV racing game that lets you create a unique custom vehicle of your dream.
If you're the kind of person who enjoys customizing cars and making them as personalized as you can – you'll love this one. It covers tons of modernization options including a wide variety of new parts, liveries, turning styles, and all that. You'll get to switch the rims, bumpers, tires, and whatever else you may need.
Plus, the game covers all the important aspects of the OTR genre: bogs of mud, the rocks to crawl to, deserts for drifting, and more. There are plenty of off-road levels of different difficulty, and some of them seem impossible to pass through. There are multiple locations with bumping hills, ice lakes, deserts, mountains, and more.
Thee's even a knockout derby arena if needed. Each win brings you points to spend on new car parts and other significant upgrades. You may also join extra challenges to earn bonuses and unlock new cars. There's a multiplayer mode with a chat, so feel free to invite your mates to join.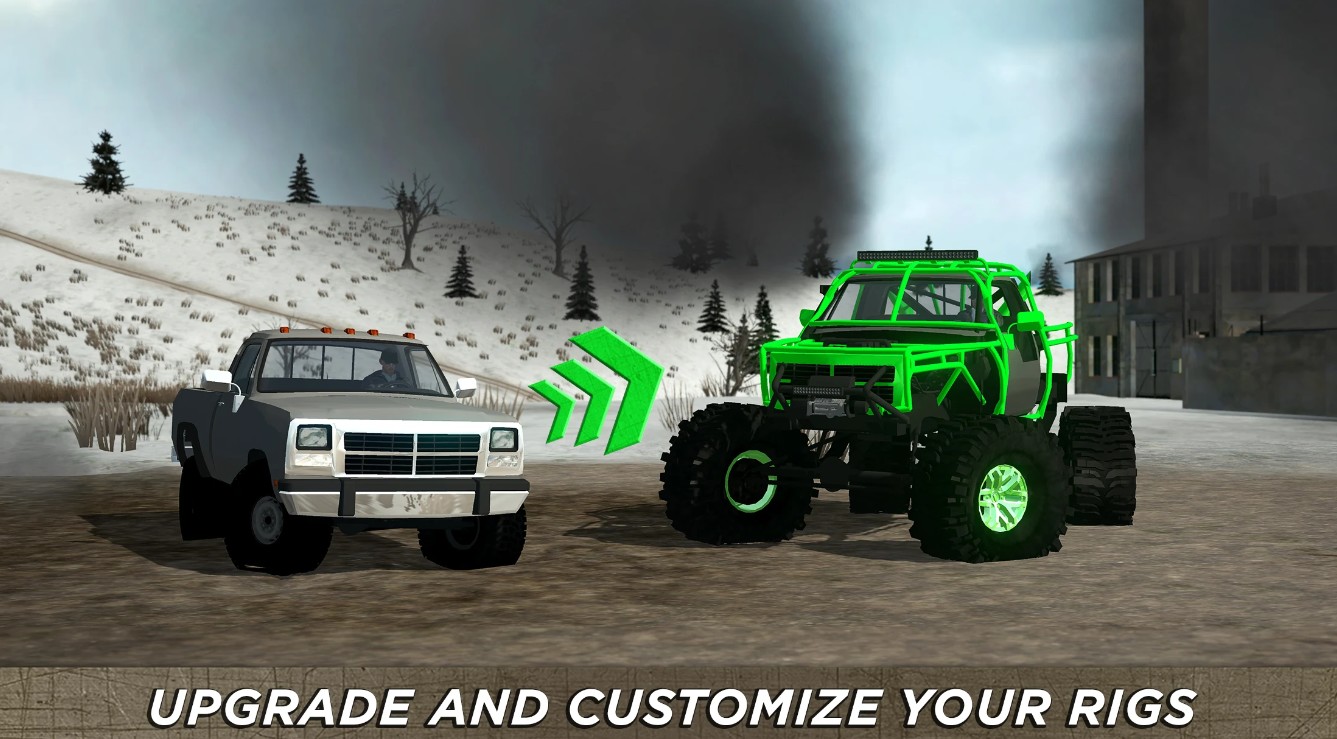 Offroad Outlaws
Get ready to dive into the world of mud, dirt, trucks, and intense driving with this off-road racing game.
This game gives you everything you may need from the genre: control over your car, tons of exciting challenges, an open world with multiple locations, and a multiplayer mode to have fun with mates. As for the control, you'll get to build a car from scratch (or use a base), customize the entire setup, and regulate all the parts as needed.
To be more precise, you'll get to adjust the damping and the stiffness, and try different suspension types if needed. The game covers plenty of locations that let you build your own rock routes, drift in the sands of the desert, drive through the rivers, and more. In case you wanna train for it: there's a stunt part that lets you try out new tricks with the ramps.
You may even make your own map with everything you love. Once you're done, you may share the map with the rest of the world. Speaking of MP mode, there are also several ways to use it. You may explore the exciting trails along with your friends (or random players), or contest with them in order to capture the flag.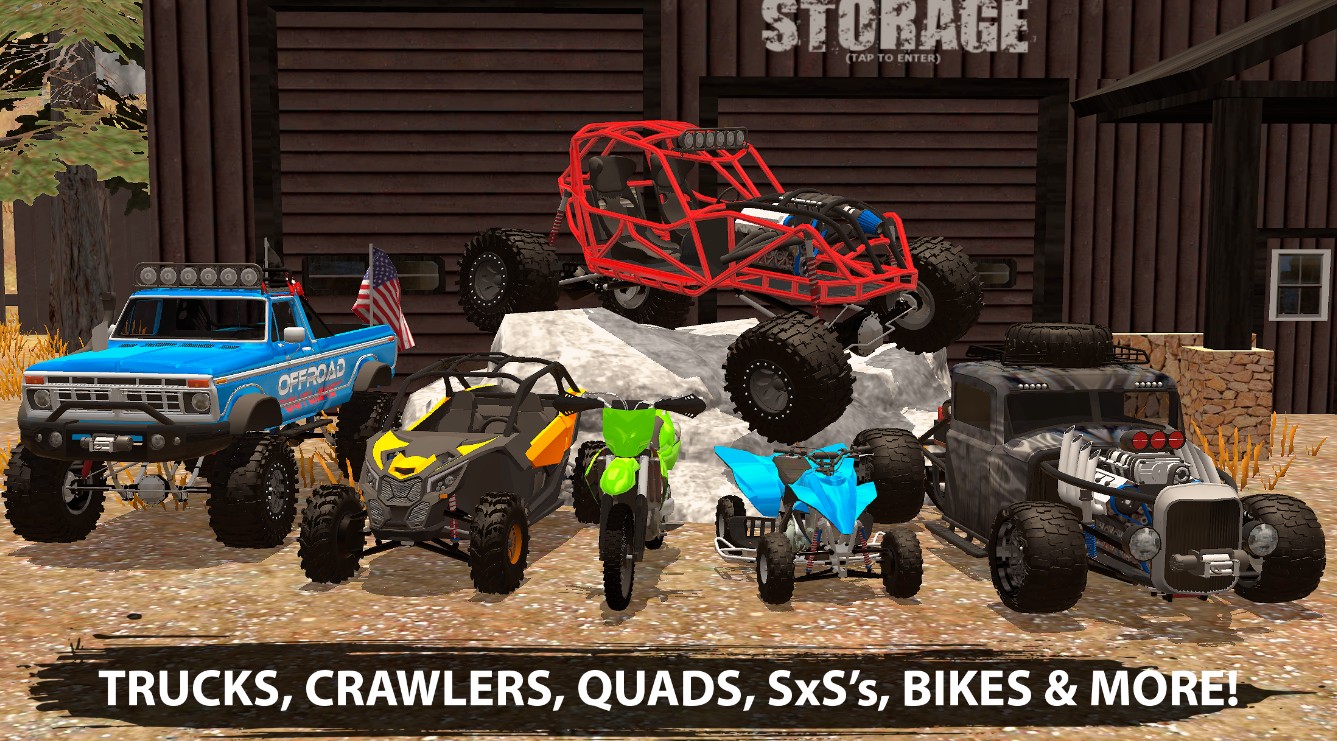 Gigabit Off-Road
It's a fun OTR game that you can play with friends.
In the first place, it needs to be said that the graphics in this one are not the best. It's still on the level, it doesn't ruin the experience, but in comparison to the other apps, it's a bit old school. Herewith, the game still covers plenty of features that make it addictive and fun to play.
It comes with a huge open world that you can spend hours exploring, tons of challenges, and a wide vehicle park. There are such locations as mountain parks, rocks, deserts, forests with rivers, and more. You'll also get to choose between 13 gameplay cams to fully enjoy the view. The game gives you plenty of control options, so you could cope with the toughest routes.
Plus, there's no gas meter, no waiting time for the parts, and no playing delays, which is great. As you drive, you'll get to attend challenges that will bring you points and other helpful bonuses. Each level comes with multiple challenges, you won't get bored here.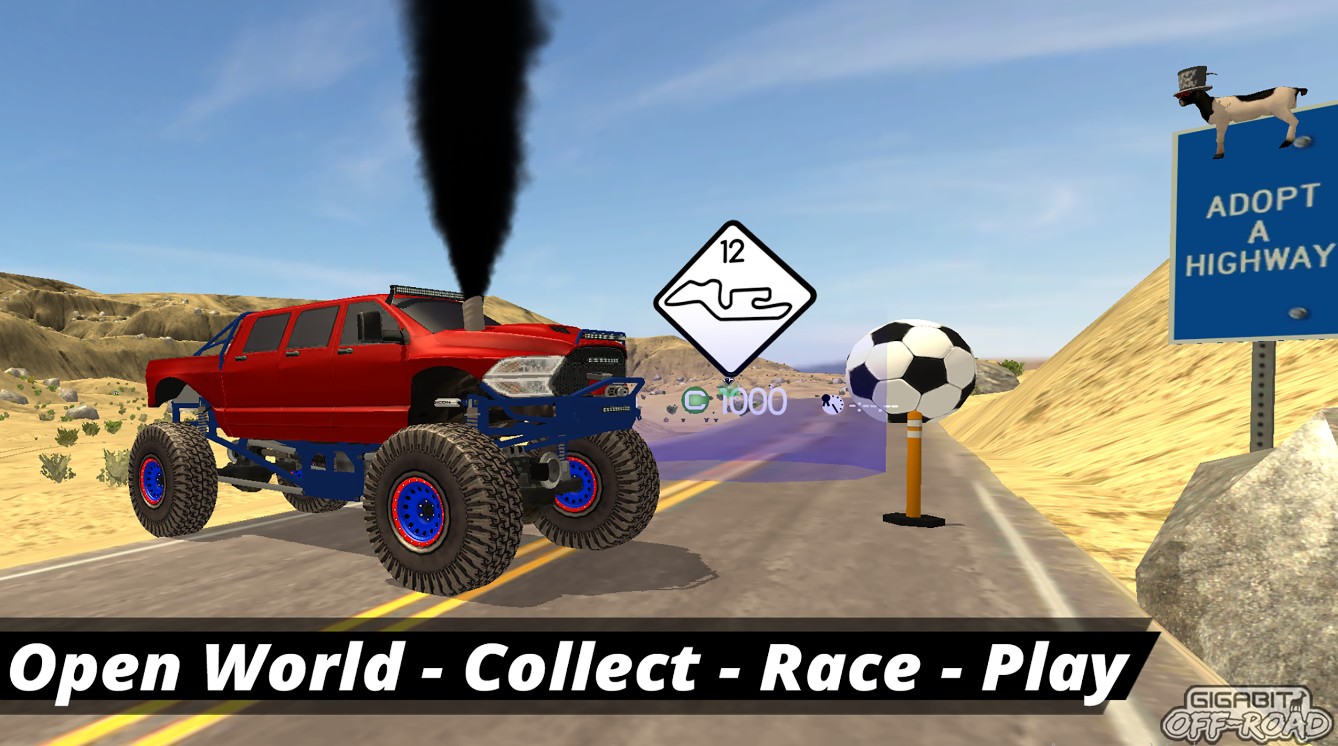 Racing Xtreme 2
It's not your average racing game – get ready for a monster-sized adventure that will have you laughing and racing at the same time.
Racing Xtreme 2 boasts an impressive collection of different cars, but here's the kicker – these cars are no ordinary vehicles. They're monster trucks! That's right, get behind the wheel of some outrageously cool and hilariously monstrous trucks as you tear up the tracks.
With a variety of levels and racing environments, Racing Xtreme 2 offers an exciting range of challenges. From racing through the city streets to navigating obstacle-filled courses, there's never a dull moment. Test your skills and prove that you're the ultimate monster truck racing champion.
So, I am sure that you will appreciate this offroad racing game as it provides an exciting adventure experience.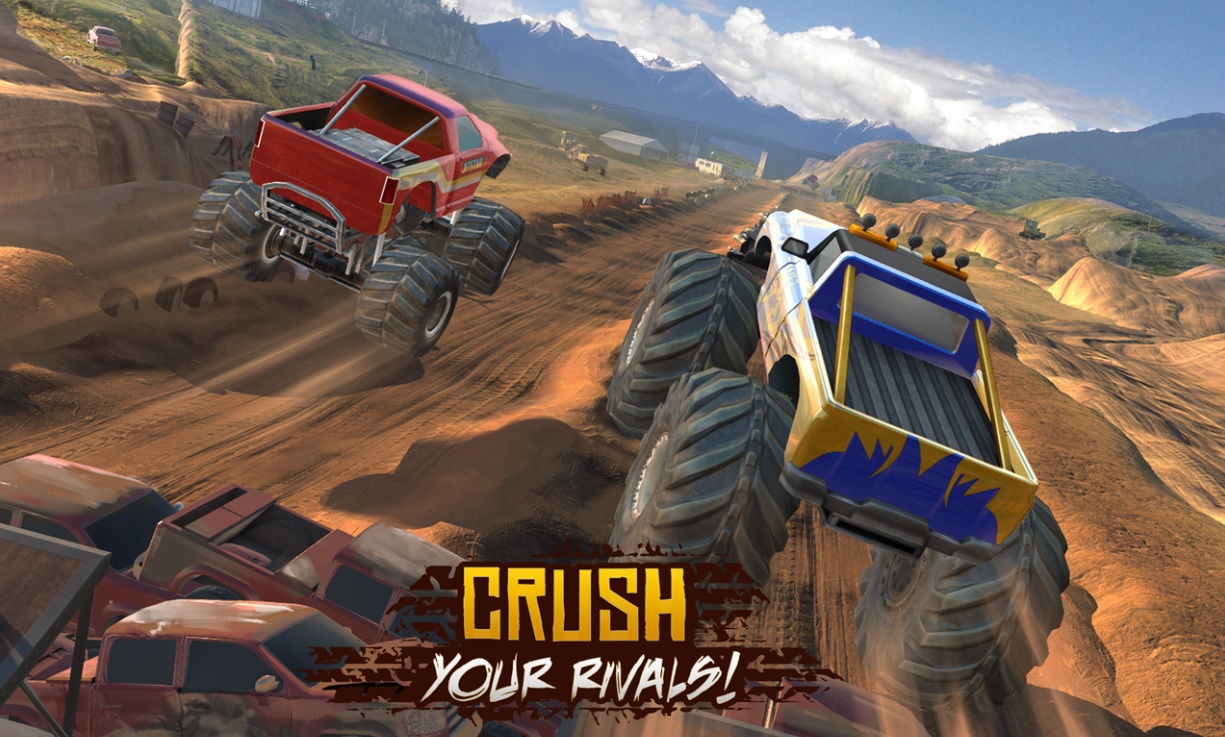 Offroad Unchained
It's one of the most popular games in this area. This action-packed game brings the thrill of off-road driving right to your fingertips, allowing you to navigate through challenging terrains and experience the rush of intense races.
One of the standout features of Offroad Unchained is the diverse range of cars available for you to choose from. Each car comes with its own unique characteristics, ensuring that you can find the perfect fit for your racing style.
From muddy trails to rocky paths, you'll need to master your driving skills to conquer the diverse challenges that lie ahead. As you progress through the levels, you'll unlock new cars, tracks, and customization options, adding to the excitement.
The game offers stunning graphics and realistic physics, ensuring that each race feels as authentic as possible. The intuitive controls make it easy for both newcomers and experienced players to jump right into the action.
In conclusion, I'd say that this game is about a fantastic driving experience, so you should definitely try it.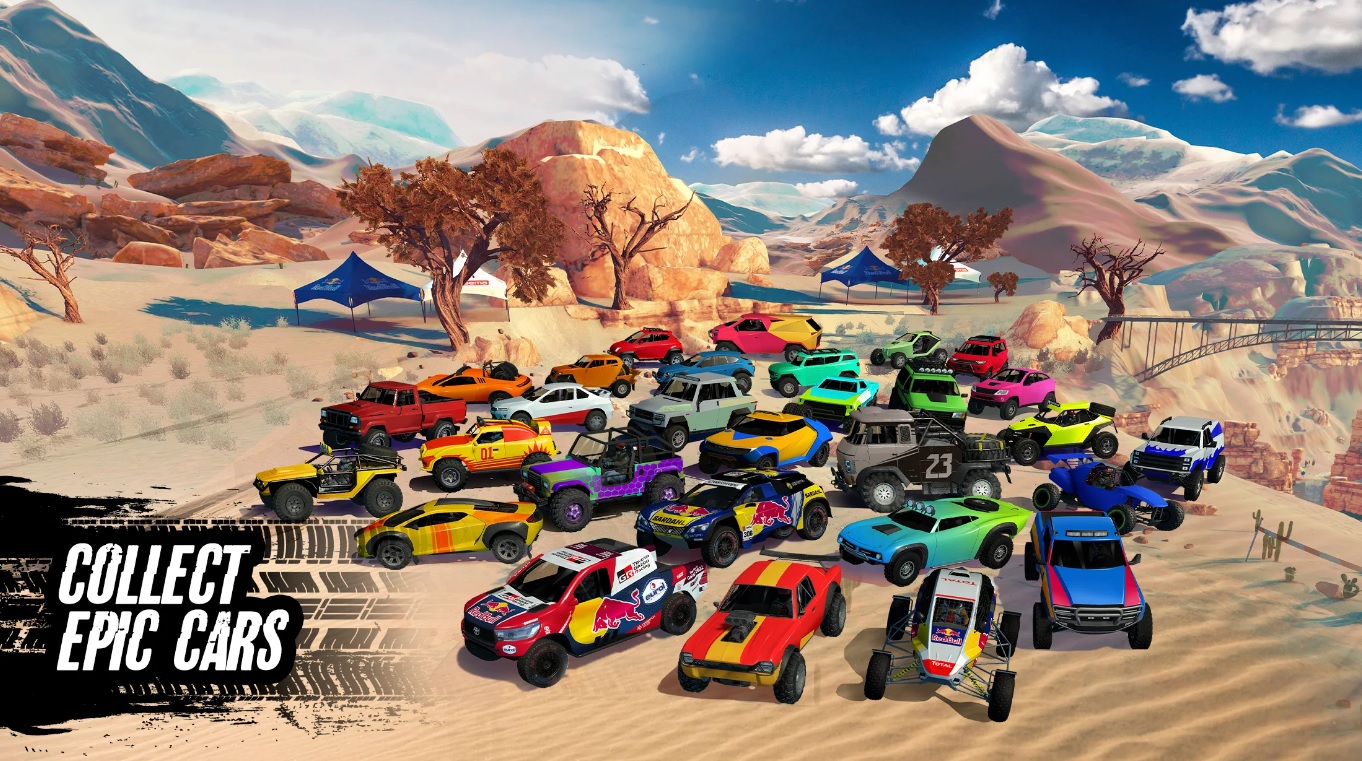 You may also check: 13 Best Bus Simulator Games for Android & iOS
Beach Buggy Racing
And lastly, we have an action-packed driving game with amazing dynamics.
This game is a bit different from the others. It comes with more cartoon-like graphics, but it doesn't make it childish or smth. The visual of the game is just more bright than you might've expected from the genre. It pairs with challenging race trails, cool vehicles, and a multiplayer mode to have fun with friends.
For now, the game covers over 15 3D tracks that will test your driving skills. The trails take place in dunes, mountains, tropical forests, and more. You'll get to drive through sand, mud, water, and all the things that make off-road games so fun. The trail comes with extra obstacles like dinosaurs, lava, swamps, and all that.
You'll also get to modify your cars with new parts, engines, tuning, and so on. The game also covers various racers with unique abilities that you can unlock and collect. Plus, the game offers lots of power-ups for jumping, speed, and all that. There are over 20 boosters for now, and the new ones are added regularly.