7 Best Piano Apps for Android & iOS
We have been using our phones as music players for at last a dozen years now. The sound quality is really good too. But when I am listening to my favorite song the 1000th time I start dreaming about writing my own hits for everybody to enjoy. Here are best piano apps for android & iOS to make up catchy tunes. 
Tenuto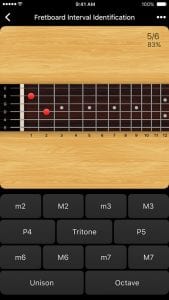 You should probably start with a musical training app, like Tenuto. This is a great way to use technology to supplement your lessons, use piano apps that focus on music theory and ear training.
Keeping that  in mind, both iOS and Android have an excellent solution with Tenuto. This app solves the problem for many people the with learning theory from a book by including interactive keyboards that show you what you're playing and why it adheres to a specific rule of music theory. Exercises and quizzes keep you fresh by turning work into games. And music is exactly the subject where games help a lot. Just think about how easy it was to memorize the names of all your favorite video game characters!
Magic Piano by Smule
With this app, you can start playing even before you have learned it. You just follow beams of light guiding your fingertips to the correct note. Magic Piano comes preprogrammed with the sheet music for lots of classics and beginner's pieces, which is also good for kids to easily follow along when the lighting elements of the keyboard are activated. You can turn the lights turn off and tuck away the sheet music so the keyboard functions on its own for your independent study. Users can even arrange a duet with other musicians who use the Magic Piano, no matter where in the world they live!
Get Magic Piano by Smule free for Android here
Get Magic Piano by Smule free for iOS here
My Piano
My piano does not have any toy-ish features but look, what actual piano features it will avail you with. Here is the short list: studio quality sound, 8 sound effects, multi-touch, note velocity, note aftertouch, note pitch bend, integrated sampler, integrated recorder, sensor pitch bend, sensor volume change, sample recording, sample load & save, tracks load & save, MIDI load & save. And of course, it works on tablets, bigger screens are way better! It is only available for Android, though. Get a different piano for your iPhone.
Get My Piano free for Android here
Piano by Gismart
This piano perfectly works with iOS! this wonderful piano app will help you whether you want to learn the piano, practice or play some songs for friends and family. It features a full 88-key keyboard for 5 different instruments: 2 pianos plus pipe organ, harpsichord, and accordion. You can get to choose between a single or dual scrollable keyboard. With an inter-app audio you can send your hits to different apps like GarageBand and there's even a MIDI keyboard. This app is easily the most realistic piano experience on the iPad thanks to its cutting edge 3D Touch technology that recognizes how long you are touching the screen and playing a note.
Get Piano free for iOS here
Piano 3D
One the most highly rated apps, Piano 3D offers those rare awesome 3D graphics. Obviously, there's a realistic piano sound. And users added over 750 songs to the library. Inter-App Audio and Audiobus support are on the long list of features too. A multi-touch 87-key keyboard takes up all the screen. Between the huge library and 87 keys, you can learn to play modern or classical music, whatever your interests are. You can learn a song note by note at a pace that works for you. There is a Video/Midi/Audio recorder built in and you can share your music on Facebook and YouTube. 3D makes it sound like a toy but this is the real thing.
NB: this app for Android is quite less amazing.
Get Piano 3D free for iOS here
Piano Chords and Scales
This app stands out as it stresses teaching you scale and chord progression for the piano. All chords and scales can be played ascending, descending and harmonically and are shown on a virtual piano and staff. It only includes common scales and chords, though.
Get Piano Chords and Scales free for iOS here
Musical Piano
Musical Piano could be the best app on this list. For starters, you get a musical toolkit including instruments (grand piano, piano keyboard, drums), and the tools (metronome, pitch pipe). Play-along piano learning game should be a good launchpad for a beginner. 2-octave stacked piano won't let a professional quit this thing. No sound lags or delays are a must and this app delivers that too. Unfortunately, this app works only with Android as well.
Now, this is a whole lot of apps for your gadget. Just don't forget to give a touch to a real piano!