We have been using our phones as music players for at last a dozen years now. The sound quality is really good too. But when I am listening to my favorite song the 1000th time I start dreaming about writing my own hits for everybody to enjoy. Here are best piano apps for android & iOS to make up catchy tunes.
You may also like: Top 9 Piano Tuning Apps for Android & iOS
Tenuto
You should probably start with a musical training app, like Tenuto. This is a great way to use technology to supplement your lessons, use piano apps that focus on music theory and ear training.
Keeping that in mind, both iOS and Android have an excellent solution with Tenuto. This app solves the problem for many people the with learning theory from a book by including interactive keyboards that show you what you're playing and why it adheres to a specific rule of music theory.
Exercises and quizzes keep you fresh by turning work into games. And music is exactly the subject where games help a lot. Just think about how easy it was to memorize the names of all your favorite video game characters!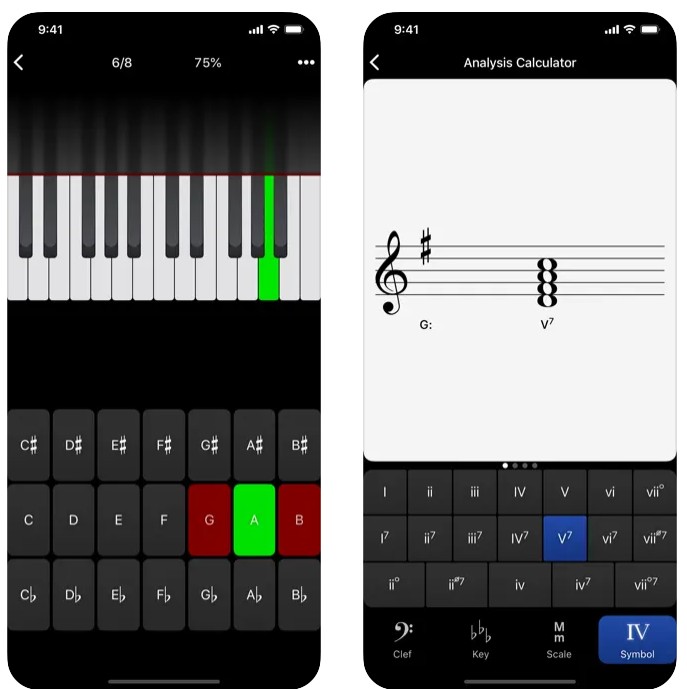 You may also like: 7 Free Sheet Music Scanner Apps & Websites
Magic Piano by Smule
With this app, you can start playing even before you have learned it. You just follow beams of light guiding your fingertips to the correct note. Magic Piano comes preprogrammed with the sheet music for lots of classics and beginner's pieces, which is also good for kids to easily follow along when the lighting elements of the keyboard are activated.
You can turn the lights turn off and tuck away the sheet music so the keyboard functions on its own for your independent study. Users can even arrange a duet with other musicians who use the Magic Piano, no matter where in the world they live!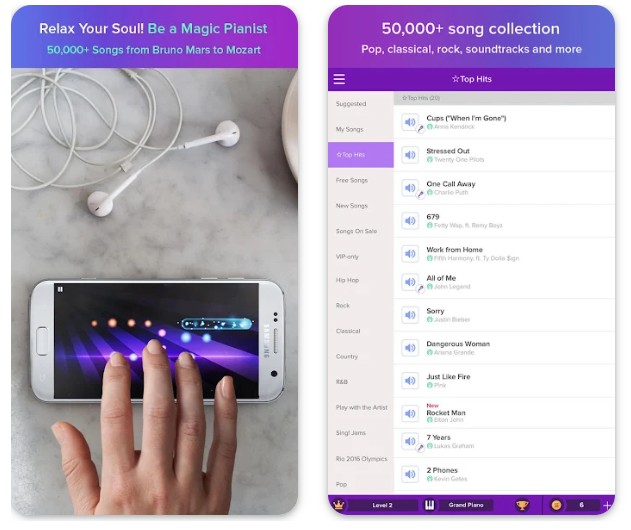 My Piano
My piano does not have any toy-ish features but look, what actual piano features it will avail you with. Here is the short list: studio quality sound, 8 sound effects, multi-touch, note velocity, note aftertouch, note pitch bend, integrated sampler, integrated recorder, sensor pitch bend, sensor volume change, sample recording, sample load & save, tracks load & save, MIDI load & save. And of course, it works on tablets, bigger screens are way better! It is only available for Android, though. Get a different piano for your iPhone.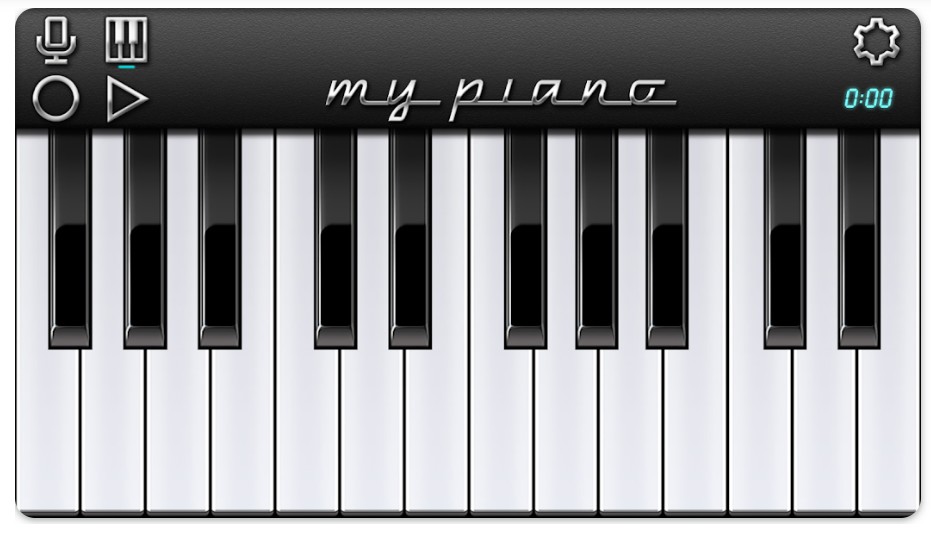 Piano by Gismart
This piano perfectly works with iOS! this wonderful piano app will help you whether you want to learn the piano, practice or play some songs for friends and family. It features a full 88-key keyboard for 5 different instruments: 2 pianos plus pipe organ, harpsichord, and accordion.
You can get to choose between a single or dual scrollable keyboard. With an inter-app audio you can send your hits to different apps like GarageBand and there's even a MIDI keyboard. This app is easily the most realistic piano experience on the iPad thanks to its cutting edge 3D Touch technology that recognizes how long you are touching the screen and playing a note.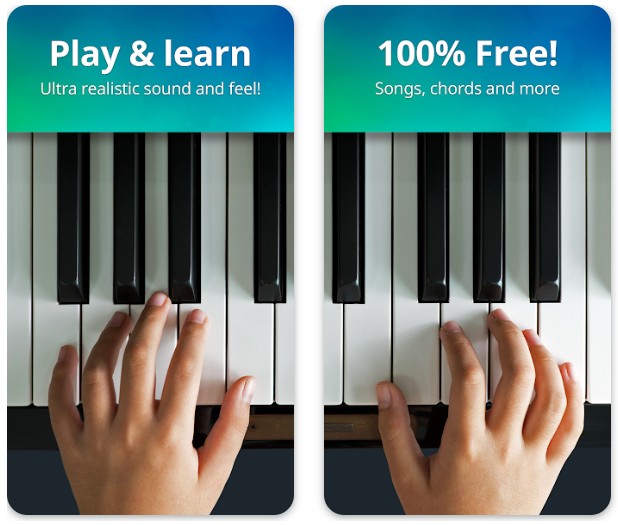 Piano Crush – Keyboard Games
This is a popular app that offers a variety of games and challenges to help you learn and practice playing the piano.
You can learn the basics of the piano playing in a fun and challenging way. Just relax and make some noise!
The graphics in Piano Crush Keyboard Games are good, with bright colors and smooth animations. The app has a clean and simple user interface, making it easy to navigate and use.
However, there are some flaws in the app, such as the occasional lag or delay in the gameplay.
Advantages:
Fun and engaging piano games.
Variety of challenges to improve skills.
Drawbacks:
Occasional lag in gameplay.
Frequent ads.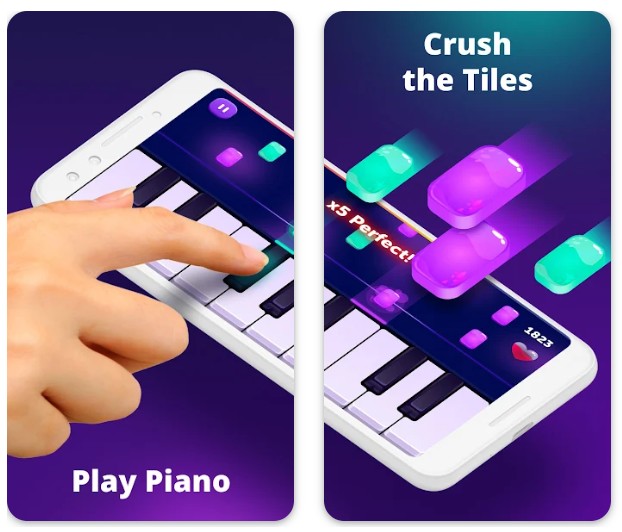 You may also like: 7 Free Music Platfroms for Artists to Upload Music
Piano Chords and Scales
This app stands out as it stresses teaching you scale and chord progression for the piano. All chords and scales can be played ascending, descending and harmonically and are shown on a virtual piano and staff. It only includes common scales and chords, though.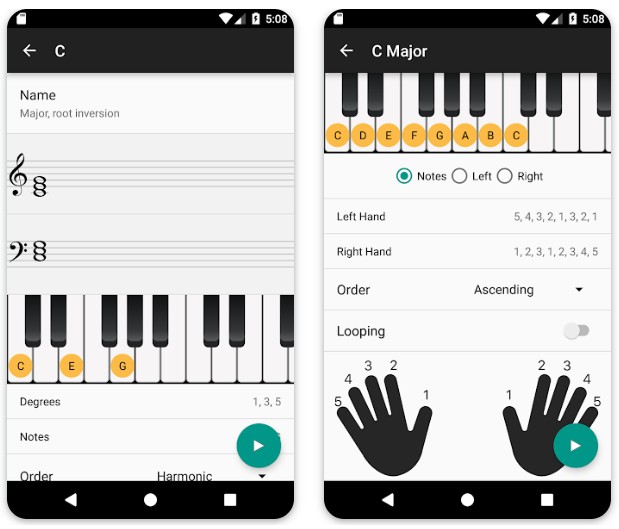 Piano Band – Music Tiles Game
Piano Band – Music Tiles Game is a popular mobile app that gives players a unique and challenging gameplay experience.
The gameplay of Piano Band – Music Tiles Game is easy to learn but difficult to master. Players are required to tap on the tiles that correspond to the notes of the song being played.
As the game progresses, the tiles move faster, and the songs become more complex, increasing the difficulty level.
Also, there are a lot of popular songs, including both classical and contemporary music, which keeps the players engaged and entertained.
Advantages:
Wide range of popular songs.
Simple but appealing graphics.
Drawbacks:
App crashes on older devices.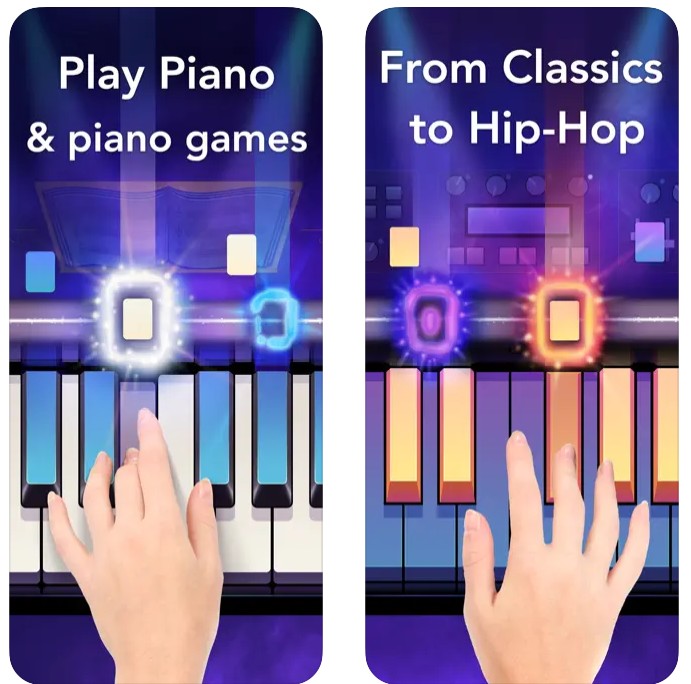 Piano Fire
This is a music game app that allows users to create their own music by playing piano keys and mixing beats to create amazing tunes.
The gameplay is simple, yet entertaining. Players are given different notes to play on the piano and they can create their own rhythm by mixing these notes.
The app features different levels, each with a different set of notes and beats to choose from. You can unlock new instruments and beats, which can be added to their tunes.
Advantages:
Simple and entertaining gameplay.
Eye-catching graphics.
Drawbacks:
Limited number of instruments and beats available.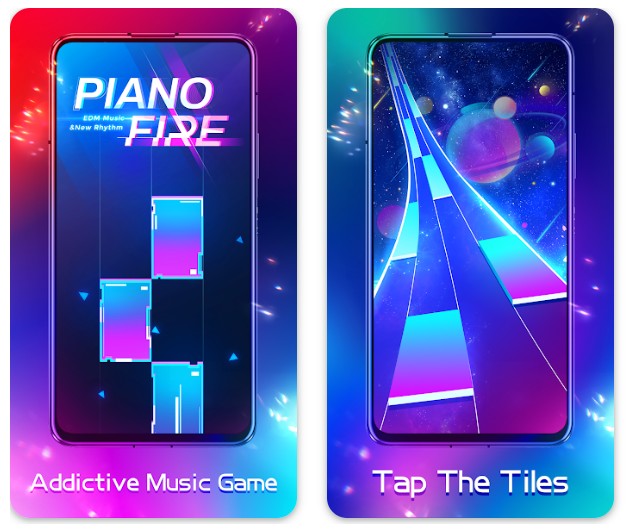 Synthesia
Synthesia is an app that offers you an engaging and interactive music-learning experience.
You'll definitely like a simple and straightforward approach to learning music, with notes falling down the screen and corresponding keys highlighted on a virtual piano.
The gameplay is smooth and easy to follow, making it accessible to players of all levels.
Also, the app's color scheme and design are simple but effective, providing an immersive experience without being too distracting.
Advantages:
Intuitive gameplay.
Visually appealing design.
Extensive library of songs.
Drawbacks:
Limited instruction for beginners.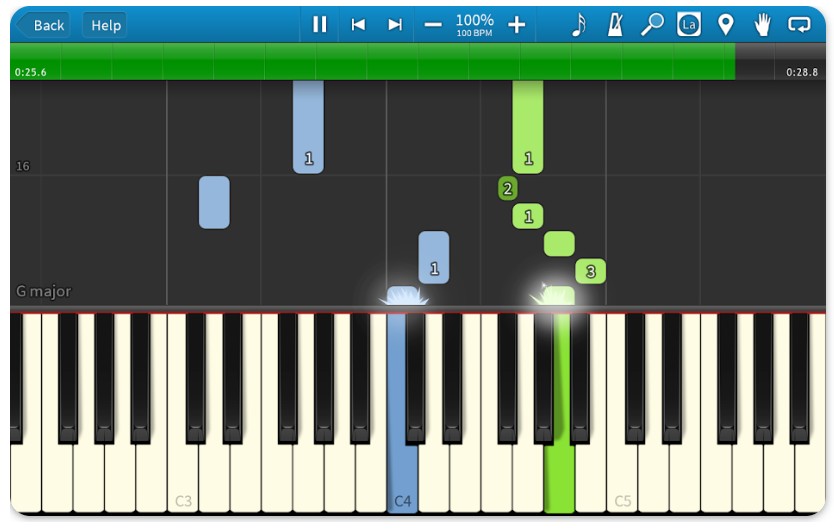 Pianist HD
Pianist HD is a music app that allows you to play the piano on your smartphone or tablet. Now, to be a real pianist, you do not need to buy this bulky instrument! With this app, you can create and play your own songs or practice your favorite tunes on the virtual keyboard.
The app features high-quality sound and multi-touch support, which means you can play multiple keys at the same time, just like a real piano.
You can also adjust the sound and tempo to your liking, making it easy to play along with your favorite songs or create your own tunes.
One of the great things about Pianist HD is that you can customize the keyboard layout to suit your playing style, with layout options for single-row, double-row, and double-row mirroring.
In addition, the app offers a variety of sound effects and a selection of instruments, including grand piano, electric piano, and more.
Some users have reported issues with the app crashing or freezing, which can be frustrating when you're in the middle of great performance. This app is perfect for you if you want to try something new or just looking for a way to relax
Pianist HD is a fun and entertaining app for music lovers who want to play piano on the go. Whether you're an experienced pianist or a beginner, try Pianist HD and see where your fingers take you!
Features of the Pianist HD application:
The ability to realize your creative abilities
Good way to get distracted and relax
User-friendly interface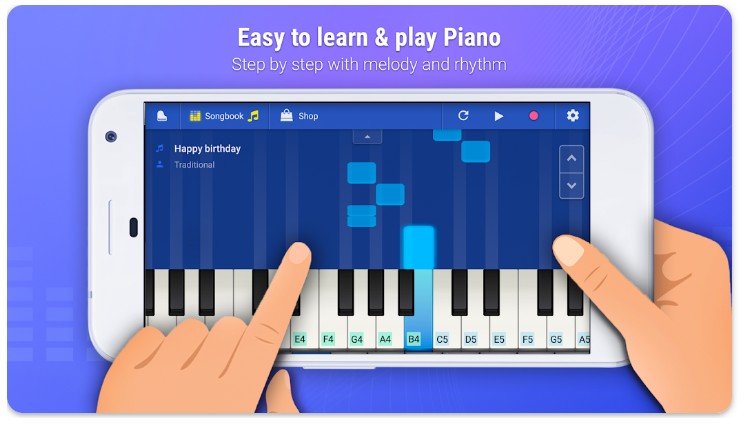 You may also like: 7 Best Music Speed Changer Apps (Android & iPhone)
Piano for iPhone
Piano for iPhone is a music app that lets you play the piano right on your phone! The application has an interface that makes it easy to learn and play songs.
With a variety of keys and sound options, you can create great music in no time.
One of the most impressive features of this app is its ability to recognize different levels of touch sensitivity, which makes the game feel incredibly natural, as if your fingers are not touching the screen of a smartphone, but real keys.
The app also includes a recording feature that allows you to save and play back your performances.
Apart from playing solo, Piano for iPhone also allows you to connect with other players online and play together in real time.
This feature is perfect for you if you want to collaborate with other musicians or just have fun with your friends.
The app has received generally positive reviews, with some users noting that audio quality can sometimes be inconsistent and the app may crash.
Piano for iPhone is a great app for you if you want to learn how to play the piano without much effort and expensive lessons.
You don't even need to purchase a piano! Just download the app and test your musical skills
Features of the Piano for iPhone application:
The opportunity to have a good time.
You can learn to play the piano.
Play together with your friends.