You can entertain your friend in any way you want. Yet, at the most necessary moment, interesting ideas leave our minds, and then there is a need for extra tools.
Since the phone is always at hand, the most reliable option is a special mobile app. Check this review of the best fun speaker prank apps for Android & iOS and choose exactly what will cheer up people around you.
You will find more ways to prank your friends among these free deepfake voice generator apps & websites.
Haircut prank, air horn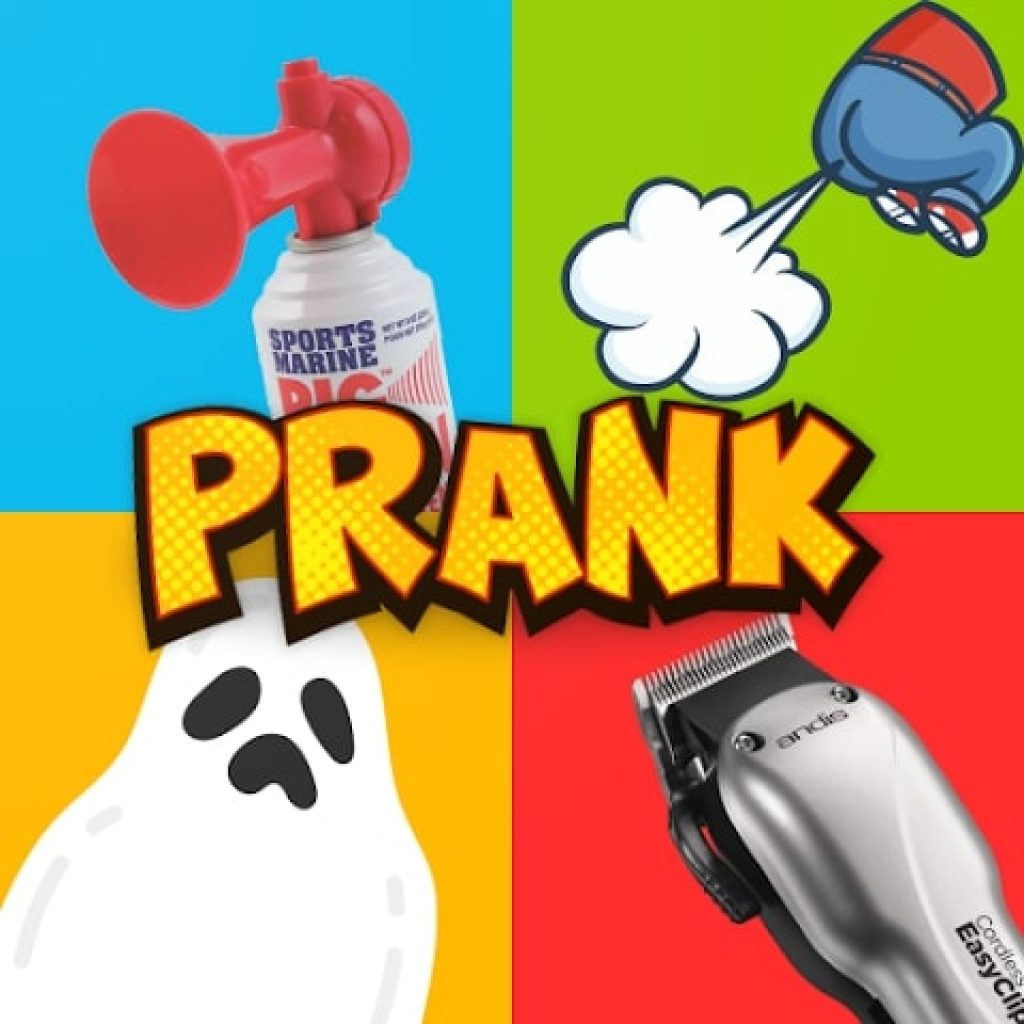 With this cool service, you will definitely be able to surprise your family and friends. You don't need to come up with original jokes, because everything is available in your gadget.
Now you can try all the funniest jokes in reality with a variety of sound effects. Such pranks will lift your spirits and cause positive emotions. You can imitate car horns, doorbells, horns, baby crying, and gun.
All of these sounds are suitable for the realization of the funniest and most unusual pranks. They are as realistic and believable as possible, so people around you will definitely believe them.
Sounds of broken glass will allow you to tease your family and friends. Sounds of horn guns will cause adrenaline fright, fun, and laughter.
With this app, you will definitely not be bored in the company of your family and friends. Now you can defuse any situation, making the pastime even more fun and interesting.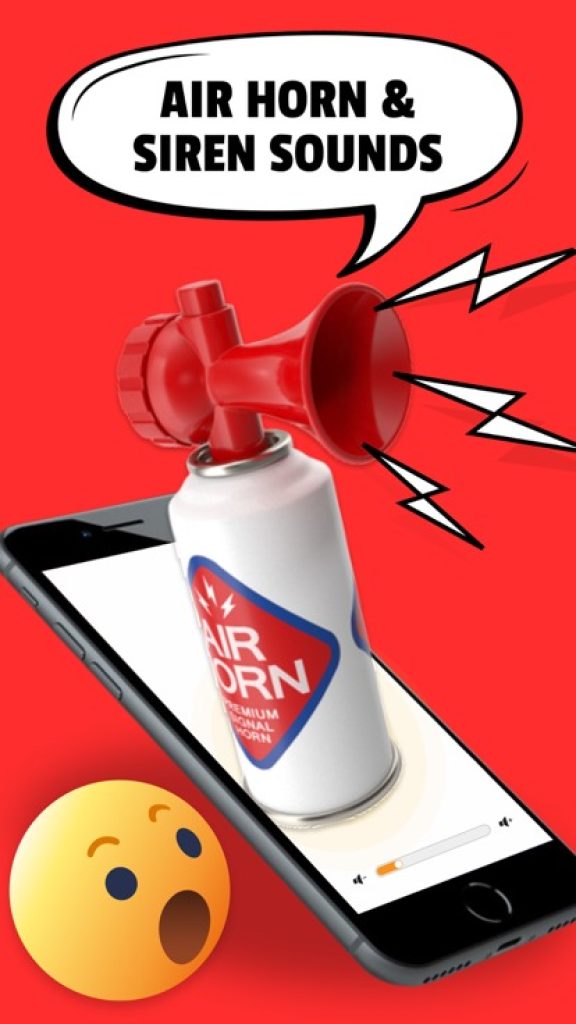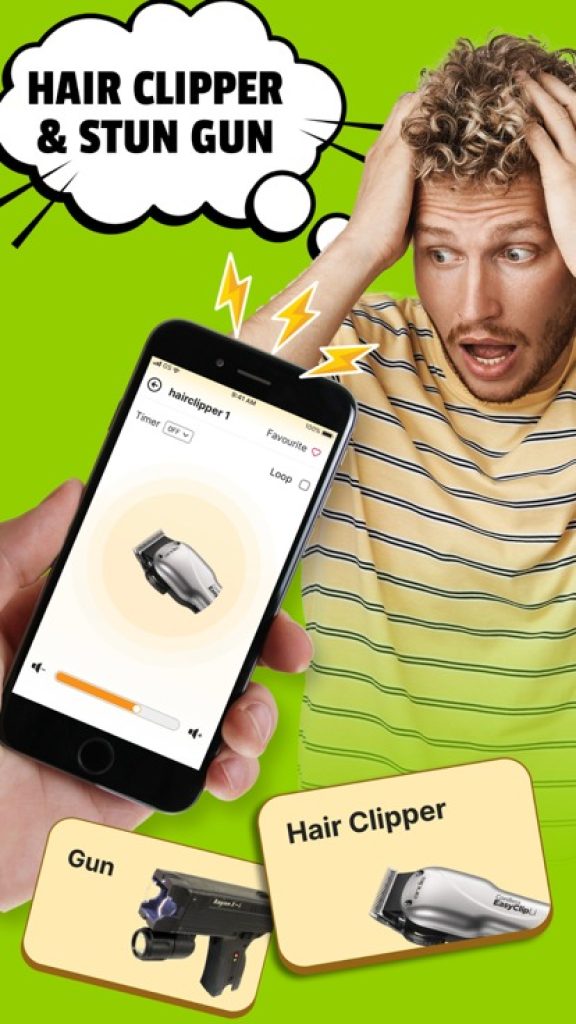 Free service for selecting funny sound effects for pranks allows everyone to use it. Any fan of fun and jokes will be able to amuse themselves and their loved ones, using the functionality of this app and all its features.


You may also like: 10 Best Air Horn Apps for Android & iOS
iTorturer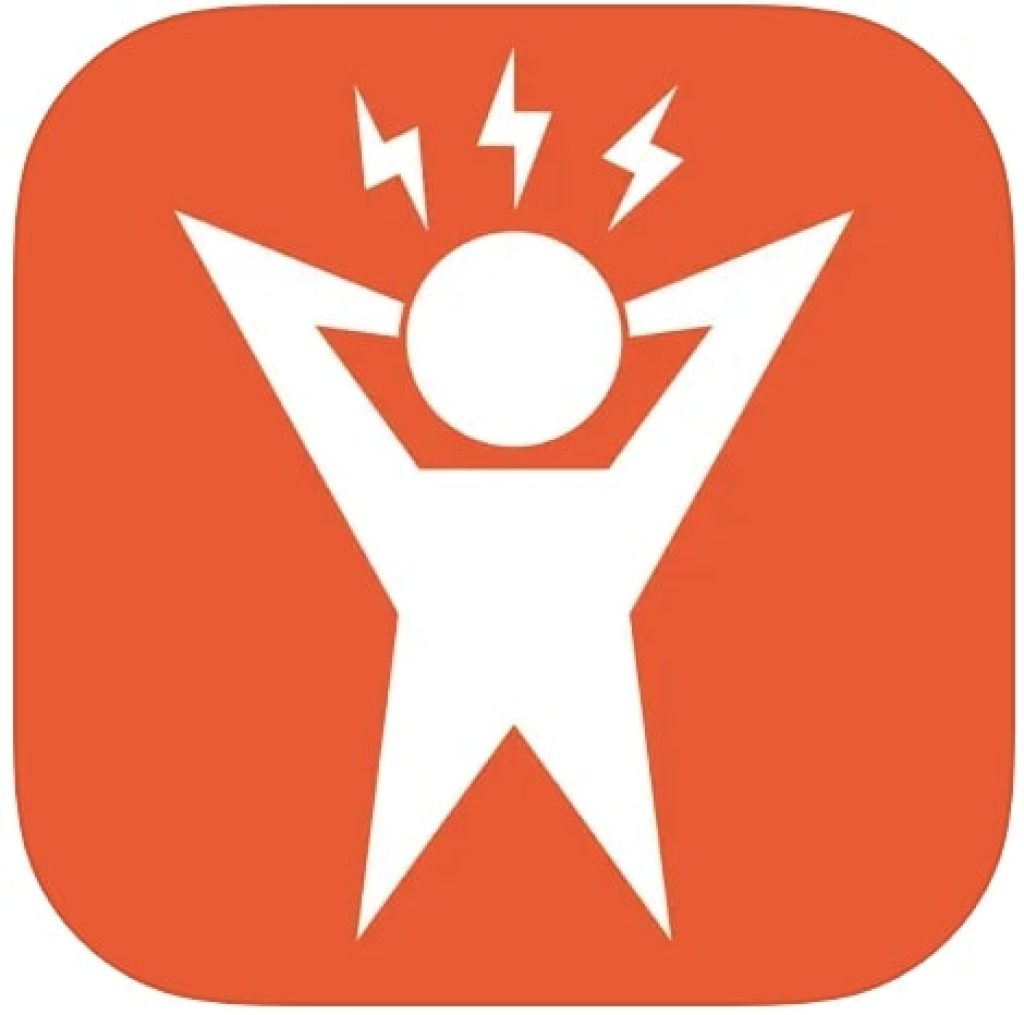 If you like to make people laugh all the time and cheer them up, then this modern app is perfect for you. With it, you can easily carry out the most cunning plans and pranks for large companies of people.
With this service, you can easily mislead all your acquaintances because they won't know where the source of the annoying sound, squeak, or noise is.
Any of the sound effects you can choose for your pranks, as they are all free and available when you download the service from the official marketplace.
The simple use and operation of the app allow you to make your jokes and pranks as natural and realistic as possible. No one will be suspicious of you if you turn on sound effects discreetly and quietly.
You can choose new noises and sounds each time, allowing you to prank the same people over and over again.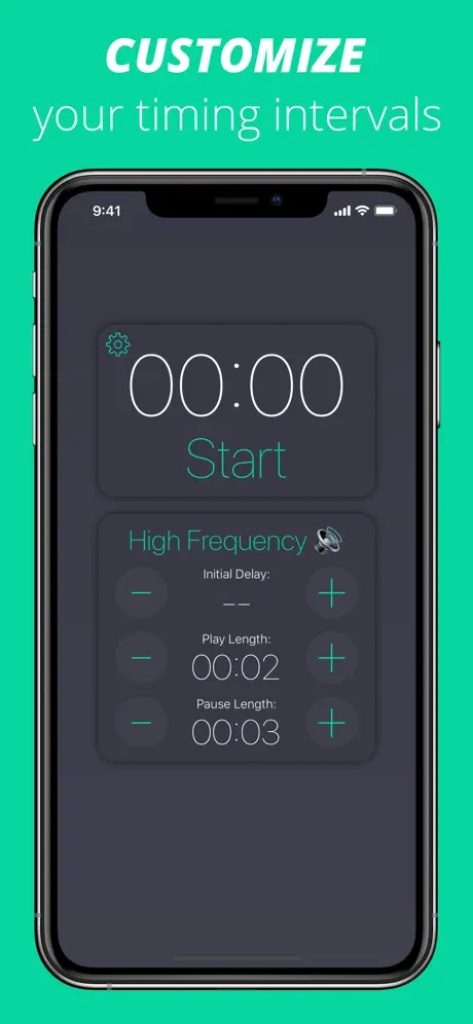 You will not get bored with this app and you can always have fun using it with big groups of people. You can also choose the company of strangers, to see their reactions from the sidelines.

Hair Clipper Prank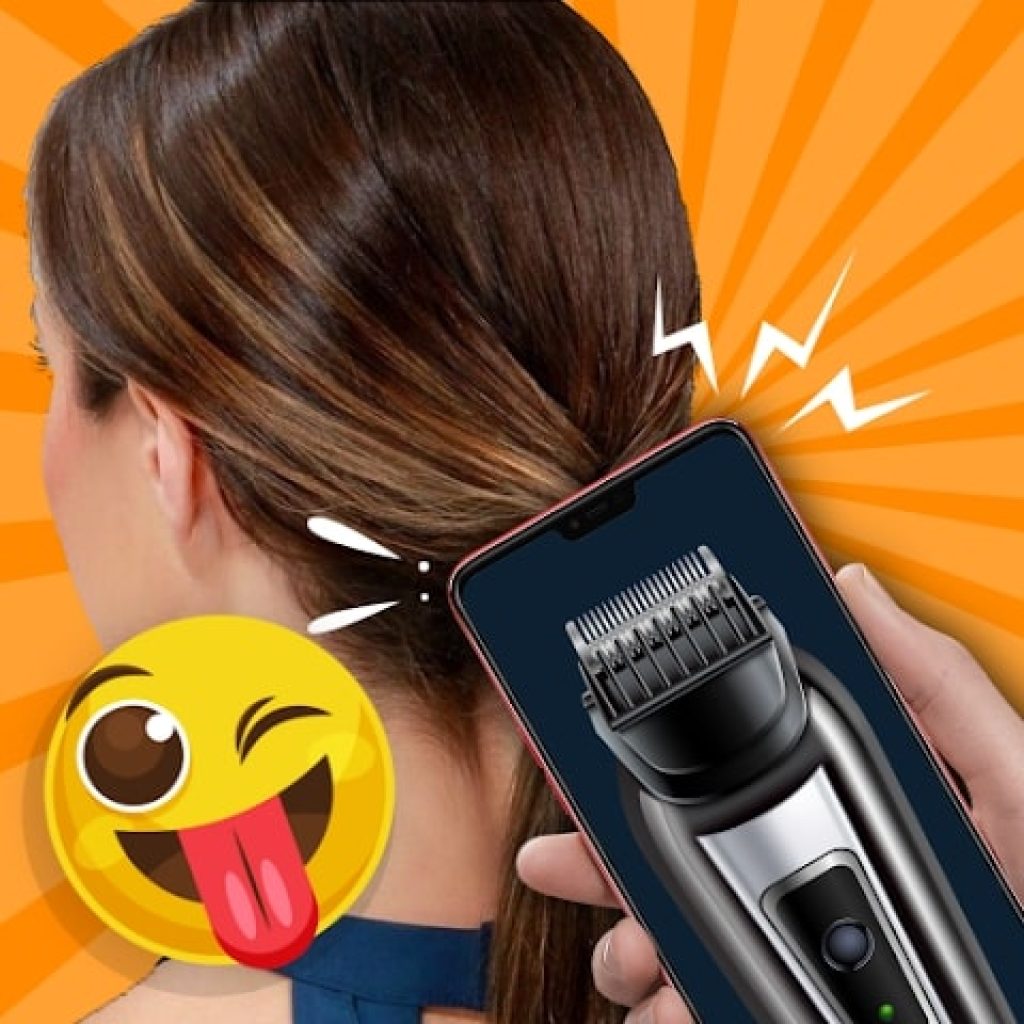 Now you can use only your modern gadget and this app to make the funniest jokes on your friends and family. It will allow you to cheer up both yourself and those around you with the help of unusual and simultaneously frightening sound effects.
If you want to play a prank on your friend or acquaintance by cutting their hair, you can turn on the sound of the hair clipper and scare them properly.
In this case, the hair will remain intact, and you and your friends will get a lot of emotions and a charge good mood for the rest of the day.
You can also make fun of your parents and loved ones by putting a broken glass effect on your phone screen. That way you're sure to cause outrage and fear at first, and then positive emotions by showing a real smartphone screen.
Adrenaline lovers can turn on the police signal, which will increase and cause even more fear with every minute. You can baffle your friends and family with the effect of white noise, which will come from your smartphone and strain everyone around you.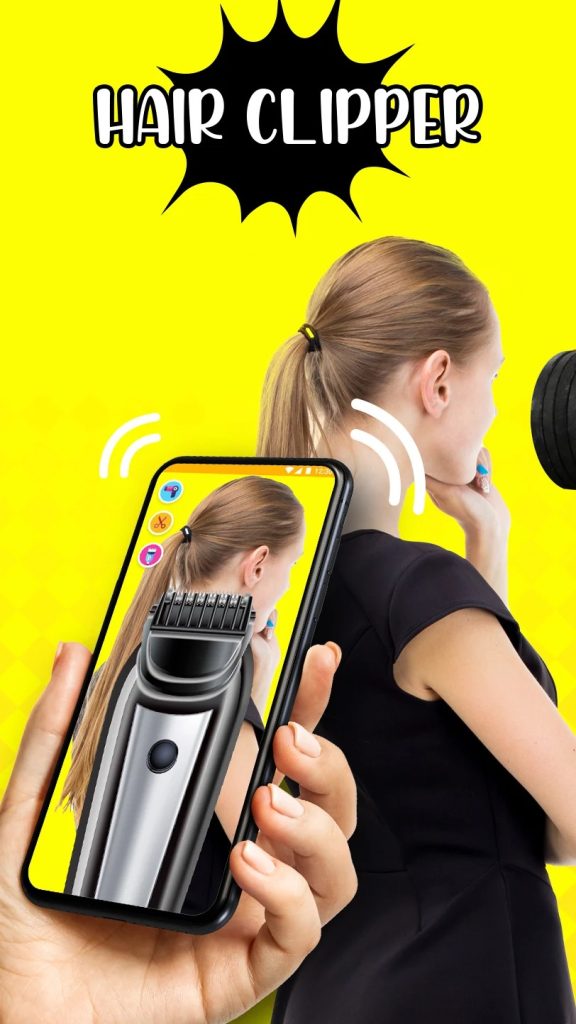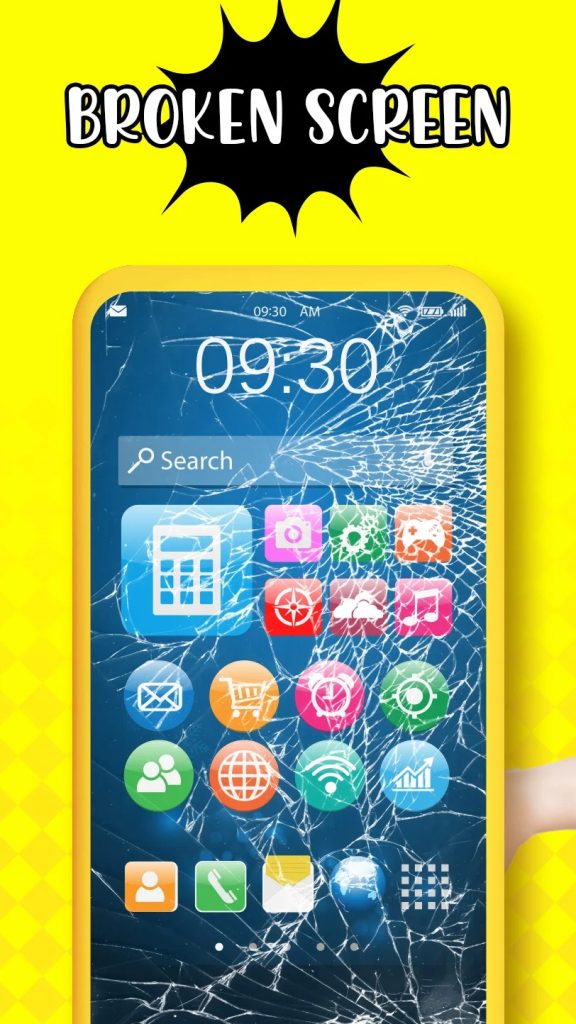 They will definitely not guess where the sound is coming from, as the app allows you to achieve the most perfect sound of any of the effects.

Prank Sound: Hair Clipper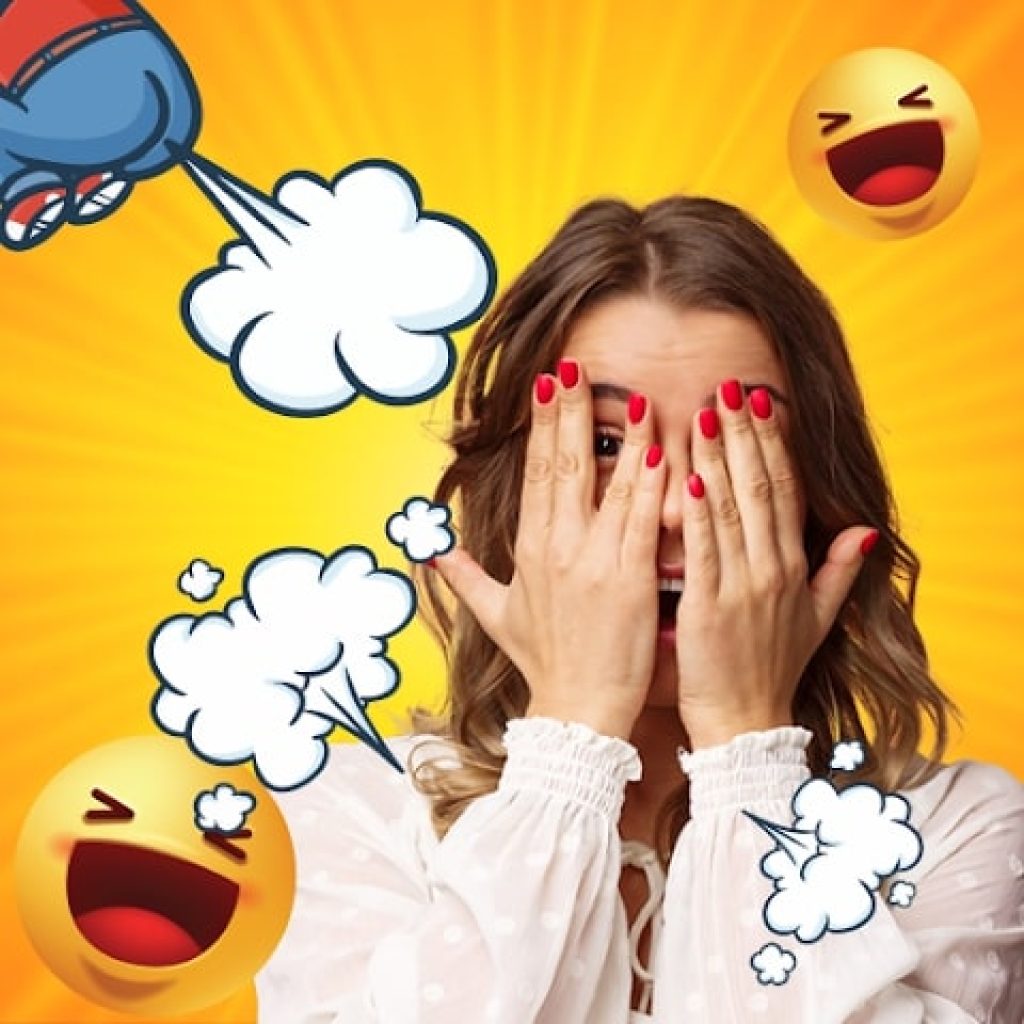 This app is great for really funny people and fans of unusual pranks. It will allow you to play jokes on your friends and acquaintances, as well as complete strangers on the street, in transport, and in other public places.
Including a variety of sound effects, you can observe in real-time the reactions and emotions of people. They will definitely be able to cheer up and energize.
For jokes, you can use the sounds of the haircut machine, which will allow you to scare and cheer up your friends. Such a prank will be as realistic as possible in a barbershop or salon, but no less fun will be at home.
If you want to add a little adrenaline to the lives of your family and friends, you can scare them with the sound of gunfire. It will make them scared and feel real danger. But what a relief it will be when you admit that it was all a joke.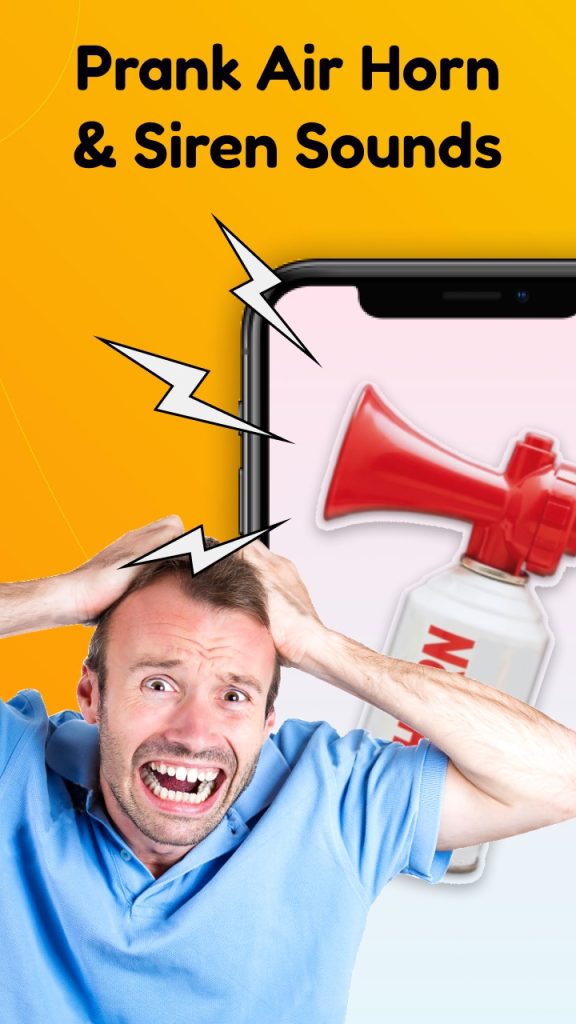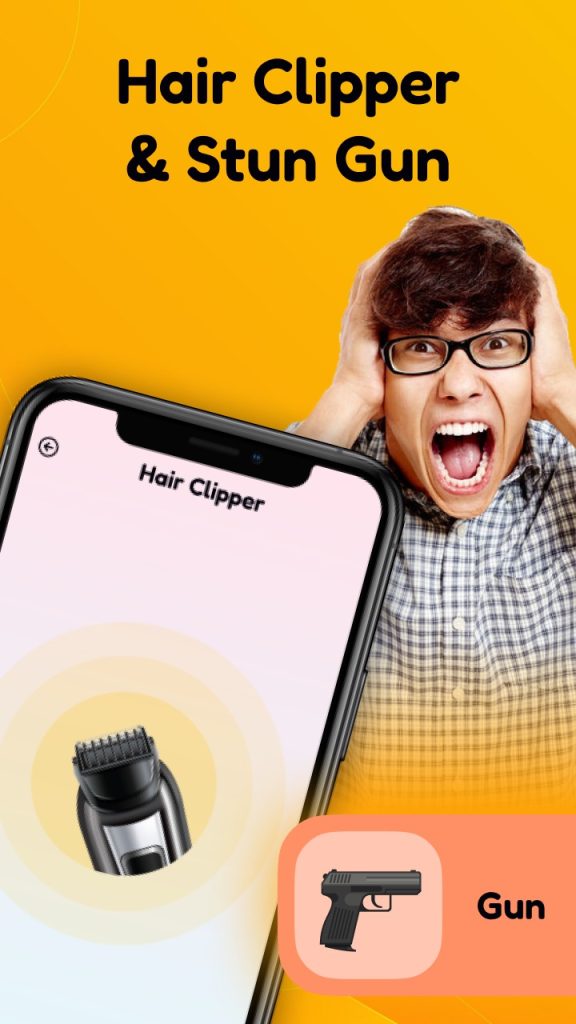 You can also try the sounds of alarms, alerts, sirens, and many others. Over 200 effects will help you make different pranks every day. You'll use them to amuse yourself and your acquaintances so you'll never be sad or bored. Use all the sounds to choose your favorite and most realistic ones.

You may also like: 8 Free Text Prank Apps for Android & iOS
All in one sounds prank app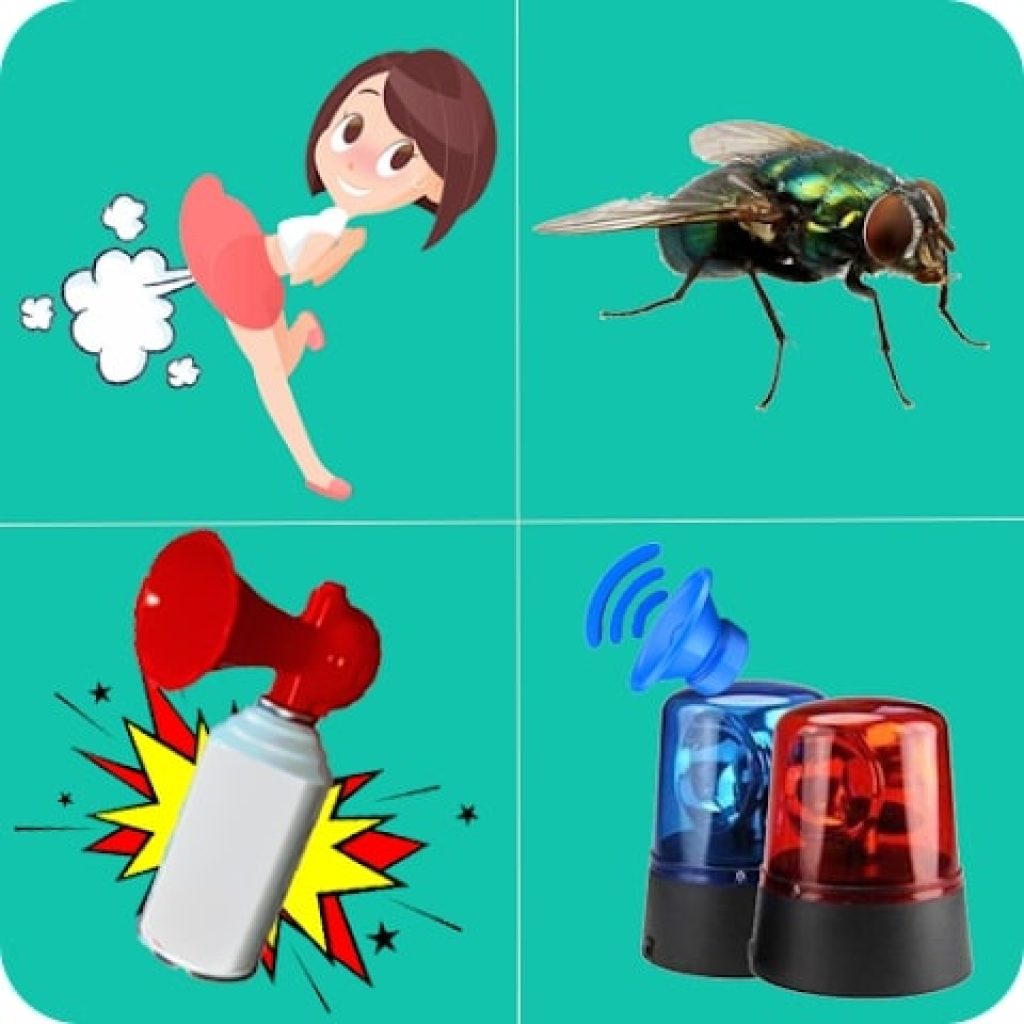 To avoid thinking about how to play pranks on your family and friends, you can use this app and enjoy the fun around the clock.
In the service, you will find a huge variety of sounds that allow you to evoke a lot of emotions in everyday life. Both positive and negative. You can use different effects for pranks, changing them every day and combining them with each other.
Trick your acquaintances by turning on the sounds of the police signal. This is sure to cheer them up and get their adrenaline flowing. You can also try to play tricks on your friends by ringing the doorbell.
Make them nervous late at night from an unexpected doorbell. This is sure to surprise them and make them wonder who could visit so late. Another popular sound effect is children crying. It will be relevant for the prank of those who have a small child.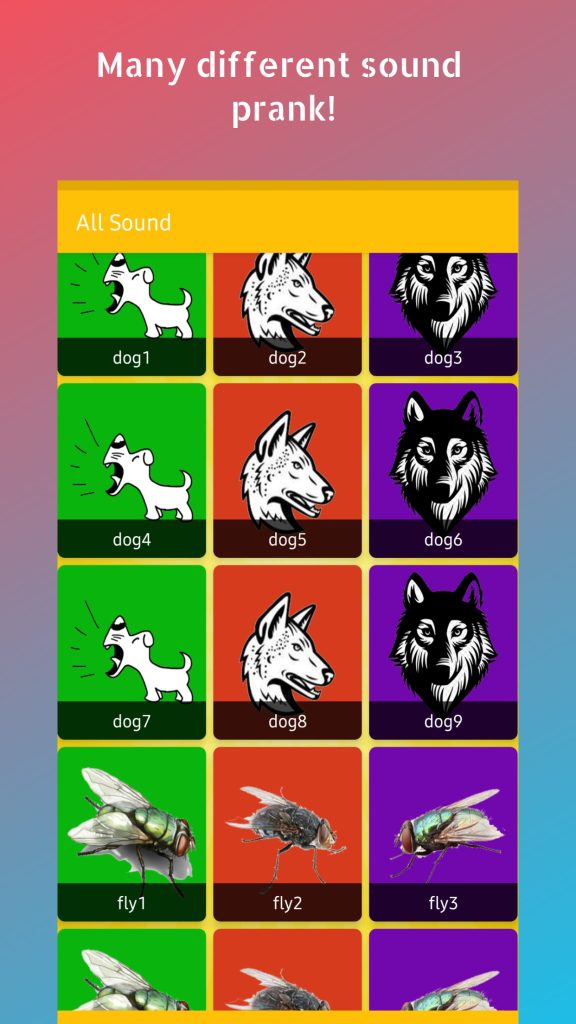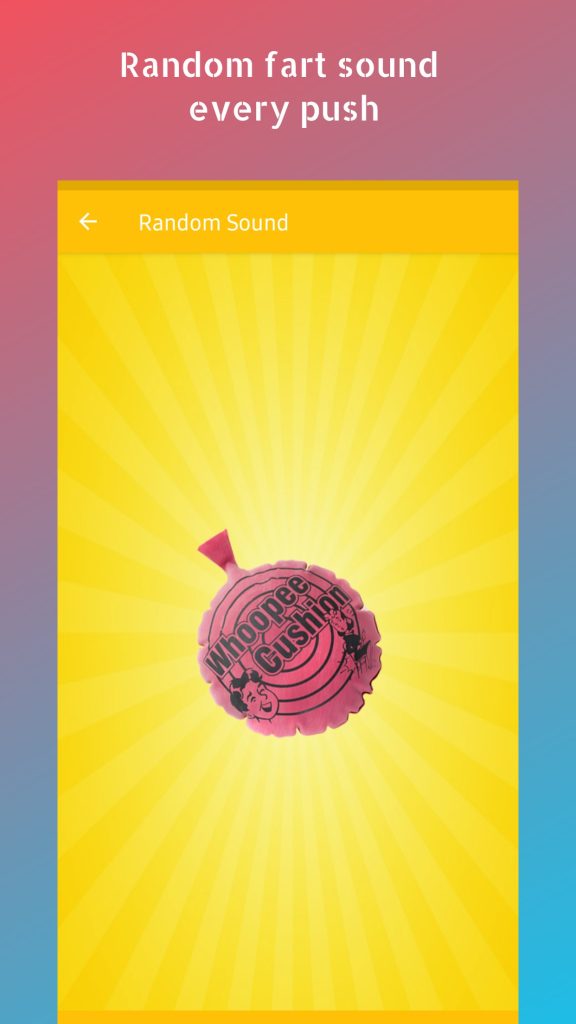 You can use the other effects to improve your pranks and make them even more interesting. A huge range of sounds will allow you to try something new every day to surprise your friends and family. Your fun will be absolutely free, as the app is available for download from the official marketplace.

Funny prank soundboard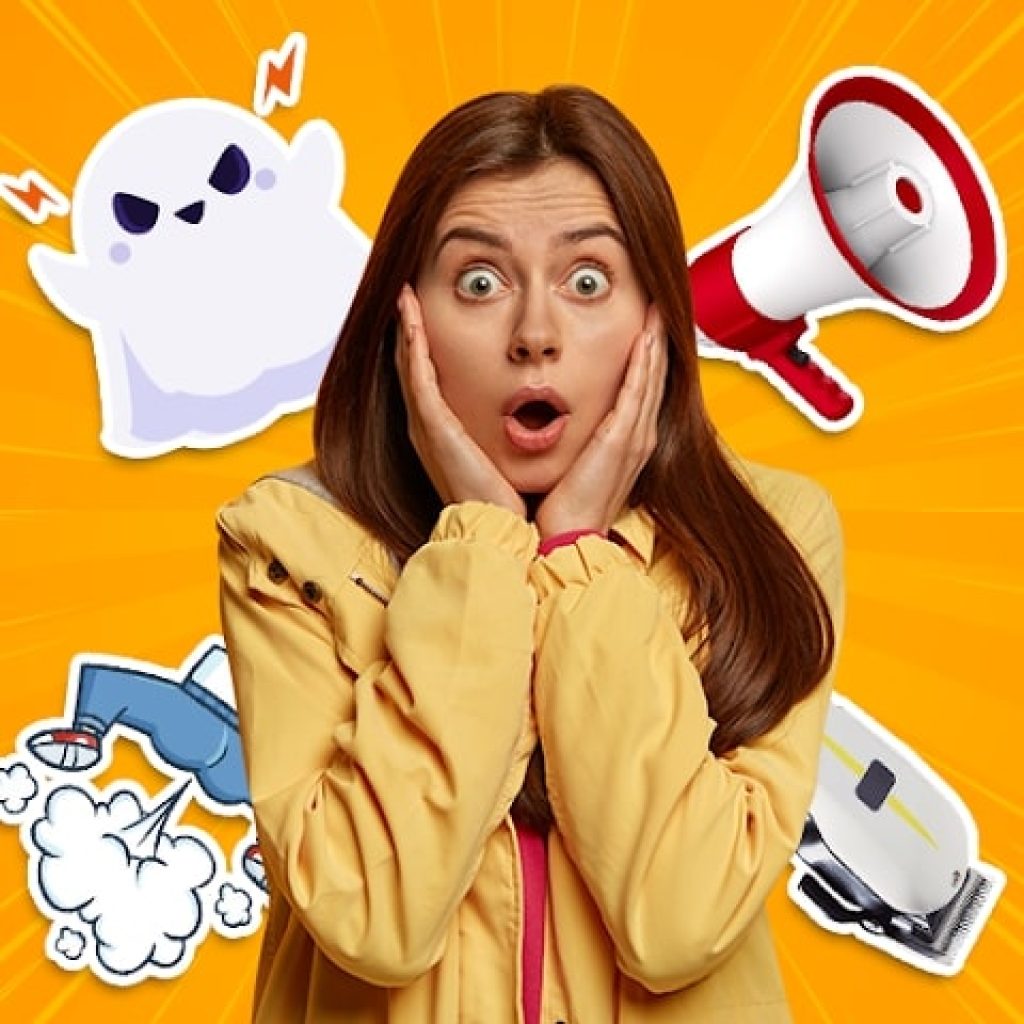 If you've run out of ideas for original pranks and jokes for your friends and family, then you can use this app with a huge arsenal of sound effects for different situations and cases.
All of them are as realistic as possible, so you will definitely be able to blow over your loved ones. You can find the effects of machinery, cars, animals, and people.
Under each situation, you can use different sounds and enjoy the real emotions of the people you prank. The most popular effect for gags is the sound of a police car, which can scare even the most law-abiding person.
Also among the most popular sound effects is the crying of a child, the sound of a gunshot, a fart, a barking dog, and so on. Each sound can cause not just one emotion, but a number of them. This will cheer up both yourself and those around you.
You can play tricks on people with unusual noises, snoring, or harsh sounds. This will allow defusing even the tensest situation.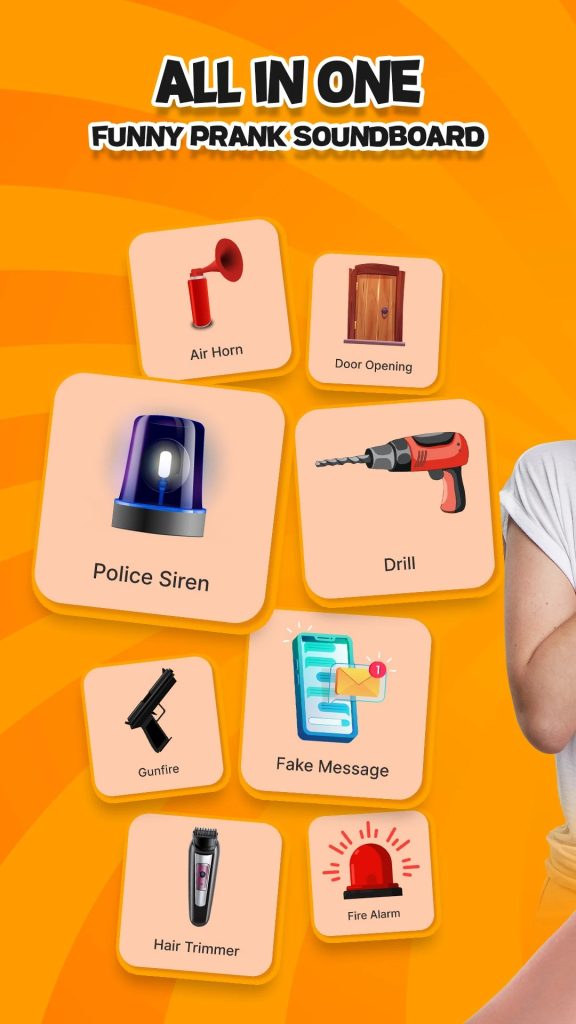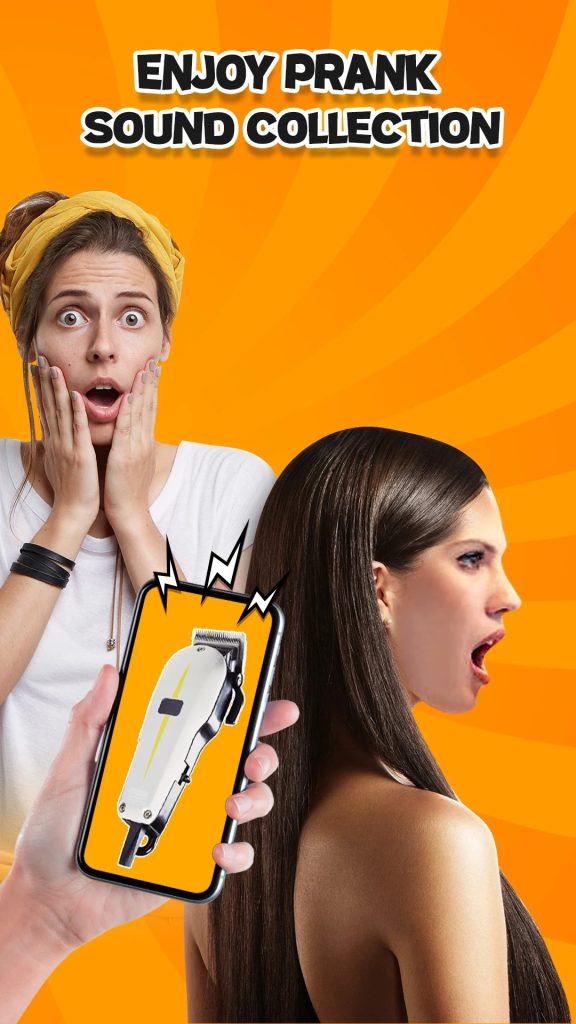 You can connect a special timer to switch on this or that effect at a certain time. It will start the system at the right moment, which will achieve the maximum effect of the prank.

You may also like: 11 Free Prank Calling Apps for Android & iOS
Scary Noises Prank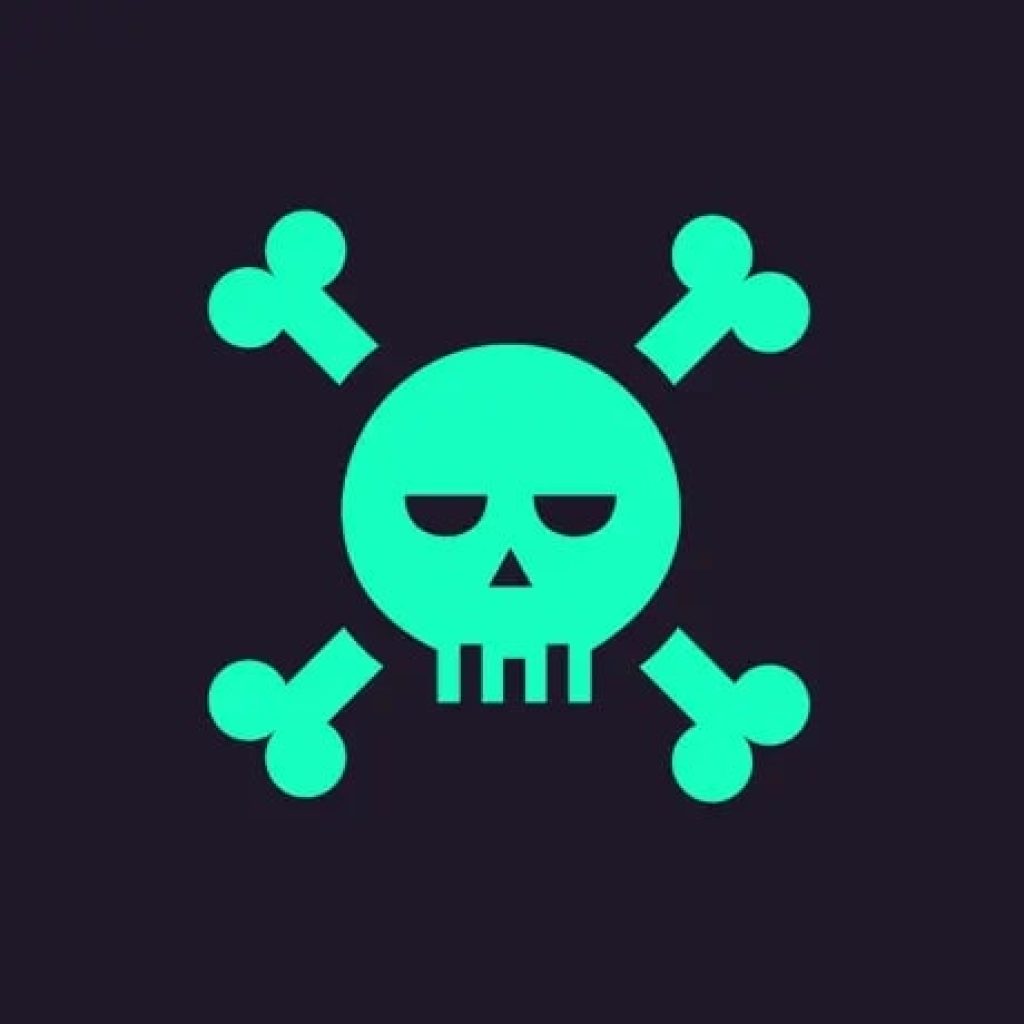 Many people like to use slightly frightening and scary sounds in their pranks. They allow you to get people's adrenaline going, which then provides a boost of energy and vigor.
To make your pranks as high-quality and realistic as possible, you can use this app. It presents a huge variety of sounds, with which pranks get realistic and unusual.
Sounds of screams, hysterical laughter, mystical sounds, and so on will be a great addition to your original and unique pranks. You can even use several combined effects to maximize the effect of your prank.
The app has a clear and user-friendly interface that allows you to toggle from sound to sound. For realism, you can adjust the sound, making it smaller and larger as needed.
With the help of this service for selecting scary effects for pranks and jokes, you can easily prank and scare your family, relatives, and friends.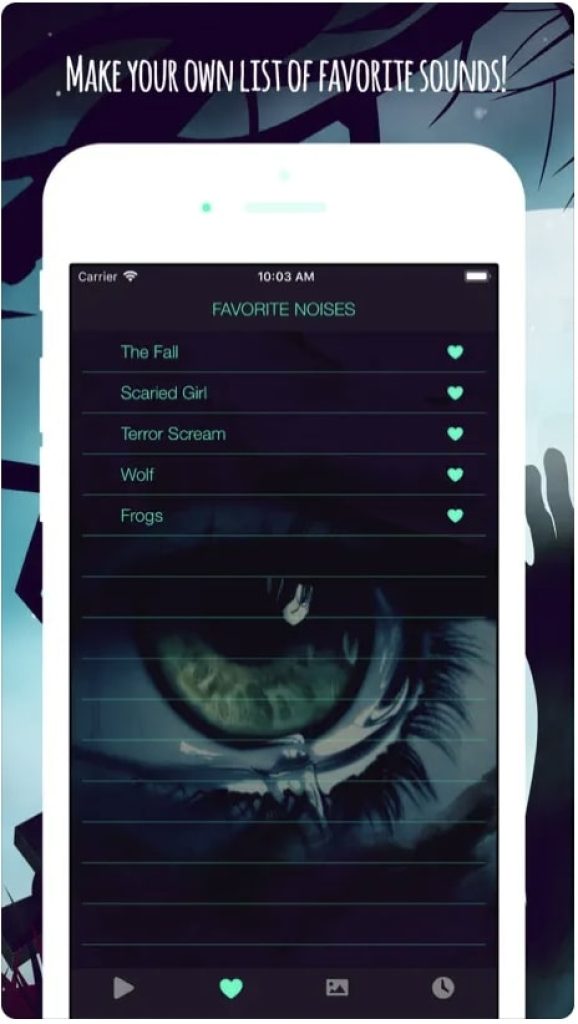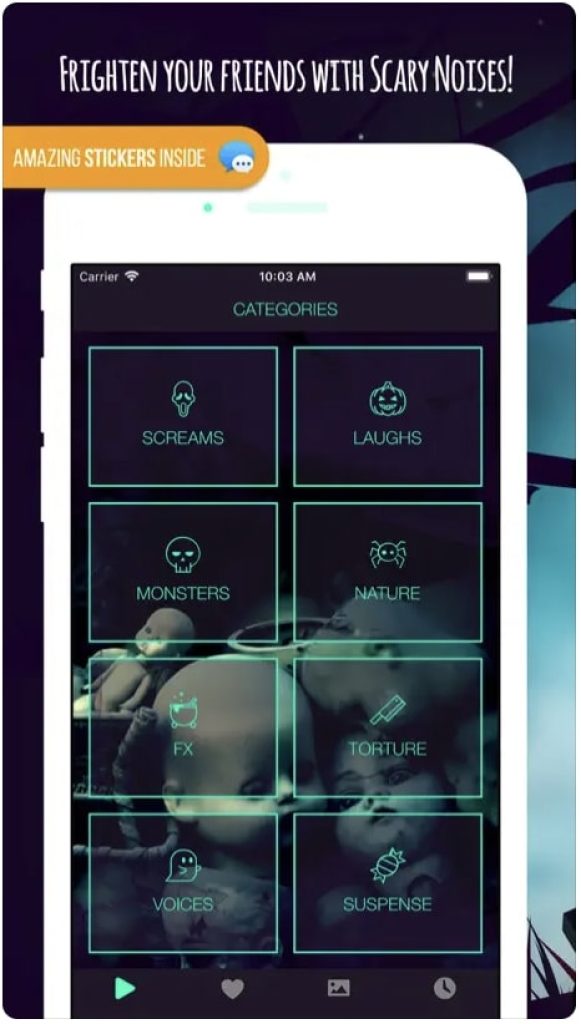 The app is available for free, so it can be used by every funny person and lover of unusual jokes. You will definitely enjoy playing pranks on your friends in this way, especially since every day you can use new and unusual sound effects.