Everyone wants to be perfect. We go to the spa salons and gyms. We spend a lot of money to become perfect. But think a little. What if you can become stronger or slender at home? Don't you believe it? Yes, you can.
Plank is one of the most popular exercises to build a perfect body. You can view a list of apps below and choose the one that is perfectly suitable for you!
Try more new ways to keep in fit with these best resistance band training apps.
Planks – 30 days challenge
The Planks – 30 Days Challenge app is your ideal workout companion if you're looking to strengthen your core and build a rock-solid midsection. Designed for users of all fitness levels, this app offers an array of features to help you achieve your fitness goals.
While the app primarily focuses on planks, it also includes various other core-strengthening exercises. This diversity keeps your workouts engaging and targets different areas of your abdominal muscles for a well-rounded fitness routine.
With customizable workouts, progress tracking, and a built-in voice coach, this app offers the guidance and motivation you need to achieve your fitness goals.
So, I would recommend this software if you want to do sports and need a tool for timing.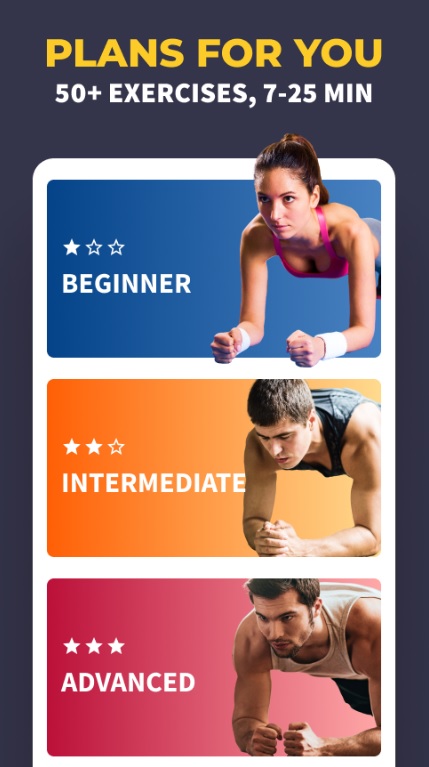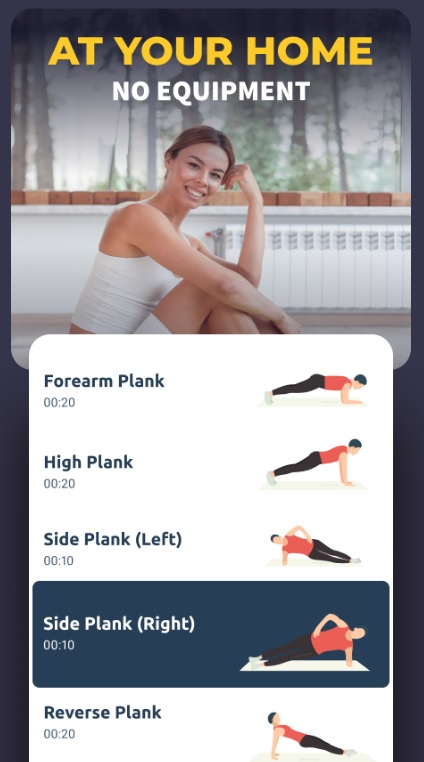 You may also like: 13 Best workout timer apps for Android & iOS
Plank Challenge Free exercise
You can change your body by doing only a plank challenge. The app is calculated at 5 weeks. This exercise can change your abs and arms. The training program is perfect for busy persons. You will train 4 in a row and then relax for 3 days.
Why is the break so long? Because your muscles need to recover. It is an effective way to change your strength. After 5 weeks you will be able to make a plank longer than 240 sec.
If you are dreaming to make a plank for 3 or more minutes, then the app is exactly for you! It has a simple and intuitive interface. It is just what you are looking for to build a perfect body.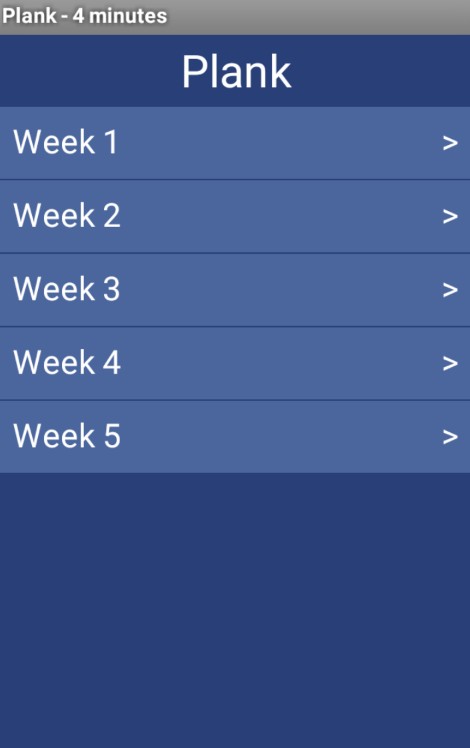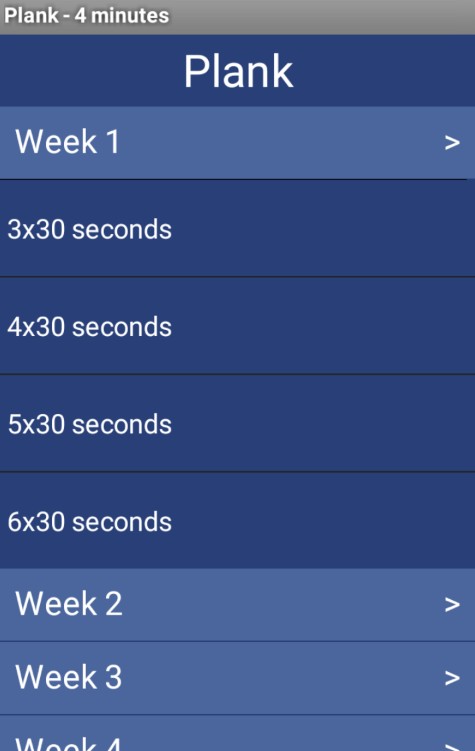 Plank Workout – 30 Days Plank Challenge Free
Do you want to learn how to do different planks? The app can help you with it. It has all kinds of planks for beginners and advanced people. You will get rid of fat or strengthen the power of your muscles. It takes from 5 to 10 minutes a day to achieve a perfect body.
You can create a personal training plan. You don't need to go to the gym. You can train at home at any time. The app helps people to burn excess fat. You can get rid of back pain and energize all day. The plank can speed up your metabolism.
You can track your progress. If you are not fully satisfied with the result, you can start again and increase complexity. With the everyday plank, your body becomes stronger and more powerful.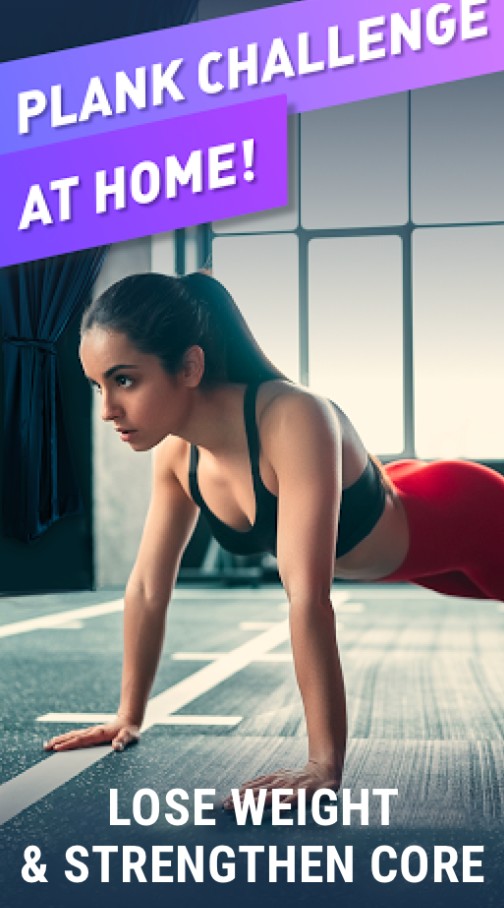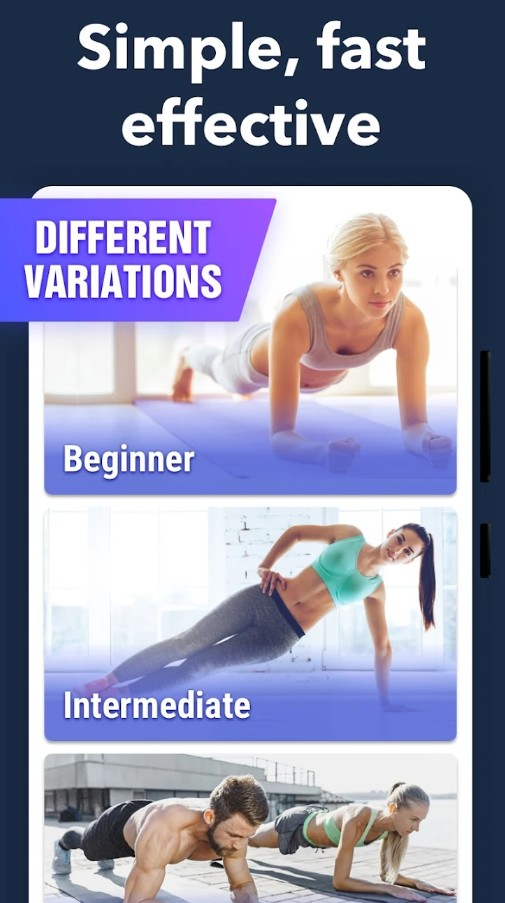 Plank Challenge
It is a plank timer for people with different strengths. It was created to make an easier training time. The app can calculate the personal time for the plank challenge that is suitable for you.
It has several levels of difficulty. You can choose the one which you can handle. It was designed for 30 days but you can repeat it all over again.
There are ready workout plans. You can also create your own. It also has a great reminder. You won't forget about the training time. You will get a notification every day. Don't ignore it because it becomes really annoying. It is easy to use and not too strict. Try it and you can increase your power!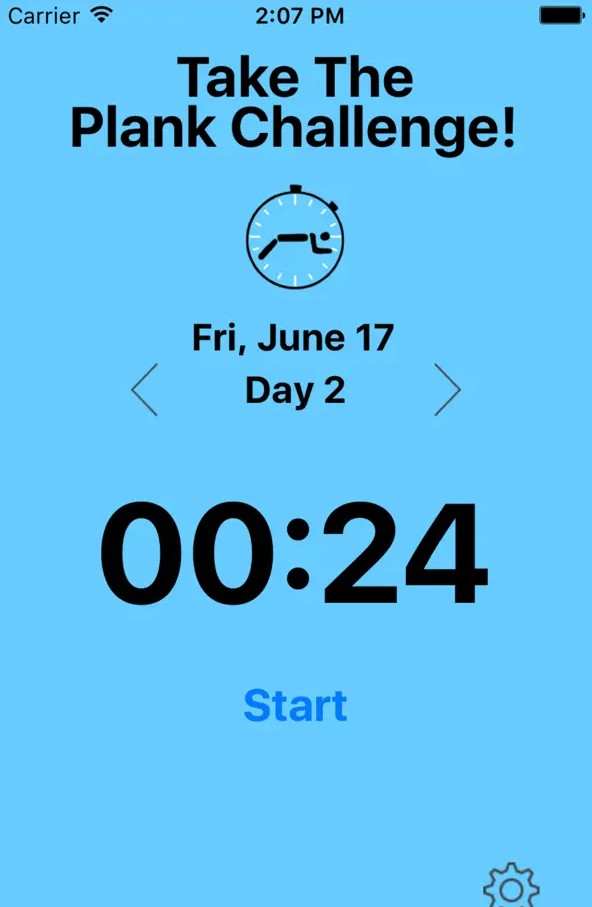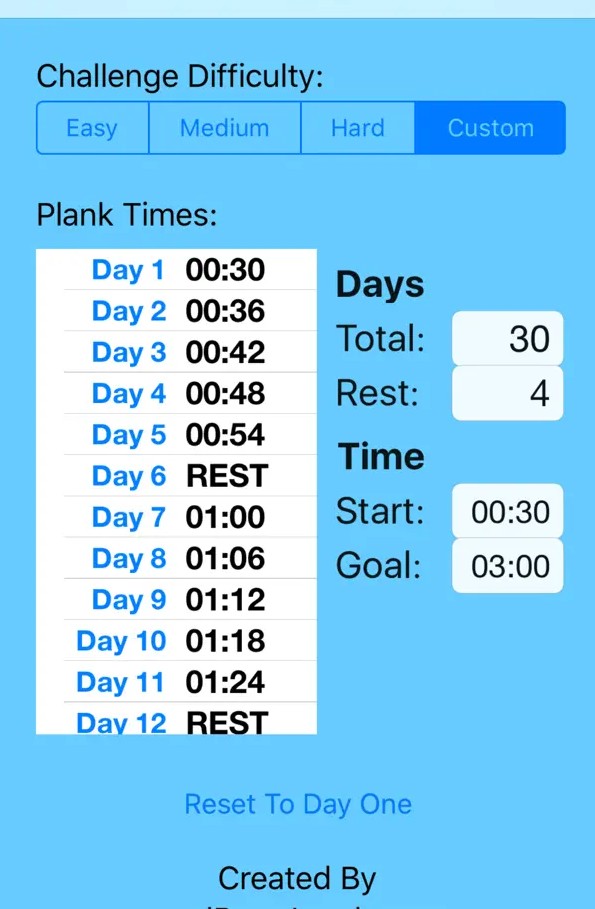 Plank workout: 30 days
In this app, users can perform workouts and exercises at home even without a personal trainer. This service is a collection of plank exercises in different conditions and variations.
The result can be achieved in a month of regular training. There are 25 different planks in the app, which differ from each other in technique and level of difficulty.
The app also includes instructions and voice prompts for each workout. You can use ready-made workout plans as well as create your own. You can even choose the length of the exercises and their level of difficulty.
The app will provide you with information about your training progress, which will be a kind of motivation to keep exercising. On average, workouts will take 10-20 minutes of your time per day.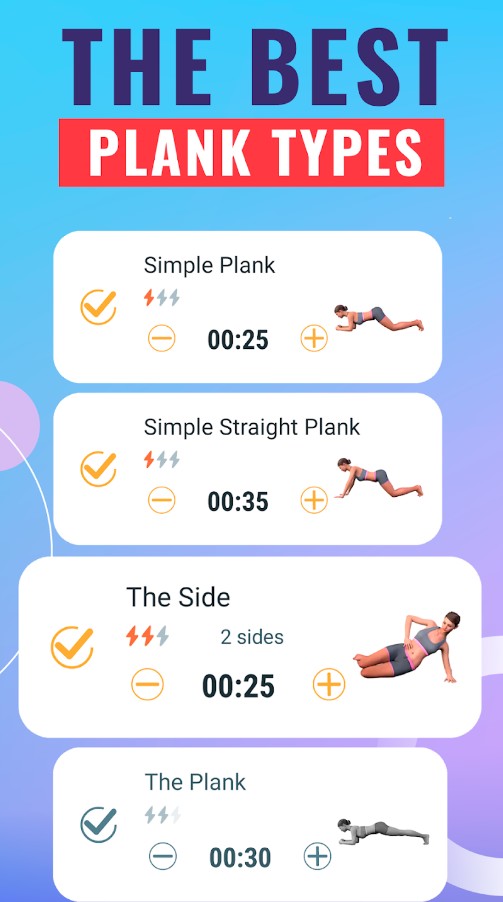 You may also like: 9 Best butt workout apps (Android & iOS)
Plank Workout for Weight Loss
This app will allow you to learn the correct skills to perform an exercise such as the plank. The training system is designed for a month of performance, which allows you to achieve the maximum effect of daily training.
The plank works on different muscle groups, so you will notice changes in your figure as soon as you start exercising. The app is available for free for 30 days. For mastering the correct technique of exercises you will get access to voice accompaniment.
About 50 different planks will allow you to improve your figure and fitness in just one month of their regular performance. In the app, you will be able to see the history of your workouts and track your progress. Body mass index calculation and weight control are also available for you.
For adherence, you'll get a guide from a personal trainer who will teach you how to perform the plank correctly.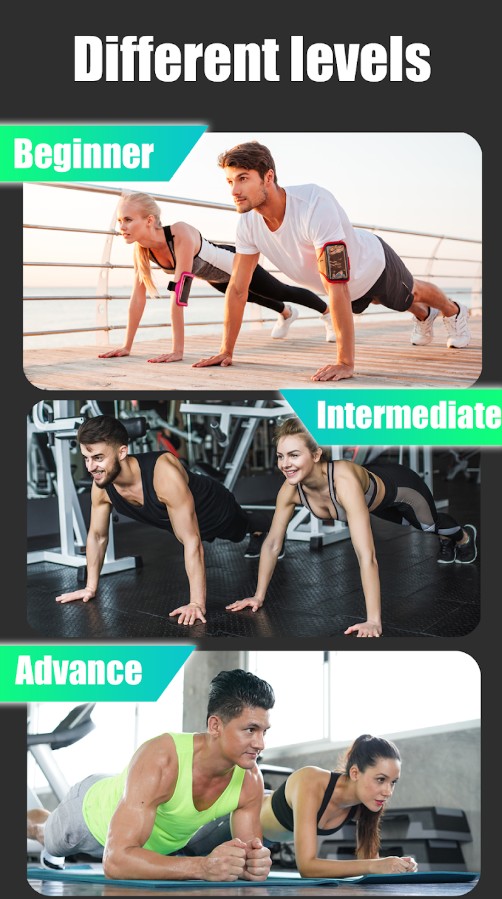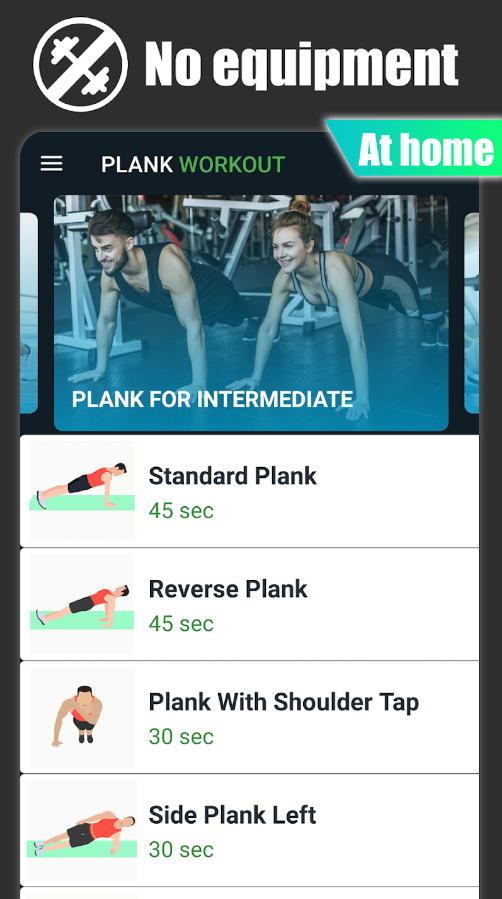 Plank – Lose Weight at Home
The Plank – Lose Weight at Home app is a versatile fitness tool designed to help you achieve your fitness goals right from the comfort of your home. It offers a wide range of features that cater to various fitness levels and preferences.
One of the app's key features is its diverse range of plank levels. Whether you're a beginner or an advanced fitness enthusiast, you'll find plank variations that suit your skill level. This adaptability allows you to progressively challenge yourself as you get stronger.
In addition to plank exercises, the app offers different workouts that target various muscle groups. This variety ensures a well-rounded fitness routine and keeps your workouts engaging and effective.
For those who prefer visual guidance, the app provides video workouts. These step-by-step video instructions ensure that you perform each exercise with proper form, reducing the risk of injury and maximizing results.
Finally, I believe that this fitness app will be useful for you as it provides a convenient program for plank challenge.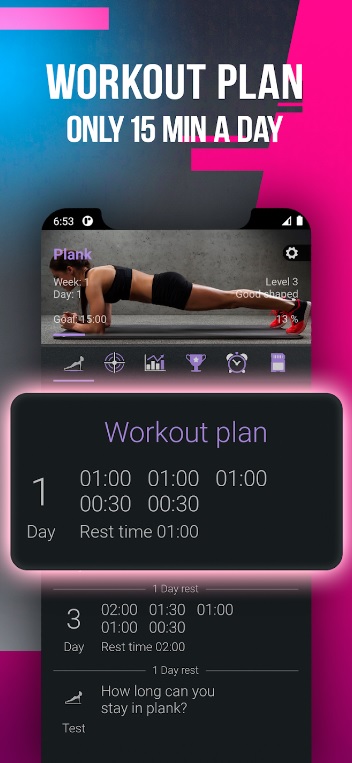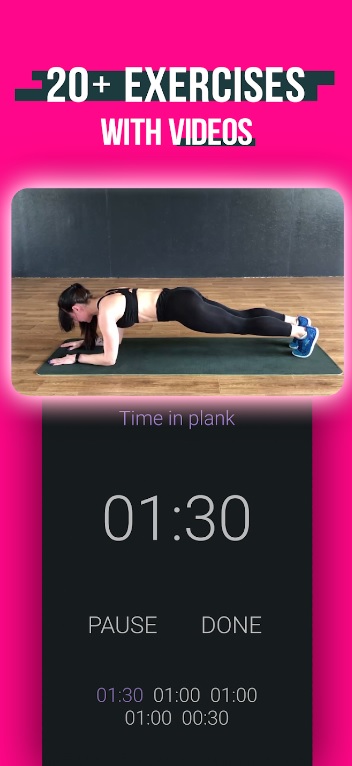 Plank Timer
The Plank Timer app is a handy tool for anyone looking to enhance their core strength through plank exercises. Simple yet effective, this app offers a range of features to help you achieve your fitness goals.
It provides multiple plank levels suitable for beginners to advanced users. This means that regardless of your fitness level, you can choose the plank variation that best matches your abilities and gradually progress to more challenging levels.
While the app's primary focus is plank exercises, it also includes a variety of workouts that target different muscle groups. This adds diversity to your fitness routine and ensures a full-body workout experience. Additionally, the inclusion of different workouts ensures a well-rounded approach to fitness.
Overall, the Plank Timer app is a valuable companion for individuals aiming to strengthen their core and improve overall fitness.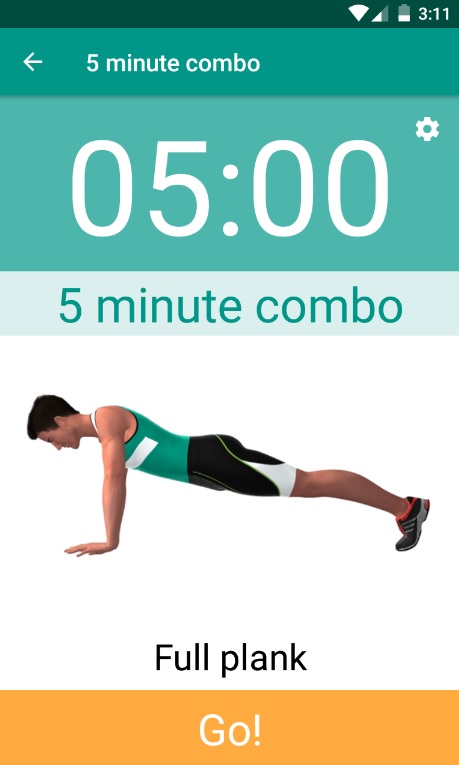 Plank Workout App: Challenge
With an app like this, you can learn how to do the plank according to the correct technique. In just one month's course, you will be able to achieve your ideal weight and appearance.
Various categories of the plank will be available to you in the app. You will not need extra tools, trainers, or a personal trainer to perform this exercise.
The app will have a timer that will allow you to track the timing of the plank. There will also be detailed instructions for each type of exercise. With its help, you can learn the correct technique to perform the plank and get the most out of the regimen.
There are planks for both beginners and professionals. You can choose a plank for training and developing different muscle groups. Each one will take you no more than 5 minutes a day to perform.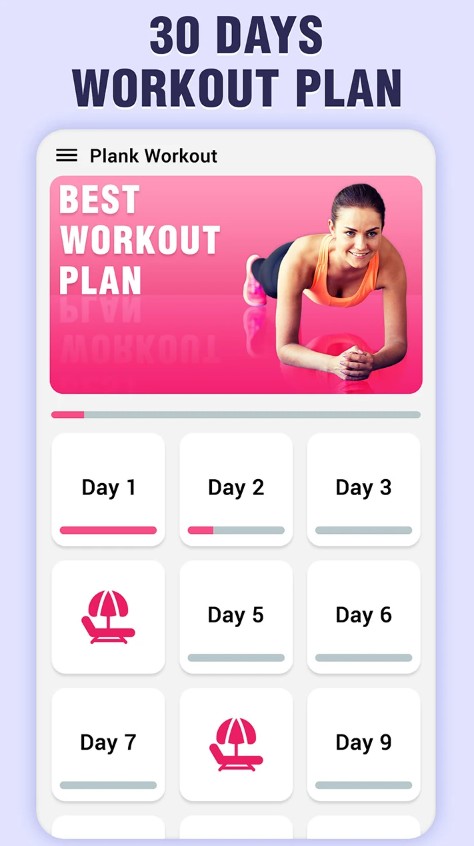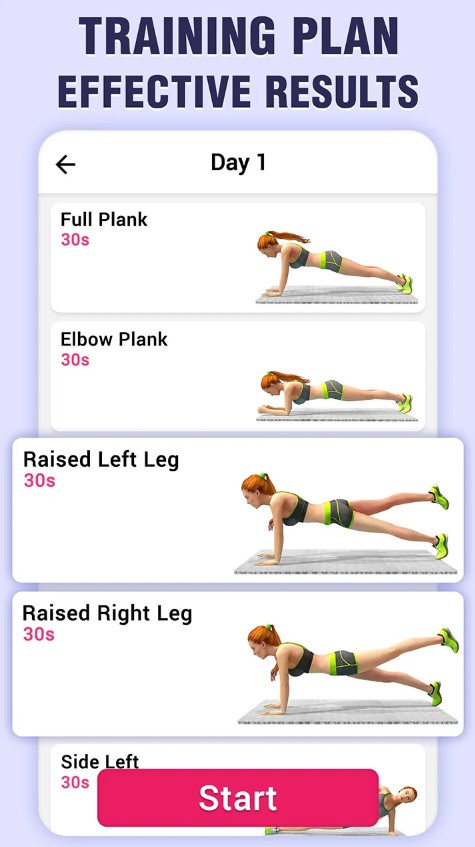 You may also like: 17 Best Sports Streaming Apps for Android & iPhone
30 Day Plank Challenge
With this service, every user can learn how to perform the plank in accordance with the rules and requirements of the technique. Thanks to the detailed instructions and visuals, you will be able to achieve the greatest result from the workout.
Performing them for a month, you will easily achieve the desired relief and physical fitness. There are several categories of planks available in the app to develop several muscle groups of your body. You will be able to choose a new workout plan every day.
The app will have a time counter to help you perform each exercise according to the time allotted to it. To make it easier to track the effectiveness of your workouts, the app has a calendar. In it, you will be able to mark the days when you performed the exercise plan.
You can also track the amount of time you spend on your workout, see the calories you spend, and even pause the exercise to rest.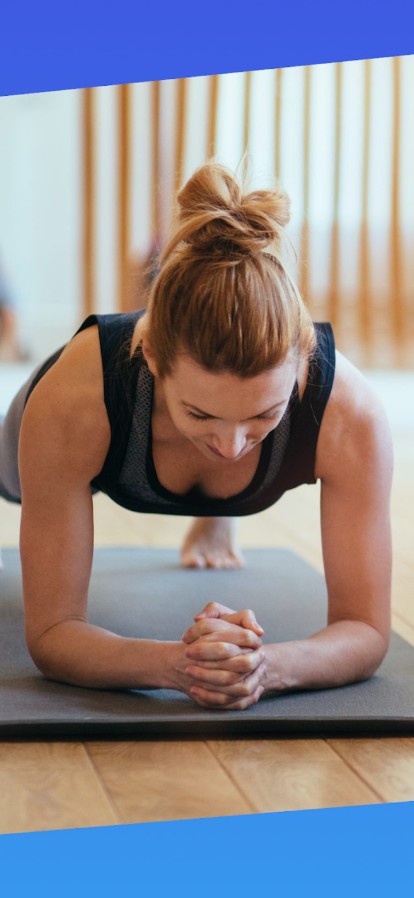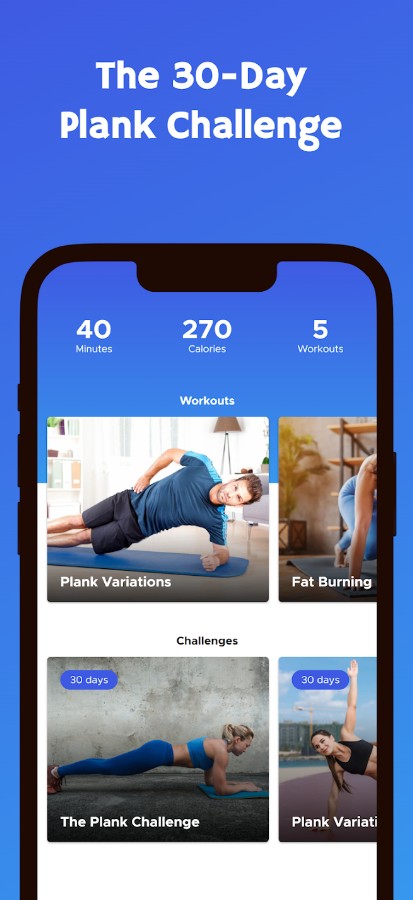 Don't forget that you can totally change your body in less than 5 minutes a day. Planck exercises are the full-body workout. But make sure that you talked to your therapist before you begin the 30-day plank challenge. Your doctor can tell whether it is suitable for you or not.