It's so great to take your mind off the real world and plunge into a world where you can control the fate of another character. Interactive stories are the perfect way to do this.
You can become anyone and do anything. Every decision is important. Become a vampire hunter or a princess living in a castle. What's more, interactive stories will help you understand yourself and try new things.
Follow the plot and take control over the fate of the characters. Plus, all the apps on this list have cool graphics and well-crafted stories. Choose the app you like the most. Many apps have dozens of interactive stories at once.
Interactive stories offer a huge range of actions as well as sandbox games. Read this article and choose sandbox games to enjoy the freedom of choice.
Love Direction – romance & love story games
The first app on our list allows you to control the life of the created character. You can customize your character's appearance and clothing. The app has a huge selection of looks and clothes.
Choose your character's style. Who will it be? A sweet girl, an excellent student, or a daring handsome man? You can find the perfect partner or defeat all your enemies in the virtual world. All characters are unique. Immerse yourself in stories and feel the power of freedom of action.
Every decision you make will influence the development of the whole story. Make the right choices or trust your heart. Use the app as a dating simulator. For example, try playing a mystical story. Vampires, werewolves, and other magical creatures will be waiting for you. You will be amazed at the number of choices and subplots.
The stories are so mesmerizing that you will want to play them over and over again. If you have completed one interactive story completely, then you can play it again. Make other choices and see how the fate of the main heroes will change.
The most interesting thing is the ending of the stories. Sometimes you will even be shocked by how the story ended. Unusual plot twists will let you feel the power of decisions. Many stories have multiple parts.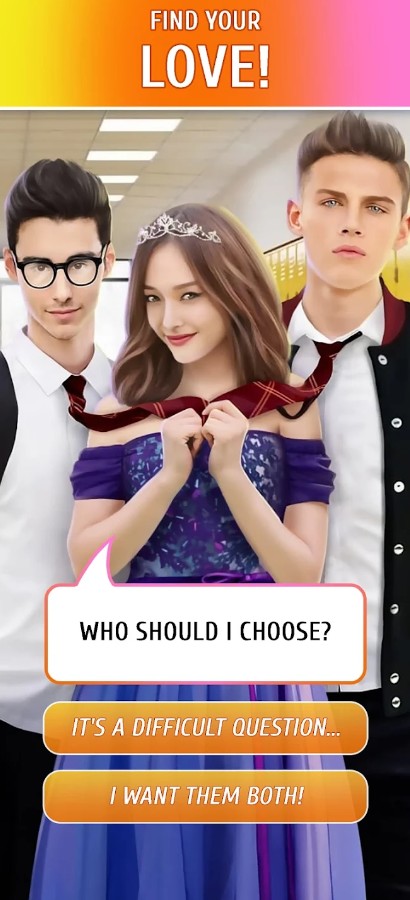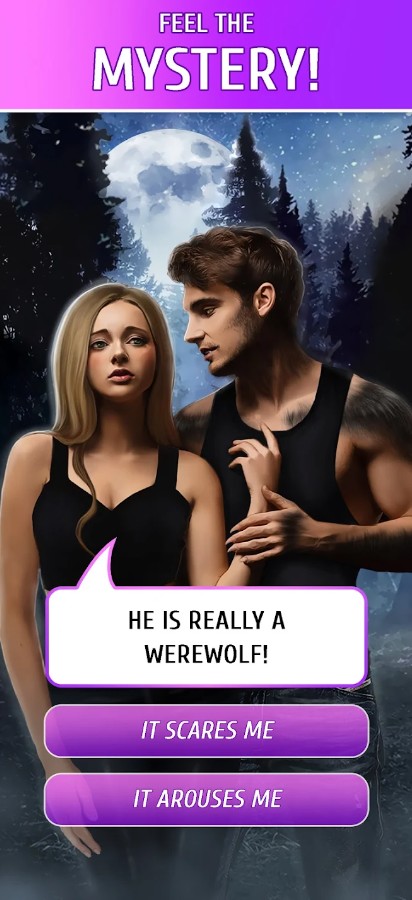 You may also like: 11 Free Gem Puzzle Games for Android & iOS
Scripts: Romance Episode
What makes this app different from others on our list? Everything is here! From horror stories to fabulous adventures. From love between a man and a woman to LGBT + relationships. Read stories and choose actions.
Some actions can be performed using in-game currency. This will allow you to enjoy the stories deeper. Don't worry, you don't have to spend money and buy in-game currency. It is enough to use the app regularly and receive daily gifts.
Choose a story and create your online life. Moreover, the app will allow you to make your story and share it with everyone. Each story is a unique reality filled with unexpected events and consequences. Try a forbidden love story. Thousands of trials and dozens of obstacles will await you. Choose the right decisions for you and prove that there is no forbidden love.
Select the gender of the character and customize the appearance. Turn on your imagination and create a unique character. The app has ads, but it does not distract you during important moments of the game. For viewing ads, you can get bonuses and rewards.
People have highlighted some stories that have captured hearts. These are stories like high school love, ghost house, and even K-pop.
Download this app and you can enjoy gay, lesbian, hetero stories. The app is specially designed to fit any person.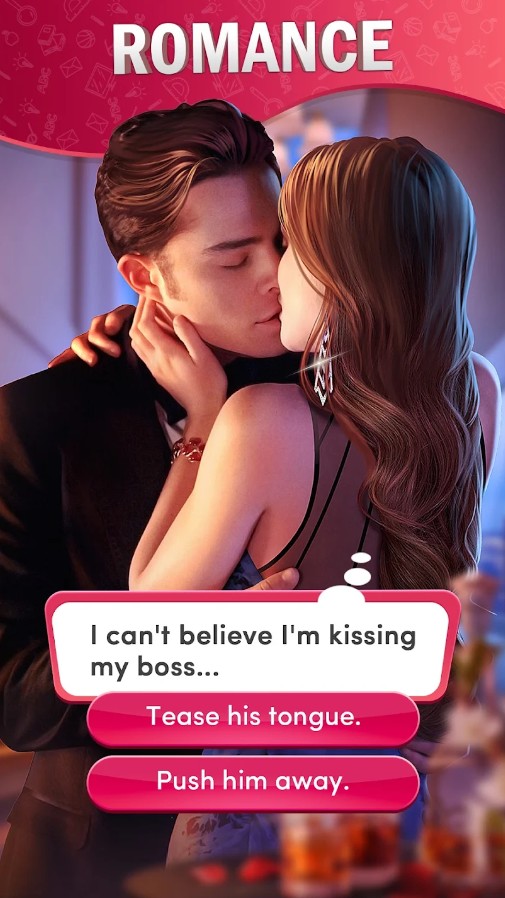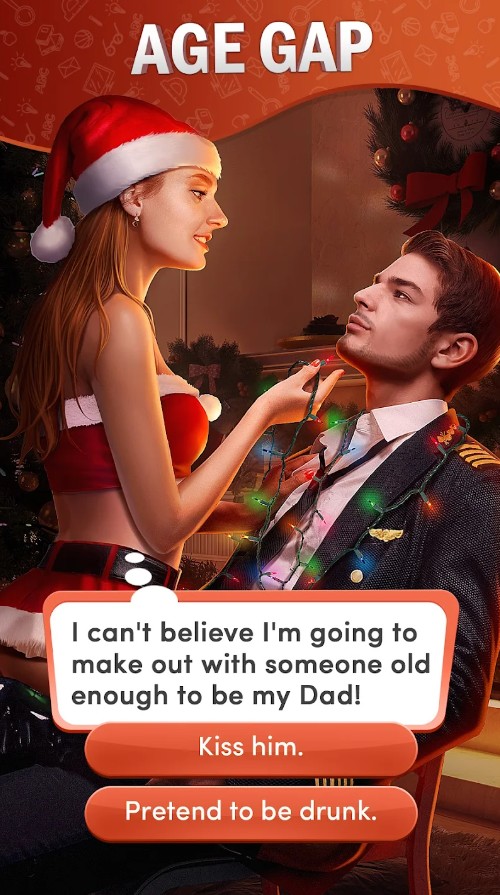 Whispers: Interactive Romance Stories (Early Access)
As you may guess by the name, the app has a huge number of interactive stories. You will get an unforgettable experience of passing stories. Everything is possible in this app. All your decisions will affect the further development of the plot.
Will you be able to kiss your boss or will you keep your distance? How do you react to receiving a huge inheritance? Everything depends on you. Make wise decisions because the outcome of events depends only on you. Stories control is simple.
Read dialogue and narration. You will make decisions occasionally. How to answer correctly? What's the best thing to choose? Moreover, the app allows you to personalize the personage of each story. Create a cheeky bully or an exemplary lady.
Love has no boundaries. You can fall in love with a guy or a girl. Enjoy the perfect romance. The story library of the app is large. Try all genres. Plus, developers add new story parts or create completely new ones.
It needs to be said, that the picture of the dialogs fully reflects the mood of the stories and characters. Everything is perfectly drawn. Also, each scene has special details that allow you to immerse yourself in the story even more smoothly.
We want to tell you more about the fascinating dance stories of the reality show. Great victories and unexpected defeats await you. Chat with characters and make friends. Avoid or destroy enemies. Choose the path of the storyline and take control.
The app has 2 play units that you can spend. These are keys and diamonds. Keys will allow you to unlock and play more stories. Diamonds, in turn, are needed to make unique decisions. Special decisions open up more branches of the plot.
The app makes recommendations based on the stories you choose. You can read the detailed information about the story before playing it.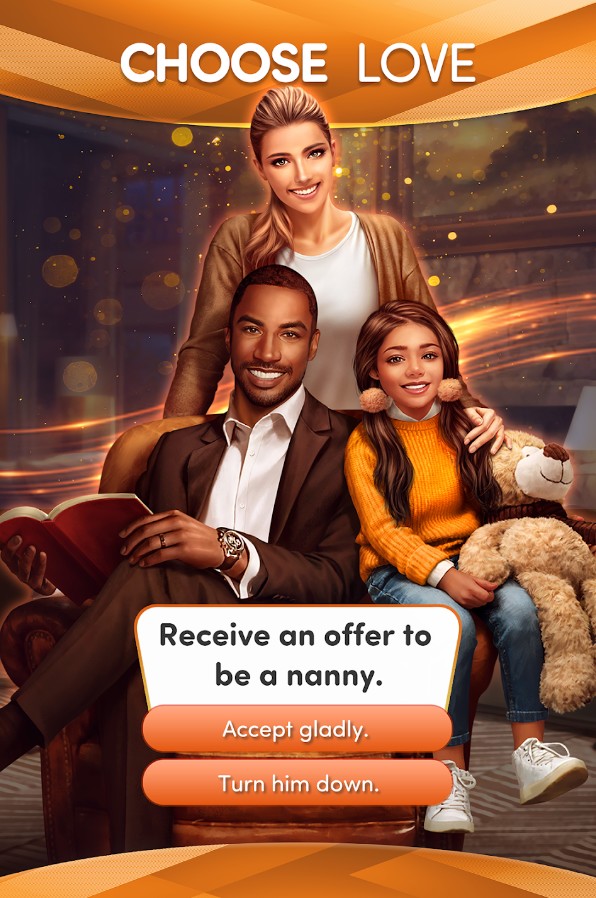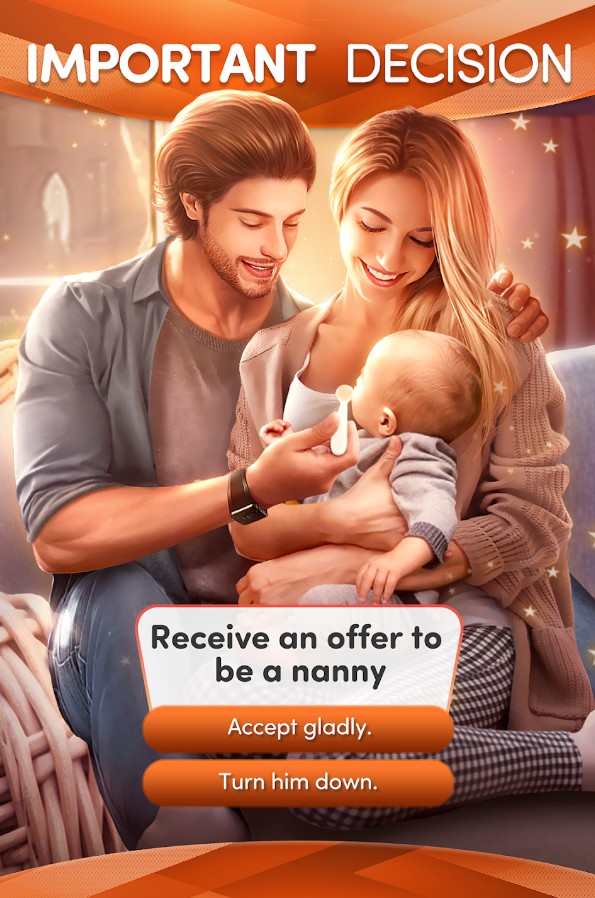 My Fantasy: Choose Your Romantic Interactive Story
If you are tired of the same plots and boring heroes, then this app is definitely for you. It is filled with stories with an original storyline and unique characters. Start a special amour story and control the fates of everyone.
This interactive app lets you choose what to do. Each decision will greatly influence the route of the plot. Some decisions can be corrected. For example, if you quarrel with a friend or do something that negatively works upon the development of the friendship.
Some actions are incorrigible. Don't tell secrets and don't look for enemies. This will make the gameplay more difficult. Follow your path of story development. Start a romance.
Moreover, this game will allow you to begin a romance with several characters at once. Try stories where you must become a popular star. Get to the top of glory overcoming all obstacles. Stories are built on dialogues. This is more addictive than the series because you can alter the outcome of events.
Some stories will amaze you with their start. You need to achieve everything yourself. This is great character building and also a way to gain social experience.
Quite frankly, all the persons are hot. You will be able to enjoy the aesthetics of the beauty of facial features and the pleasant nature of the characters.
Dialogue font is easy to read. Some decisions need to be made quickly. You will have a couple of seconds to answer this. This will give you a sharpness of emotions. You will worry about your characters because they will become very close to you. You can find a piece of yourself n some characters.
A small disadvantage of the app is the difficulty in obtaining gems. They are needed to boost the actions and open additional ways of developing the story. Get gems by watching ads or buy them for money.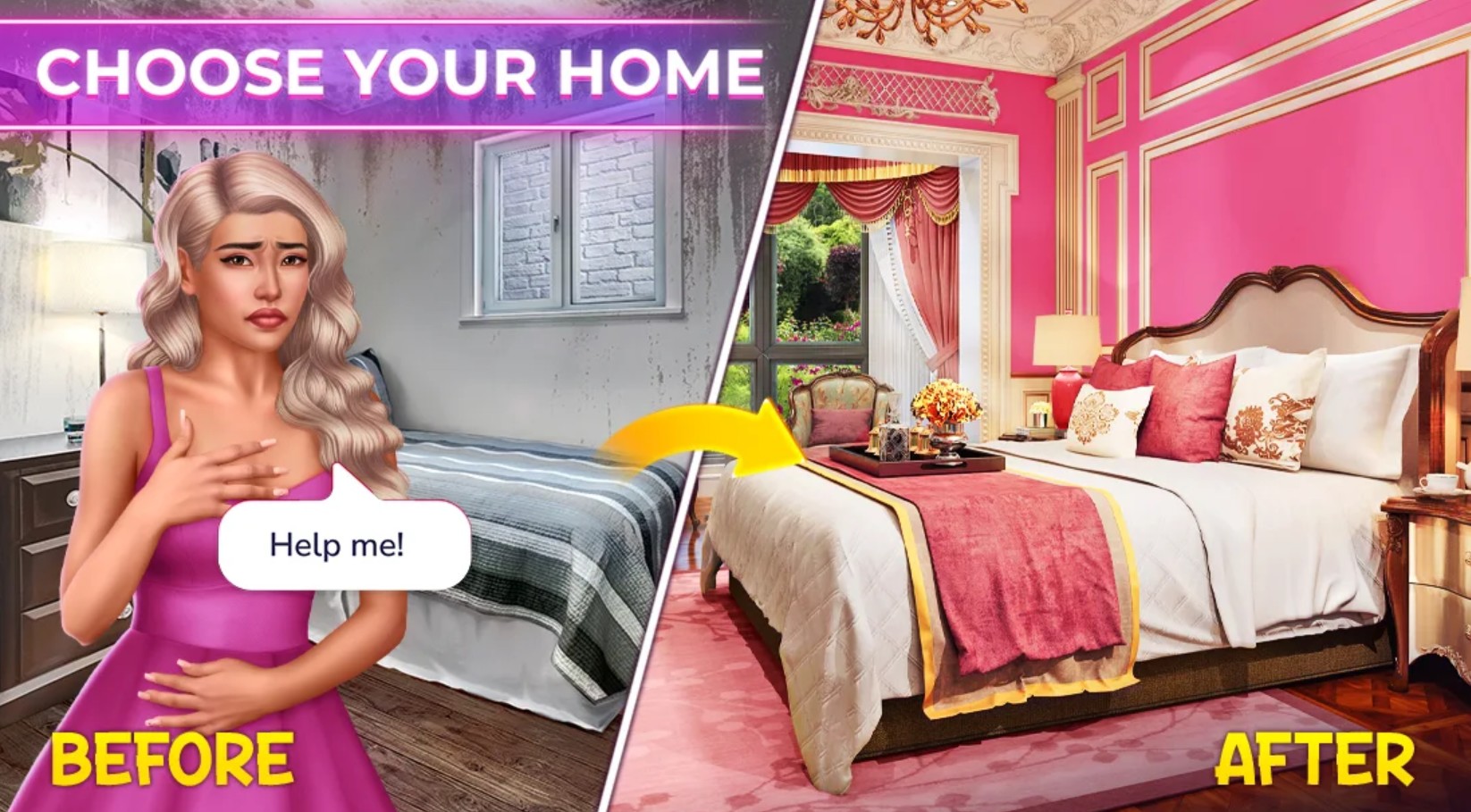 Romance Club – Stories I Play
Romance Club is a pleasant game with many stories, where depending on your answers the plot will develop. It is great for the hunters of unusual emotions. Simulator somewhat reminiscent of comic books, only here you are not just an observer, but also an active participant.
By loading the game you have to choose your character's race. Also, you can customize the appearance, hairstyle, and clothes. After that, you will start your story, and there are plenty of them to spend many hours of your time with.
Here you will find more than 10 exciting stories on different subjects. Fantasy, romance, passion, horror, and adventure, everyone will find a story for themselves. Periodically, the developers release updates, adding stories with new series.
Active players can connect to the online community, take part in quizzes and contests and receive crystals. Also, they will be found in the game itself as a reward for completing the stories. You can spend them to buy jewelry and dresses.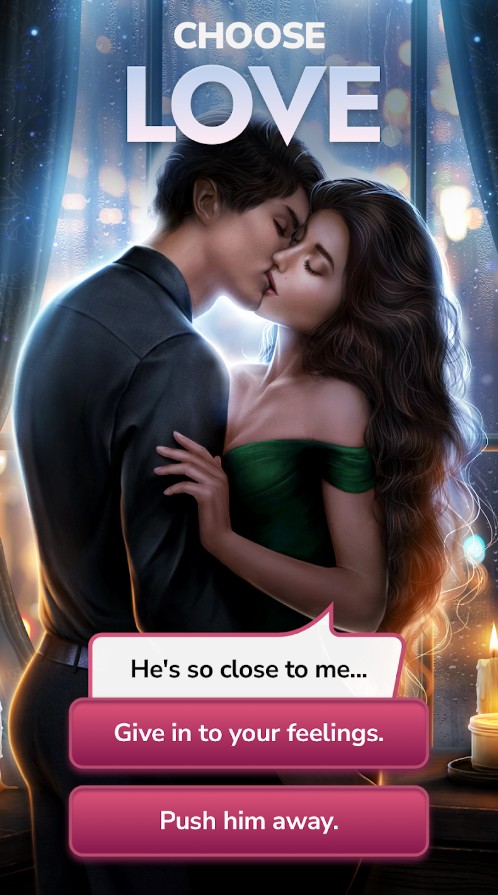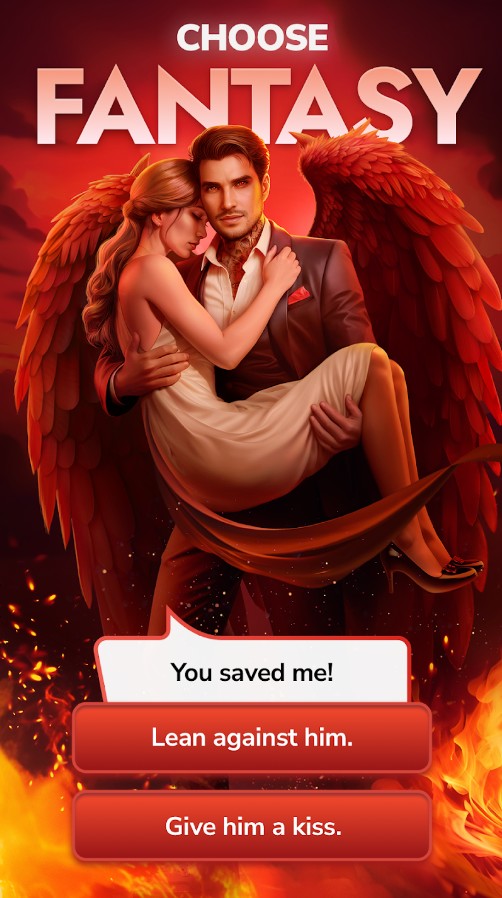 Episode – Choose Your Story
What makes this app extraordinary from others on our list? It's simple design and drawing. Sometimes the eyes get tired of bright pictures and dynamic transitions. This won't happen with this app.
More than 100 thousand stories are waiting for your decision. This app has one of the largest story libraries out there.
Another thing that makes this app outstanding is avatar customization. You can create a full-length avatar and change it at any time. Choose hair, eyelashes, nose, forehead features.
It can be said that the app is a great avatar simulator. Create relationships with story characters. You can be an inaccessible stranger or a passionate hunter. Moreover, if you are tired of reading someone's stories, create your own.
The developers will publish your story and you can give the community a new universe with unique characters and narrative. The app will allow you to become whoever you want. Interactive decisions influence the whole story. Unite in communities with other people to share stories.
Two game currencies boost your progress. Use tickets to unlock new stories. Pink diamonds will help you find unique branches of the plot. The app is endless as new stories are added every week. Look for them using filters by genre. Try it and control the fate of your characters.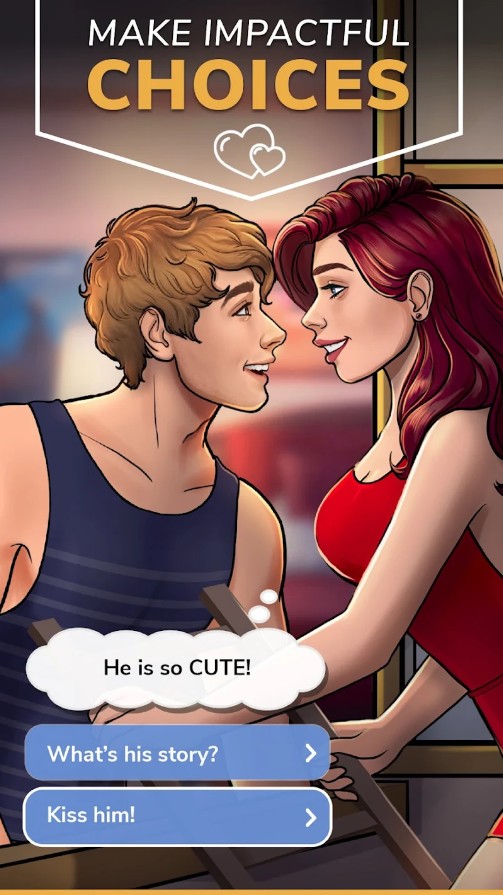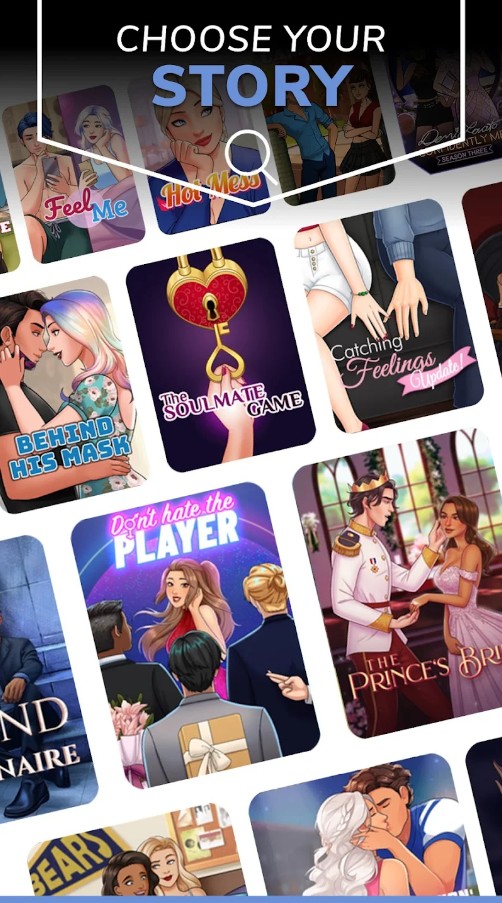 You may also like: 11 Best Offline Anime Love Story Games for Android & iOS
Story Me: interactive episode game by your choices
We like the control the most. This interactive story app will open up a whole new world of storytelling. The course of stories changes with lightning speed depending on your choices. The app includes dozens of genres from fairy tales to crime detective stories.
It is difficult to stop reading dynamic stories because the ending depends on your decisions. It's like real life. Any action affects the outcome of the story as a whole.
However, you won't get bored of reading the story. All text is in the form of a chat. You can stop at any time and the app will save your progress. Plus, it is free. You will get access to all stories. Get diamonds and use them to get an additional storyline. You can also search for stories by rating.
Read the top 5 stories and discuss the story within the community. The most interesting plot is about the mysterious night moon with the disease of the faceless. You have to unravel the secrets of this disease and cure your friends. It's a mixture of horror and adventure.
As for the interface, it is intuitive. The main page is full of recommendations. You can also see what was added new. Use the search filters by genre to find what you need. The characters are drawn a bit in an anime style. Enjoy the aesthetic beauty and captivating storyline.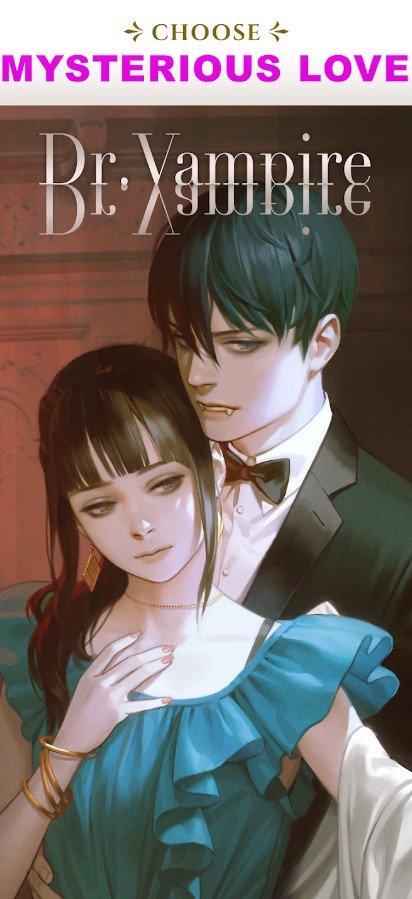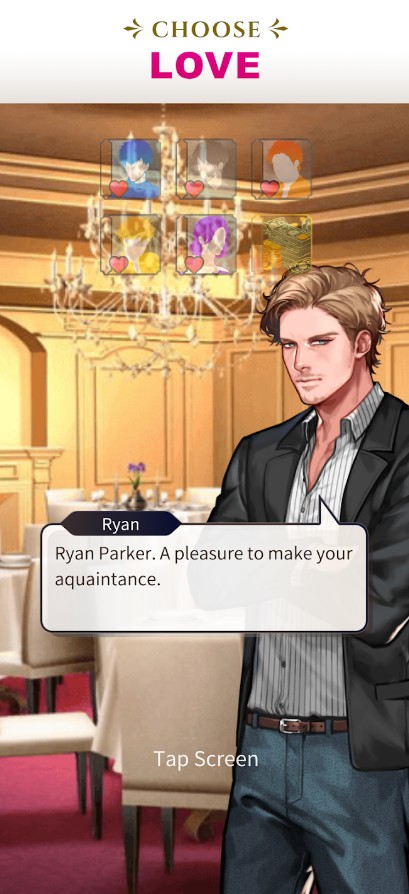 Love Story ®: Interactive Stories & Romance Games
Choose who you want to become. Start your story and become popular. Thousands of scandals and intrigues await you. The app has no taboo. Everything is possible here. Interactive actions will allow you to start the romance of your dreams.
Some decisions are difficult to make. You have to think, but there is one problem. Time for reflection is limited. Think coldly or trust your heart. You will become the main character in every story. Start a new life. Moreover, the ending and the fate of the secondary characters depend on you.
Some actions cannot be corrected, so try to make the right decision. Use the app as a relationship simulator. Invite avatars on virtual dates and build a family. You will get the freedom of action. Plus, the developers come up with new chapters every week.
As for the library – it is huge. Thousand of genres are there to read. Waste crystals to become naughty. It will give you more experience and emotions. Tickets will help you read more stories, but you can't get them for watching ads. A small drawback of the app is the poor customization of the main character.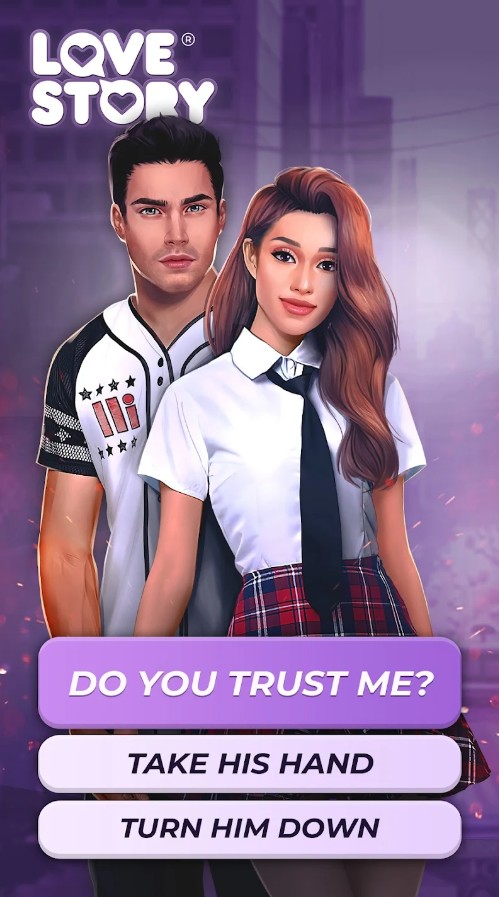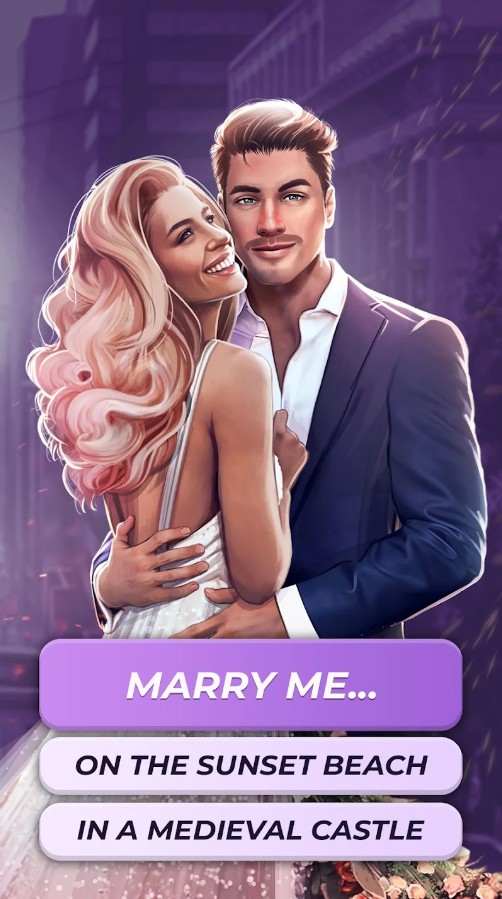 Tabou Stories®: Love Episodes
Tabou Stories: Love Episodes is about interactive romance stories for users to immerse themselves in. 
From thrilling love affairs to dramatic love triangles, Tabou Stories offers a diverse selection of narratives, each brimming with suspense, passion, and intrigue. Players can explore a variety of genres, including fantasy, mystery, and contemporary romance, ensuring there's a story to suit every taste.
Players have the power to influence the outcomes of each story by making decisions at pivotal moments. This element of choice allows for a personalized experience, as players can steer the plot towards their desired ending, making every playthrough unique.
Each story is filled with engaging characters, emotional dilemmas, and unexpected twists, keeping players hooked and entertained throughout.
Additionally, Tabou Stories updates its library regularly, introducing new stories and adventures, ensuring there's always fresh content for avid readers to enjoy.
In summary, Tabou Stories: Love Episodes is a fantastic app for anyone who enjoys romance and storytelling.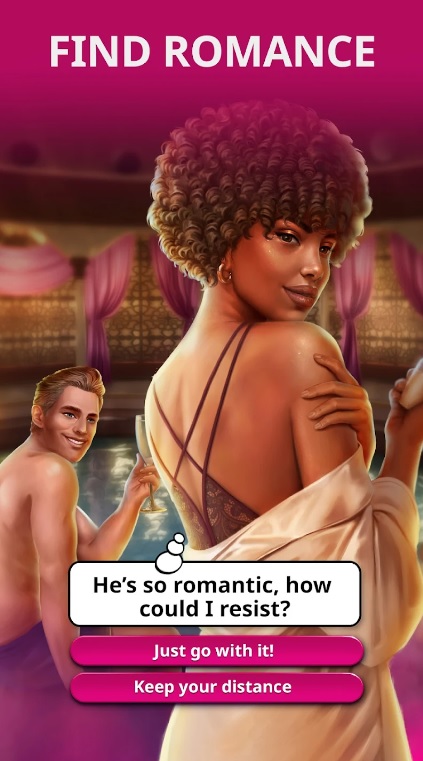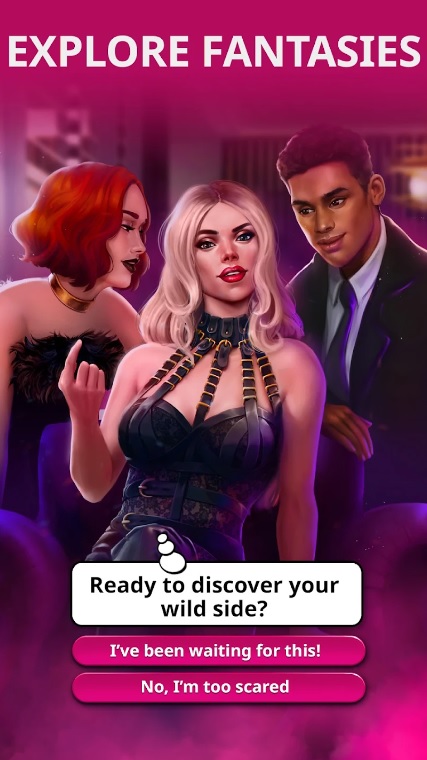 Love Sick: Love Story Games
Love Sick: Love Story Games offers a diverse range of interactive romance stories, appealing to fans of love, drama, and mystery.
From passionate romances to thrilling adventures, Love Sick boasts an extensive selection of genres to cater to various preferences.
The interactive element grants players a sense of agency, making the stories feel more personal and engaging.
Moreover, Love Sick features high-quality visuals and well-crafted writing, bringing each story to life and enhancing the overall gaming experience. The app also offers regular updates, ensuring a constant influx of new stories and adventures, keeping players entertained, and coming back for more.
All in all, I can recommend you this game as it is full of captivating stories, immersive gameplay, and regular updates, this app provides an exciting and unforgettable journey into the world of love, passion, and adventure.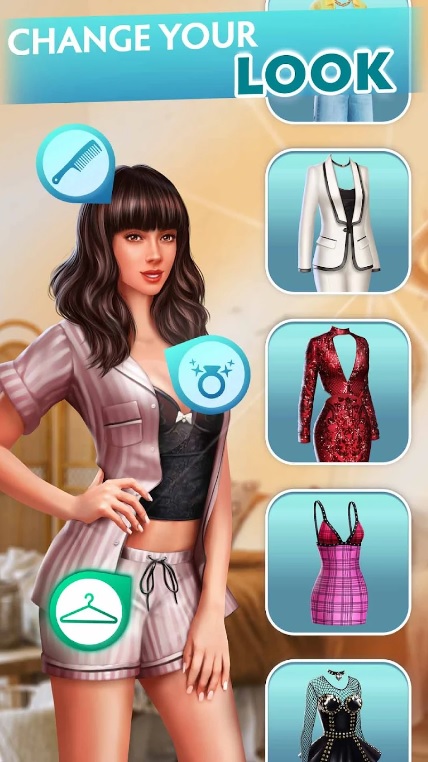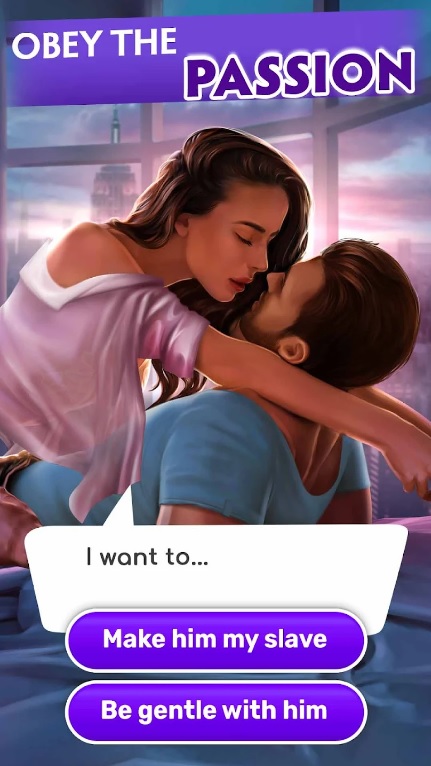 maybe: Interactive Stories
We will not go into details about the interface or control of this app, because everything is the same as in the previous ones. We want to tell you some stories. They are really interesting. Before that, We would like to note that the app includes an LGBT + component.
The story of vampire blood will take you into the dark past. Your character unexpectedly gains the special power of a vampire. You have to learn to control her and become the master of vampires. Will you help your fellows or will you start hunting? It all depends on your decisions.
The following exciting story takes you to the Middle Ages. You will become the guardian of order in the Empire. Will you start a conspiracy or will you faithfully listen to your emperor? The fate of an entire state will be in your hands.
The third in our top list of stories is the island of love. You will become a participant in a reality show. Your goal is to get more public approval and make your way through the show to the end. Arrange romances and scandals. Get ratings. It doesn't matter who you are. You can start a new life with this app!
It needs to be said that the app necessarily requires an Internet connection to work. You don't need to buy diamonds for a deeper storyline. Be patient and you can accumulate enough diamonds.
And finally, you will have a relationship with each character. The relationship level is shown in hearts. The more hearts the higher the chance of romance.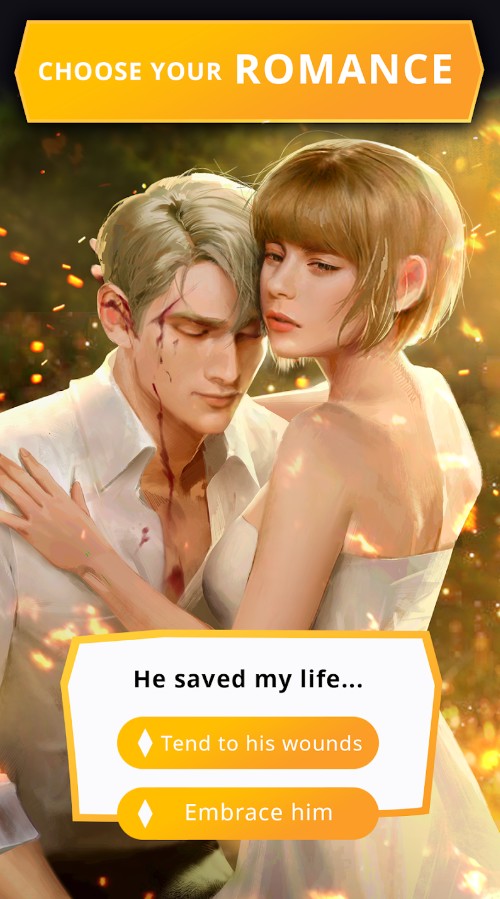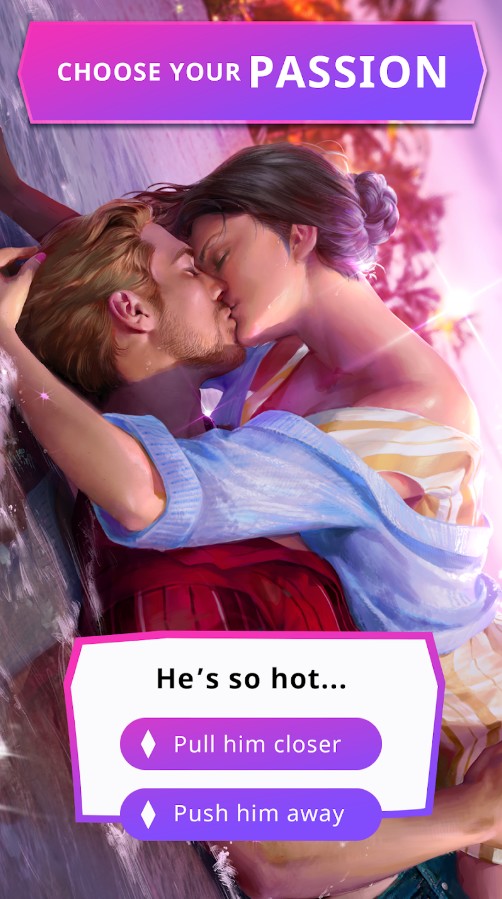 My Story: Choose Your Own Path
My Story is a kind of dating simulator, elegantly and colorfully designed to comfortably build a character's life. In the app, based on the choices made in the present, logical chains have been constructed that lead to one consequence or another.
Along with the impending popularity at school, you are always haunted by intrigue and behind-the-back rumors. You should show your grace and competence in dealing with these kinds of issues.
Envious people, as well as fans, will noticeably add to the personalization of the character for certain situations in the game. To be more precise, it is a change of appearance in the form of makeup, clothing, and image.
You have to decide in what life situation to turn to this or that person, with what people to make contacts, friends and romantic dates.
Act on your preferences and your ability to communicate with society. This ability is a full reflection of the qualities you have in real life. A well-developed personality is able to get your character out of any mess and stay on top of it.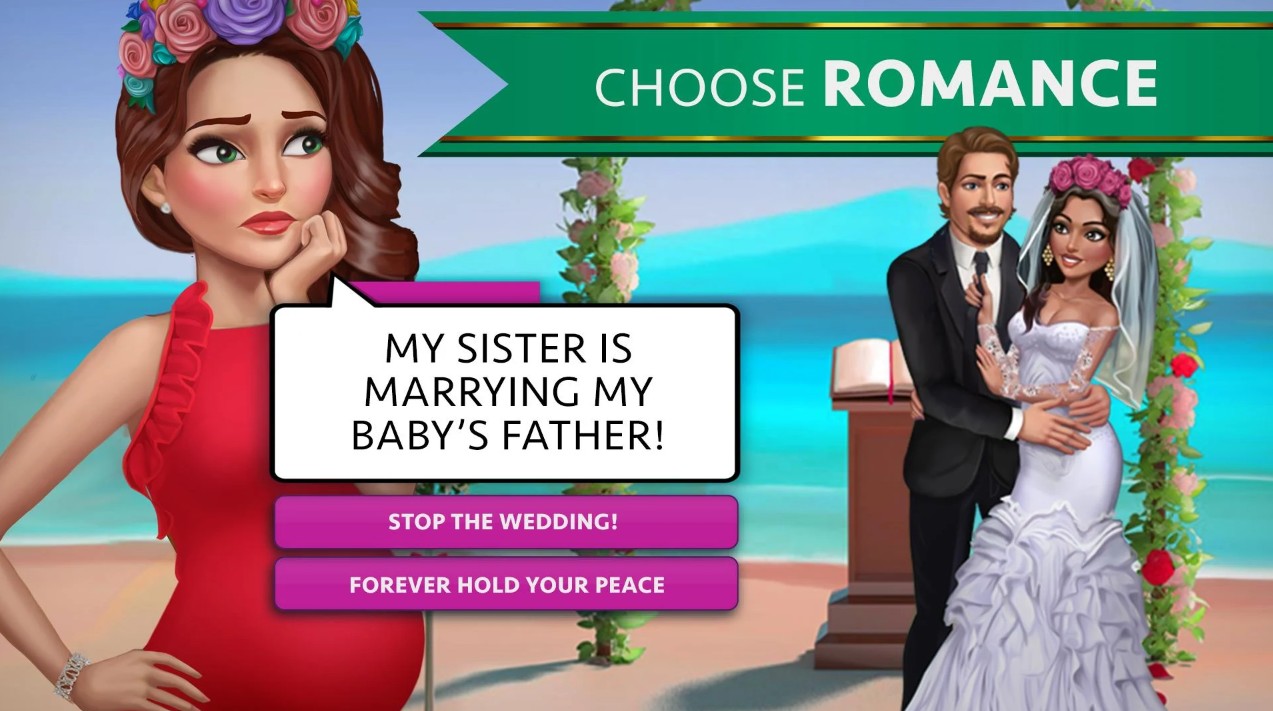 You may also like: 12 Free Interactive Whiteboard Apps for iPad
Chapters: Interactive Stories
Do you want to plunge into a fascinating world filled with unexpected events? This app has a lot of drama, scandals, investigations, and love. It is filled with a huge collection of stories that are updated monthly.
Your favorite stories will last long because the developers are adding new parts. Besides, all stories are copyrighted. You will not find duplicates in other apps. To prove it, developers participate in various design competitions and win prizes.
They have different reviews from international writing associations. The app is updated every Monday and Thursday. New stories and additions are added.
If you want to dive deeper into stories, use gems. They will open up new ways of plotting and give you more control. You can also get gems for free by watching periodically ads.
Don't forget that the main characters can be customized. You can choose the name and appearance. This also affects the plot. Download chapters to enjoy thousands of interactive stories.