One special event in each woman's life – pregnancy! A lot of joy, excitement, anticipation, and happiness. But a lot of worries as well. Have you ever noticed that despite the fact that we live in a such digital and automized era – there is still plenty of misleading information about the state of pregnancy?
You may also like: 11 Best baby name apps for Android & iOS
Maybe apps could make the situation a little bit more clear. How to organize your lifestyle, nutrition, your physical exercise during the pregnancy, answers to the most terrifying questions – all of those are included in the app. Modern future moms, who want to stay in awareness 24/7 should check this list out.
The Bump
This app has everything you were anticipating to know about parenthood. It has a planner, called "The Planner+" which will help a future mom to check-in for the doctor visit.
Another remarkable feature is that this app has a 3D visualization of the baby's growth. You can detail observe the development of your child while preparing to welcoming him or her when the time comes.
It is a known fact that during the pregnancy you have a bunch of questions, like "is it normal?", "is it ok?", "how is it going to be?" and then an everlasting list of other questions. Before you didn't always have someone around to get an immediate answer, but now you can get to know anything you want with no worries.
Another fun feature of this app is that you can always share a 3D image of your baby's current state with your friends and family. Share these special moments together, they will never be repeated! The typical mom-to-be will register at two stores because there are always some special items that require a special, secondary registry.
The app will also register you at retailers' apps so you could keep track of what is still available and what is there more to buy.
The app will be creating weekly albums of your belly while it's growing. And even when the baby will be born – the app will continue to do so even after the 1st year of a child's life. Thus you don't have to worry about keeping the track of making memories yourself!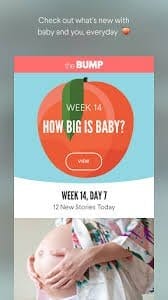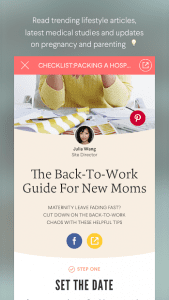 You may also like: 13 Best Baby Face Generator Apps & Websites
What to Expect
Being proved by more than 15 million moms who chose this app, it has everything that you need to know on your journey. This is made by a famous brand "What to Expect When You're Expecting".
This app will become your daily and weekly guide. First, you need to enter your baby's due date. Or, if you don't know anything about it, there is a calculator in the app that will help you to approximately measure that date (which is very convenient). Then you will be able to track your baby's growth and evolution.
Next, all the informational updates which you will be receiving will be personalized. Thus you can be sure that you aren't receiving some general tips but facts tailored by your case and needs. This app is guided by experts which will provide you with necessary information about your pregnancy.
Join a tight-knit community of parents-to-be with due dates in the same month, and get support from an active, caring parent community that shares a post every 3 seconds.
You can also view the products which were recommended by moms and join specific groups, sorted by birth locations, interests, medical conditions, parenting styles, must-have baby gear, and more! There are also videos on the server which demonstrate to you what to expect on a certain week.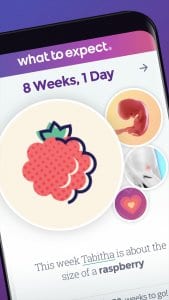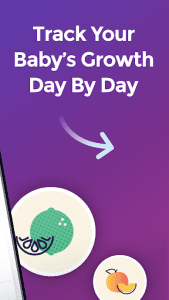 Pregnancy Tracker
The app is promoted by the popular brand chosen by more than 400 million parents. Basically, here you can find anything about the pregnancy, starting with how to get a pregnant ending with the instructions what to do after your baby is born.
The app also provides you with the essential info on what to do during your anticipated pregnancy. It will also give you tips on what to do when your child is just been born.
Once again, in the app, you will find the assistance on your pregnancy days, with daily updates. You need to enter your baby's due date or count it on the calculator (yes, this one has it as well). Since nutrition is also an important part, you will discover a bunch of useful guides on this topic (obviously).
What is more, you probably heard about the necessity of specific exercises for pregnant women. All of those you will find in the app. To make sure you are not missing anything there are weekly check-lists. Learn about essential vitamins and diet using this app and it will help you keep your weight in a healthy zone.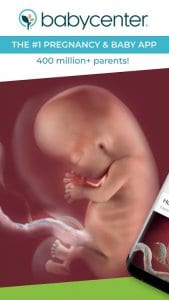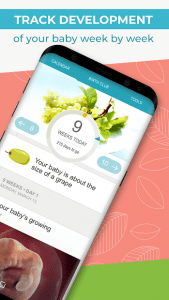 Full Term – Contraction Timer
To say that the birth of a baby is a big deal is to say nothing. This is a crucial event, each detail is important, so you should be totally prepared for that. In order to help you when you have to actually give birth to a child, you can use this contraction timer to count accurately when the baby comes.
Full Term is basically a typical contraction timer app that allows you to count each contraction in detail: the length, the strength, the time, the period, and so on.
It is highly recommended to use an app of this type during your contraction and labor since it doesn't only allow to predict the actual birth of the child, but to provide the valuable information about your physics to the doctor – moreover, later, analyzing your contraction diary, he/she will be able to make essential conclusions about your health.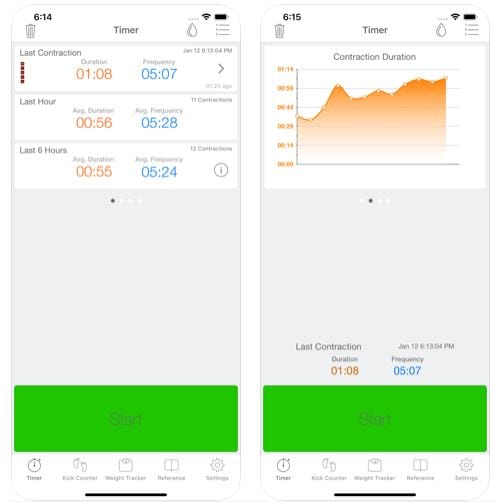 Baby2Body: Pregnancy Wellness
Here we have an extremely useful app for the iOS that helps you will everything that concerns your pregnancy. The app is already chosen by more than 1 million women all around the world. Pregnancy is a complicated process and it requires taking into considerations so many factors… But this app will help you to keep track of all the aspects!
First of all, this is an exercise tracker – it will compile a schedule of pregnancy workouts for you, will remind you about them, and provide the statistics about each workout.
What is more, the app helps you to record all the precious memories during your pregnancy – there is a special section for an album where you can upload all the photos and notes.
In another section, you will find the dietary plan, tips, and articles on the meal planning, since it's one of the main elements during the pregnancy. Lastly, in Baby2Body, you will also discover the wellness coaching that can help you manage the most common stressors in fertility, pregnancy, and motherhood.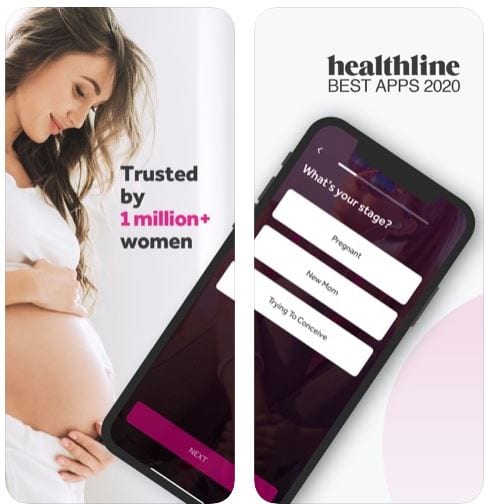 You may also like: 15 Best Baby Photo Editor Apps for Android & iOS
According to the source time.com this app is the best regarding the pregnancy issues – and also according to the source babble.com.
Tons of essential information on how the pregnancy's going, about the development of a baby, how to's, and so on. The one feature that is worth mentioning for standing out is its 3d images, depicting your baby's state. They look extremely realistic.
There's also a weight monitor, the countdown of bumps and the time of delivery. Such sectors as "doctor" or "my health" are personalized so you can insert your data there and receive personalized tips and information about your pregnancy process.
This app was developed with other future moms, that's why it's so sufficient. "Parents" magazine will give you daily recommendations. Depending on the fetus' gender, the image will be changing in the future weeks of your pregnancy.
Here you can even choose the name for your child and create your own list of questions for the doctor. If you want you can share your actual status on Facebook so your friends could share the joy of expecting with you.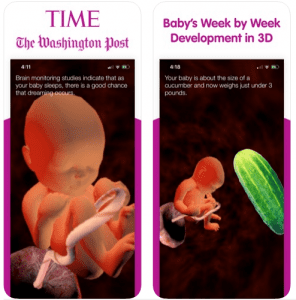 You may also like: 11 Best future baby generator apps for Android & iOS
Ovia Pregnancy Tracker: Baby Due Date Countdown
One last app on our list which has also been acknowledged by millions of users could be also the choice of you. It is better to know what to expect during the pregnancy so that's why women choose to keep track on their state. There are realistic illustrations of what your little one looks like each week with the brand new 'in the womb' feature.
You can zoom the image to get a more precise look at your fetus. An interesting fact about this one: you can read detailed notes written by the artist, Ovia's own medical illustrator. It is also possible to make comparisons of your fetus' sizes week by week. You will also discover the due date calculator and comprehensive tracker.
What is more, you can identify the foot and hand size of your baby on a week you want! Safety lookup tools are also included in the app, so all the info about diverse symptoms is here. Daily articles – just to stay aware of your general state or just entertain yourself. But it never hurts to know more about your pregnancy – so explore these apps!